We won! We won! We won! We won!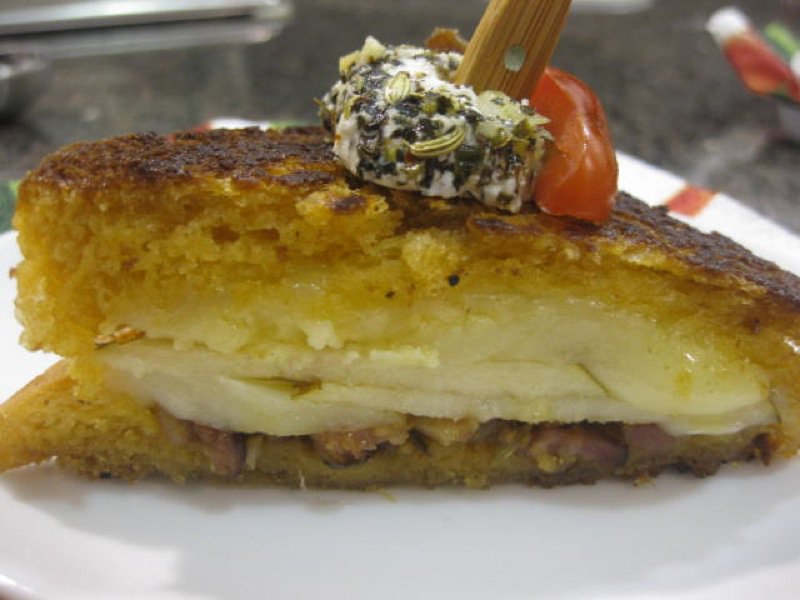 We won People's Choice in the Contemporary Category, and first runner up in that category! We are outrageously excited. My students didn't stay for the final announcements, but when I called them at home later in the evening we were all jumping up and down in unison!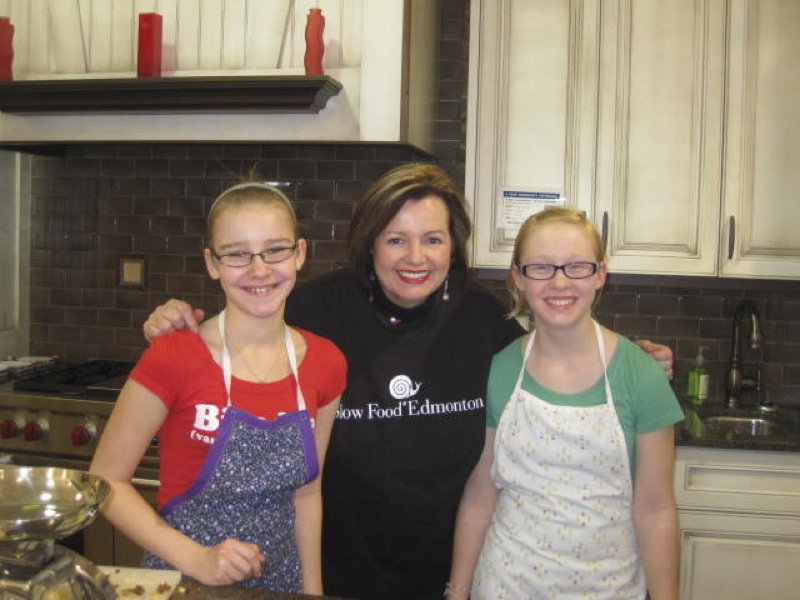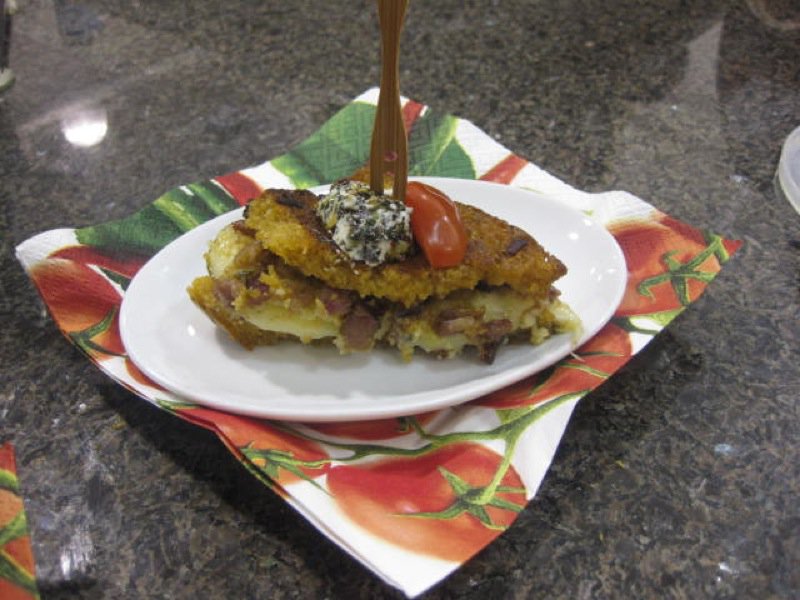 It is a beauty. And it was not an easy creation as the girls preparing the dish had each designed completely different winning recipes at our KC Grilled Cheese Olympics. However, these were the only two gals from the winning teams able to attend the Edmonton Slow Food Olympics, so they combined the two recipes into one. And, amazingly, it won over our esteemed (and they are truly esteemed) judges! The gals also charmed their audience and won The People's Choice Award. That was a little less surprising as they are, well, only 12 years old, and competing against adults. And incredibly well respected adults in the foodie industry, too!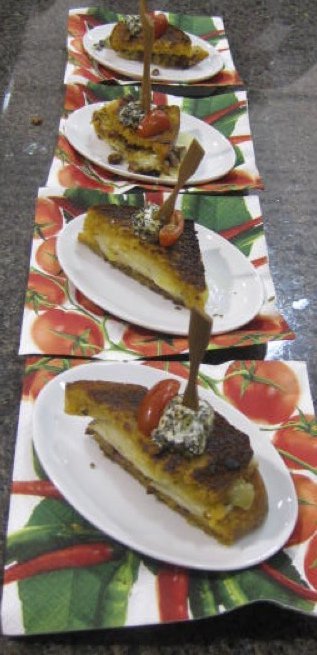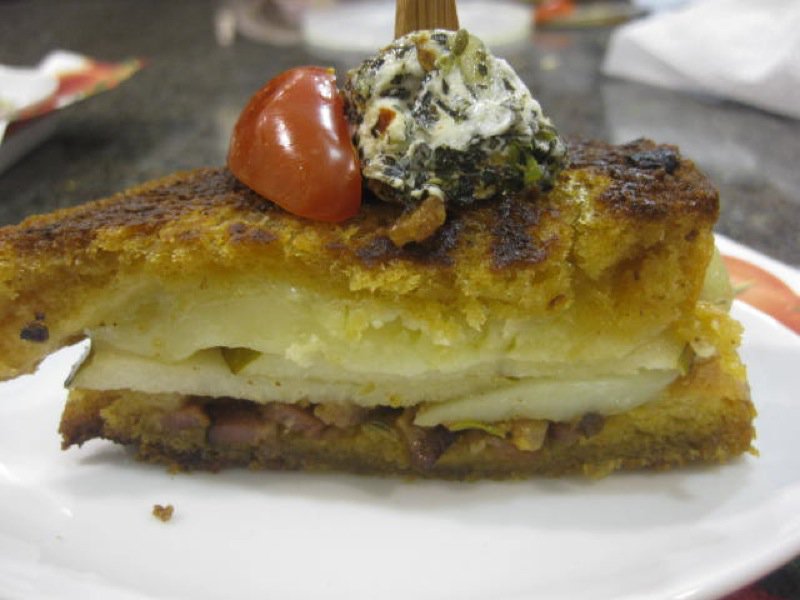 The sandwich was made with bread I had made as I had promised the gals I would. I put 5 grams of Sweet Smokey Spanish Paprika into my regular white bread recipe. It was a beautiful cheesy orange colour and smelled of smokey goodness. Then it was garnished with 1/2 of one of my homemade yogurt cheese balls and 1/4 of a cherry tomato. That was the end of my contribution to this sandwich as their teacher and coach. The rest the gals created on their own. Bailey's delectable bacon spread went onto the bread first, topped with a thin slice of Jenna's group's Asian Pear. This, with all of the other vegetable items, I had purchased at the Old Strathcona Farmer's Market they day prior. I was so pleased to buy it locally, but it was woody in texture. (Maybe better for a pickle than fresh service.) After that, a generous amount of Applewood Smoked Cheddar and a bit or Alberta made skimmed milk mozzarella: both from the Italian Centre Shop South. The bacon was purchased from K&K Foodliner and is an excellent smokey artisan bacon. That was it and that was a lot of happy taste and texture activity in one bite, as Jenna can attest to! The complete recipe will follow.
But, let's start at the very beginning. Here is a list of the competitors that came together yesterday to compete for the title of Edmonton's Grilled Cheese Olympian. You can see that this list is impressive. So were our judges: Liane Faulder, The Edmonton Journal; Blair Lebsack, Madison's Grill's Executive Chef at the Union Bank Inn; Tony Le, Lux Steakhouse's Executive Chef; and Fern Janzen from Paddy's Cheese. I was so thrilled to meet and speak with these phenomenal chefs, foodies, food writers and judges. Our city is thriving with talented people.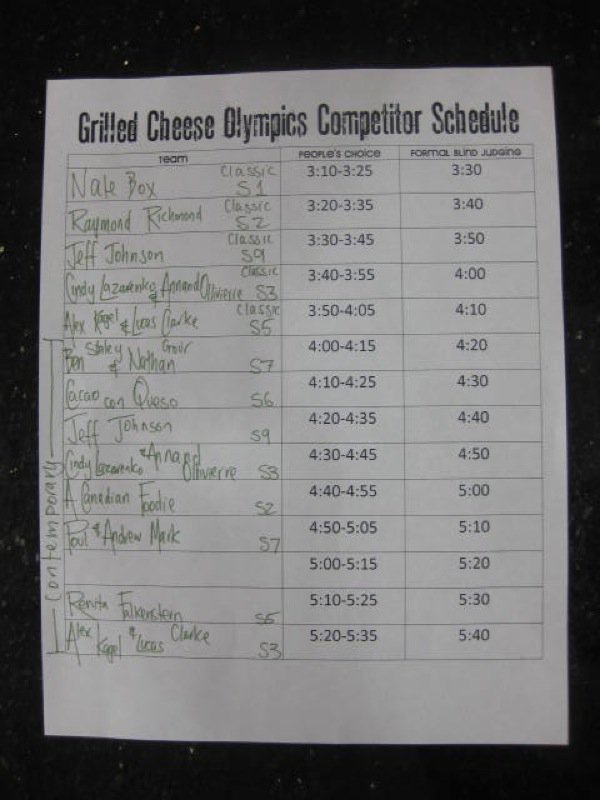 There were actually three more entries to the contemporary part of the competition than listed as they were accepted through the door and more of the classic competitors decided to go for both. The event was started with a welcome from Thea and Chad who hosted and initiated this Slow Food Edmonton event, and then the Grilled Cheese Olympics Anthem was sang by .
Oh… words to song
And… may the games begin!
Unfortunately, there were teams I didn't get photos of as I was really busy throughout our team's cooking time, and I missed out on the samples and the work of some of our competitors. Nathan Box was up first. He had pre-ordered his bread of choice, brioche, from Tree Stone Bakery. It looked deadly delicious. What a beautiful choice. I wanted a loaf to take home that very minute. But, no such luck.
He plated these on a white tile and his garnish was a mixture of organic pumpkin seed oil and maple syrup. A great idea, and tasty, but so delicately flavoured that I wanted a spoonful to really get the flavour sense. The sandwich, with Sylvan Star mild Gouda and one of their flavoured Goudas was simply sensational.
The judges thought so too, as Nate won first runner up, or second place, in the Classic Category. Congratulations, Nate! I had never met Nate before and I was so impressed by how kind and generous he was with his ideas and support. I loved watching him work. He was clearly a pro as he tenderly laid his quarter sandwich on the plate, ladled a circle of the garnish on each tile, and then swooshed each with finesse. It was fun to watch!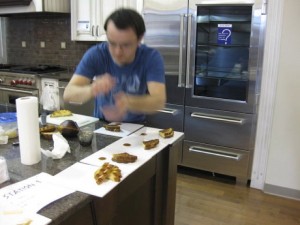 And this last artistic touch of class completely charmed me. The walnuts came from Nate's wife's parent's home in BC! There was not one detail forgotten. I only wished her had been around to taste our sandwich. I would have like to have heard his critique. To be fair, there isn't a critique I wouldn't have like to have heard. I am sure the gals and I could have learned a lot if there was opportunity for the contestants to sample and comment on one another's fare. But, who could complain? There was a lot happening, and this wasn't possible at an event this size.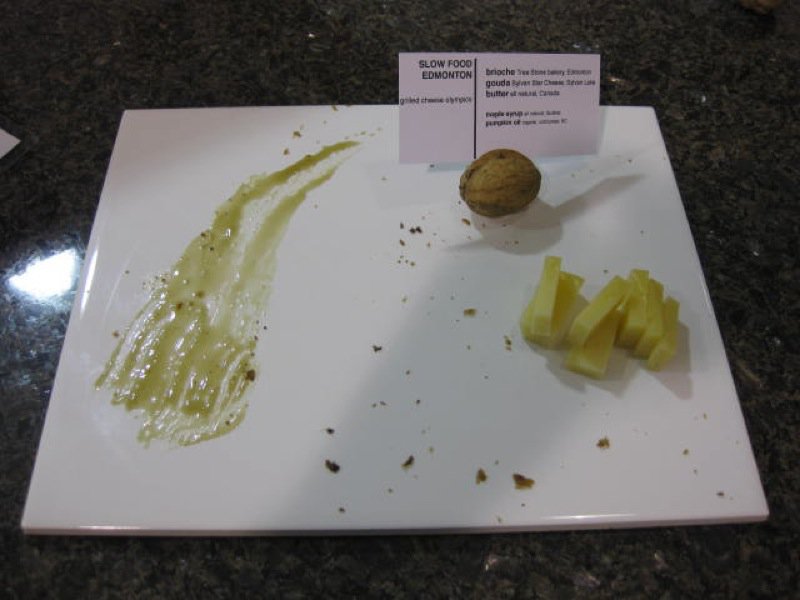 My favourite Meat Man from the Deli Counter at The Italian Centre South came to watch with his girlfriend, who also works there, and his mother. The audience enjoyed samples from all competitors and filled out ballots for The People's Choice Award as they sampled and savored. Would that be my mother and eldest daughter. Ragan, in the crowd?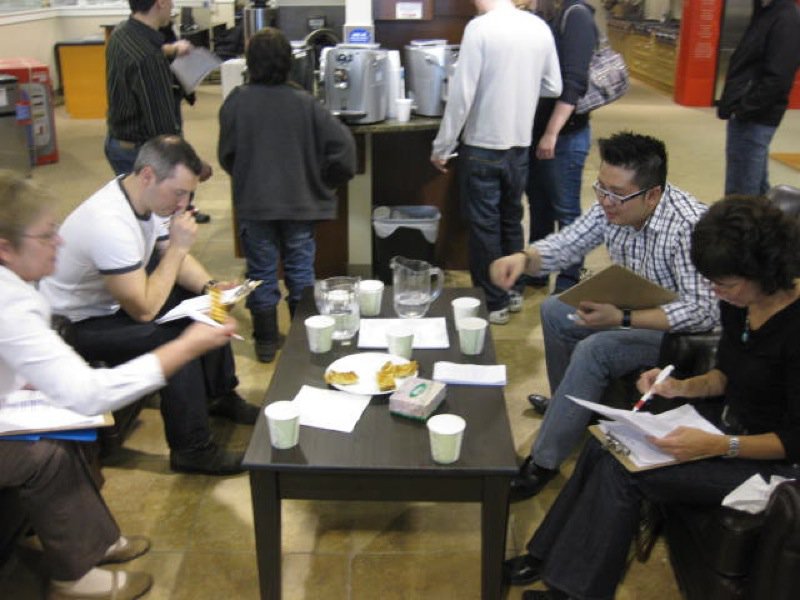 Our esteemed judges tasted and tested thirteen entries for over three hours with a positive attitude and the serious attention to detail each competitor deserved. I know I couldn't do it. It wore me out watching my Kate Chegwin judges judge only 6 or 7 kitchens each noon hour. And, after sampling all of the ones at my school as well as a couple here, I know it wouldn't have been easy for them. Thank goodness there was a clear process. They marked the criteria sheet, added the totals, and violà : the winners emerged.
The next competitor I got a good look at and was able to sample before we started cooking actually won in the Classic Category category. That was Jeff Johnson, a home cook, who loves great food. Clearly, he knows what he is doing as his homemade bread (and look at the beautiful texture of it) with butter, a combination of Emmental and sharp cheddar really did hit those memories of a rainy day as a child coming home from school to this quintessential comfort-at-home food lunch.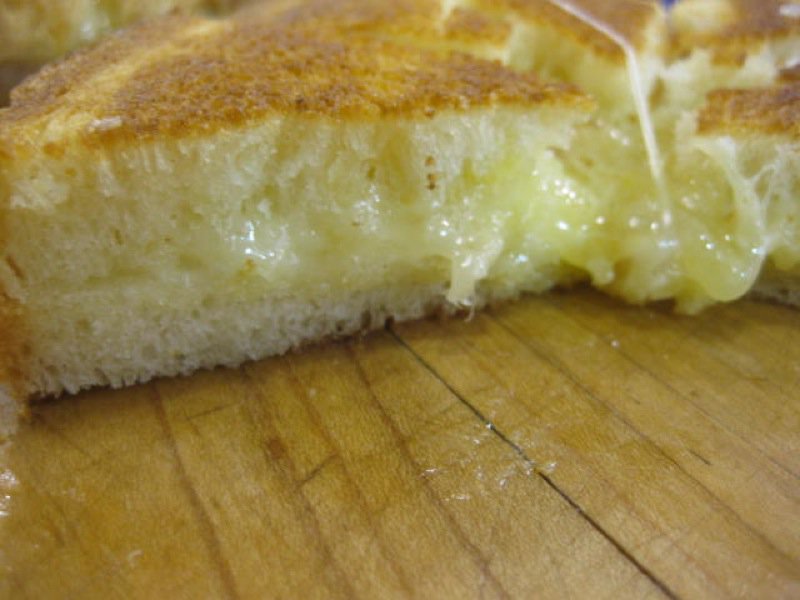 Now, I didn't get to taste the winning sandwich in the Contemporary category, but we all know that my team with Bailey and Jenna from Kate Chegwin School won second place, or as the judges so kindly announced, were the runners up. The winning sandwich photo was taken by Sharon Yeo and does look like a winning sandwich!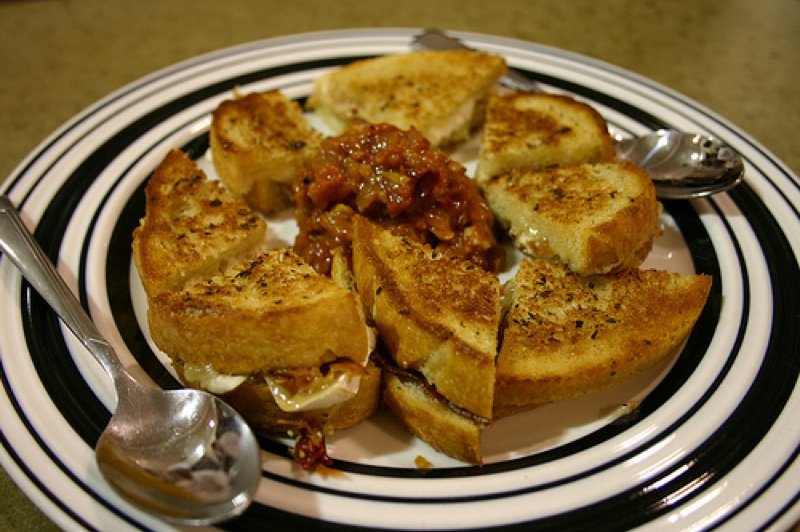 I was able to get the dirt on this masterpiece before the show started. These two young chefs were smart. They brought everything made up and put together and all they had to do was grill it up and plate it. Look at the herbed butter. I believe this was a thyme butter. And, how can you go wrong with brie, sundried tomatoes, goat cheese, and prosciutto? But, their secret weapon follows.
Their brilliant concoction of tomato and onion jam. That with their sandwiches wooed the judges into complete submission, and many of the public taster's too! Both Ben and Nathan were hilarious with tickly butterfly tummies waiting for the judges to announce their victory. These two certainly appreciated their win!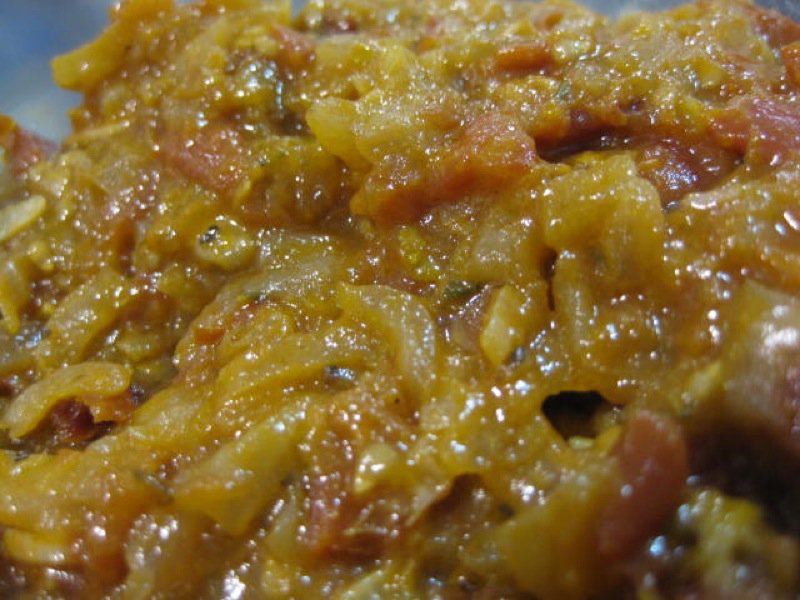 Other ideas that I caught were Culina's cooking in goose fat. It smelled of umami heaven. I wanted to sample their sandwich, but they were inhaled the minute they were off their grill.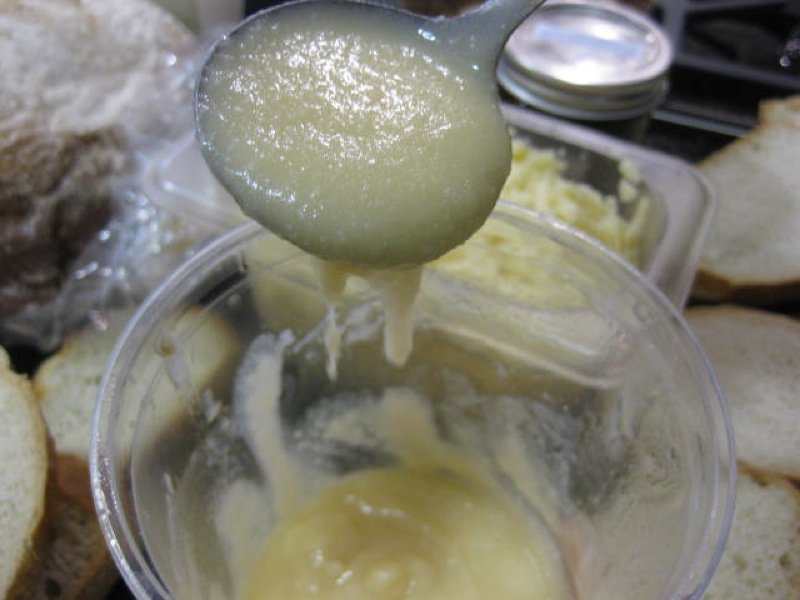 And while I am talking about how good these sandwiches appear to be, there was an angel of a little gal about 2 and a half years old with her mommy eating up a storm at Jeff's station. I asked her if it was good, and she nodded very seriously. Then I asked,"How good is it, sweetie?" And she knocked my socks off when she held up her little grease laden fingers and held them about an inch apart to say, "oh, about only this good." Here she is doing that, and in case you cannot see her little hand, she held still while I took a close up of it.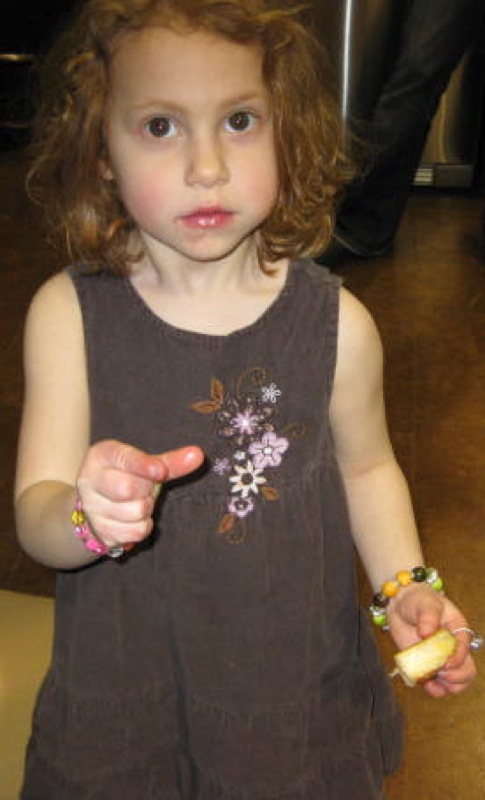 Cyrus showcased Kirsten's Chocolates by making a goat cheese and chocolate sandwich garnished with mint. Chocolate? In a sandwich? I love how Cyrus thinks! And, his little helper can play a mean ukelele and sing Neil Diamond with such a mournful melody that you would really believe he wrote the words himself.
Renita, a fellow Slow Food member, decided to go for broke. She brought in enough sandwiches to feed an army (below, left), and deep fried them all. They were golden and beautiful, but the store filled with smoke and everyone was a little excited about whether or not something had caught on fire. Bonus points for her ingenuity. As she said, they were supposed to be seared on the outside, and crispy with a warm and melted centre. That is exactly what happened once she got the oil temperature right!Here she is smiling with pride as she holds a batch of her uncut sandwiches. This photo was also taken by Sharon Yeo. The pickles garnishing Transcend Coffee's, Poul Mark's sandwiches can be seen here. They were the perfect garnish for the old fashioned contemporary sandwich. This is the bottle they come in. He says he has a private source but they currently cannot be purchased in the city. We'll see what we can do about that!
The event was held at Coast Appliances and their facility was exceptional as was their graciousness. And, look who happened by? The quintessential Edmontonian, Mack D. Male! He never misses a beat, or an event. Neither does his counterpart, Miss Sharon Yeo, standing behind him coveting the appliances in the store (or making herself an espresso; I wasn't sure which). I don't think I'd have a clue what was going on in this city without either of their websites.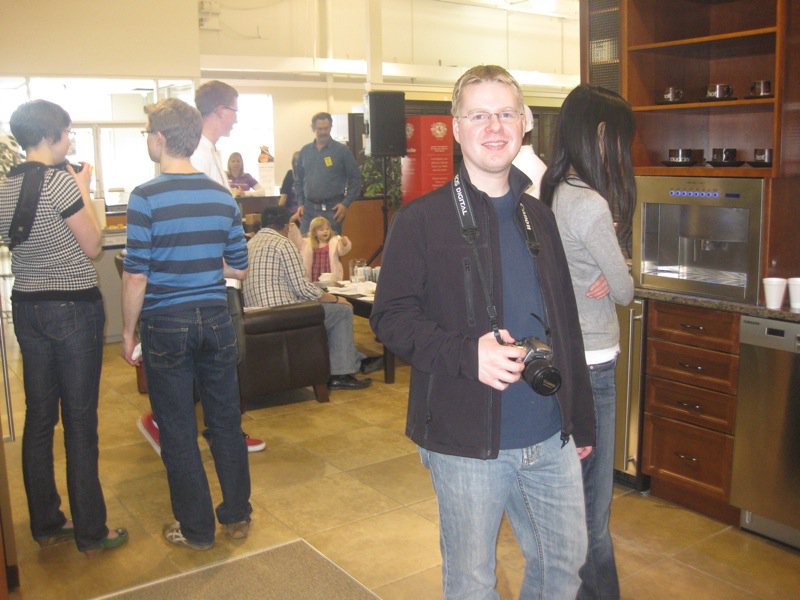 Now, where did the crowd start to gather to get a taste? You guessed it! Right around the island that my students were grilling up their goodies.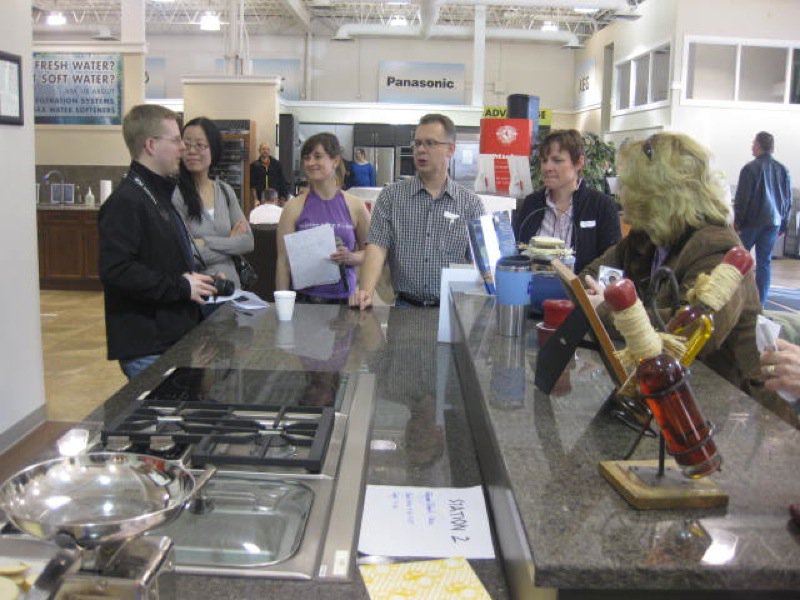 Jenna is frying and Bailey is preparing…
One is ready for the hungry samplers. One is yet to cook. The gals have worked out a system and are getting their sandwiches out – not all at once, but on schedule! Look at that golden bread!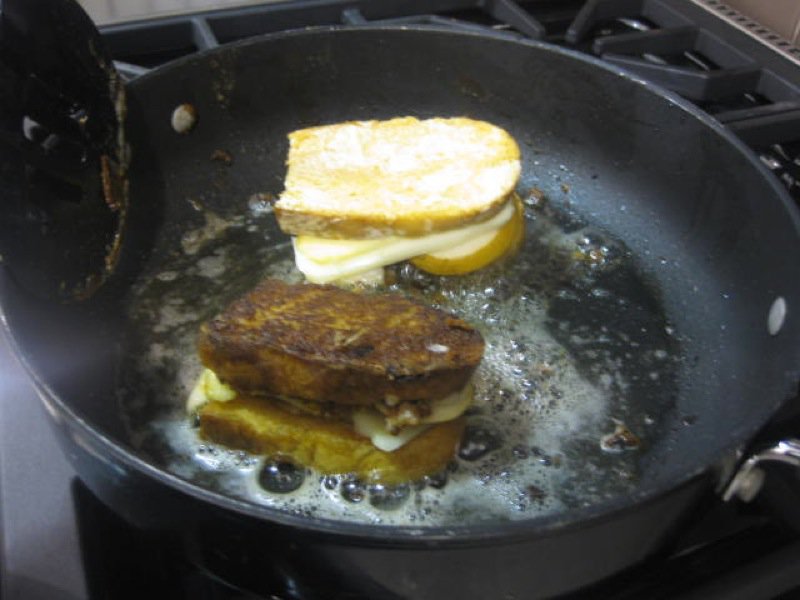 You might call this one stacked sandwich. The gals had GREAT ideas, and both girls have an incredible palate or flavour sense; however, they did have a great deal of difficulty keeping this piled up inside of the pan until the cheese melted. The pushed the sandwich together, panini style to get the affect they wanted.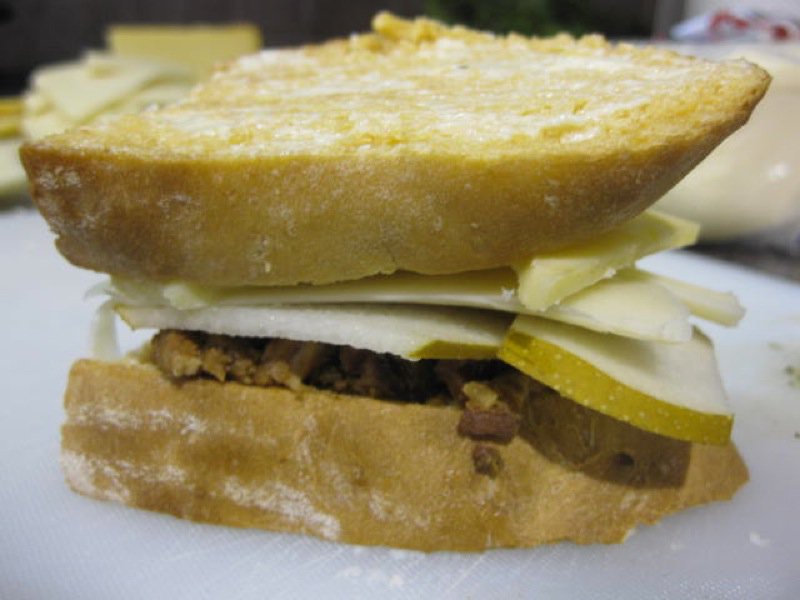 Instead of a gold medal, the winners in each category received an engraved spatula compliments of Panderno. The People's Choice winners in each category received engraved cheese slicer, also from Panderno.
Below, Ben and Nathan suppressing their joy winning in the Contemporary Category and receiving their magic wand and a $25.00 gift certificate from Paddy's Cheese.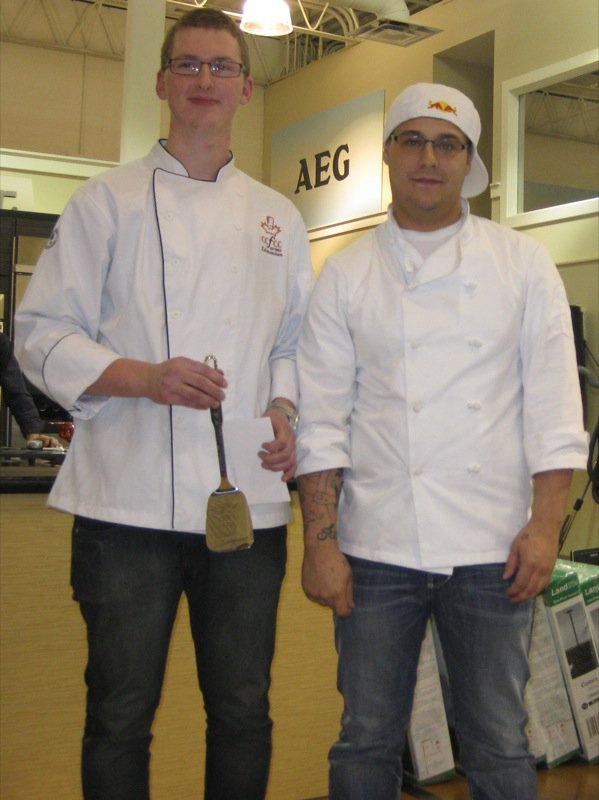 Jeff did not look surprised, but he did look mighty proud of himself. And, he should have been. He had some stiff competition but created the winning sandwich in the Classic category receiving the same great gifts.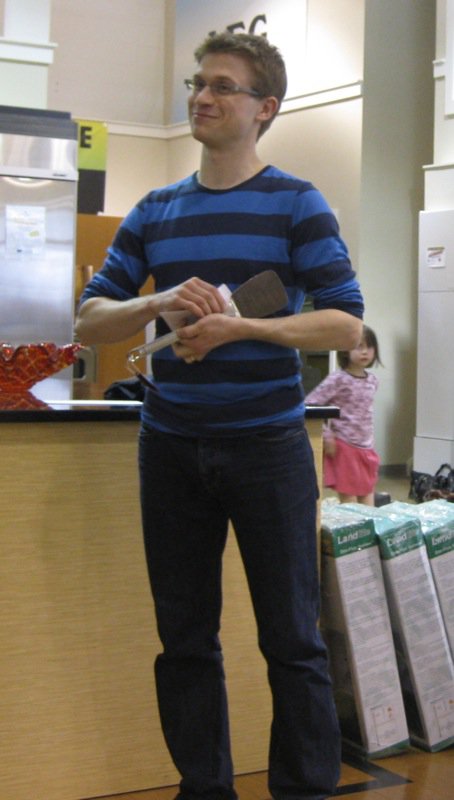 Nate is accepting The People's Choice award in the Classic Category and his certificate from Madison's Grill for a Grilled Cheese sandwich.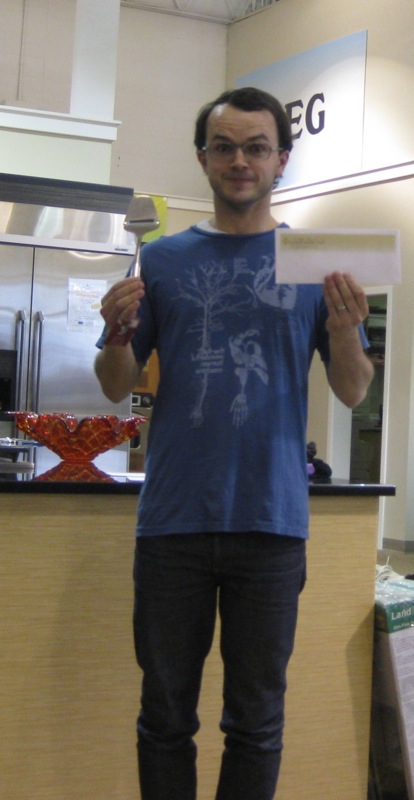 If anyone has a photo of me accepting for the girls, please send it to me. I would love it. Unfortunately, my gals enjoyed a few samples but had to be off and did not stay for their moment of unexpected glory at the end of the challenge. I am going to honour them with an additional $25 dollar gift certificate from the school so that the two of them can get in some fine grilled cheese dining an Madison's with a special drink, a dessert, and have the tip paid. They deserve it!
Here are the organizers, some of the assistants, all participants (except my two lovelies who left early) and the judges.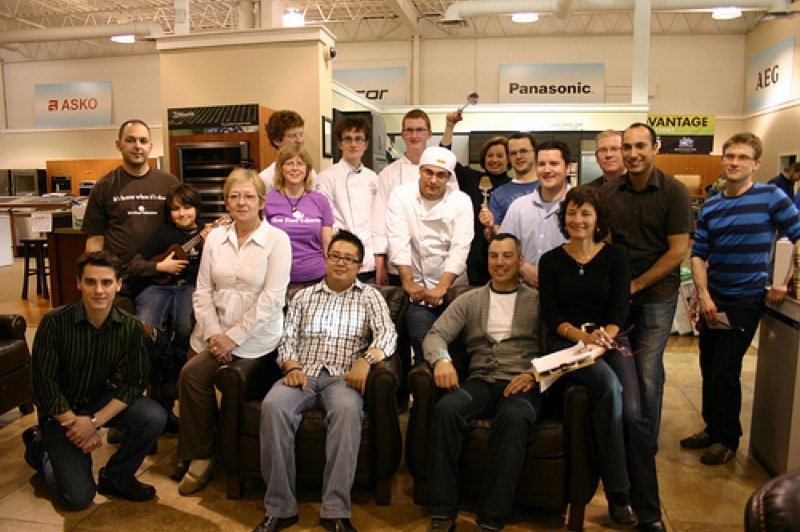 Again, the winners are:
People's Choice Classic: Nate Box with Tree Stone Bakery's brioche and Sylvan Star Gouda
People's Choice Contemporary: A Canadian Foodie (that's me!) and Kate Chegwin students, Bailey Close and Jenna Striefel, with smoked paprika bread, cumin and fennel seed bacon spread, applewood smoked cheddar and mozzarella cheese with BC grown Asian pear
Judges Choice Classic: Jeff Johnson, a Slow Food member, with homemade bread, emmental and sharp cheddar
Judges Choice Contemporary: Ben Staley and Nathan Gour from North 53 Catering, with goat cheese, brie, prosciutto and sun-dried tomato accompanied with their homemade tomato onion confit
And, thank you to Chad, Thea, and all of their friends and Slow Foodies who assisted in making this event the great success it was!
Bailey and Jenna's Kate Chegwin Olympics Grilled Cheese Special
Ingredients:
2 slices of Sweet Smoky Paprika Bread (a white bread recipe with 5 grams of sweet Spanish paprika added)
1 generous tablespoon (15 mL) bacon spread
1 thin slice of Asian pear (enough to cover the bread)
45g of Applewood Smoked Cheddar cheese
20g of Mozzarella
butter for frying sandwiches
Instructions:
Place the ingredients inside of the sandwich; butter the outside of the sandwich
Fry in medium hot frying pan with more butter
Layer the sandwich bread with the cheeses, the pear and the bacon spread. Grill.
Slice and serve garnished with a quarter of a cherry tomato, and half of a homemade yogurt cheese ball
Bacon Spread
Ingredients:

6 slices of K&K Foodliner bacon, minced
I scant teaspoon cumin seed
1 teaspoon fennel seed, coursely ground
2 tablespoons Parmesan cheese
2 large cloves of garlic, minced
Instructions:
Saute bacon for 3 to 4 minutes; add remaining ingredients and fry until combined and flavours meld; about 5-6 more minute