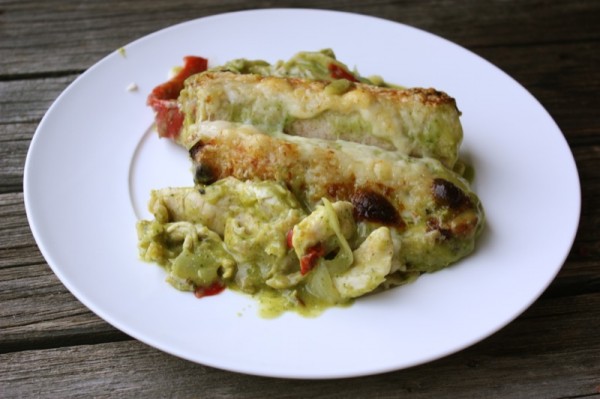 I love Mexican food. The most authentic Mexican food I have eaten is Rick Bayless's food in his little chain restaurant in the basement of Macy's in San Francisco. Soup for $2.99 and it was unforgettable. I had it my second trip there, too. I think I have had everything in that little café now. I want to make and taste an authentic red and black Mexican Mole. I have both of Rick Bayless's recipes and have purchased all of the ingredients, except for the black mole I need the "real" dark Mexican chocolate and none of the Mexican stores in town can import it. Anyone have any? I will trade it for some of the sauce I am going to make?
In any case, I follow Vianney and she shares her ethnic Mexican cuisine from her home in Texas. Usually, I just salivate and wish we had those ingredients here so I could try her recipes. However, this recipe looked so simple and straight forward. And, comforting, as she said. So, I found myself on a mission to make this dish.
We do have some great Mexican grocers in town now, and I cannot praise the fellow at Argyll Foods enough. He was so kind and helpful. Poblanos can often be found at the Italian Centre Shops, but they are always at Argyll Foods on Thursdays. I knew right away I was only going to make the sauce and freeze it, as Vanja was away.
He returned home last night, and this was the meal I had for him today. He is not an adventurous eater and he loved it. I found it so comforting. It isn't like a food from my own past that I can relate to comfort and home like homemade macaroni and cheese, but it is subtly flavoured, yet flavourful. It was not rich and fatty, but it was smooth and satisfying. I did make some changes as I couldn't imagine it without vegetables in it. I suppose that is because my only frame of reference is fajitas. It was delicious with the onions and peppers. They added colour and nutrition without changing the flavour profile too much, me thinks. Was this too bold, Vianney? Do these additions make it something completely different?
I also tripled the spinach. I had a huge bunch ripe in the garden and used the correct amount, tasted it. Then doubled that, tasted it. Then added the remainder and I don't think it switched it up too much, either. I would imagine that's what Mexican mothers, and even Rick Bayless would do.
I make roasted red peppers all of the time, so roasting and peeling the Poblanos was not hard. The question was: how hot are they. I knew they were not a hot pepper, but everything is relative. So, I set aside half of them and didn't add them to the sauce until I tasted the first half. Honestly, even after adding them all, I could not taste anything different. So, I added two more. Then there was a very gentle whisper of Poblano in the mix.
I did make the sauce in my Thermomix, and is was filled to the max before adding the spinach and peppers, so I poured half of it out and then added them into the one half until puréed. At this point, I mixed the two sauces together, and froze them in freezer bags.
I just thawed one bag of three cups of the sauce today, used two very large chicken breasts, 6 large soft tortilla shells, 2 small onions and one red pepper. It took me 20 minutes from start to finish.
We are both delighted with this recipe. I would serve it to company for a casual meal or take it to a potluck dinner. I now have a lot of other ideas about how to switch it up and am that much closer to being able to make my red enchilada sauce. (Both the red and the black sauces are so complicated, but I am determined. And, I don't know how either is "supposed" to taste, so if I like it, I will call it a success!)
Thank you, Vianney, for opening this Mexican door for me! I am over the threshold and shall see how this adventure unfolds!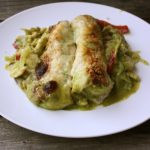 Roasted Poblano Spinach Enchiladas


Healthy, nutritious, delicious and economical: this flavourful make ahead meal will become a homey family favourite.
Makes 8 large or 12 small enchiladas.
Total Time
2
hours
20
minutes
Ingredients
Ingredients for the Poblano Spinach Enchilada Sauce:
6

fresh Poblano chiles

, charred and peeled

100

g

young spinach leaves

400

g

whole milk

900

g

organic chicken broth

180

g

butter

9

garlic cloves

, peeled and finely chopped (to taste, and depending upon size)

1

cup

flour

salt to taste
Ingredients for the Filling (serves 3-4):
2

large chicken breasts

, thinly sliced

1

large or 2 small red onions

, thinly sliced

1

large red pepper

(or 1/3 of each orange, yellow red), thinly sliced

(or 3 large peppers: red, orange and yellow, thinly sliced)

8

large whole wheat tortillas

500

g

Monterey Jack Cheese
Garnishes:
cilantro

sour cream or Mexican Crema

salsa or pico de gallo

avocado

fresh lime
Instructions
Instructions for the sauce using the Thermomix:
Roast the Poblanos over a gas flame or grill, turning regularly, until the skins have blistered and blackened on all side (5-8 minutes)

Cool; peel or rub off the blackened skin, tear open and pull out the seeds and stem

Place in bowl; add spinach and set aside

Add garlic to TM bowl; pulse to mince, scrape down sides of bowl

Scale in butter; sauté garlic in butter for 5 minutes at 100 C, speed 2

After 2 minutes, add flour through hole in the lid and continue to cook, speed 2-3; scrape down the sides of the bowl midway, and increase speed to 3

Scale broth into the TM bowl over the garlic roux; set time for 10 minutes, temperature to 100°C and speed 2-3, until the sauce boils (the TM bowl will be at maximum capacity)

Cook for 5 more minutes at 80°C, speed 2-3

Add roasted Poblanos and spinach to sauce mixture in the TM bowl; blend until smooth: 30 seconds, speed 1 – 10

Scale in milk; stir for 5 seconds speed 3-4

Season with salt, approximately 2 teaspoons
For the Freezer:
Portioned 3 cups per 4 bags and one bag with 2 cups; label, date and freeze
Instructions for the Enchiladas (serves 3-4, using one 3 cup bag of the sauce):
Heat the oven to 350 degrees

Spread 3/4 cup sauce over bottom of of 13×9 inch baking dish

Place onions, peppers and sliced chicken in frying pan with a little oil; sauté until done

Season well with salt and freshly ground pepper; place a portion of chicken mixture into each tortilla

Roll and line in baking dish on top of sauce (optional: add 1/2 cup sauce to the filling)

Cover rolled tortillas evenly with remaining sauce; sprinkle liberally with grated cheese

Bake until enchiladas are hot throughout (cheese will have just begun to brown and sauce will bubble) 20 to 25 minutes

Garnish with cilantro, sour cream, avocado and salsa or pico de gallo, lime; serve immediately
Recipe Notes
I made a double batch and added twice the amount of spinach because it needed to be used; I also added the onion and red peppers.
I would love to hear what your favourite authentic Mexican recipes are, and better yet, would love to see your recipes!