Keto Poblano Chicken Stew: Comfort in a Bowl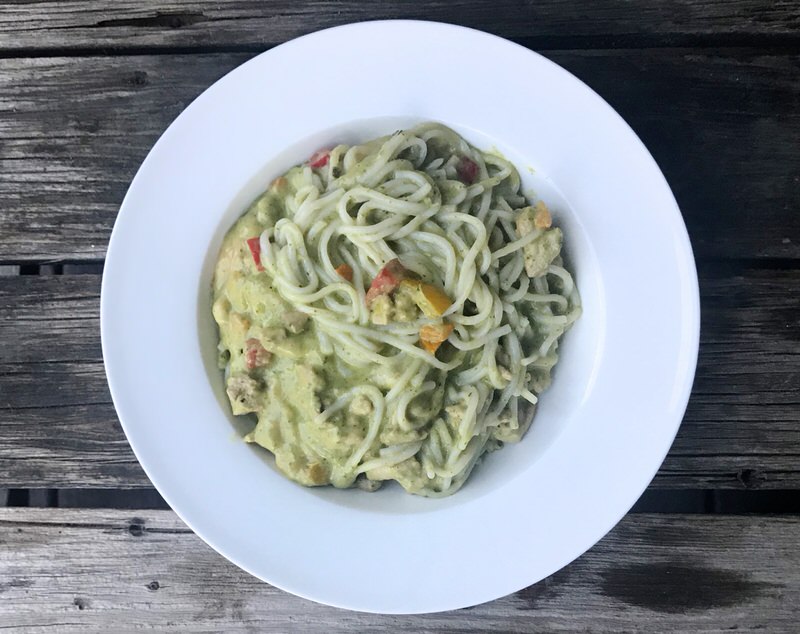 Reboot Keto Poblano Chicken Stew may not be a beautiful dish to look at, but it is sumptuous, deeply satisfying and a deliciously comforting recipe.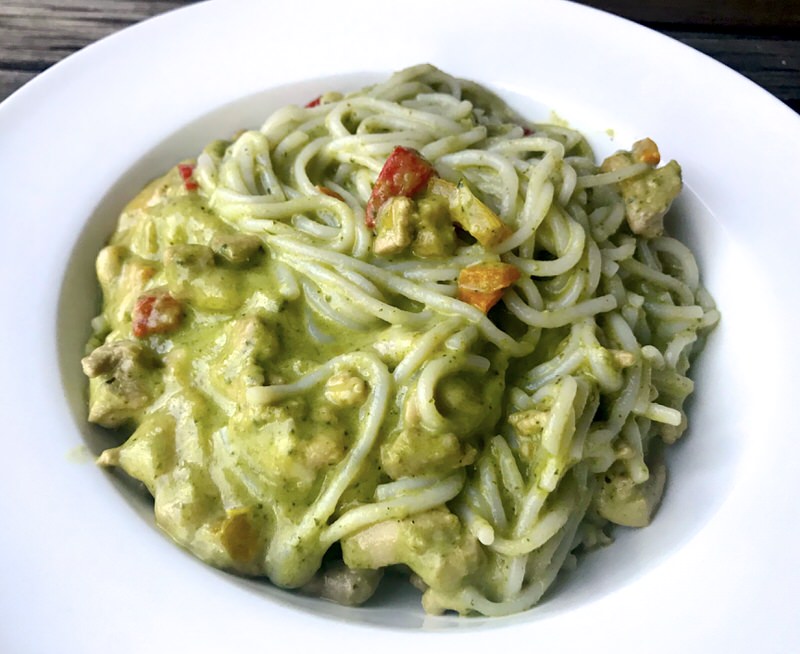 I was inspired to make this stew by my Poblano Chicken Enchiladas recipe as the sauce is simply irresistible. Not spicy or hot, and not difficult to make, yet timely only as the Poblano's must be grilled and peeled.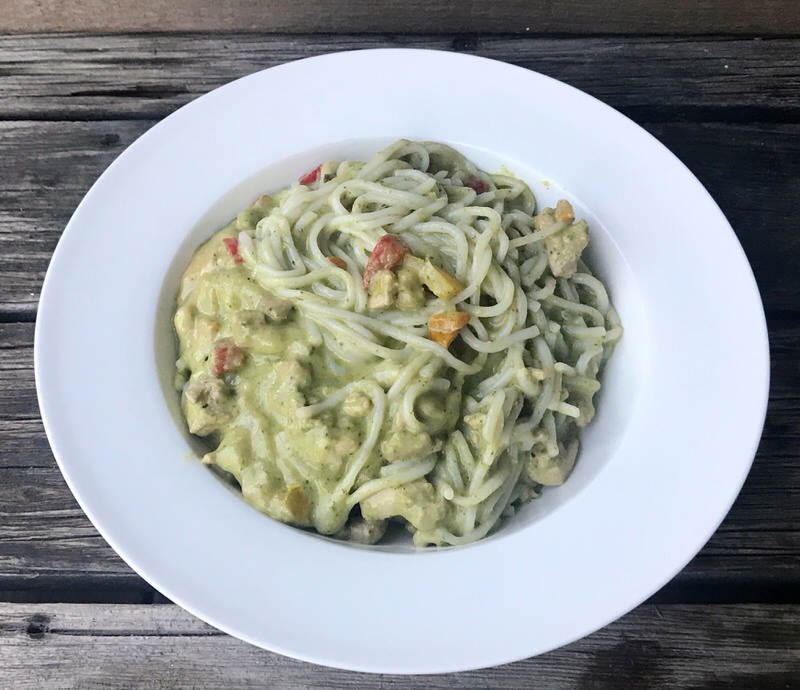 I buy a big batch, grill and peel them a day in advance, and then this recipe is a breeze. Freezes beautifully and loved by all.
Keto Poblano Chicken Stew: Mise en Place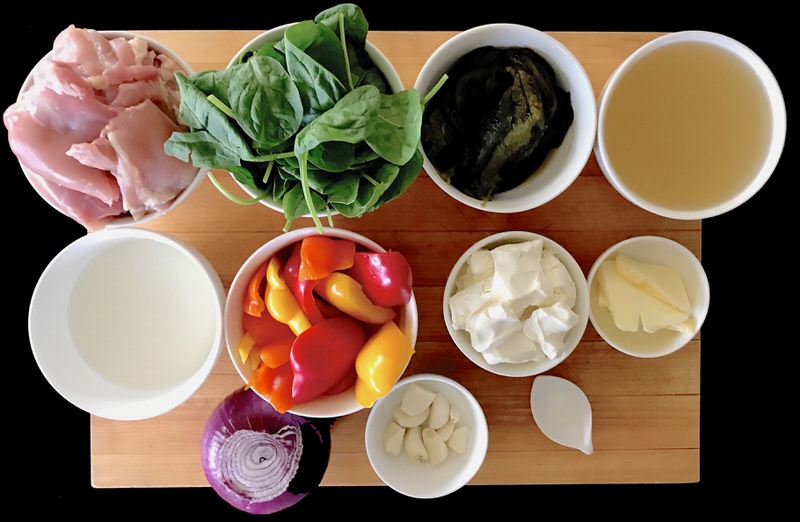 Chicken, spinach, roasted and peeled Poblano peppers, chicken broth, (milk not used), tri-colour sweet bell peppers, cream cheese, butter, onions, garlic and salt: good, healthy ingredients. Below, the cheese topping.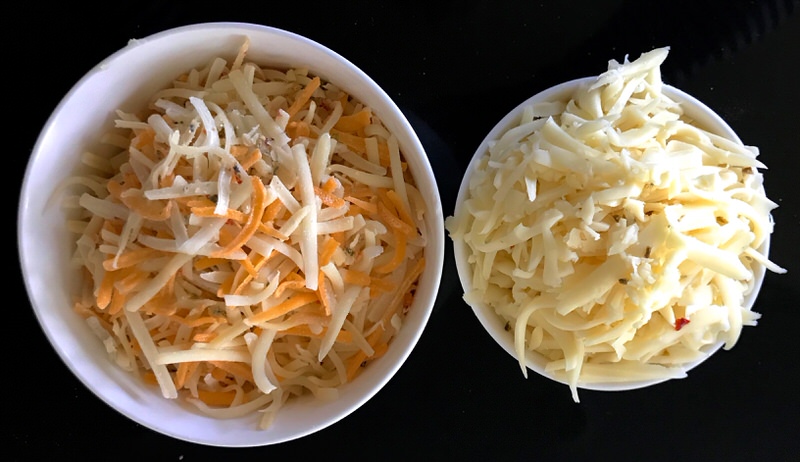 Above, are the ingredients for one batch of this recipe which yields 8 servings. I always make three batches at a time, now. Why? I can roast and peel 18-20 Poblano's comfortably, without stressing over the process. Any more than 18-20 is too much and I don't enjoy the process. Enjoying the process is essential for anything I make in the kitchen. If it's a chore, it's a bore.
Keto Poblano Chicken Stew: Preparing the Sauce in the Thermomix Machine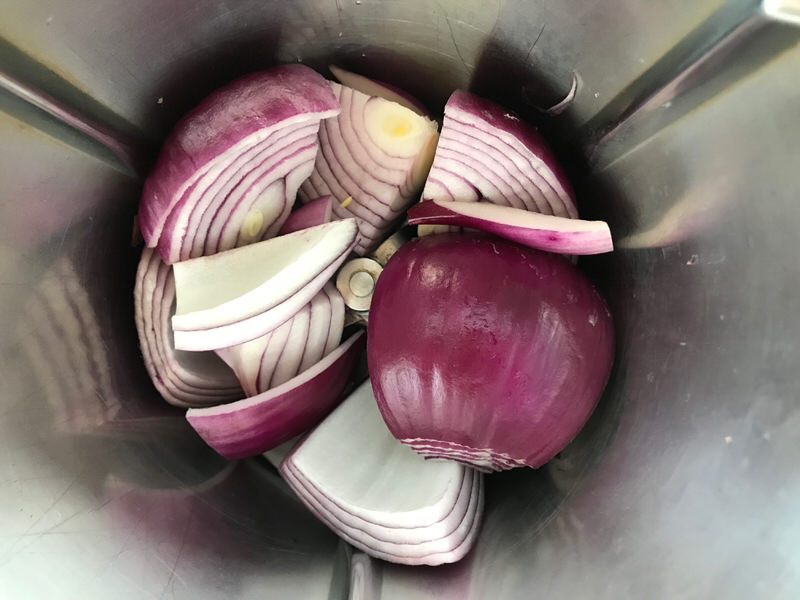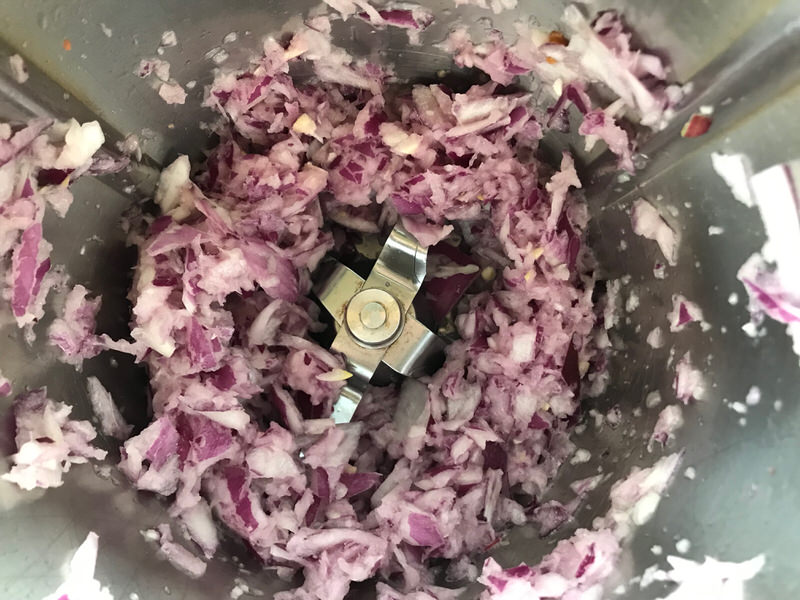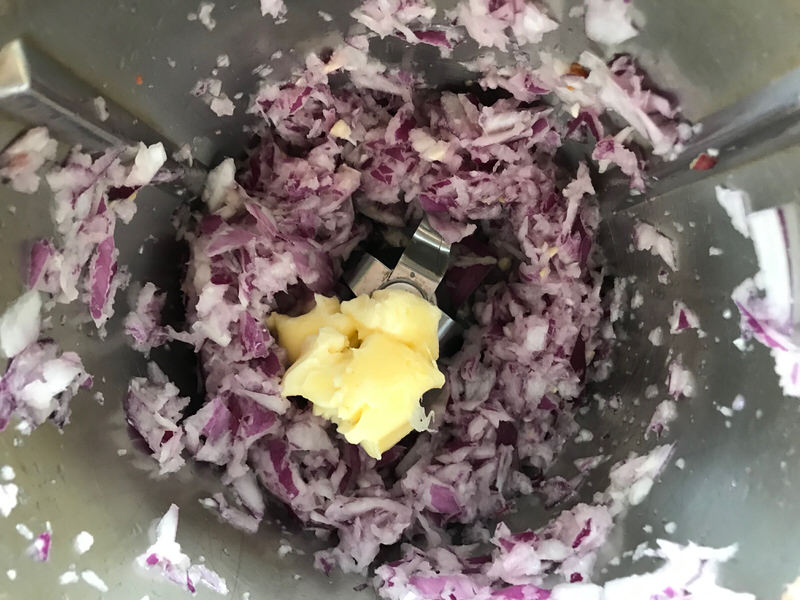 You can sauté the onions on the stove top, and the recipe for making this without a Thermomix machine is also provided, below. However, I make everything I can in my Thermomix machine. Why? No muss. No fuss. Lot's of flavour and fun!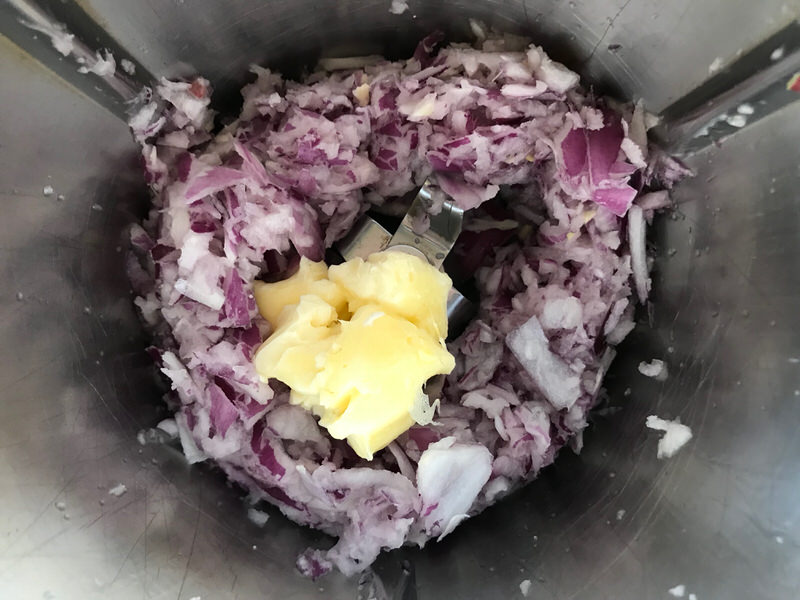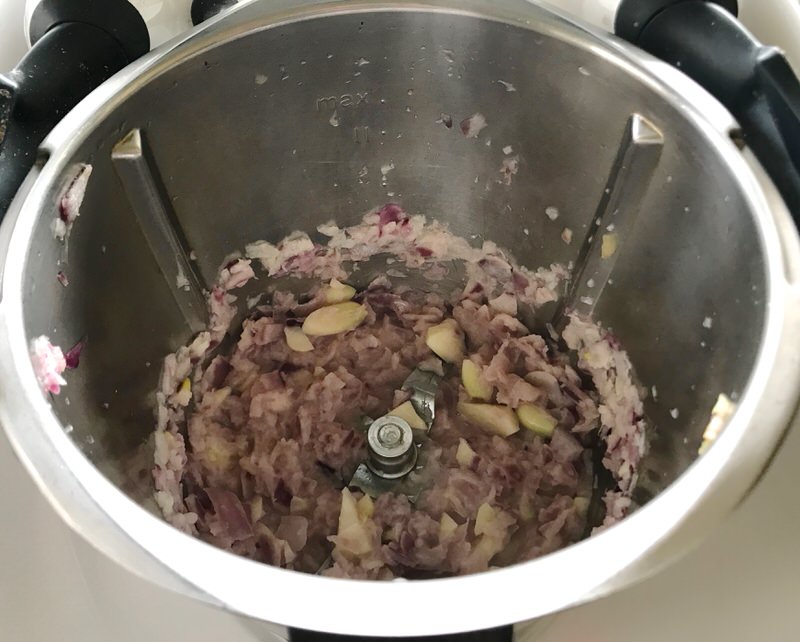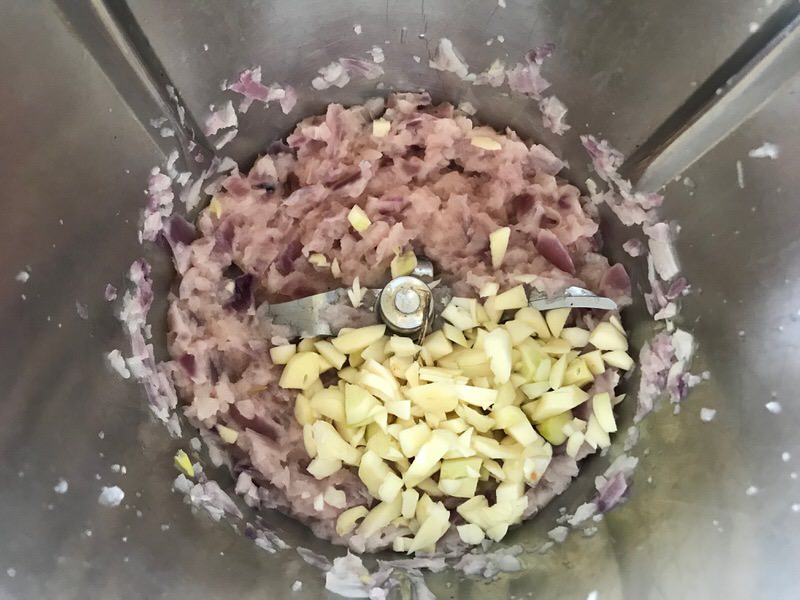 Once the onions are chopped, they are sautéd in butter, the garlic is added and sautéd briefly, then the broth is added and the aromatics simmer away.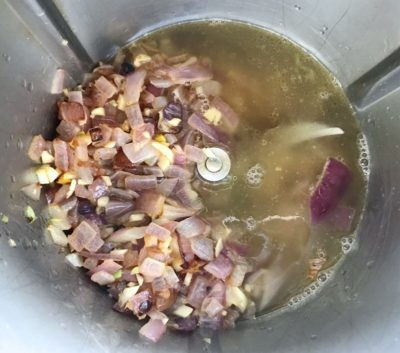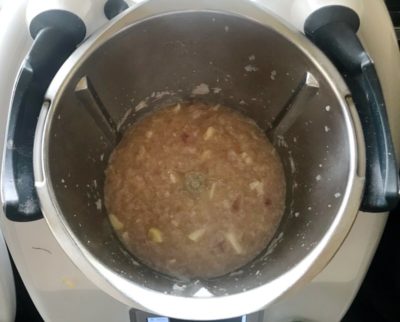 Ten minutes later, while the machine simmers and stirs all by itself, I add the spinach with the roasted and peeled Poblanos, below.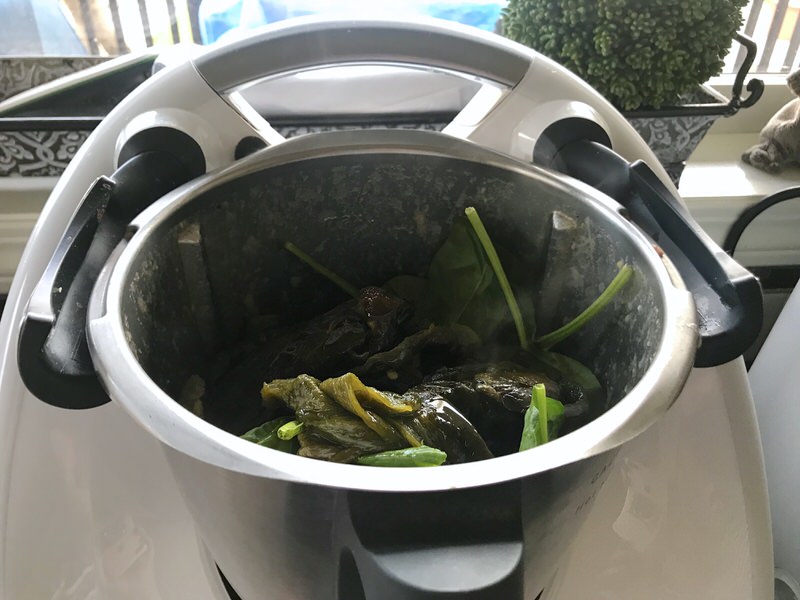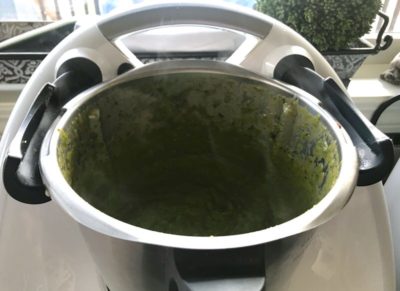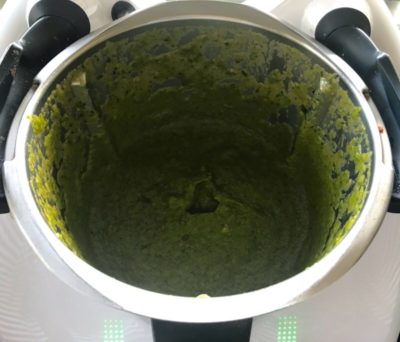 You need a blender at this point, anyway. Puré the ingredients.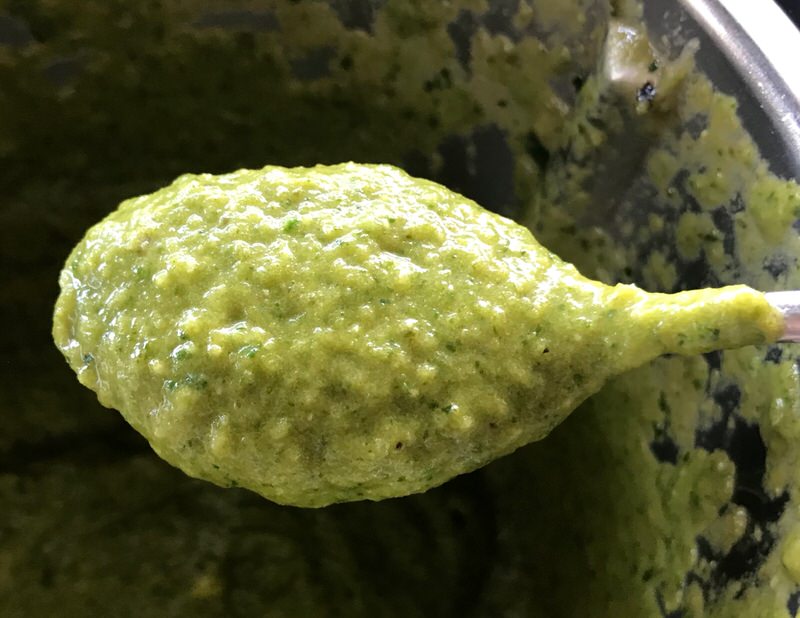 Lovely texture and vibrant green goodness.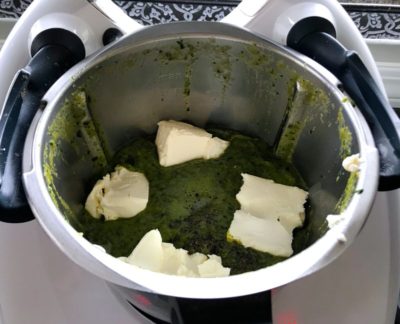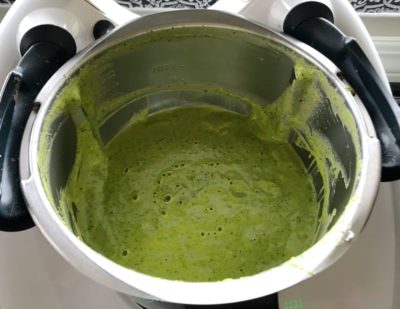 Add the cream cheese to give the sauce some body and round out the flavour.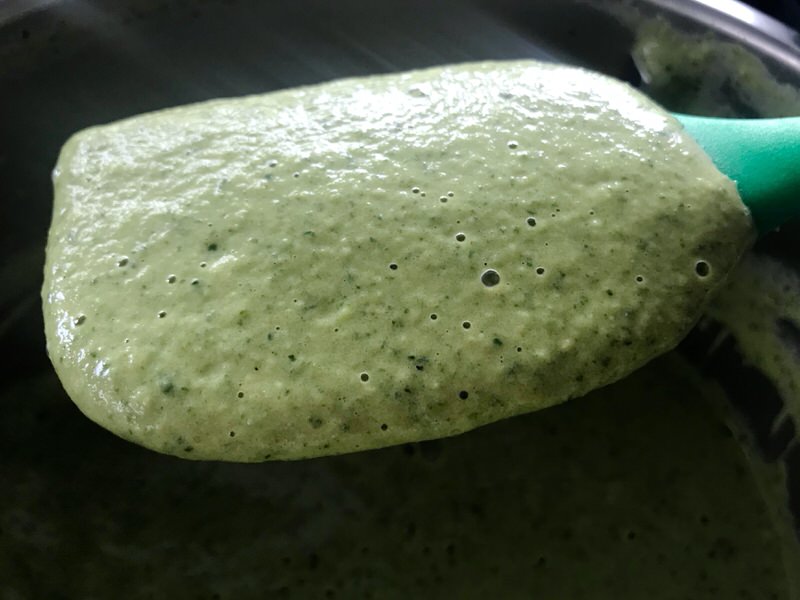 Gorgeous! Sauce is done, now let's get the filling prepared.
Keto Poblano Chicken Stew: Preparing the Filling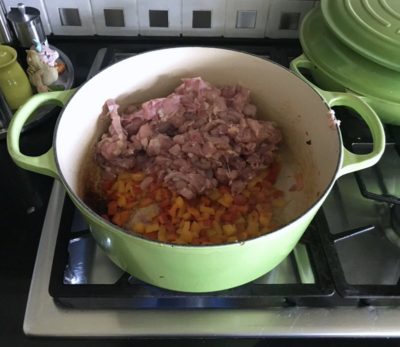 The recipe is so easy, that if I hadn't tasted it, I would likely not believe it was as delicious as it is. However, simple ingredients usually yield the most vibrant flavours and this is a recipe that is soothing and comforting. Vibrant? Yes, but in a very polite confident and resourceful manner.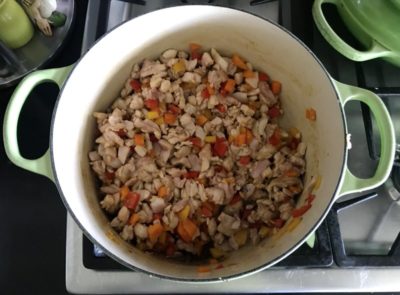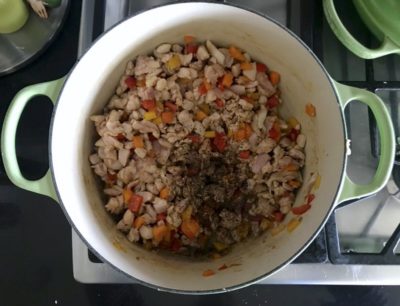 The filling is simply chopped chicken breasts sautéd with bell peppers.
Keto Poblano Chicken Stew: Putting it all Together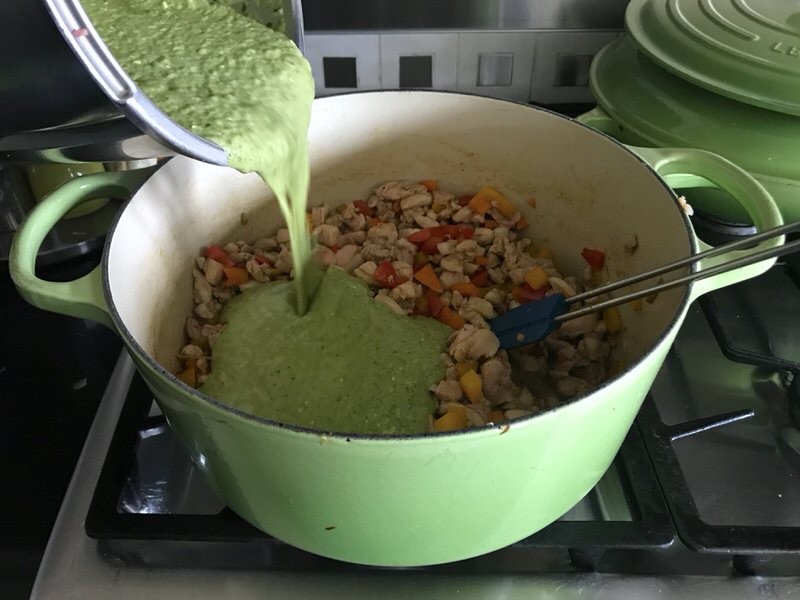 Smothering the know-your-farmer dark chicken breasts and sweet bell peppers with the velvety sauce is reminiscent of food play in my youth. The sauce envelopes the colourful mix, cloaking it fully in verdant benevolence.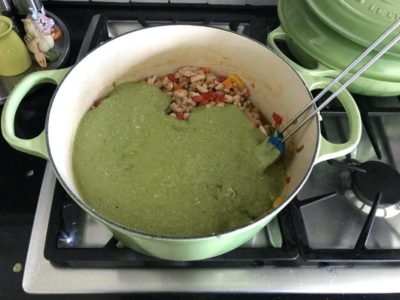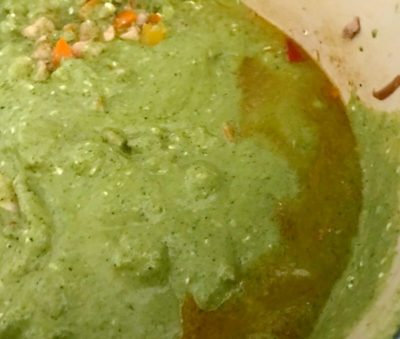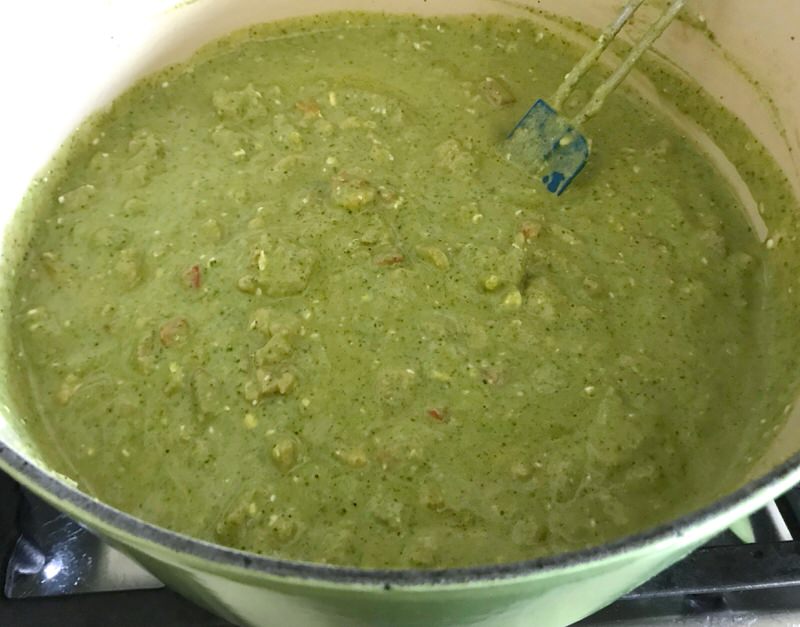 There is a little fat from the sautéd ingredients (middle image, above), but it fully incorporates and adds to the depth of flavour.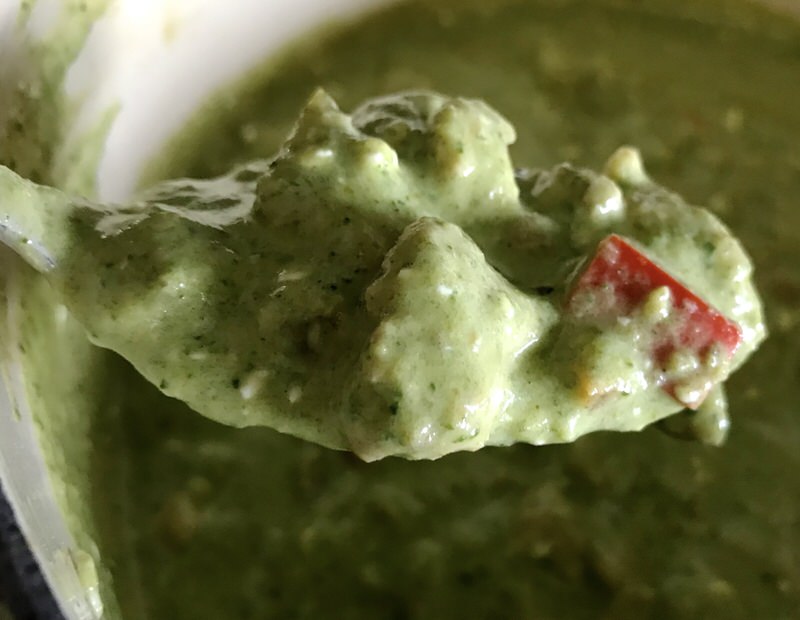 That is it. So simple. So tasty. So healthy. So pretty!
Keto Poblano Chicken Stew: Preparing Portions and Topping with Cheese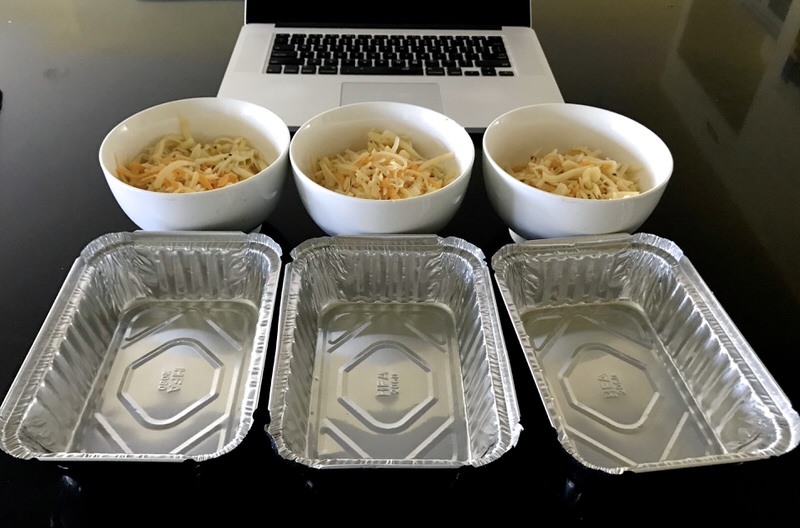 One recipe makes four of the small foil containers, above. Each holds 2 servings.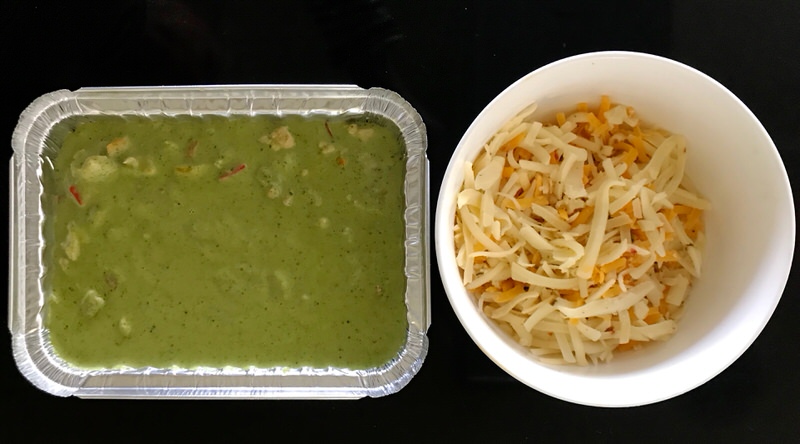 And each is topped with carefully measured cheese. I actually weighed each foil portions for the most equal distribution.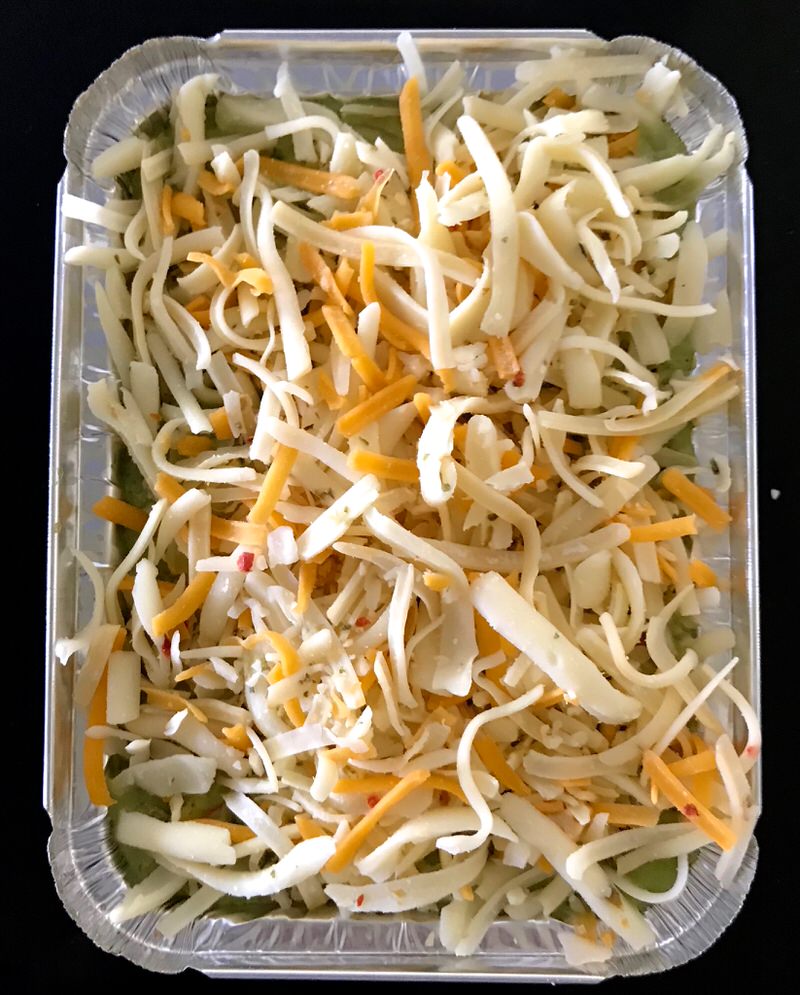 Into the freezer they go.
Keto Poblano Chicken Stew: Freezing and Baking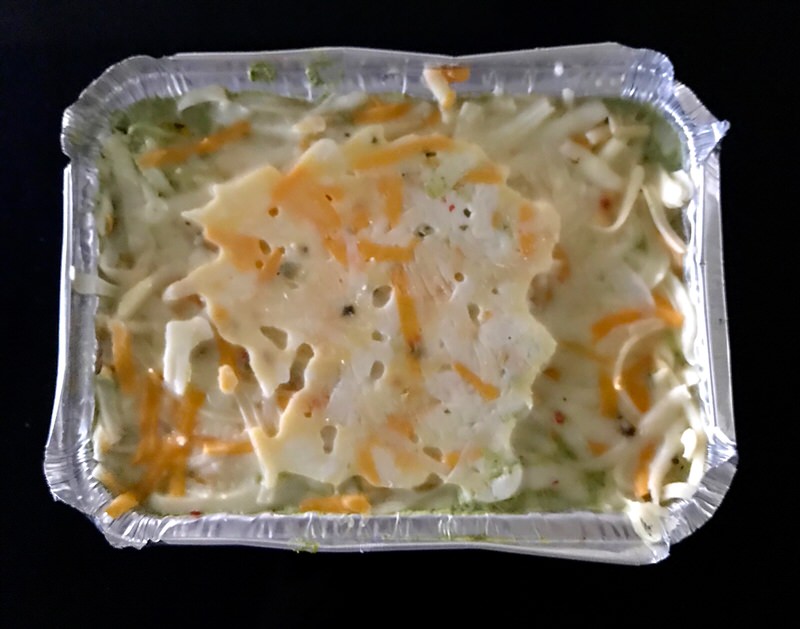 Out of the freezer, lid removed and into the oven until hot and bubbly.
Keto Poblano Chicken Stew: Serving it Up!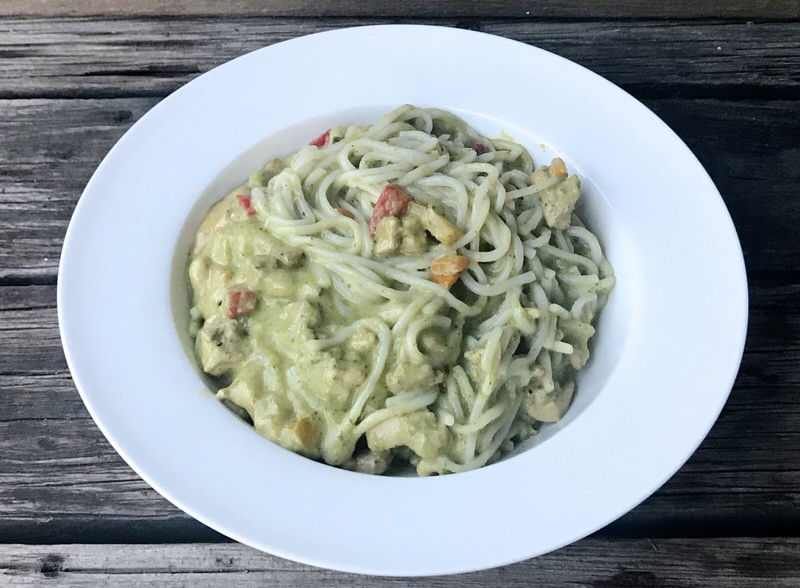 I like mine in a bowl and eat it just like a thick chowder or stew, no pasta added. Of course, we don't eat grains of any kind in our current eating program (Evolv Health Total Gut Health Reboot), but NuPasta made with the Japanese Konjac corm or bulbotuber and a bit of GMO-free soy is the perfect addition to this stew for my husband as it adds a little bulk to fill up his tummy.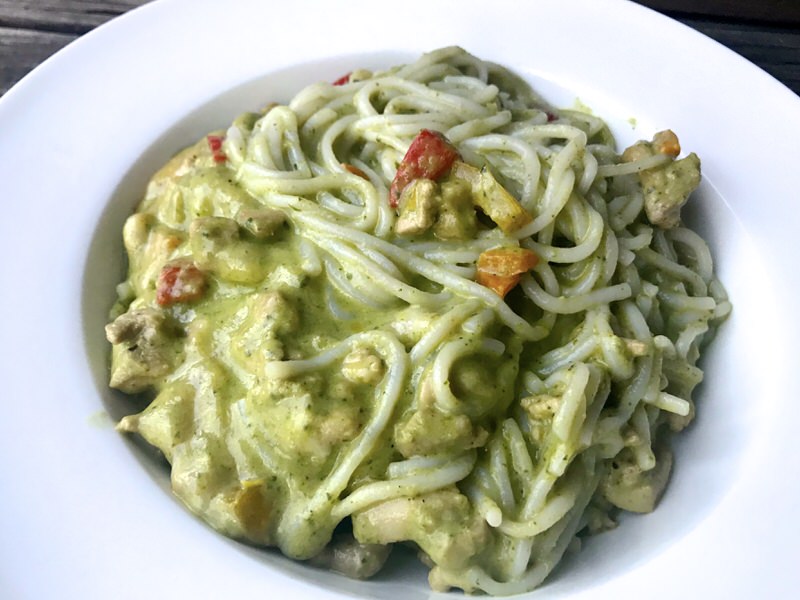 And the velvety sauce adheres to pasta like its new best friend, so it is a great combination!
Sincerely hope you are enjoying Project 2019: Evolve Health Reboot recipes as much as we do at our house! If you want to join me in our quest toward complete revitalization, let me know in the comments below.
This recipe is one of many from Project 2019: Evolv Health Reboot – Join Me!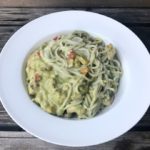 Reboot Keto Poblano Chicken Stew or Pasta Sauce
This family favourite is made in batches and frozen in two serving containers for easiest division. Perfect in a bowl as a stew or chowder thick soup, or over Konjac pasta (NuPasta). I translated this family favourite chicken enchilada recipe to one that would fit into our new way of eating and we just love it! There are 600 calories 45 grams fat 42 grams protein 21 grams carbs in one of the 8 servings.
Ingredients
Ingredients for the Poblano Spinach Sauce:
30

grams

unsalted butter

380

grams

or 1 large red onion

chopped

35

grams

or 7 garlic cloves

peeled and finely chopped or minced (to taste, and depending upon size)

300

grams

organic chicken broth

6

fresh P0blano peppers

charred and peeled

100

grams

young spinach leaves

1

teaspoon

salt

Freshly ground black pepper

to taste

250

grams

cream cheese
Ingredients for the Filling:
30

grams

unsalted butter

1

kilo or 12 skinless boneless know-your-farmer organic chicken thighs

diced

3

bell peppers, chopped

(red, yellow and orange)

1

teaspoon

salt

Freshly ground pepper
Ingredients for the Topping:
250

grams

Monterey Jack Cheese

grated

250

grams

Mexican Cheese

shredded
Instructions
Instructions for the Poblano Spinach Sauce:
Add 30 grams unsalted butter to a heavy saucepan or Dutch Oven at medium to high heat; sauté chopped onion 3-5 minutes, stirring constantly, until translucent

Add minced garlic; stir for 30 seconds; add chicken broth and simmer for 10 minutes, stirring occasionally

Remove all from pan to blender; add prepared Poblano peppers and spinach with salt and pepper

Puree for 30 seconds, or until thick and smooth; add in cream cheese and purée until smooth
Instructions for the Poblano Spinach Sauce in Thermomix Machine:
Weigh quartered onion into mixing bowl; chop for 1.5 seconds on Turbo

Weigh 30 grams unsalted butter into mixing bowl; to sauté onion set time for 5 minutes temperature at Varoma and speed 2

Weigh in minced garlic; sauté for 1 minute temperature at Varoma and speed 2

Weigh in chicken broth and simmer for 10 minutes at 95 C and speed 2

Add prepared Poblano peppers and weigh spinach into mixing bowl with salt and pepper; puree for 30 seconds from speed 1-10 until thick and smooth

Weigh in cream cheese and puree for 30 seconds from speed 1-10 until thick 
Instructions for the Chicken Filling
Add 30 grams unsalted butter to a heavy saucepan or Dutch oven at medium high heat; sauté peppers 2-3 minutes, stirring constantly, until softened

Add diced chicken, salt and pepper; stir to cook for 2-3 minutes at medium heat stirring to combine with peppers
Instructions for Putting it all Together
Preheat oven to 350 F; set rack to middle of oven

Pour sauce over chicken mixture in skillet or Dutch oven; bring to simmer for 5 minutes

Portion into casserole dishes; add cheese on top

Bake casserole until cheese is bubbly; portion 1½ cups per person over Kona pasta or Nu-Pasta

Freezes beautifully
Recipe Notes
600 calories 45 grams fat 42 grams protein 21 grams carbs