Chef Pattie's Thermomix Sweet Paste Recipe is the best. Period.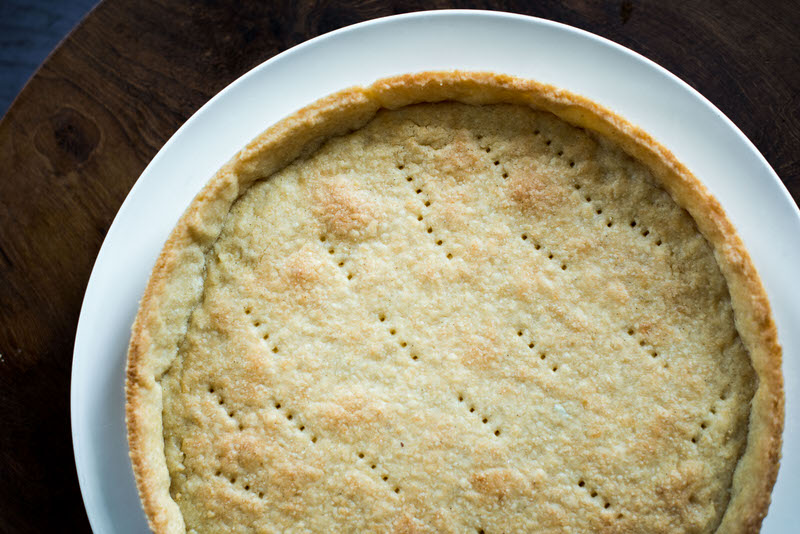 Thermomix Sweet Paste translated from the French Pâté Sucrée is a traditional French pastry for tart making. This Thermomix recipe was developed by Canadian Pastry Chef Don Pattie from Winnipeg and the photos above and below were taken by our own renowned local photographer, Jessica Musslewhite from Mushrooms and Thyme.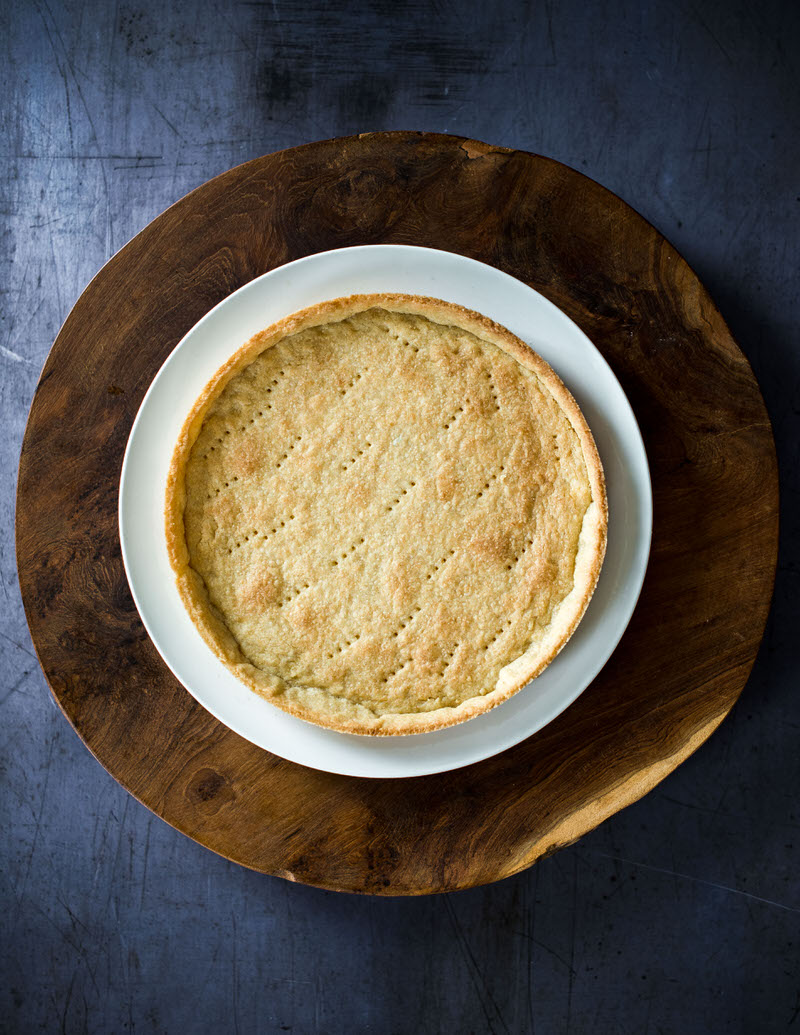 Not only is the pastry delicious, but it need not be filled when blind baking. It doesn't slump! I didn't know this was possible. As Don said, it "tastes very much like an almond shortbread". There is no going back for me. This is my absolute "go-to" recipe from this point forward. Thank you, dear Chef Don.
Thermomix Sweet Paste: Mis en Place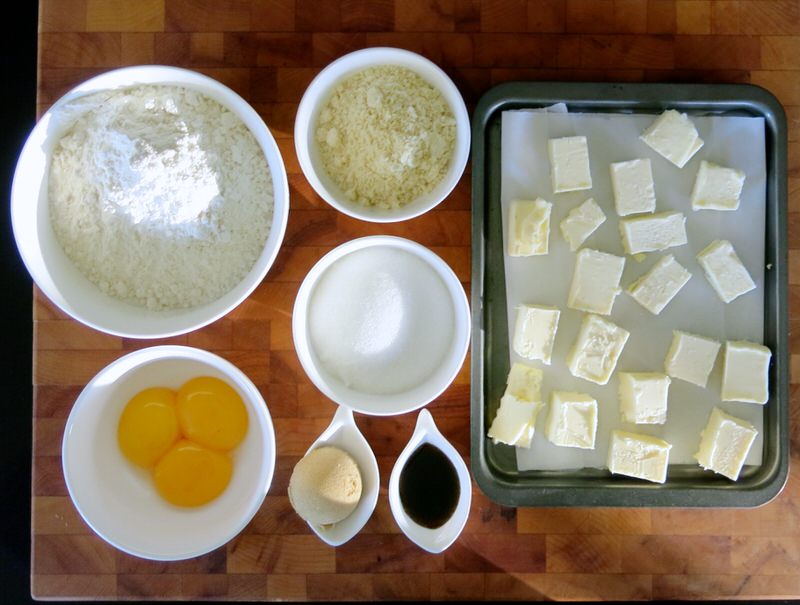 Look at the above delicious assortment of real food ingredients. Butter must be chilled in the freezer. Read the recipe carefully!
Thermomix Sweet Paste: Cutting Butter into Flour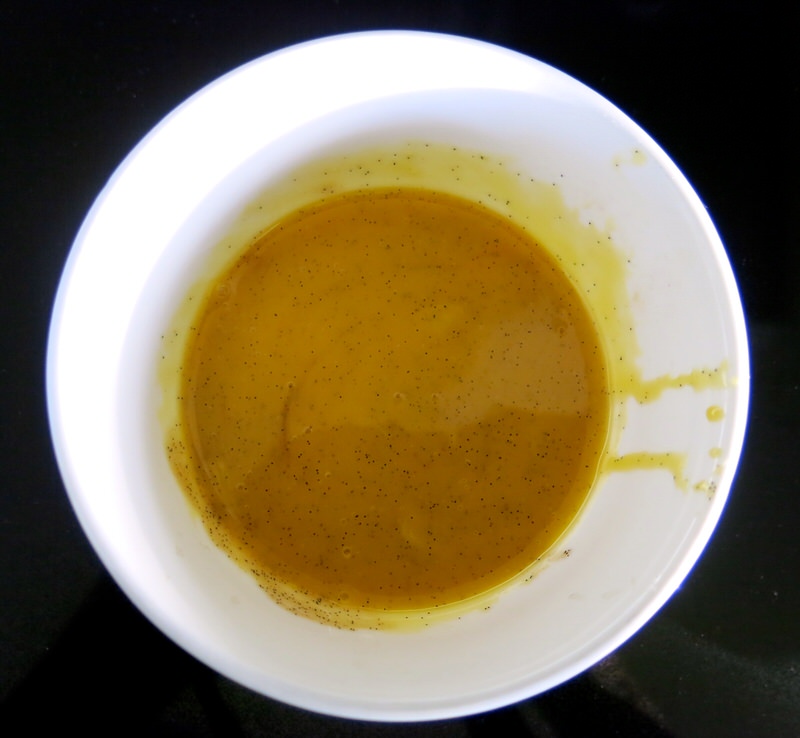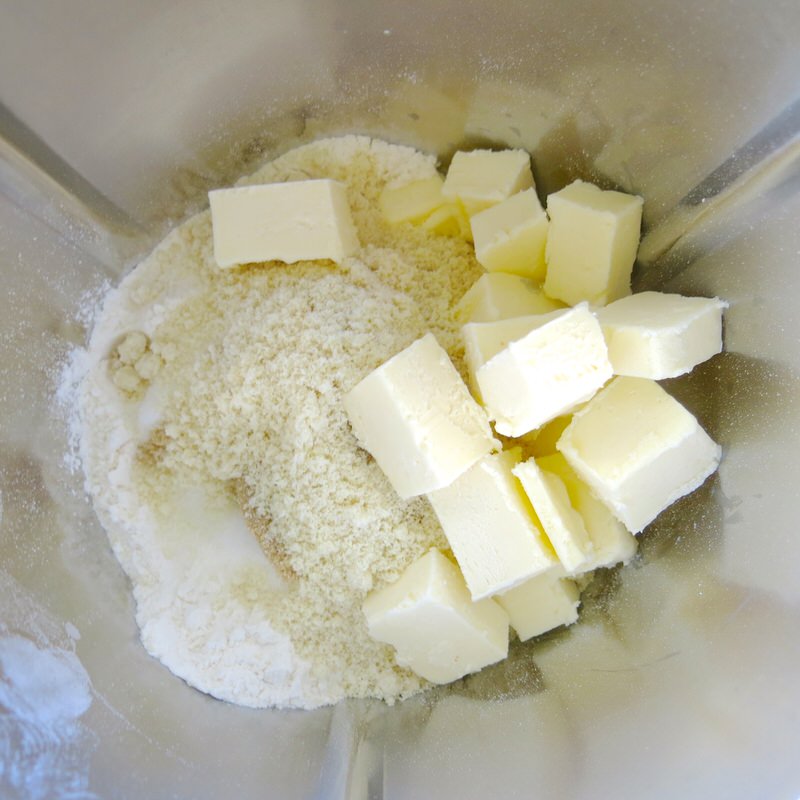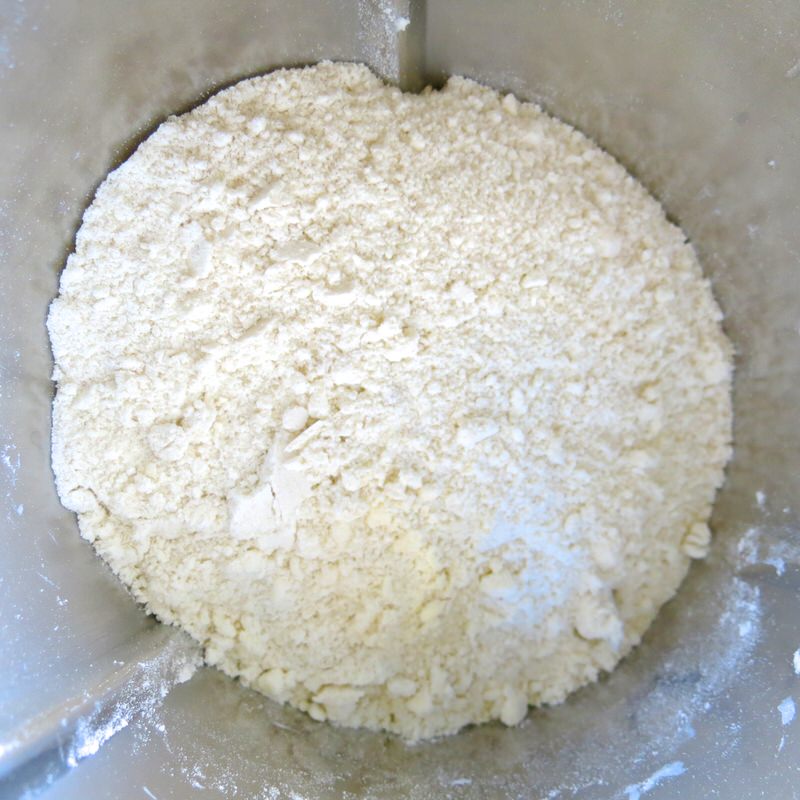 Eggs and vanilla combine and set aside. I love vanilla paste. Yes, the vanilla bean is the real deal, but until I get back to France to buy a bundle at a reasonable price, I will only be using the beans in recipes that showcase only the vanilla. The sugar is at the bottom in middle photo, already blitzed into oblivion. Flour is combined with frozen butter all combined to produce lumps about 1/4 green pea size.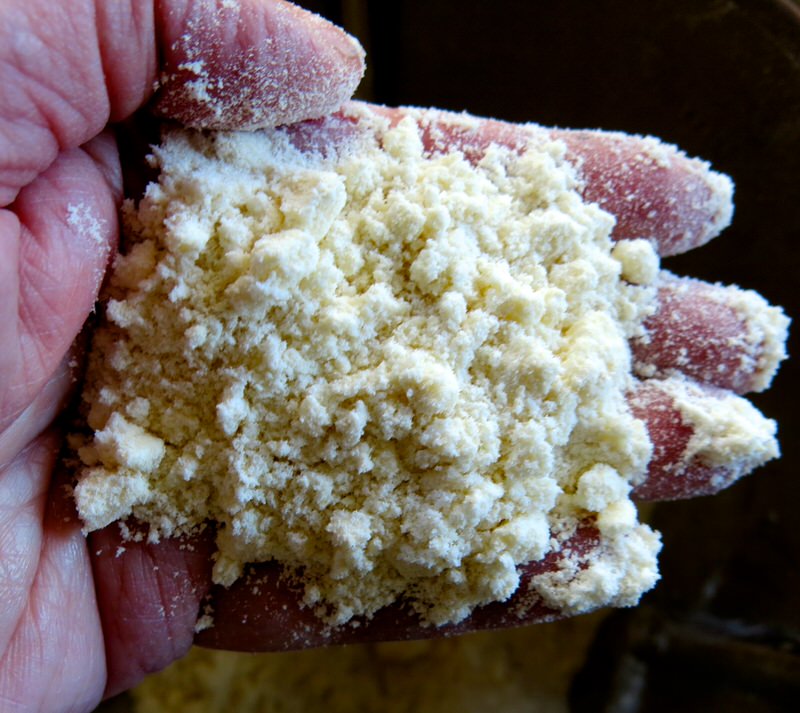 Who knew that a photograph of the beginnings of a pastry (sugar, flour, butter) could give one shivers. I love my Thermomix, but I really love baking and making and creating. Don provided photos for his recipe which really helped me understand where my pastry needed to be. And, well, all of my recipes include step by step images which drive me crazy at times, as the process is so labour intense. Yet, when I was working through Don's recipe, I was assured that the effort is worth it, as his photos helped me a great deal.
Thermomix Sweet Paste: Adding Wet Ingredients and Kneading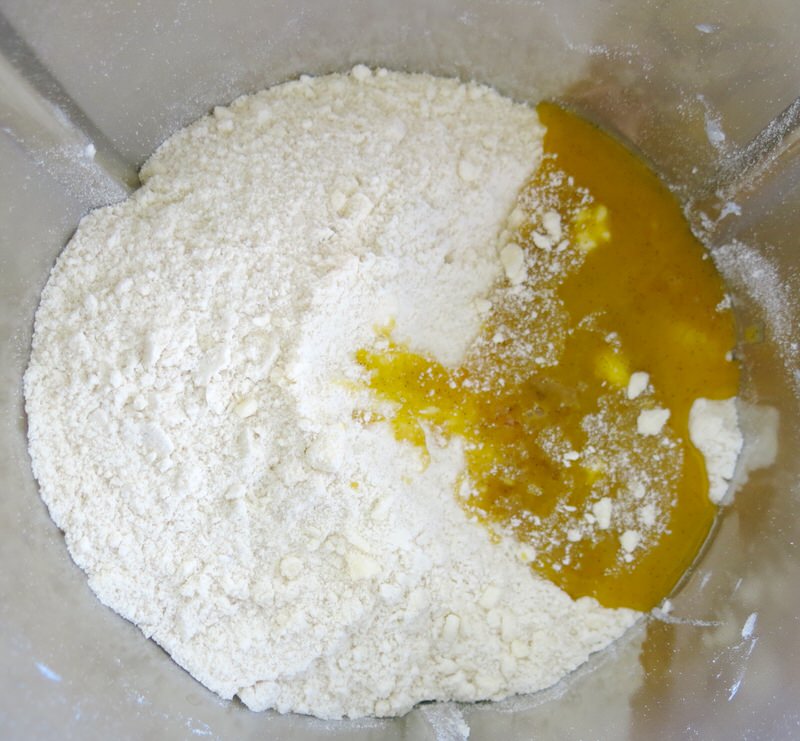 Yolks and vanilla are added to the mealy mixture and kneaded in.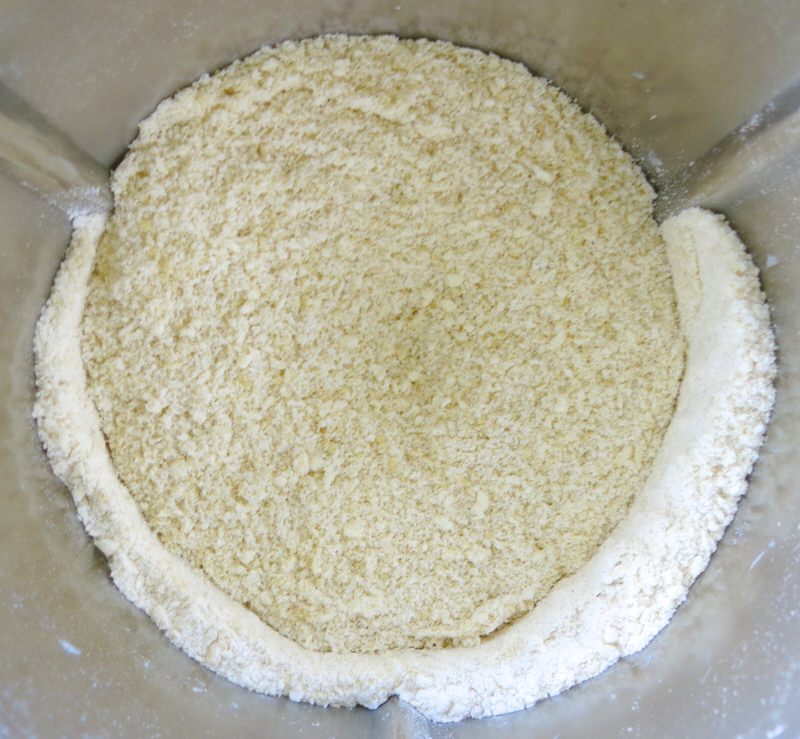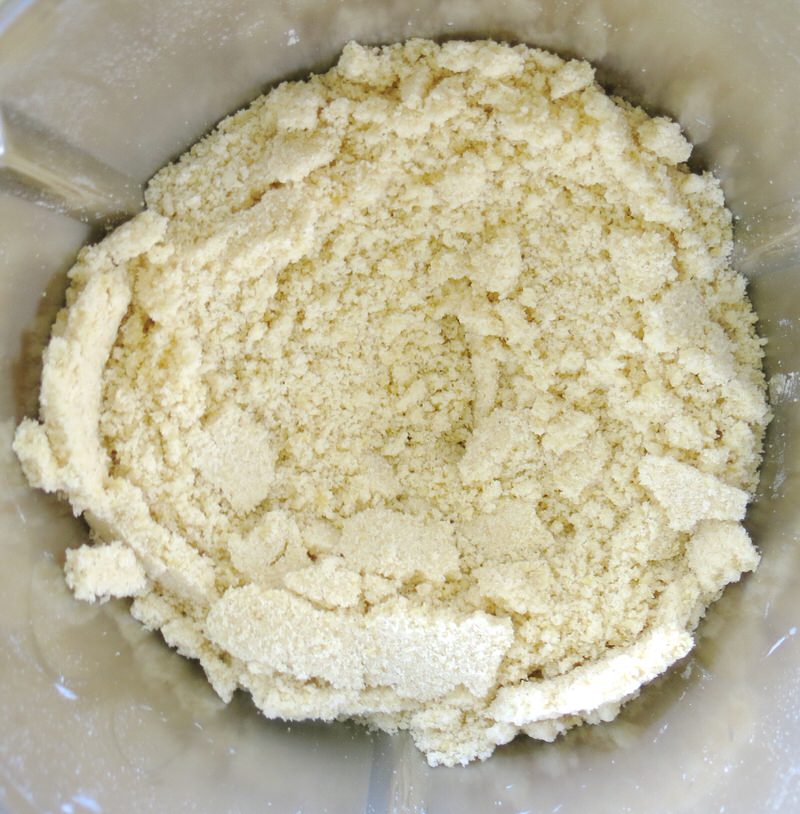 One minute, above left; second minute on knead, above right. Yup. This is one crumbly pastry mixture. Accept it and expect it.
Thermomix Sweet Paste: Forming the Discs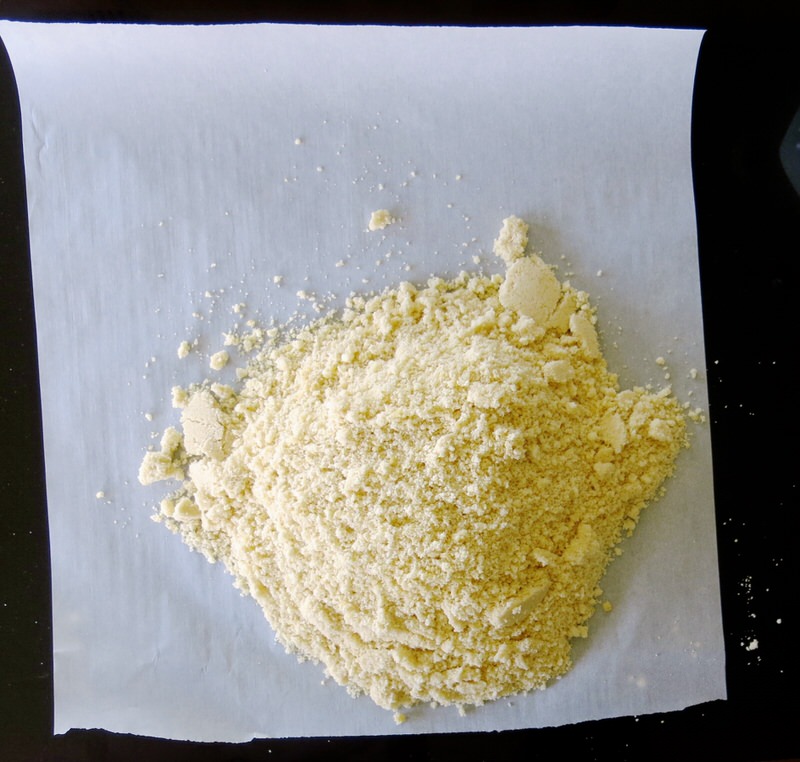 Really? This will form into discs?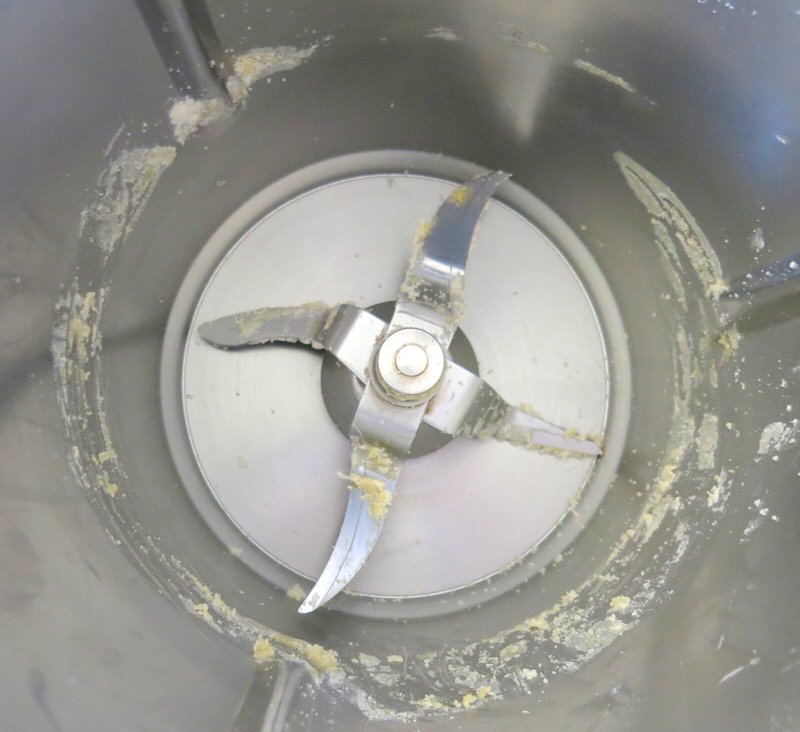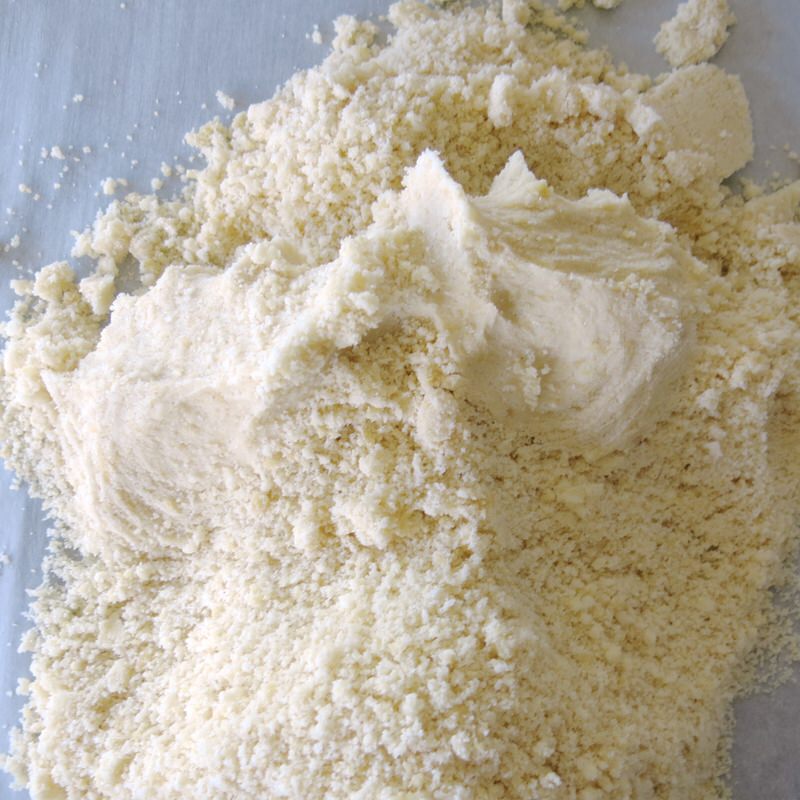 Empty bowl, above left. A little residue left in mine. And, yes! One little pinch and the pastry crumbs gave way to the fondle, immediately forming into a ball with very little effort. I did chase after a crumb or two, for sure. Then, formed a large ball, weighed it (610 grams), divided it by two (305 grams)….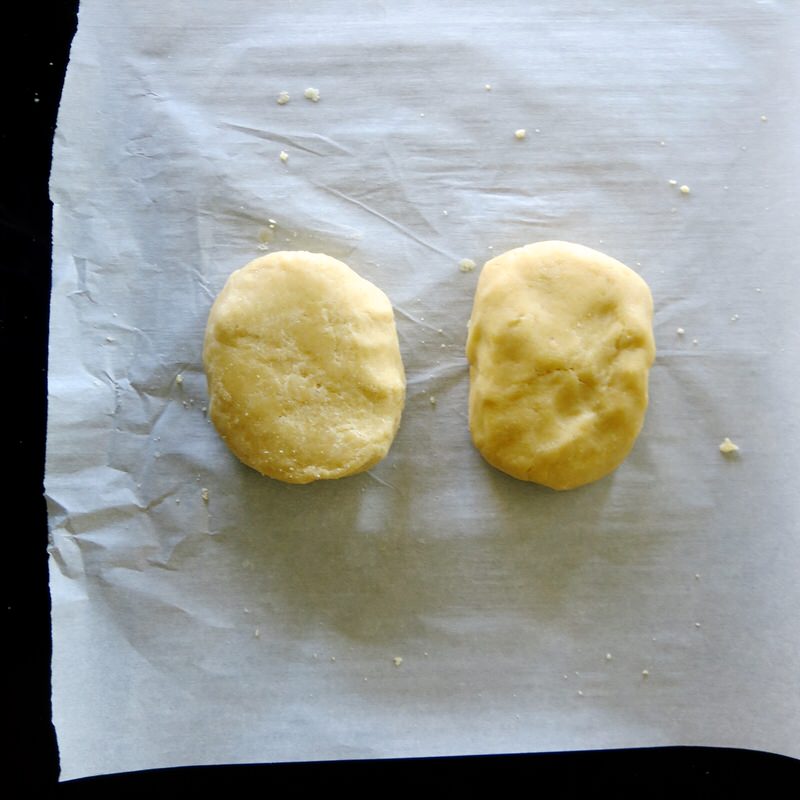 … and formed two discs for two tarts.
Thermomix Sweet Paste: Rolling the Pastry Dough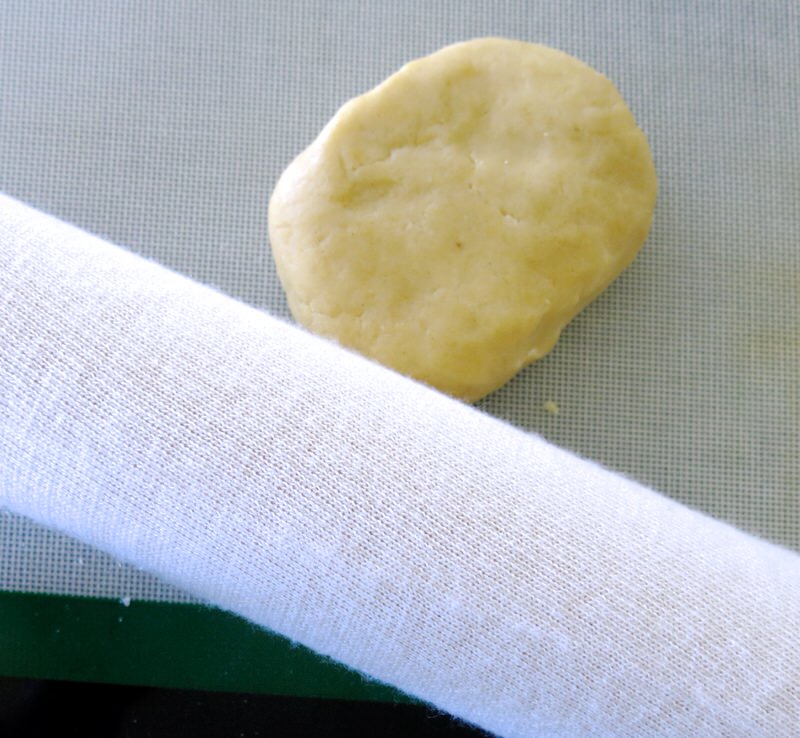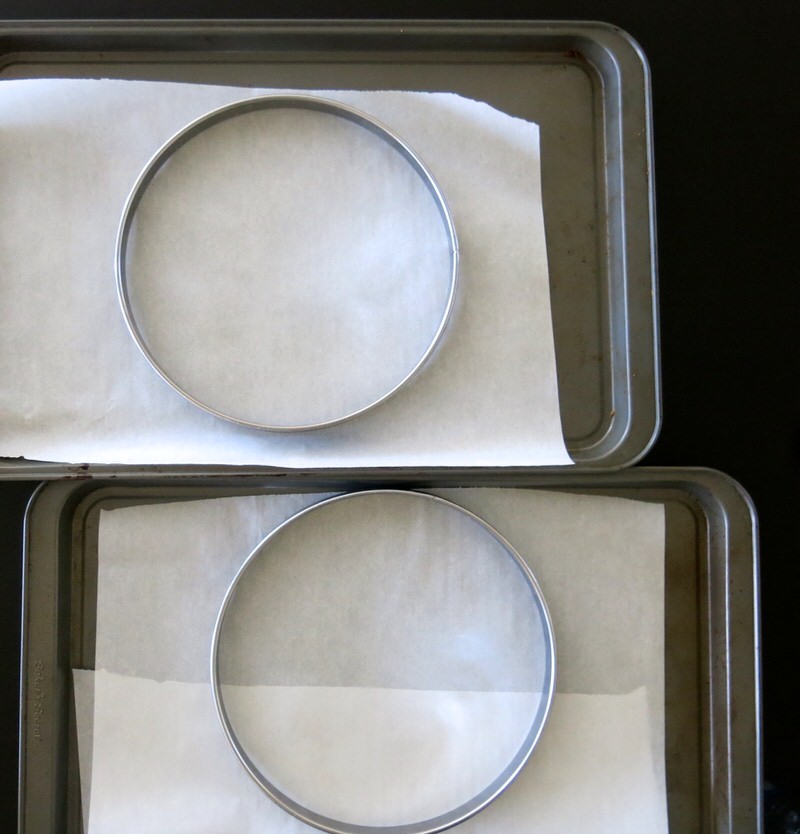 Really appreciate that this dough does not need to rest. It can be refrigerated, but is best to use immediately, if possible, as it hardens chilled and requires quite a bit of warm-handed kneading and coaxing to regain the pliable state required to roll.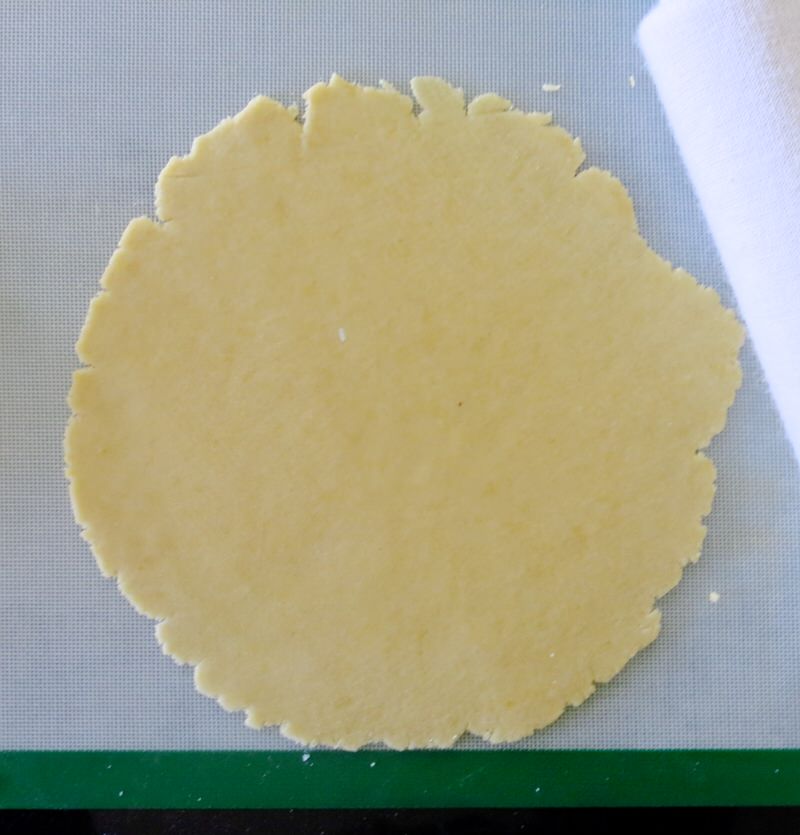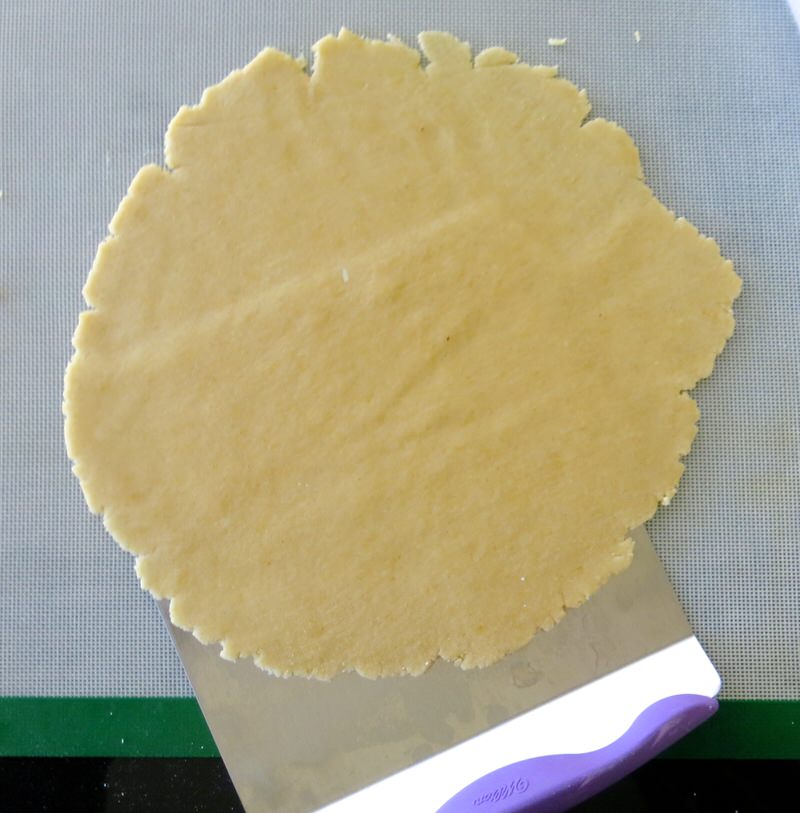 No flour required. At least, with my mat. Rolled beautifully. I do use my super wide spatula a great deal, and as this pastry is prone to break when bent, I chose to move it over to the tart ring this way.
Thermomix Sweet Paste: Filling the Tart Ring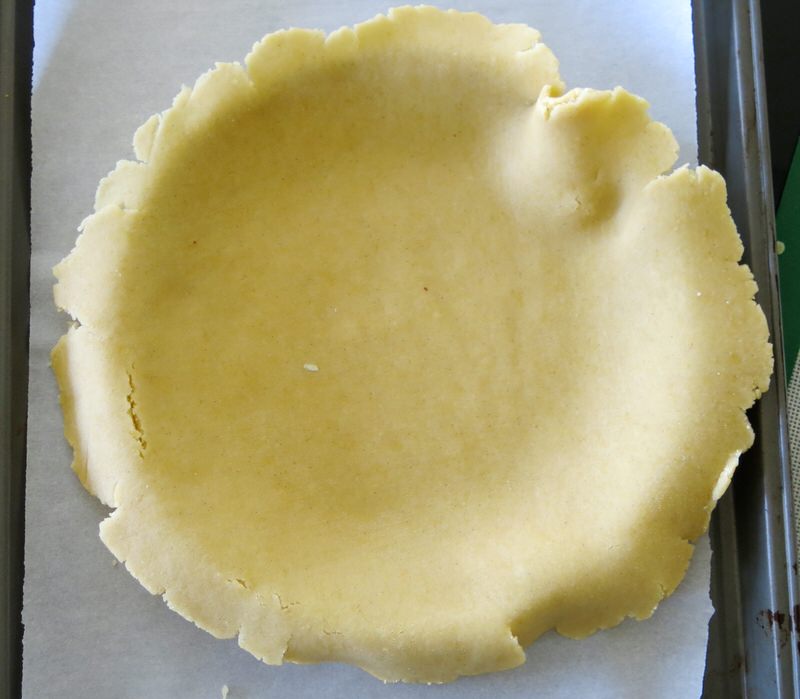 One little easy to pinch back together crack.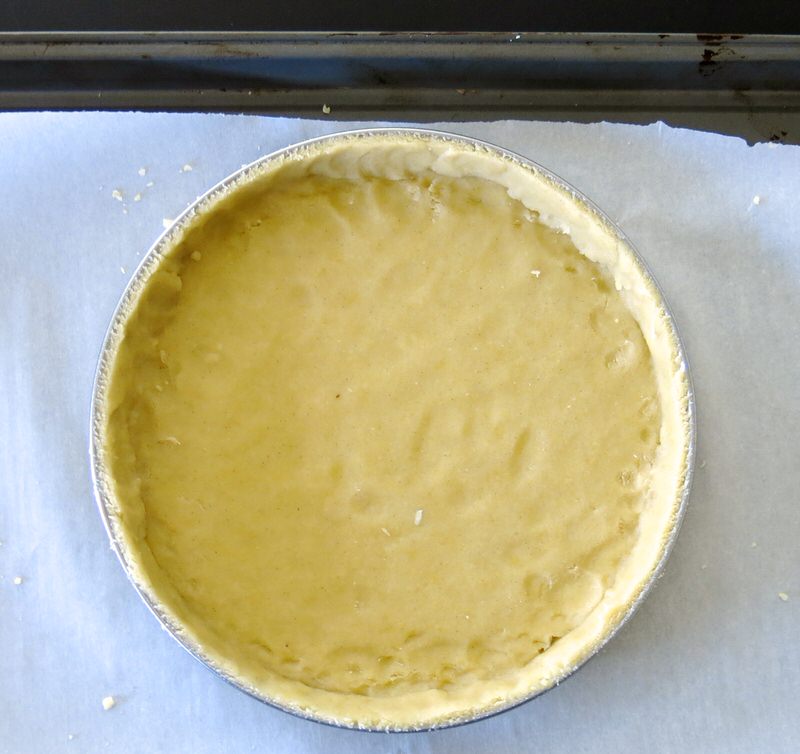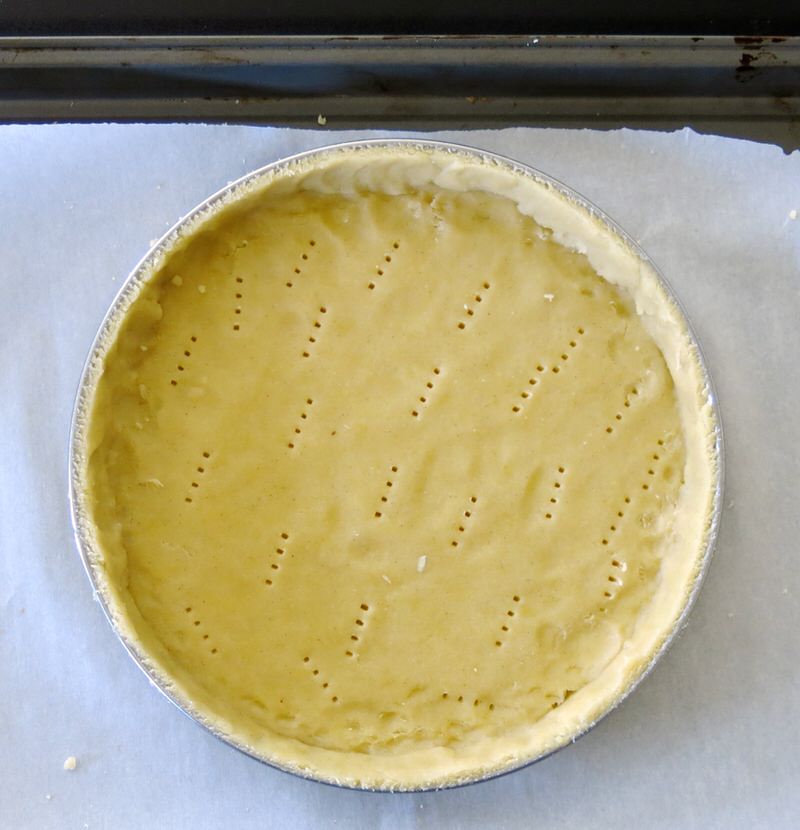 Pushed the pastry in, cut off the excess and docked the bottom.
Thermomix Sweet Paste: Baking the Pastry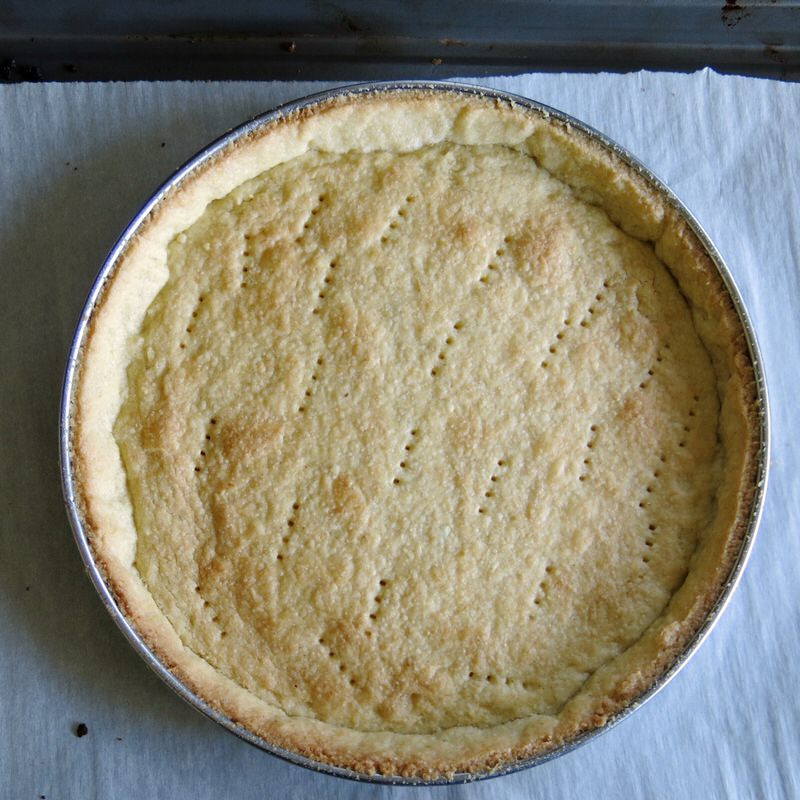 Into a hot oven until as golden as you like. For me, it was 15 minutes. The aroma was intoxicating and I was tickled. Not only to discover this recipe, but because I was preparing for my Cloudberry Baking Day and these two shells were going to be filled with Thermomix Pastry Cream and topped with Cloudberry Puree, Cloudberry Whipped Cream and Cloudberries! What a tart it will be!
Cloudberry Tart Recipes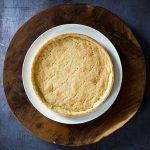 Sweet Paste Recipe
This recipe was developed by Chef Don Pattie. I have made here and written the instructions to align with the recipe style I use. The recipe notes are from Don.

Servings
2
9 inch Tart Shells
Ingredients
Ingredients for Almond Sweet Paste: for two 9 inch tart crusts
155

grams

Butter

unsalted (very cold)

3

Egg yolks

5

grams

Vanilla

100

grams

Sugar

15

grams

Golden Brown Sugar

260

grams

Flour

all-purpose

35

grams

Ground Almond
Instructions
Instructions for Almond Sweet Paste: for two 9 inch tart crusts
Pre-weigh butter and slice into even cubes; place in freezer 30 minutes prior to making recipe


Mix egg and vanilla; set aside

Weigh both sugars into mixing bowl and mill for 1 second on Turbo three times, scraping down sides of bowl

Weigh flour, almond meal and cold butter into mixing bowl and mix on speed 5 for 10 seconds until cornmeal consistency: butter must still be visible and small pieces, about 1/4 the size of a pea

Add egg mixture; knead 1 minute and scrape down the sides of the bowl, kneading 1 more minute in TM bowl

Pre-heat oven to 375˚F or 190˚C while kneading (if baking shells right away); prepare baking pans with parchment paper and pastry rings

Remove dough from mixing bowl and turn onto work surface and squeeze together; divide into 2 equal discs (mine were 305 grams each)

Rest refrigerated until needed, or roll out immediately into 2 discs that will overlap 2 pastry rings; repair any cracks by simply pressing dough together


Cut off excess from around rims; refrigerate for 15 minutes before baking


Bake until golden (about 15 minutes) and remove immediately to cool on wire rack
Recipe Notes
Unsalted butter works best
Fat must be very cold; Don usually cuts the fat into 2 cm squares, then places it into the freezer for about 10 minutes prior to mixing
Dough will be crumbly when it comes out of the Thermomix, but should easily squeeze together to form a block and can be rolled immediately, without resting
No need to fill the pastry with weights when blind baking as there is very little (if any) slumping
Dough will be very firm just out of refrigerator; massage or knead by hand to pliable stage