Spinach and Ricotta Pasta Shells: Delicious Nutritious and Economical Main or Appetizer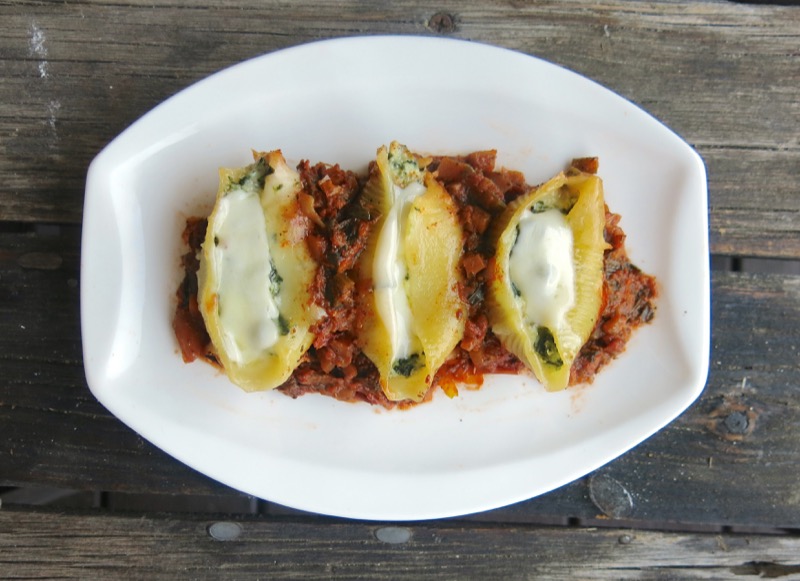 The shells may not present a "wow appeal", but they do spell H-O-M-E, no? The aroma, texture, flavour and sumptuous satisfaction I get when biting into one of these shells wraps me in my warm fuzzy blanky.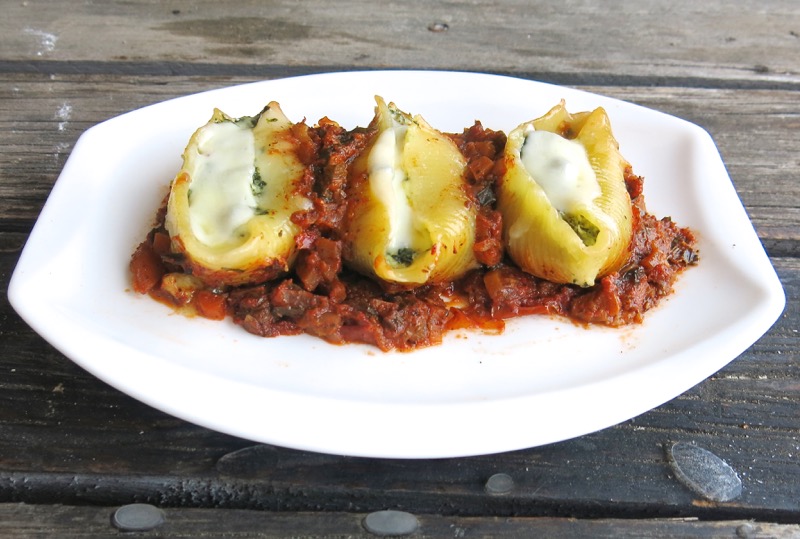 The thick flavour-packed sauce is the perfect partner for the spinach laden shell. This is not a filling scented with spinach. This cheesy filling possesses a pronounced smatch of spinach that will please you, if you love spinach as I do. If not, use less spinach in the recipe. I enjoy the flavour of these tender green leaves, particularly with garlic. And cheese.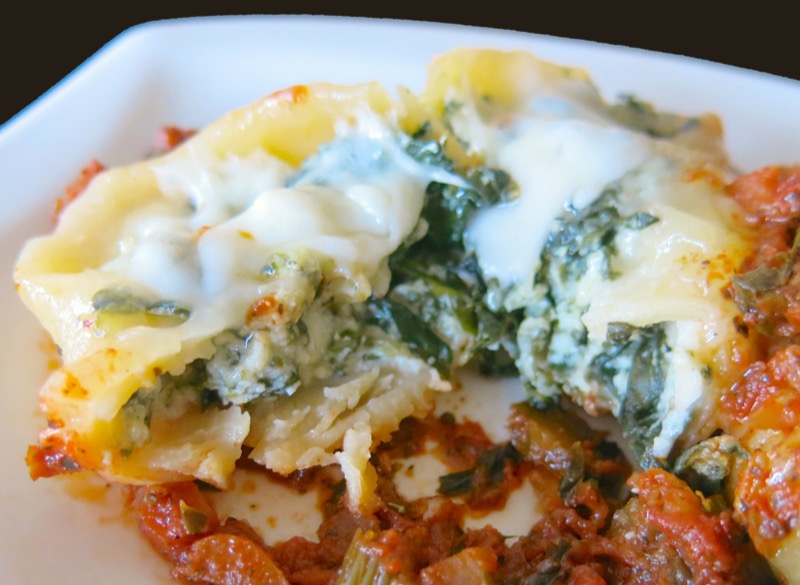 And a vibrant zesty tomato sauce. Oooo baby!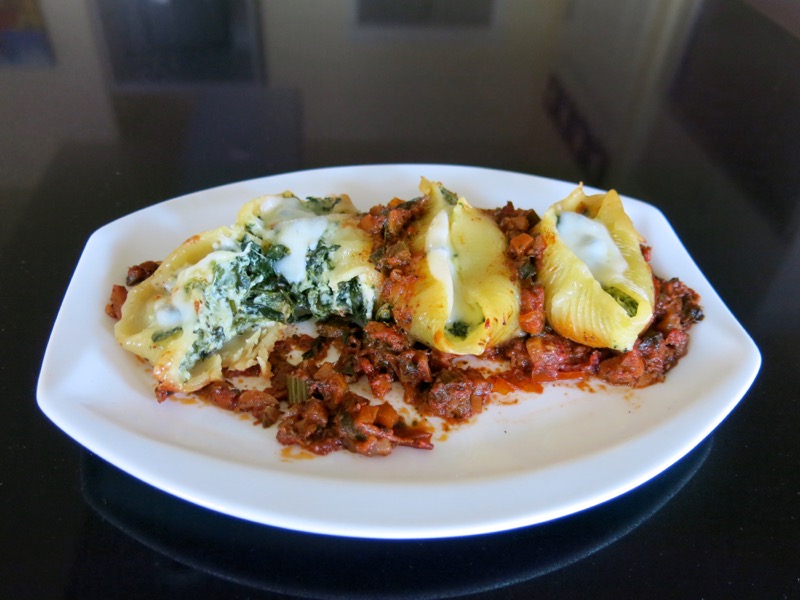 Yet, every bite bears a slightly different message based upon that same warm fuzzy at-home theme.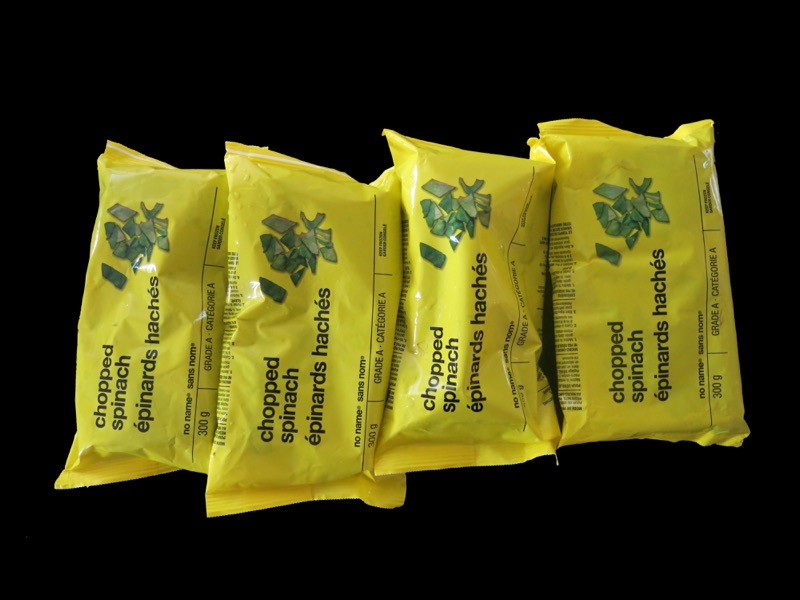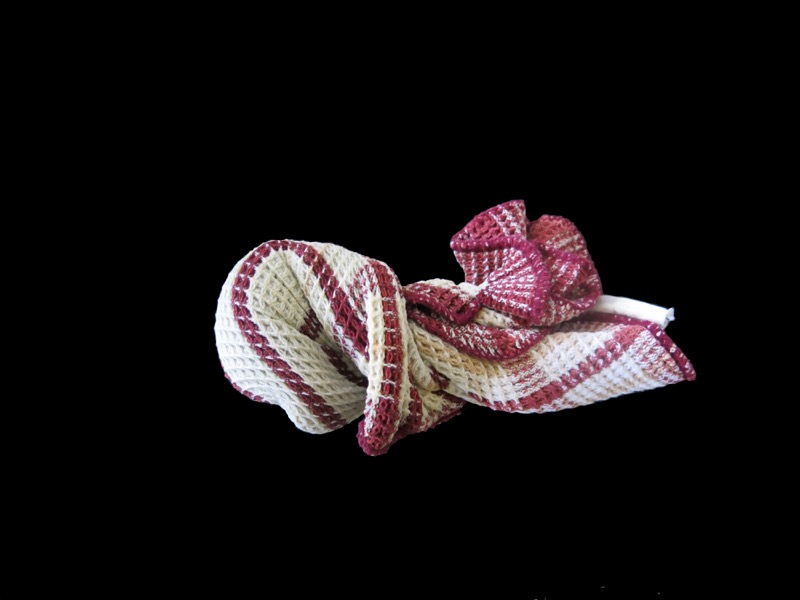 I have used fresh spinach, but find the frozen chopped spinach to actually be superior in recipes like this. It is easy to thaw, easy to wring out tightly in a tea towel, and easy to work with while the flavour remains fresh and the nutrients, vivid.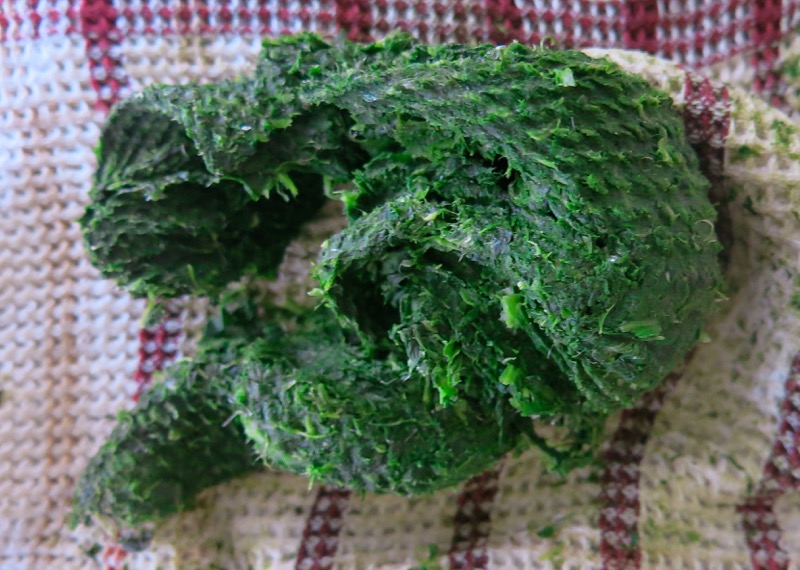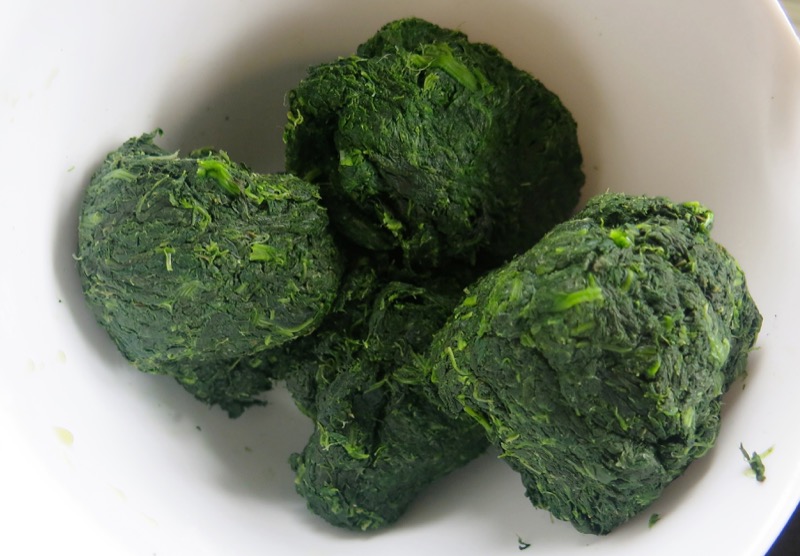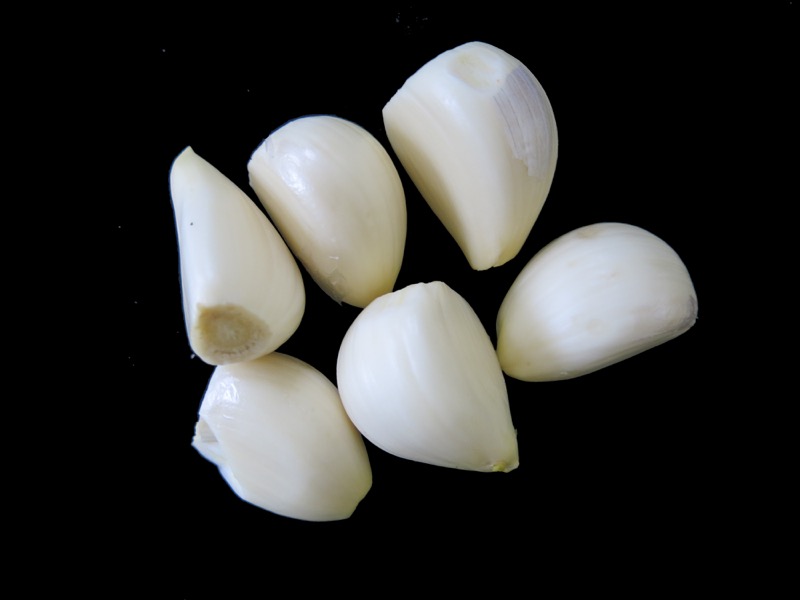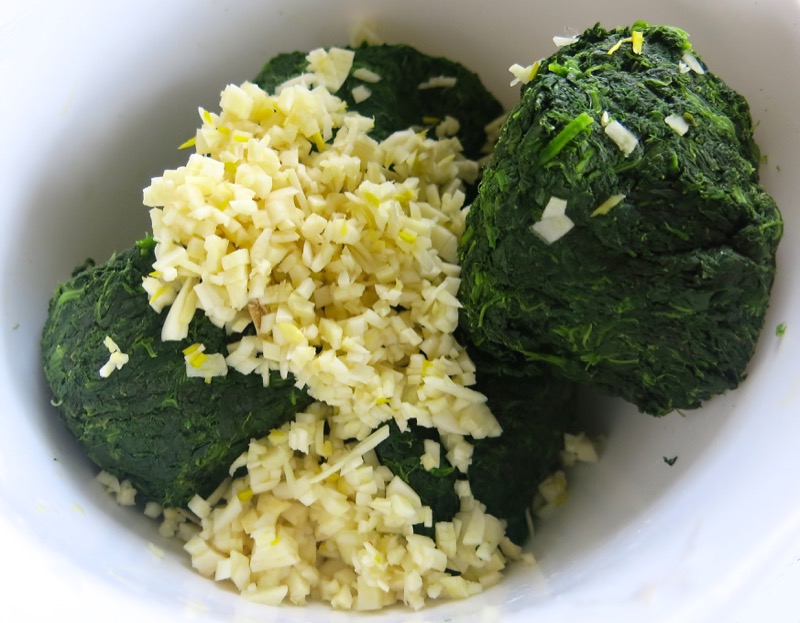 Lots of really nice minced farmer's market or home grown garlic goes into the mix.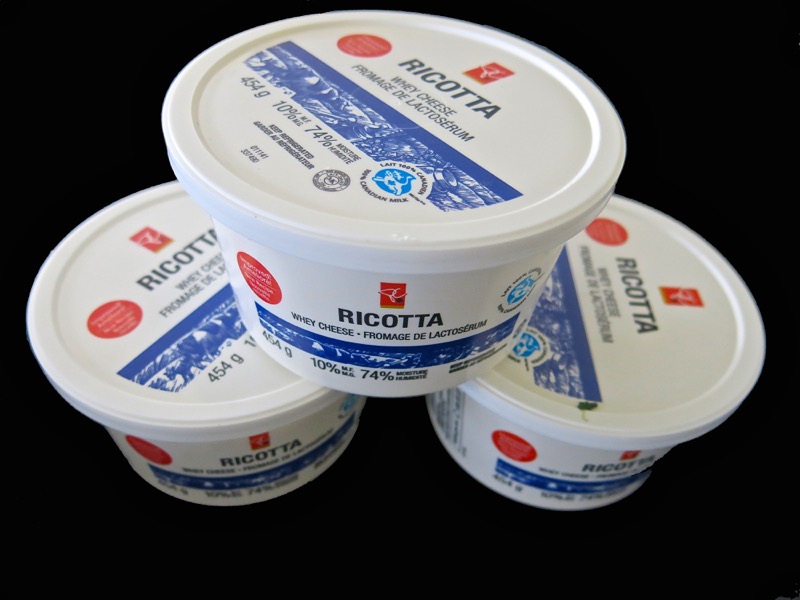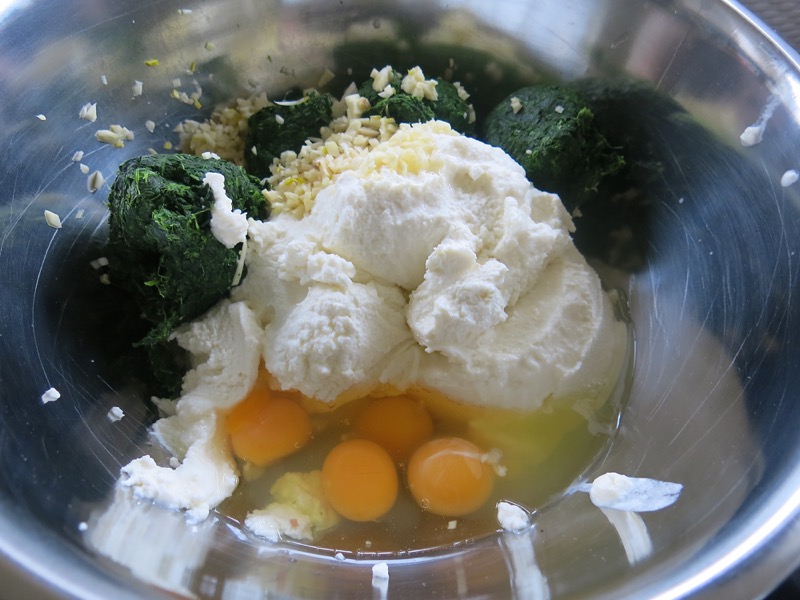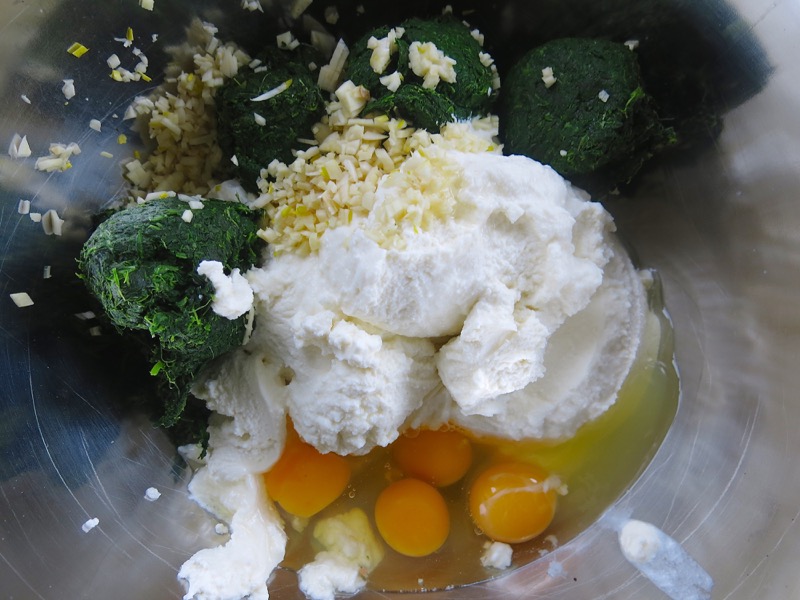 I do make my own ricotta, but that is whole milk ricotta for enjoying on its own; not for this kind of recipe. So, buy a good quality fresh Italian ricotta. The organic free-range know-your-farmer eggs make a considerable difference in flavour, oomph, and colour from a Supermarket egg, not to mention the much healthier-in-the-long-run choice.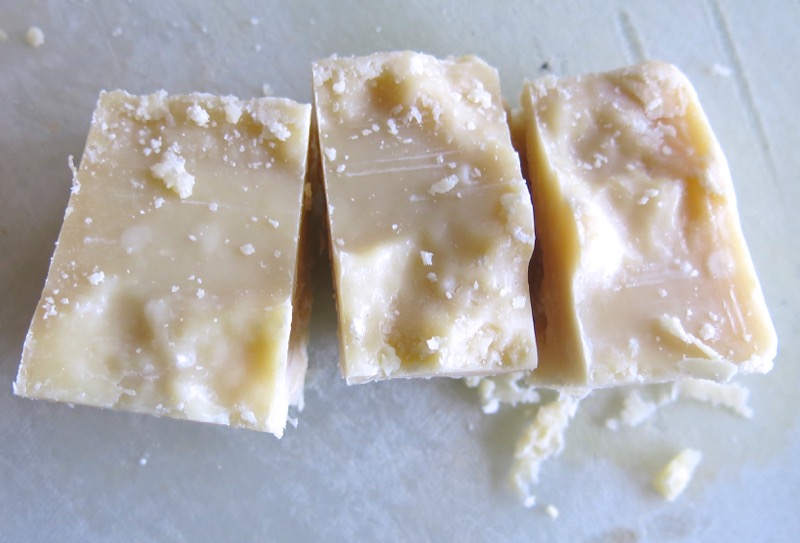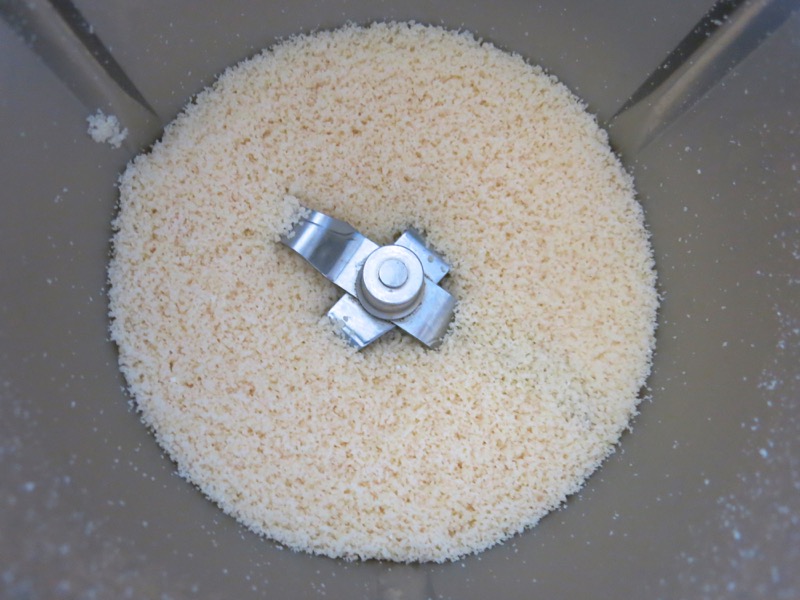 Three seconds is all it takes to grate this gorgeous fruity Parmesan Reggiano in my Thermomix machine. Unquestionably superior flavour-wise and so aromatic! Grated Parmesan one would by at a store cannot compare and this version is profoundly cheaper.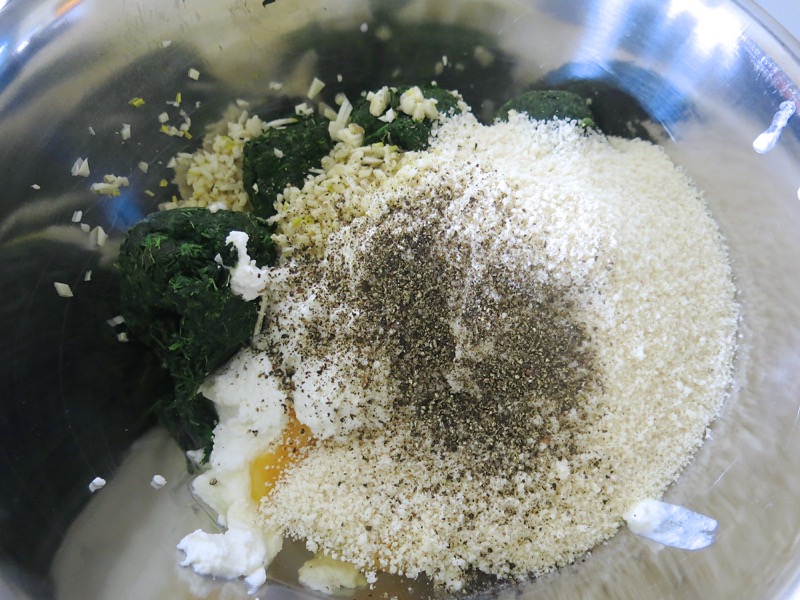 Add it into the mix: such lovely whole good-for-you-ingredients in this filling.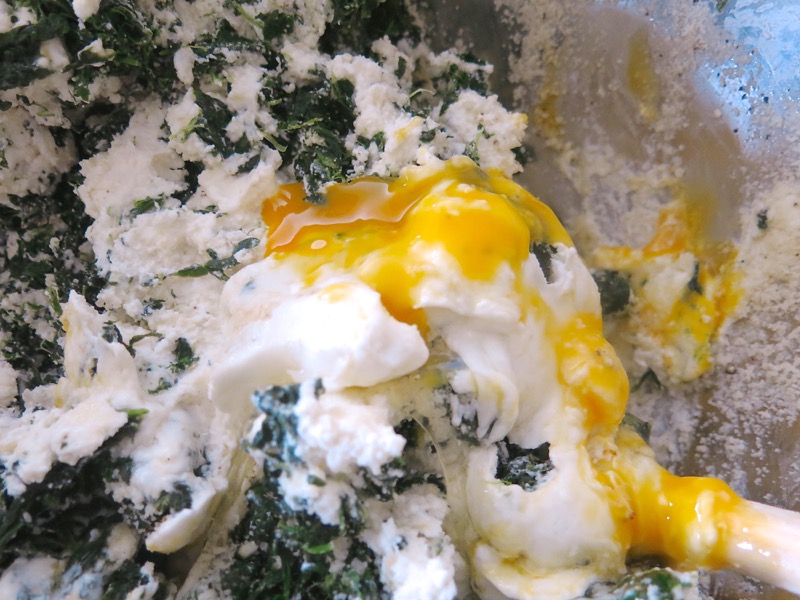 Mixing it all together is cathartic.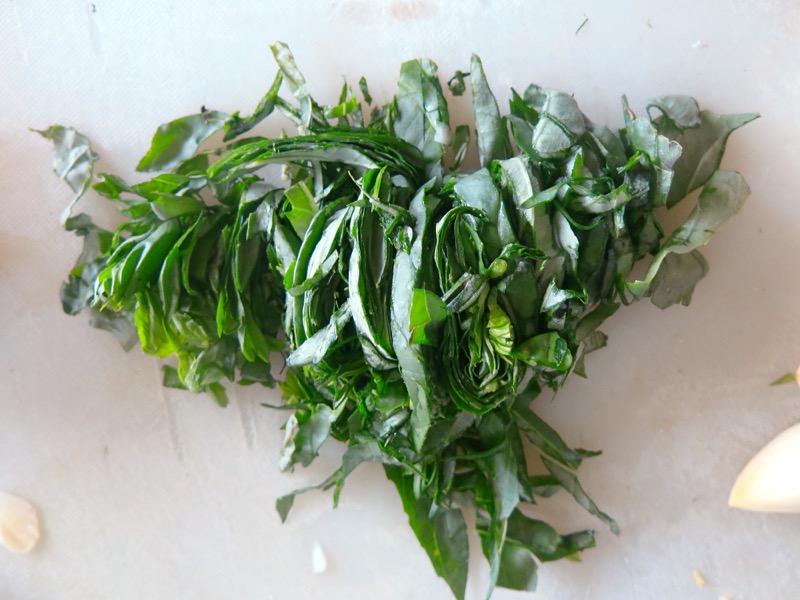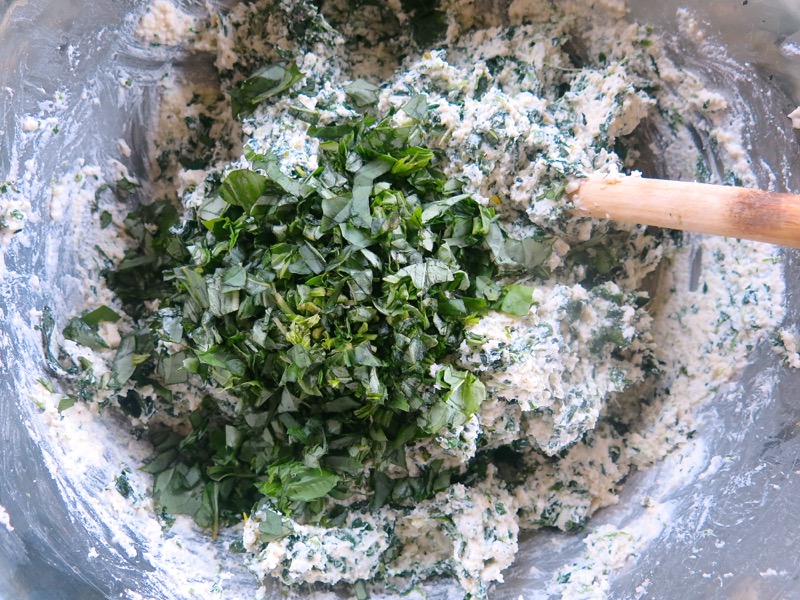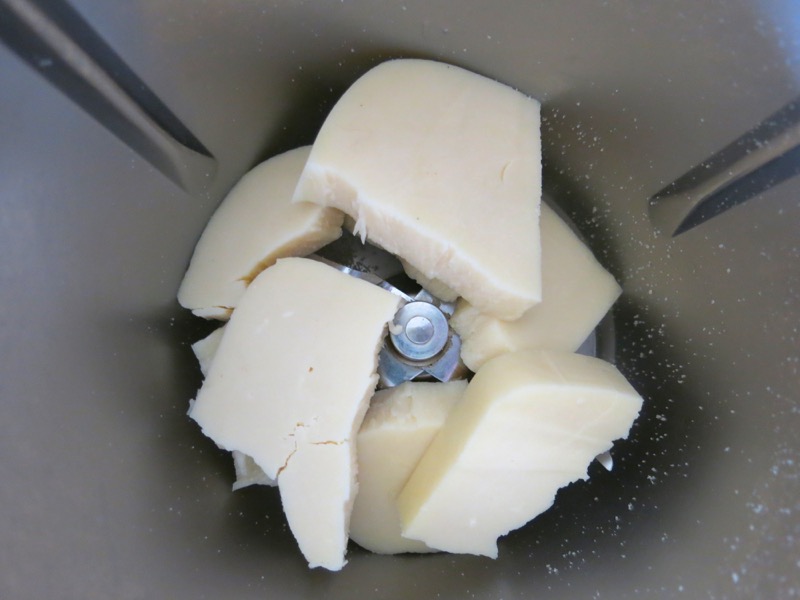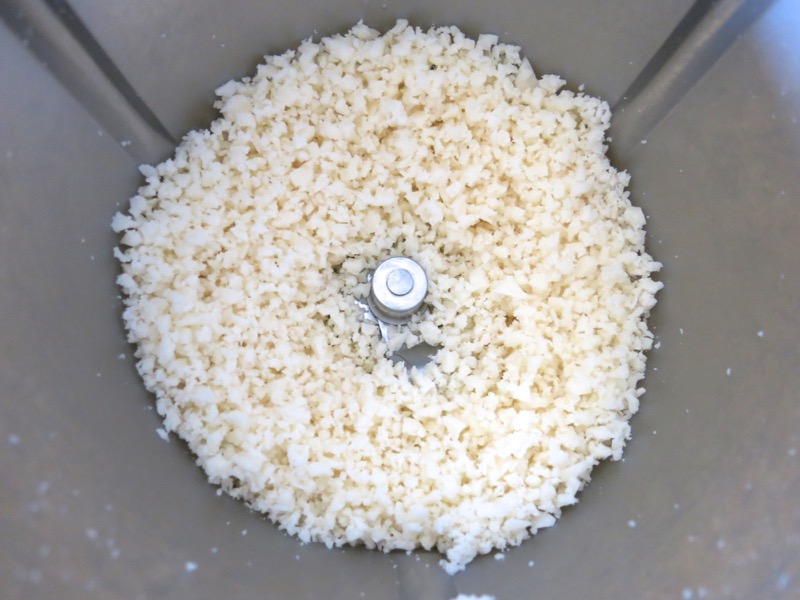 Last two ingredients: fresh basil and lovely partly-skimmed mozzarella. Oh, and lots of freshly grated ground pepper!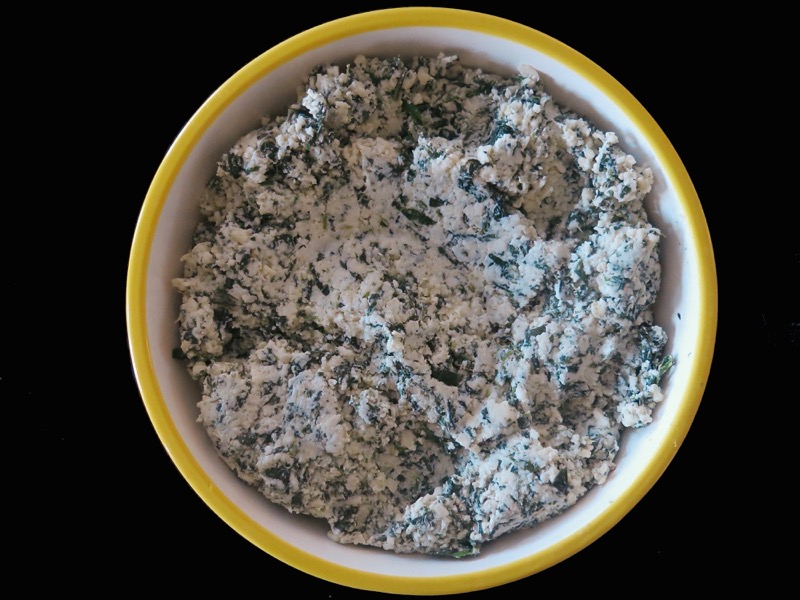 Good enough to eat straight from the bowl! At this phase, it could be used in any number of concoctions: a layer in a lasagna or filling for a quiche. I imagine it would be scrumptious baked on its own in little individual ramekins. Today, into giant pasta shells it goes!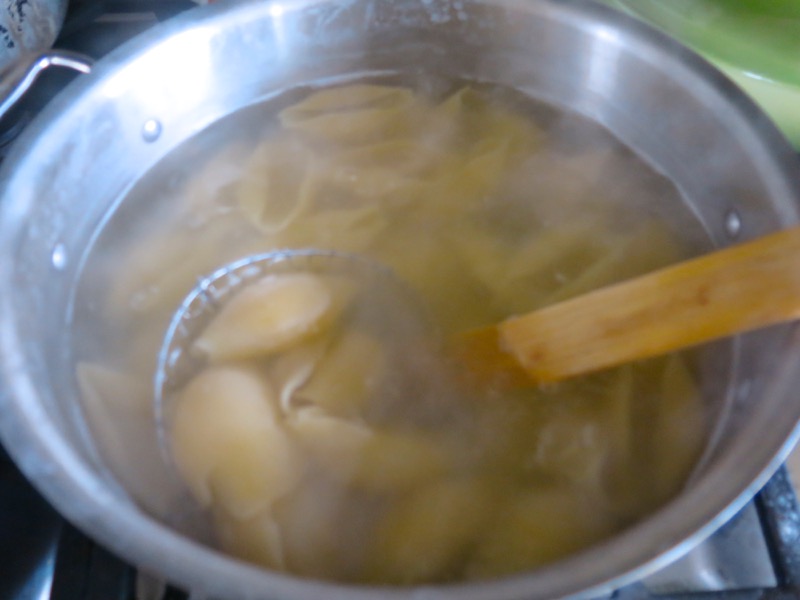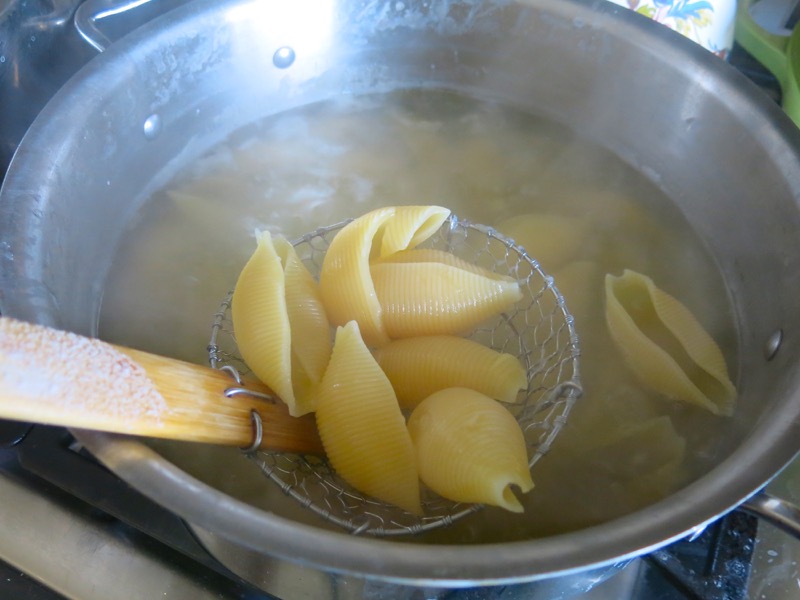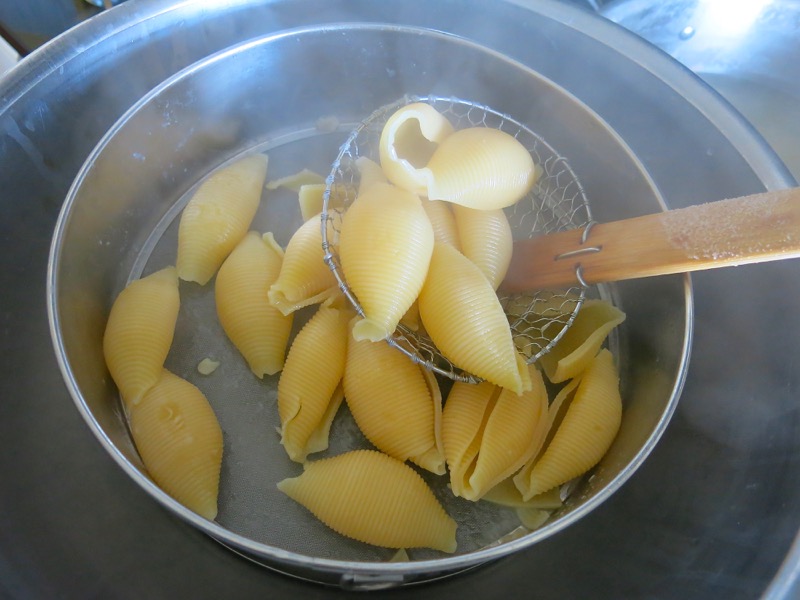 The shells made with durum wheat make all the difference in texture, colour and ability to hold a filling while maintaining the shell shape. I cook one box at a time, strain and remove the shells, toss in some lovely fruity olive oil to keep them from sticking to one another, and continue the process until I have enough. In every box, there is considerable waste as several shells break or are broken. If you follow the instructions in the recipe, you should have the perfect amount.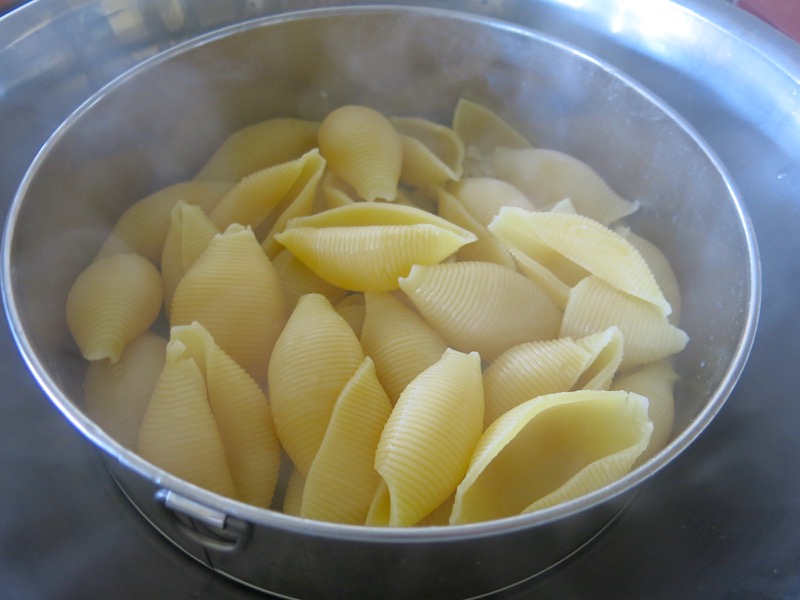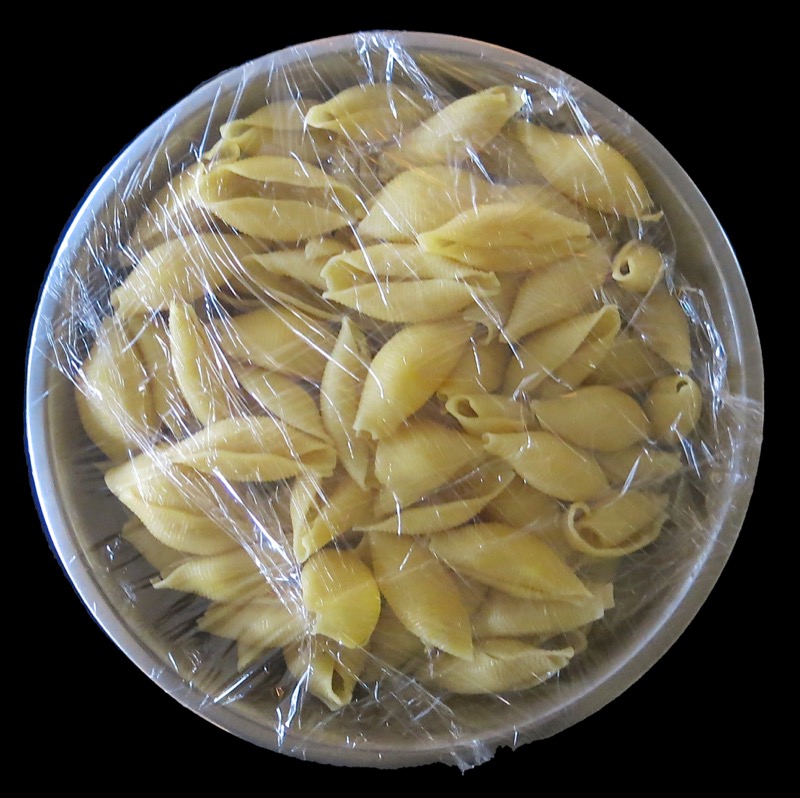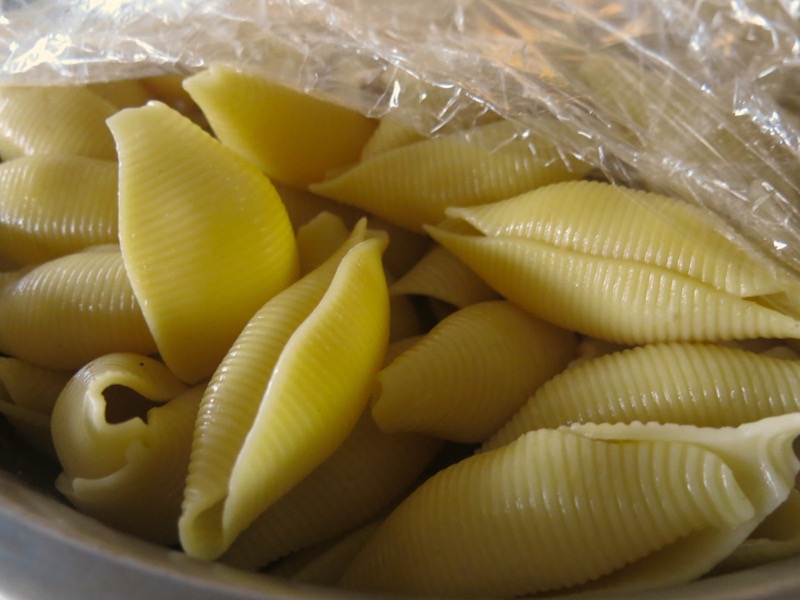 Every year I make a giant batch of Giant Turkey and Sundried Tomato Stuffed Pasta Shells. Everyone is nuts over that recipe. Blush. This year, preparing for Aaron and Lauren to visit over the holidays, I decided to do a vegetarian version of the giant pasta shell. I freeze them individually, pack them into ziplock bags, 6 to bag (a very generous portion) and then use on a night I'm too tired to cook. I put a package into an individual casserole dish, a little milk or cream on the bottom, shells topped with cheese and cooked until bubbly. A crunchy mixed fresh vegetable salad on the side, and Vanja is a happy man.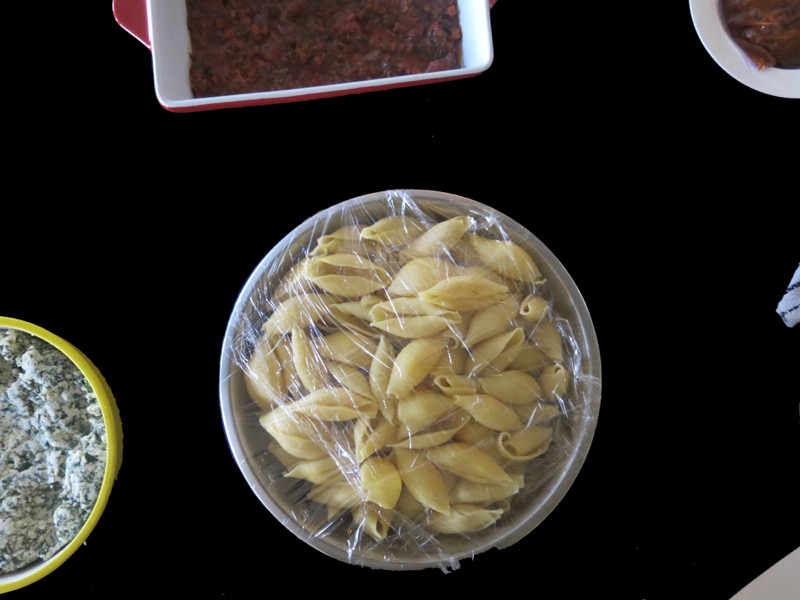 However, we all need to eat less meat, my uber carnivore, particularly. Three to four of the turkey sundried tomato shells with a couple of spinach ricotta would better balance the meal and offer me a vegetarian version, at the same time.This year, I made them both together. A massive batch of ground turkey sun dried tomato shells and a massive batch or spinach ricotta shells.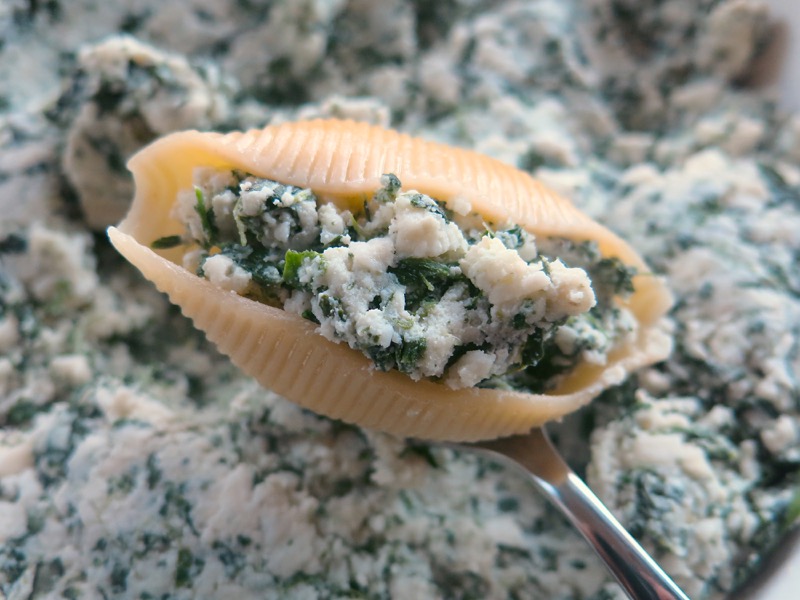 All were frozen individually and packed away for those "I'm too tired to cook" or "I'm not going to be home" evening meals, except I made one casserole of the meat one and one casserole of the vegetarian ones for one of family meals over the holidays.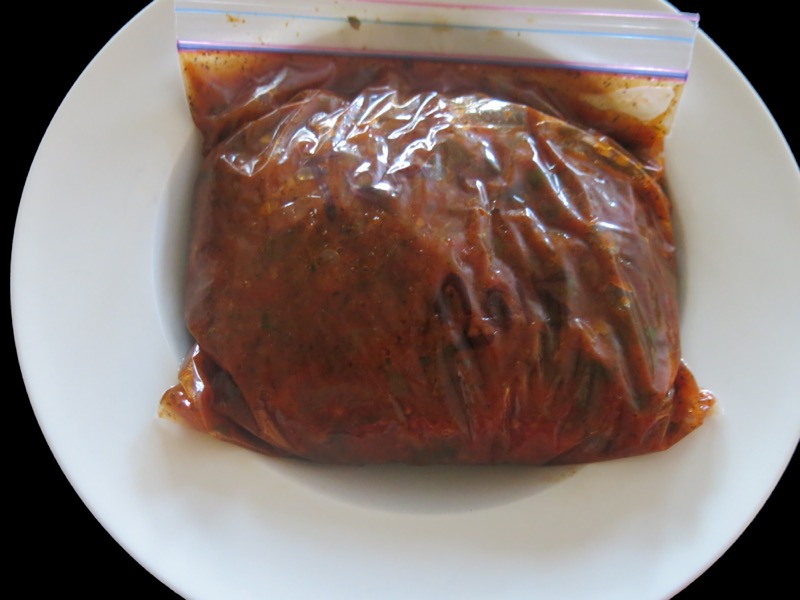 I make a big batch of The Best Ever Homemade Tomato Sauce whenever I am about to run out, so always have it in my deep freeze. I promise you, it is special.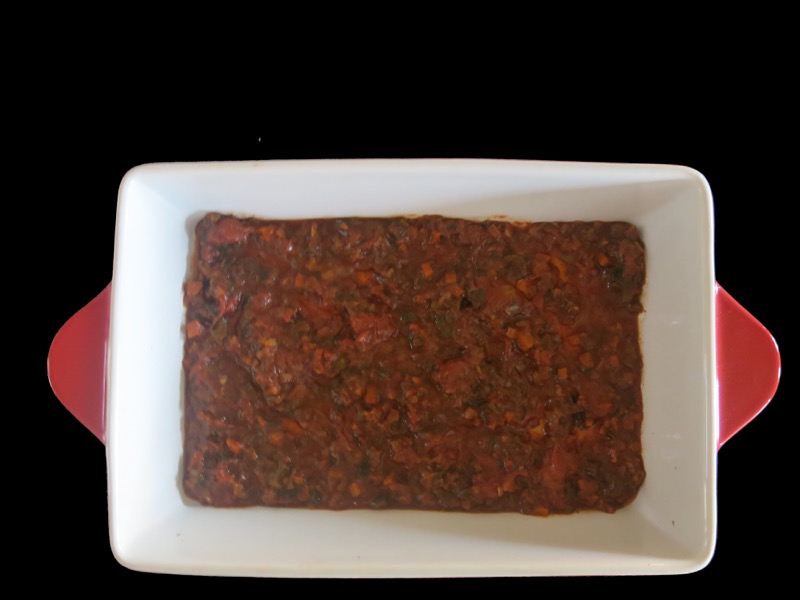 I simply layered a bag of it in the bottom of a casserole dish, filed the spinach ricotta shells overlapping a little on top , and froze it. When ready to cook, I sliced a thin piece of cheese over each shell, and baked until bubbly. Oh, the aroma!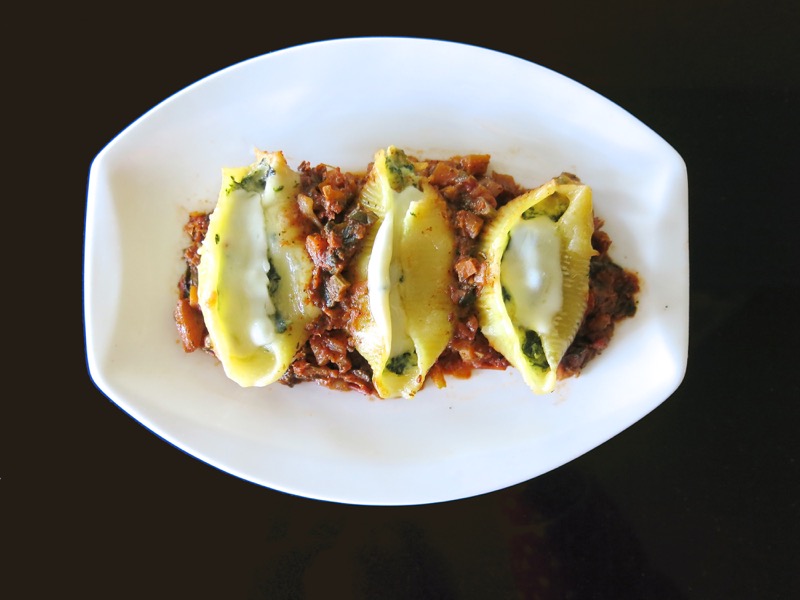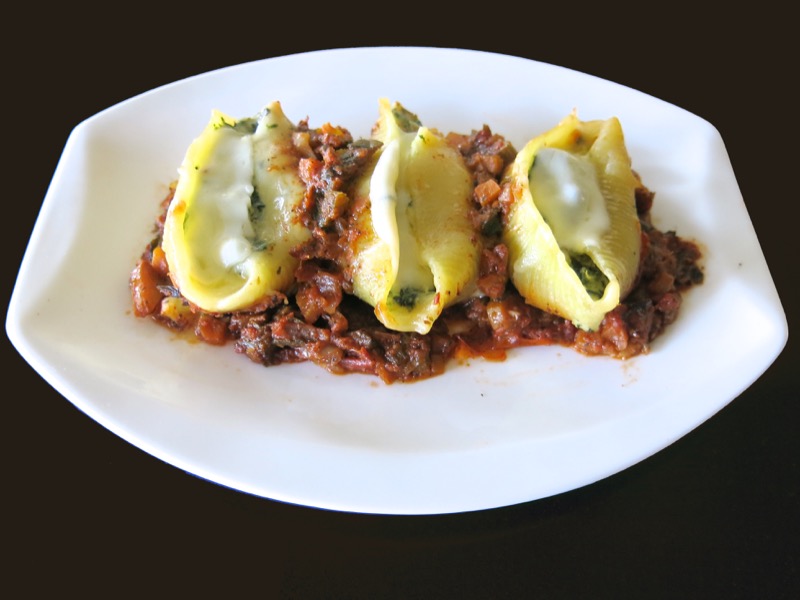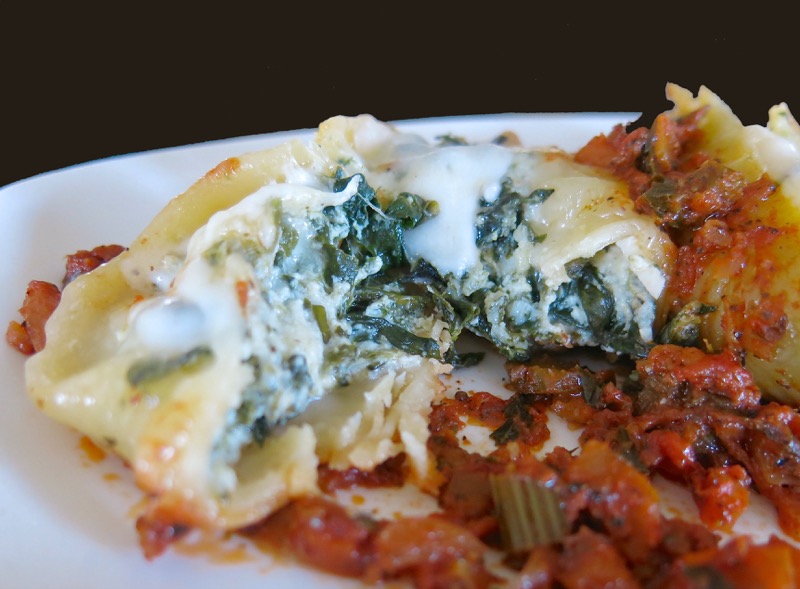 Mama Mia! Who needs meat when there is such flavour and satisfaction on a plate?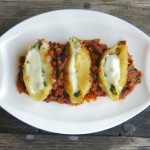 Spinach and Ricotta Stuffed Giant Pasta Shells
Total Time
1
hour
30
minutes
Ingredients
50

grams

or 4-5 large cloves fresh garlic

, minced (8-10 small)

4

packages frozen chopped spinach

, well drained (2 boxes only, unless you want the Spinach flavour to really sing!)

1.5

litre ricotta cheese

500

grams

mozzarella cheese

, shredded

250

grams

grated Parmesan cheese

4

large eggs

40

grams

fresh basil

, finely chopped (small container)

5

grams

or 2 teaspoons freshly-ground black pepper

60

jumbo pasta shells

(makes about 54) or 2 boxes (durum wheat)

1

litre homemade tomato sauce

no salt

(there is a lot of cheese with salt already in the recipe)
Instructions
Instructions for the Filling and Shells
In mixing bowl, combine spinach, ricotta, mozzarella, garlic, Parmesan, egg, basil, and pepper; set aside

Cook pasta al dente, according to package directions; drain and stuff each shell
Prepare for Freezer
To freeze in bags without sauce, place each shell on cookie sheet lined with parchment paper; bag and label the next day (about 6 per bag) OR

Scantly cover bottom of casserole with homemade tomato sauce; place stuffed shells snuggly on top, and freeze
To serve
From freshly made: Scantly cover bottom of casserole with homemade sauce; place stuffed shells snuggly on top

Bake covered with aluminum foil for 25 minutes; remove foil and place a slice of cheese on each shell continue baking until golden and bubbly (10-15 minutes)

Serve warm with extra Parmesan

From Frozen: Scantly cover bottom of casserole with homemade sauce; place stuffed shells snuggly on top

Bake covered with aluminum foil for 45 minutes; remove foil and place a slice of cheese on each shell continue baking until golden and bubbly (10-15 minutes)

Serve warm with extra Parmesan
Recipe Notes
Cooking Pasta Shells
Cook each box of pasta shells, one at a time, following the instructions on the box
Toss the first box in a couple of tablespoons of delicious fruity extra virgin olive oil to ensure they don't stick to one another while preparing the second box, and later, while stuffing the shells
Spinach Flavour
If you don't care for spinach, use only 2 boxes of frozen spinach in the filling
Any other frozen vegetable would work well, but you would have to wring it as dry as the spinach to ensure the moisture was right out of it: then you could replace the 2 boxes of spinach with 2 cups of any other vegetable
However, it is not necessary