My Masakage Knife is a favourite kitchen tool!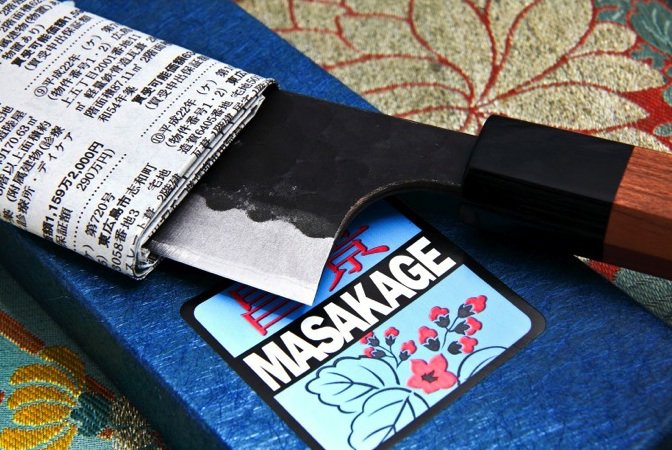 This is a rare, not to be missed, ancient artisanal Japanese Knife Making Demonstration
Mark sold me my first "real" knife. A Japanese Masakage Knife, or one similar, is an essential kitchen tool. It is one of my favourite things. For sure.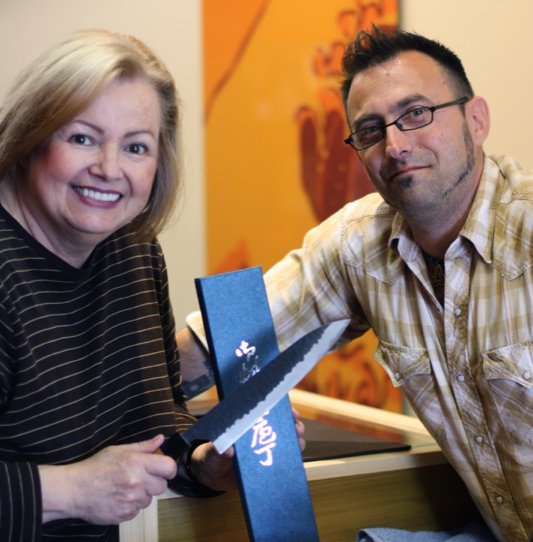 An absolute must for any chef, devoted home cook or hobbiest in the kitchen is a stop at Calgary's Knifeware store in Inglewood. I have never been inside the shop. Been there. Too early or too late, and they have really good hours! I just haven't got my act together when visiting Calgary, but it is definitely the top stop on my next visit after being in their new store in Kelowna this past June.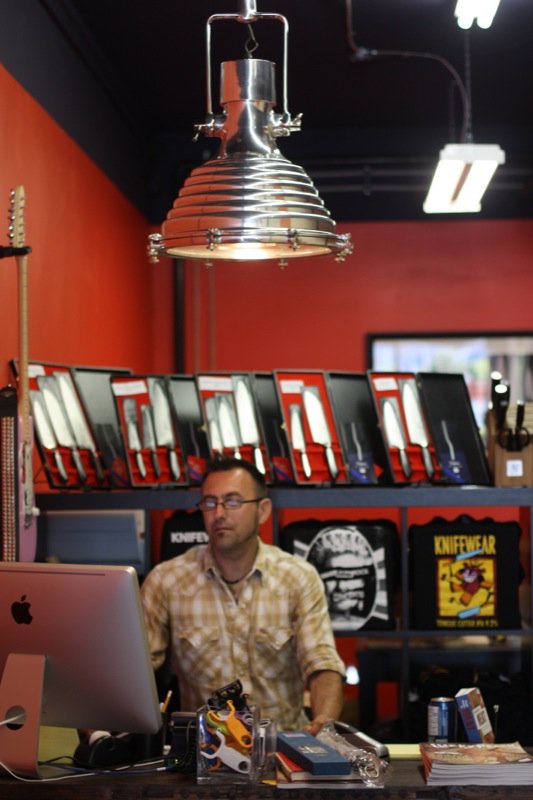 Kevin Kent, owner of Knifewear in Calgary and Kelowna, is bringing in Japanese Master Blacksmiths from Takefu who will be hand-hammering knives on the street in front of his Inglewood store, 1316 9 Ave SE, starting at 11:00 am next Saturday, August 4 as part of Inglewood's Sunfest.
The equipment that master blacksmith Kato san (a fourth generation blacksmith with over 50 years experience) and younger blacksmiths from Japan (including Toru Tamura a former Calgary resident) will be using to demonstrate traditional knife making techniques has been graciously supplied by SAIT's Welding program.
Japanese blacksmiths have been making renowned knives and swords for over 1200 years. This demonstration will be one of the first times this skill has been showcased outside of Japan and the first time in Canada.
BTW Maskage is arranging the demo. The bios the blacksmiths are available on their website at: www.masakageknives.com.
I would drive further than from Edmonton to Calgary to be there. Put this on my calendar, and you can thank me later. But, I cannot go! That is the very same day that we are hosting the meet-the-groom brunch for my daughter from San Francisco! (She just got her green card after living and working in the US since she received her Masters Degree in Occupational Therapy at Tuffs University in Boston.) I am thrilled to see her and our son in law, Aaron, but disappointed to miss this first demonstration of its kind anywhere outside of Japan!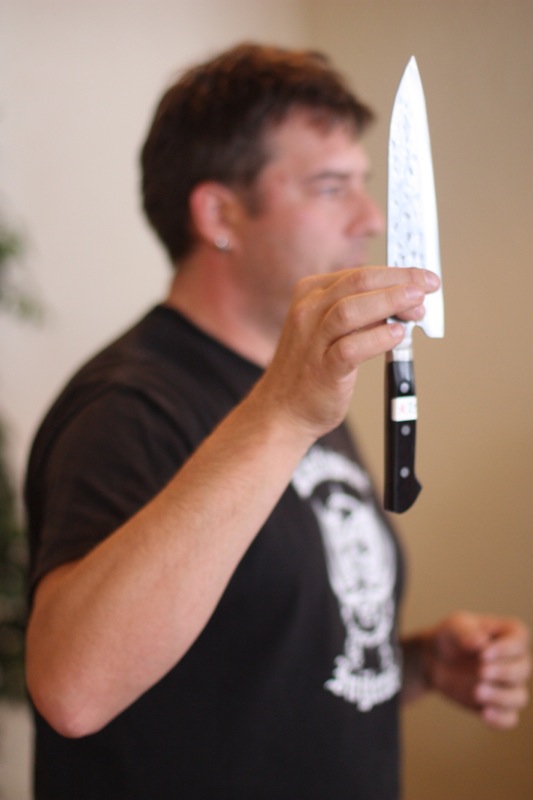 Kevin Kent is a Calgary Superhero, and I am happy to claim him as an Alberta Icon in the food industry for more than a few reasons. And, he isn't even in the food industry. He sells knives. Not just any knife. "Knives that actually cut good." Japanese knives. Knives with a story. Hand-hammered, hand crafted really sharp and gorgeous to look at knives.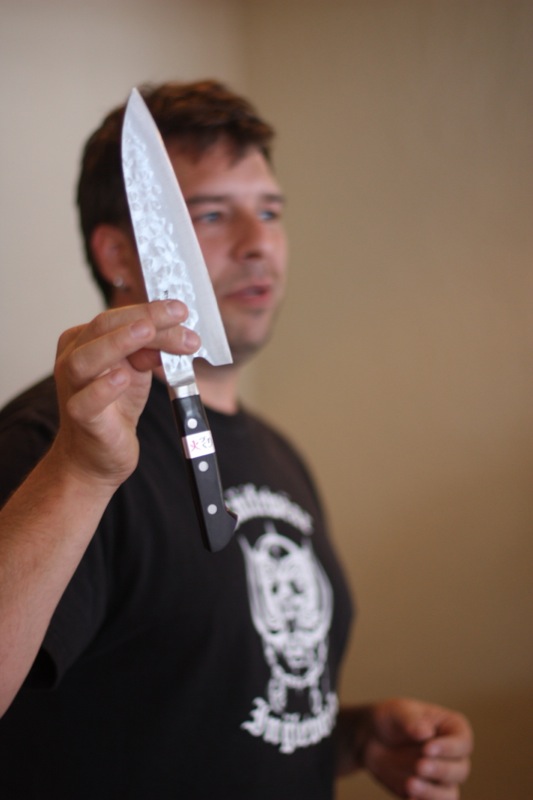 And Kevin has a story, too. Many, actually. Born in Prince Albert, Saskatchewan, he moved to Calgary with his family as a young teen. His education, as he so aptly puts it, was "accidental". His part time restaurant gigs provided him spending money throughout school almost immediately after moving to Calgary. As an artsy fellow, he enrolled in Mount Royal College where he did meet a young gal who would later have a great deal of influence on his life's path.
His career as a chef began when he quit college to work full time as a cook and before long, enrolled in the SAIT Culinary Apprenticeship program. After graduating, he honed his craft at River Café and other well established places. He didn't say this, but I have a hunch one of his isms is "Go big, or go home."
It seems that a change is a rest for Kevin Kent, as he and set off to travel a couple of years later with that same young gal. They started in the Middle East, and four months later, ran out of money and "did what everyone did at the time": bought a cheap flight to London and found work with plans to head back to the Middle East enroute to South East Asia shortly thereafter. That never happened.
London happened. They loved it. "We got married, and everything!" There only a few months and smitten. "It's way more fun being broke here, than in Calgary!" They did scrape together pennies every couple of weeks to investigate every corner of the UK and western Europe. Travel is their raison d'etre with 34 countries under their belt.
Fergus Henderson was opening up his second St. John's location and Kevin was hired immediately. He says he begged for a job and Fergus took pity on him. Once you meet Kevin, you want to know him. This is a fellow with the "it" factor, and I am certain that was not lost on Fergus. This was in the day just prior to the "Chef as Rock Star Era". Fergus had a definite cult following at the time, Kevin said, but most people were really unaware of who he was or what he was doing except the more studious chef types. Though he didn't realize it at the time, his time with Fergus shaped his world view.
Kevin and his wife were living in East London, which was rough. Really rough. But it was cheap. And colourful. He wondered aloud if they would still be there now had they been living in a nicer area. Thinking of having a family brought them back to Calgary. That was December of 2006.
What did he do? He cooked.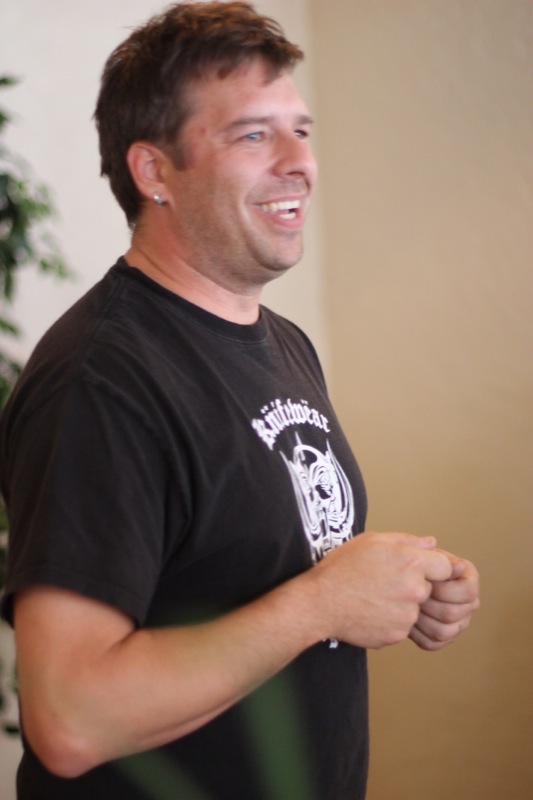 Tired of working for other people, owning his own restaurant was "always in the cards". After "bitching non-stop at home about the crappy knives" in the kitchens he was working in that were "nothing like the fantastic Japanese knives" he used in London. his wife suggested he bring in some Japanese knives to sell "and make a little extra money on the side."
Then she made him do it. "No. She forced me into it." I could hear him grin. He made a few contacts, imported some knives, and started selling. "At first, I was just doing this because I could get really good knives that I couldn't normally afford."
In July, 2007, just six months after returning to Canada, got his first knives in at Stampede time and did well selling them. He started with chefs. December of 2007, the Calgary Herald ran a small blurb about his knives printing his personal phone number and there was no turning back.
Extremely busy with his own work, a new baby, his phone was ringing off the hook, the need to rent a space and really make a go of this business reared its head. "I rented a closet in someone else's store in March of 2008". His first trip to Japan to was in October of that same year.
In January of 2009 he opened "my mega-store" and this past June (2012) opened a second location in Kelowna, British Columbia. Talk about finding one's niche! I am astounded at all he has accomplished in such a short period of time.
But, that is only half of the story.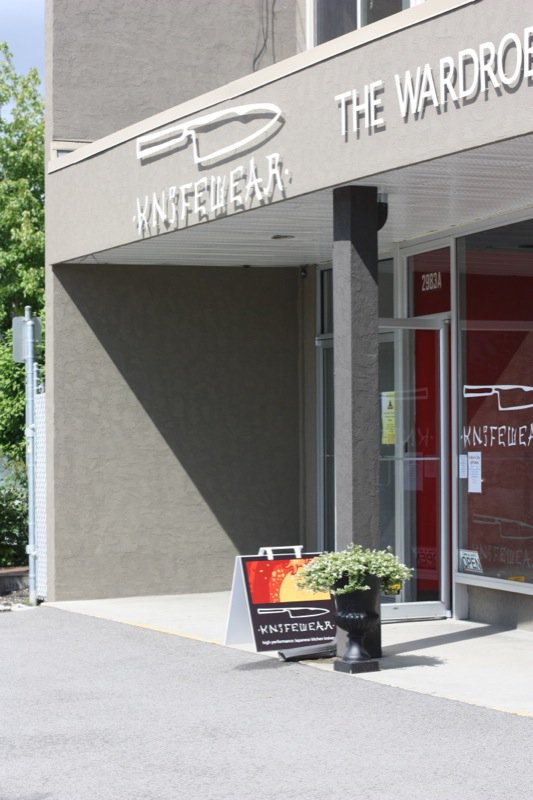 The other half is Kevin Kent's larger-than-life personality. He is funny. Really funny. But, you will have to discover that for yourself, if you haven't already, when you visit his store on Saturday, August the 4th.
When in Kelowna, I bought my first Knifewear knife. I have a huge drawer of Henkel 5 star Professional knives that cost an arm and a leg. Not one holds a candle to this knife. It is such a pleasure to use it in my kitchen. It has increased my productivity by about 75%. I am not a mathematician, but that is what it feels like!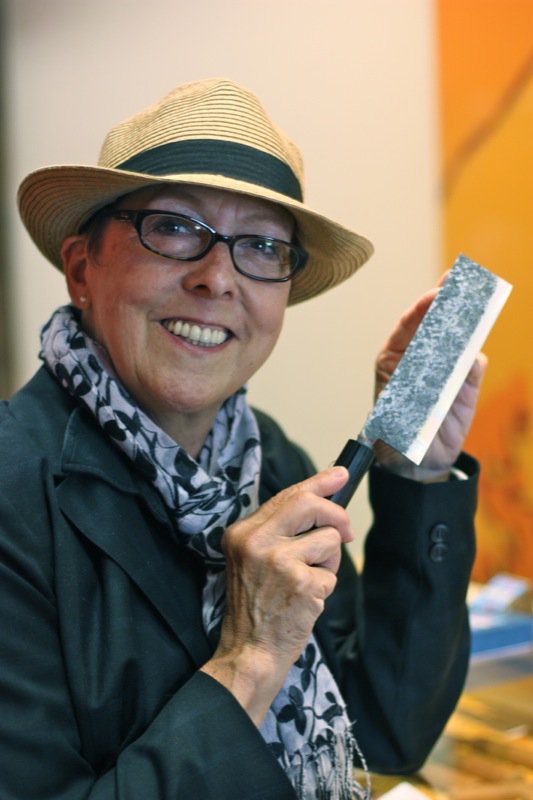 A paring knife is the next one on my list. Gail bought the one in the photo, and a paring knife! I appreciate that I can go to into the shop and test every single knife. He has one of every one he sells for you to hold and use and try out. The other aspect of purchasing a knife from Kevin is that each knife has a story. Every one of them are hand made. My knife came with a little story about the person that made it. Kevin has met many of them. Some of them have had knife hammering in their family for over 700 years. When I use my knife, knowing that it was carefully crafted by one person changes how I use it. I have greater respect for it and a deep appreciation for the artisanal work. I now belong to the Calgary Inglewood Knifewear cult!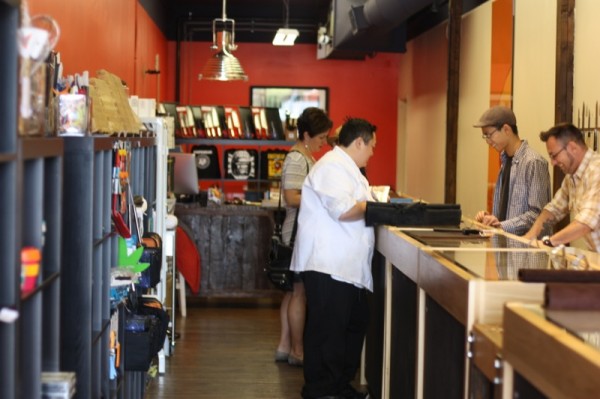 Why Kelowna? Because one of Kevin's most trusted employees from Calgary moved there.Who is the new manager of the Calgary store, now? Mike, one of Knifewear's first customers and a great chef. That says a whole lot about Kevin and how important the right people are to his business.
"We just focus on excellence, keep plugging away not listening to any grumbling. I learned that from Fergus. Seeing how to take ideas that I had floating in my head and put them together has made this all work. It started there."
So, get thee to Calgary on Saturday of the long weekend. I am not saying to miss Heritage Festival. Attendance there is a given; however, this year, on this Saturday, in Calgary in front of Knifewear is where we should all be.