From the bounty of our Great Canadian Prairies!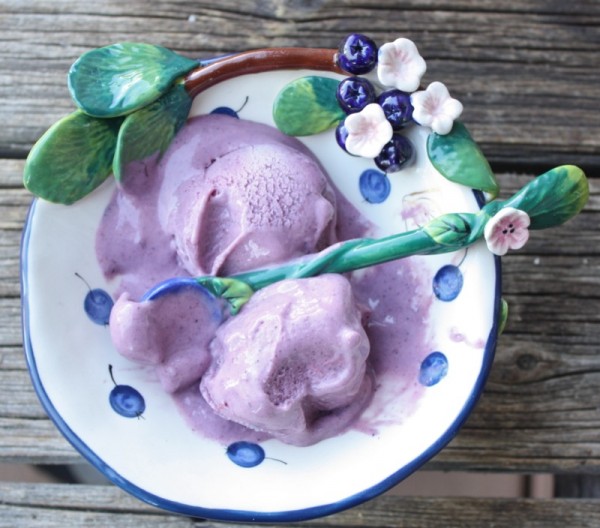 Fresh Saskatoon berry ice cream. Mmmmmmm! This is a rare treat. The flavour of the berries is not as pronounced as the colour of the ice cream, but it is deliciously Saskatoon.
Freshly picked berries were rinsed and whisked into my Thermomix for a quick juicing. They are absolutely delicious and as I have written many times, taste nothing like a blueberry. They are as different in flavour to a blueberry as a strawberry is to a raspberry. They are a dense berry. Juicy, yes, but more dense than the black currant, though the seeds are smaller, therefore there is less pulp, but a thick lush coulis. Without straining the juice, the cream would definitely be very gritty. Yet, when eating them fresh bursting with their bright juicy deep purple liveliness, there isn't any grit or unpleasant mouth feel. Just berry goodness. Most of the "grit" comes from the skin when puréed so it has to be very, very fine.
Below, you can see how thick the coulis is after pushing it through a tami and mixed with an equal portion of thick 52% fat heavy cream. I did this in the same manner as making the black currant coulis, with different proportions of water and sugar. In the smaller frames, below, you will see the coulis without any cream being mixed with this mixture, and more of that thick cream.
I actually rested this one overnight as I was too busy with so many other tasks. The following day it was a thick, creamy pudding-like texture, very much unlike most of the fruit-cream combinations that i pour the egg custard into.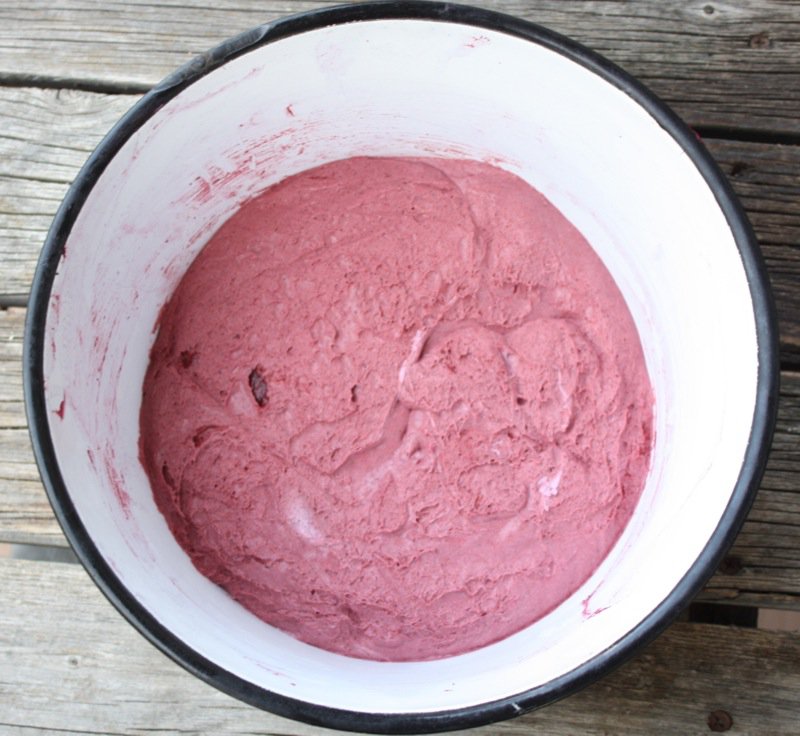 The colour was so vibrant. The Saskatoon flavour was present, but not singing Soprano. It presented a lovely harmony to the thick, fatty cream.
The fatty bits of cream were eventually completely mixed together with the custard and the mixture was again set overnight in the fridge to cure before going into the ice cream maker. In the morning, I poured it into the ice cream maker that was already churning and in 25 minutes, voilá!
Yes, it is as good as it looks! It would also be really yummy, if you have a sweet tooth, to have some of Kitchen Magpie's Saskatoon Berry Sauce over top of it! I will be making some of that next! It would be stunning with my best in the entire world (modestly noted) Saskatoon berry pie! Oh, my! Or, my Saskatoon berry galette? Double "Oh, my"! …with fresh berries or by itself, it is a yummy, decadent and rare summer treat! I like rare as our Saskatoon berries are so precious, so when I grow them or pick them, I cannot help but marvel at the creation of this incredible gift of Nature.
Saskatoon Ice Cream
About 1.5 quarts
Ingredients:
1 ½ cups whole milk
1/4 teaspoon of salt
¾ cup plus 2 tablespoons sugar
1 ½ cups Saskatoon Coulis (make the same way as Black Currant Coulis*)
1 ½ cups (500ml) heavy cream
9 large egg yolks
Instructions:
Heat the milk, salt, and sugar in a saucepan
In a separate bowl, stir together the egg yolks
Temper the yolks by gradually pouring some of the milk into the yolks, whisking constantly, then pour the warmed yolks and milk back into the saucepan
Cook over low heat, stirring constantly and scraping the bottom with a heat-resistant spatula, until the custard thickens enough to coat the spatula
Mix ice cold heavy cream and Saskatoon coulis together in a large bowl over a bed of ice
Strain the custard into the cream and Saskatoon coulis mixture; stir over the ice bath until cool
Refrigerate to chill thoroughly: preferably overnight
Freeze the custard in your ice cream maker according to the manufacturer's instructions
Instructions for using the Thermomix:
Scale the milk, salt, and sugar in the TM bowl and heat to 50°C for 10 minutes at speed 2-3
Set time for 15 to 18 minutes, temperature to 80°C and speed on reverse 2-3; add each of the yolks to the warmed milk one at a time, within about 2 minutes
Mix ice cold heavy cream and Saskatoon coulis together in a large bowl over a bed of ice
Strain the custard into the cream and Saskatoon coulis mixture; stir over the ice bath until cool
Refrigerate to chill thoroughly: preferably overnight
Freeze the custard in your ice cream maker according to the manufacturer's instructions
Note: *For the Saskatoon Coulis I used 700g berries, 100 g sugar and 50 g water; I got exactly 1 1/2 cups of coulis