A Fresh Saskatoon berry pie during picking season is sublime!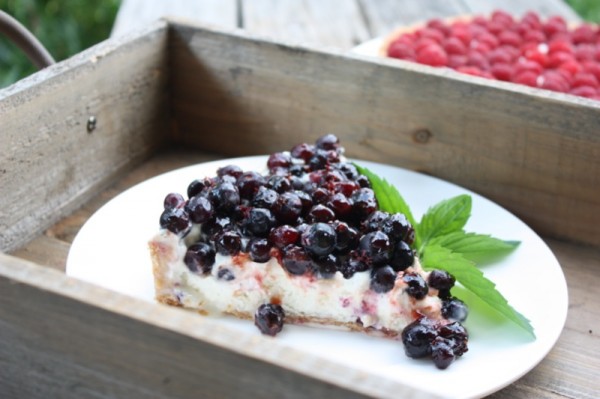 I was picking the last Saskatoon berries off of my own bushes the other day when dad stopped by for a visit. As I showed him the gorgeous berries, his eyes brightened and he reached in for a handful. Few people do that. Saskatoon berry pie is his favourite dessert, hands down. It was at that moment when I decided I was going to make him a Prairie Summer Saskatoon berry pie.
Most recipes for Saskatoon berries can be made with carefully frozen berries and though unbelievably scrumptious, do not celebrate the seasonality of these plump juicy bobbles of glory. This Summer pie does just that. When I took my first bite, it was just like eating the berries with fresh cream. Oh, glory!
The idea reared its head because I had picked our raspberries earlier in the morning and had visions of a creamy French Tart dancing in my head. I had already made the pastry, and had three shells ready to be filled. My Prairie Summer Saskatoon Berry Tart was born. Hurrah! It did me proud as the flavour, texture and mouth feel all surpassed my expectations. The beautiful home grown fresh berries with the heavy Vital Greens 52% almost farm fresh cream made all the difference.
I glazed the berries with a homemade black currant jelly from last season as Saskatoon berries tend to look dusty, even thought they are not.
When I phoned mom and dad and asked them to come over for coffee, I was quite excited! They couldn't come until much later in the day, and I was so busy taking pie photos that I didn't take a "mom and dad eating their pie photo". Isn't that crazy? That is what excitement does to me! The good news? Both complained that the piece was "far too big" as they always do. This was followed by moans and groans of pleasure. Each ate every bit on their plate, and dad was scraping the surface of his plate to get every last drop. Of course, they refused a second piece! But, I sent them home with the entire pie, sans the above slice for Vanja (but I ate most of it!).
This is definitely going to be a traditional summer recipe from now on. I would recommend it to anyone and everyone who picks fresh berries. It is no harder to make this recipe that a traditional pie.
I do have a local source for gorgeous Saskatoon Berries right now, if you are interested. William has a u-pick and will pick and deliver in the city as well. His berries are gorgeous and plump and as good as mine!
I followed my own recipe almost to a "T", but I folded 1 cup of whipped 52% heavy Vital Greens or a farm fresh cream in the the pastry cream instead of the 1/4 cup called for, and I glazed the berries with a melted homemade jelly. I piled on as many berries as would fit onto the tart without the cream overflowing.
I would love to hear from you it you make this recipe! Happy Saskatoon Season!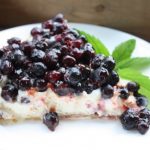 Crème Pâtissière and Crème Mousseline
The ultimate filling for any fresh berry French Tart. Instructions are adapted for making in the
Thermomix machine
Ingredients
1

cup

milk

(220g)

half of a vanilla bean

( used the entire bean)

3

egg yolks

1/4

cup

sugar

2

tablespoons

flour

1

tablespoon

framboise liqueur

(or whatever liqueur would compliment the fruit in the tart)

3/4

cup

heavy cream

1

pound

fresh berries

(I don't weigh my fruit, I just used what it takes to cover the tart generously)

1 9-

inch

/23 cm cookie crust

, baked
Instructions
For the Thermomix:
Measure the milk in a heavy saucepan; split the vanilla bean, scrape the seeds into the milk and add bean into the pan

Simmer for 5 minutes at about 50°C; remove from heat, cover, and set to infuse 10 to 20 minutes

Meanwhile, scale the sugar into the TM bowl and add yolks; insert the butterfly and beat until pale for 10 seconds at speed 4

With the time set for 10 seconds and the speed at 4, add the flour through the hole in the TM lid

Strain the milk that has steeped in the saucepan gradually into the egg mixture

Set the time for 4 minutes and the temperature at 100°C; bring mixture to a boil at speed 4 and cook one minute (you will have to watch when the mixture comes to a boil and adjust time accordingly)

Stir in the liqueur, if using

Strain into a bowl and cover with plastic wrap; set aside to cool (this is Crème Pâtissière)

When chilled, whip the cream and gently fold it in (this is now Crème Mousseline)

Spread the cream evenly in the base of the tart; arrange the berries neatly over top
Without a Thermomix:
Put the milk in a saucepan; split the vanilla bean, scraping the seeds into the milk, and add bean into the pot

Heat to a simmer, remove from heat, cover, and set to infuse 10-20 minutes

Beat the yolks with the sugar until pale; beat in the flour

Pull the vanilla bean from the milk and whisk the milk gradually into the egg mixture; pour back into the saucepan

Bring to a boil, and cook one minute; remove from the heat and stir in the liqueur, if using

Strain into a bowl and cover with plastic wrap; set aside to cool (this is Crème Pâtissière)

When chilled, whip the cream and gently fold it in (this is now Crème Mousseline)

Spread the cream evenly in the base of the tart and arrange the berries neatly over top