The Preparation of Concord Grapes for delicious recipes is time consuming, but so worth it!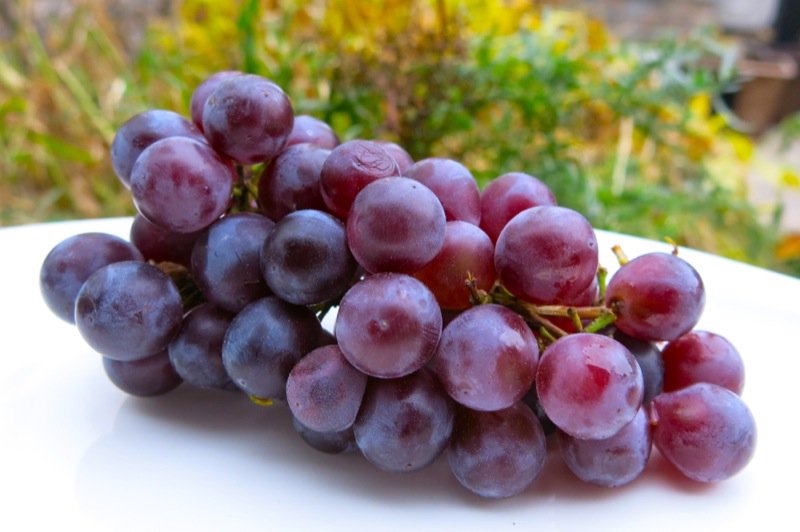 My grandad had just arrived for a little visit on Saturday so many years ago, arms full of treats, and he plopped a green cardboard box laden with large, dusty blue bulbous clusters of grapes bulging over the sides onto the kitchen table. I had never seen blue grapes, or grapes so dark. Only red and green ones. Mainly green. Eyes glistening, hands rubbing together gleefully, "Wash these up, Helen, so we can enjoy!" meant for my mom. Back onto the table with water globules glistening in the late summer sun, they still looked dusty. "Mommy, they are still dirty!" Everyone laughed. Grandad pulled off a couple and plopped them into his mouth. "Mmmm! These are the best grapes, ever! Have some!" I took one and bit into it. The skin slid off in my fingers and a huge slimy sour green ball went into my mouth. I puckered and tried not to disappoint, then discovered a huge seed inside of it. Huge. "Do you like it?" as I spit the seed into my hand. Spying the skin in my fingers, "You must chew the skin, Valerie! All of the flavour is in the skin. The juice is in the pulp, but the sweetness and flavour is in the skin." I bit a little of the skin and chewed on it. Grape. Grape. Grape! It tasted like Welsh's Grape Juice and grape candies. I reached for another as Grandad pulled me up on his lap and handed me a large cluster of my very own giant Concord grapes. "Eat as many as you want." I used to pinch them before eating them to rid the skin of the pulp, and eat only the skins. To this day, Concord grapes remind me of my Grandad just as raw oysters do. His passion for both was irresistible and I fell in love with both of them, too.
Concord Grapes are in season right now. Fresh British Columbia fruit is as local as orchard fruits get in Edmonton. There are other varietals of grapes that can grow in our short zone three climate, but not the King of them all: The Mighty Concord. These are available at the City Centre Market at Steve and Dan's booth until December, I am told.
This is my year of the Concord Grape. Charmian Christie at The Messy Baker shared her Concord Grape Pie as her Most Cherished Canadian Recipe for The Canadian Food Project a couple of months ago. Grape Pie? Who new? I had to make one. And why stop there. Grape jelly, for sure, and jam… and how about sorbet? Yes, please. To make any and all of these recipes, and more, the preparation of the Mighty Concord is exactly the same. Thus, this introductory kitchen basic skills post on how to prepare the grapes for the recipes to come.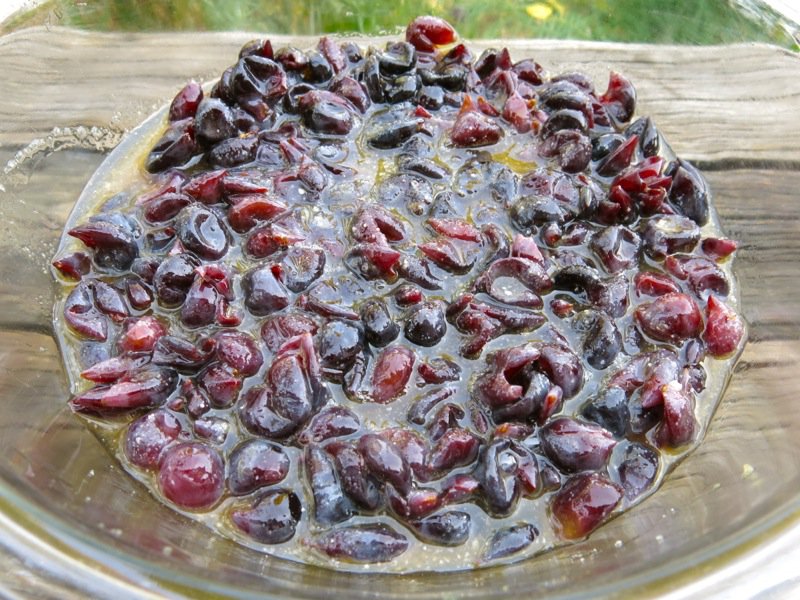 Above is the finished preparation. The skins and the pulp together, now seedless, and ready for any recipe. I chose a pie, first.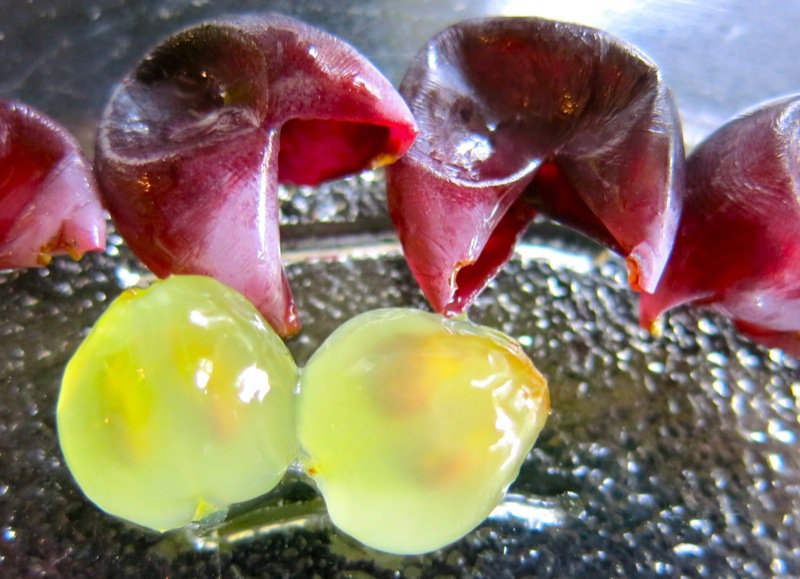 Look familiar? I know I wasn't the only child pinching the eyeballs out of the Concord skins. The grapes I acquired are not as blue as the ones from my childhood, nor are they as large, but they are every bit as tasty. After an hour, I pinched a kilo of grapes which is enough for a pie, a litre of sorbet or 4 good sized jars of jam. After the first kilo, I turned on a good program on TV and made myself comfortable. Charmian says it takes her about 20 minutes to do enough for a pie. It took me an hour. Every kilo. No complaints, though.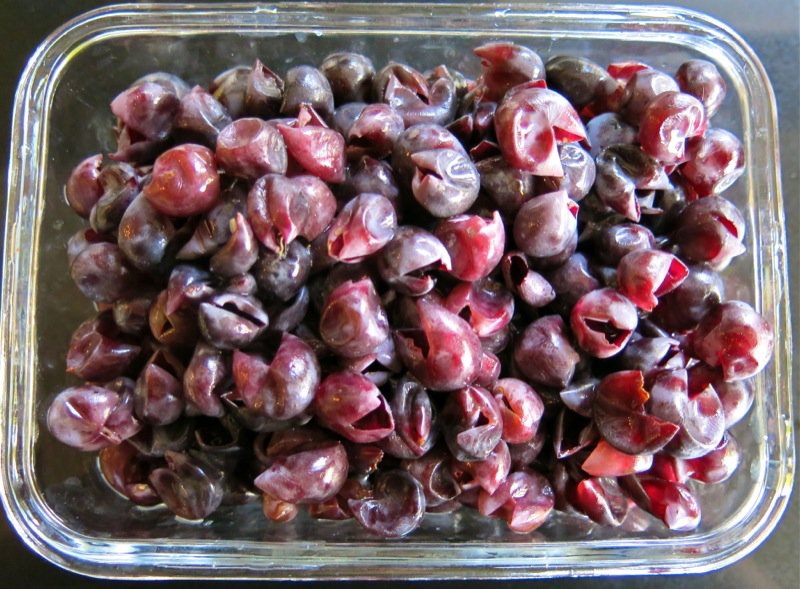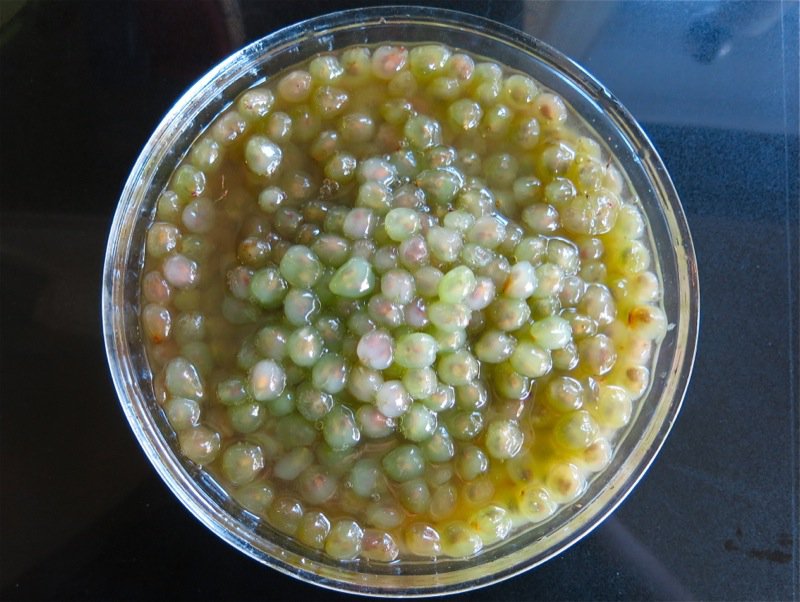 The pulp is now ready to boil. The boiling, for really just a few minutes, releases the seed from the pulp and makes it much easier to separate from the seed.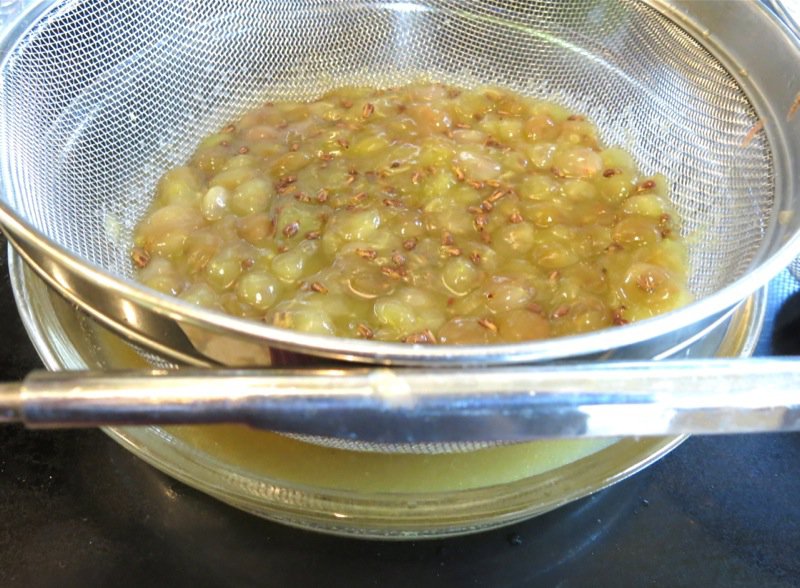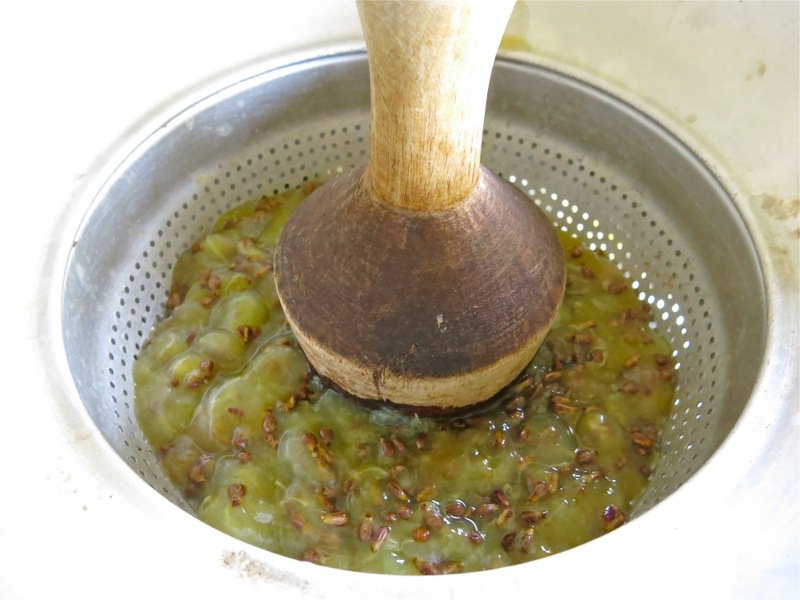 I did use a sieve for the first batch, then got the old chinois that Grandma Maude gave to me. It was perfect. Much faster with a big batch.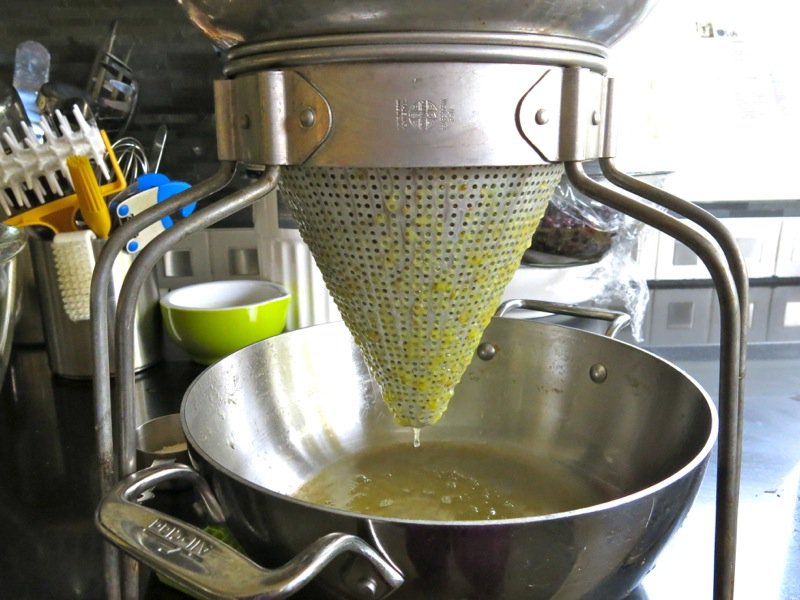 I still like to look at the seeds. Remember the wonder when eating a Concord as a child? How could a grape have a seed this big? I would always examine each one.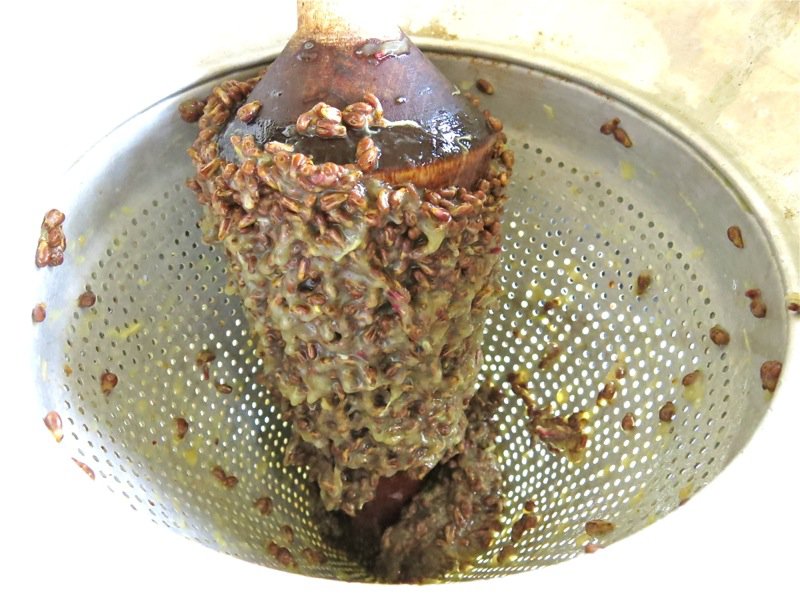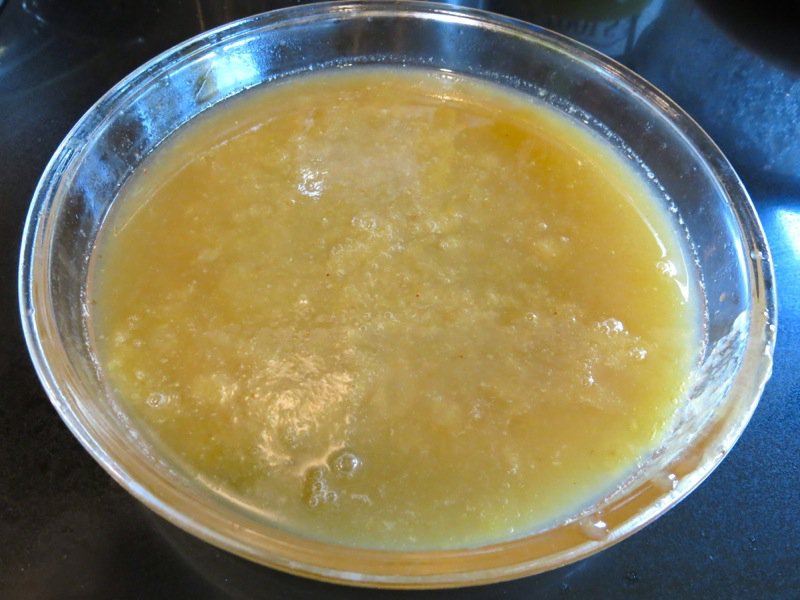 The pulp is free of seeds and ready to be returned to the skins. Some believe that the pulp needs to rest with the skins for about 5 hours to enable time for flavour and colour to marry: the final product is supposed to be more purple if there is a rest period. Below you can see how yellow the pulp mixture is initially compared to the skins.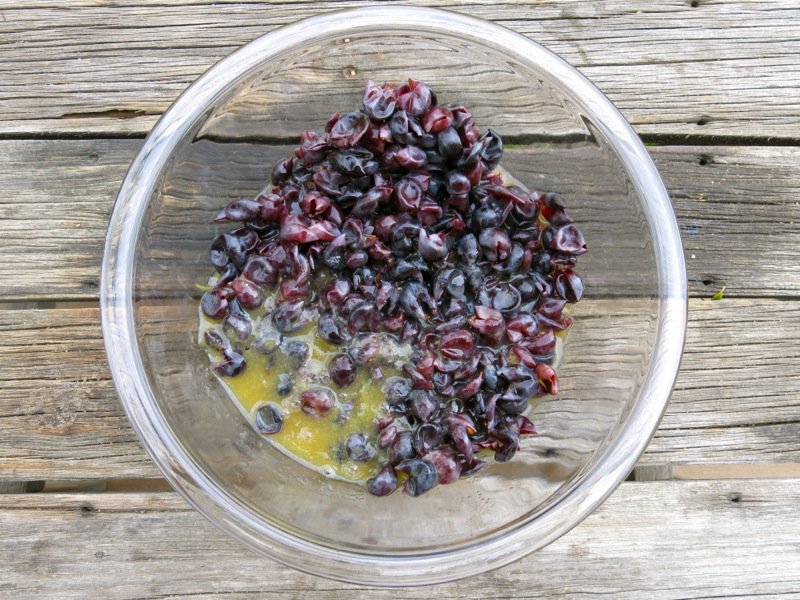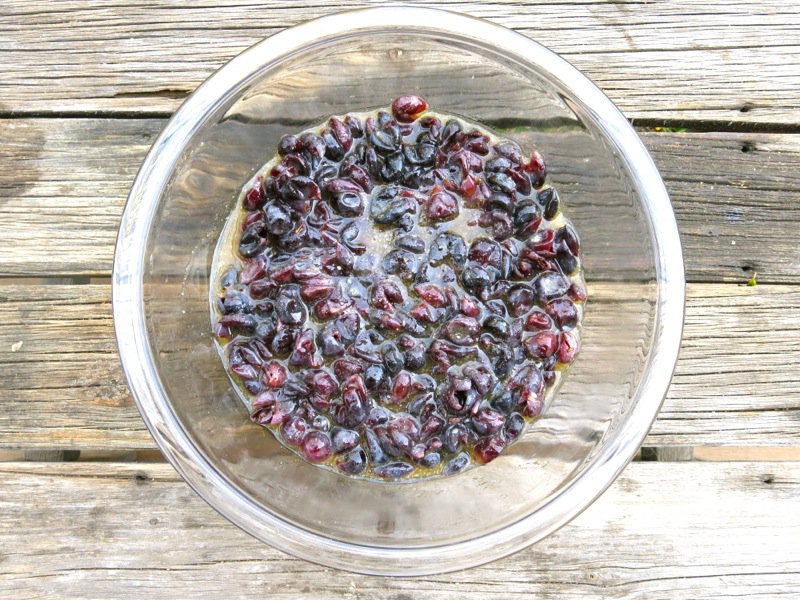 The prepared grapes are now covered and rest for 5 hours. After that, they are ready to use in whatever recipe you choose.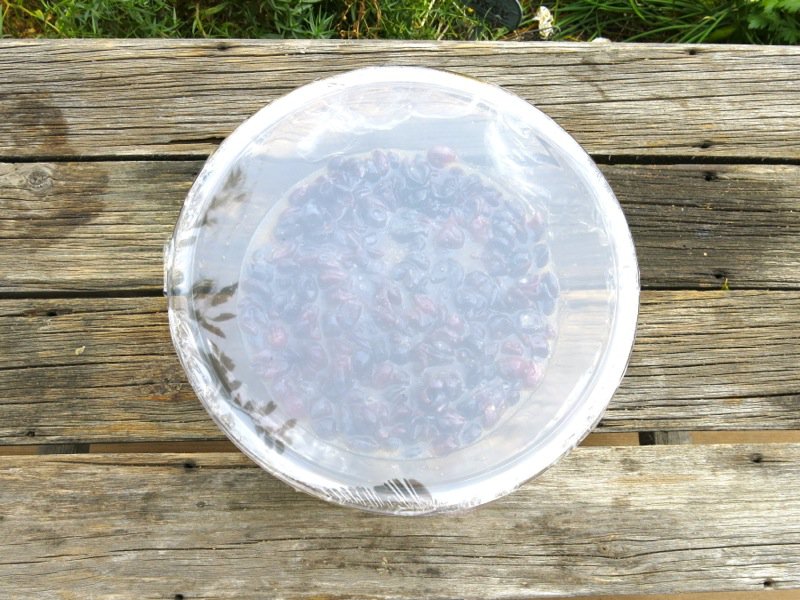 Below is the concoction after resting the skins and the pulp together for 5 hours. There was a marginal difference that I could see. Marginal, but maybe once recipes are made with the Concord grapes, the effect of the rest period is much more visible. I did it and was thrilled with the results in the four recipes I made.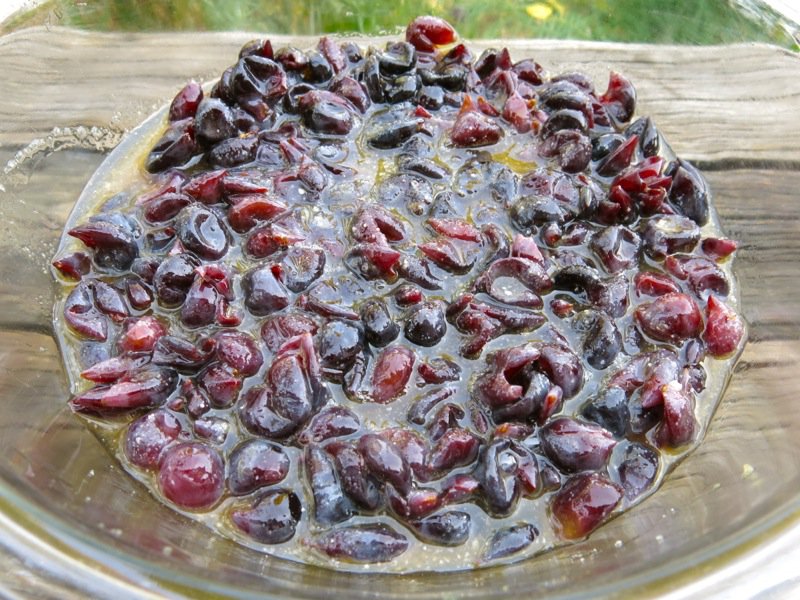 Following the Classic Preparation of Concord Grapes for Recipes, I will be posting:
Classic Concord Grape Jam made in the Thermomix (and without)
Concord Grape Sorbet made in the Thermomix (and without)
Traditional Concord Grape Pie
Concord Crape Pie with Crumble Topping
If you have other Concord Grape recipes to share, please chime in! I am obviously on a roll!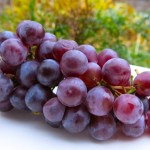 Classic Preparation of Concord Grapes for Recipes
The Mighty Concord is the King of all Grapes. This is a classic preparation of Concord Grapes necessary for all recipes.
Total Time
1
hour
15
minutes
Ingredients
1

kilo of concord grapes

, or however many the recipe calls for
Instructions
Wash grapes well; let dry

Pinch skins from pulp; place each into a separate bowl

Cover skins; place pulp into heavy pan on medium high heat

Bring to a low boil, and boil, stirring for 4 minutes

Place hot pulp into a sieve or chinois; push pulp through the sieve and discard seeds

Add warm pulp back to grape skins; cover tightly and rest for 5 hours to meld flavour and colour

Use prepared mixture for desired recipe
Now look at me teasing you! These recipes below (Traditional Concord Grape Pie with Concord Grape Sorbet) were both made with this preparation method.