Mom's recipe for the best Traditional Shortbread Cookie!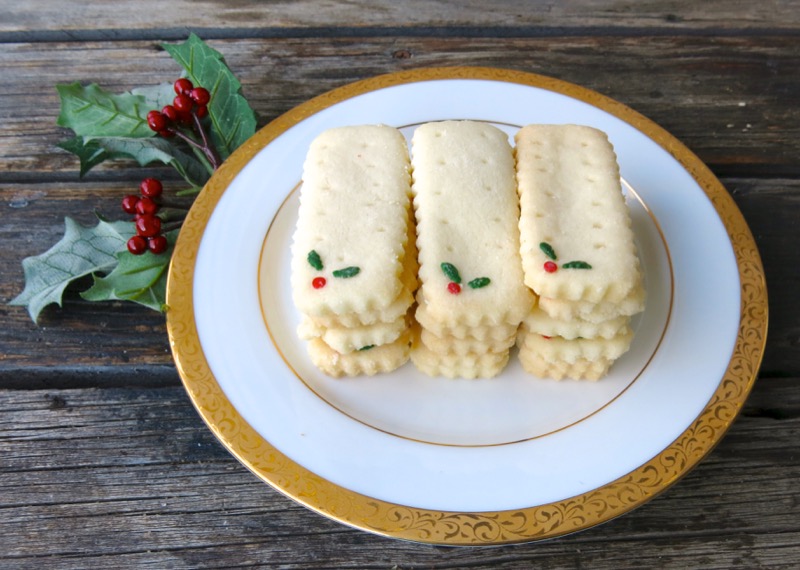 Sporting a new look for my Canadian Christmas Cookie Platter this year, our family's traditional shortbread cookie is fundamental festive food.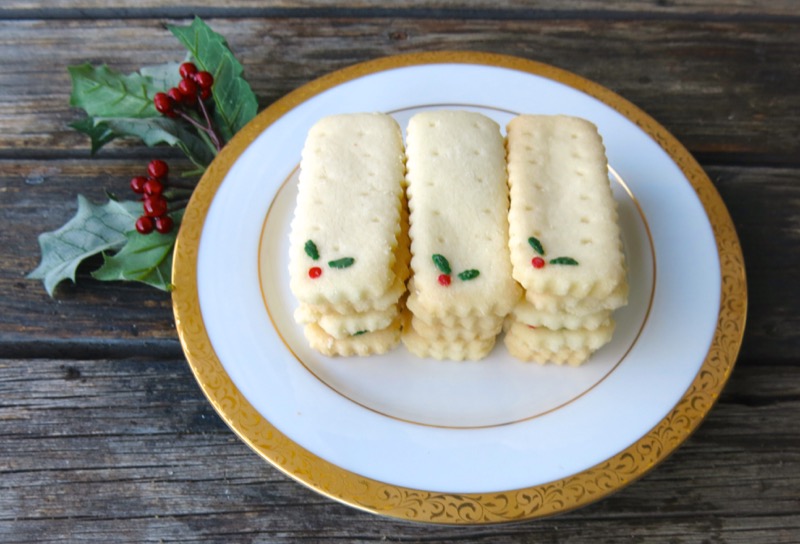 A little holiday "lipstick" seemed appropriate this year, as I wanted a simpler version of the Shortbread Cookie Sandwiches that I have made every year since 1982.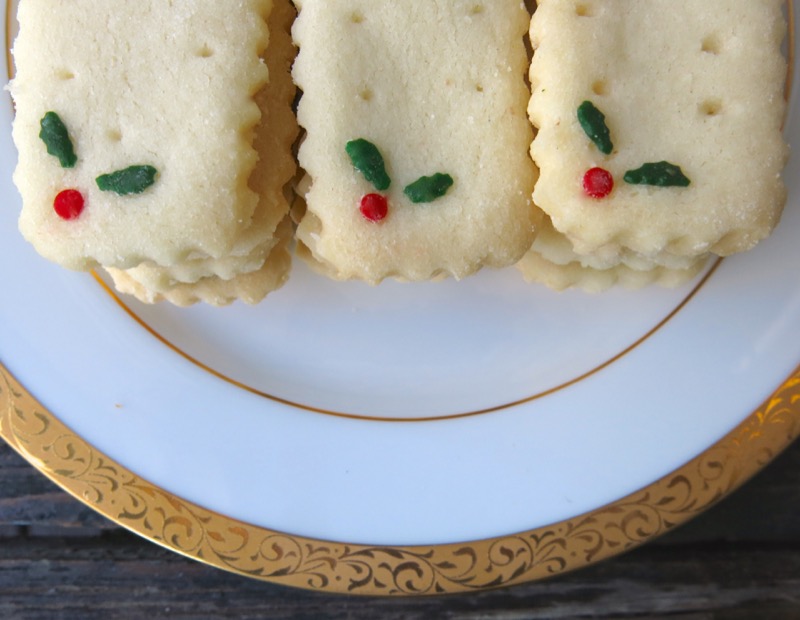 Traditional Shortbread Cookie: Making the Dough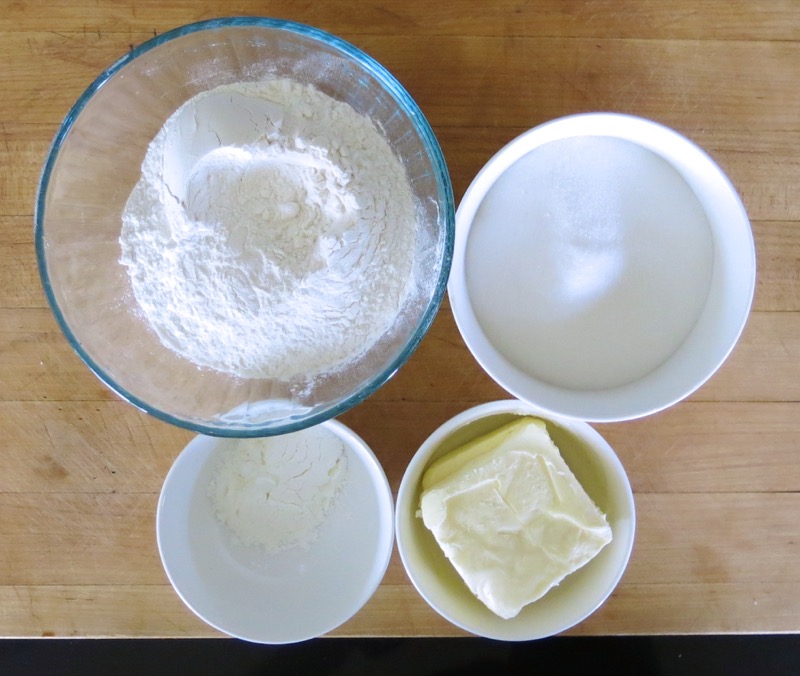 Mis en place is extraordinarily simple" flour, butter and sugar. Then, a little substitution of 2 tablespoons of flour for 2 tablespoons of cornstarch essential to the texture of the Traditional Shortbread Cookie as it creates that "melt in your mouth" moment that is a signature of the perfect shortbread cookie. The ratio of traditional shortbread is always the same: 2:1:1/2 flour, butter, sugar. Always.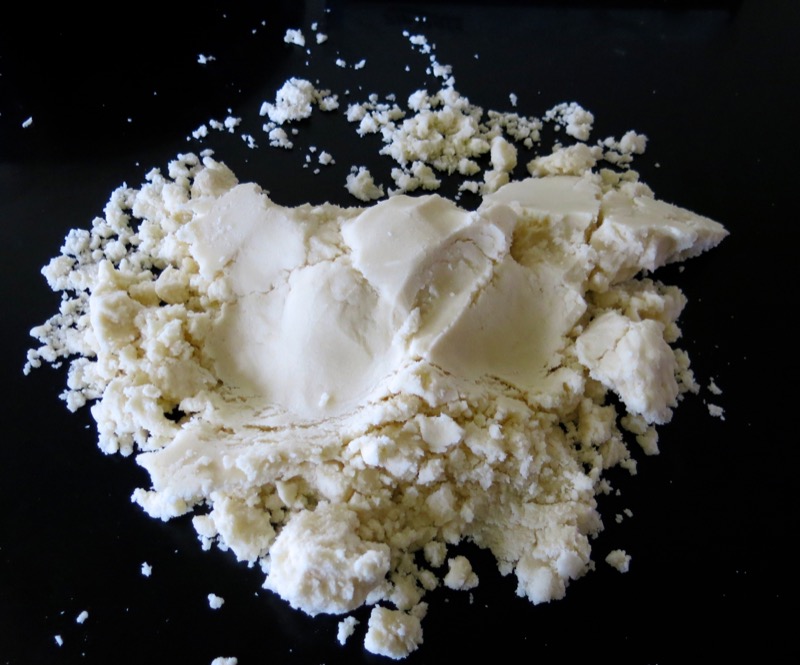 However, it is the technique that makes all the difference with this seemingly simple delicate and seriously revered holiday masterpiece. The flour and the sugar are combined. The typical cookie method has the sugar and butter creamed together first, then the flour is added. That technique completely changes the texture of a Traditional Shortbread Cookie. I know. I have made that mistake in the past. The butter is then worked into the dry ingredients, kneaded by hand until there is a cohesive mass, and you can be confident that your labour will result in the most irresistible cookie the world has known.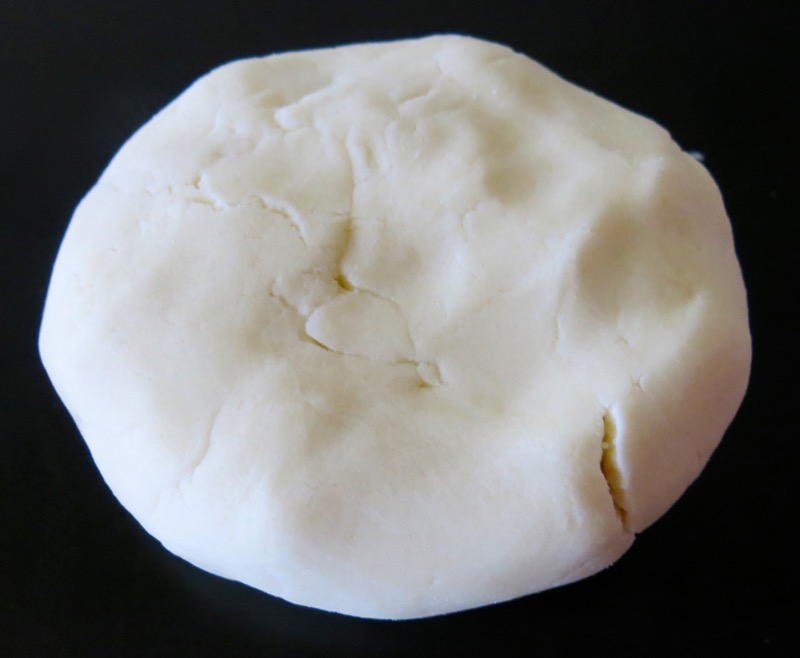 I divide the dough into two discs and chill. Often for a few days until I get time to roll them out and bake them.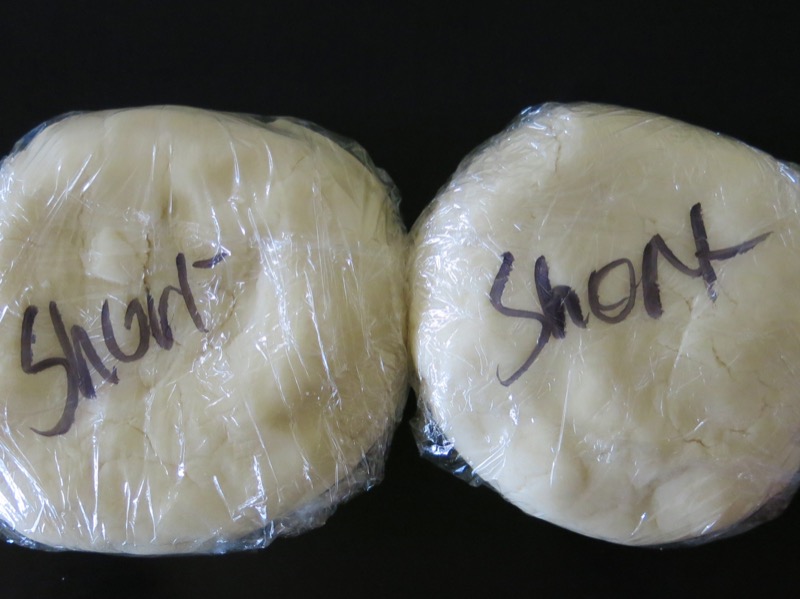 Traditional Shortbread Cookie: Rolling out the Dough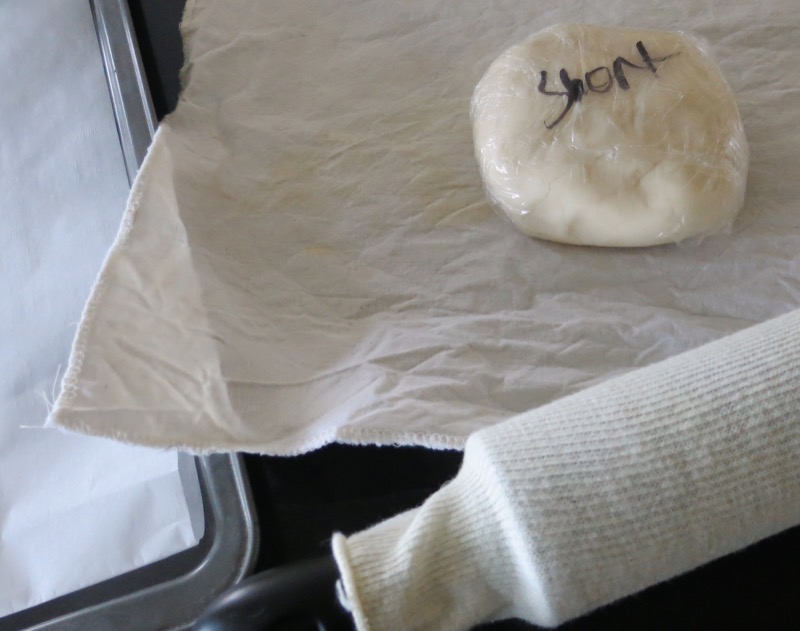 When rolling out cookies, I always use a sleeve on my rolling pin. Nothing ever sticks to the sleeve, and I really like the textured imprint it leaves on the cookie. A mat or a cloth is also essential. Parchment paper is fine, but it is light and moves around the work surface, so I prefer a mat or a baking cloth. Nothing sticks to either.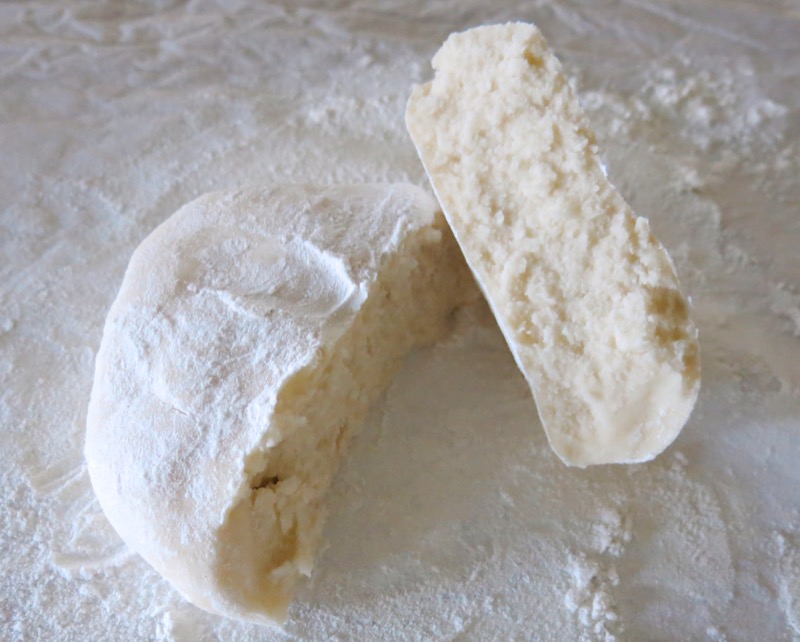 I break my disc in half and work with half at a time.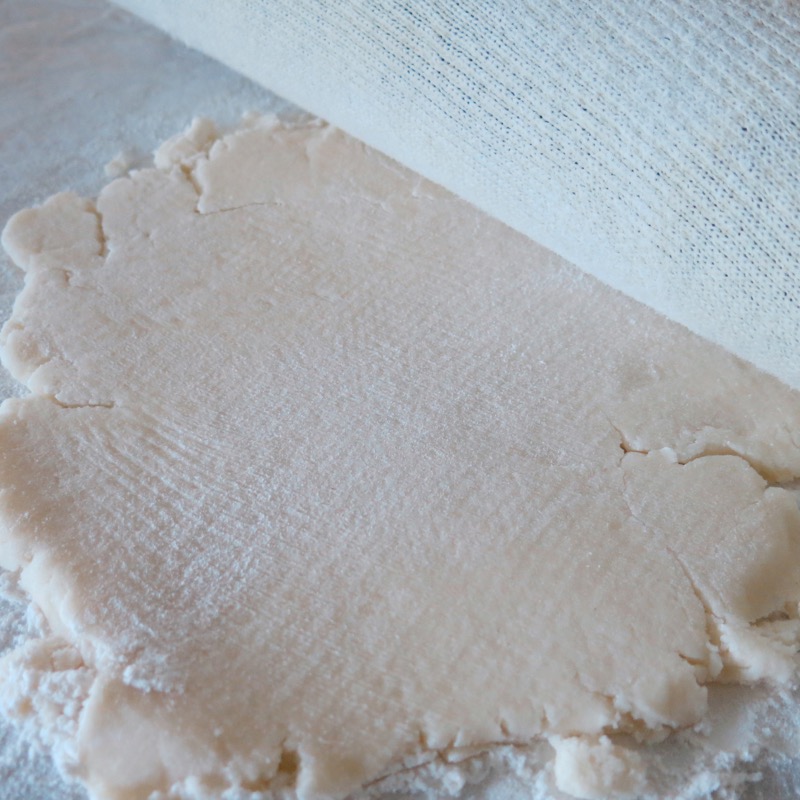 A considerable amount of flour is important on the work surface: enough so the cut out cookie will lift easily. Above, the texture is evident on the dough. What do you think? I love the look.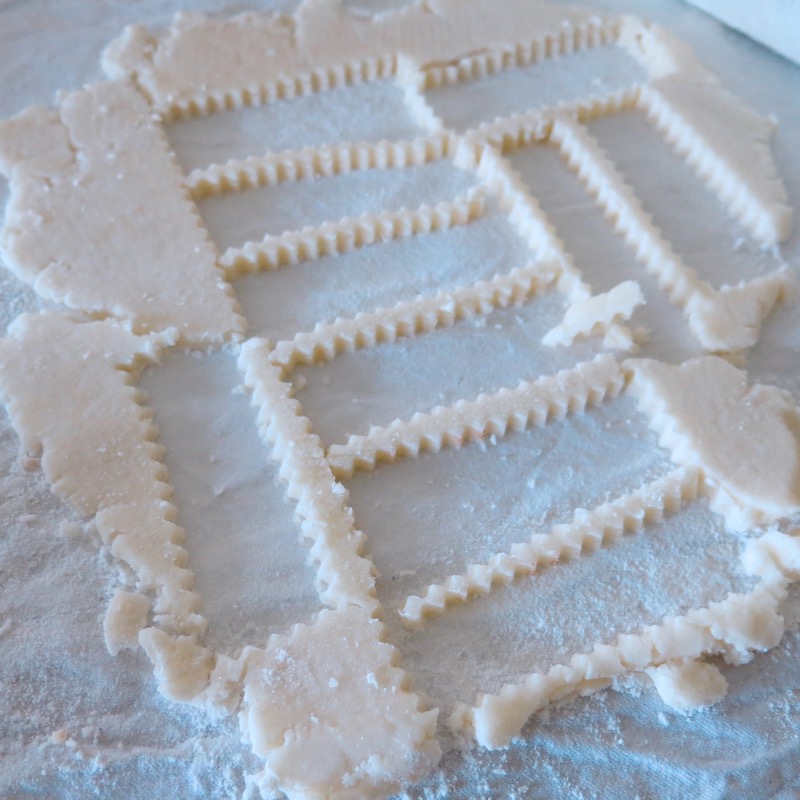 Cut them out, and place each on a parchment covered cookie sheet. I then gather the bits of dough, combine them and re-roll until all is gone.
Traditional Shortbread Cookie: Decorating the Cookies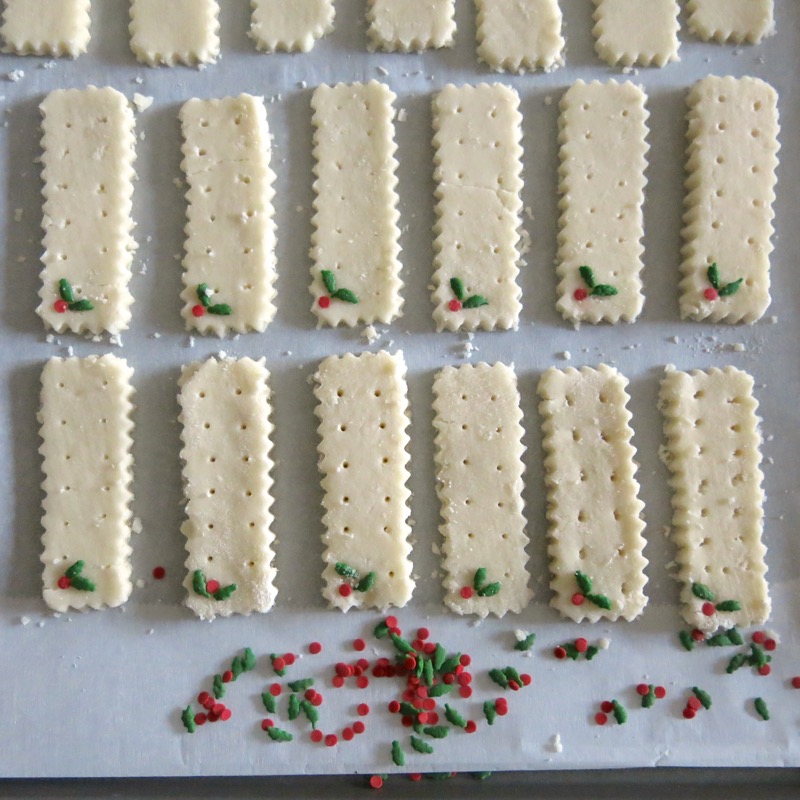 Pretty, no? This is not my original idea. Muriel Wyshynski, the mother of my childhood friend, Rae Wyshynski, used to decorate her square shortbread cookies like this. I recall almost falling over when the family gifted me with a couple of dozen of them after our weekend Christmas Cookie making session. The shortbread wasn't part of the itinerary, and I could not imagine anyone taking the time to decorate each little cookie like this. Yet, I have never forgotten those treasures, either. This was the year for me to try it myself, and though time consuming, yes, not any different than so many of the projects I take on in my kitchen. Put a good movie on, and all will be ready to bake before the end of it!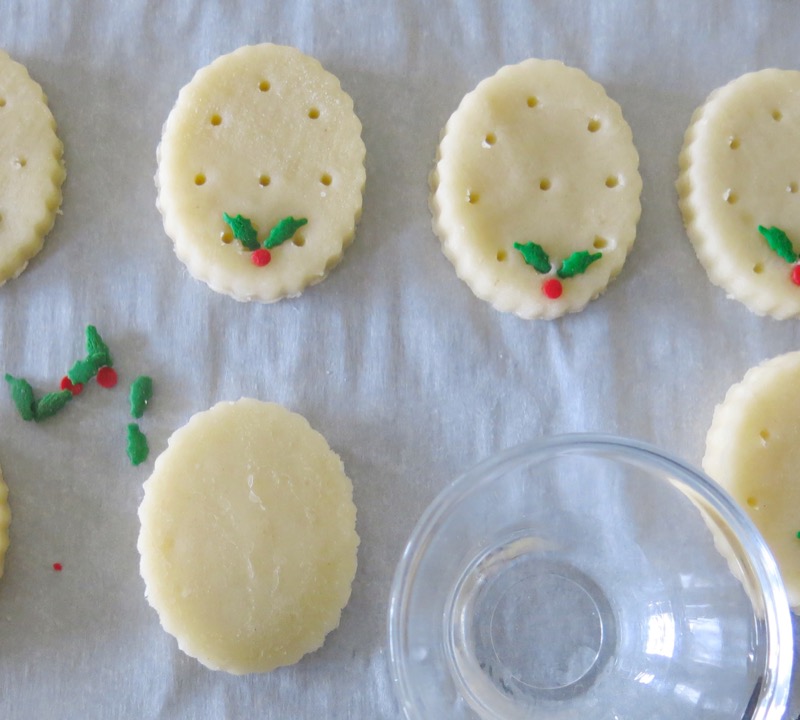 After doing a sheet of the long rectangles, I decided I wanted to do ovals. The rectangles are great on their own, but awkwardly long for a platter. To put on the little holly sprinkles, you need:
cut out shortbread dough on parchment covered cookie sheets (refrigerate each until ready to decorate)
holly sprinkles
a toothpick
a little water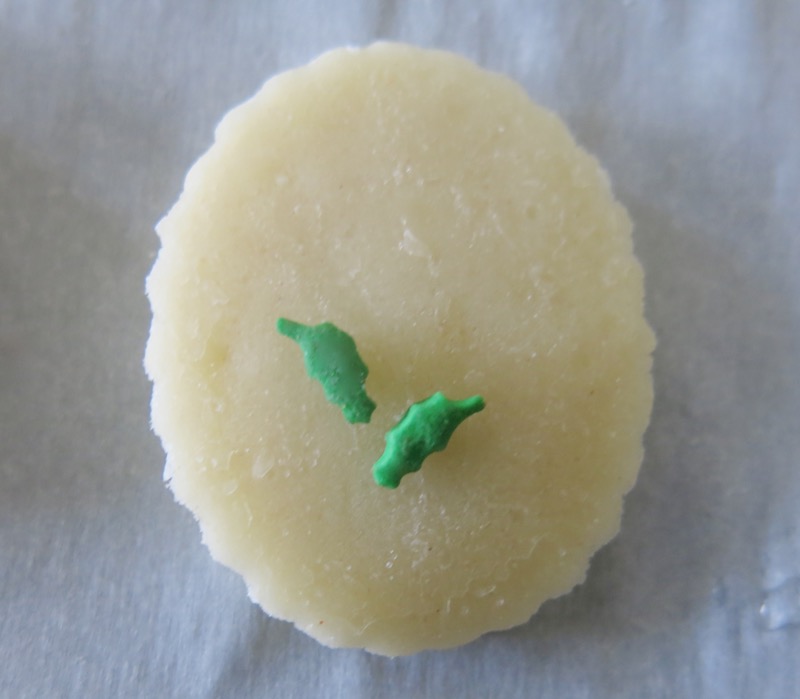 About the holly leaves: there are points on one end. It looks best if the pointed ends are away from the berry and facing the opposite direction of one another.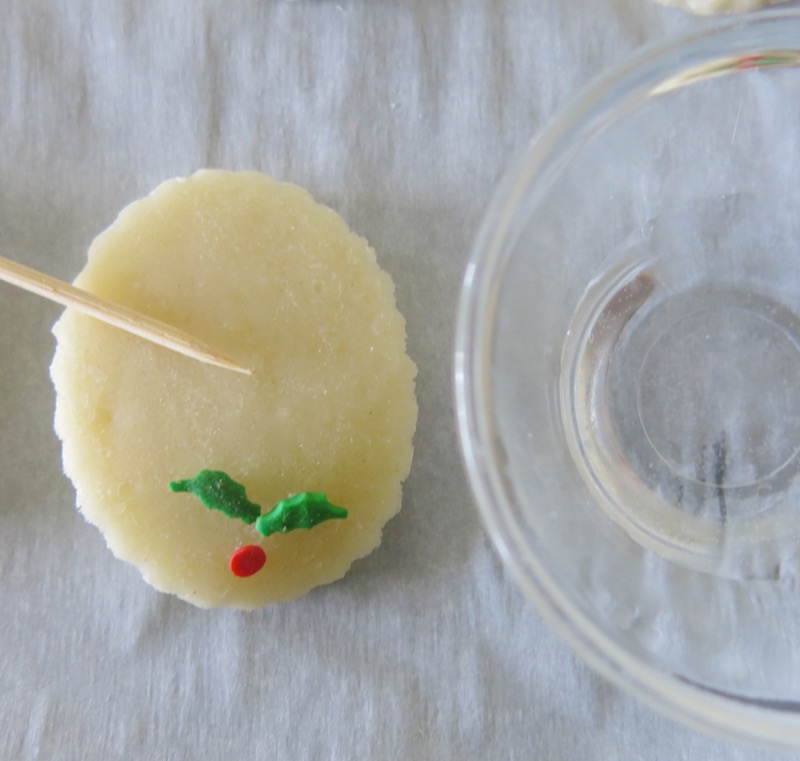 You don't need to set them into this position. I am demonstrating what I do, but I don't put them into place before "gluing them on". I dab the area I am affixing the sprinkles to with a bit of water from the tip of a clean finger. Just a damp bit.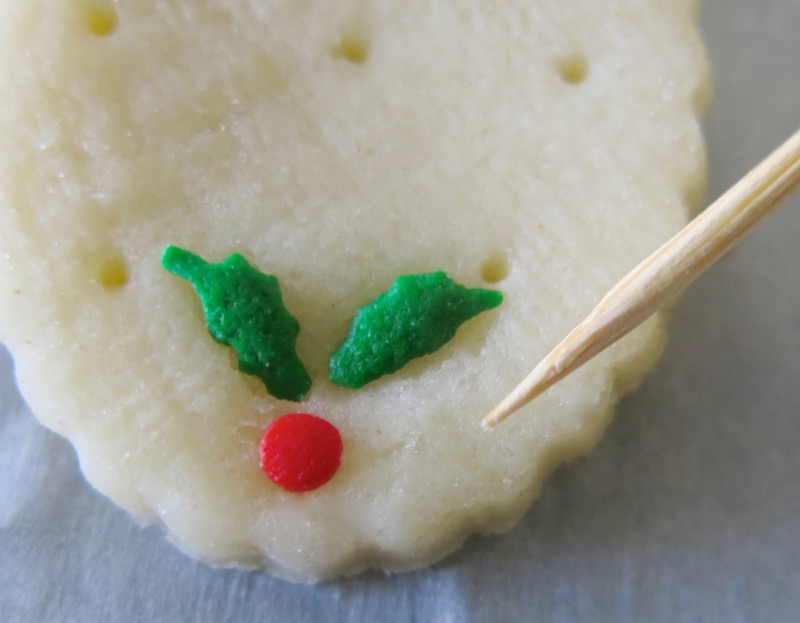 I put the little berry on first, placing it on with my finger, and tapping it into the dough with the pointed end of the toothpick. I do the same with each leaf.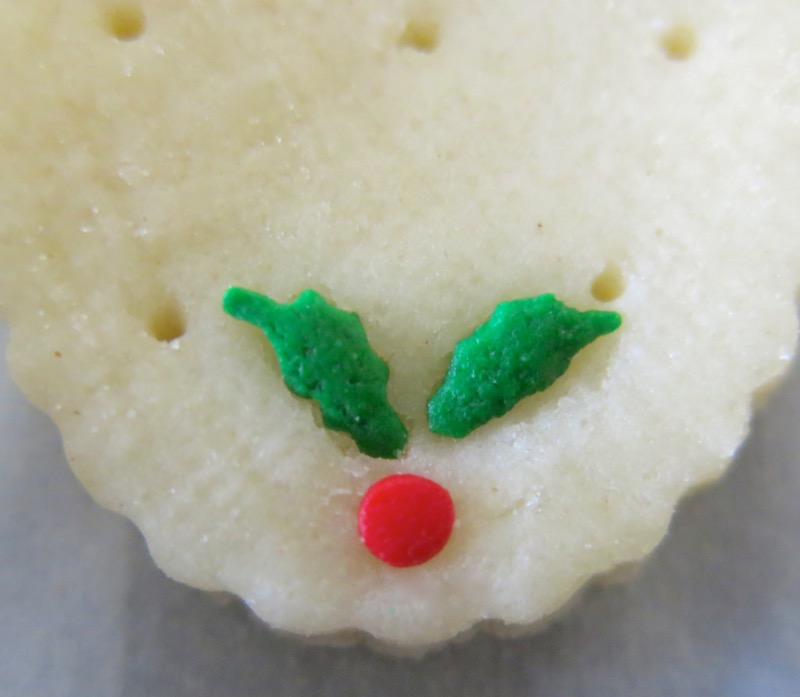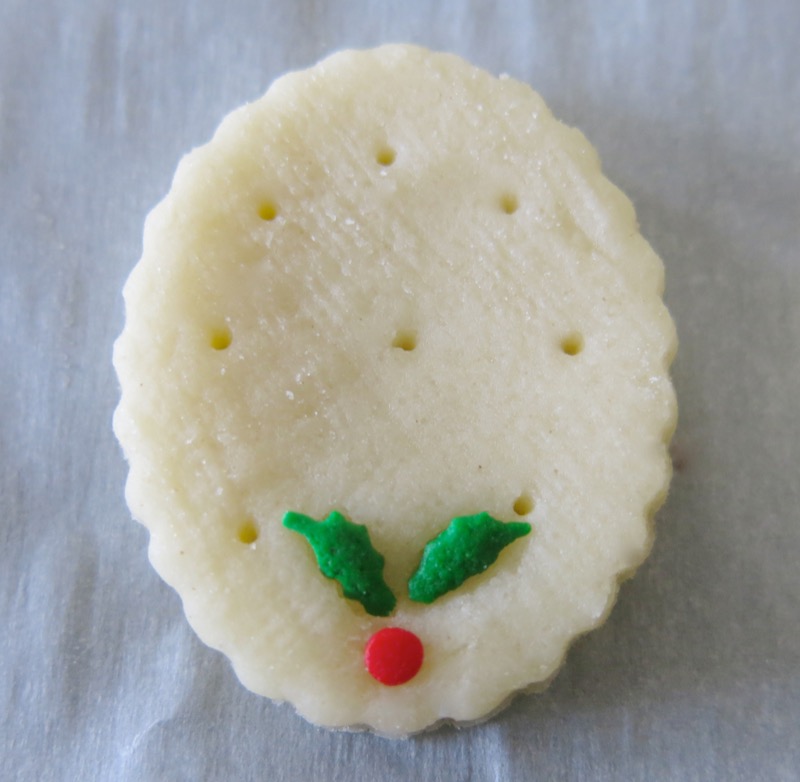 I then dock the cookie with the end of the toothpick. I used to use a fork, but have more control with the toothpick and the holes are cleaner. The fork tends to pull back a bit of the dough with the tines. The cookie needs to be docked to relieve the steam created by the butter to prevent the dough from puffing up.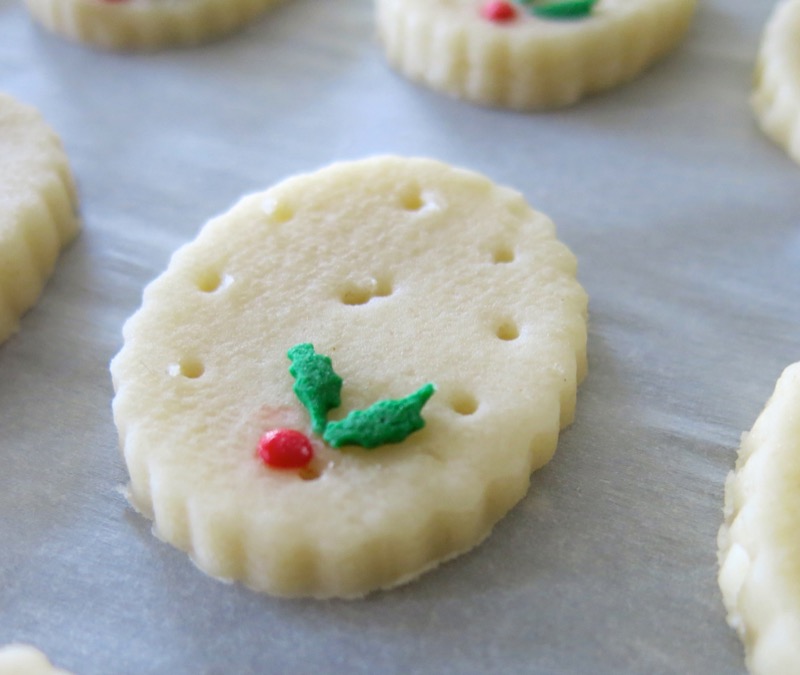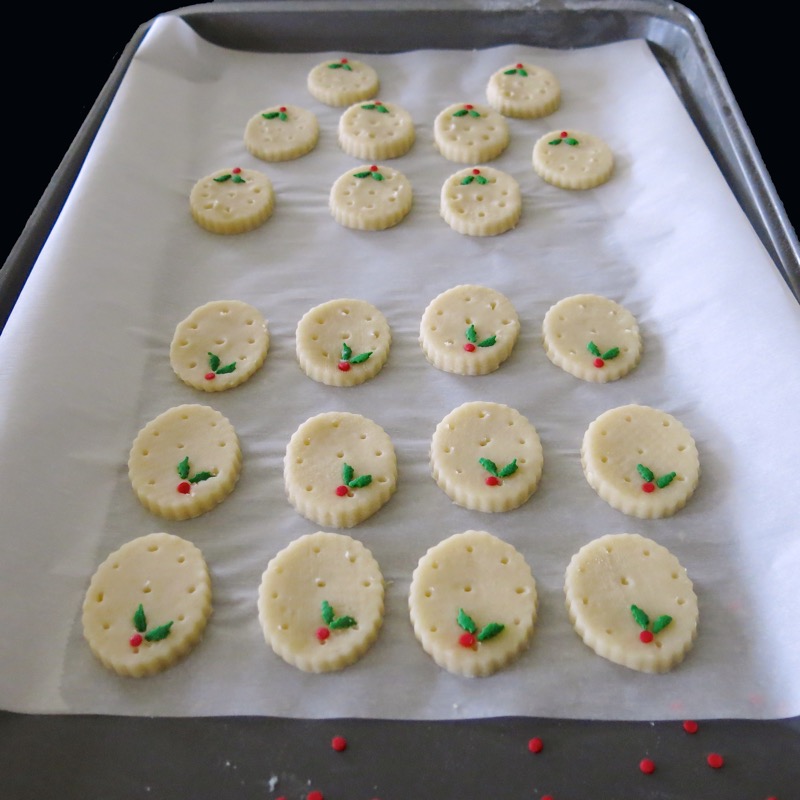 After completing the decorations for each pan of cookies, into the refrigerator they would go replacing spot of the the "yet to be decorated Traditional Shortbread Cookie" pan that I would take out to continue working with.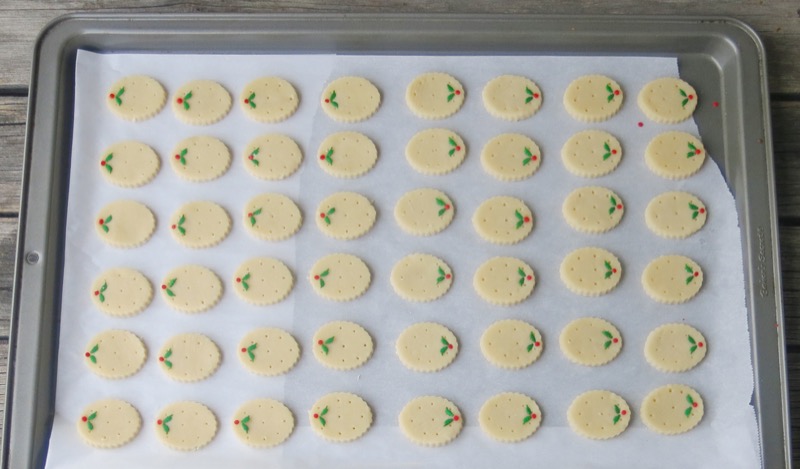 Once I had two sheets decorated, the oven was hot, and I started to bake them.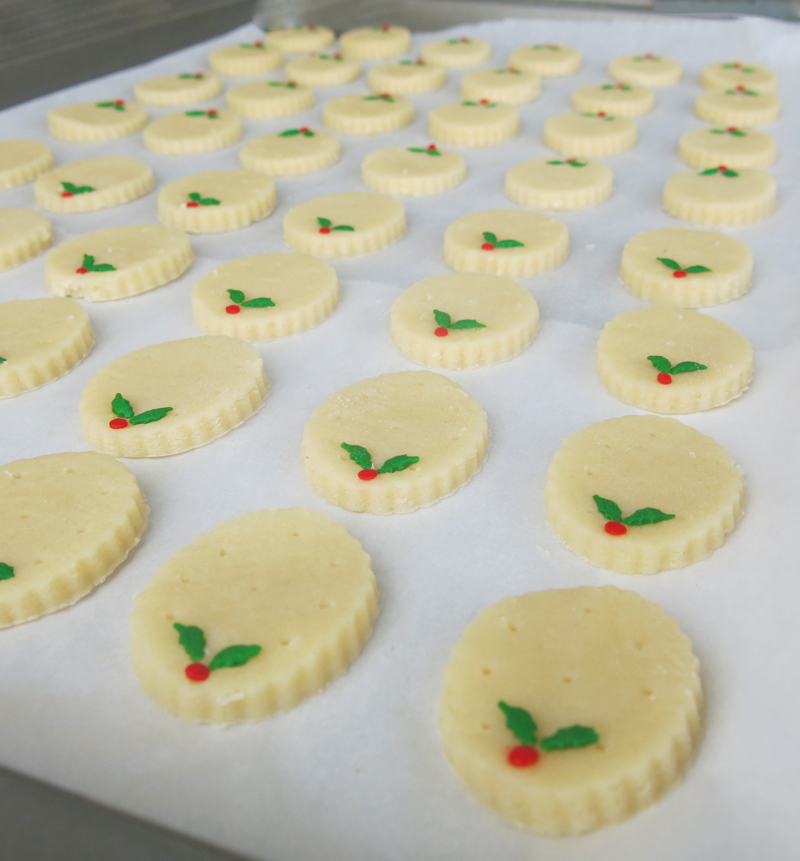 So pretty, and after the amount of time spent, watch that oven and do not over bake the shortbread. Theoretically, they are to be white, but baked with an almost indiscernible golden hue to their bottoms.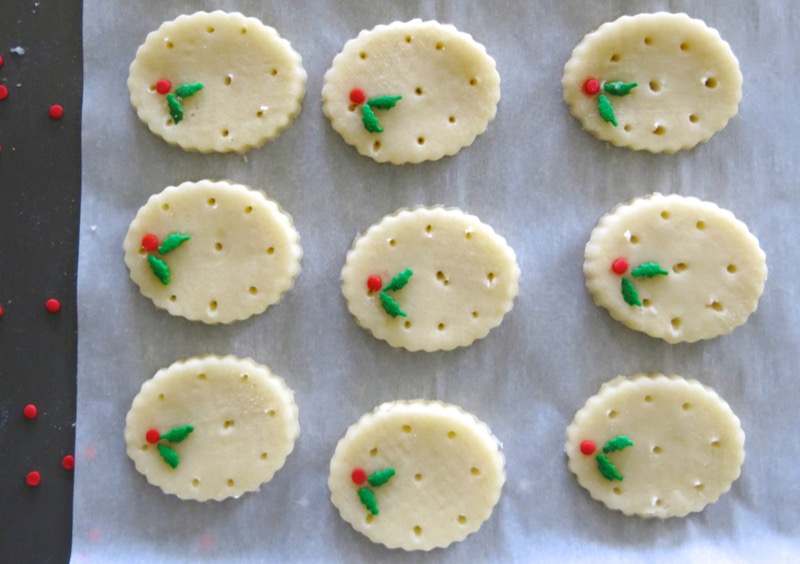 Traditional Shortbread Cookie: Baking the Cookies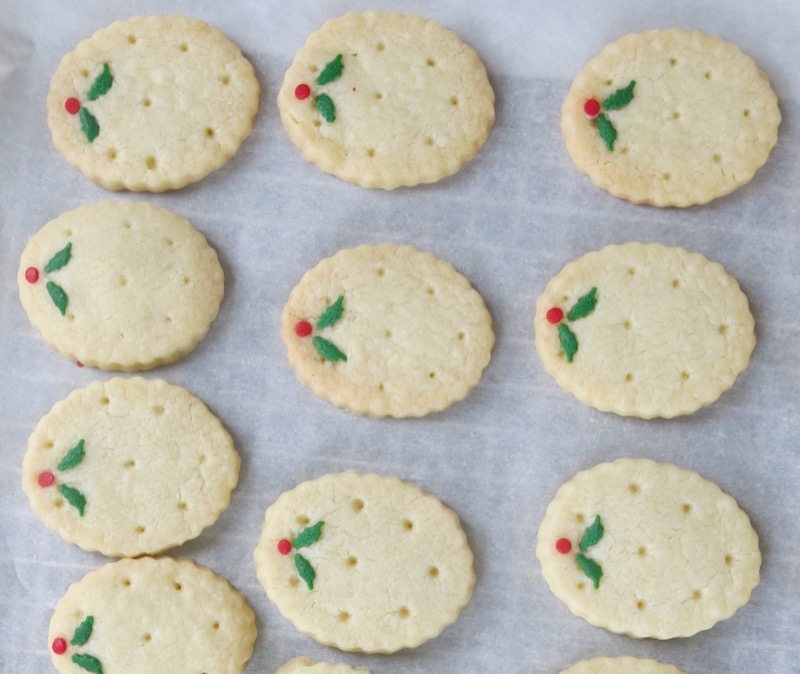 I prefer them with a little colour, but they are to have very little colour. The two above at the middle and right on the bottom row, would be considered the perfect colouration by a true shortbread enthusiast.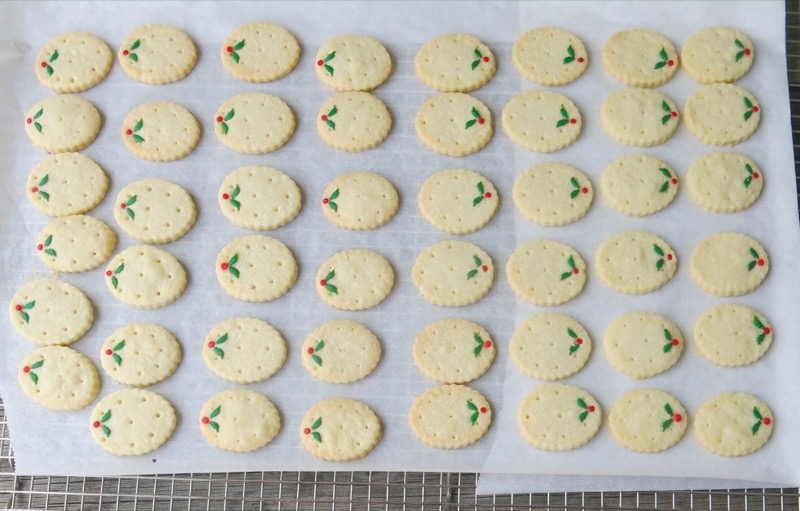 The aroma of the Traditional Shortbread Cookie baking in the oven begs for Christmas music to be playing, snowflakes to be falling, tree lights to be twinkling and is most definitely the best aroma therapy for a troubled spirit as it rests well within providing that primordial seasonal comfort that all is truly well within this world.
Traditional Shortbread Cookie: Celebrating the Season!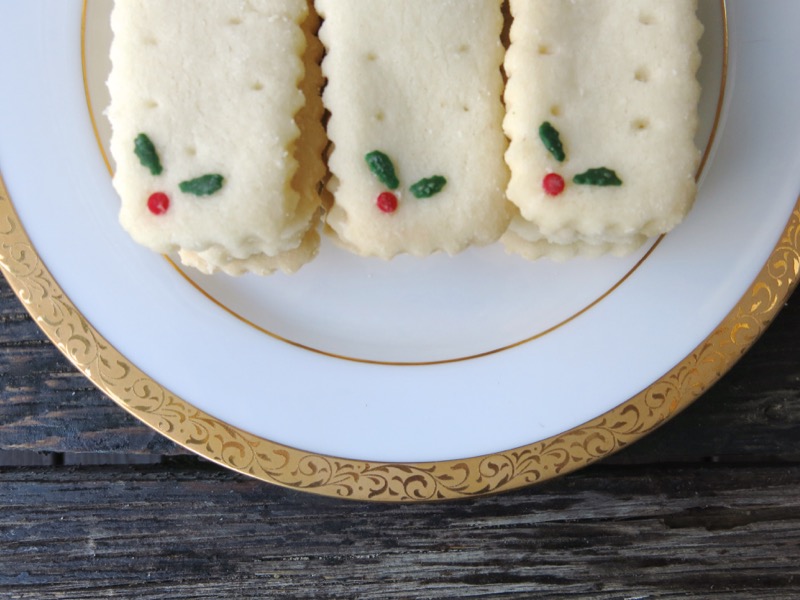 Hello! I am a happy, happy cookie! I think I put a little smile on your face when you saw me. Oh, yes I did. Didn't I? Didn't I? Come on…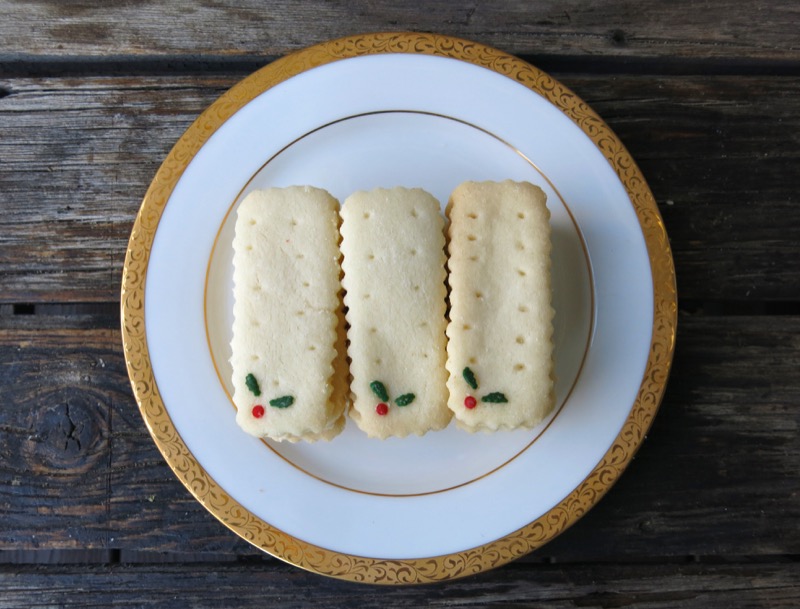 Admit it. When you saw this little platter of cookies, you could not resist that little bit of a smile that started spreading across your face, warming your soul and spirit.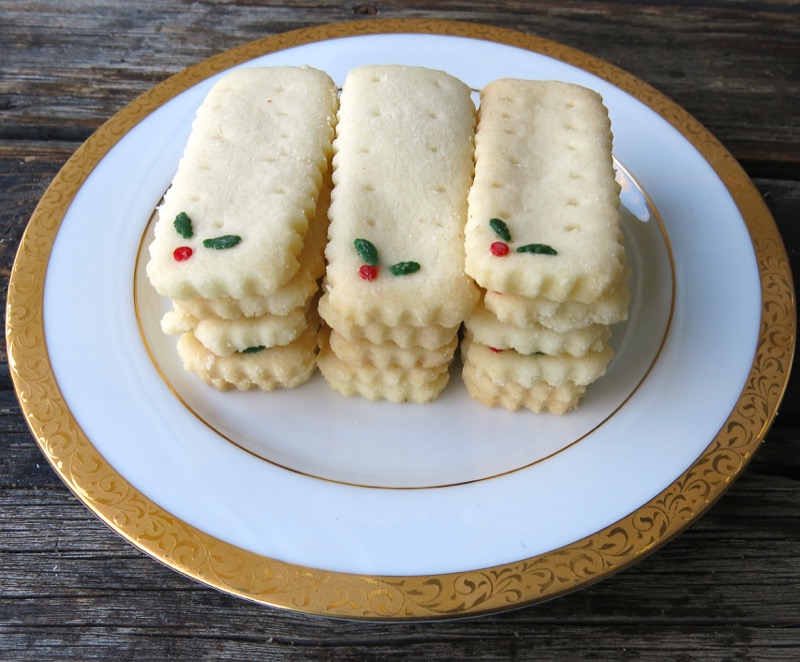 That is the point. This is home. This is for you. This is your soft place to fall. Your sacred place. Come to mama, to Gramsy, to Deda. Come.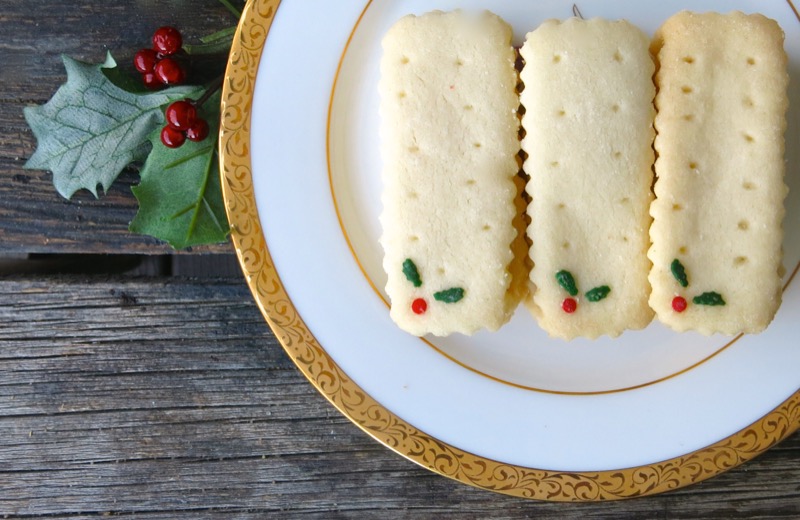 Come family. Come friends. We will comfort you. We will love you. We cherish you and we work to provide experiences that we can share together now, and reminisce about in our long and forward futures as we look back upon our shared lives together.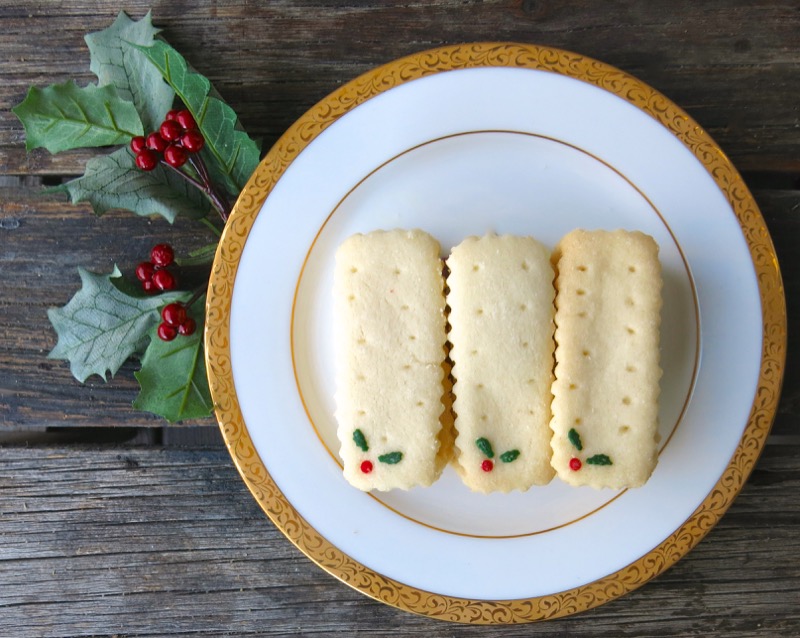 All of this in a cookie. Oh, yes. And so much more.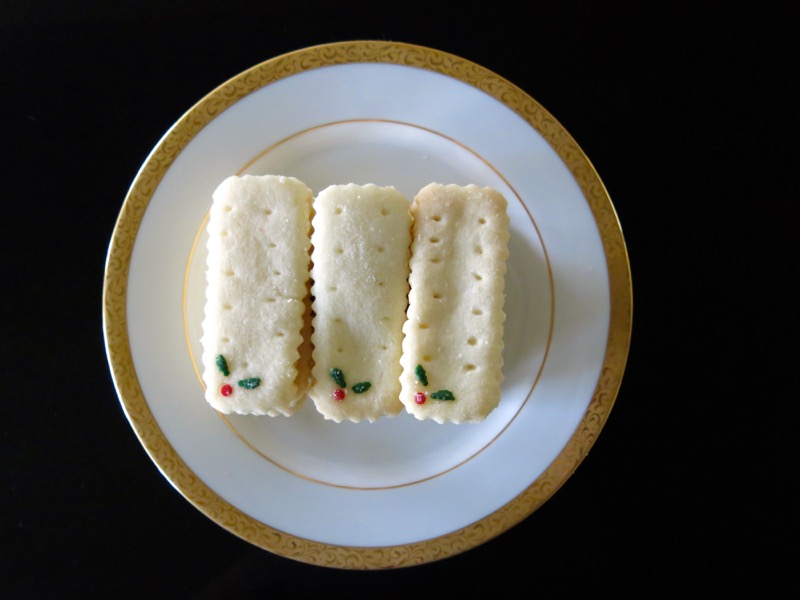 Crisp. Buttery. Not too sweet. Melt in your mouth. Home.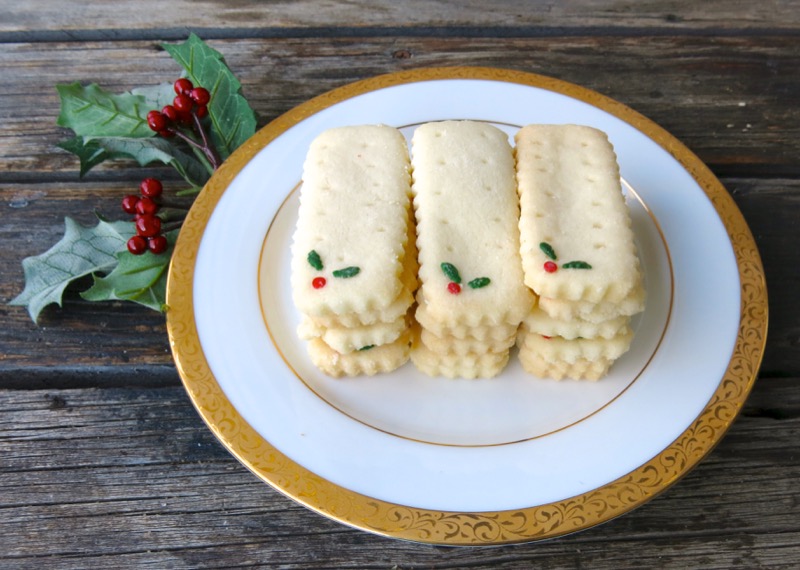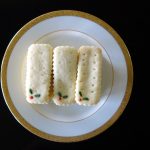 Mom's Canadian Traditional Shortbread Recipe 2016


Mom's Traditional Shortbread Recipe: cherished by family and friends. Cut into perfect crisp butter perfection: mixing sugar with flour first is her secret.
Ingredients
2

cups

of flour

(remove 2 tablespoons to be replaced with the cornstarch)

2

tablespoons

of cornstarch

1

cup

of unsalted butter

1/8

teaspoon

of salt

½

cup

of Berry sugar
Instructions
Preheat the oven to 325ºF

Combine sugar and flour mixture; mix well

Work in butter; knead

Divide into two equal portions; wrap in plastic and refrigerate

Roll cool dough to ⅛ inch on pastry cloth using a rolling pin cloth cover

Cut out shapes; transfer to tray and dock decoratively

Bake 8-9 minutes, until lighty golden on bottom and white on top

Cool on rack
Recipe Notes
Decorating the Shortbread:
Step by step instructions with images are provided in the above post