Peasant food in its simplest form: Balkan Comfort Food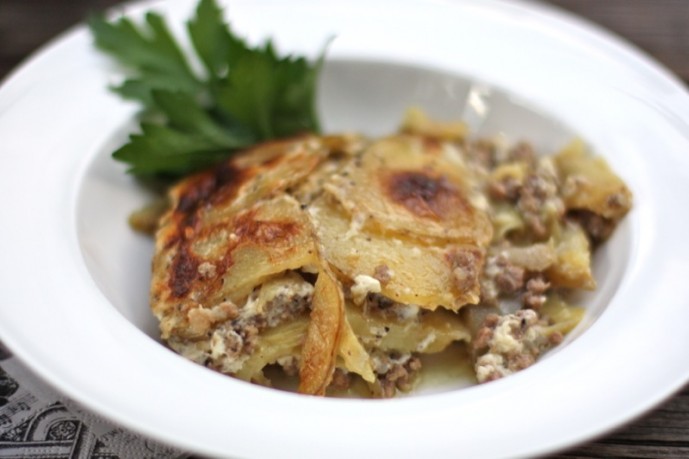 When you think of Mousaka, you think of layered morsels of cinnamon scented meat, creamy roasted eggplant topped with luxurious béchamel, correct? The Serbian version is vastly different. The only thing similar is the layers, the meat and that it is also delicious. But, not in any exotic way. Just plain old delicious.
Paired with a salad of freshly harvested backyard garden heirloom tomatoes, green onion, and garden fresh celery filled with homemade Boursin, this is a simple meal, yet fit for a King: my Serbian King. I usually call him my "Serbo Charger"!
One kilo of grass fed hamburger is our choice of meat. We buy a half cow from Nature's Green Acres every year, and I have put in my order for the fall, already. (Maybe you should, too!) To that, I added two medium, finely minced garden fresh onions. That seems like a lot of onion when adding it to the meat in the frying pan, but it is the right amount. And, that's all I do.
Crumble the meat with the minced onions and fry together, with salt and freshly cracked black pepper to taste, until the meat is completely cooked. I stir the mixture often. I also add about a tablespoon of Vegeta. It is a seasoning salt used by Eastern Europeans in almost everything they make.
I choose a very good quality new yellow potato when I can, washed well, skin on (though no Serbian mother would leave the skin on) and sliced very thinly. Start with a little oil in the bottom of the casserole dish, then layer with two thinly sliced large potatoes. I use all the "ugly" slices in the first layer, as pictured below, and then top with the more appealing slices; just be sure the entire layer is well covered. I have a thin covering of almost two layers of potatoes (not quite) for each potato layer.
Use a measuring cup to divide the meat equally between the two layers: two to three cups of the cooked meat is spread on each layer. Two cups is enough. Depending upon the fat in your hamburger. Use half. The meat must just cover the potatoes. No thick layer. This is peasant food.
Continue with another layer of potatoes, then meat, ending with potatoes. Sprinkle the top with about a tablespoon of good olive oil, salt and pepper, cover with plastic wrap and keep in the fridge until ready to bake. This can be made one day ahead. No more.
A very hot oven is required, and here is the little "comfort food" secret. After the potatoes are completely cooked through (covered with foil), I pour a concoction of heavy cream and two eggs whipped together over the entire surface of the dish and bake for 15 more minutes, just until set. Oh my.
So simple. So delicious. And the tomato salad elevates the meal to company quality. At least I hope it did. I had company! Our good friend V came for dinner and loves to eat his "home food" and I try to make it for him whenever he comes.
Serbian Mousaka Recipe
I doubled this batch in the images above
Ingredients:
500g or one pound of lean ground beef
150g or one medium onion, diced (yes, a lot of onion)
1 teaspoon Vegeta
1/2 teaspoon salt
1/2 teaspoon of freshly ground black pepper
2 tablespoons olive oil for frying, plus more to prepare casserole and drizzle on top
650-700g or 3-4 large yellow potatoes, cleaned and thinly sliced
3 eggs
1 1/2 cups of heavy cream
Instructions
Brown meat and onion in oil with Vegeta, salt, and freshly ground pepper; season to taste, when done
Prepare a casserole dish by oiling the bottom of it
Preheat oven to 450°F
Layer potatoes on the bottom, covering it completely; sprinkle lightly with oil and season with salt and pepper
Add half of the beef mixture spread evenly over the potato layer
Add another layer of potatoes over the meat, covering it completely; sprinkle lightly with oil and season with salt and pepper
Add the remaining beef mixture spread evenly over the potato layer
Cover with potatoes, completely covering the meat; season with salt and pepper, drizzle with olive oil
If not baking immediately, wrap tightly with plastic wrap and store for no more than 24 hours before baking
Whisk eggs and combine well with cream
Cover with foil and bake for 45 minutes, or until the potatoes are fork-tender
Remove the foil, pour the egg/cream mixture evenly over the entire casserole and bake for 15 more minutes until the top is golden brown
Cool for 15 to 20 minutes before serving
Notes:
I use the misshapen bits of potatoes for the bottom of each potato layer and cover them with nice slices for visual appeal
This is often served with something similar to sour cream called pavlaka
Whole milk can replace the heavy cream
Slices well and some like it even better room temperature!