A frequent Sunday Supper meal then and now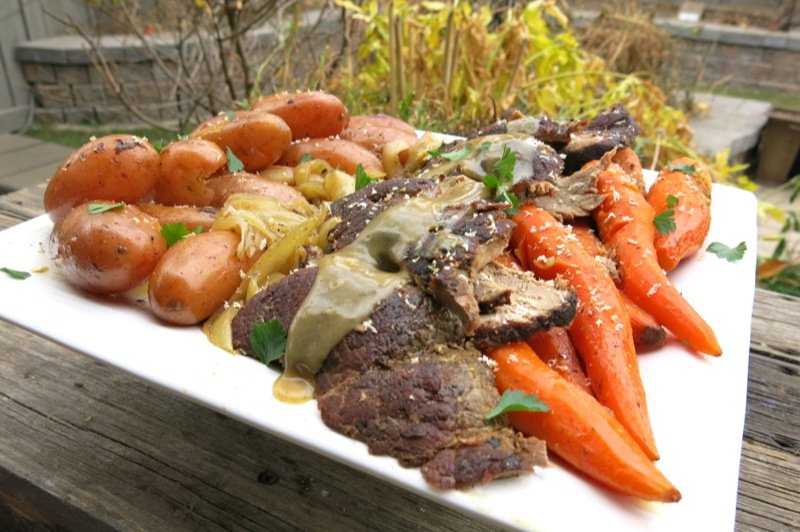 The North wind is has been full of its legendary gusto this past couple of days as it huffed and puffed and blew the last wisp of warmth from the back garden away for another year. Brrrrr! It is nippy outside and past time to plant my garlic. This is the perfect prairie pot roast day.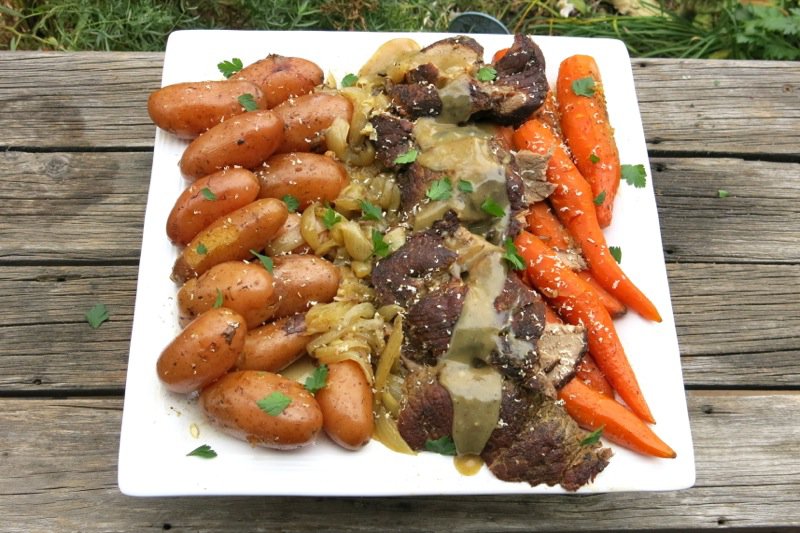 Nothing breathes warmth into the home and family more in the Canadian prairies on a Sunday than a pot roast: new potatoes, garden harvested carrots, onions, garlic and Alberta beef. Now this is a home meal.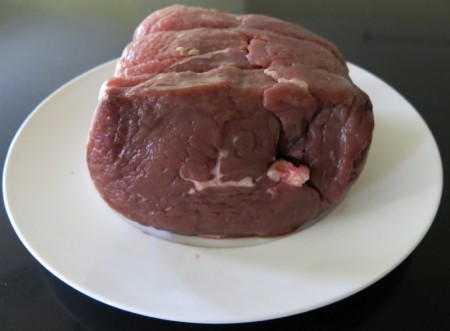 One know-your-farmer pot roast: Nature's Green Acres grass-fed Nuveau beef, in this case, as we buy ours by the half and this is the end of our beef. Waiting for the next half will find us craving beef when it arrives mid to late November. Buying beef by the half is a more holistic approach to menu planning as I have to plan around what I have instead of what I want. This is surprisingly hard, even though I was raised this way. However, industrialized agriculture changed the Canadian food culture dramatically and I have had to work to get back into the more natural rhythm of sustainable food use. I believe it is that important health-wise, economically, agriculturally and a fundamental way to preserve the Canadian food culture.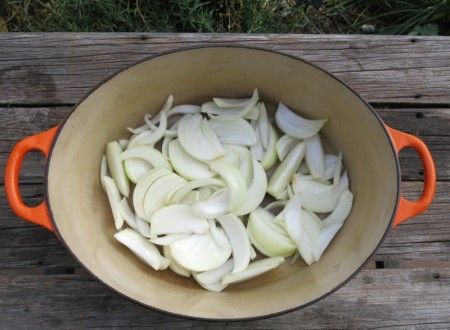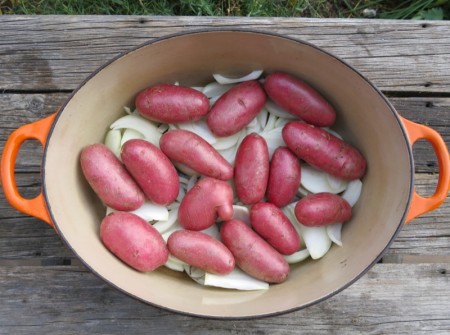 Mom browned her roast in the oven at 500°F for the first 15 minutes of the roasting period, but in those days, all roasts were over cooked. I prefer to caramelize the roast in a frying pan, de-glaze it, and add the drippings to the pot. Theoretically this could be done in the Le Creuset pot, but these are to never be at a higher temperature than medium and I prefer a faster sear.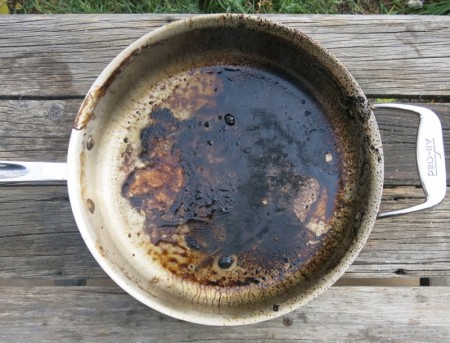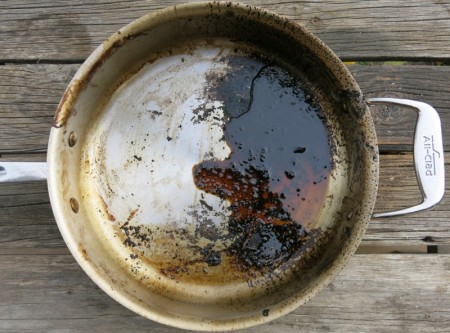 Mom always used a small enamel roaster and I used the large one with a larger cut.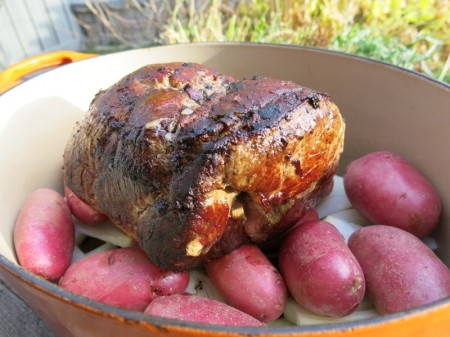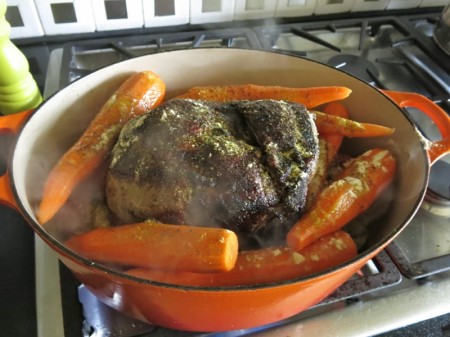 A quick few minutes on the stove top to heat the pot so it is oven ready, and then into the oven with the pan juices… low and slow… and, voilà!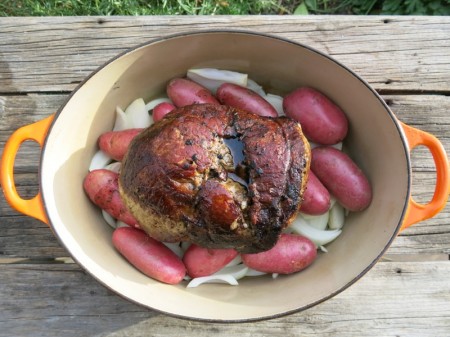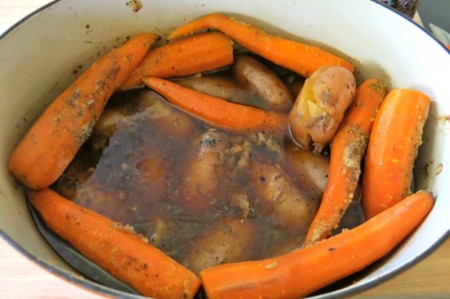 The hours in between are when the home is filled with the scent of Sunday Supper…. that family-round-the-table holding hands kind of feeling. That let's-show-we-love-each-other-and-eat-together-today kind of feeling. Even with Vanja away, there was a primal tug within to prepare this Sunday Supper. The cold wind wailed outside. The grey sky filtered the sun and begged for warmth in the kitchen and a sign for my family to know that all is well and our home is filled with warmth and love on the coldest of days. Reminded that I am the matriarch of my family, I got to work, as matriarchs do, with pleasure and devotion, coupled with a strong sense of duty and love. I am always amazed at how much liquid is produced my the meat and vegetables (above, right).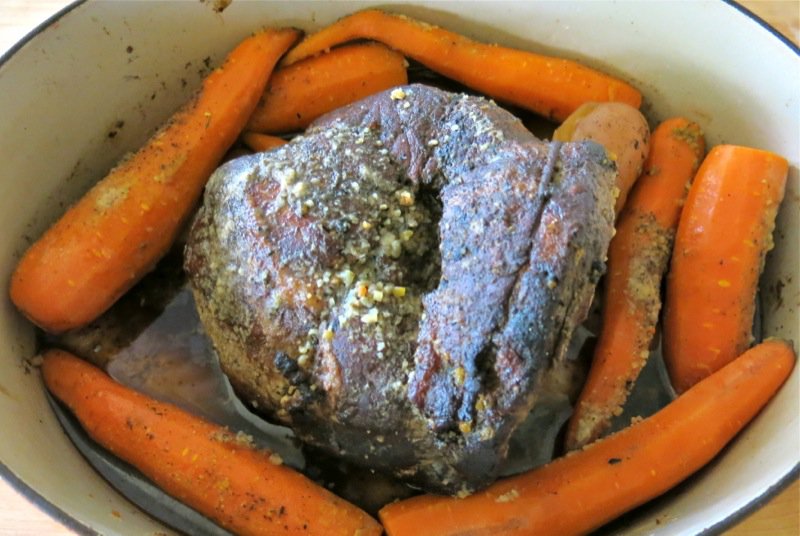 After tenting the meat and removing the vegetables, it is time to make the gravy. The pan juices are a mixture of onion, carrot and beef. I season with a lot of pepper and enough salt to bring out the flavour of the gravy… a teaspoon, maybe more. A 1/2 cup of flour goes into a cup of water and is shaken rigorously in a canning jar, sieved through a strainer and whisked into the gravy as it boils. Adding enough flour water to get desired flavour and thickness, I stir to cook the flour, and check for seasoning one last time. Yummy. Pot roast gravy is different that beef gravy as it is cooked with vegetables that create a flavour that is sweeter and lighter. Reminiscent of so many cold outside and warm inside Sunday's of my own childhood.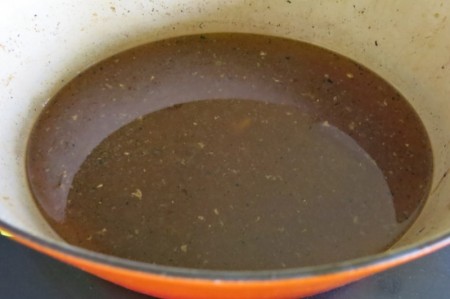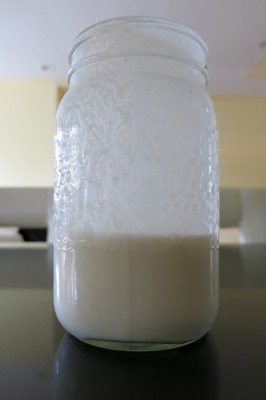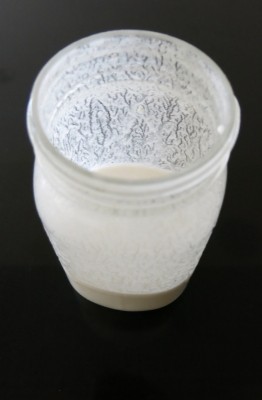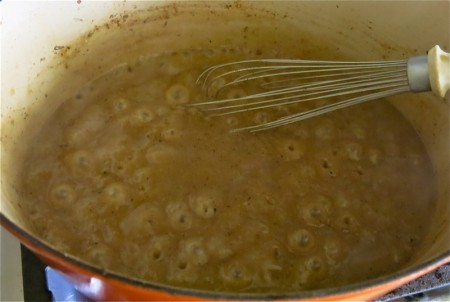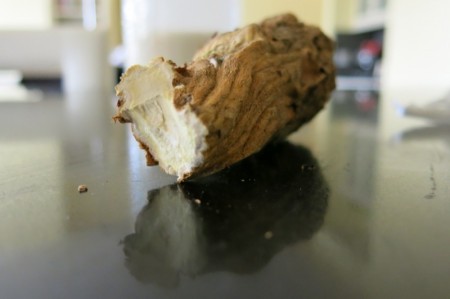 Plated on a platter, only for company. I love to grate fresh horseradish over the entire meal. The scent is intoxicating and the call to dig in compelling.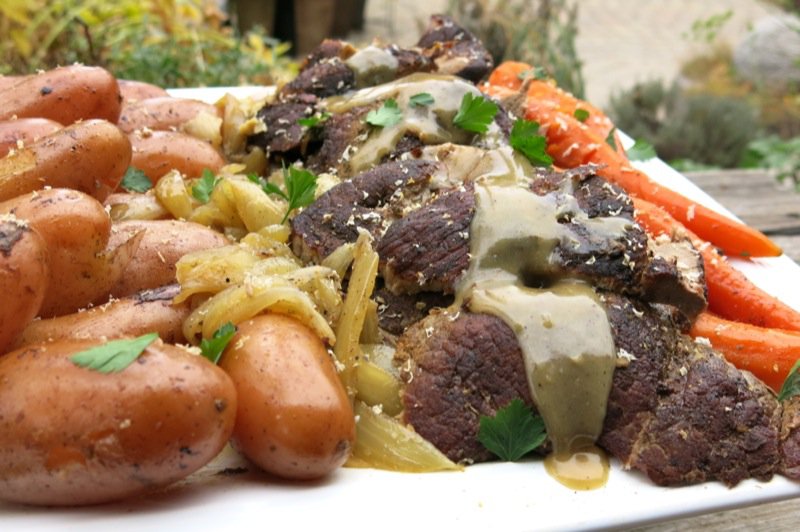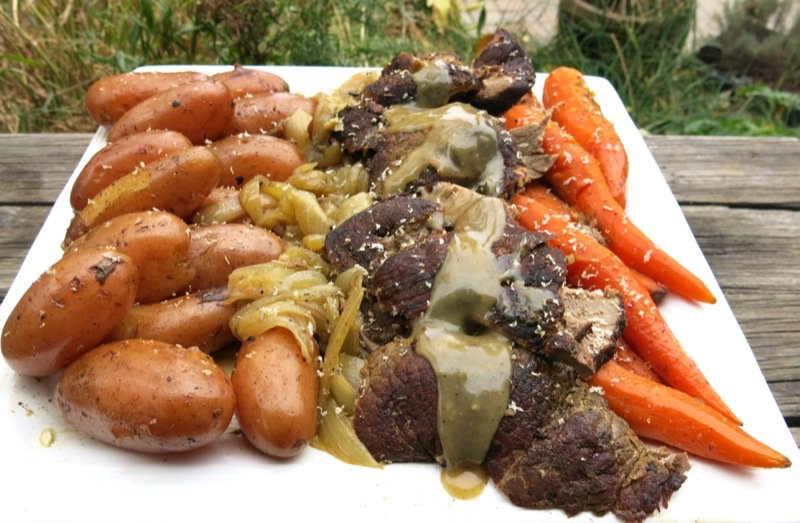 This is also the kind of meal where there is room for more around the table and the option to invite friends and neighbours for Sunday dinner is another prairie tradition. Sunday Suppers. Everyone was eating at home around the family table and if you weren't at yours, you were definitely around another.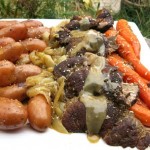 Traditional Canadian Prairie Pot Roast
This traditional Canadian prairie Sunday Supper was cooked all day long, low and slow while the family went to church and visited with family and friends, returning home to a well-cooked succulent, falling off the bone meal needing only a side salad to complete.
Total Time
4
hours
20
minutes
Ingredients
1

tablespoon

salt

1

teaspoon

pepper

1

tablespoon

garlic powder

3

to 3 1/2 pounds or 1.4 to 1.6 kilo beef shoulder or boneless chuck know-your-farmer roast

(one well marbled with fat will have most flavour; I buy grassfed beef by the 1/2, so have incredible Alberta beef)

2

tablespoons

cold pressed non-GMO canola oil

2

large yellow onions

, thickly sliced, lengthwise (4 generous cups)

1

bulb of garlic

, cloves peeled

1/2

cup

of red wine or brandy

water as needed to deglaze the browning pan

1-3

bay leaves

(in mom's day, it was one; I use fresh ones from my little kitchen tree)

8

large carrots

, peeled

2

pounds

or 1 kilo of potatoes

(mom used russets, peeled and halved)
Ingredients for the Gravy
1/2

cup

flour

(or more, if needed)

1 1/4

cup

water

(or more, if needed)

1

teaspoon

salt

1/2

teaspoon

greshly ground pepper
Instructions
Pre-heat oven to 300F

Mix seasonings together

Pat roast dry on all sides with paper towel (always do this when browning beef)

Season on all sides with 1/2 seasoning mixture; rub it in

Heat canola oil medium high in heavy pot; brown roast on all sides (see note)

De-glaze pan with wine or brandy, adding water as needed; reserve

Place prepared onions, garlic and bay leaves in bottom of heavy roasting pan; season with 1/3 of the remaining half of the seasoning mixture (divide remaining seasoning into thirds)

Layer potatoes on top; season with 1/3 of the remaining seasoning mixture

Place seasoned, browned roast on top of potatoes; pour reserved pan juices over top

Nestle carrots alongside roast; season all with remaining 1/3 of seasoning mixture

Place pot on stove top on medium to medium high heat until onions start to sizzle and pot gets warm (about 5 minutes)

Put tight-fitting lid on pot and place in pre-heated oven for 30 minutes (lid must be tight to keep moisture in the pot for a moist roast)

Turn heat down to 225F after 30 minutes; slow roast for 3 to 3 1/2 hours, until meat is falling apart

Remove from oven; set beef under tented foil for 15 minutes, then slice

Prepare platter with onions carrots and potatoes; arrange sliced beef on top

Pour all pot drippings over sliced beef; garnish with fresh flat leafed parsley

Serve with a fresh side salad and gorgeous sliced heirloom tomatoes

Instructions for the Gravy:

Prepare jar with a tighty sealed lid with flour and water; shake well to mix to a thick runny consistency

Remove all solids from the roasting pan and place over medium high heat; season generously with pepper and one teaspoon of salt, to start

Using a small sieve and a whisk, pour only half of the flour water mixture through the sieve and stir rigorously with the sieve until thickened and flour is cooked

Taste and check for seasoning and consistency; add more if not thick enough and check seasoning after adding more thickener

Cook for 2 to 3 minutes once desired consistency is reached, stirring constantly

Serve poured over beef on the platter, or in a bowl on the side if preferred
Recipe Notes
And for dessert?
Homemade apple pie with a slice of cheddar cheese, of course!
When browning the beef, do not force the meat when turning; it will release from the pan easily when properly browned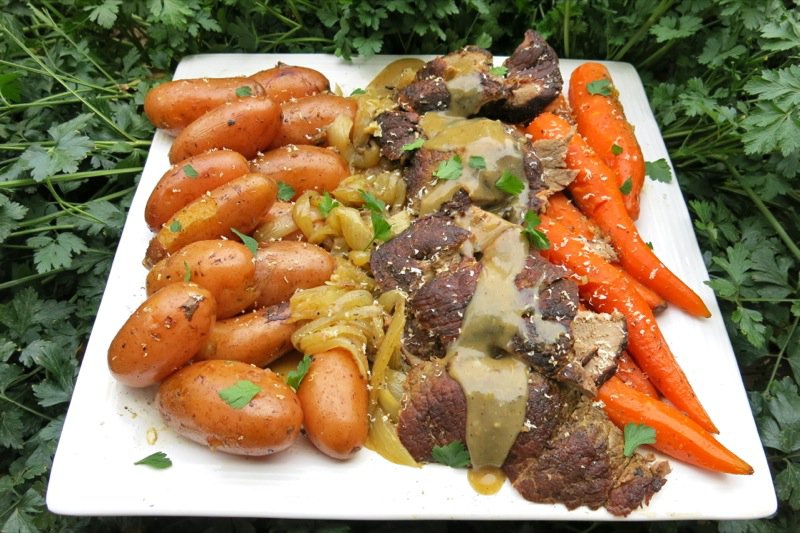 This year, dad can't get out of the house comfortably, yet… so, Ragan and I took their Sunday Supper over to them and had the opportunity to sit around two tables this past Sunday!