Anyone know the history of this recipe for Concord Grape Pie with Crumb Topping?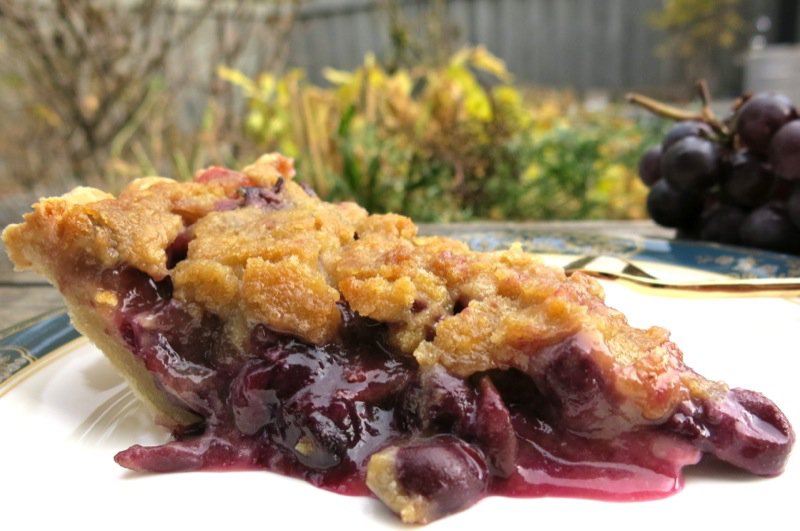 This is the pie that led me on on The Quest of the Mighty Concord Harvest 2013. This is the recipe that Charmian provided for her Cherished Canadian Food Recipe which was the fourth challenge of The Canadian Food Experience Project. Definitely visit her site. She is one of my favourite Canadian food writing voices. I know I am in for more than a new recipe when I pop over. This time, I was in for quite a ride. Inspiration comes like that. I am just getting off the Green Tomato seasonal ride and have had such a blast creating mouthwatering recipes from a fruit I would cry over, wrap in newspaper and pray to ripen. Now, I revel in the opportunity to create scrumptious dishes not previously familiar to me, with them.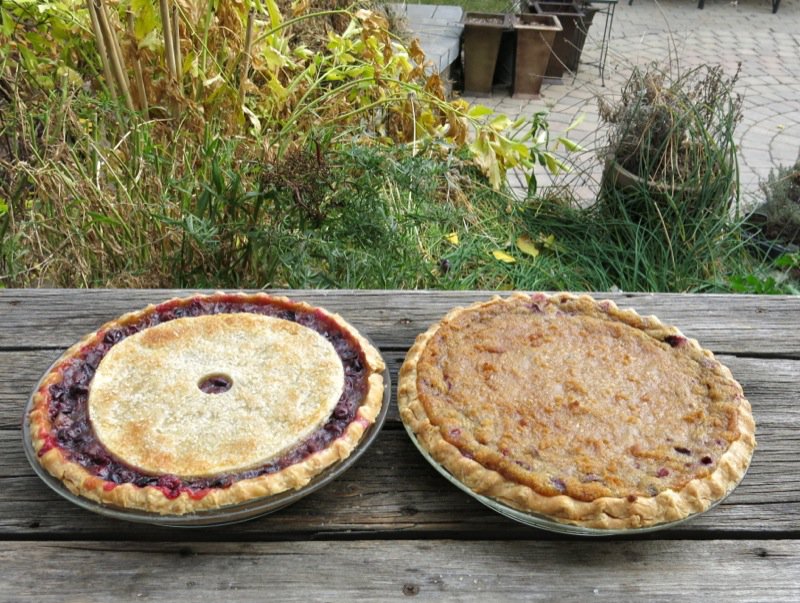 I prefer the traditional or Classic Concord Grape Pie, though I am fascinated by how different each pie is from the other with very few differences in the composition. The Classic Concord Grape Pie has only 1/4 cup less sugar than the Concord Grape Pie with Crumb Topping, yet the pie with the crumb topping tastes considerably sweeter. Obviously, the Mighty Concords available this season from British Columbia are smaller than those in Ontario, as it took me an hour to prepare enough for a pie, and Charmian took only 20 minutes. These must be sweeter, as well. She comments,"This is not a mild-mannered, polite Canadian pie. This tart bites back. Intense and bold, it's not the pleasant, approachable dessert everyone begs for." Mine was not bold. Neither of them were that kind of pie. Both were very approachable and easy to enjoy. But, I wasn't disappointed. I reveled in this new pie making pleasure!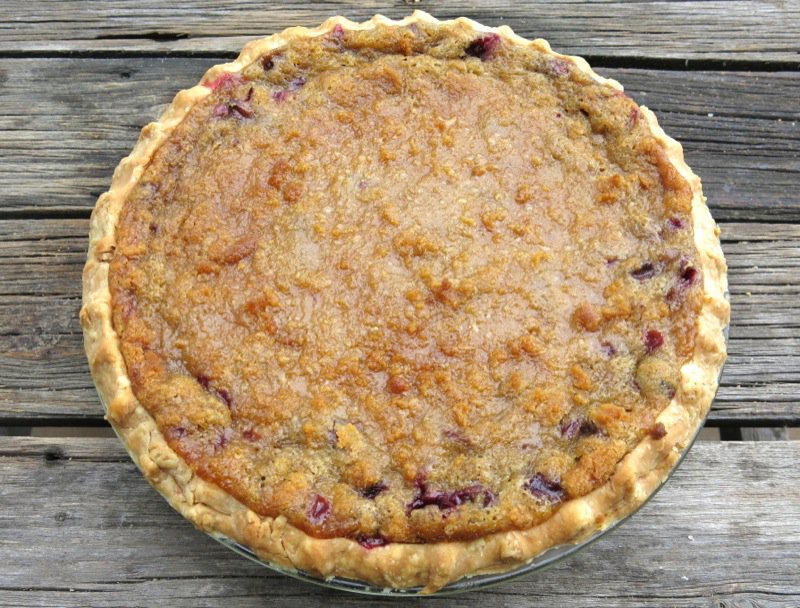 I also found the tapioca held the grape juices in better form than the cornstarch did in this recipe. When the pie had cooled completely, it held its shape better, but is was a little saucier than I like. Pertinent little concoction.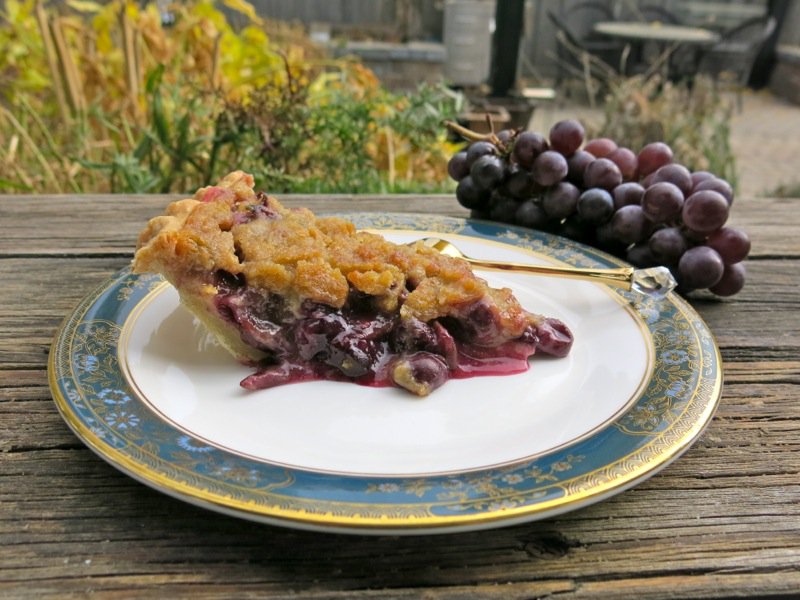 The zest, though less than a teaspoon, as I didn't have an orange and had only a portion of a lemon, was pronounced. I find that lemon zest brightens berry pies, but I don't taste the lemon. I equate it to salt. Properly used, salt can elevate a dish from mediocre to spectacular, but one should never taste salt. It was surprising that such a bit of zest would over power the Mighty Concord. This tart is a more casual creation. Open to a scoop of creamy vanilla ice-cream, or a thick dollop of heavy farm fresh cream. Both marry well with this slice and it does seem to require a partner to appease the palate.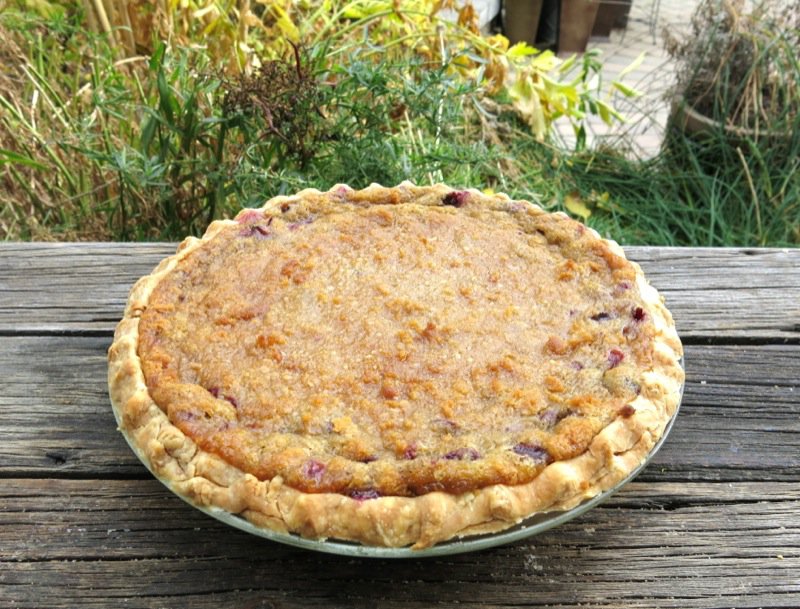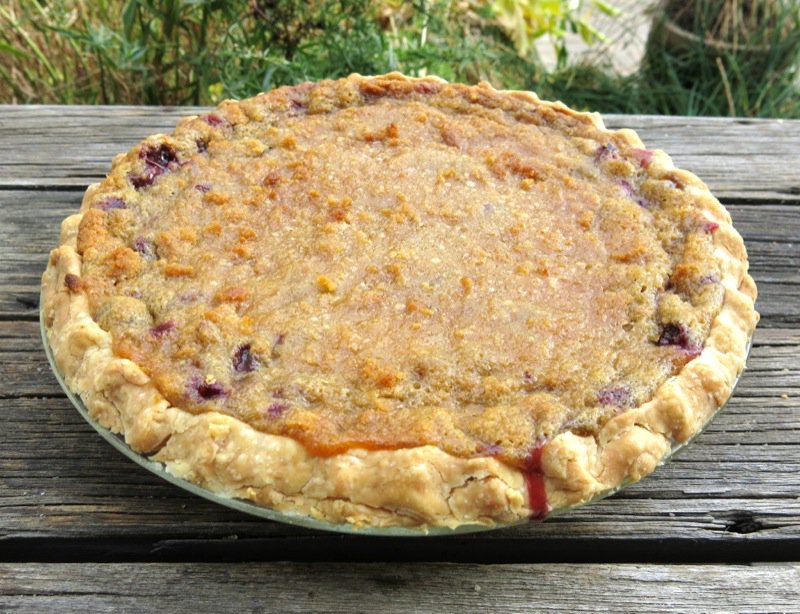 It certainly presents well. Sadly, the pastry I was using was the tail end of my last batch, and that is clearly evident in the crust, yet the caramel coating over the spirited grapes is intensely appealing.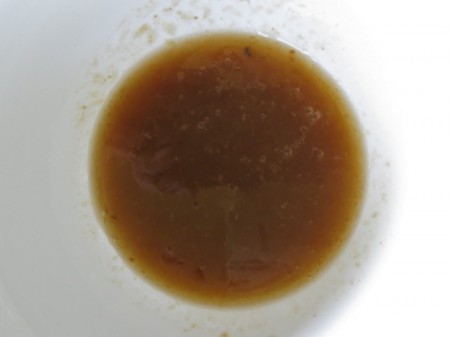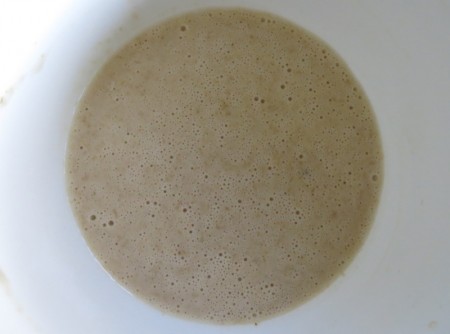 I extracted the amount of juice needed from the prepared Concord grapes to mix with the cornstarch to make the slurry used to thicken the pie.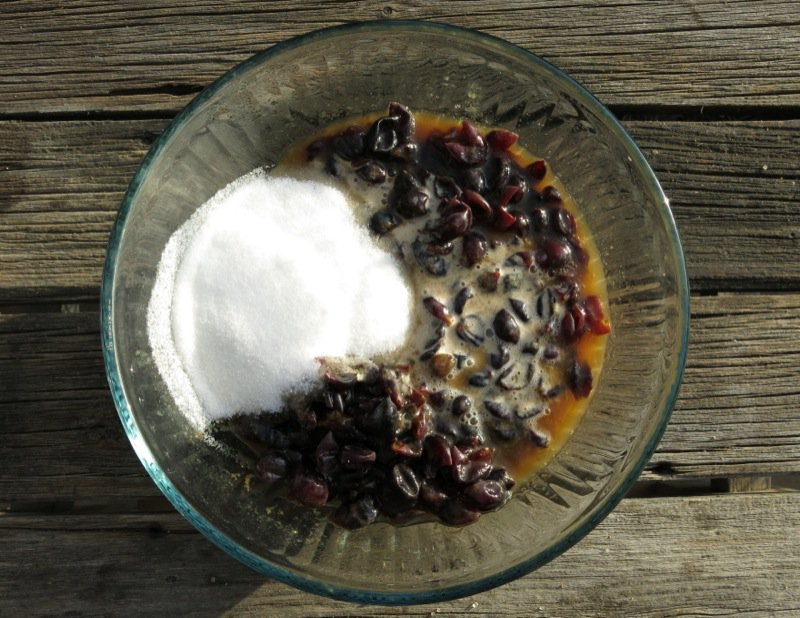 Preparing the grapes is no little issue, but after a kilo, it isn't a big deal, either. Once I learned what to do, I got organized, watched a good movie and pinched a couple more kilos of Concord skins to extract the pulp. Once the grapes are prepared, they can be frozen and used in any number of recipes throughout the year.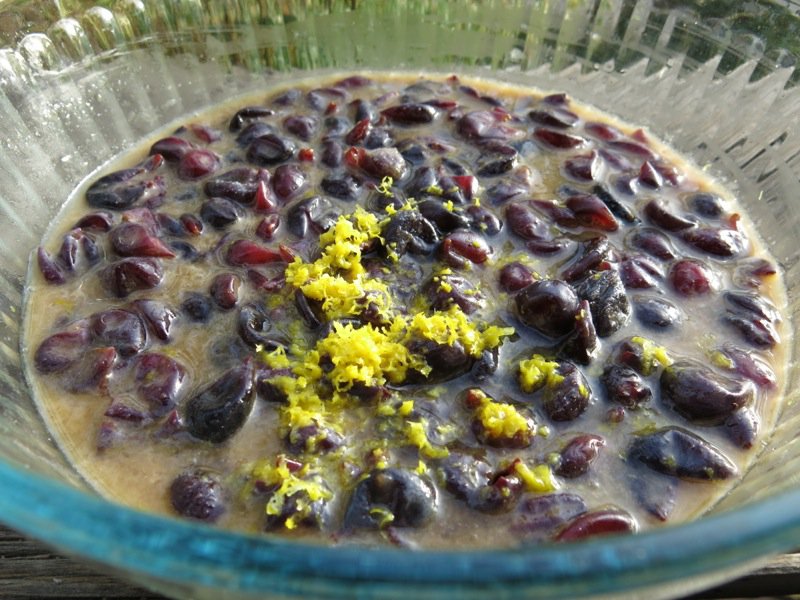 I have pie pastry made and in my freezer all of the time, so that is never an issue. It takes just a few minutes to make, and certainly eases the stress of making a pie when the urge hits.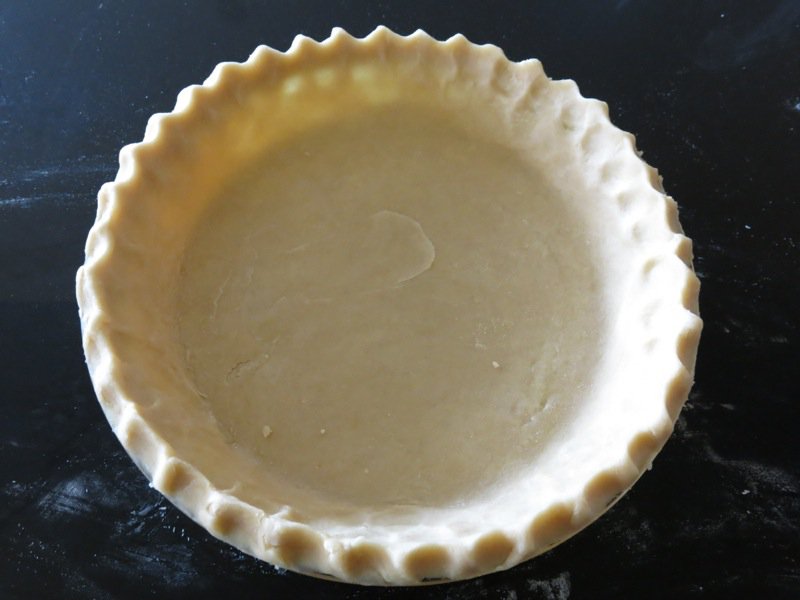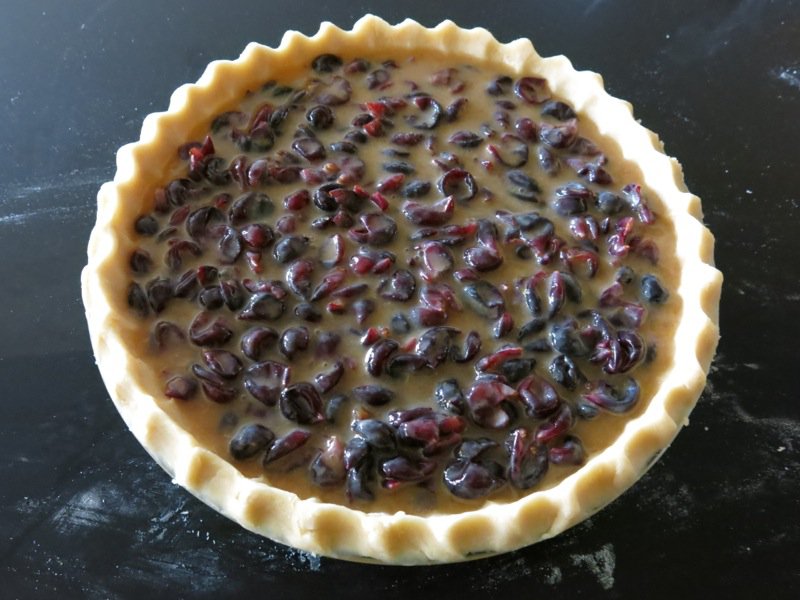 Some crumble topped Concord Grape Pie recipes do use oatmeal, but I appreciate that Charmian kept it less rustic: lots of sugar, butter and a bit of flour to bind.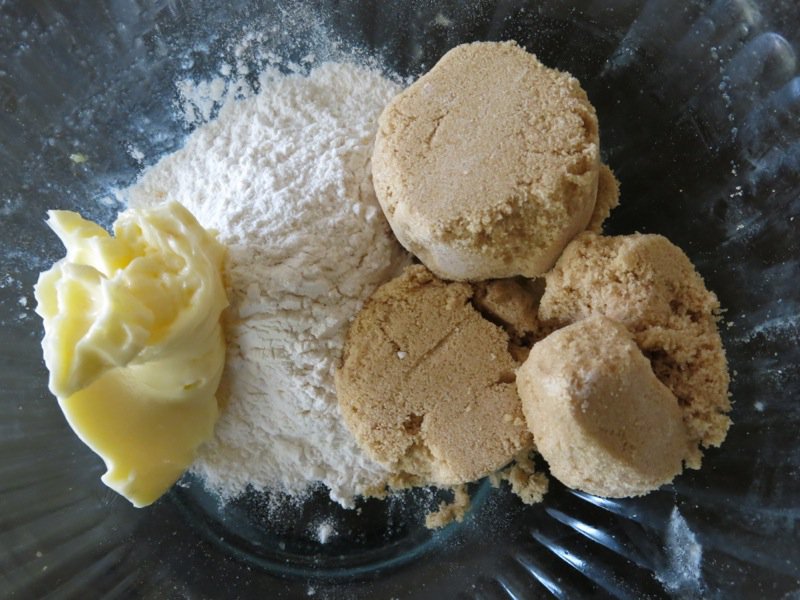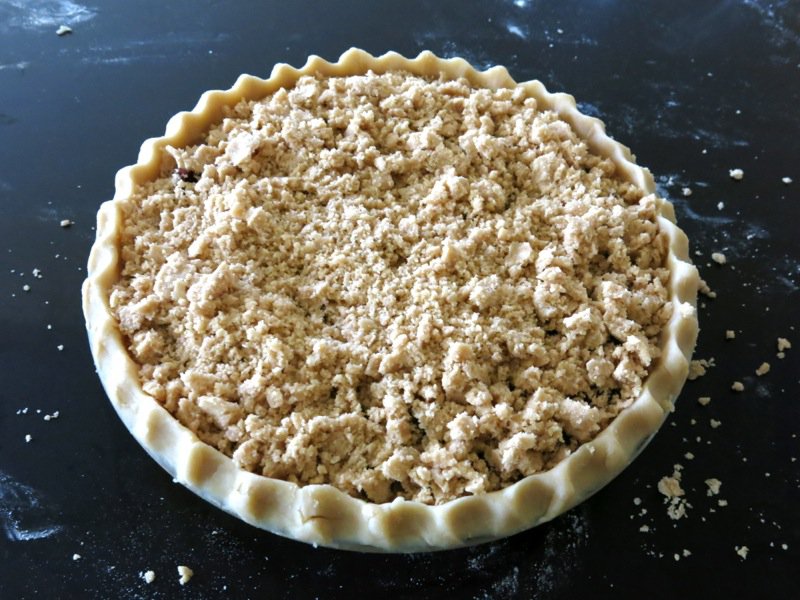 There is a lot of crumble for this pie. I would probably not use it all next time, as I found the pie a little on the sweet side. It would definitely depend on the sweetness of the grapes.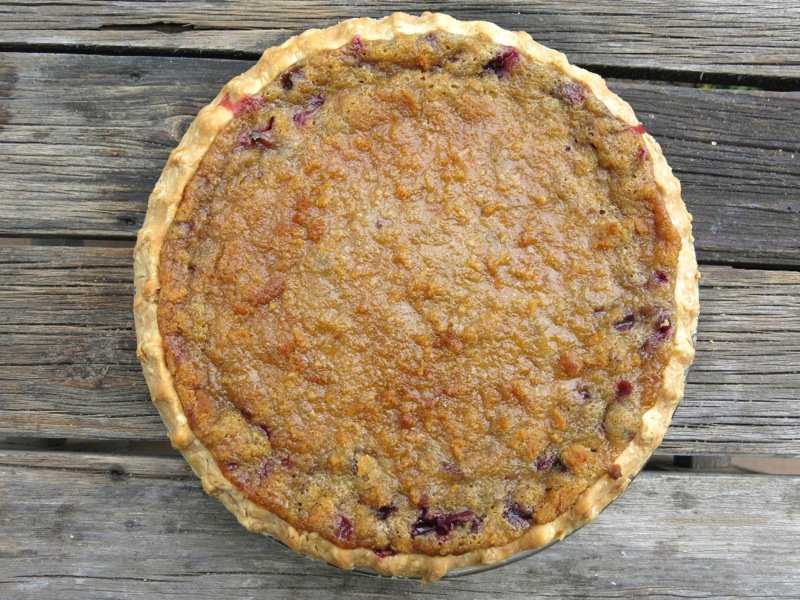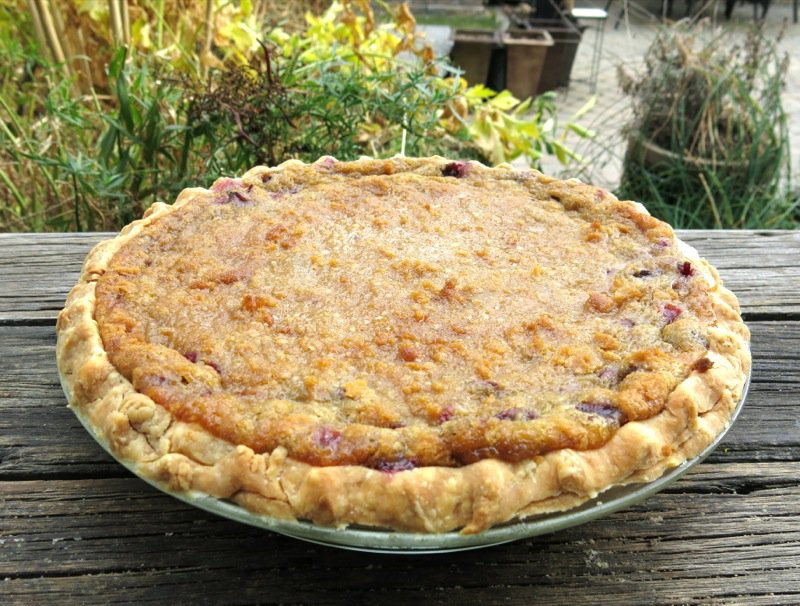 The pie has been eaten and long gone. I am already longing for more next year. Concord Grapes are being harvested right now in British Columbia and will be in season and at the local markets in Edmonton and Calgary until December. I am just finished with them for this year. Not "sick of them" by any means, just so many other projects to work on and knowing that I have to wait until they are in season again next year is part of the fun of eating seasonally.
I prefer the pie cold. The next day it was tastier than the first. Vanja was in Europe when I made it. I shared with mom and dad and still ate too much of it. I appreciated that the pie requires some focused chewing. The grape flavour pops as the skins declare a distillation of that all-t00-familiar quintessential grape flavour.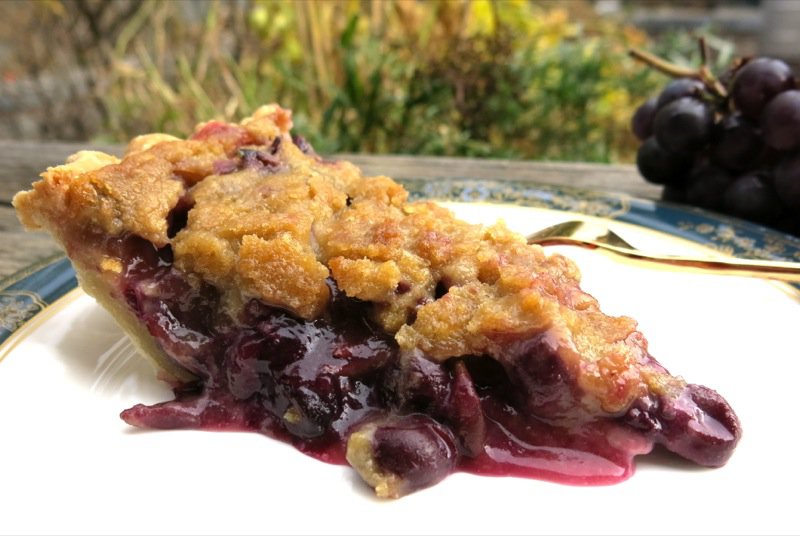 The Concord Grape Sorbet is tasty when the pie is warm, yet cream is a better pairing with this pie. Think grape creamsicle. MMMmmm.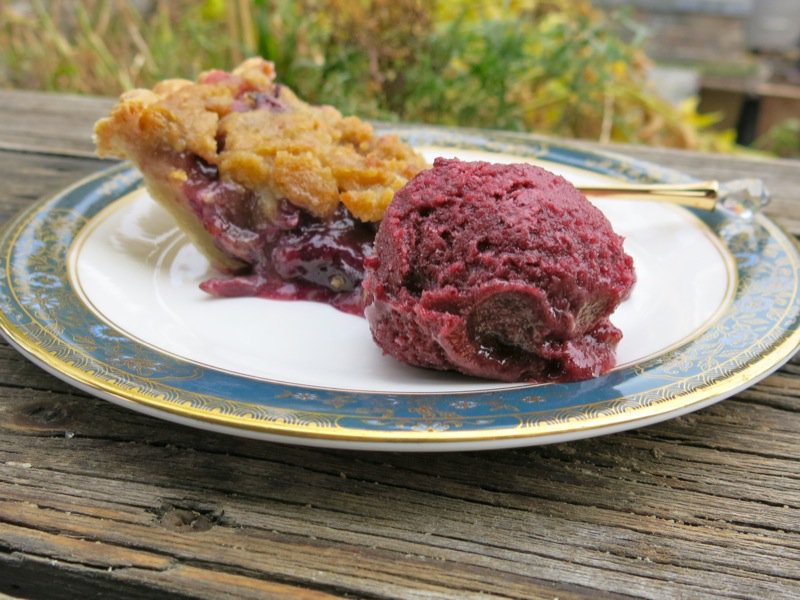 I will be revisiting both recipes many more times and hope to hear from my friends in British Columbia. Do you make grape pies out there? How about giving it a go, now? Great little idea for a niche business opportunity, me thinks.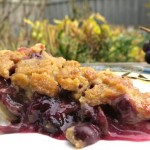 Canadian Concord Grape Pie with Crumb Topping
Prep Time
1
hour
20
minutes
Total Time
1
hour
55
minutes
Ingredients
1

deep 9-inch single pie shell

2

pounds

Concord grapes or 400g prepared Concord Grapes

¼

cup

cornstarch

1

tablespoon

fresh lemon juice

1

tablespoon

grated orange zest

½

cup

sugar
Topping Ingredients:
¾

cup

brown sugar

, lightly packed

½

cup

flour

¼

cup

butter
Instructions
Instructions for Preparing the Grapes:
Instructions for the filling:
Preheat the oven to 400°F

Spoon 1/3 cup of the grape preparation liquid into a bowl; whisk cornstarch and reserved grape liquid together until smooth

Stir in lemon juice, orange zest, sugar and grape mixture
Instructions for the topping:
Combine brown sugar and flour; cut in butter until mixture resembles crumble
Prepare the pie:
Roll out the pastry and place in a 9 inch pyrex pie plate; crimp edges

Pour the filling into pastry; sprinkle evenly with topping working to cover every bit

Bake for 35 minutes or until golden and filling is bubbling around the edges

Cool before serving; garnish with Concord Grape Sorbet or thick farm fresh whipped cream