Tickled Pink to make Honeycomb Marshmallow Treat for Heidi Marie!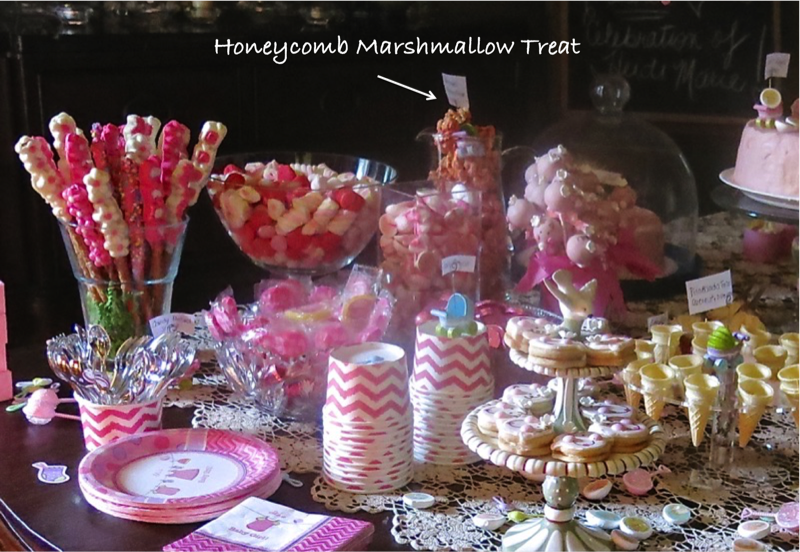 You may or may not know what it is like to host an event and photograph it at the same time. It is particularly tough when I know I want great food shots, have just set up the dessert buffet and have 24 guests in the other room at the gift opening for the Baby Shower while I am snapping away in a mad hurry. Sadly, there was a smudge on my lens, but I think you get the idea. The Honey Comb Marshmallow Treat is at the back, but I added the arrow for you. The little pink cups at the front of the table are to be filled to the brim with an assortment of the sweets and treats on the Baby Shower Dessert Buffet.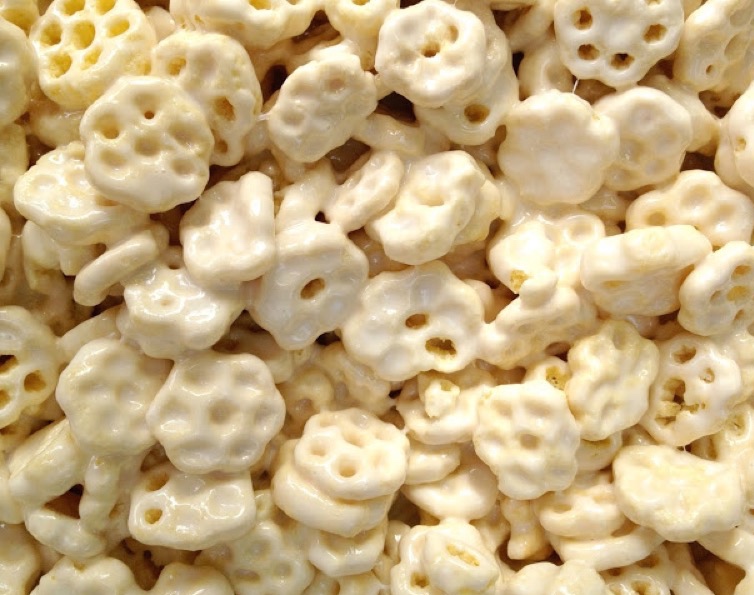 I didn't take photos of my process making the Honeycomb Marshmallow Treat, but fortunately, I have the photos from the treats Lauren and Aaron made at William's First Birthday Party that inspired me to make them at this party.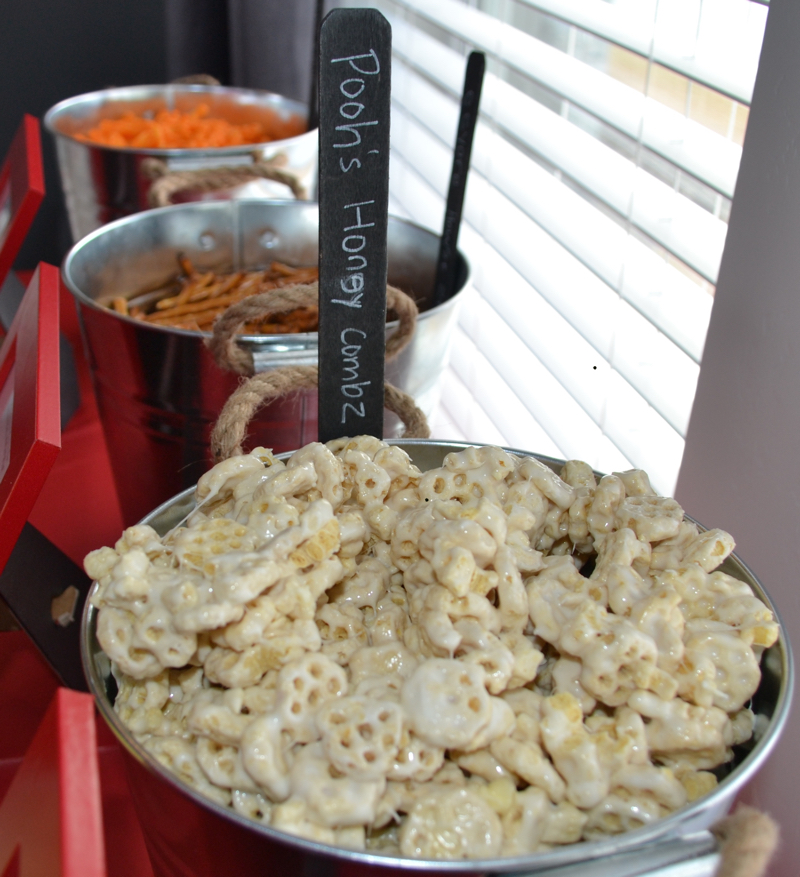 They were addictive.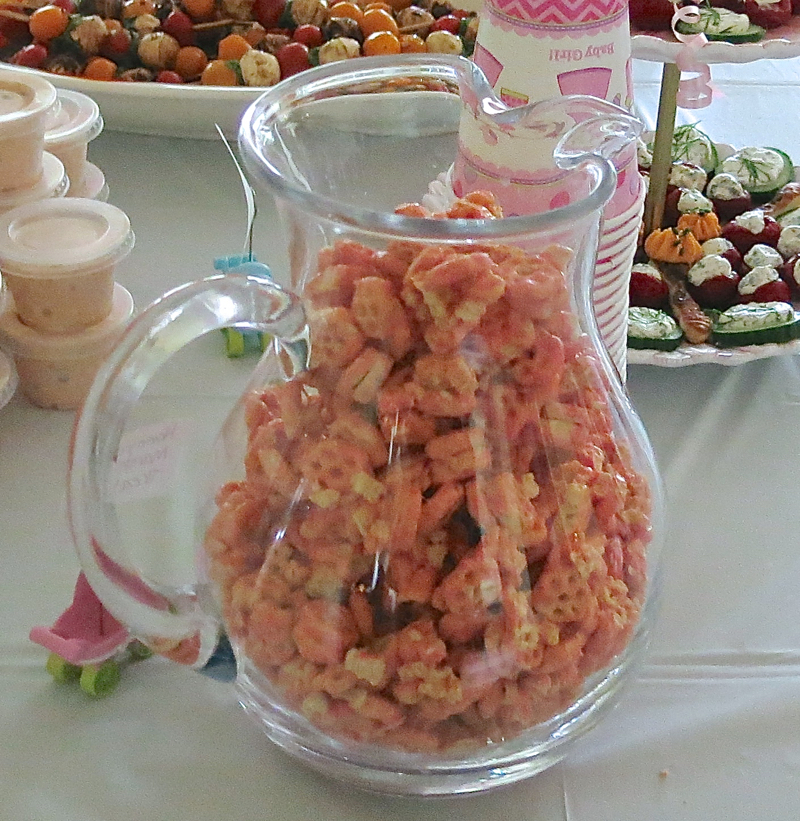 And, much prettier in pink! I put them on the savory buffet and the dessert buffet.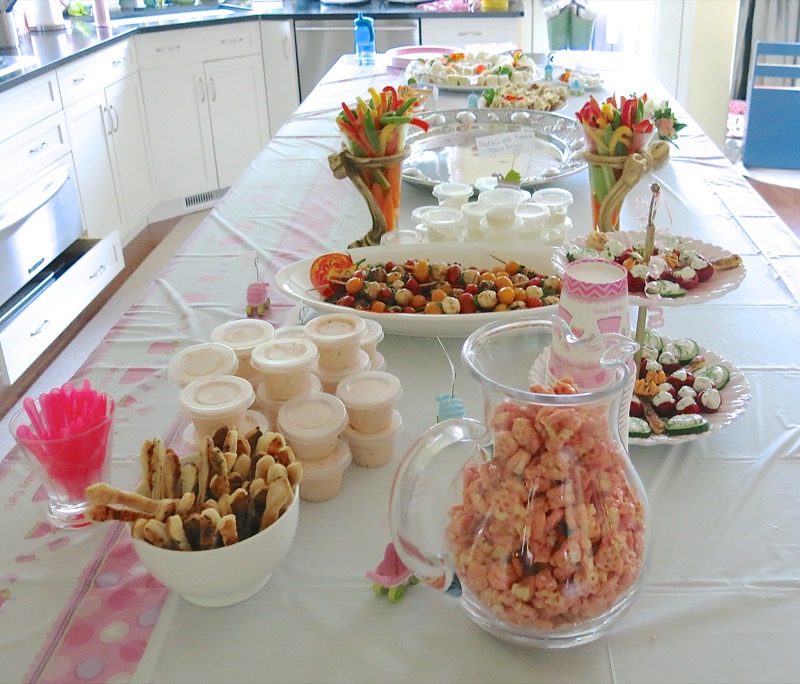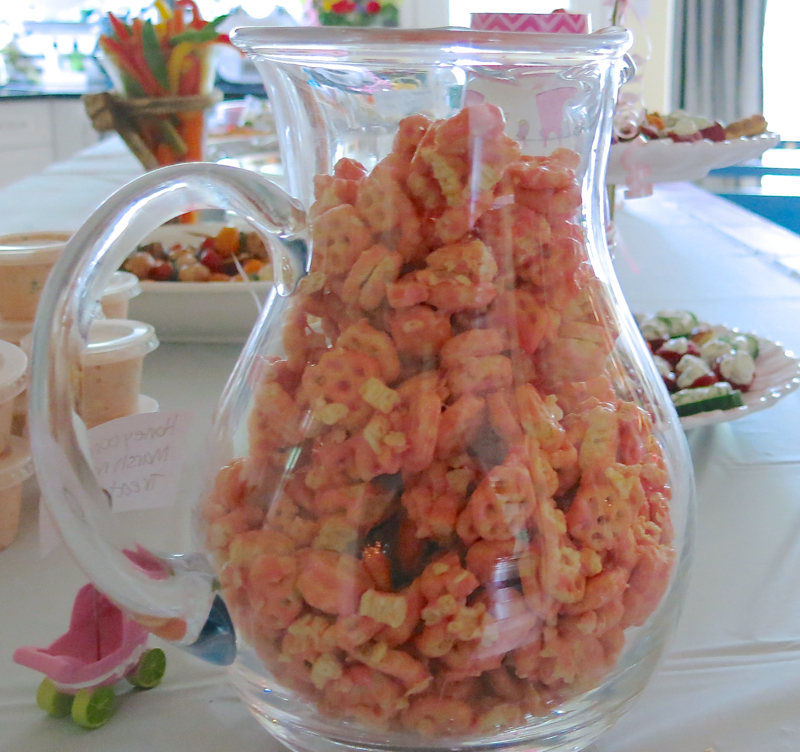 If you make them, let me know how it goes!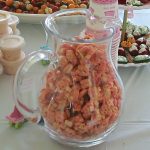 Honey Comb Marshmallow Treat for Amy and Heidi Marie
Ingredients
110

g

butter

500

g

marshmallows

5

g

vanilla

12

cups

cereal
Instructions
Weigh ingredients

In large heavy teflon pot (I used my Dutch overn), over very low heat, melt butter; add marshmallows

Stir until melted and well blended; remove from heat

Stir in vanilla and cereal until completely coated (fold consistently until covered - I kept my pot on very low heat while doing this); divide treat onto two large baking sheets

Spread flat quickly with buttered hands (so they won't burn); cool in fridge

Break into individual chunks; store in paper bags in cool cupboard
Recipe Notes
Examining the Nutritional Value:
The large pink marshmallows were 25g and 85 calories each. As there are 20 pieces in 500 grams, that would be 1700 calories for one batch of this treat from the marshmallows alone. (A photo of them with a size comparison, follows this recipe)
Butter is 778 calories for 110grams
Honeycomb cereal is 250 calories a cup. There are 12 cups at a total of 3000 calories for the "healthy breakfast cereal" alone
Total Calories per Batch: 5478
Let's round that up to 5500 calories. This makes 4 lunch bag sized brown paper bags full of loose clumps of the treat. Likely 5 generous servings per bag. Let's say there are 20 servings in this batch. That would be 275 a serving and I promise you, most people would easily eat 2 servings. So, make this sparingly or for very special silly occasions when there are athletes only at the event who can afford the calories!
Imagine one cookie sheets filled with this treat divided into 10 portions. That is the amount you get for 275 calories. Not so much.