For Amy's Baby Shower: Baby Shower Old Fashioned Pretzel Sticks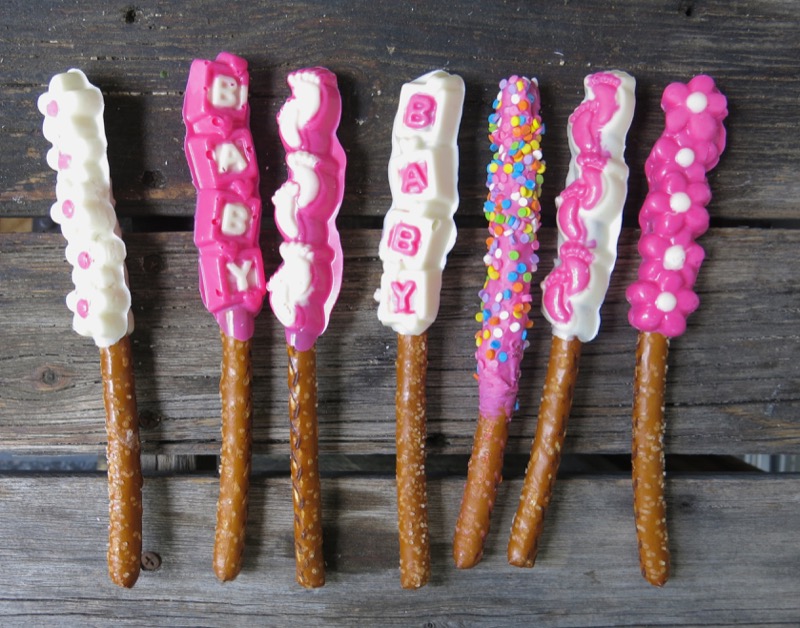 Had to have a candy corner on the dessert buffet table for the baby shower and was definitely making some homemade treats for that part of the sweets and treats, too. I made Babyface Cake Pops which I was very pleased with, a scrumptious and addictive pink Honeycomb Treat made exactly like you would make those sinful marshmallow squares of old, but with pink marshmallows and honeycomb cereal instead of Rice Krispies. Lauren and Aaron made it for William's first birthday and it was a huge hit. I believe I quadrupled the batch. We had leftovers, but no complaints. Scrumptious (and so unhealthy!). So, Girl Baby Shower Old Fashioned Pretzel Sticks would also be on the table.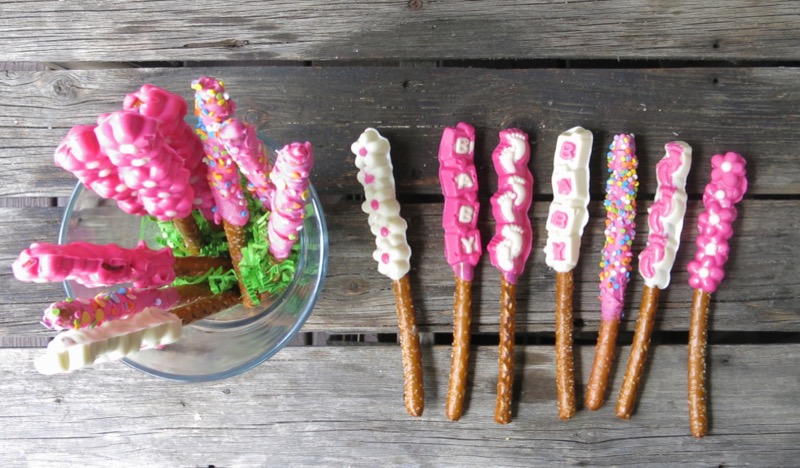 I had never made these before, tasted them, seen them or even heard of them until I was doing research for what to make for the party. Apparently I do live under a rock. It was the moulds I spied that motivated me to find out more, loving the combination of sweet and salty as most of us do.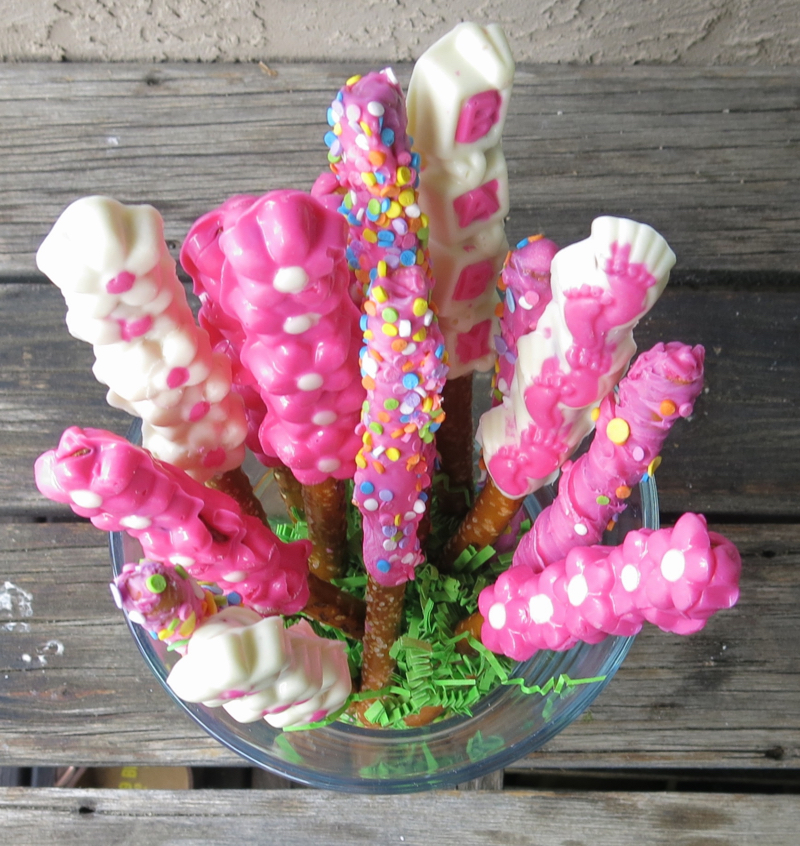 Bought the moulds without thinking that the pretzels would be such a challenge to find. Thank goodness for Social Media and my lovely, kind, thoughtful Facebook Friends (can you feel my hug?)! I was directed to Michael's and they were also spied other places throughout the city after I found them there. Whew! I had been shopping up a storm in my neighbourhood (and other) grocery stores without luck until I got help.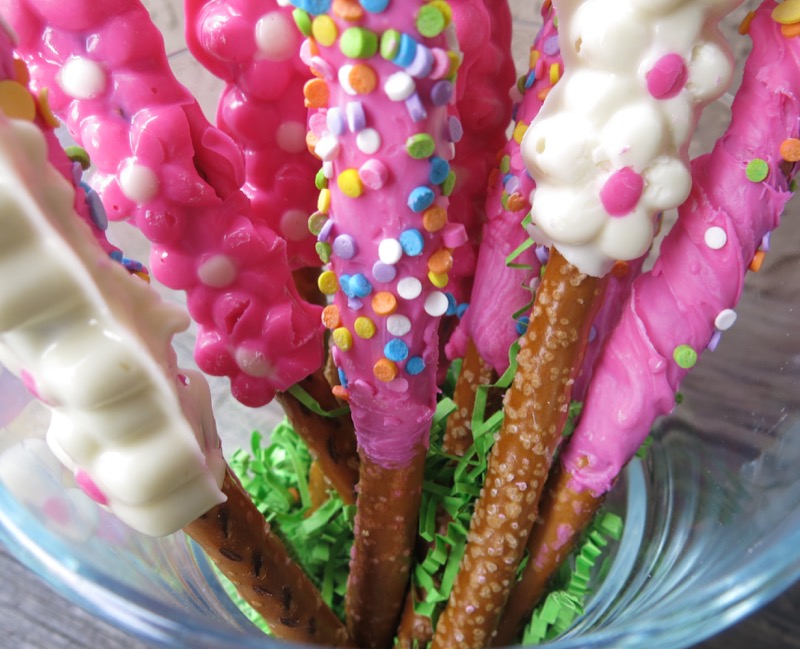 Had never been to Bulk Barn before the preparations for this party, either. Of course, every young mother in the country will have their mouths to the floor at that confession. Yes, I have been back since. Several times. Candy melts. Not chocolate, but is pretty, melts beautifully and actually very tasty. A huge variety of fun pink candy there, too, that added to the fun.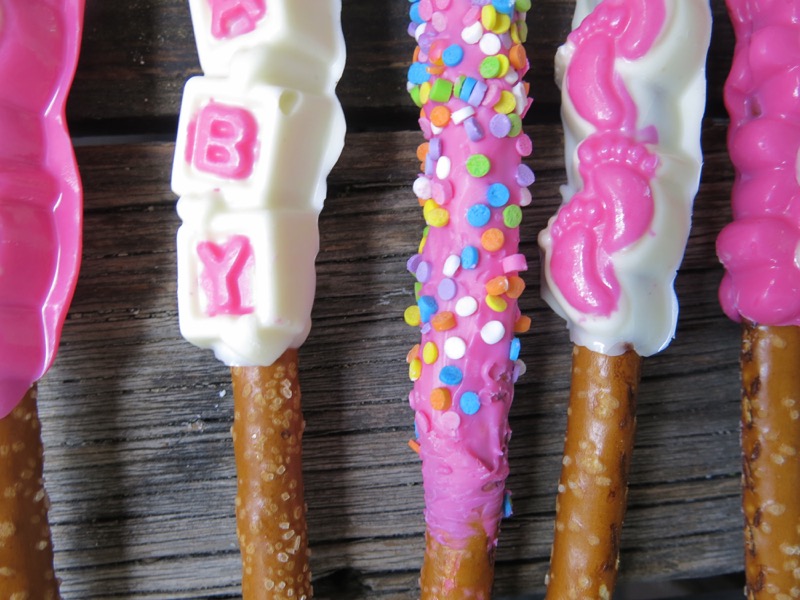 Of course, little projects like this one are never fun alone. Thank you, Ragan! Oh, my! I get such great ideas and then find myself so unmotivated to carry them out. It is fear, actually. I don't want to find myself in my kitchen jungle with stuff spewed all over the place amidst a catastrophe because I don't know what I am doing without a little moral support. Usually, when I have that support, there is rarely a catastrophe. And, if there is, the support makes it manageable. Is it just me?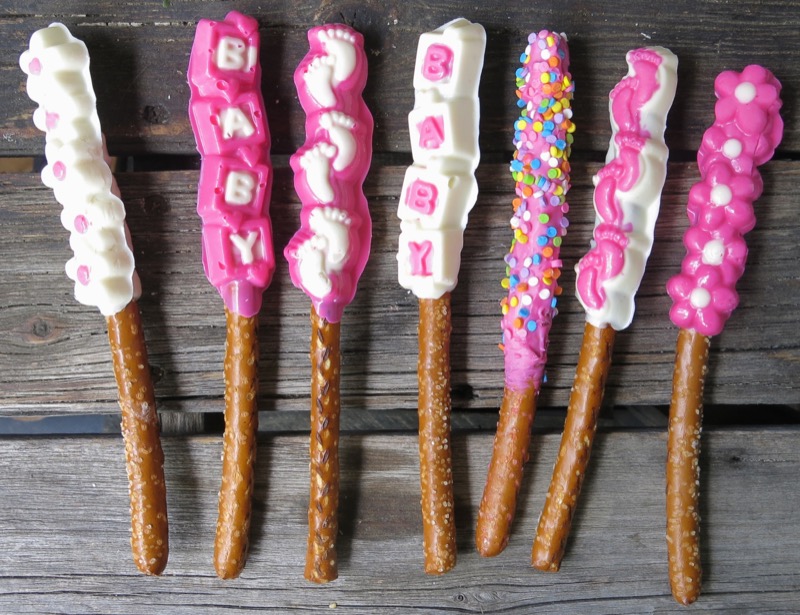 You can see these are far from perfect. First event I have ever allowed anything less than perfect to be served. Yet, somehow, the imperfections of these treats, the cake pops and the babyface sandwich cookies added to the charm and presence of the offerings. Clearly, they were homemade and with a whole lotta love.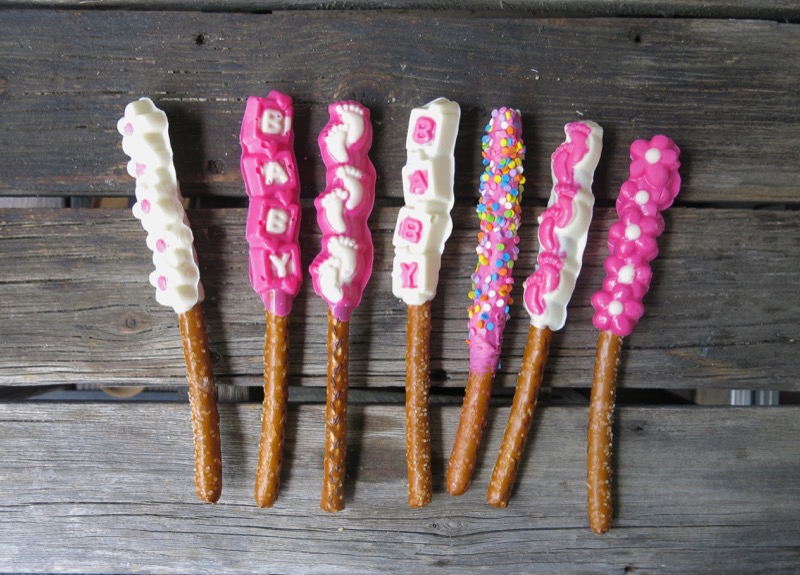 Seriously tasty, too. They even sell long narrow bags at Michael's just for one of these to be slipped into with a big ribbon on top as a thank you for coming the an event. Love that idea, too.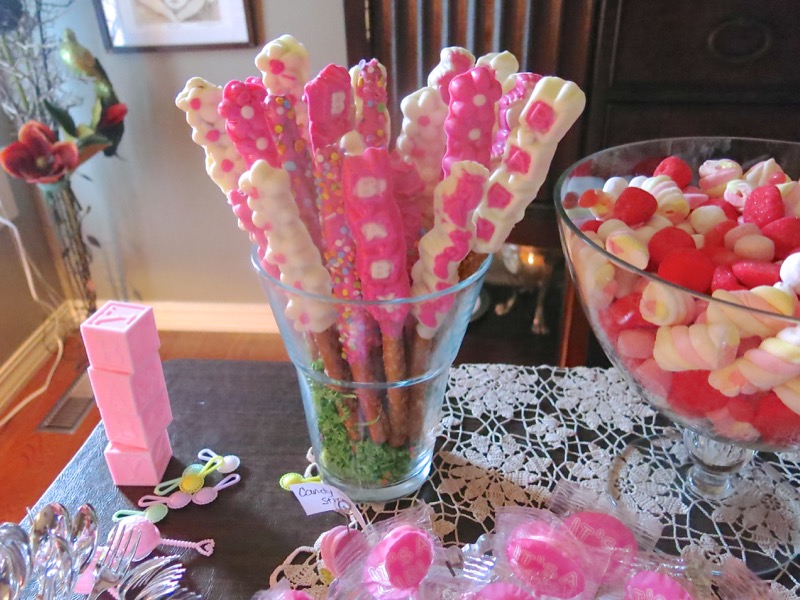 I made them into a bouquet. You can see a bowl of assorted pink candies beside them. In front, was a bowl of pink "It's a Girl" suckers with "It's a Girl" pink metallic large dollar type of chocolate medallions.
Girl Baby Shower Old Fashioned Pretzel Sticks: Dipping the Sticks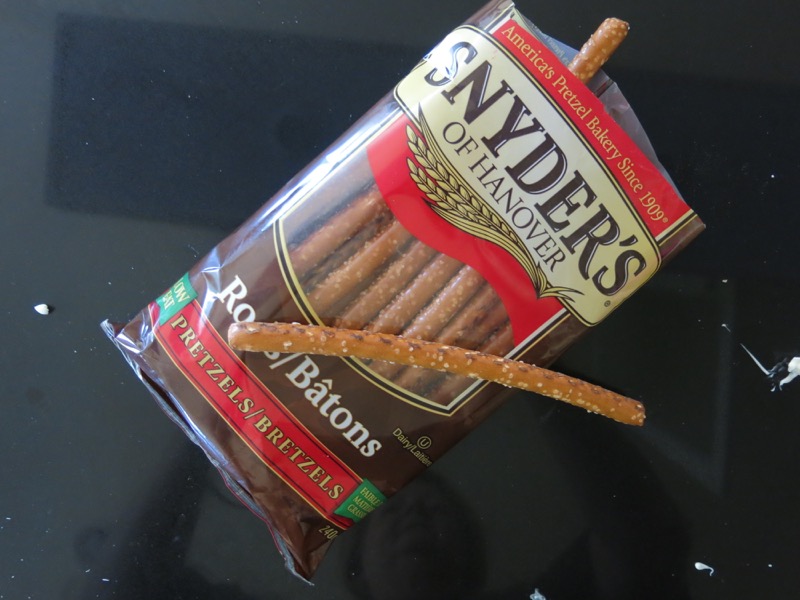 There was a point where I thought I would have to order these on line. They are huge. I mean huge, and most reviews say they arrive broken. Thank goodness for Michael's and apparently Safeway has then at various locations certain times of the year.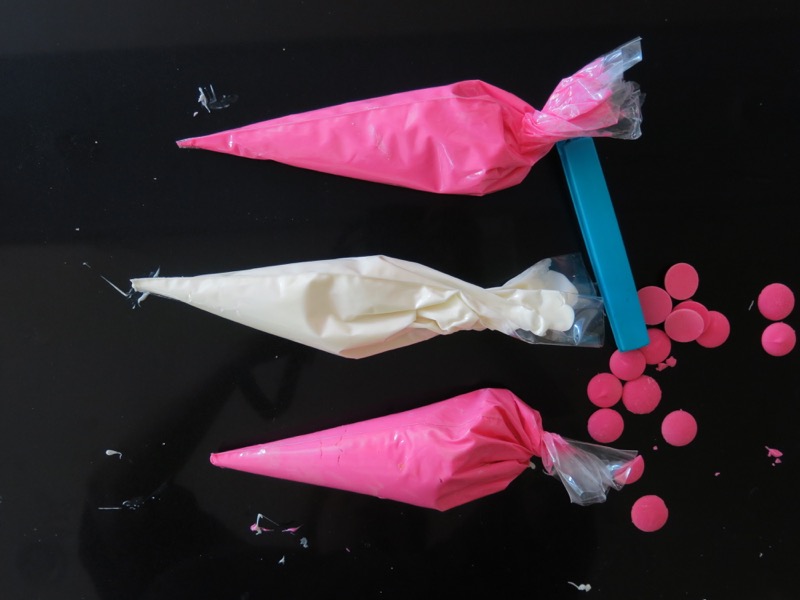 I watched this video to learn how to use the molds and melt the candy melts properly.
It was very helpful though it used a different mould to explain how to use it.
Ragan made all of the little fancy touches. We both piped the melted candy into the moulds and placed the pretzel on top, piping more candy over the back of each pretzel. Into the fridge went the tray. I had two, so we worked on the other while each one chilled.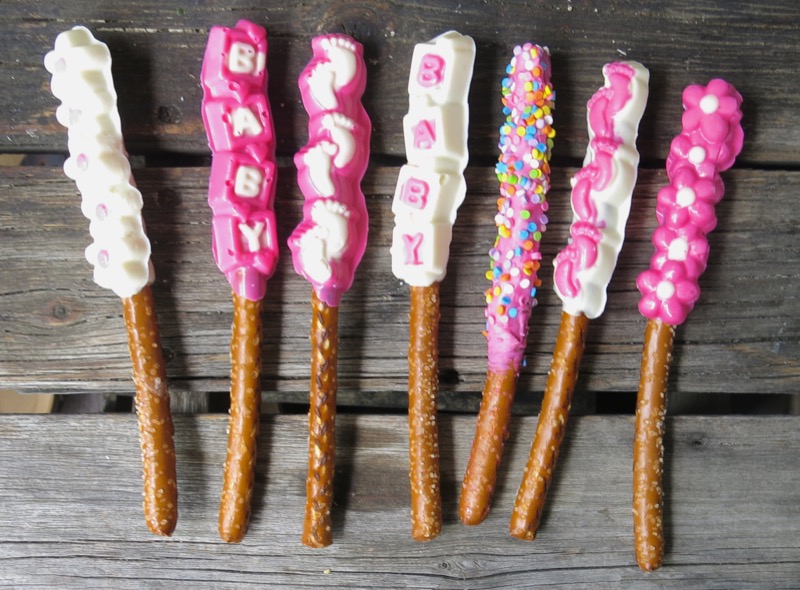 What fun it was to reveal each tray of the Baby Shower Old Fashioned Pretzel Sticks!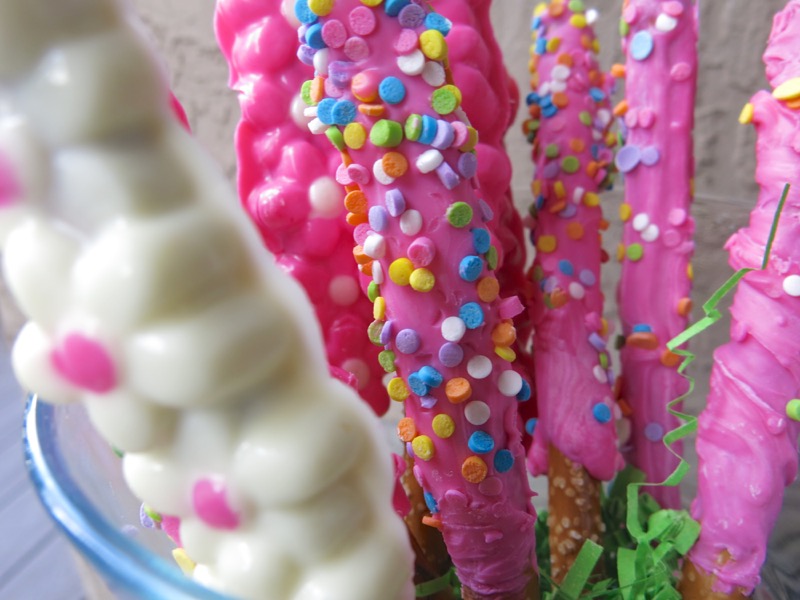 We rolled pretzels into the last dredges of the melted candy and then covered them with candy confetti. Pretty, eh? Some people just dip them all into the melt and told them in sprinkles sans mould.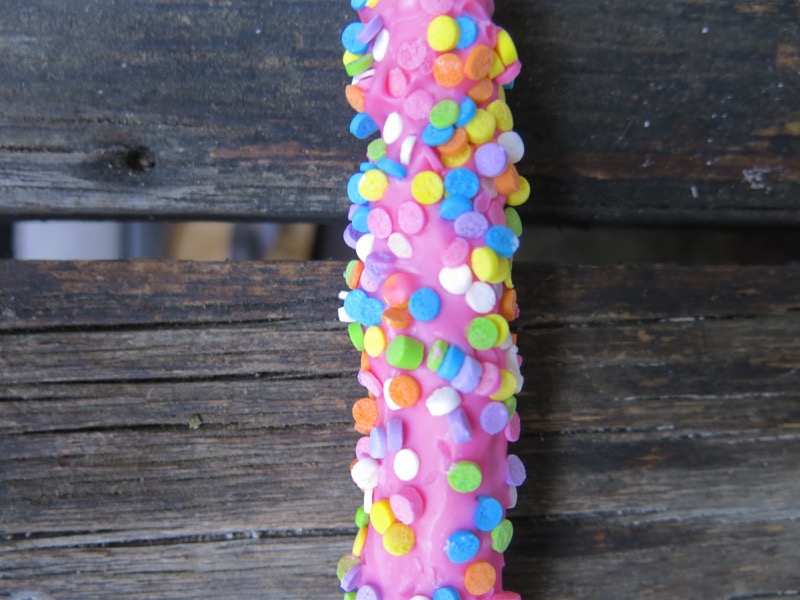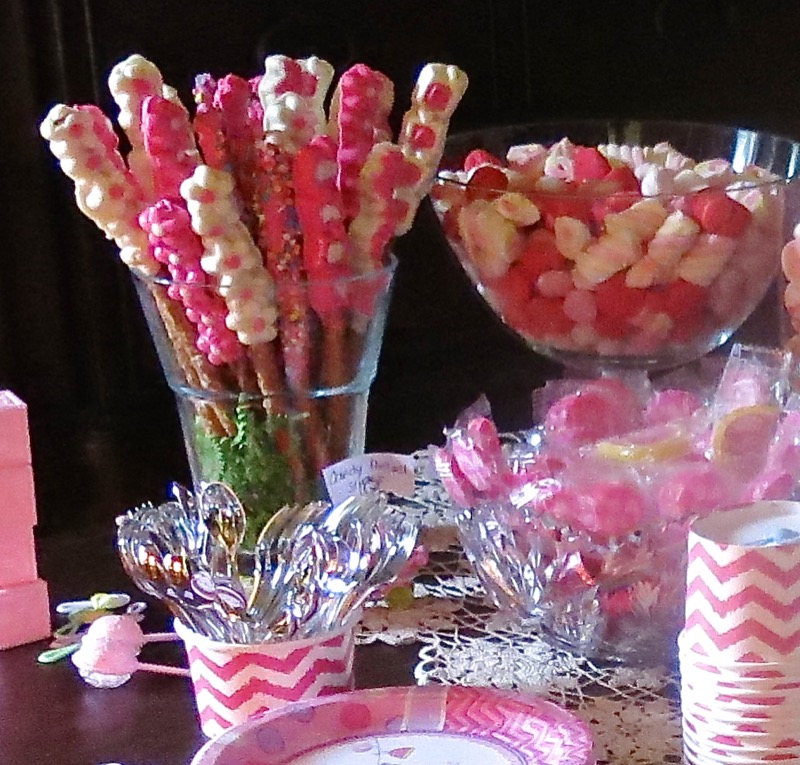 Oh, such fun it was – it really, really was – to prepare for this pink and pretty event. Little Heidi Marie is growing and thriving daily. Our William is 18 months old this week. We are so very blessed.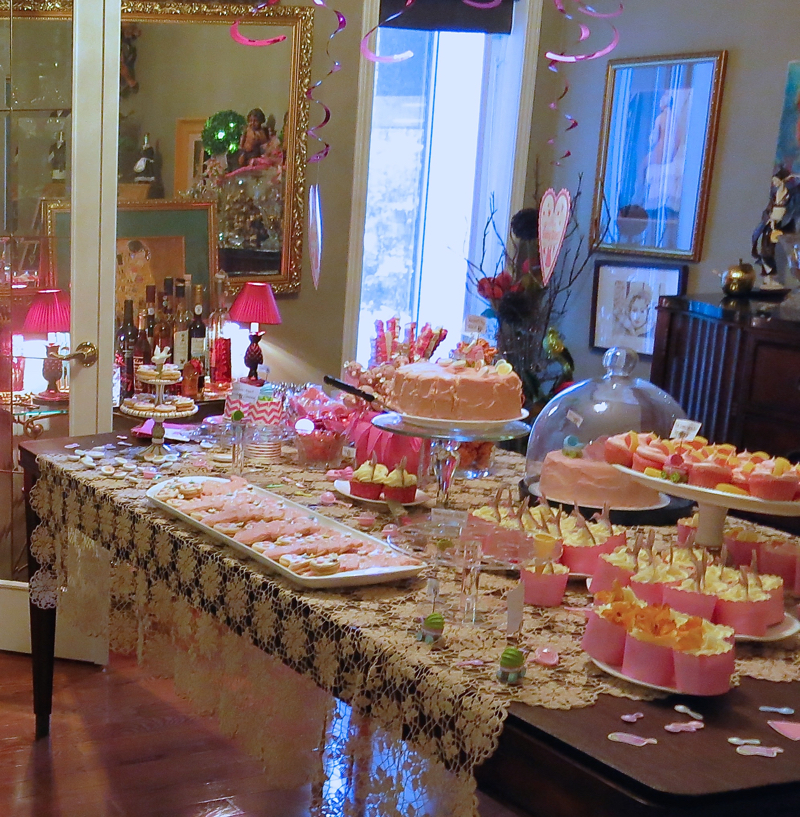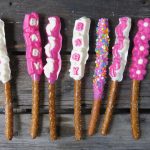 Baby Girl Shower Old Fashioned Pretzel Sticks


For Amy's Shower celebrating Heidi Marie, Girl Baby Shower Old Fashioned Pretzel Sticks all Dressed up for the Party: a sweet salty treat, fun to make and great for a take-home gift!
Ingredients
1

bag old fashioned pretzel sticks

(Snyder's is the brand I found)

24

ounces

candy melts

(1 ounce candy melts per giant old fashoned pretzel stick)

Assorted sprinkles or giant pretzel moulds

(piping bags if using moulds)
Instructions
Place parchment paper on baking sheet for drying hand dipped pretzels, or for placing moulds for cooling in the fridge

Melt the candy melts as per the instructions in the Wilton YouTube Video for using Wilton moulds with candy melts (above, in post)

Place the melted candy melts in a tall narrow glass or vase, dipping each pretzel to cover 3/4 of each stick then sprinkle generously with candy confetti, sparkling sugar, or candy sprinkles and lay on prepared baking sheet OR

Paint inside of each mould with melted candy melt colours; pipe alternate coloured melted candy melts over each prepared mould and lay pretzel stick in place over melted candy

Pipe more melted candy over top of pretzel to cover or gently rock back and forth in mould to cover (be careful to not disturb the painted on images)

Place covered pretzels in the fridge to cool 15-20 minutes; gently remove from mould or tray

Place in a covered container for storage; do not freeze