Homemade Turkey Pot Pie: Just in Time for Holiday Meal Leftovers!

Homemade Turkey Pot Pie was not something mom used to make, but Grandma Maude did. Mom made turkey pie in pastry crust on the rarest of occasion as it is a rich dish. Grandma Maude was the Queen of rich. A little fresh heavy cream in hand from the Bell's cow at Clive Corner and she was doing the happy dance in front of her wood burning stove. Always licking her fingers, eyes sparkling, as she tested and tasted and whirred and stirred in her old kitchen. My children never had experience with living in the country. My mom and dad were city folk, like me. I have to say, there are no better memories than those of my childhood running and hiding amongst tall grasses, rolling and sneezing in the hayloft, gathering crab apples from the large old tree in the yard, or watching flies buzz above warm cow patties in the heat of the summer sun. Grandma's fresh creamed peas in the late summer after a full day of shelling made it all worthwhile. Her oversized cookies and massive popcorn balls whipped up late at night just because she had a craving – all memories I treasure. Somehow, though I cannot remember a specific turkey pot pie moment; yet, I associate her with this kind of home food. Simple, rich, satisfying, very hearty and lip-smackin' delicious.

This isn't Maude's recipe. I don't recall what topping she used, but it was biscuit-like. However, if you get a massive turkey for the holidays and have a plethora of leftover turkey afterward, this is a tasty little dish that will keep well in the freezer and goes very a long way.

The creamy filling pairs perfectly with the crusty buttermilk biscuit.

Celery, carrot, onion, leek, garlic, mushroom, peppers and peas: now that is a healthy variety of good-for-you vegetables in one pot pie which makes this an exceptionally great dish for active healthy children and not so great for couch potatoes.

With a presentation as pleasing as above, this Homemade Turkey Pot Pie is also a great dish to contribute to a potluck dinner or one to be proud to place on the table for unexpected company.
Homemade Turkey Pot Pie: So Much Goodness in One Pot

Like all casseroles or pies, the best quality ingredients you can find will elevate the flavour of the final product. Look at those carrots! The celery and peas are missing.
Homemade Turkey Pot Pie: Preparing the Vegetables

Saute the mirepoix until translucent; add garlic, peppers and mushrooms and cook until just beginning to soften.

The Dutch oven is full to the brim. Once vegetables soften, it's time to add the turkey.
Homemade Turkey Pot Pie: Adding the Turkey

I like fresh organic turkeys. I buy mine from Sunworks Farms for every holiday meal. Yes. They are considerably more expensive than "others", but they are exceptional in flavour and texture and have lived a pleasant life. Those turkeys are always so big and my family is small so I enjoy preparing the great variety of dishes we have come to love after each holiday turkey meal. That is why I can make a Homemade Turkey Pot Pie with 6 cups of turkey.
Homemade Turkey Pot Pie: Making the White Sauce or Simple Béchamel

Many home cooks simply thicken the filling with flour as it cooks. I am a white sauce fanatic. It is such a simple combination of equal parts flour and butter cooked until a paste forms….

Then whole milk is added to desired consistency. When the seasoning goes in, my eyeballs start to roll. Yup. Flour, butter, milk and salt and pepper. Scrumptious. Mom always made her fried chicken gravy this way, except she'd use the chicken drippings and crusty bits instead of butter. It is one of my favourite gravies to this day.
Homemade Turkey Pot Pie: Adding the Peas

I find frozen peas need so little cooking. I add them to the last minute of almost everything I make. Of course, these still get baked in the pie but adding them at the last minute still ensures the tastiest peas. Every pot pie has to have peas.
Homemade Turkey Pot Pie: Finishing the Filling

With the vegetables cooked down, there is just enough room for the white sauce and peas. A good few gentle stirs enable the sauce to fully incorporate.

This is about as close to flavour I can achieve in an image. The colour, taste, and texture combinations from this variety of vegetables are what makes a Homemade Turkey Pot Pie a signature dish.

The filling is a work of art, really.

Homemade Turkey Pot Pie: Making the Pies

Into the available casserole dishes I had on hand. The leftover filling went into labelled and dated freezer bags to be dished up into individual pies at a later date.

Homemade Turkey Pot Pie: Topping and Baking

The filling is completely cooked, so into the oven until bubbly and golden brown. The biscuit dough could be rolled out and cut the shape of the dish and place on top, but I like the crumbly bits from the dollops.
Homemade Turkey Pot Pie: Serving

Eaten as the first course or on the side, a crisp salad is all that is needed to round out the meal.

A Homemade Turkey Pot Pie seems to spell A-U-T-U-M-N when served in the fall, while also saying farewell to the last of the root vegetables and hailing a long-awaited Spring when served after Easter. Either way, we love this traditional Canadian Prairie staple at our house after any holiday where there is leftover turkey. Always eager to hear if you make it or to have you share your favourite turkey pot pie recipe with me!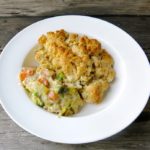 Turkey Pot Pie with Buttermilk Biscuit Topping
Turkey pot pie is a traditional weekday meal after every holiday season on the Canadian Prairies. Every mother makes them differently. This recipe is sure to please all whose mothers are great home cooks. It absolutely delicious and so deeply satisfying. A real taste of home!
Total Time
1
hour
25
minutes
Ingredients
Ingredients for Filling
1

tablespoon

olive oil

2

large onions

chopped

1

tablespoon

Vegeta

2

cups

carrots

peeled and sliced

2

cups

celery

diced

1

teaspoon

salt

generous amount of freshly ground black pepper

to taste

2

leeks

cleaned, quartered and chopped

1

small red bell pepper

diced

1

small yellow bell pepper

diced

4

garlic cloves

minced

2

pounds

cremini mushrooms

sliced

6

cups

turkey

chopped

1 ½

cup

frozen peas
Ingredients for White Sauce or Simple Béchamel
¾

cup

butter

¾ - 1

cup

flour

1

litre whole milk

½

teaspoon

salt

generous amount of freshly ground black pepper

to taste

1

teaspoon

Vegeta
Ingredients for Buttermilk Biscuits
Link to Recipe in Notes Section
Instructions
Instructions for Filling
Sauté onions for 3-4 minutes in heavy Dutch oven on medium heat; add Vegeta

Add celery and carrots; sauté 3-4 more minutes; season with salt and lots of pepper

Add leeks and peppers; sauté 3-4 more minutes

Add garlic and mushrooms; stir while sautéing about 2-3 more minutes

Add turkey; turn off heat and set aside
Instructions for White Sauce or Simple Béchamel
Make roux in skillet with equal amounts butter and flour over medium heat; stir until it comes together to forma paste, then cook for 3-4 minutes, stirring constantly

Add liquid from filling, stirring to incorporate; add milk, but by bit, stirring constantly until a thick gravy consistency

Turn off heat; season to taste

Add frozen peas to white sauce; gently fold white sauce and peas into turkey with filling until fully incorporated
Instructions for Biscuits
Link to Buttermilk Biscuits is in the Notes
Instructions for Putting it All Together
Pre-heat oven to 375F; lightly grease (butter) individual or large casserole dishes

Divide filling into dishes; top each with dollops of biscuit dough, leaving a small space between dollops

Bake large casserole on middle rack in oven for 40-45 minutes until bubbly and topping is golden brown; set on rack to cool 15 minutes and serve with a dab of sweet butter in the middle of the biscuit topping

Bake individual casseroles on middle rack in oven for 25-30 minutes until bubbly and topping is golden brown; set on rack to cool 5-10 minutes and serve with a dab of sweet butter in the middle of the biscuit topping

Freeze remaining filling in labeled, dated freezer bags; freeze remaining completed casseroles overnight, then wrap well and freeze until needed

Bake frozen casseroles on middle rack in pre-heated oven 10 minutes longer than recommended above; topping may need to be covered with foil to avoid over browning