My Mom's Classic Canadian Prairie Dinner Buns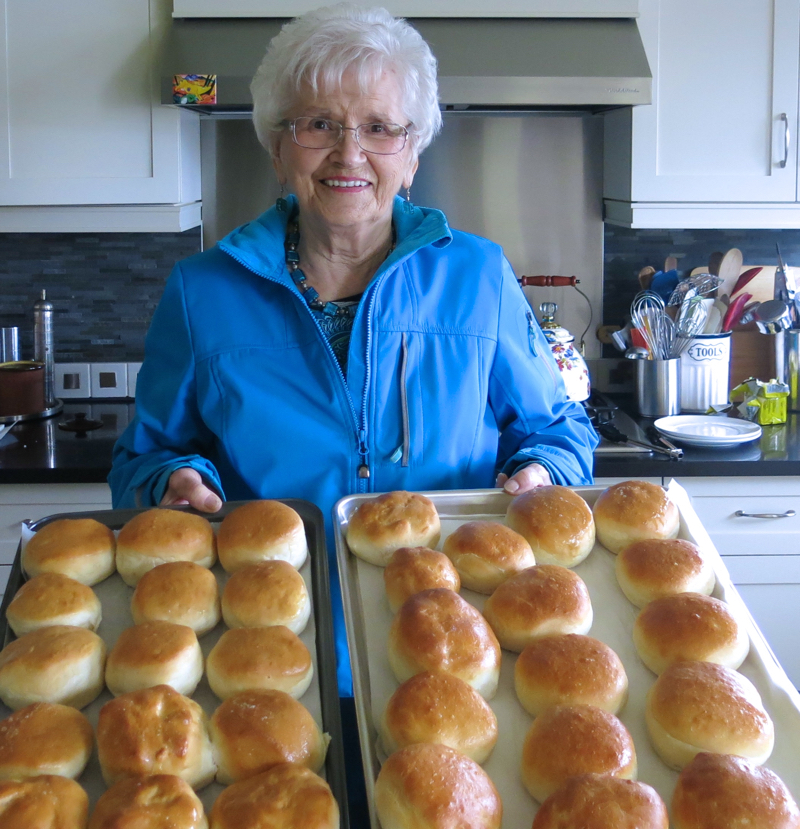 No, I do not feel guilty having my almost 86 year old mother bake buns for every holiday occasion throughout the year. Frankly, the holiday would not taste the same without her buns, and though she "showed me how to make them" many years ago, she really wasn't a very patient teacher. Now, she is. And, now I know more so have the capacity to actually learn from her. She was just too far beyond me those years ago.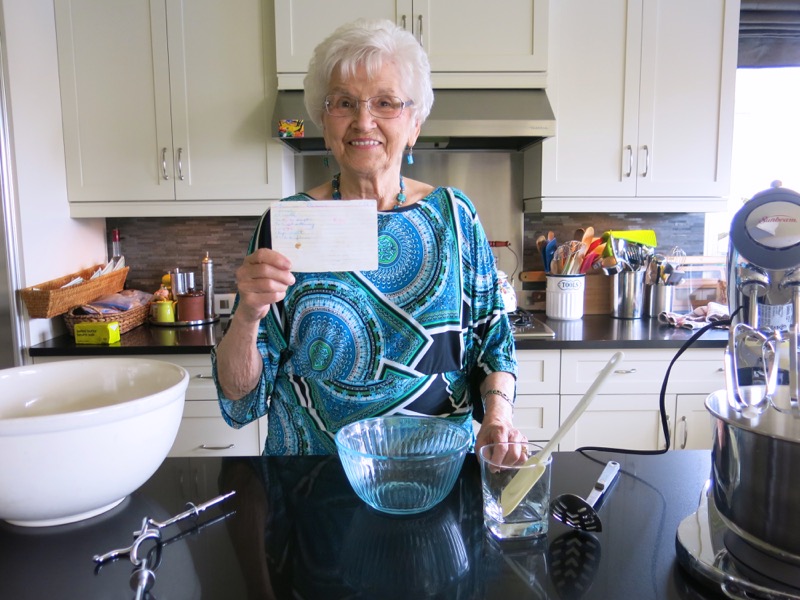 After our baking session a couple of Saturdays ago, she was doing a little dance chanting, "I don't have to make them anymore! Hee hee hee hee! I don't have to make them anymore!" My response? "Ha! Of course you do!" She did teach me, though. Not only did she teach me, I made them at the same time using my Thermomix machine and we did a blind tasting at the end. Truly, perfection. The yeast scented soft pillowy mounds were indiscernable: hers from mine, mine from hers. Visually, they were different, and I think I know why, but taste, nose and texture – no. What a triumph. Thank you, Mom! You are my Kitchen Idol!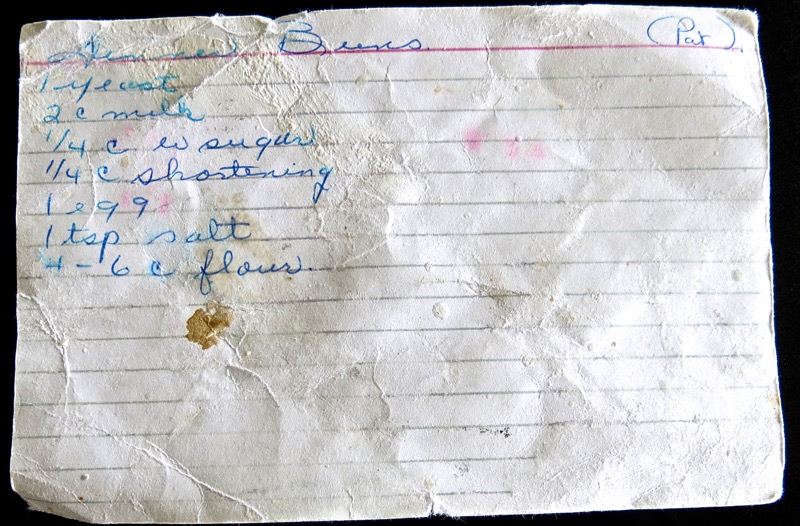 The recipe, written in her hand, is how they were written 60 years ago. No instructions. Everyone made bread. Everyone knew what to do with the ingredients. This recipe came from Aunty Pat. Aunty Pat wasn't really my aunt. Pat Thompson. A dear family friend who enveloped you in her arms, sat you in her kitchen and fed you til your eyes fell out every time you visited. I will never forget her warmth, her love, or her table. She made the "best buns" in those days.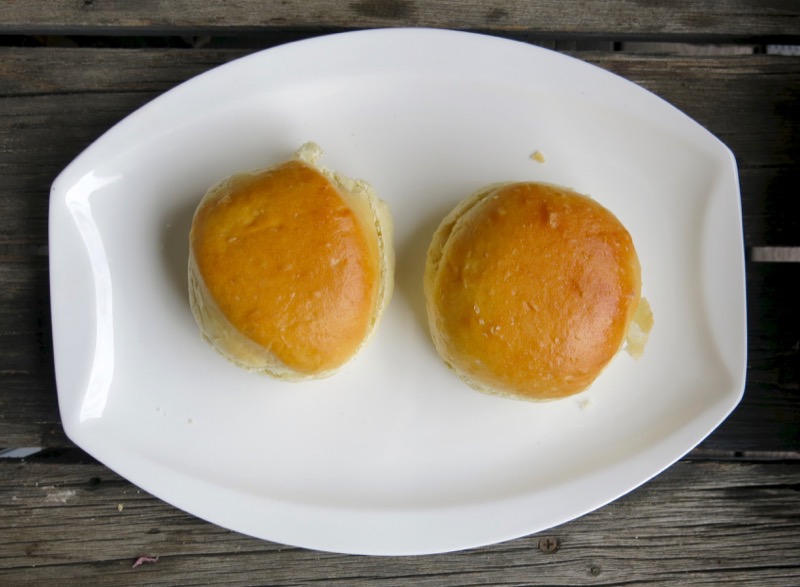 That is, until mom got hold of "her recipe". Think about it. Basic bread all over the world has 4 simple ingredients: yeast, flour, water and salt. Even if the amount of each ingredient was given, the magic really happens in the hand of the maker. Think Bannock. Think French bread, Italian bread, German bread – each vastly different and most with the same 4 simple ingredients. Think any kind of bread you know. There are "Masters of Bread Making" and there are "Messers of Bread Making". It is what you do with those 4 simple ingredients that makes all the difference.
My mom was a master. Likely because she was born from a mother who had 13 siblings, on the farm where she and her mom fed threshers every year. She was very young when she learned how to cook and to bake. It is just how it was. And, she loved it. Still does. Oh, she complains now, but her huge chest freezer is still filled to the brim. When she is bored for a day, she bakes or cooks. When most people do coffee at her condominium, they buy treats. She makes them. At Easter, her hot crossed buns: 100 of them; at Christmas, her stollen and peanut brittle: massive rounds of them and bowls of the brittle; and, off course, she makes angel food cakes almost weekly, and brings Vanja an apple pie almost every Sunday when she comes for Sunday dinner. There is no stopping her. Yes, we know we are a very, very, lucky bunch!
Helen McKinney's Prairie Dinner Buns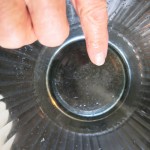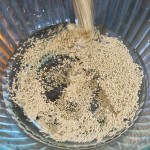 Preparing the yeast to proof: sugar and water stirred together with a handy finger, and yeast.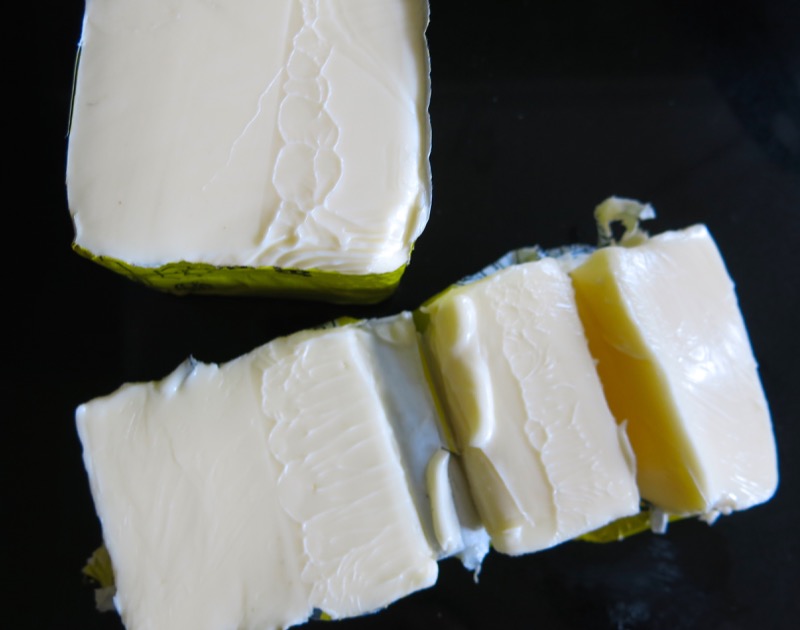 Everything's better with butter and mom's buns are no exception. Section off 1/4 cup from the pound and organize the special "Canadian Prairie Dinner Bun" additions.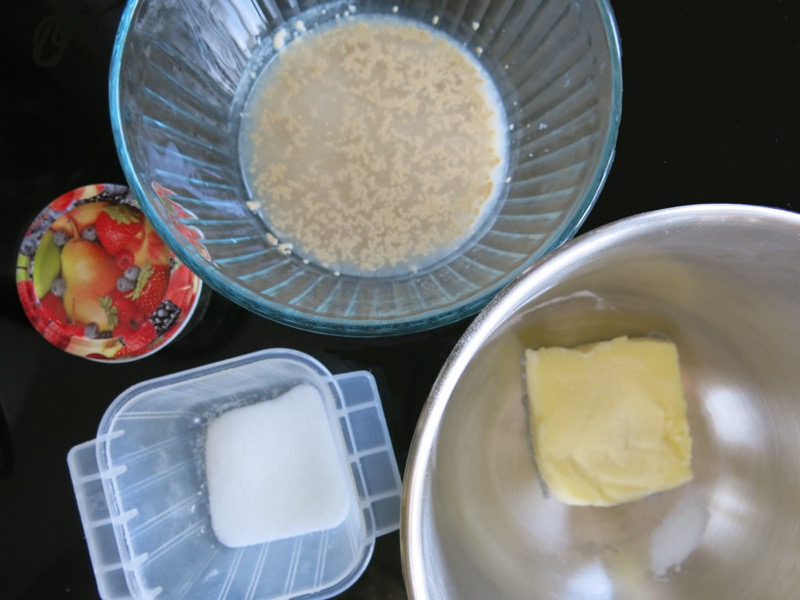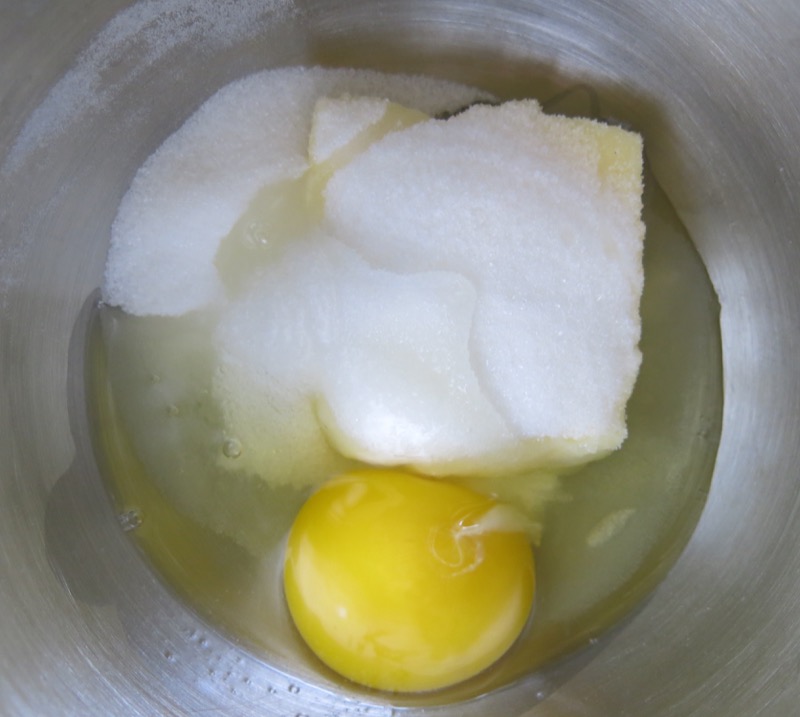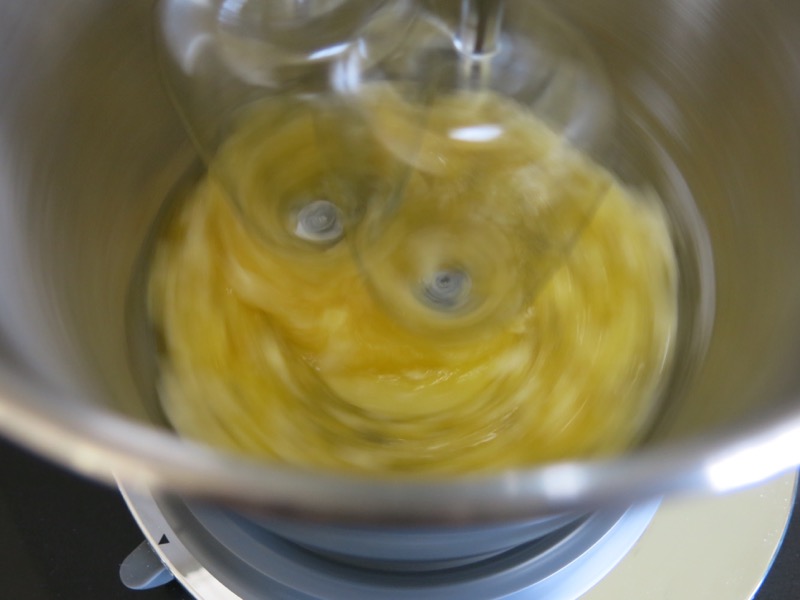 Butter, sugar, egg and milk (not in the photo). The salt is added with the sugar at this stage, too. While the yeast is proofing, the butter, sugar, salt and egg are combined with an electric mixer. For mom, this has always been the Sunbeam. Her first GE Sunbeam worked earnestly in our home kitchen for well over 30 years. Those were the days appliances were built to last a lifetime. She has had 2 the last 10 years, and will use nothing else.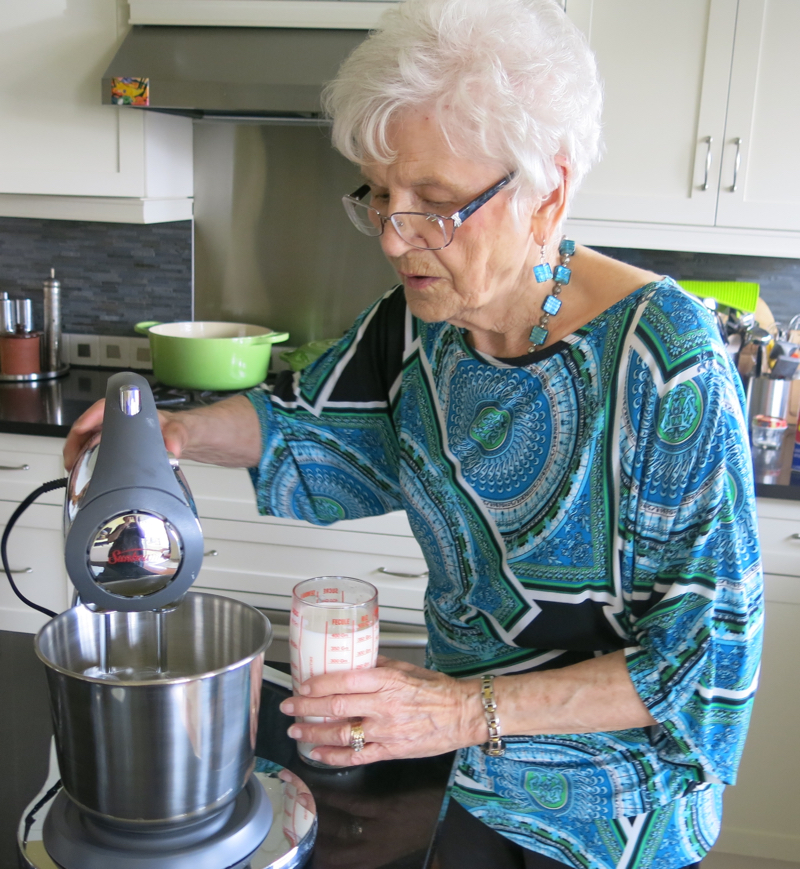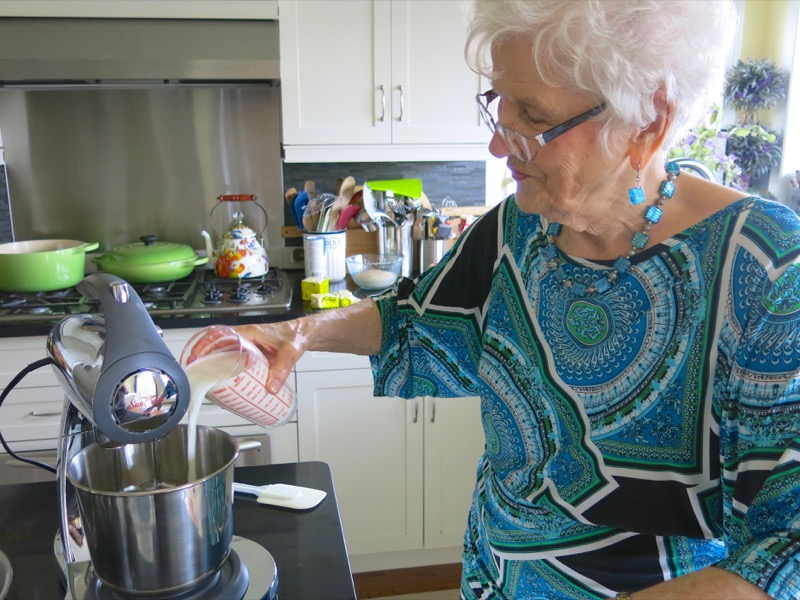 The milk is warmed to prepare the mixture to welcome the growing yeast to an environment where it can continue to thrive.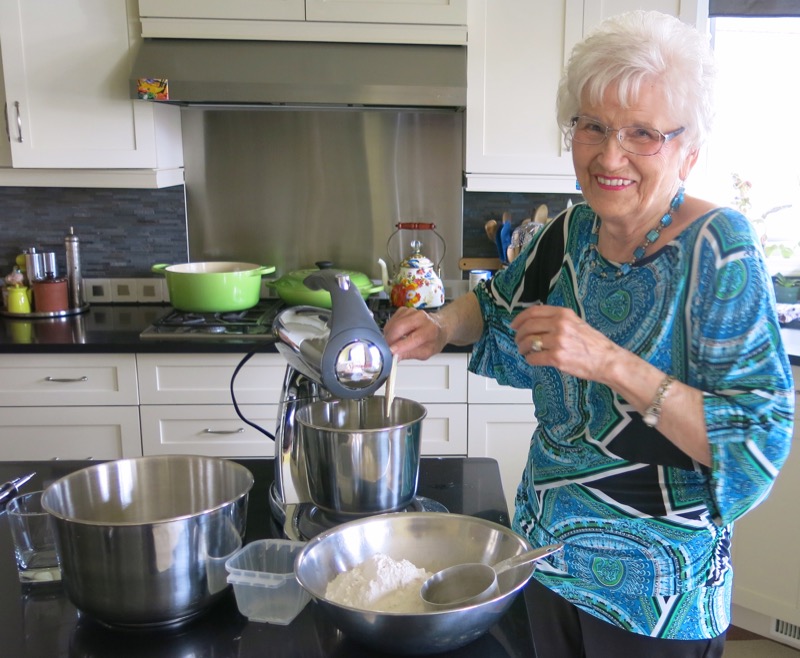 Cute little giggle. We always have fun baking together.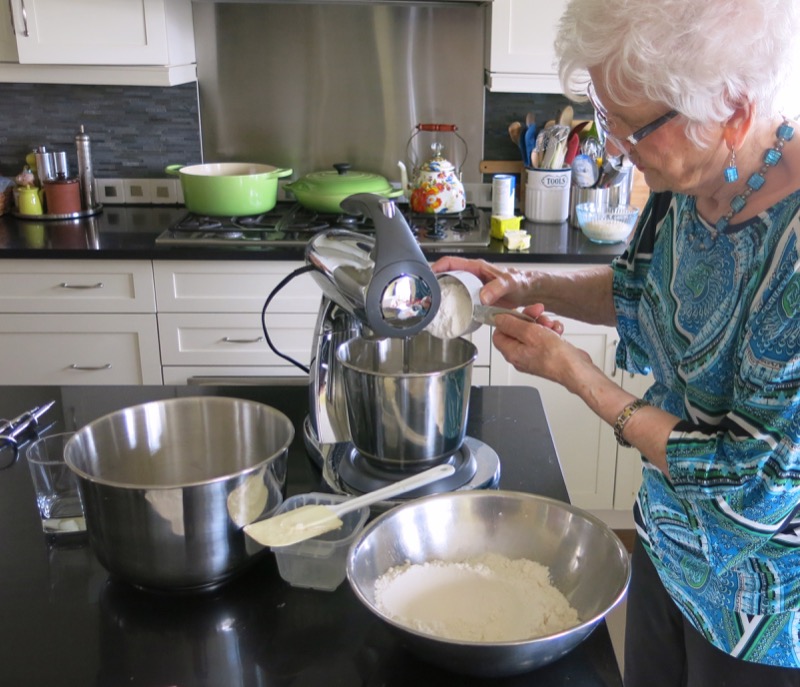 A cup or two of flour is beat into the wet ingredients before the yeast is added.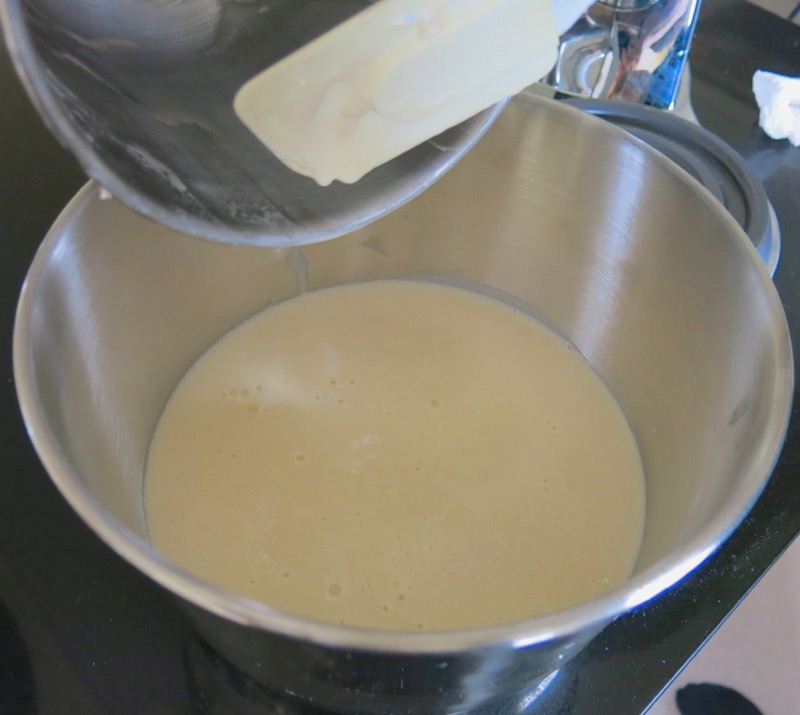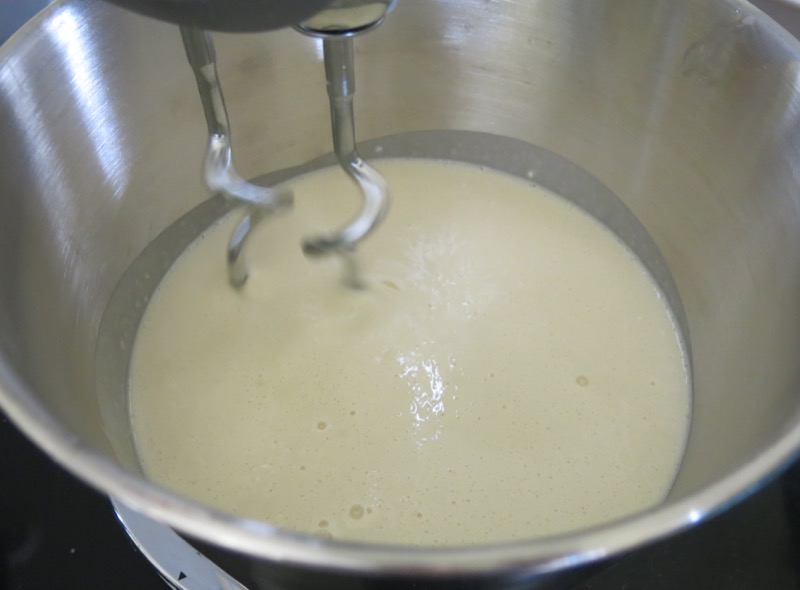 Thicker, but definitely a runny batter. Not a dough yet.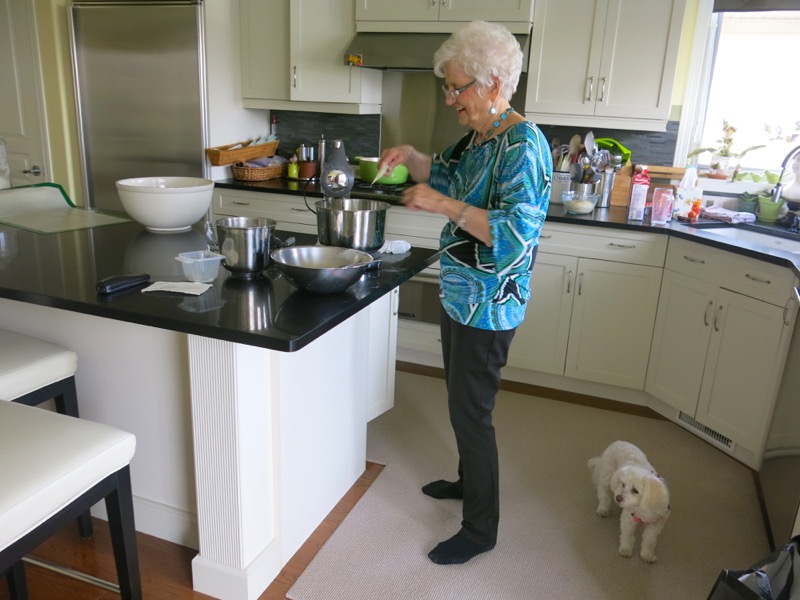 Penny monitors everything we do. Always have to look before walking when she is around. Such a sweet little puppy at 15 years or 105 in human years "theoretically". She cannot see or hear much at all. Even her sense of smell has considerably diminished, but not her ability to show love.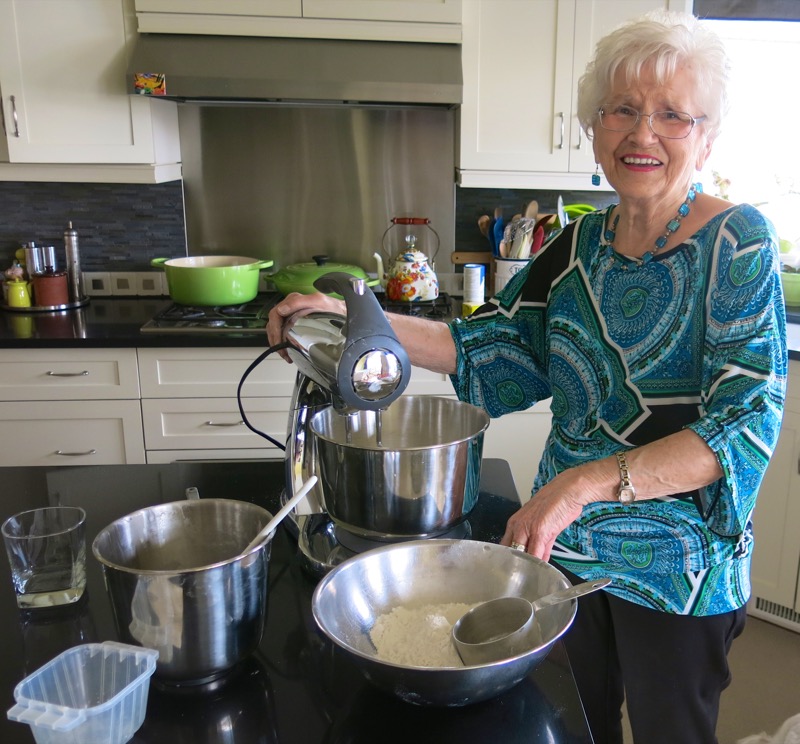 "Oh, Valerie! Stop with the pictures, already!"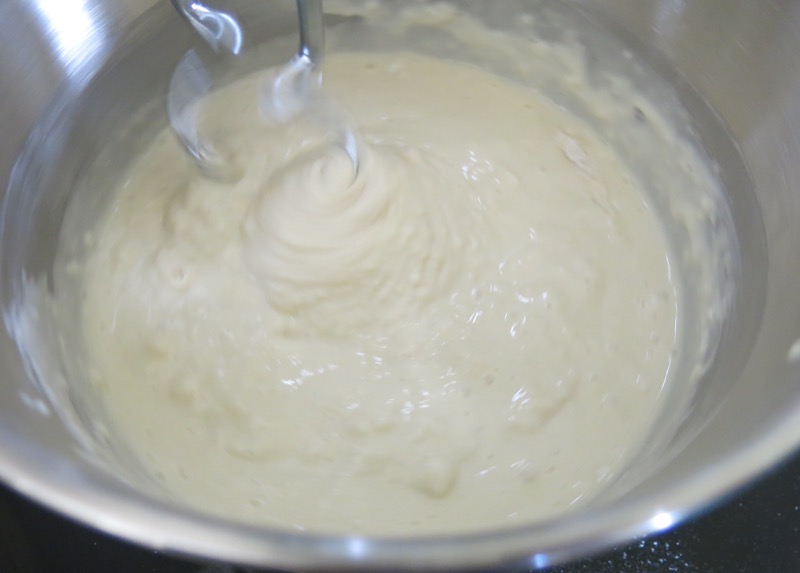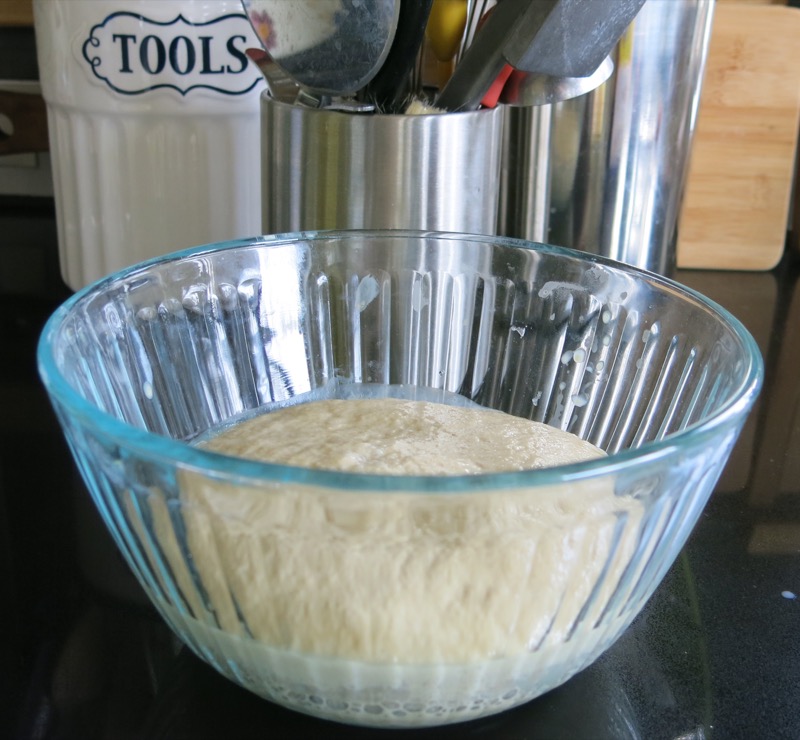 The batter, upper left, is becoming a dough. You can see that when it falls back onto itself, it leaves a visible mound of ribbons for a few minutes. Now is the time to take the mixture out of this bowl and place it into another for hand mixing. It is also time to add the yeast.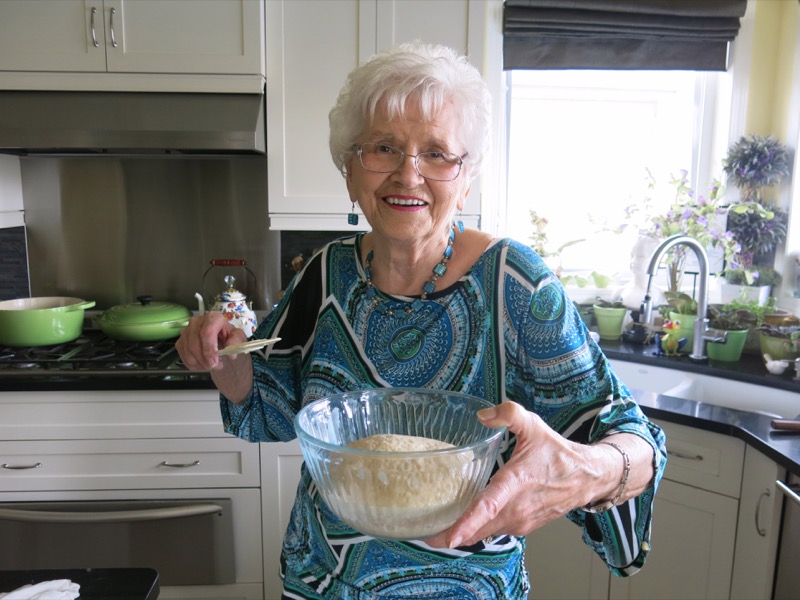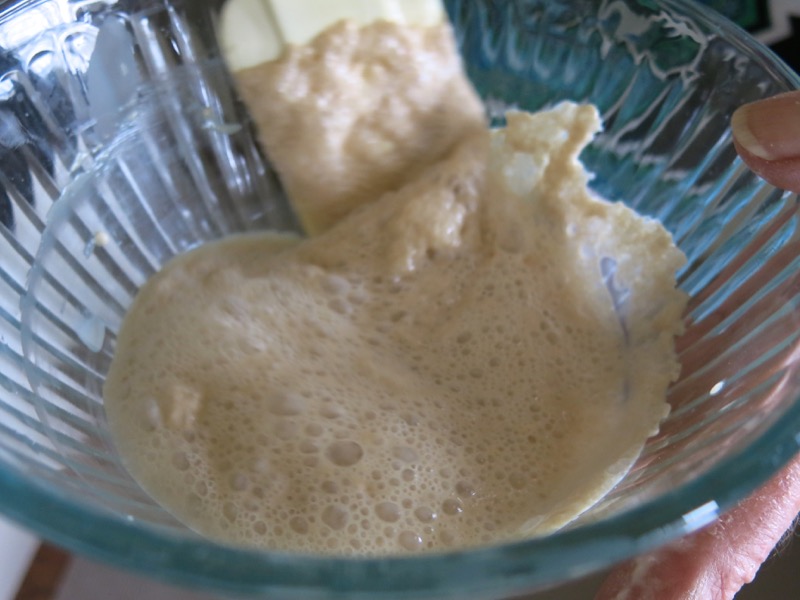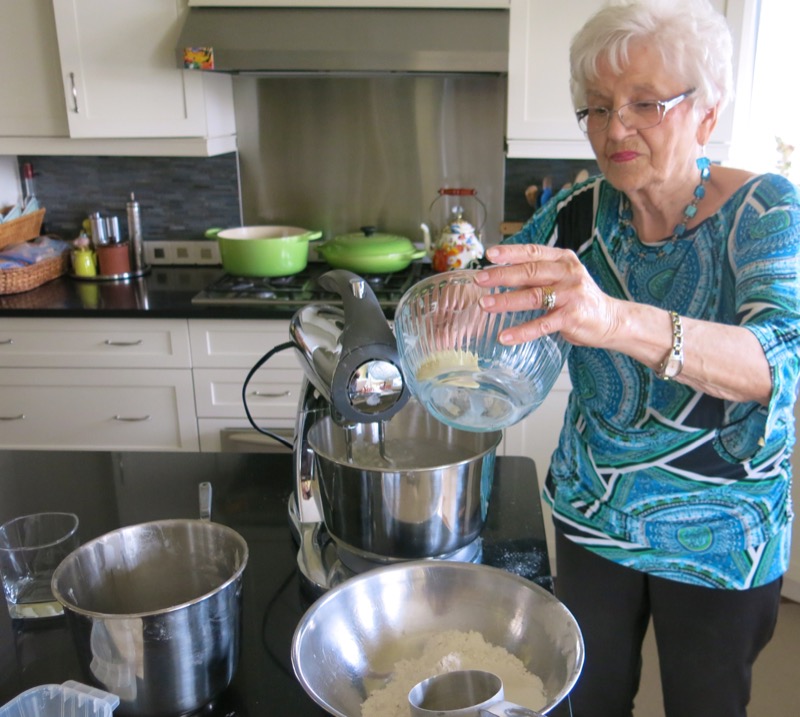 Mom stirred all of the lovely life out of the growing yeast and poured it into the mixture.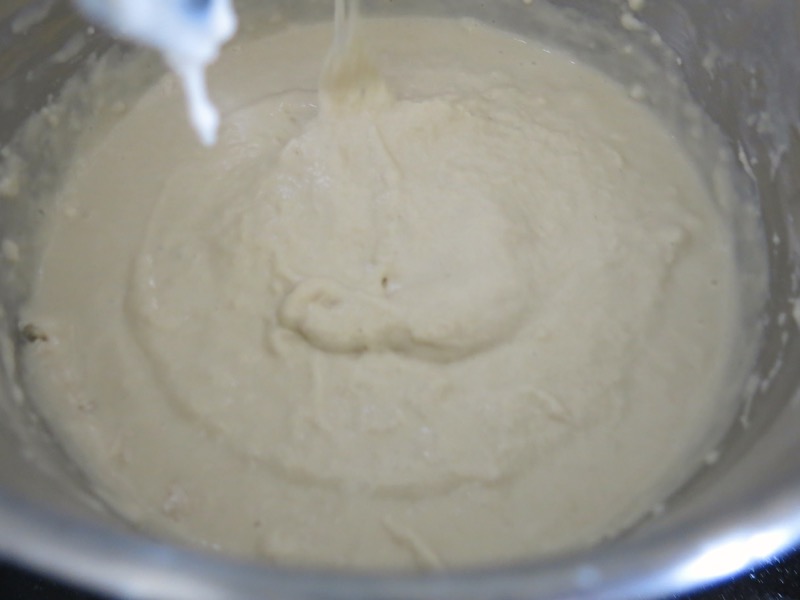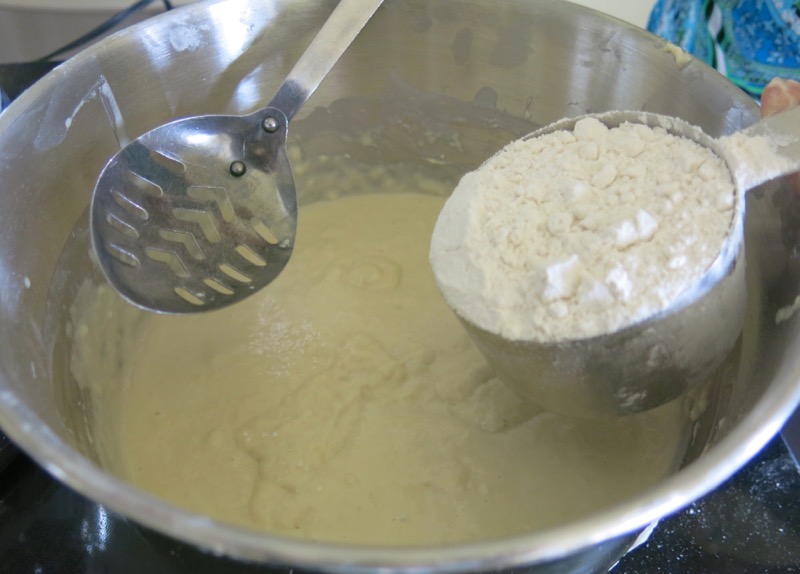 Using a large perforated metal spoon, mom starts to fold in the remaining flour by hand quite exuberantly. She is folding, not beating, but she is not slow and gentle. She is fast and powerful. This bread making process is built into her muscle memory, and she just "takes it away".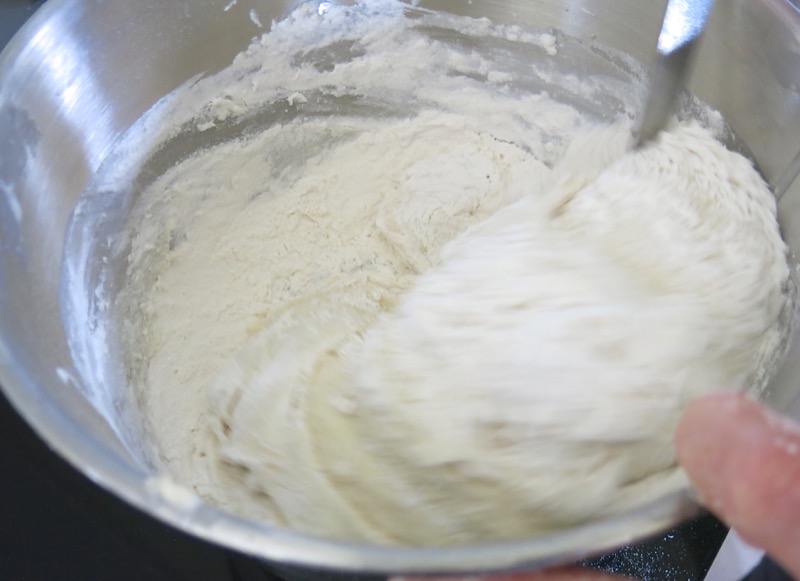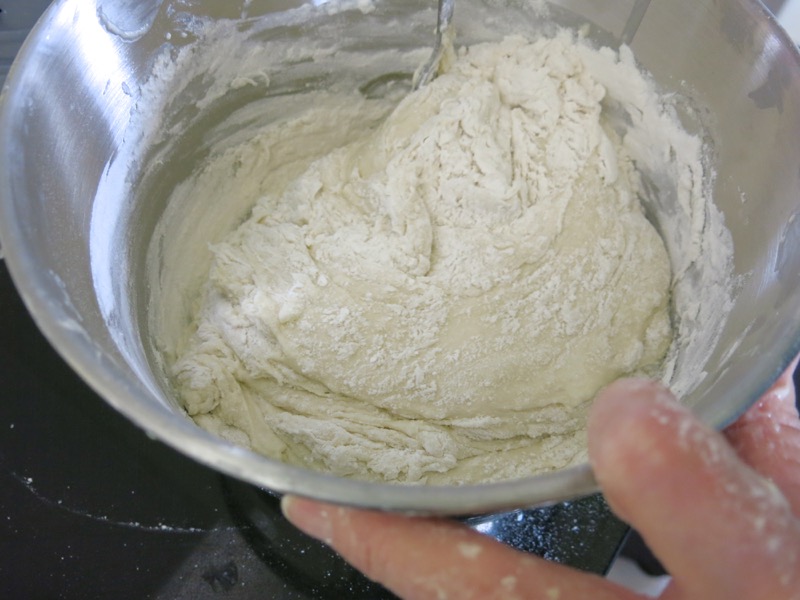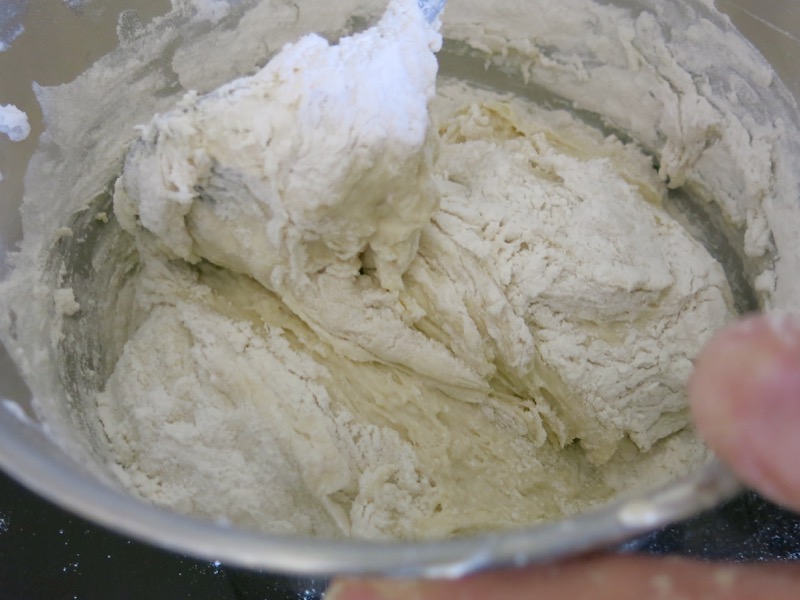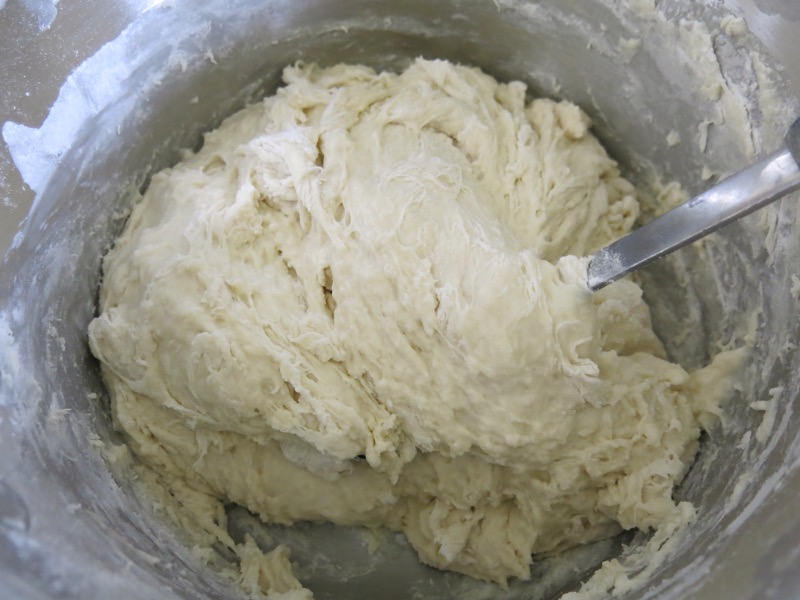 Using the amount of flour, shy 1/2 cup, recommended in the recipe, she has folded it in to a ball of sticky dough. Using 1/4 cup of the leftover flour, she covers her surface area to begin her hand kneading process. I will add at this point, that my dough is finished and sitting in my Thermomix bowl. There is no mess. I didn't follow the same process, but I will explain what I did later.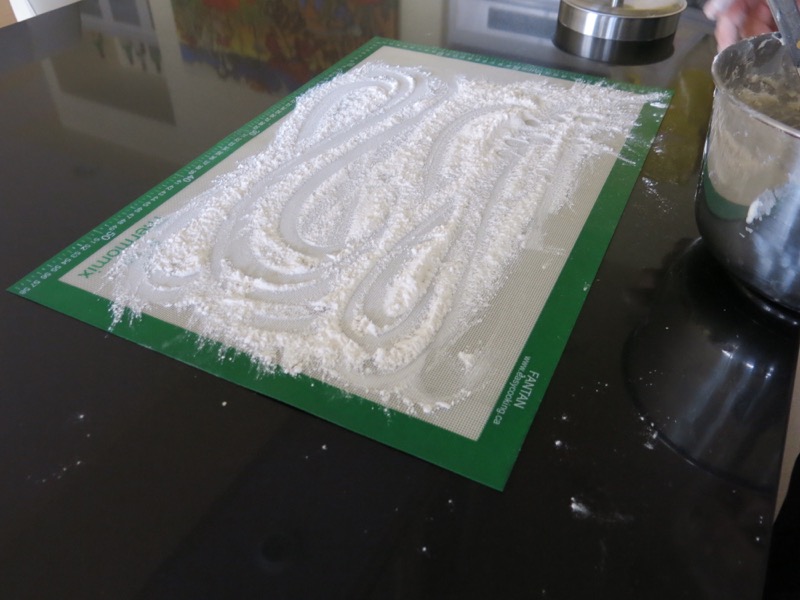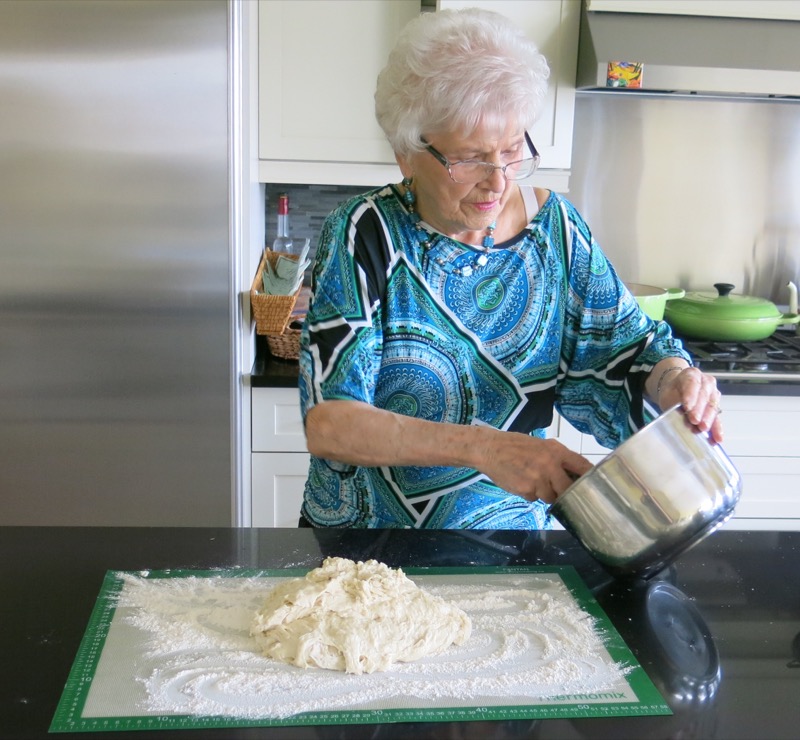 Highly saturated looking dough goes onto her well floured working surface.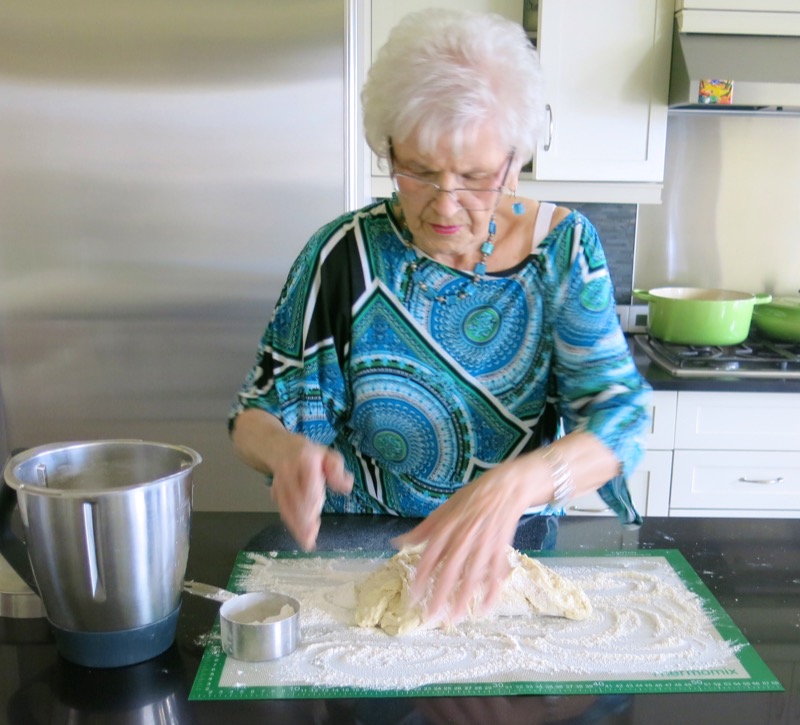 She starts by simply folding the dough to incorporate the flour on the work surface. Her hands were getting sticky but as she worked, the sticky bits got worked into her dough.
Above, she kneads almost from the beginning. She kneaded about 10 minutes. You can see she isn't rigorous, and sweating, but she is steady and consistent. She rested the dough for about 5-7 minutes and the second video takes it from there. Listen carefully for the pops and crackles in the dough as we are usually talking over the sounds, but you can hear them.
At this point, mom's Canadian Prairie Dinner Buns are ready for proofing, so now I will tell you what I did in the Thermomix at the same time.
Translating Helen McKinney's Canadian Prairie Dinner Bun Recipe to the Thermomix TM5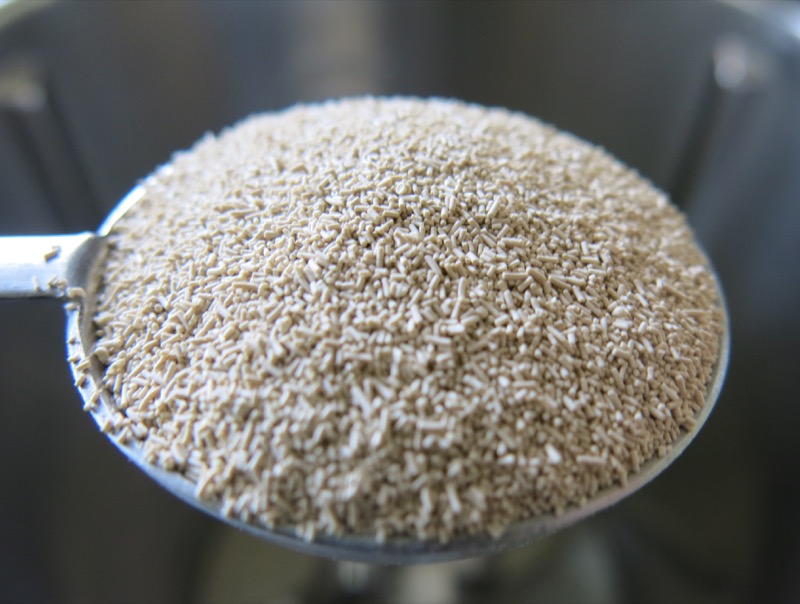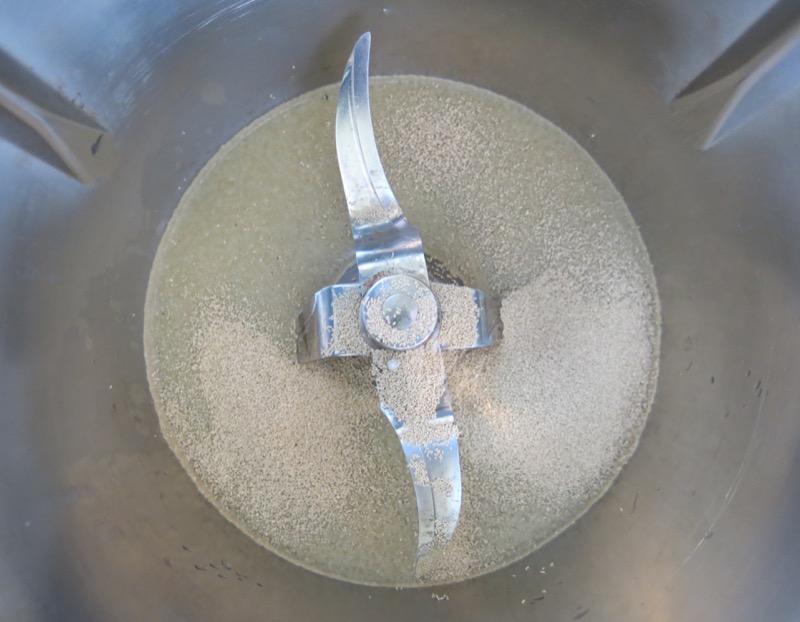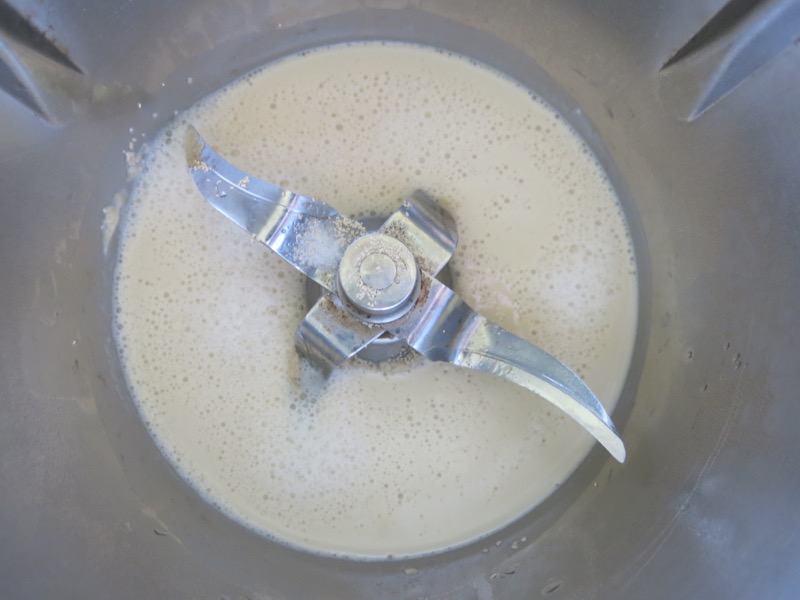 Having learned a few things about bread baking primarily from Richard Bertinet at his Master Bread Making Class in Bath UK and my Bread Making Atelier at Le Cordon Bleu in Paris with Chef Daniel Walter, I knew my yeast did not need proofing. That is only necessary when not baking bread often, to ensure the yeast is alive. If you know it is fresh and alive, as you bake bread regularly, it is simply worked into the flour. Also, very important to note: salt and yeast should never touch. As the yeast is mixed into the flour, the salt is added later, on its own. Salt induces osmotic stress to yeast cells which can lead to cell breakdown and destroy the life in the yeast necessary to build air into bread. Salt coagulates gluten proteins, or "strengthens" the dough to enable the yeast to stretch the gluten fibers to hold air in the dough pockets as it rises. All that aside, I didn't proof my yeast like mom did. To honor her process, and acquire a bun like hers, I did mix together the yeast, sugar and water in the Thermomix bowl.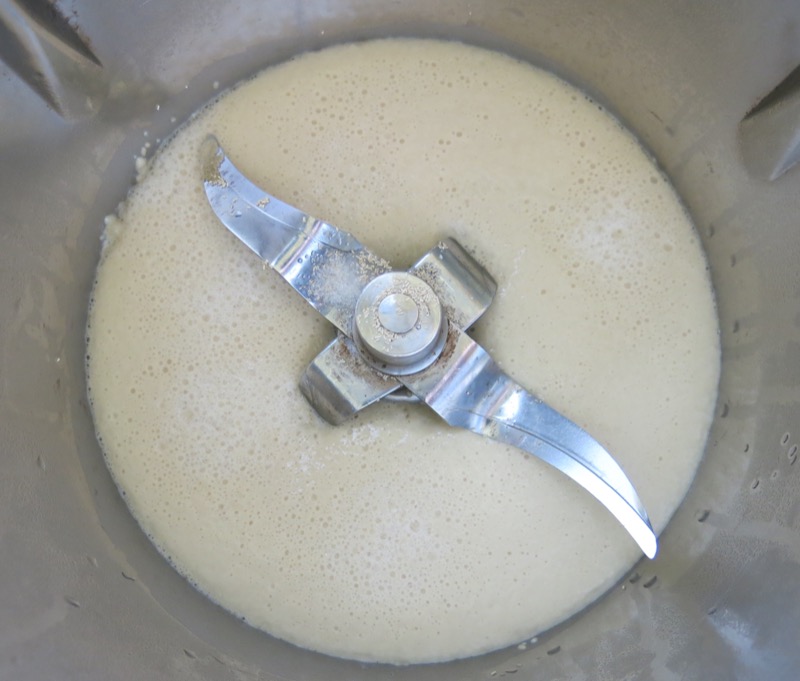 Eventhough I didn't proof it for long, while I took 2 minutes to prepare the other ingredients, it rose this much, above!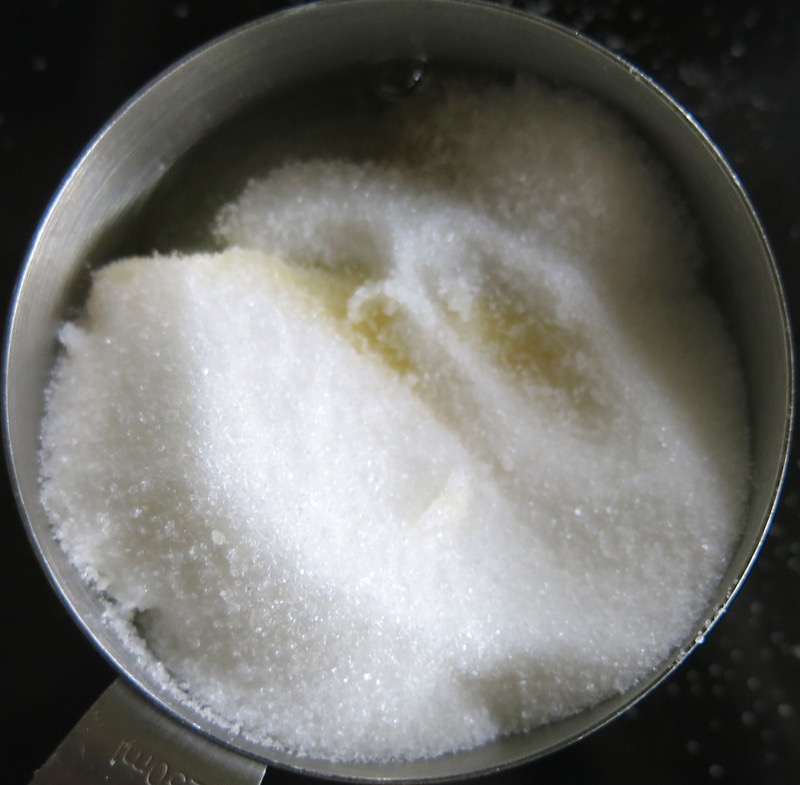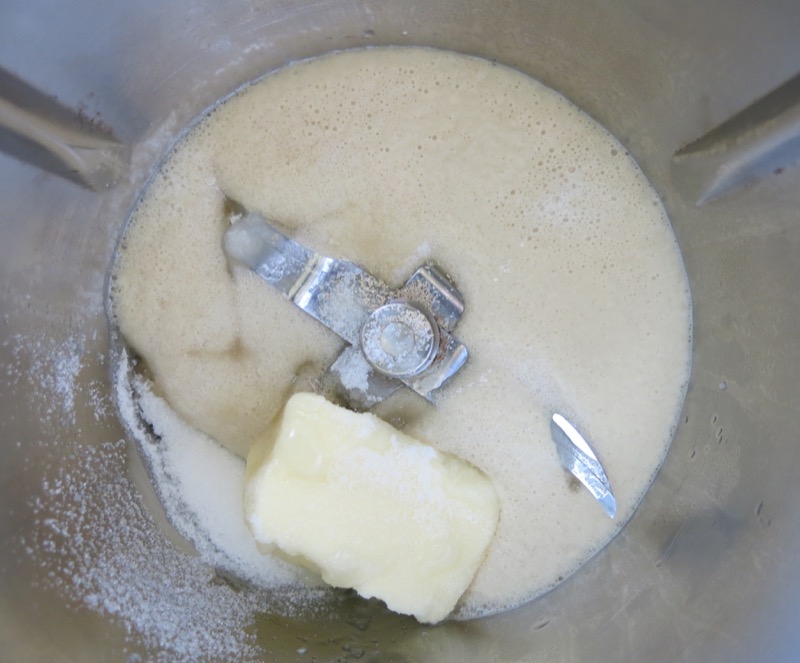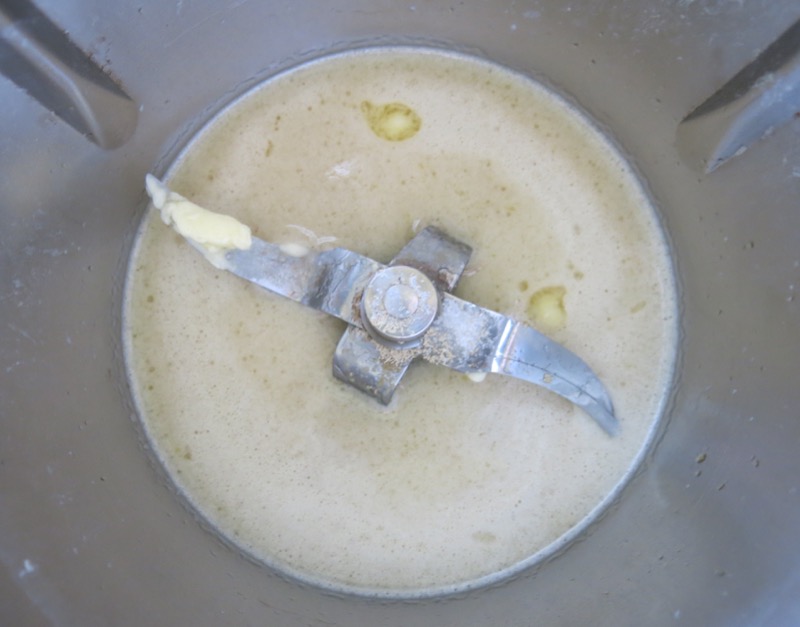 The sugar, butter, egg and salt were weighed and combined with the yeast mixture.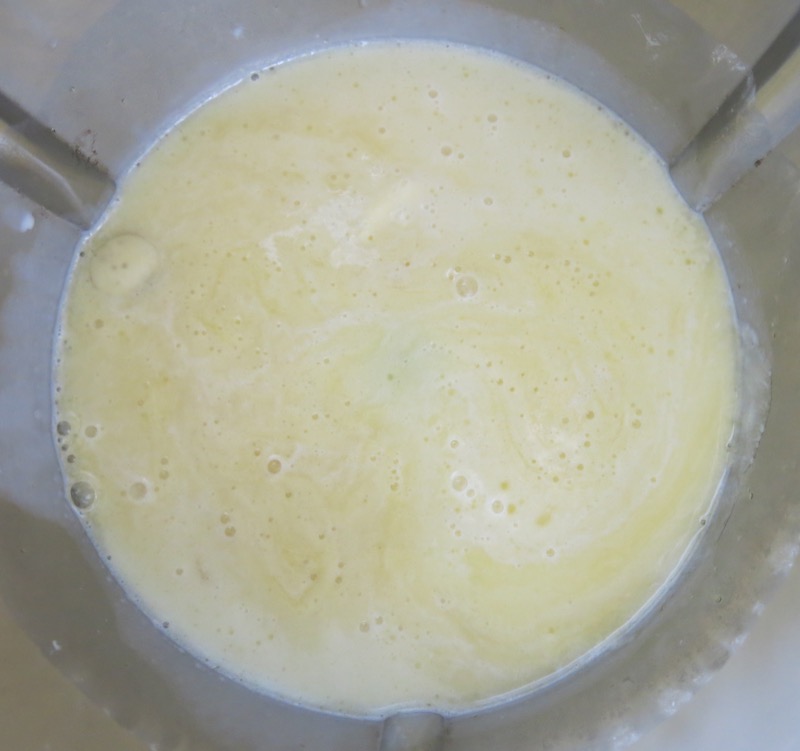 I kept the temperature of the Thermomix at 40ºC while adding the room temperature milk. If the milk was in the fridge, I would have started by warming it for 5 minutes at 40ºC in the Thermomix, setting it aside, to begin.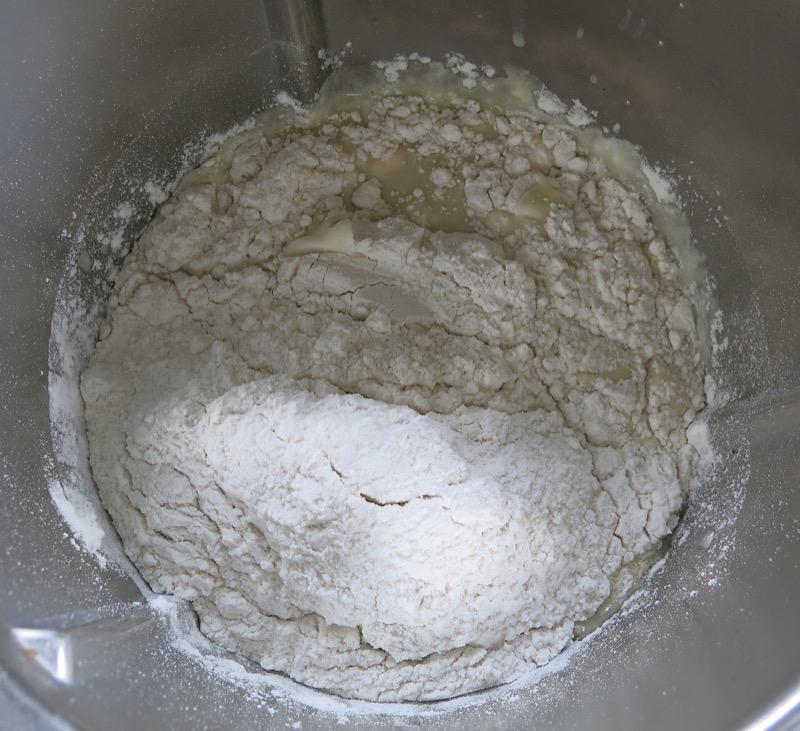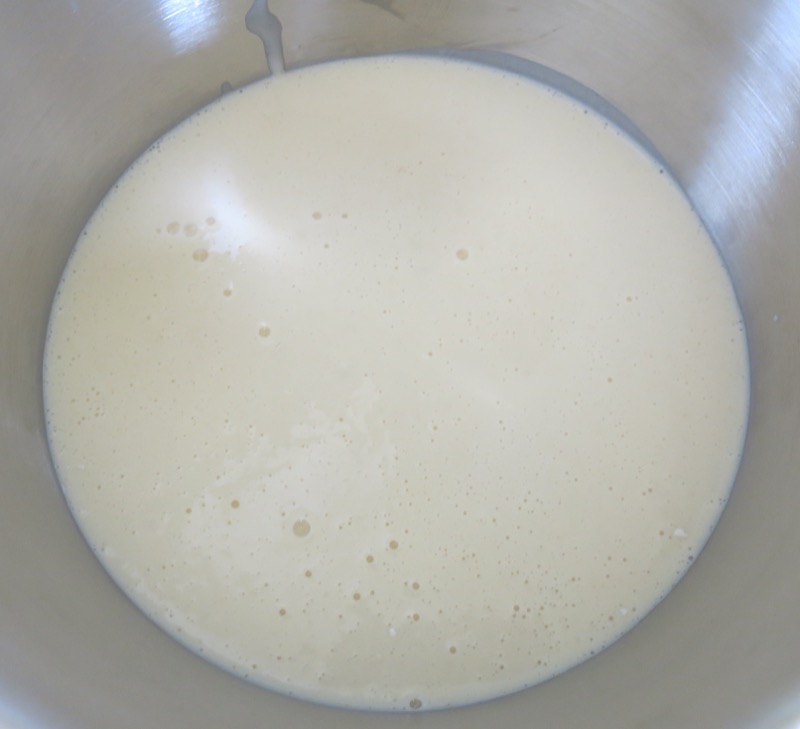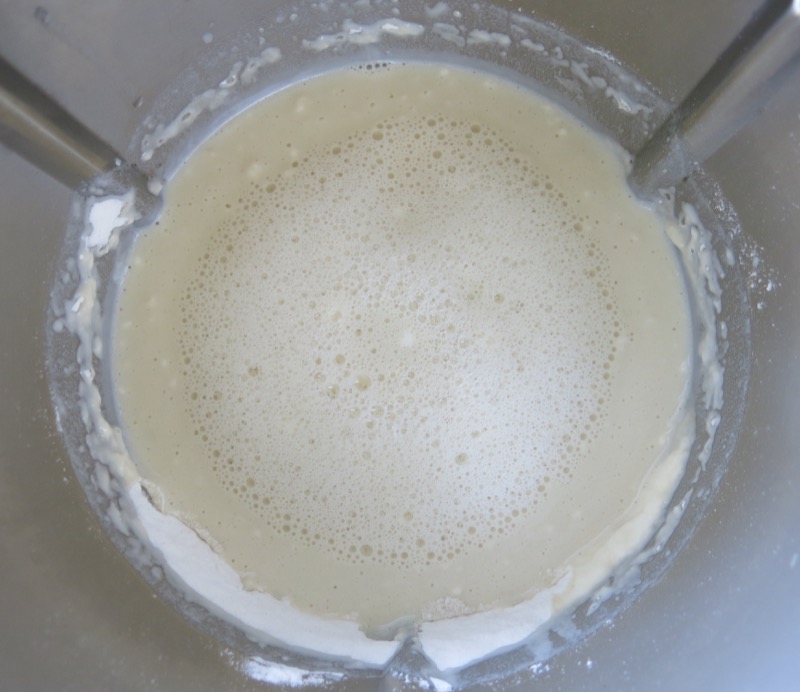 Two cups or 250 grams of flour was mixed in, just as mom had done. At this point, she added her yeast mixture. Mine is already inside the batter.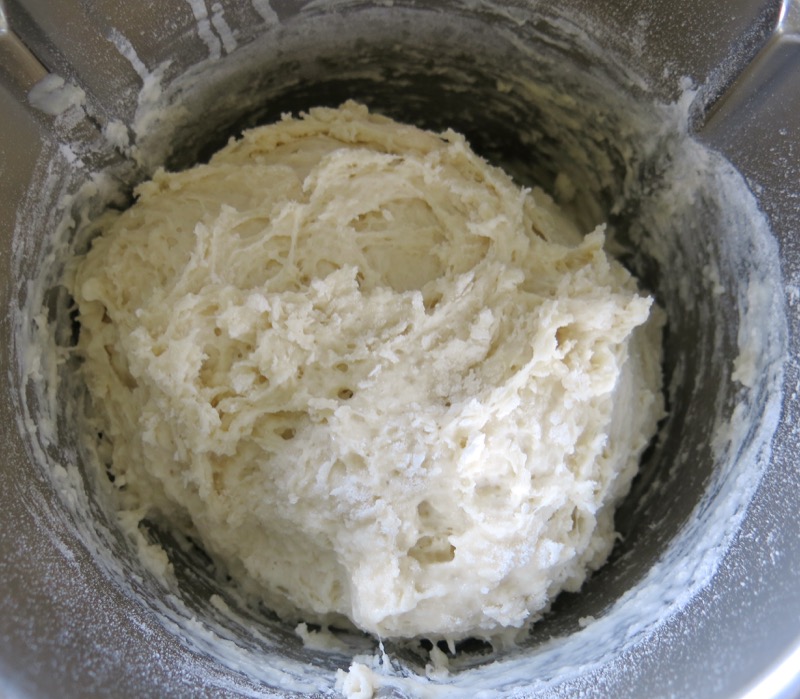 The remaining 4 cups of flour or 500 grams were added to the bowl, and combined until a sticky ball formed. This is exactly where mom was at when she turned her sticky dough ball on the counter to knead. The beauty of the Thermomix is everything has happened in the one bowl and now the kneading begins. No muss. No fuss. No blood, sweat and tears – but gorgeous dough made from the best of ingredients, completely from scratch, in my favourite kitchen machine, in one fifth of the time. It took me 4 minutes to get the dough to this stage. It took mom well over 20 minutes and there was considerable clean up after.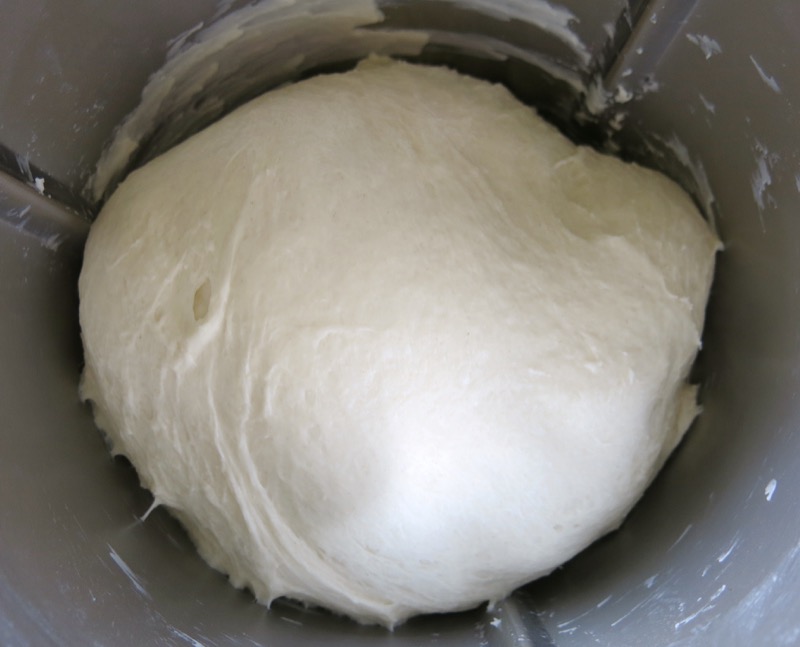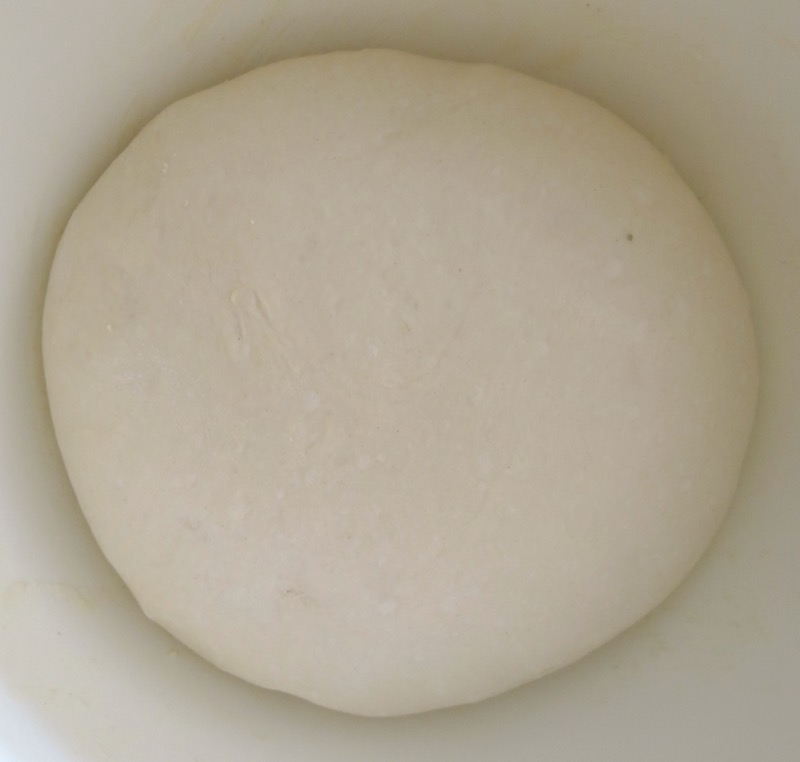 My dough is above; hers, below.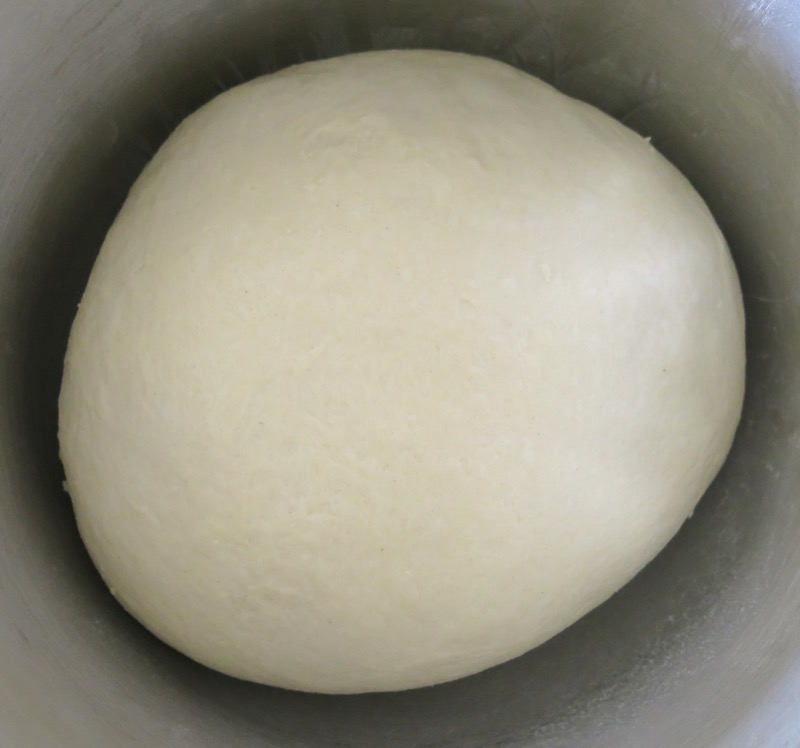 As soft as a baby's bottom, both of them.
Forming Canadian Prairie Dinner Buns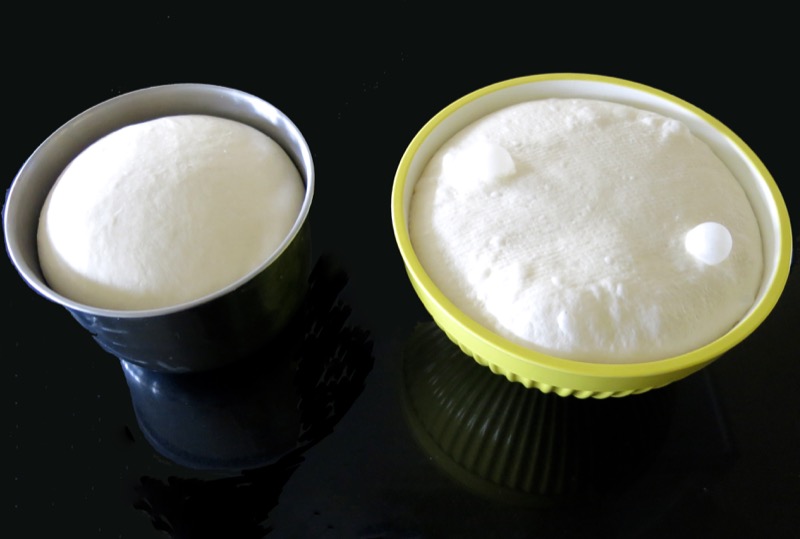 My dough, on the right, above, proofed considerably longer than mom's, which is obvious as it is bubbling on the surface. However, both doughs are absolutely gorgeous. "So alive!", Richard Bertinet would say. Oh, don't get me wrong. I thrive on making dough by hand. There is nothing more gratifying to a prairie girl and I am truly "old school". I believe every student should know very well how to do Math by hand before being given a calculator. That isn't happening in our school system anymore, and it certainly isn't happening in our home kitchens. So, if those providing the food on the table for our Canadian families are not going to learn to make bread by hand, they certainly can make it from scratch with a Thermomix machine. Effortlessly. Both of my daughters have one, thus the translation of this recipe. Each of them can now follow the Thermomix instructions and make mom's gorgeous Canadian Prairie Dinner Buns on their own.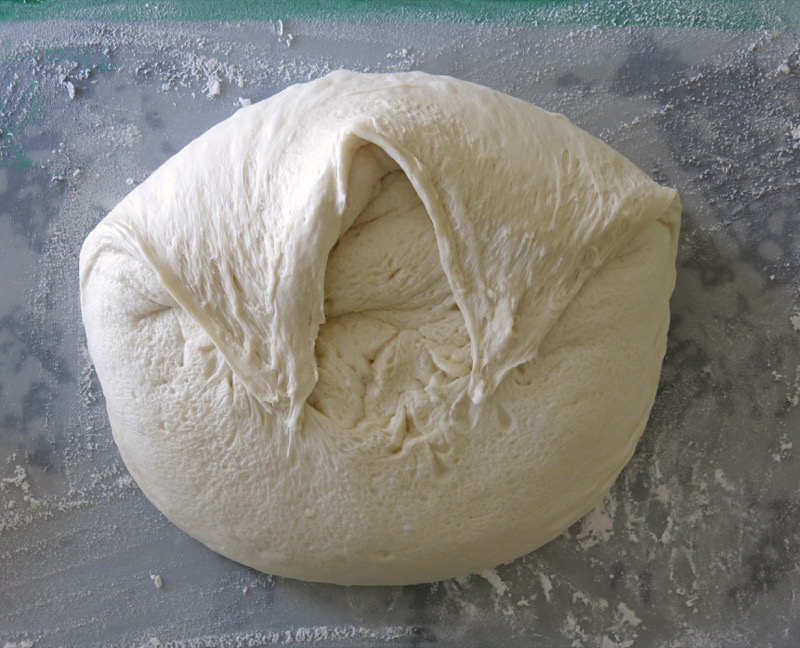 My dough, above, and mom's below. Hers plopped out perfectly. Mine almost did!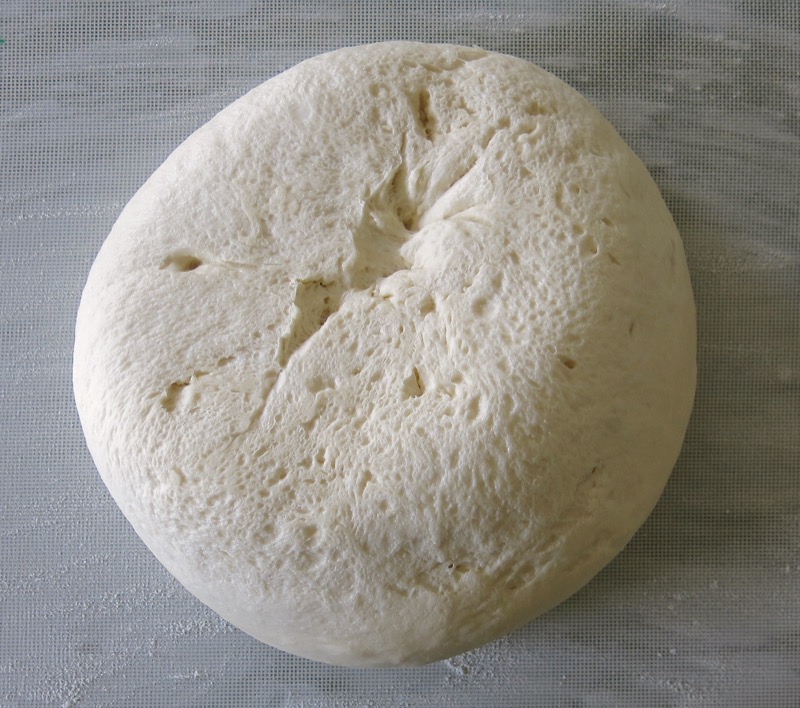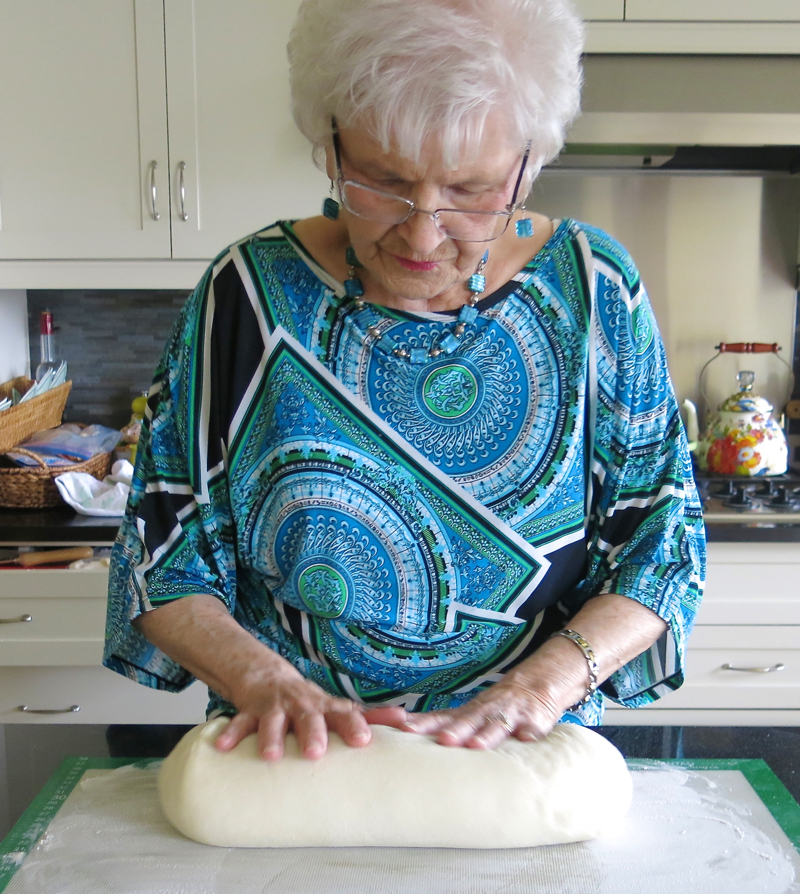 She folded her dough on top of itself by thirds: one third over into the middle, the other third on top of those two layers.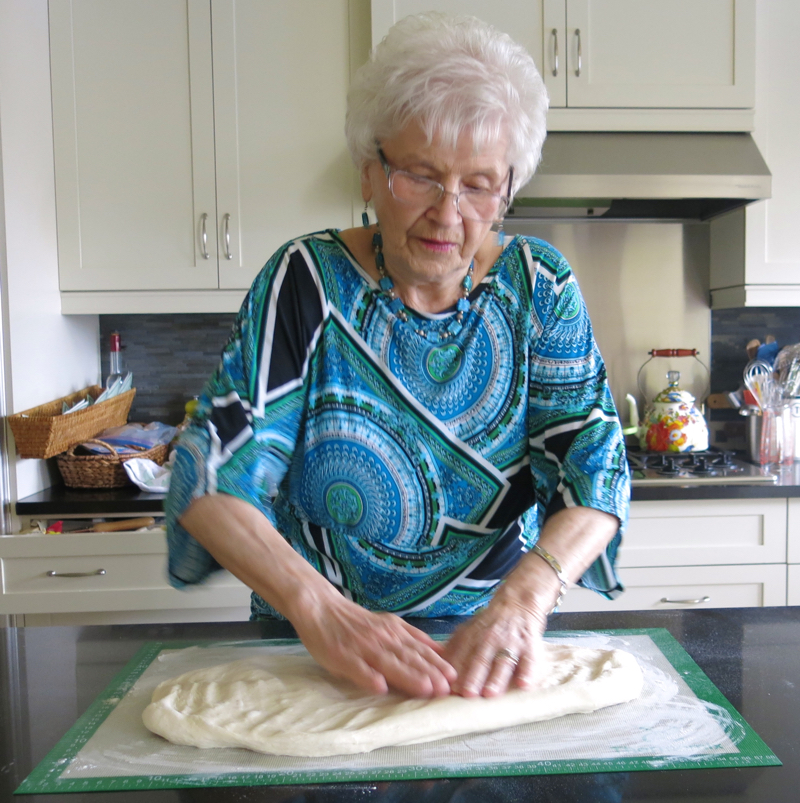 She then began pressing her hands flat on the dough to make a rectangle to cut the buns from. I did do the same thing as she did with my dough to honour the process and to be sure to get the same result.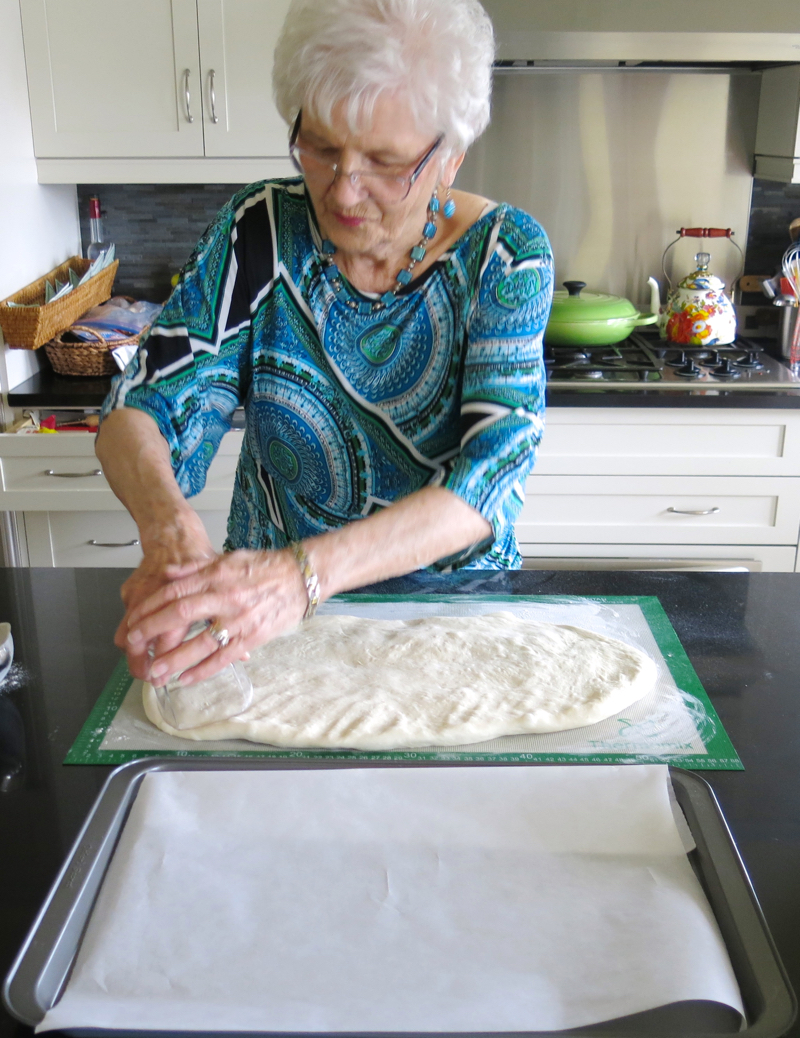 We all live a good sized dinner bun, so she used a glass with a large circumference. I used the identical glass on my buns.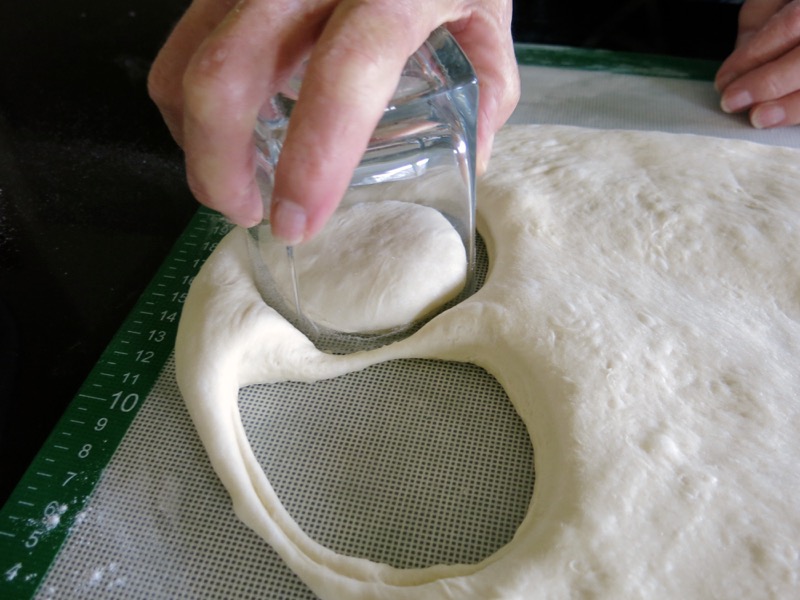 Yet, my buns were much rounder and larger than hers. She simply pushed the glass into the dough, yet I did what she had taught me so many years ago. I pushed a side of the glass into the dough and then pushed that inward to capture a larger portion of dough within each cut. She didn't remember doing that until I showed her.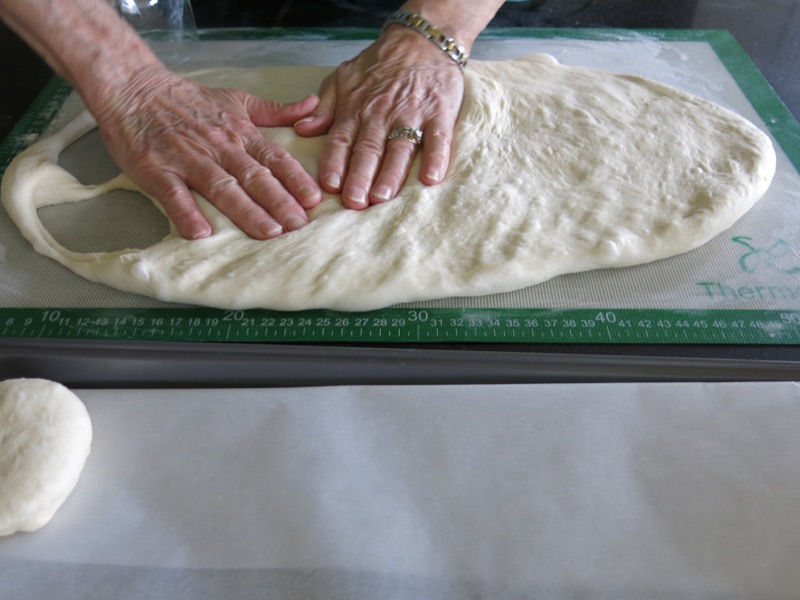 She would press the dough regularly between cutting circles to maintain a consistent height of almost an inch, I would say. Thick.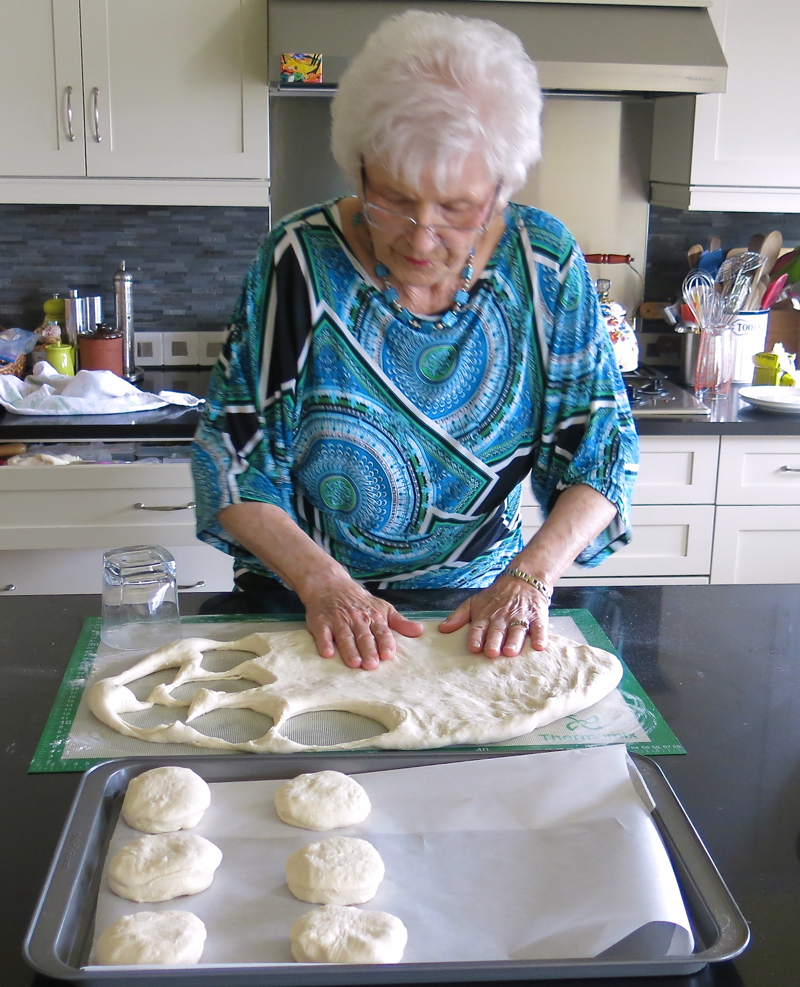 Cutting circles in the dough for the buns is likely considered blasphemy to a French Bread Baker. There is a process used to shape each specific bun and none are simply cut out like this. Yet, this process is what creates the texture and shape we grew to love on the Canadian Prairies. Sadly, so few in the last two generations have even experienced this dinner bun. Once a staple at every family holiday meal, church dinners and family reunion picnics, bags of buns from the grocery store have now replaced this noble Canadian prairie dinner bun.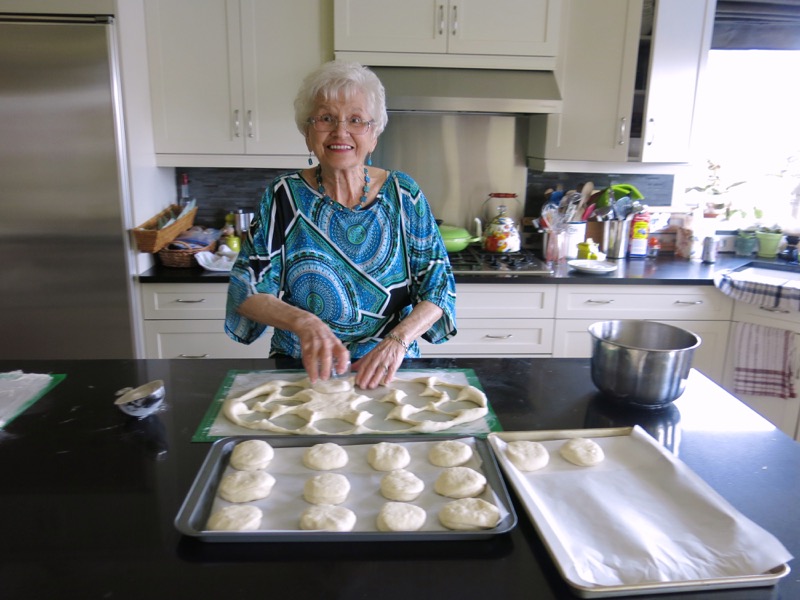 The work in the kitchen is not the same now either. This day of bread making was deeply gratifying for mom and I.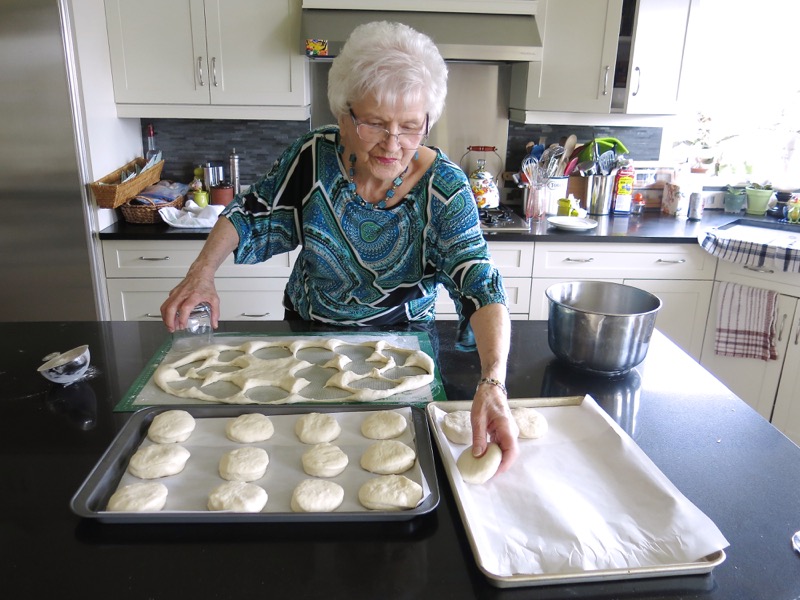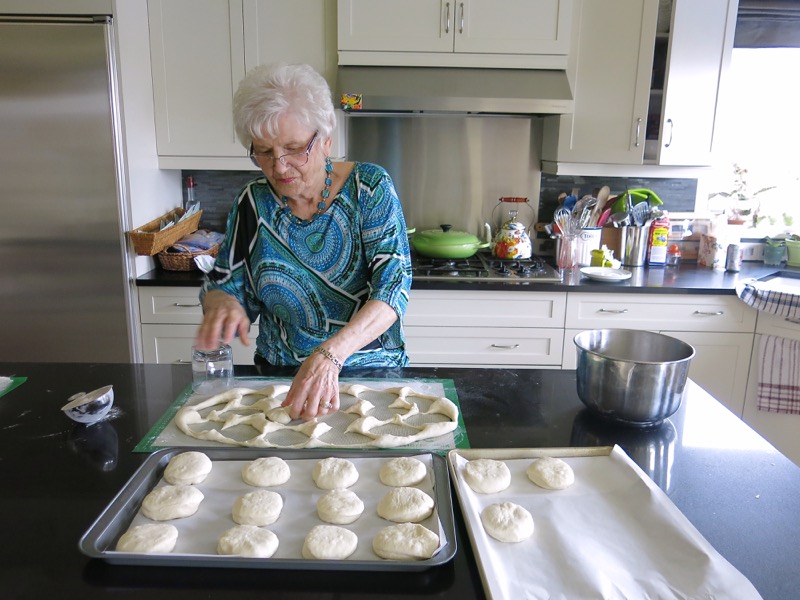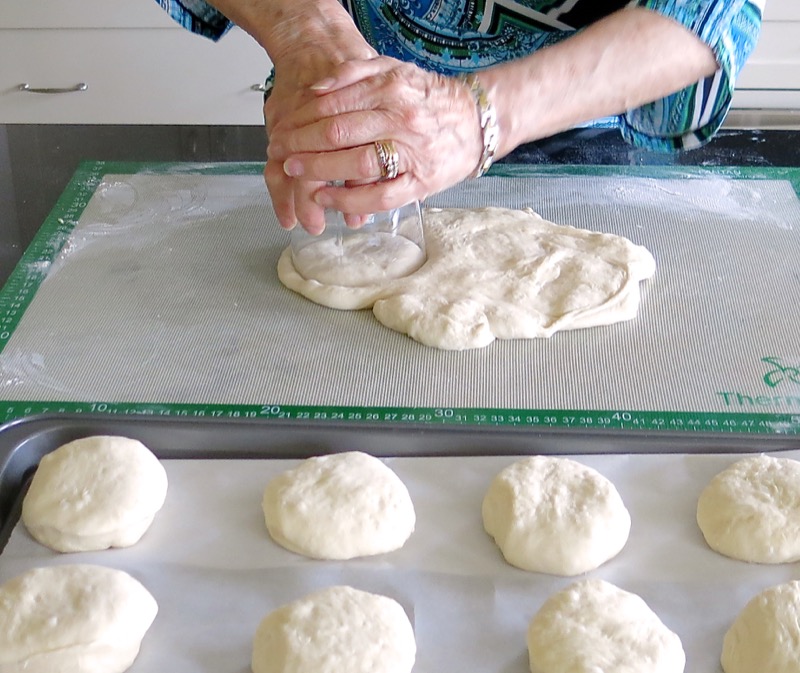 Below, my dough.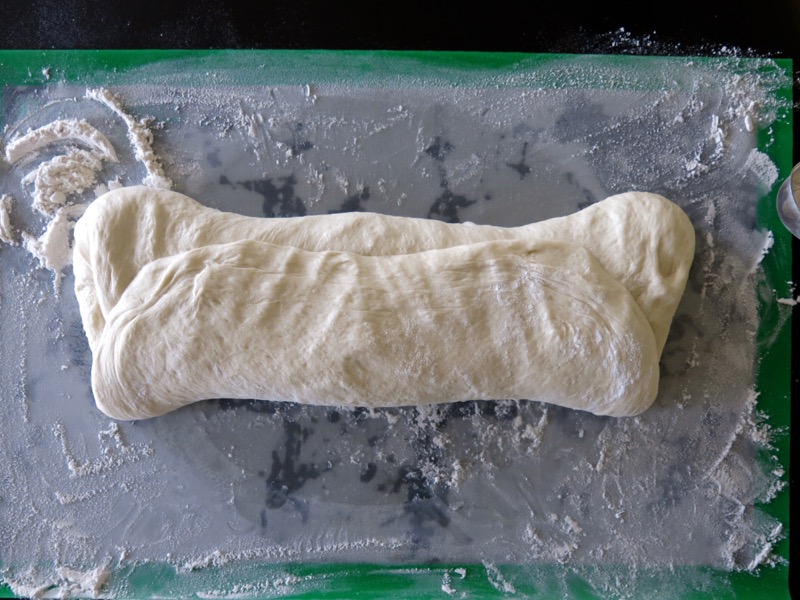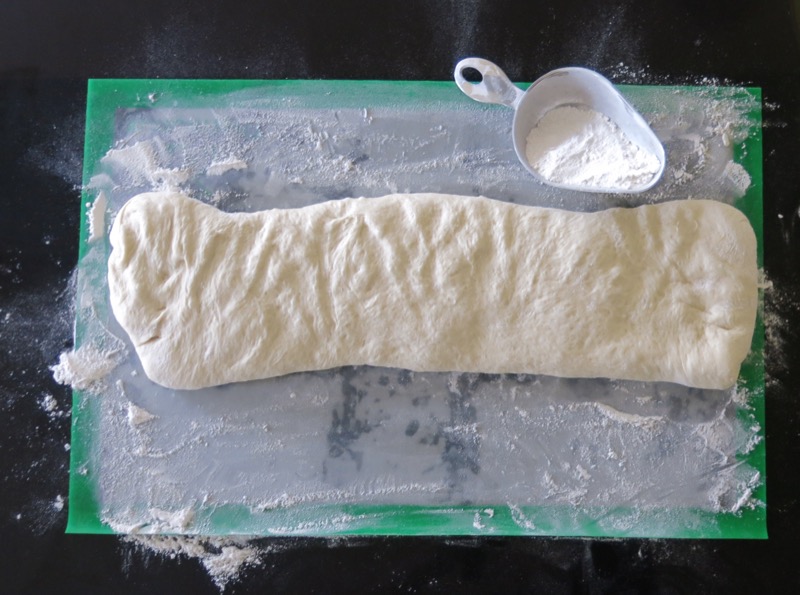 Evidence that I did as my mommy showed me.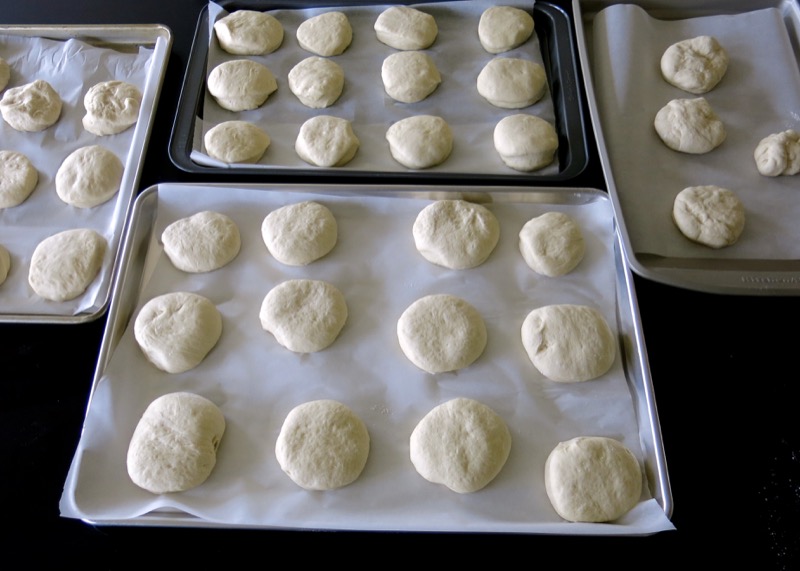 Our buns now need about 30-40 more minutes to proof before baking.
Proofing and Baking Canadian Prairie Dinner Buns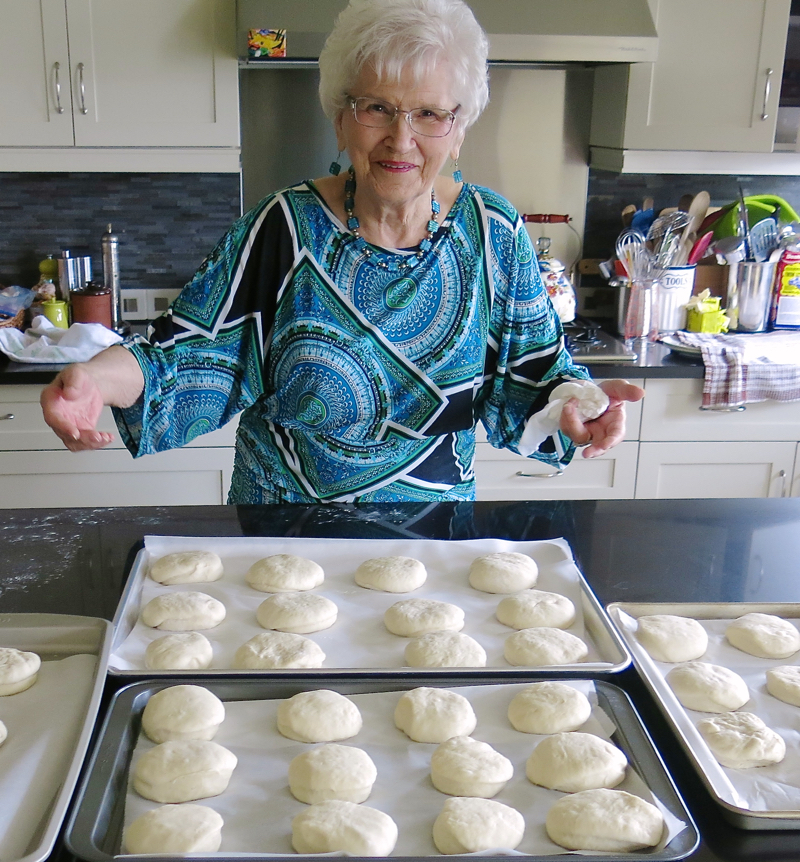 Voilá!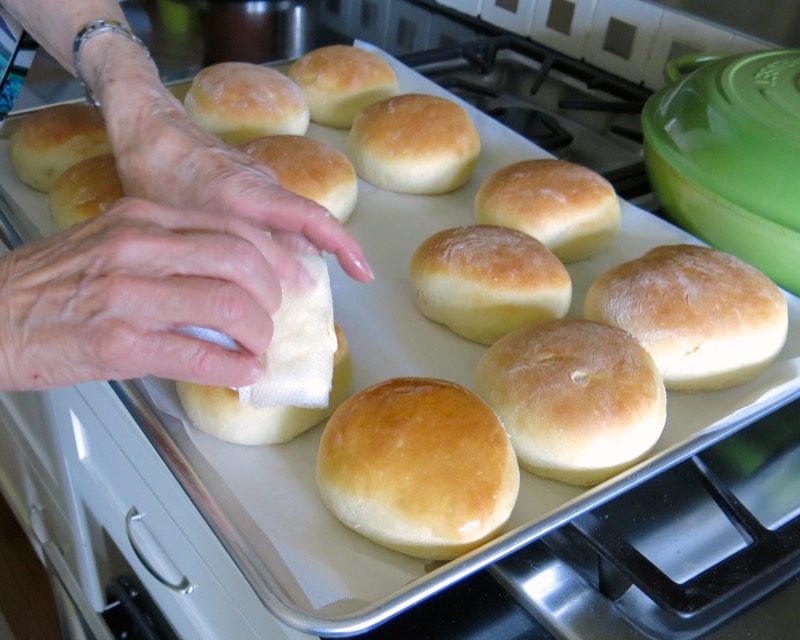 Mmmm! Hot out of a mid-temperature 350ºF oven, mom smears salty butter on a paper towel (it used to be done using waxed paper) and butters the top of each hot bun which reveals a very appealing and delectable matte sheen. Interestingly, most breads, the world over, are baked at the highest temperature one can achieve to get a crunchy of chewy crust and a fast last rise. Not these buns. Lower and slower. Sounds like the prairies to me!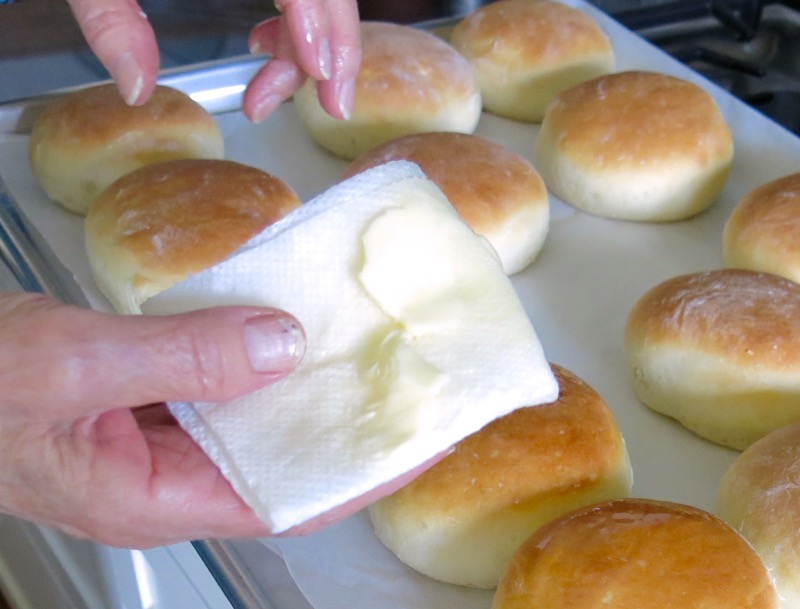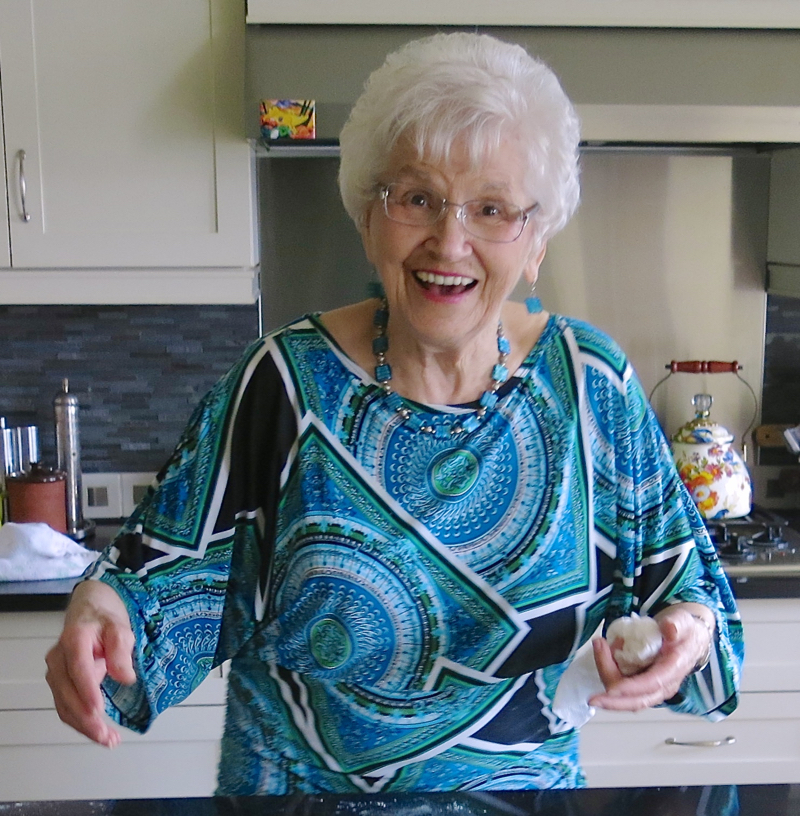 "That was fun! Well done!"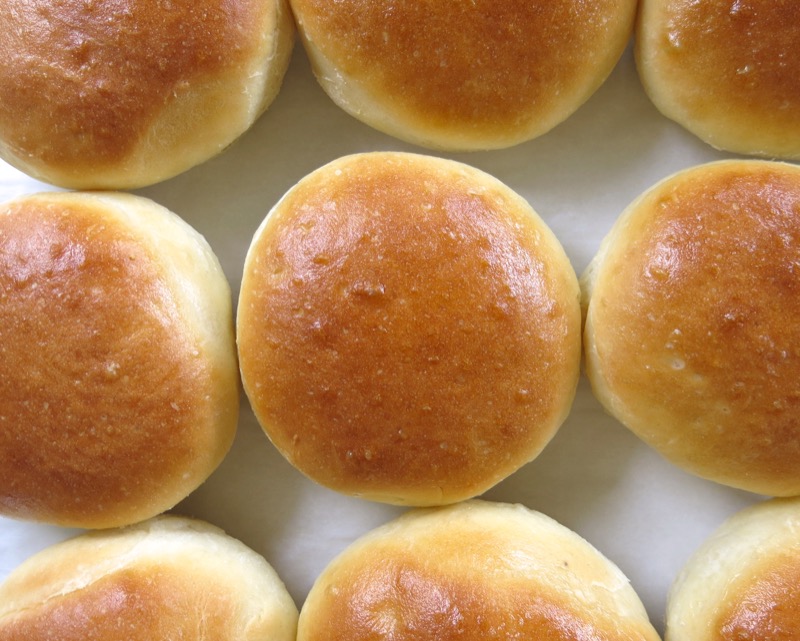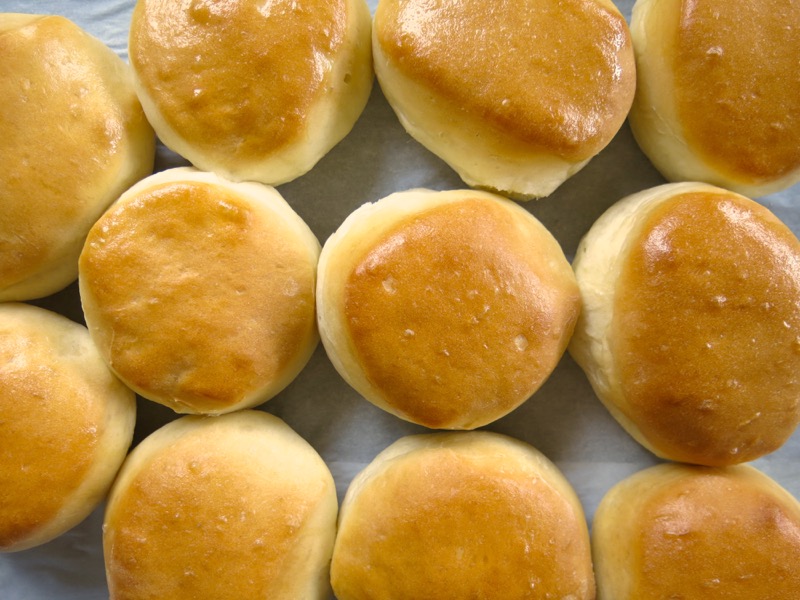 Whose are whose? They do look different. Mine looked like hers always used to, so I was doubly proud of myself for remembering her tip from so many years ago (to pull more dough into the bun under the glass when cutting each bun).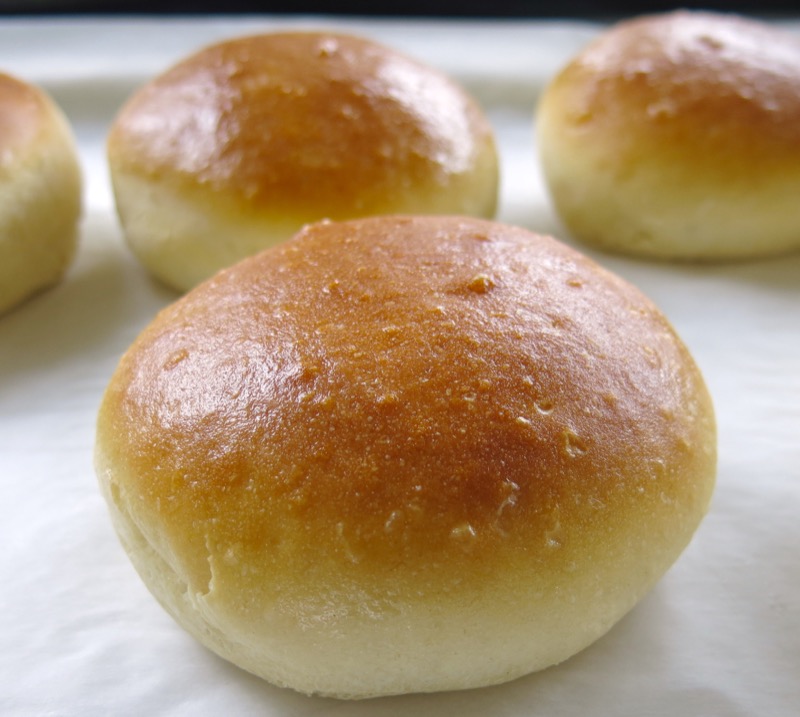 The Thermomix bun, above, made by moi.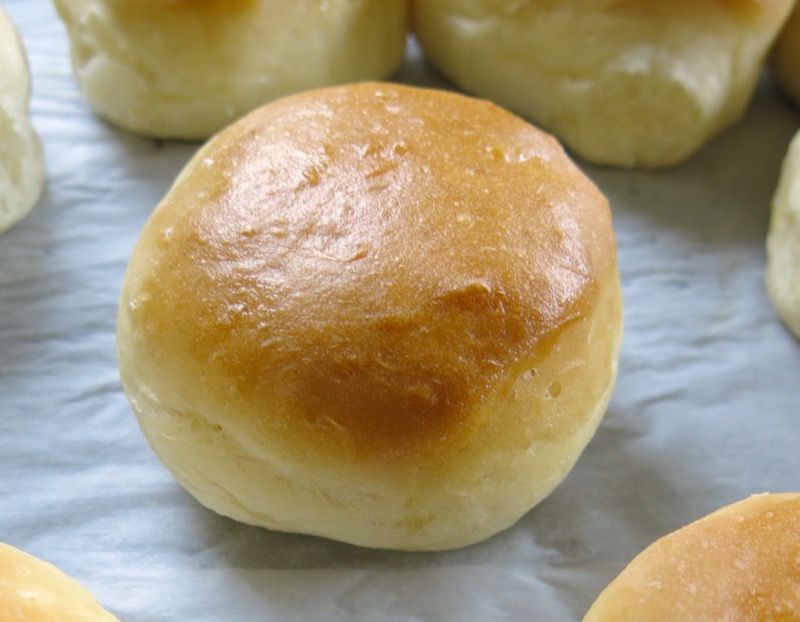 The Canadian Prairie Dinner Bun, above, made by the learned hand of my mom, Helen McKinney.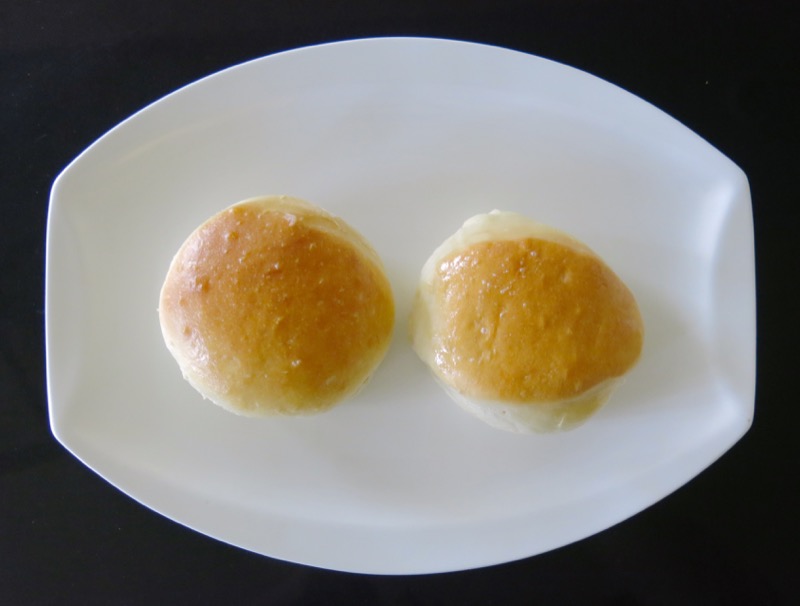 Mine to the left, above; hers, to the right.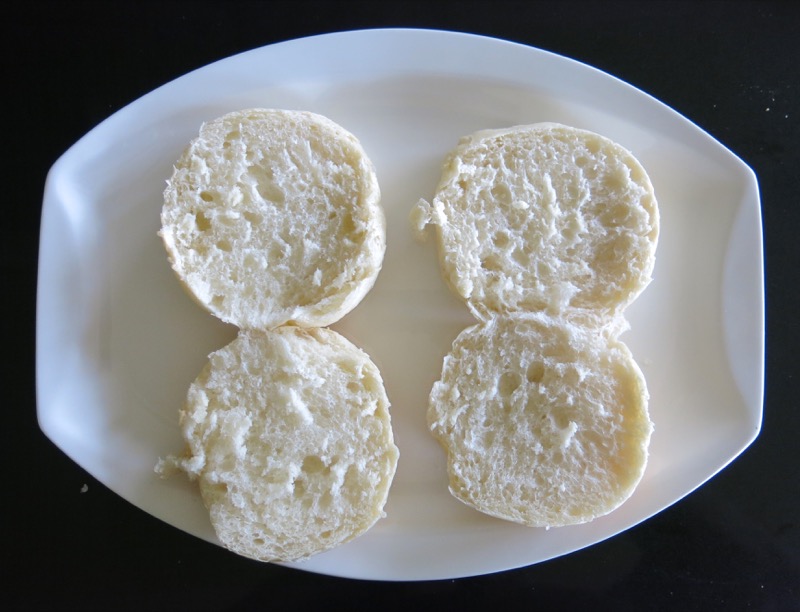 I can never resist burying my nose into my bread. Ah! The aroma! Yeast, salt… home. Of all smells, bread. Of all tastes, salt.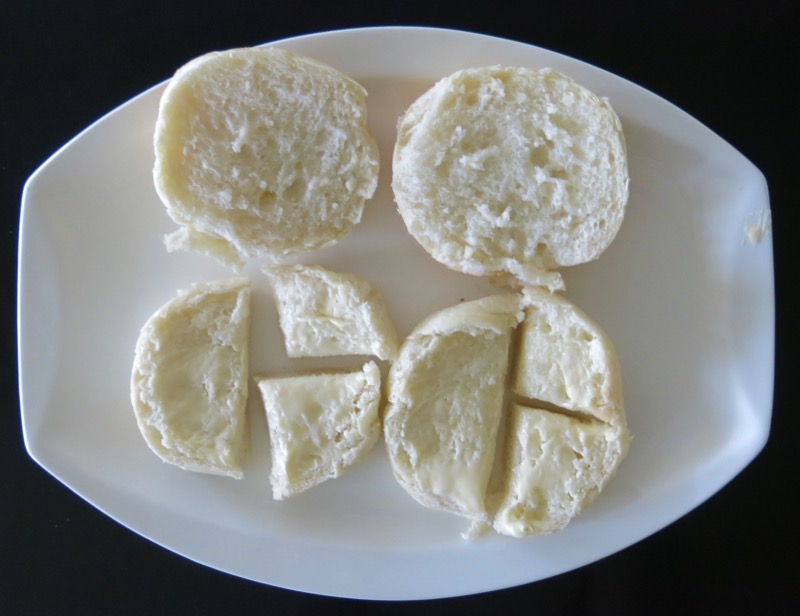 And the blind tasting for mom, and then for me.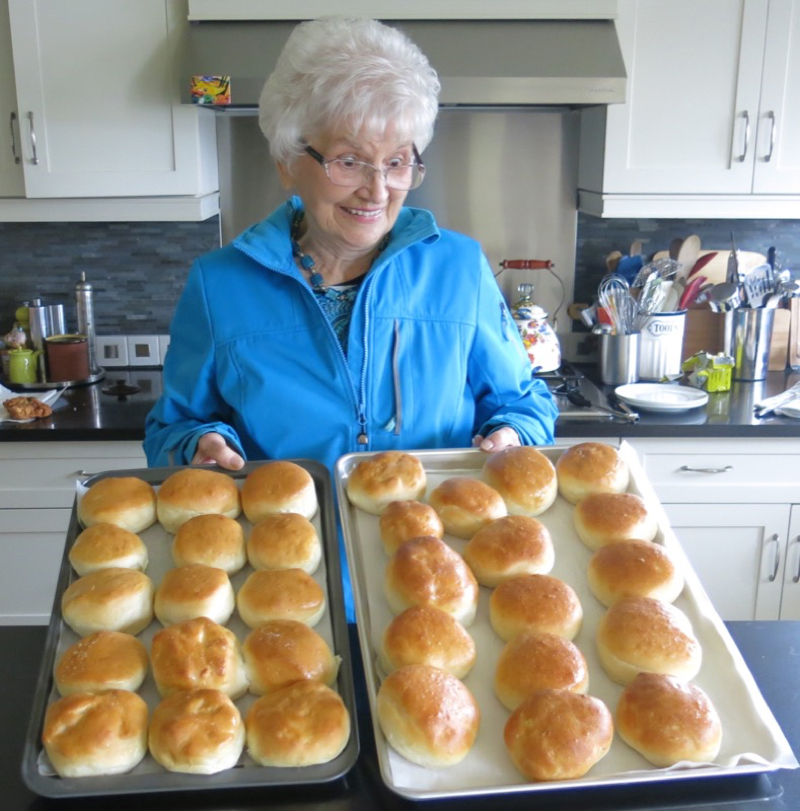 "Wheeee!! I no longer have to make buns!!!" Yes, mom. As if you don't ever want to make buns again. Or angel food cakes, or hot crossed buns, or peanut brittle, meatloaf, your famous chocolate cake, apple pies, fried chicken… should I go on? Who do you think you are kidding?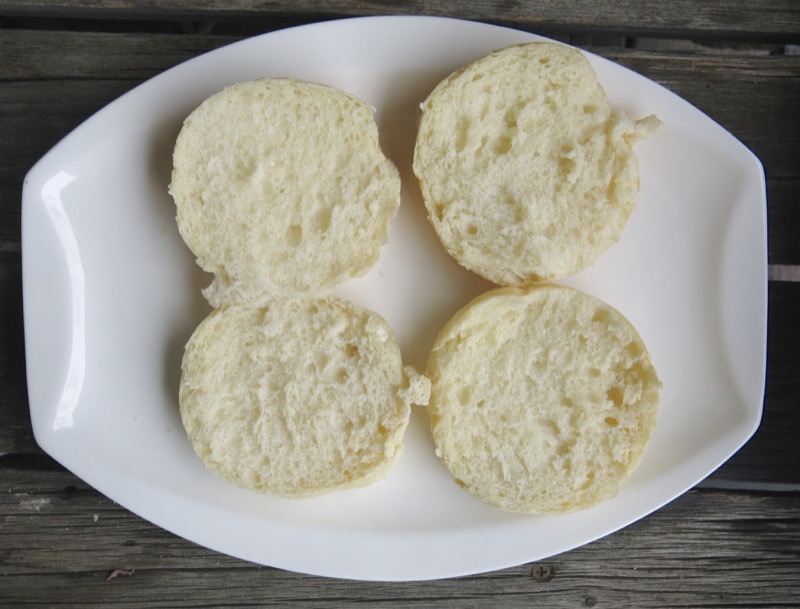 Oh, what a day it was, it really was! Now, if you make them, you know the drill! Chime in! Tell us about it! Inquiring minds want to know (every little detail)!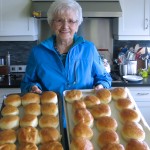 Canadian Prairie DInner Buns


This recipe has been with my mom since 1950 given to her by her good friend Pat. Aunty Pat was known for her excellent cooking and making the best buns in town. This is the classic homemade Canadian prairie dinner bun recipe. Helen McKinney's Canadian Prairie Dinner Buns: mom's classic recipe served at picnics and potlucks and Sunday and church dinners now and when I was a child.
Total Time
2
hours
15
minutes
Ingredients
1

gently heaping tablespoon granulated yeast

(not instant)

1/2

cup

tepid water

1

teaspoon

sugar

1/4

cup

butter

, room temperature

1

teaspoon

salt

1/4

cup

sugar

1

egg

2

cups

tepid milk

2

cups

flour

3 1/2

cups

flour

1/2

cups

flour
Ingredients for the Thermomix
10

grams

granulated yeast

(not instant)

100

grams

tepid water

5

grams

sugar

60

grams

butter

, room temperature

5

grams

salt

60

grams

sugar

1

egg

500

grams

milk

250

grams

flour

500

grams

flour
Instructions
Instructions for Making the Dough
Place the first three ingredients in a bowl; let proof 15 minutes

Place the next four ingredients (butter, sugar, salt and egg) in mixing bowl; beat to combine well

Heat the milk to room temperature in the microwave; add to bowl and whisk to combine

Add 3 cups of flour one at a time; whisking to combine with the mixer until batter leaves ribbon in the bowl (the batter is beginning to gain substance and a spoonful of it can be seen when poured back onto the surface of it for a moment or two)

Stir the yeast mixture to combine; add it to the flour mixture and whisk to combine well

Remove bowl from mixing stand; continue to fold in remaining 2-21/2 cups of flour by hand with a large spoon until a sticky dough ball has formed

Lightly flour a work surface; place dough onto the work surface and knead until no longer sticky

After kneading for 7-8 minutes; rest for 3-5 minutes

Knead again until you hear popping sounds as the rise in the dough crackles with the knead

Dough will be soft like a baby's bottom and elastic

Butter the bowl; place the dough in the bowl face down, work it a bit and turn it over to proof

Cover with a warm damp cloth and place in a warm place until double in size
Instructions for Making the Buns
Preheat the oven to 375 F

Lightly flour the work surface; turn the risen dough upside down onto the work surface

Fold over onto itself three times; pat it into a rectangle about 12 x 15; dust a large biscuit cutter with flour and cut the buns out of the dough

Please the buns on a parchment covered cookie sheet; let raise until double again )a good 30 minutes)

Bake for 15 minutes until golden brown; remove from oven and gloss tops of each with butter

Cool
Instructions for the Thermomix
Leaving out the yeast, weigh next seven ingredients into the Thermomix bowl (water, sugar, butter, salt, sugar again, egg and milk); combine for 8 minutes at 40 degrees C, speed 2 (this ensures all ingredients are at good proofing temperature)

Weigh in yeast; proof for 3 minutes 40 degrees C, speed 2

Rest for 10 minutes (not really necessary, but a nod to honour those who came before and nice to watch the batter grow)

Weigh 250 grams of flour into the TM bowl; combine for 2 minutes at 40C speed 2

Weigh remaining 500 grams flour into TM bowl; mix until dough forms a ball for 10 seconds, speed 0-4

Knead for 4 minutes

Dough will be soft like a baby's bottom and elastic

Butter the bowl; place the dough in the bowl face down, work it a bit and turn it over to proof

Cover with a warm damp cloth and place in a warm place until double in size

Follow Instructions for Making the Buns above