Four locations in The Hague: a well loved local butcher and charcuterie specialty shop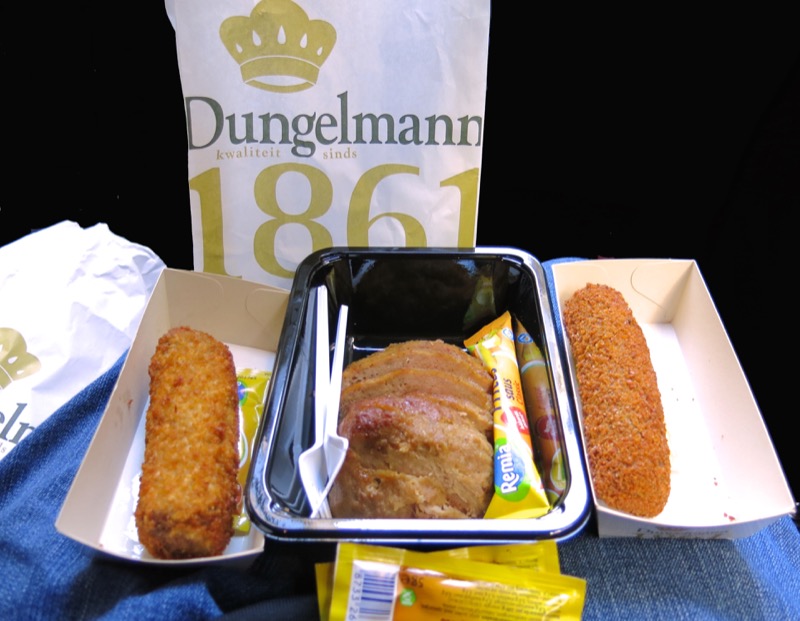 Thank you so much to Kerensa from Bites and Stories who directed us to Dunglemann's! Arriving to The Hague at 1pm from Amsterdam after flying from Edmonton through the night, we were hungry. Not so tired, as this half day would be our only time in The Hague, and ready to take in as much as possible. First, a bite to eat at a highly recommended Dutch food iconic spot: Dunglemann's.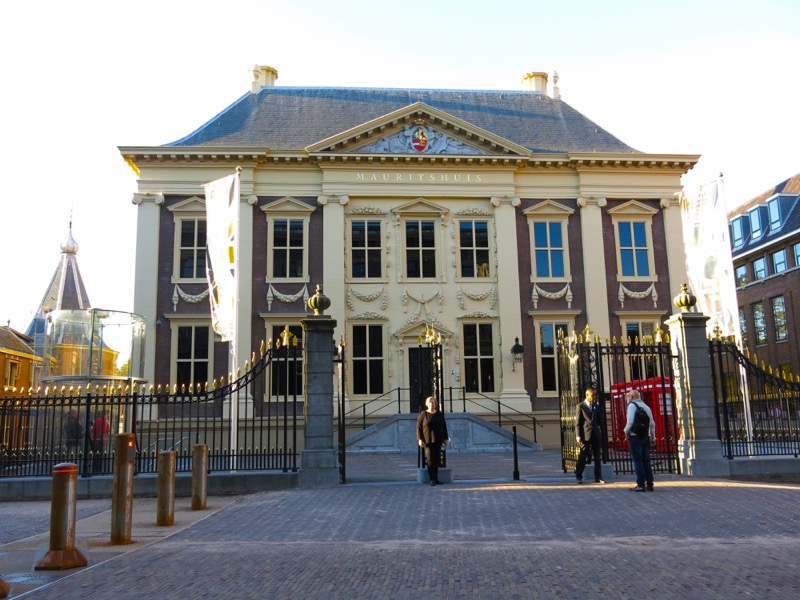 The entire reason we were in The Hague was to see Vermeer's painting, The Girl with the Pearl Earring. We have a copy hanging in our great room over the fireplace. Vermeer is our favourite of our favourite group of Artists: the Flemish Artists. We have been to the Rijks Museum twice before, and in the Flemish region once before, but had missed some major works of art that this trip was designed to cover. But, food, of course, is always a part of any holiday, and Kerensa had said that the original Dunglemann's at Hoogstraat 34 would be the one to stop at.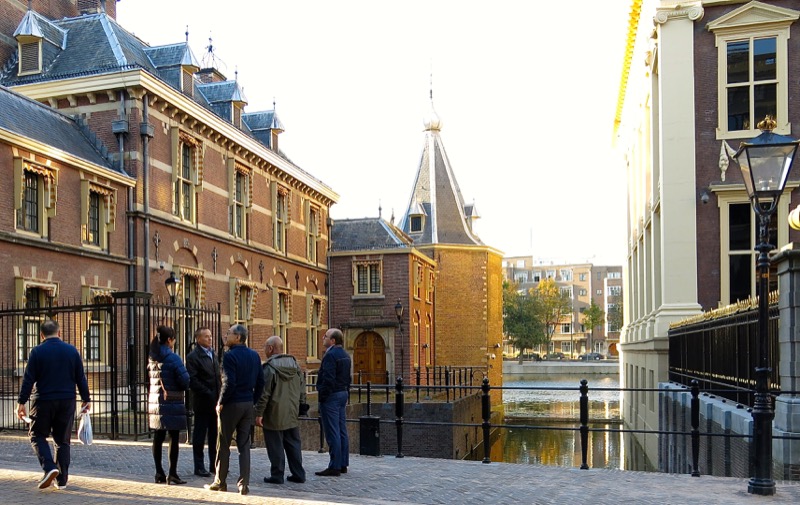 We arrived. Our room was not yet ready, so plugged Hoogstraat 34 into our GPS and we were off. What a gorgeous and glorious city The Hague is. Every time we plan a brief stay in a place, we find ourselves coming back. The Hague is no exception. Though we did very well in our half day, there is so much more to see and do that we will be back. It is a very short drive from the Amsterdam airport, a little more than 30 minutes.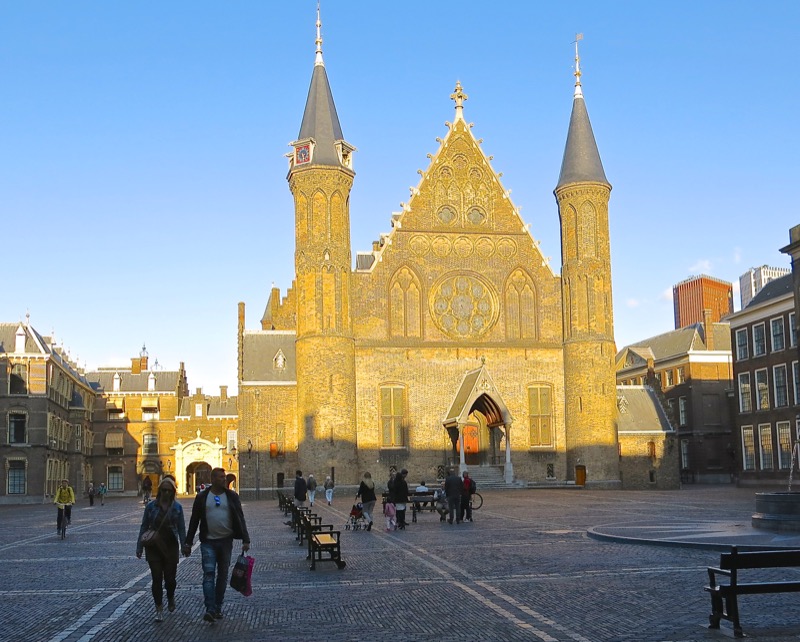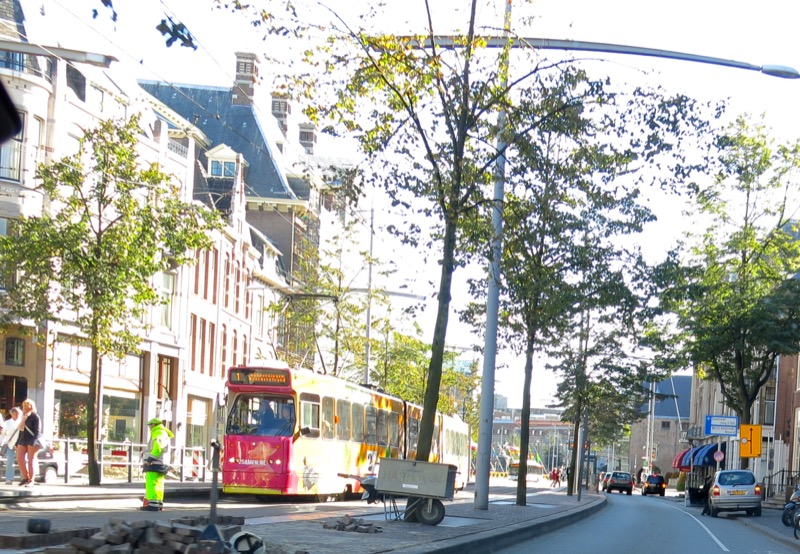 Ah! We realized the Hoogstraat location was on a pedestrian street. No parking or driving anywhere near the area. Hmmm….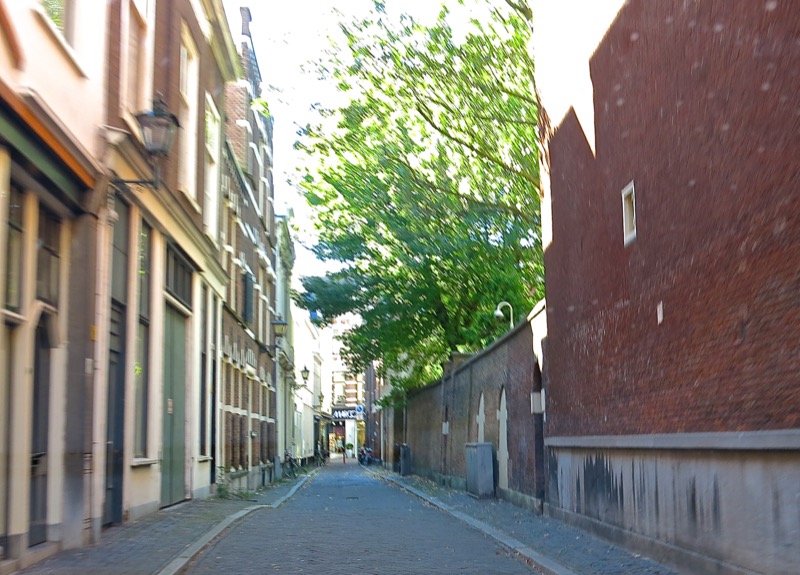 My trusty husband is not called the SerboCharger for nothing! He is also a super navigator and can get from point A to point B in any foreign city. He turned down a very narrow one way street, and said, "Well, I know it is on the pedestrian street a block and a half that way."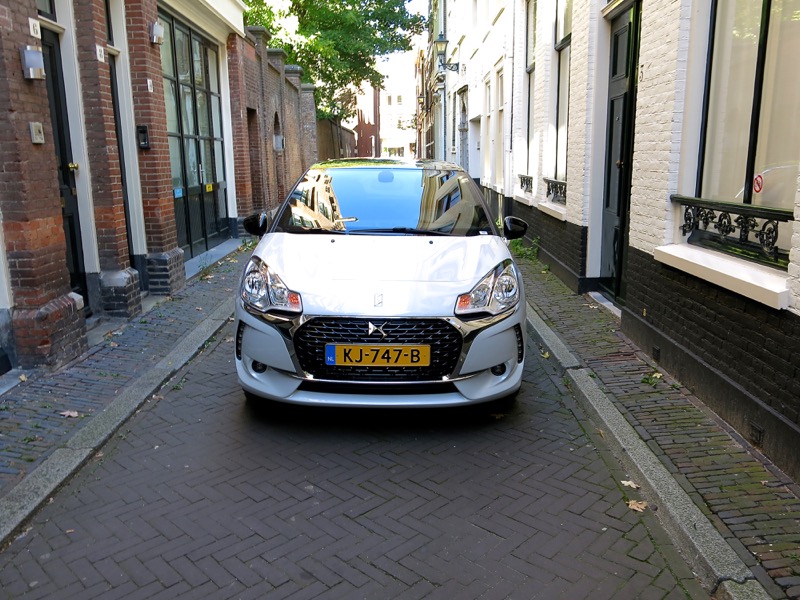 By this time, with all the one way roads that confused the heck out of both of us, we had agreed to get lunch to take out. I did know there was a stand up counter there, but obviously, without a place to park, best to take the food back to the car, if possible. "OK. I will see if I can find it, and be right back!"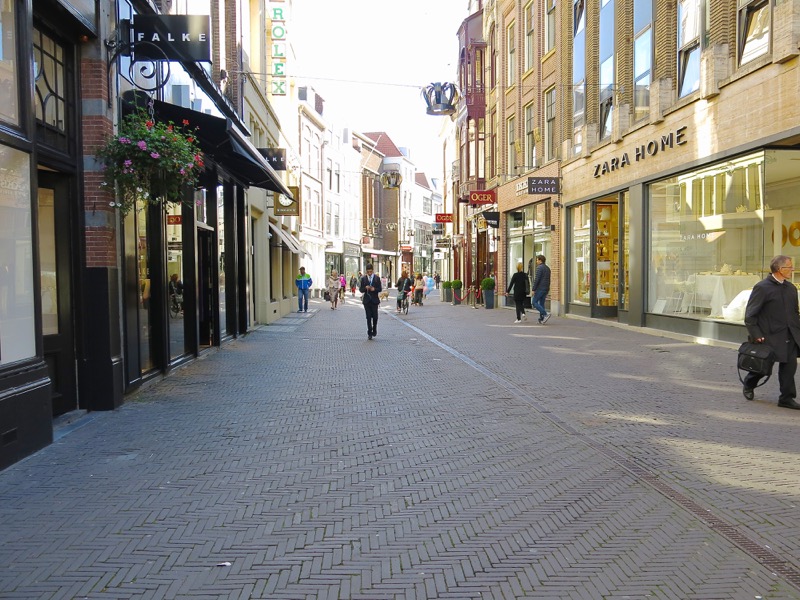 The pedestrian street was right in front of us. Gorgeous. Clean. Beautiful shops everywhere. View above to the left.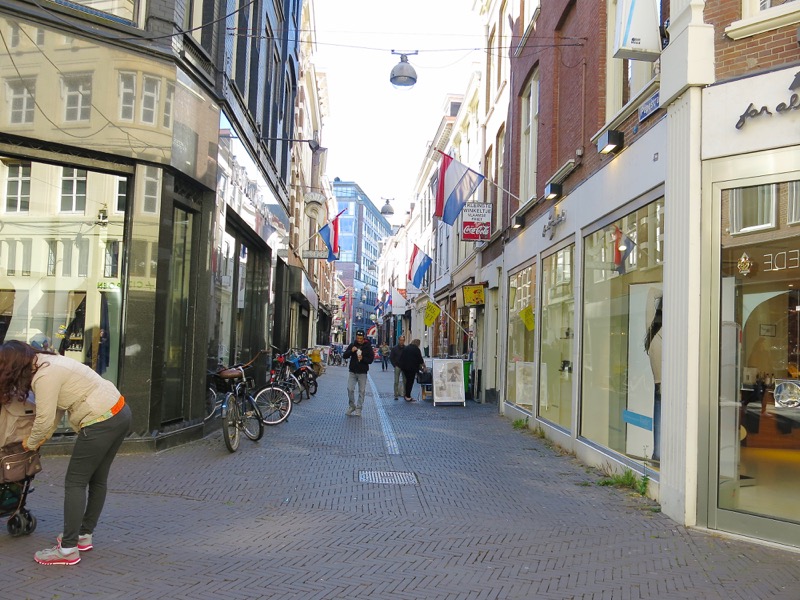 …and down a little intersection as I passed by…. definitely reminding me of the Amsterdam pedestrian shopping area. Time. No time.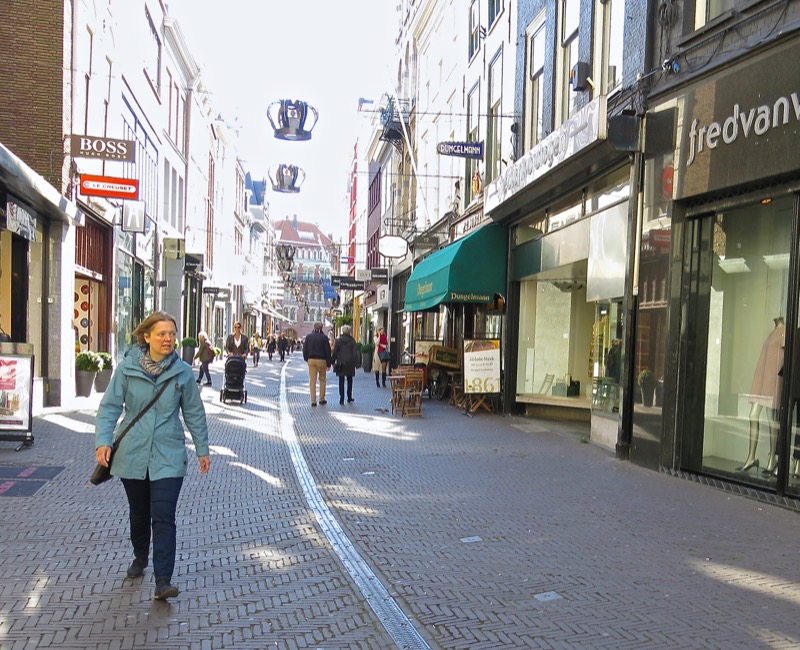 And, right away, I saw a green awning. Could that be it?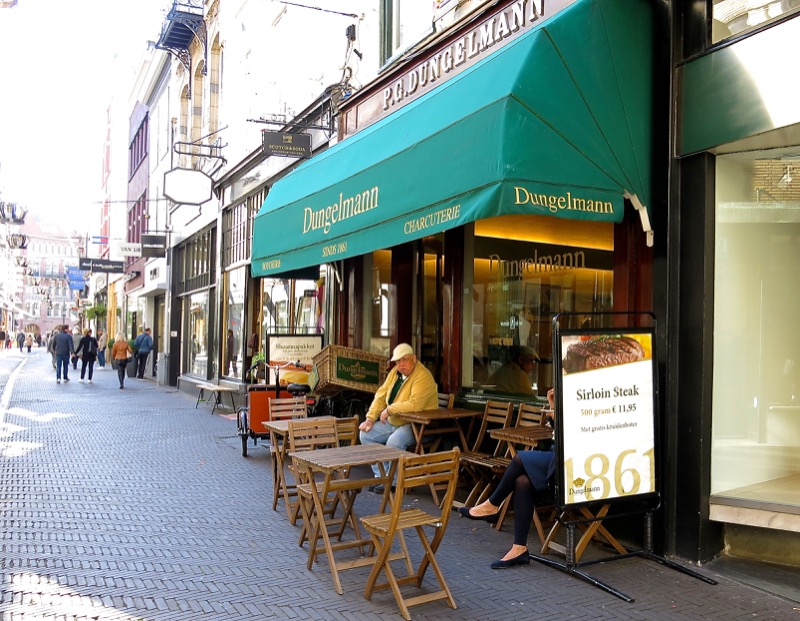 Yes! This shop has been in this same spot since 1861. Now if that doesn't qualify for being a culinary institution in The Hague, nothing does. I was excited.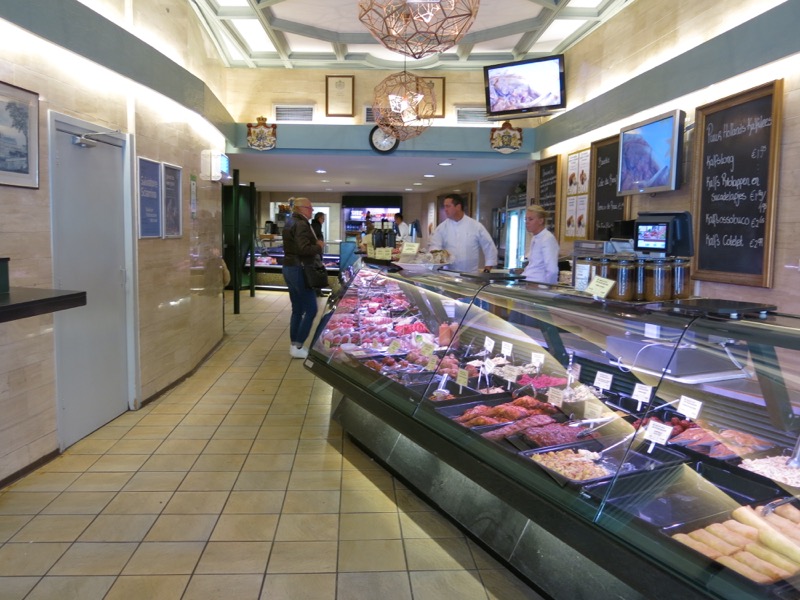 I did not expect such a long meat counter, and so wished I had time to look at all of the cuts and types of prepared meals offered. Time.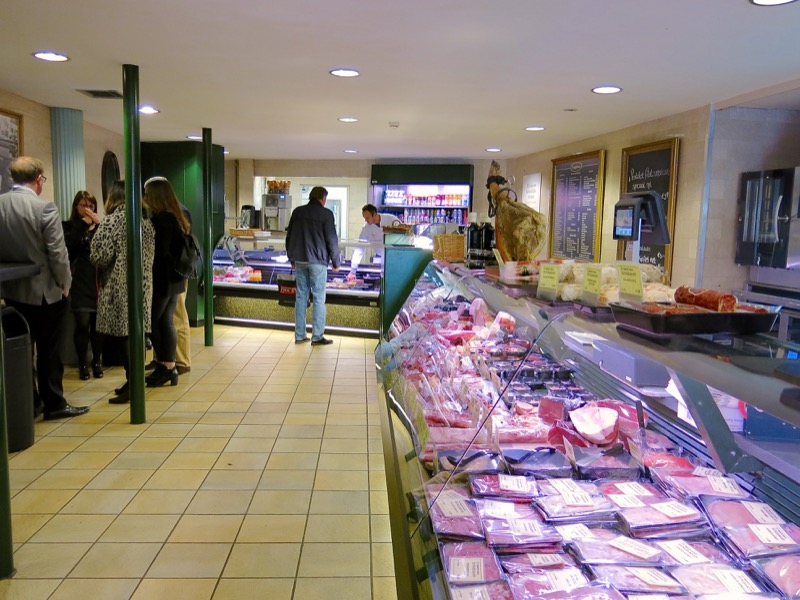 A small group was standing at the back of the store aside a little bar enjoying some bites.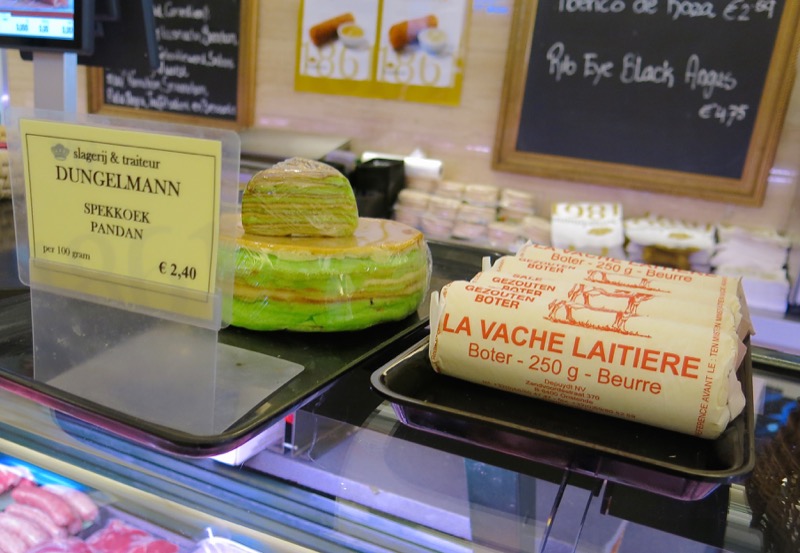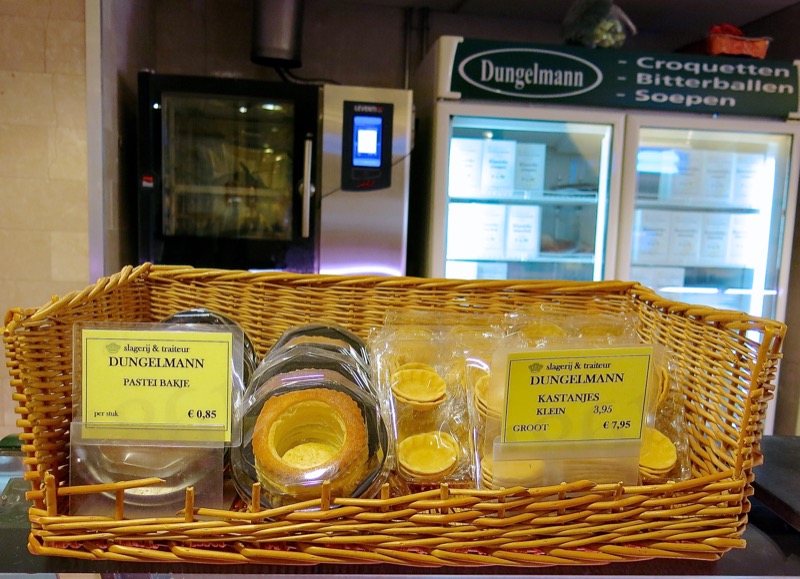 I found my way to a fellow at the back named Niles, distracted by everything I was seeing enroute.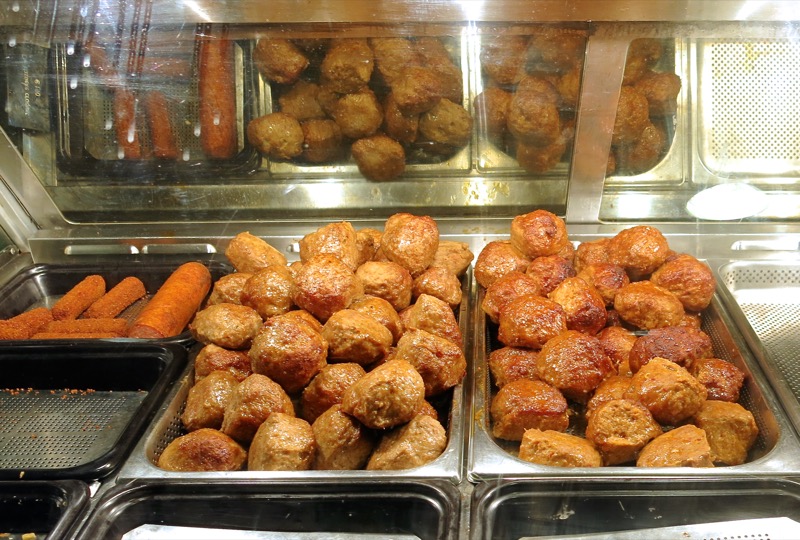 I knew I was buying the traditional croquette and the new "Dunglemann croquettes". The agent at the hotel told us that he stops by for their meatball sandwiches which they are also famous for. Ah!! I had read that they were famous for their 2 croquettes and their chopped meat ball, yet I hadn't put together that it was the meatball they were also famous for. It is.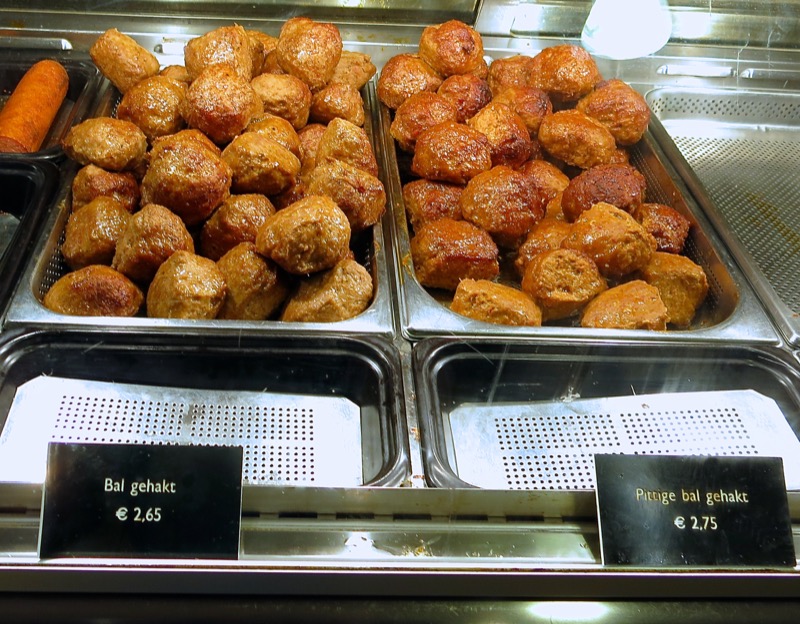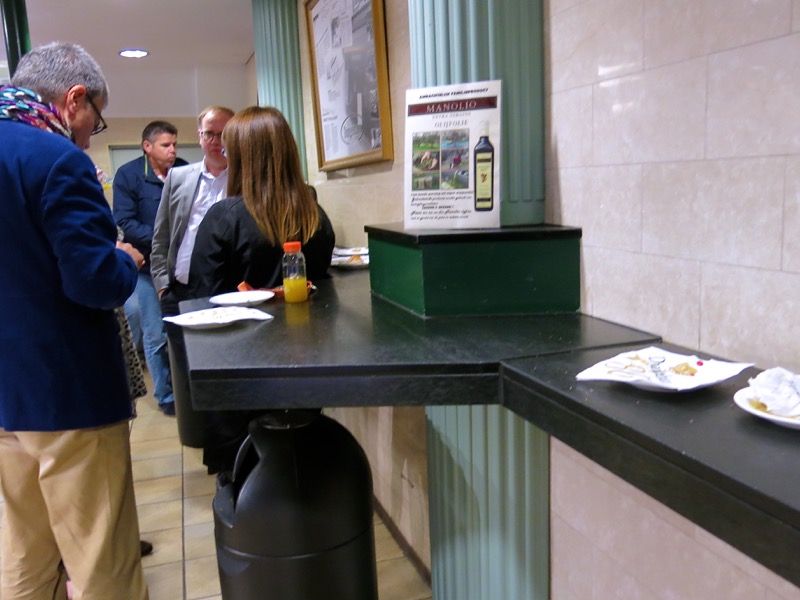 They offer spicy and regular. Regular is more popular. Both are huge. Bigger than my fist. I have seem large Italian meatballs, but these were bigger. I had a completely different image in mind for a meatball sandwich.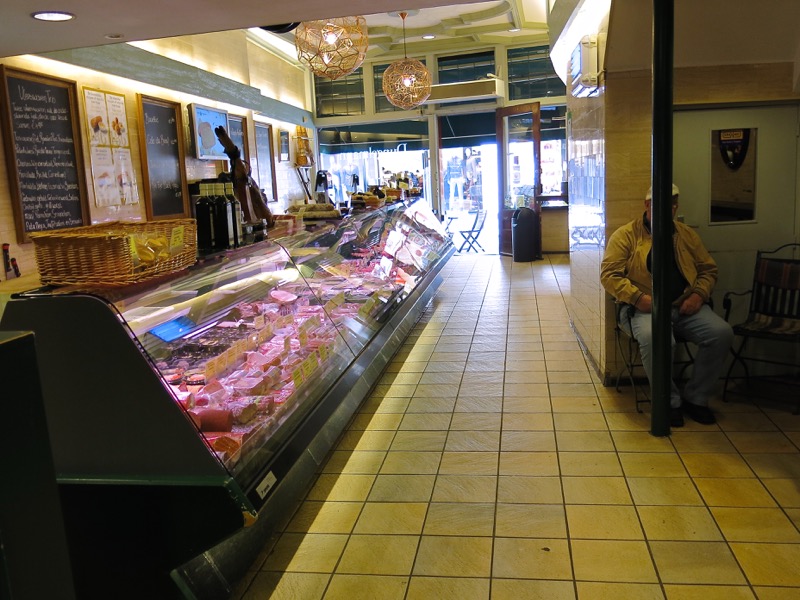 Niles answered my curious questions, and assured me I was buying their three "most famous" items, and he would have liked to have told me a lot more, but I just did not have the time.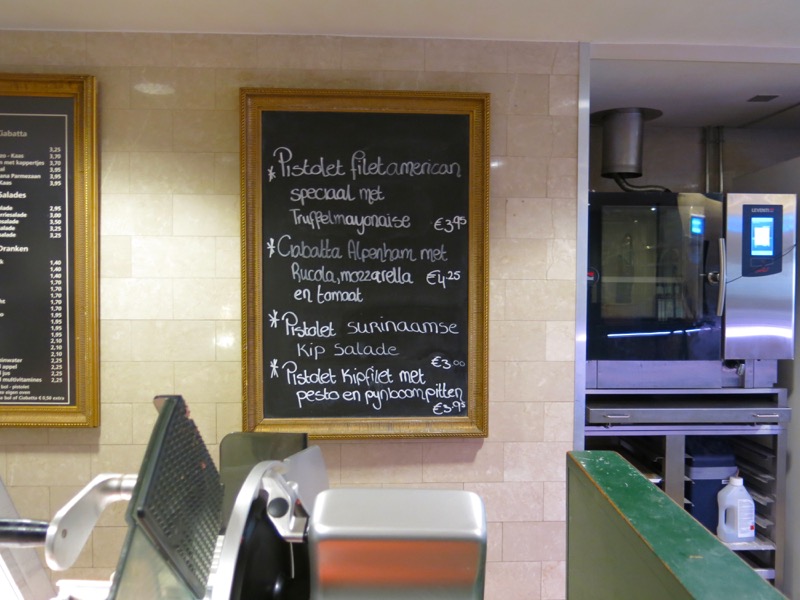 It wasn't long before the croquettes were piping hot and he had the bag of food ready for me. "Cash only, please." Oh, my. I had no cash. "OK, I will be right back." "Where do you need to go?"I explained where my husband was parked and that I would be back within 5 minutes or so, and he looked distressed and perplexed and said to me, "But, your food will be cold! It is not good cold. You must take it now. You must!" I was shocked. "I trust you will bring me back the money. It is most important you eat these croquettes hot."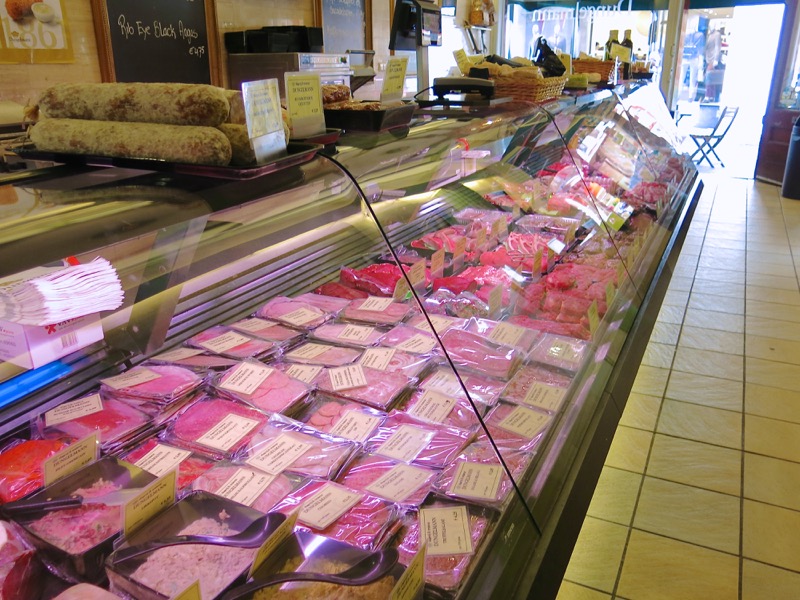 Dumbfounded and deeply touched all at once, I raced back to the car. Explaining to Vanja that I still had to pay, I tore open the bag to taste each croquette, while hot, as advised.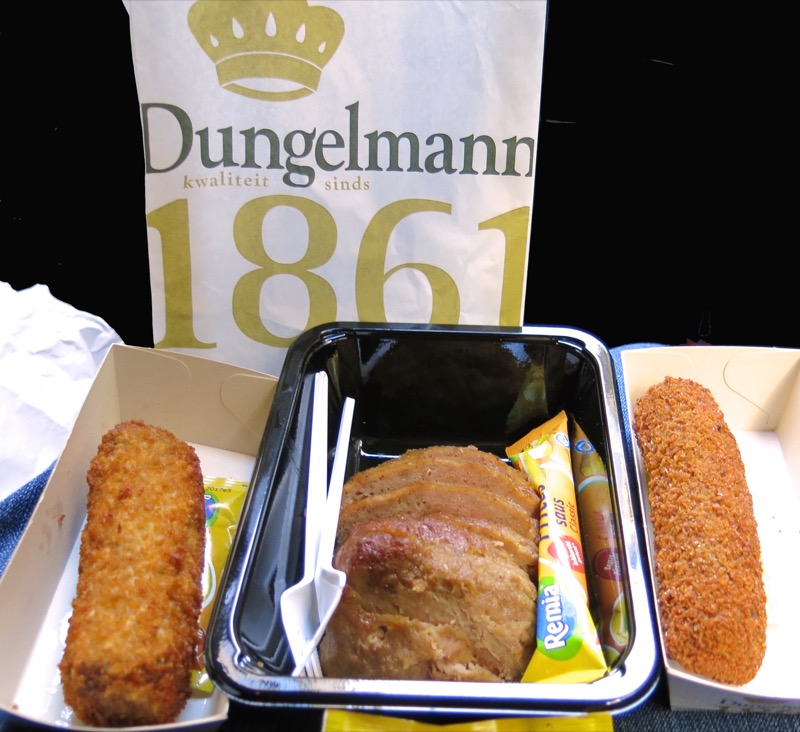 Before I looked up, Vanja had left to pay. Oh my.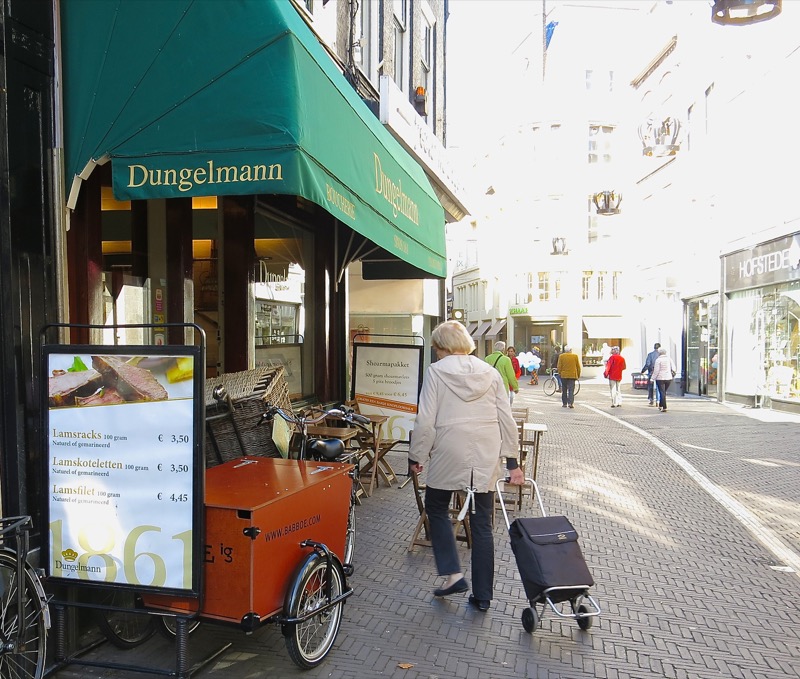 The gorgeous old bike is out front to add credibility and purpose to the storefront.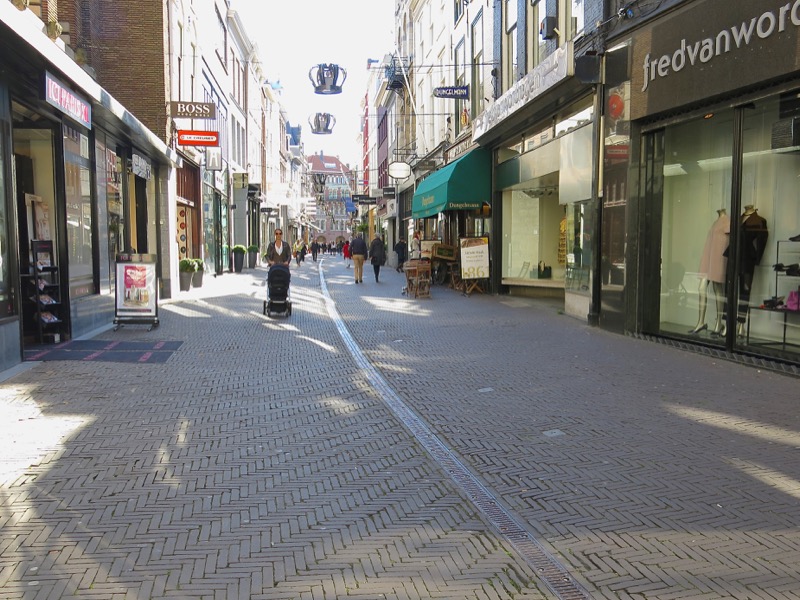 It wasn't long, and he was back.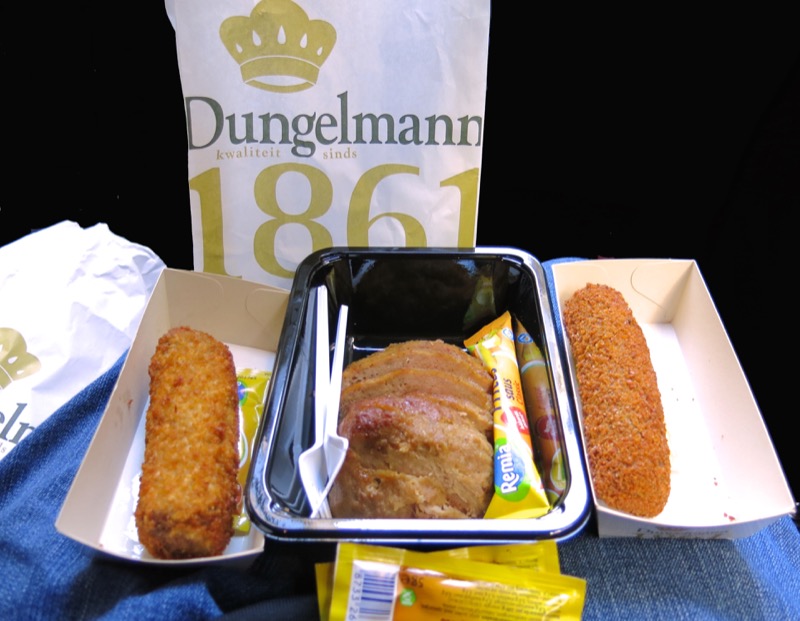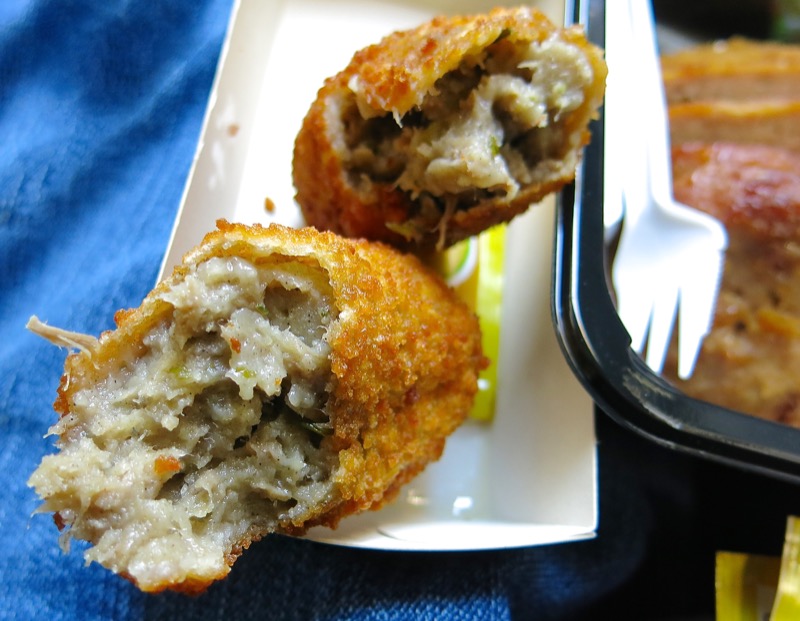 But I had already tasted each croquette and the meatball at least a couple of times by then. Niles was right. Oh, my. These must be eaten hot. Above is the traditional Dutch beef croquette. It was crunchy and so flavourful on the outside and almost creamy and light on the inside, but still with substance and a vivid depth of beefy flavour that was a bit addictive.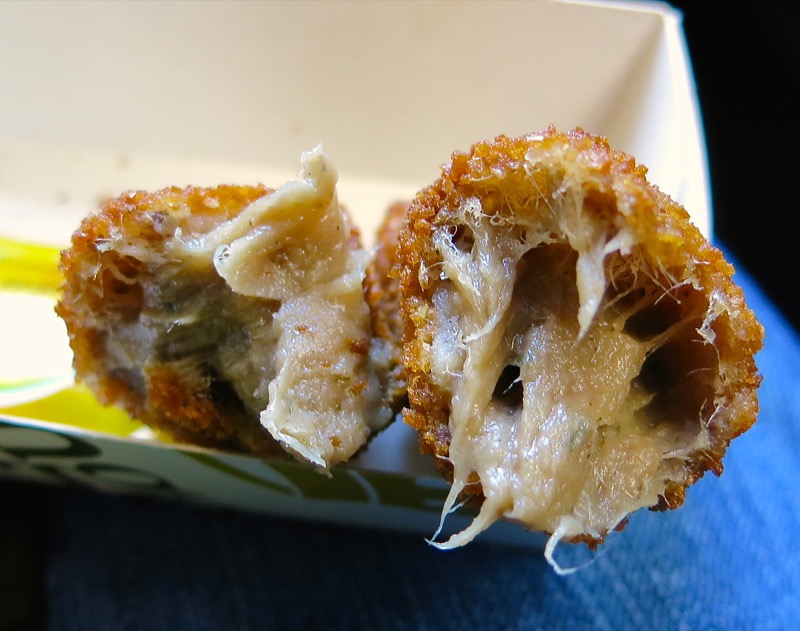 Above is the new "Dunglemann croquette". It was just as crunchy and neither Vanja, nor I could discern a notable difference in the flavour from the traditional one. Maybe a little less intense. The difference was primarily in the mouthfeel and texture. Ultimately creamy and supple to the tongue, its appeal to the masses was immediate to each of us, yet we both preferred the traditional.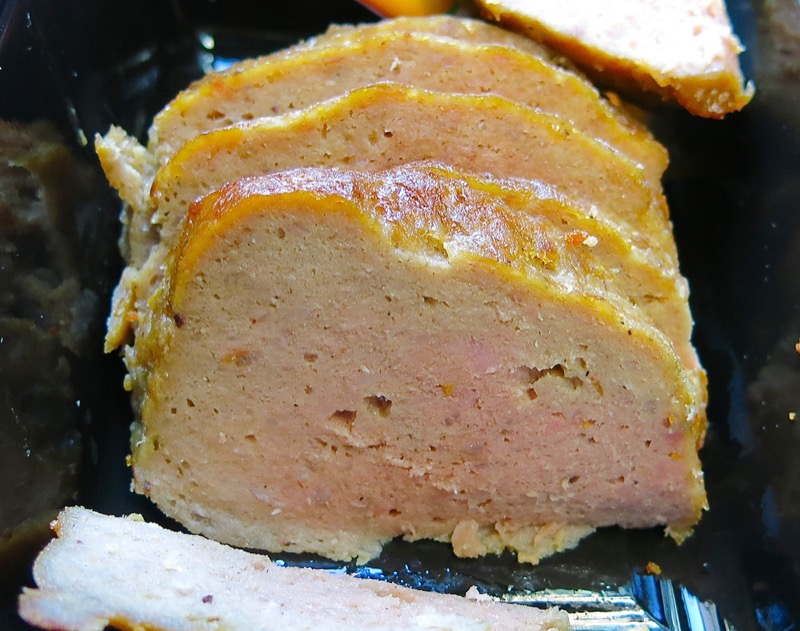 Look at that meatball! Slicing it made a lot of sense! How else could it be in a sandwich? It was very flavourful. Not like any meatloaf of meatball I have eaten before in texture or flavour. My immediate reaction: delicious. Satisfying. A great meaty pleasurable slice of beefy goodness. Yet, no discernible spice: salt and pepper. Beautiful in its simplicity, really.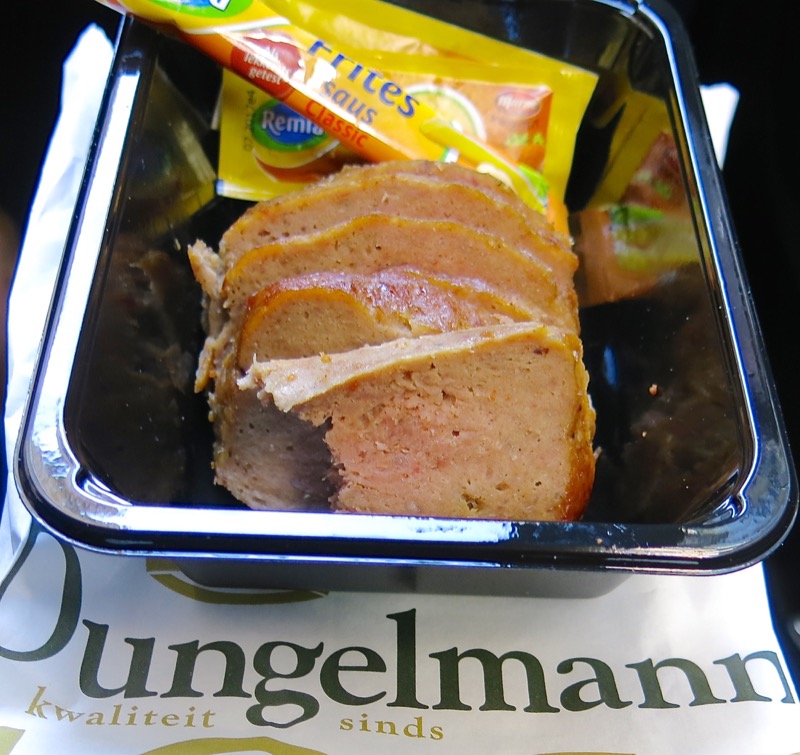 Mustard and mayonnaise provided. Love mustard, so that was a tasty bite, too.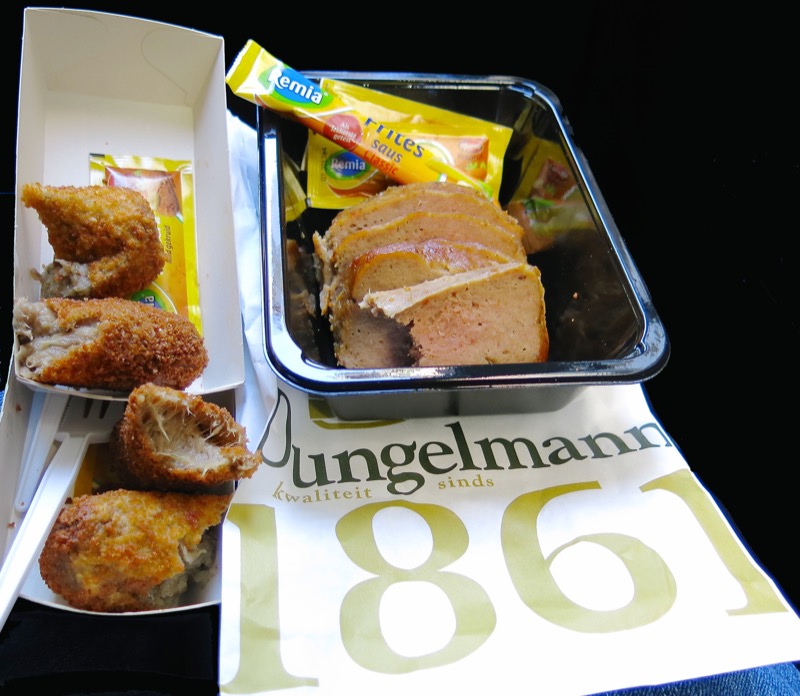 All stand on their own. The croquettes need nothing. The meatballs are beautiful straight up, with a little condiment, or on a sandwich. I am so glad we were able to pop in. We had a little taste of the culture on our first day and moreover, an incredible first impression of the goodness of people, thanks to Niles.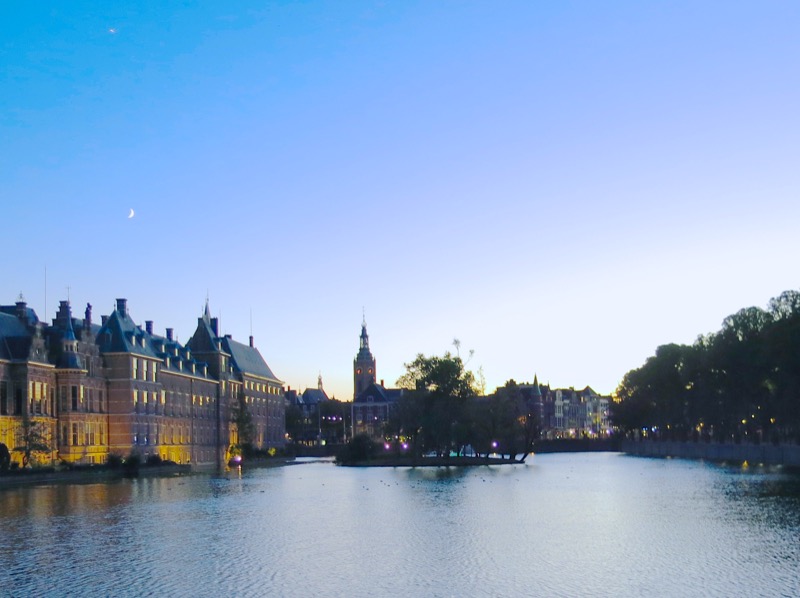 After our lunch, we went to the Mauritshaus Museum for our 4 pm appointment and were not disappointed.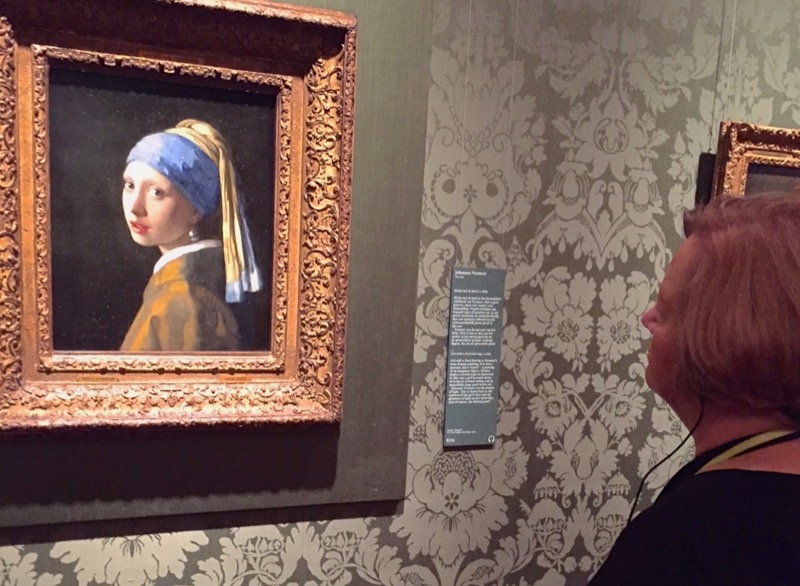 The Girl with the Pearl Earring is even more beautiful in person and much softer and simpler than any reproduction could ever be. I am still not over the impact of that viewing. However, we did meet a really great friend of Vanja's for our dinner meal afterward, and you will learn about the Dutch tradition of rijsttafel next, if you don't already know what it is.