Thermomix TM31 Trade In for TM5: Note TM31's will no longer be serviced in Canada after June 31 2019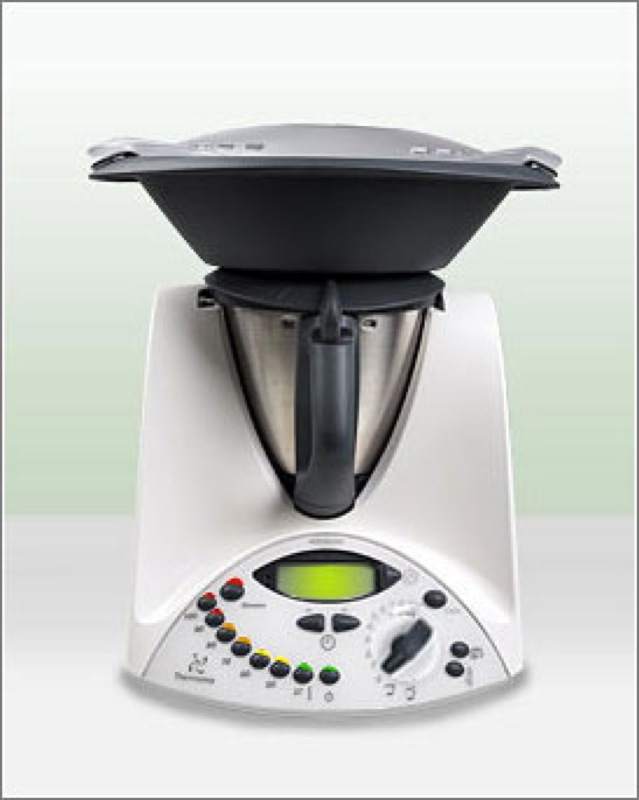 I still own a TM31 and love it. I have it in my retro kitchenette downstairs and am very attached to that machine. Have had mine since 2007 and never had an issue with it. Not once. Yet, learning yesterday that the TM31 machines will no longer be serviced in Canada was a huge surprise and sad news. Should I keep it or sell it? If I was not a TM5 owner (or few), I would most definitely trade it in, now, and fast. The trade-in options are incredible.
Thermomix TM31 Trade In for TM5: My Story
Thermomix has touted these machines last a lifetime. Not because they will never need service, but because the parts will be available for so many years. In the past, the company has continued to produce the parts for each of its Thermomix machines until 10 years after each was retired. Owners of the TM22 are still using it with joy as the parts are still available for repair in Europe. Not here, but that is a testament to this manufacturer.
I have too often told my clients the story of my favoured Francis Francis Espresso Machine. Our friends gave it to Vanja and me when we married 16 years ago and we loved it. The style fit into our design aesthetic perfectly and the expresso was top notch. Sixteen years later, a small part inside the machine broke. Some would say it had a great life and it sure did! But, if that one small part was available, it could have lived so much longer. It still looked like new. We had taken very good care of it and loved it. However, after taking it to several independent espresso machine repair shops, we had to toss it and buy another. Now, in 2003 that machine was 1500CAD. What a shame! I would use that story to underline how that would never happen with a Thermomix machine. However, now it might.
Thermomix TM31 Trade In for TM5: Why Now?
Vorwork will be taking over Fantan Enterprises in Canada on June 1 2019. Fantan was the Thermomix Canada Distributor in Vancouver since 2006. While all good things must come to an end, and while this is very exciting for customers and consultants alike as Thermomix Canada will be a subsidiary of the parent company instead of a distributorship, this particular decision to not have TM31 repair available after May 31 is a tough one for many TM31 owners. Me included.
So, the time is definitely ripe to consider trading that beloved TM31 in for a TM5 and the options are, well, completely irresistible!
Thermomix TM31 Trade In for TM5: Option A and Option B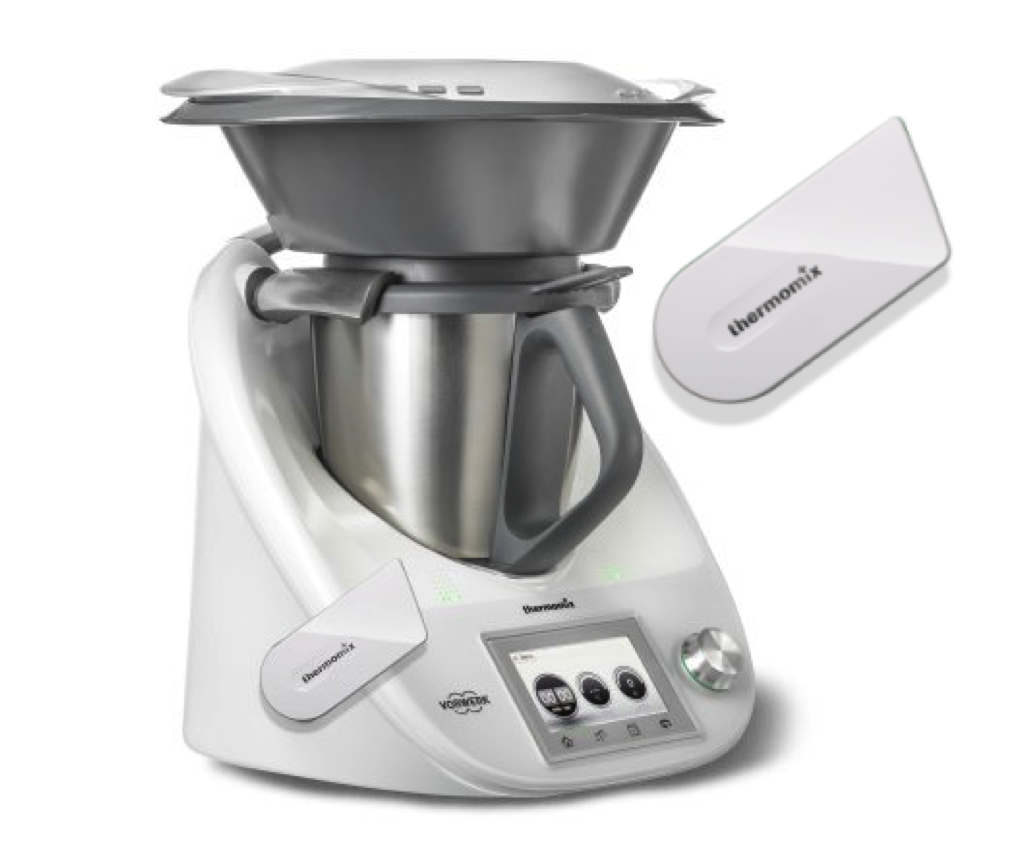 OPTION A (TM31 Trade-In)
Trade in your TM31 for a TM5 for $1199 + tax

No second bowl (no cook key)
shipping included for the return of your TM31
Note: This is a $700 savings on a new TM5!
Option B (TM31 Trade-In)
Trade in your TM31 for a TM5 for $1399 + tax

Includes second bowl promotion (free second bowl, no cook key)
Note: This is a $900+ savings on a new TM5 with the second bowl! (over 900 as shipping is included for the second bowl)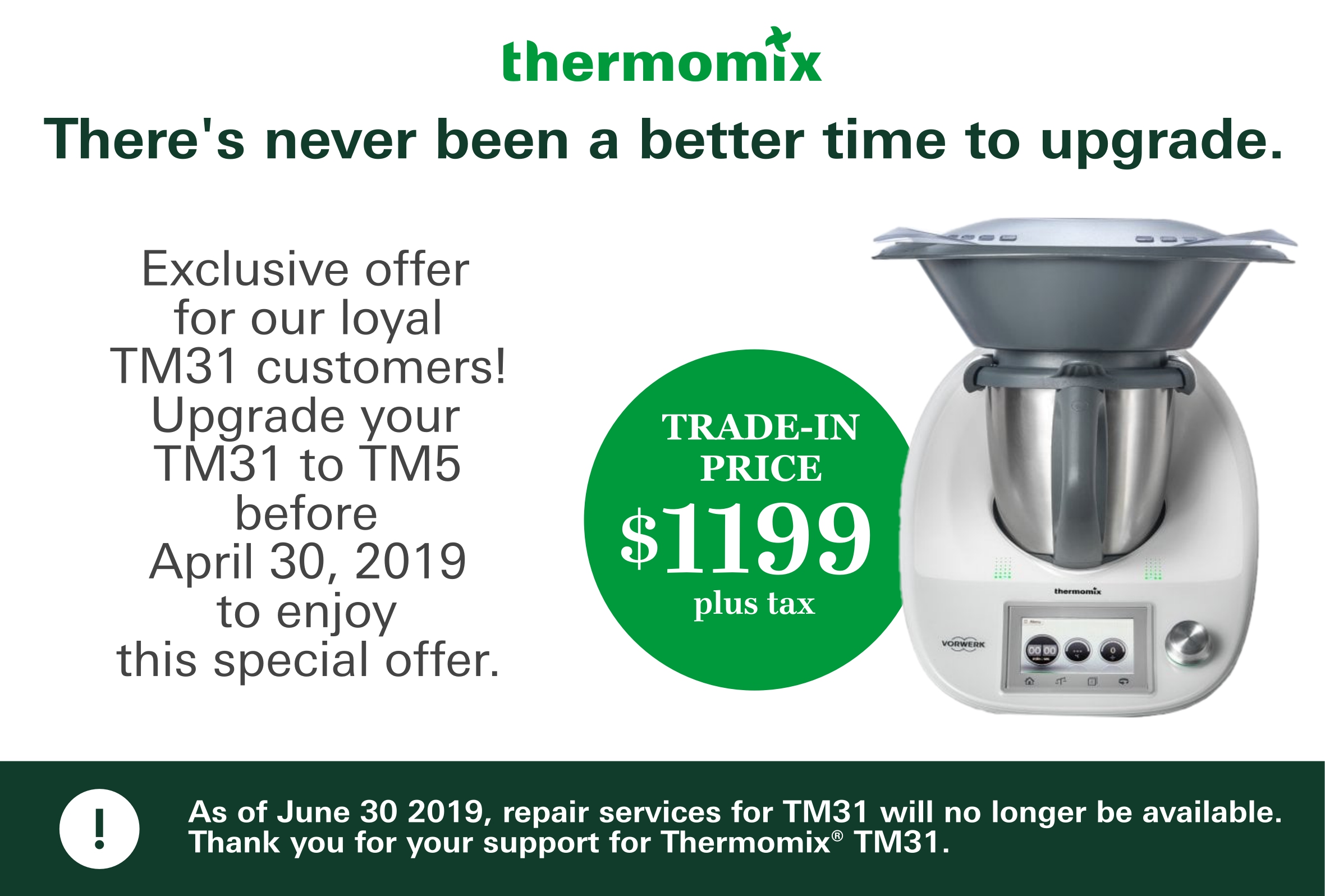 Thermomix TM31 Trade In for TM5: Interested in Either?
Let me know if you are interested in this offer as soon as possible in the comments area, below. Yes, the times they are a-changing the world over. Here, in our Thermomix Canada world, too. The best is yet to come.