Etablissement Max: The Home of the Original Belgian Waffle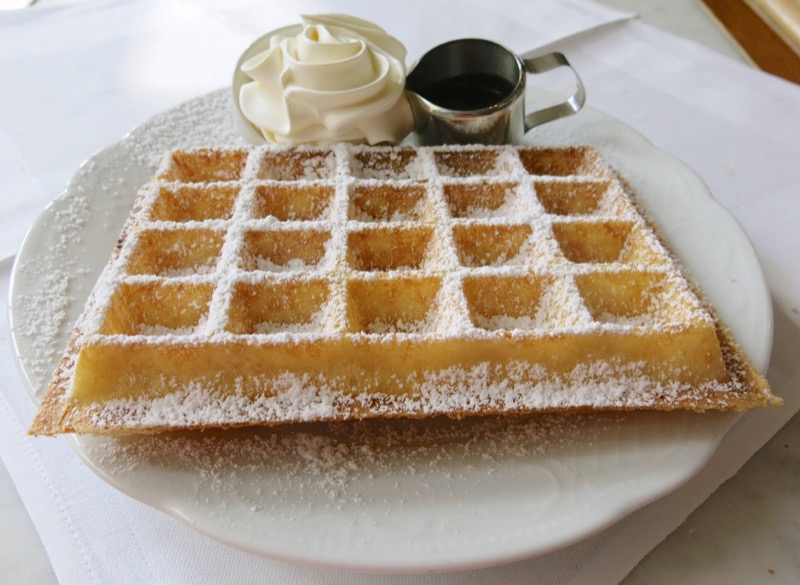 I learned about Etablissement Max researching Flemish food for our day in Ghent. The day in Ghent was planned specifically to see The Mystic Lamb. Everything else was superfluous, theoretically. Headed to Ghent from The Hague enroute to Bruges for a couple of days, I was salivating at the opportunity that awaited us at Etablissement Max. We were starting our extended ½ day in Ghent with an authentic "Belgian Waffel" at Max's. Though Etablissement Max has been in the same spot and an important and reputable Ghent family business since 1839, it was Pierre "Max" Consael who took his special and very specific waffle to the Brussels world fair in 1958 where it became an instant hit, heretofore known throughout Belgium as "the Brussels waffle" as that was where it was first introduced to the Belgian public. Seriously, without this shared experience, there is no other frame of reference for understanding this iconic Belgian treat.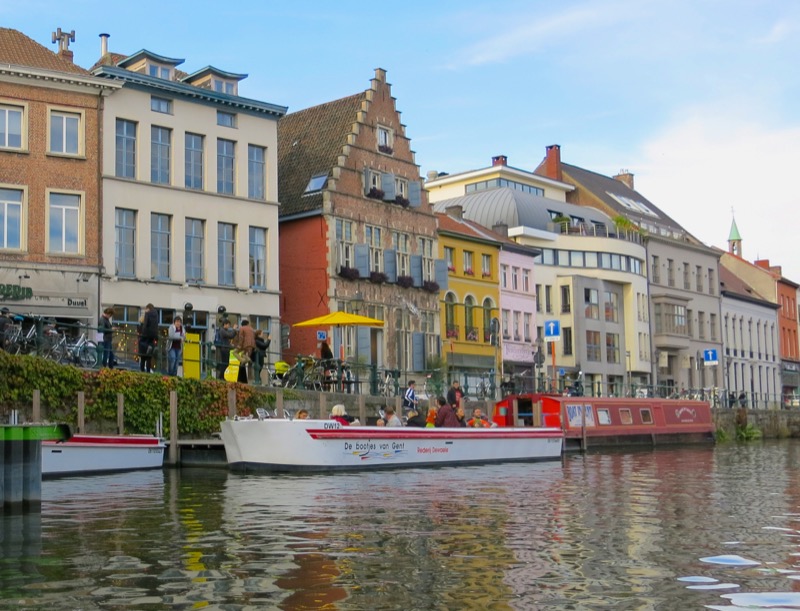 This gorgeous Flemish canal city that houses possibly the world's most coveted masterpiece: The Adoration of the Mystic Lamb by Van Eyck also boasts the creation of the Belgian waffle.
The authentic Brussels waffle was introduced in North America at the world's fair in Seattle in 1962 by Belgian Walter Cleyman as the Belgian Waffle. Would you believe I was there? I went up the space needle built for that occasion and through my 9 year old mind's eye, recall the event as spectacular, yet don't recall having the waffle. Mom and dad might!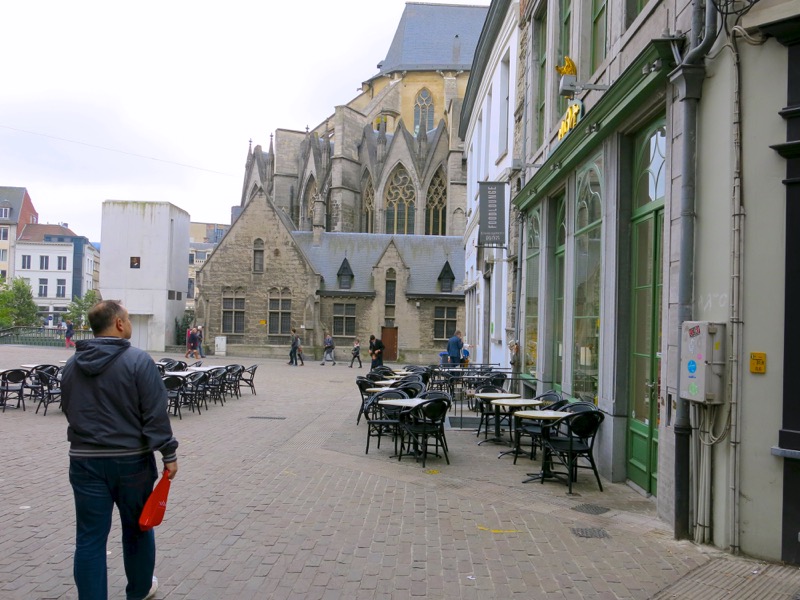 Look up to the right! There it is! And we are early, so we can do a little exploring before our reservation. Reservation? Yes, definitely. Why?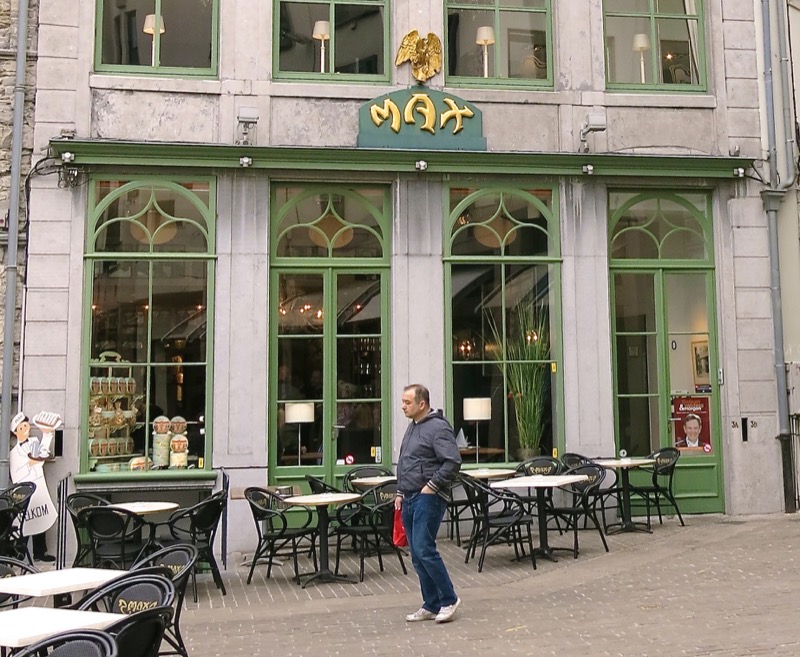 Etablissement Max is a six generation Belgian family restaurant with the sole proprietor, Yves Van Maldeghem , the great great great great grandson of Pierre "Max" Consael. Yves prepares the batter using the secret family recipe in a private space and is the main chef using his gorgeous heavy century-old waffle irons over almost white hot gas fire to create the golden ultra crispy translucent light as air 4 x 5 twenty pocket perfect waffle. Every time. His is the very spot where his great great great great grandfather mixed the magic for the first ever waffles created for the Brussels world fair. Thus, this very spot in Ghent is actually the home of the Brussels waffle, or the Belgian waffle. Absolutely, a reservation.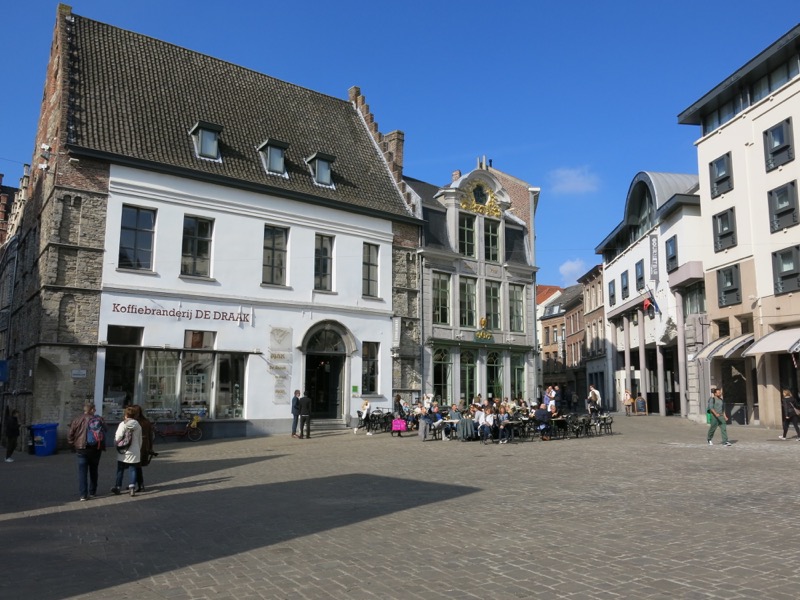 Also, do note: waffles are usually served only after 2pm. We were fortunate on this day as it was the last day the restaurant was to be open for a few weeks as they close for holiday about mid October, every year.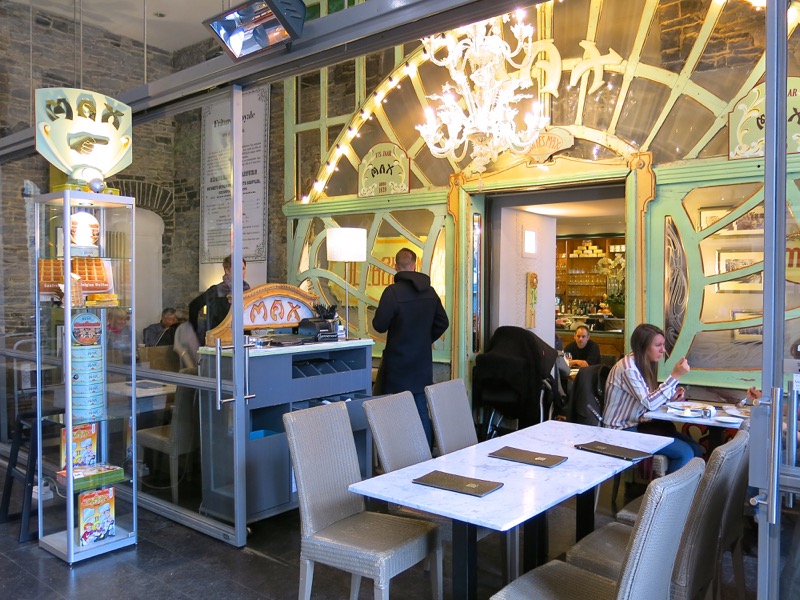 The front arch from the booth decor at the world fair is housed at the entry of the restaurant, just beyond the inner "patio" eating space on the wall, in green.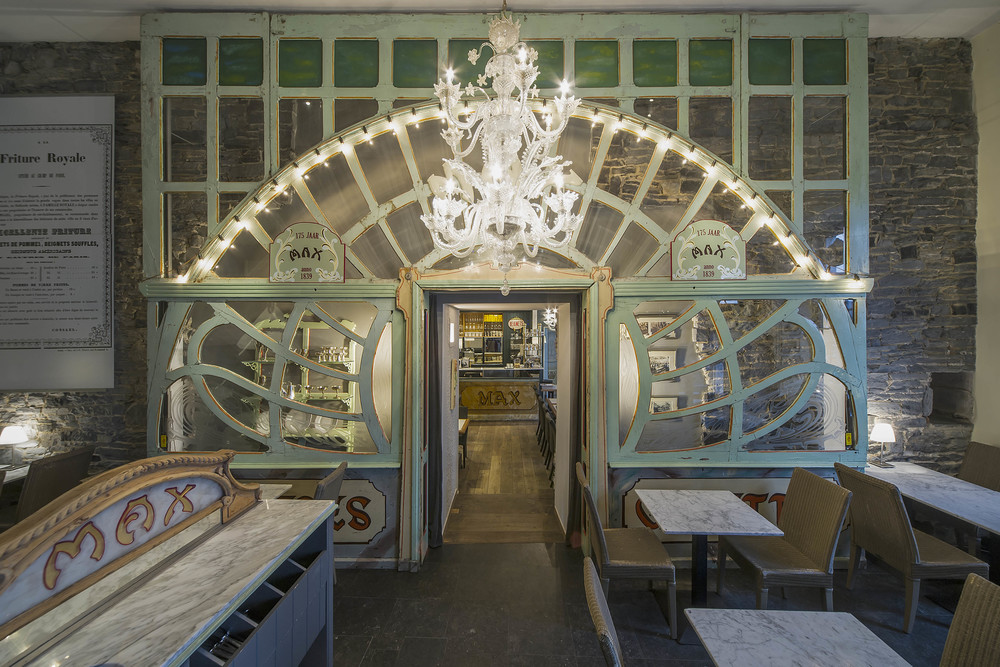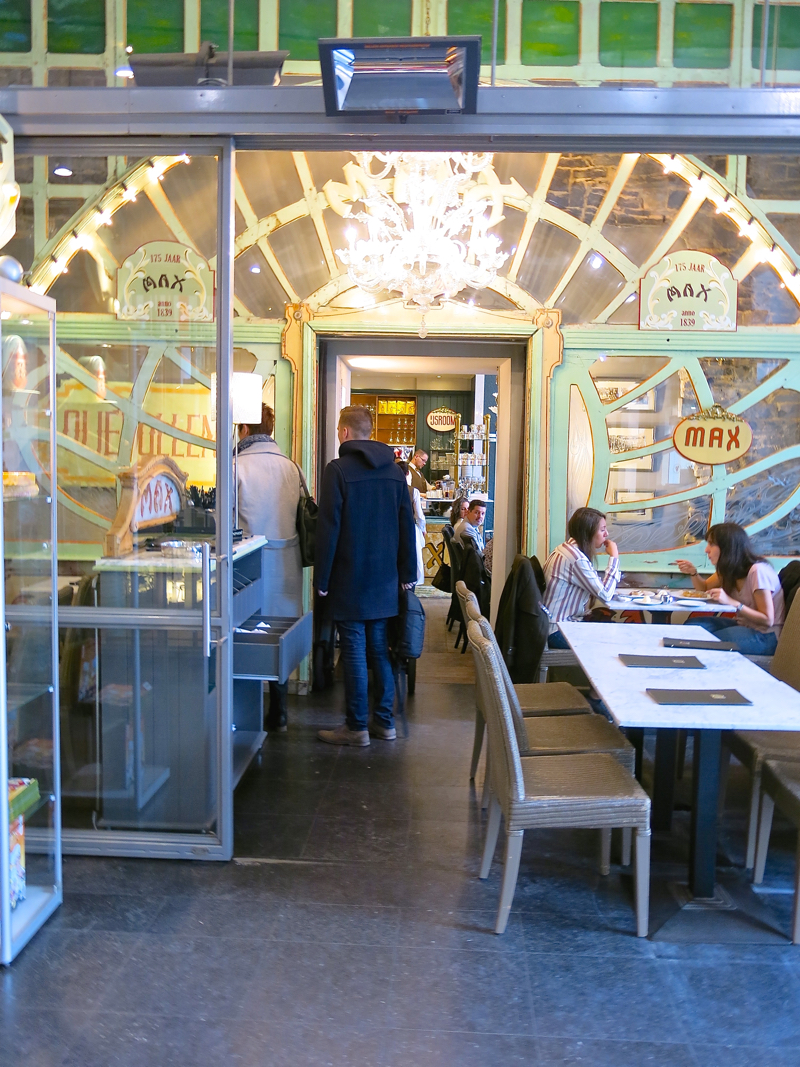 The opulent art deco outer decor prepares you for the lavish, bold and charming warm interior of Etablissement Max.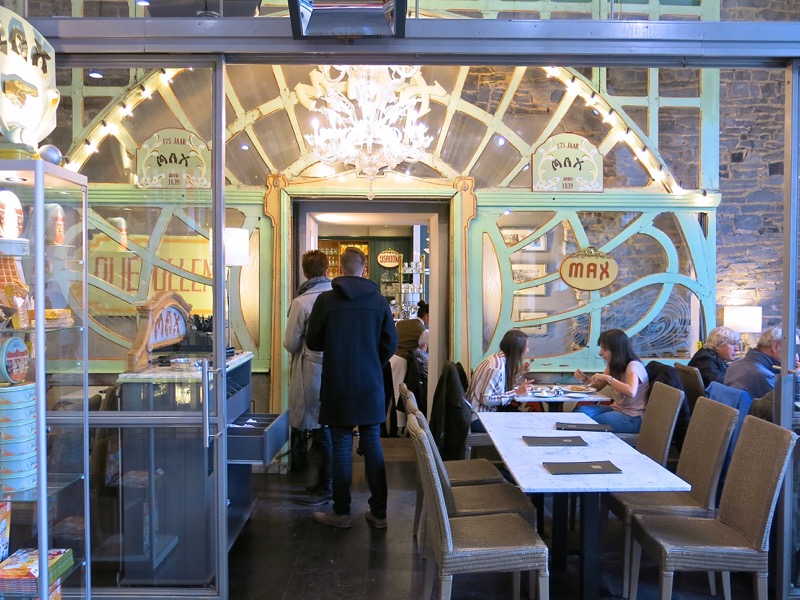 The waiter started to seat us out here, when I reminded his we had a reservation for quite some time. He went to check, then came out and said, "But the seating was not on the reservation! But, come this way." There were plenty of tables inside, though he was clearly not happy to accommodate my request. Remember that. When you reserve, as for a table near the window inside of the restaurant, not just inside of the building.
"Come and taste Max's Waffles!" is a look into the past at Max's, though not as early as it appears. Recall the waffles were introduced in 1958.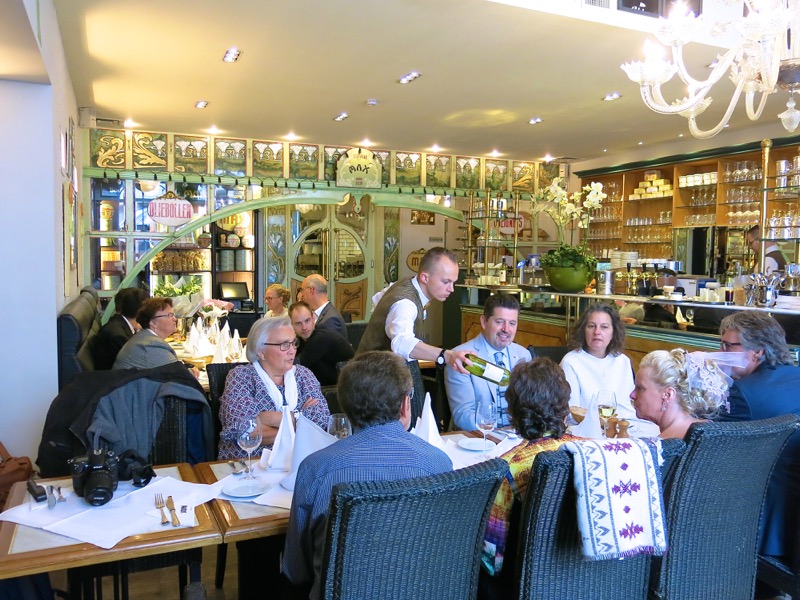 The casual, more modern tables and chairs offer a welcome foil to what might otherwise be a more formal and stayed atmosphere. The bright daylight streaming in through the massive windows illuminate the past and introduce the present with the same precision that Yves Van Maldeghem does his exquisite waffle.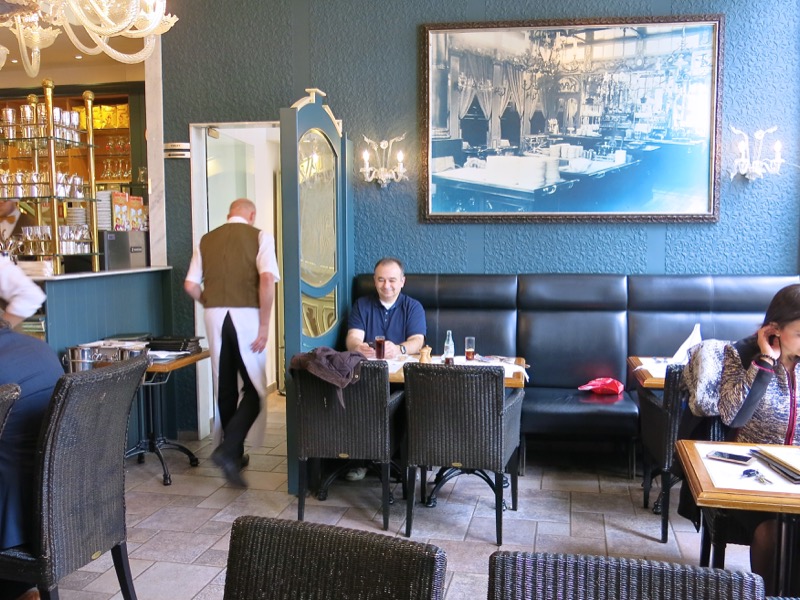 Thrilled to be seated against the wall so we could take everything in. The best seat in the house, in my humble opinion, would be the table for two in front of the window to the right where you see someone sitting.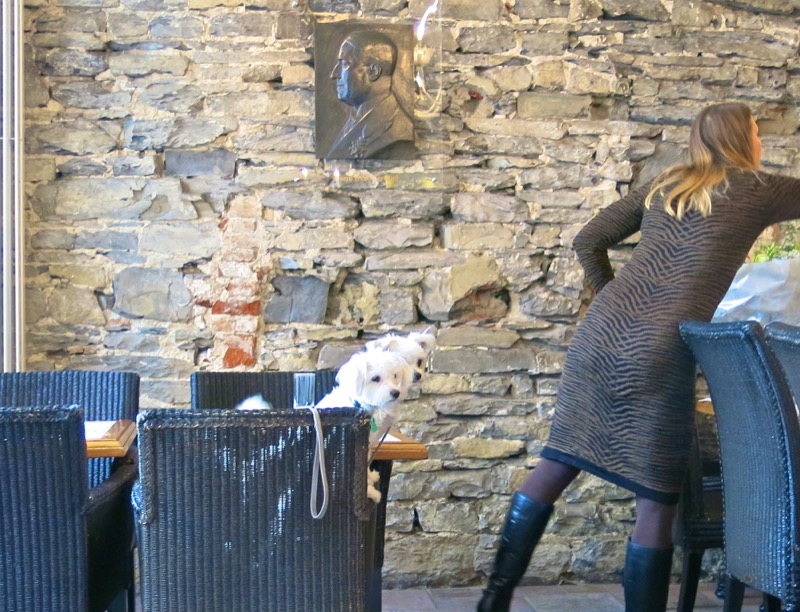 Only in Europe. And all over Europe, I might add, we have seen dogs and cats in restaurants. Too often the cats are allowed to climb and pounce anywhere. I doubt that would be the case in Etablissement Max, yet: two white dogs. Clearly, there was a very small and intimate wedding brunch happening. Possibly the dogs were the flower girls? Eventually, someone did come to take them away, but they were inside, and at "their own table" a good 1/2 hour.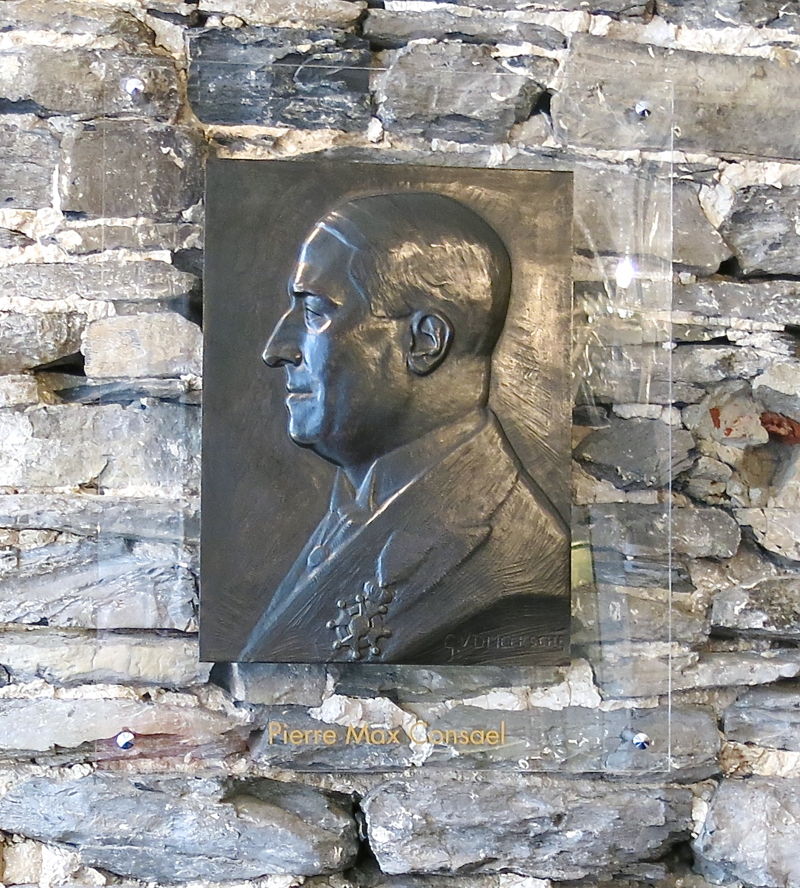 A respectful nod to "Max". Apparently, the popularity of this culinary delicacy led to an economic empire where Max owned 101 Ghent properties in his day.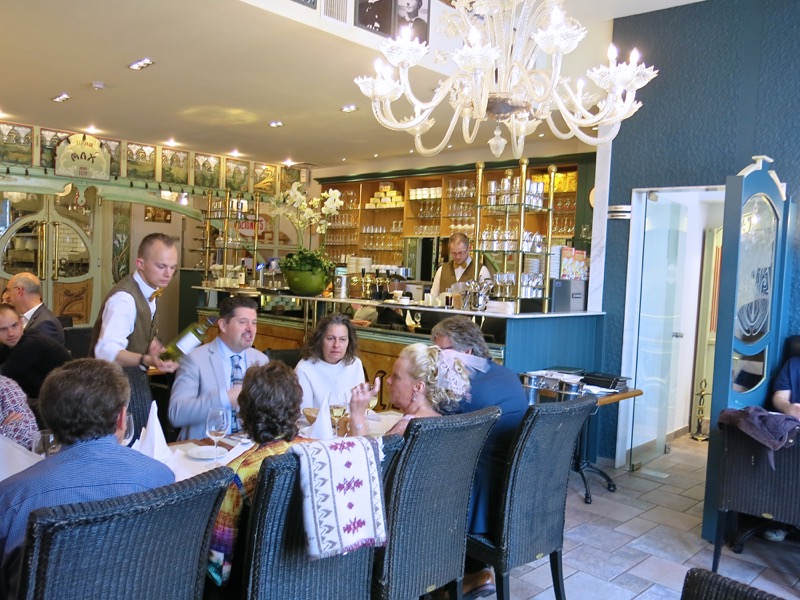 Above, our waiter serving the bridal party. The gorgeous bar is at the back of the all, adjacent to another lovely arch leading to the Etablissement Max kitchen and washrooms.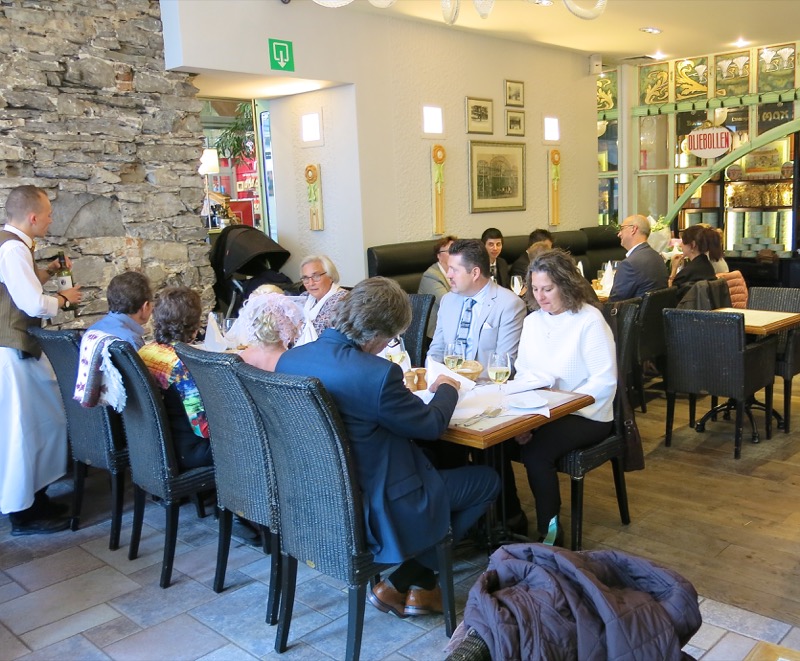 The entry into the restaurant from the outer area where the carnival arch rests, is above, left.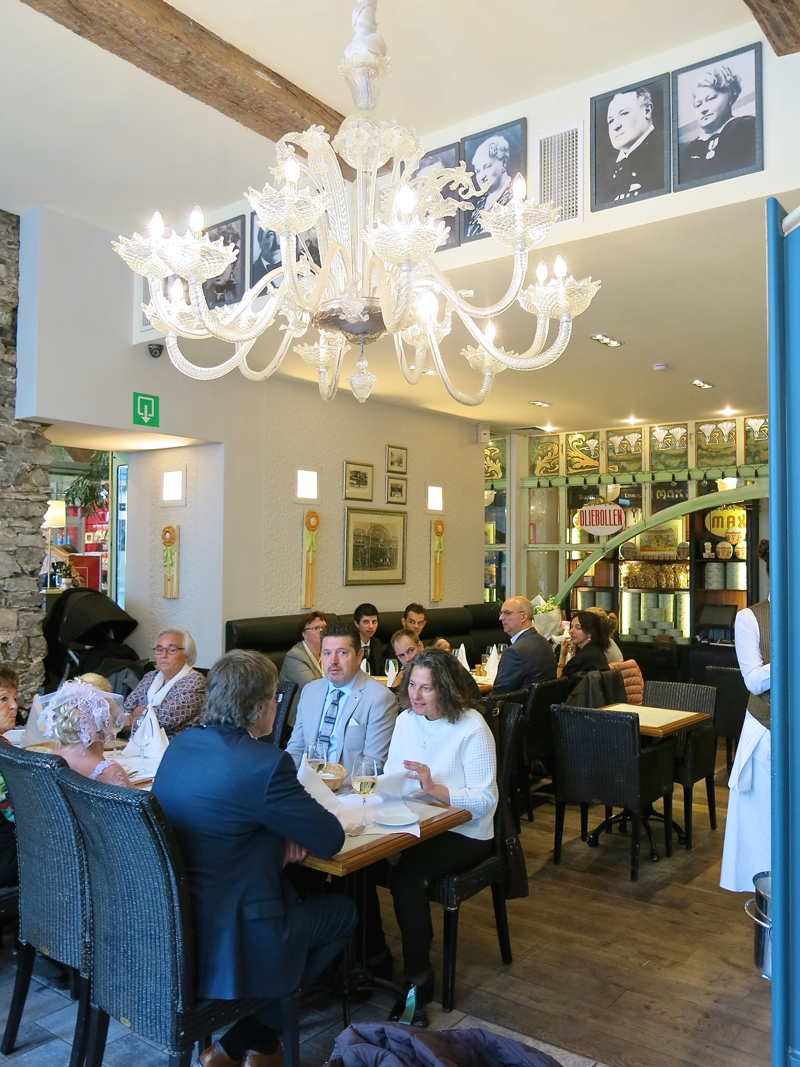 A history of family photos adorn the bulkhead.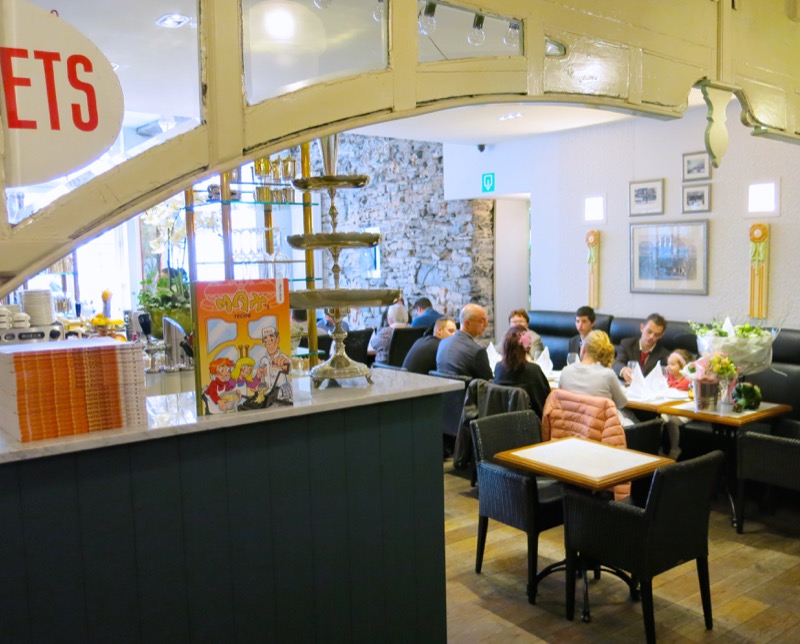 The only book I spied was the one for children and there was not an English version. Apparently there are two books for sale only at Etablissement Max, and there are English versions. Huge regret that I missed buying the recipe book in English. Didn't know. Didn't see it. This is the view back into the restaurant from the kitchen doors.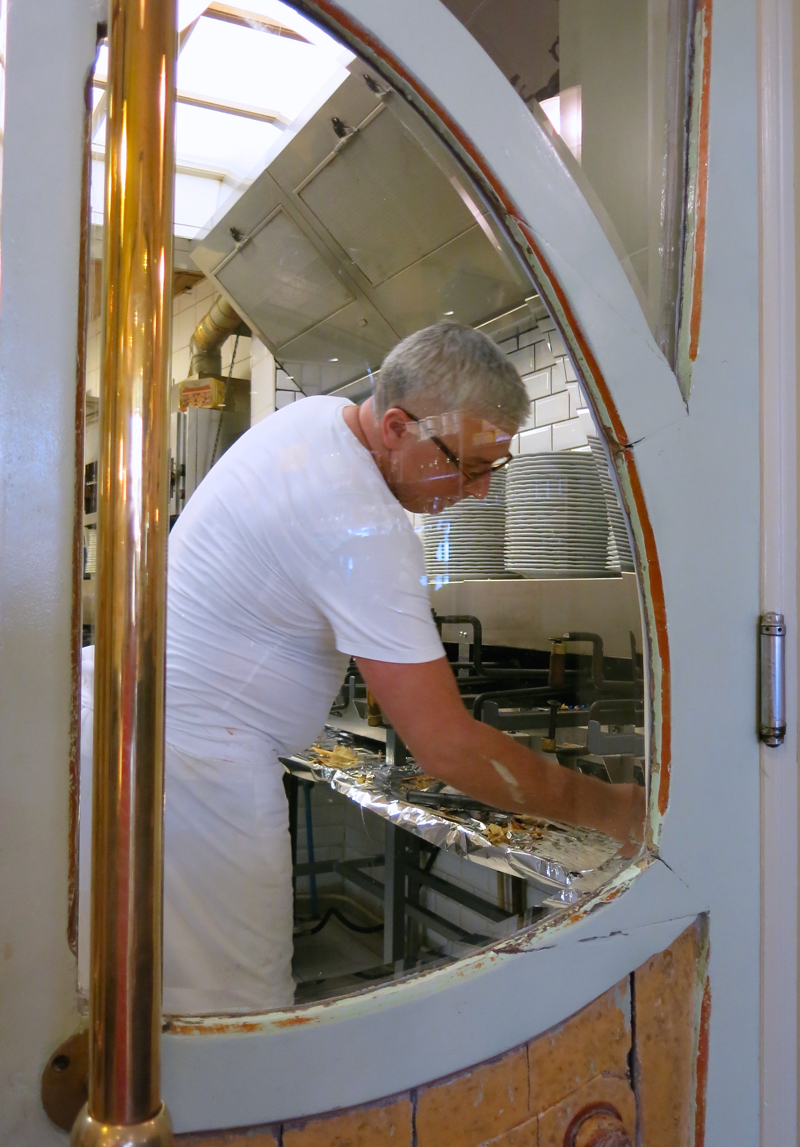 Yes, that is Yves Van Maldeghem in the photo, above!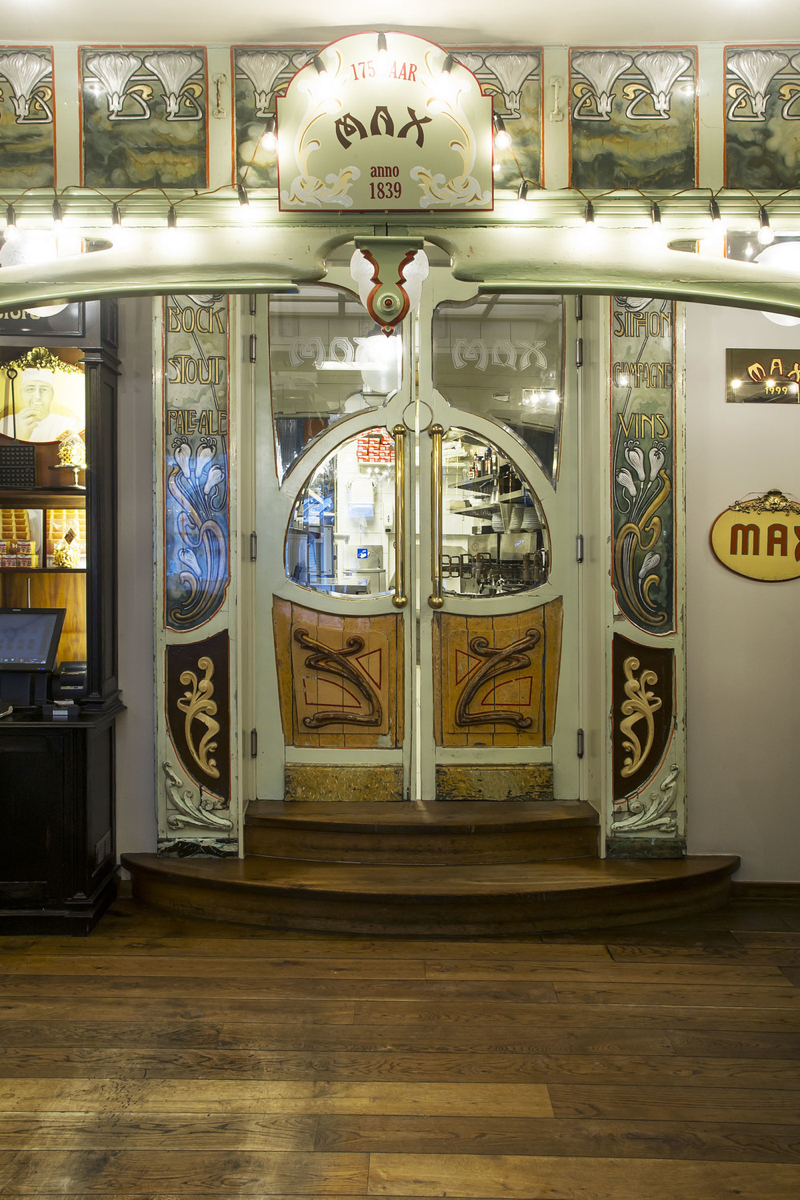 The art deco kitchen doors a pretty special. In the first image, you can see how banged up they are, but it is not at all noticeable when there. The second image is from the website and was worthy of a borrow.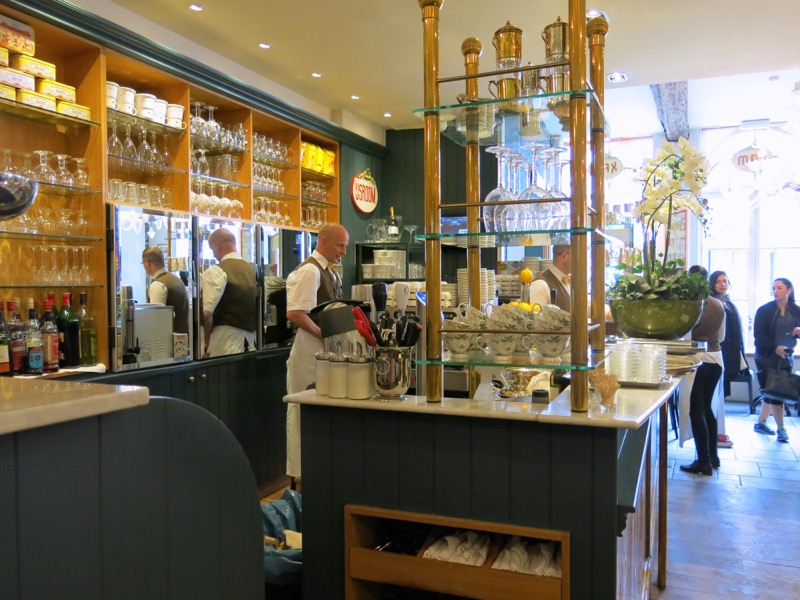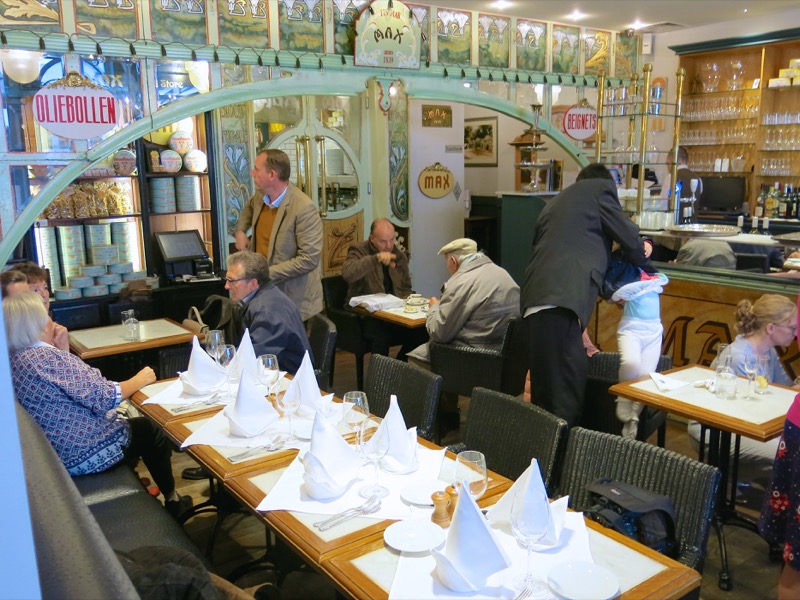 And back to the kitchen doors from the entry into the restaurant.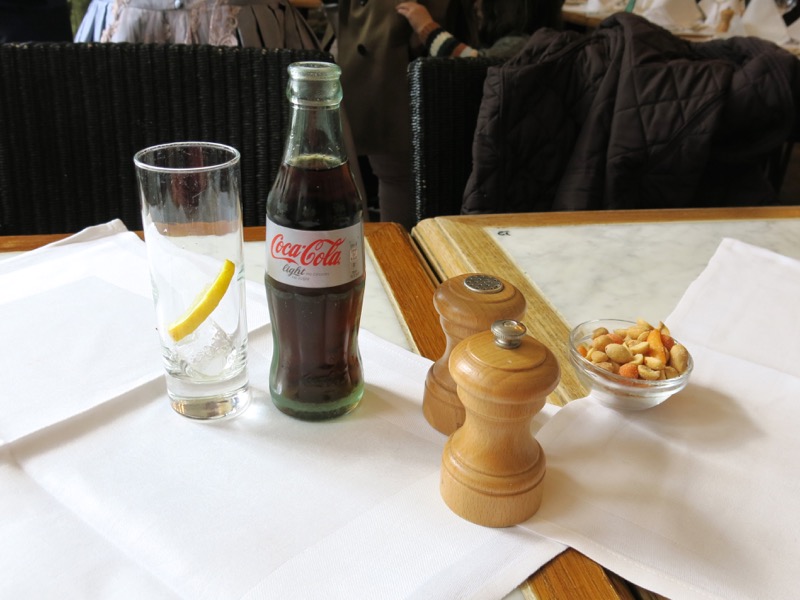 So, now that the space and history has been properly introduced, let's focus on the food! First, don't order a coke. Or, do, if you don't mind paying 4 Euro for it. Choke! It is a very small bottle and to pay such a price for this was absurd, yet Etablissement Max is known to be expensive. The mixed nuts were a lovely unexpected treat.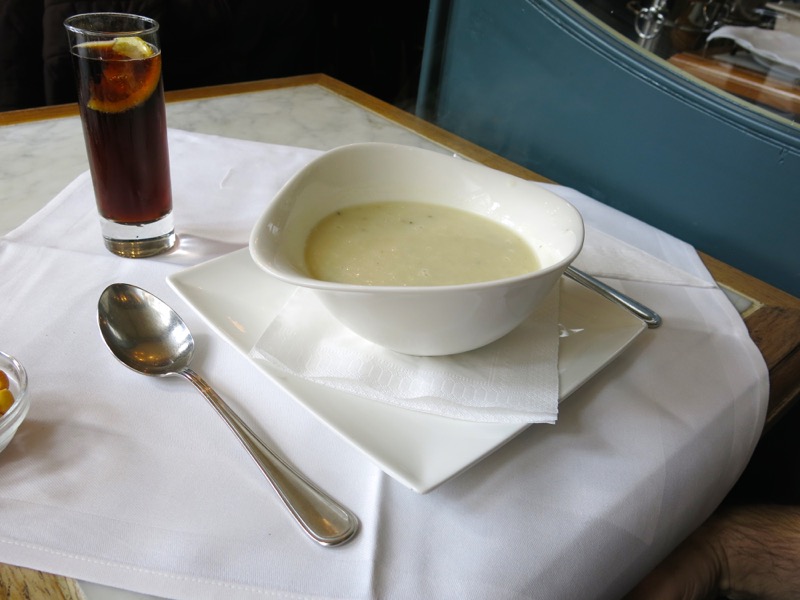 I did not find the menu expensive, otherwise. While I realize that it is 15 Euro for Etablissement Max's Special Waffle with ice cream, whipping cream, chocolate sauce and an assortment of fruit, it is 7.50 Euro for the traditional basic waffle with butter. It was lunch time, but I was waffle-focused. Vanja was hungry, so ordered a soup that was silken divinity.
I am addicted to this traditional Brussels waffle shape. The twenty deep wells and rectangular shape is somehow noble. As the wells are so deep, the walls are ultra thin, thus the waffle has a transparent quality. I did not expect my butter to be in a wrapper. Yet, it somehow made sense. I also did not think one would be enough. Yet, it was. I unwrapped the icy butter and spread it over the hot hot hot surface of the waffle watching it puddle invitingly into each well.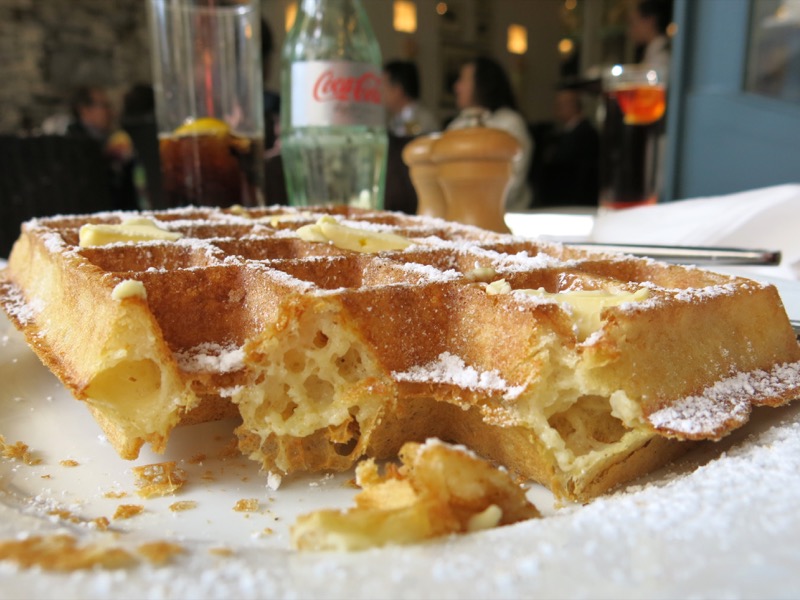 I did not expect shards of crust to scatter and shatter as I sliced through the crispy exterior for my first bite. I did not expect such an ethereal textural episode.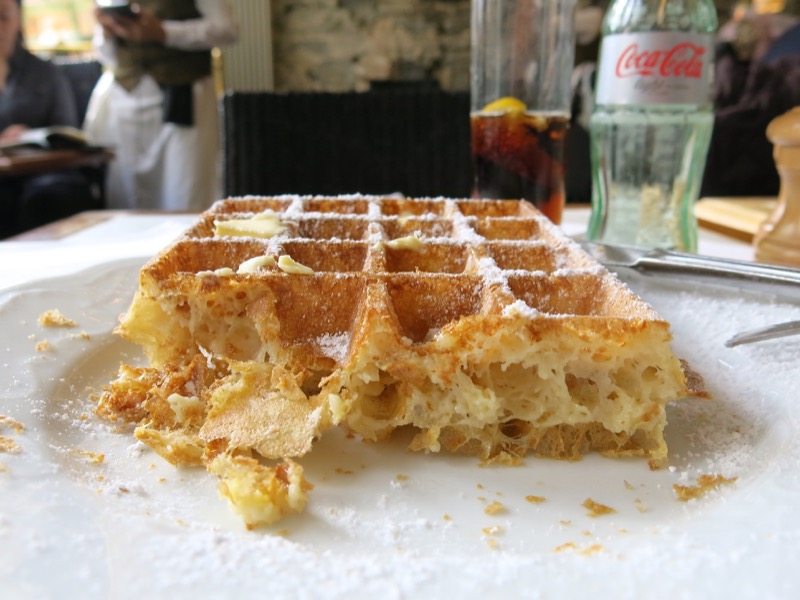 Give me a moment.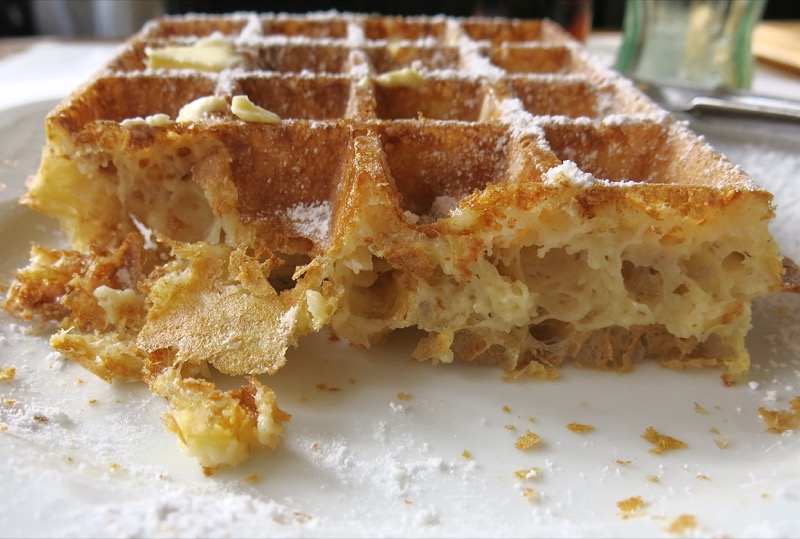 I don't need time to retrieve my taste memory. I need the time to savor it. This experience was exquisite waffle perfection and so unexpected.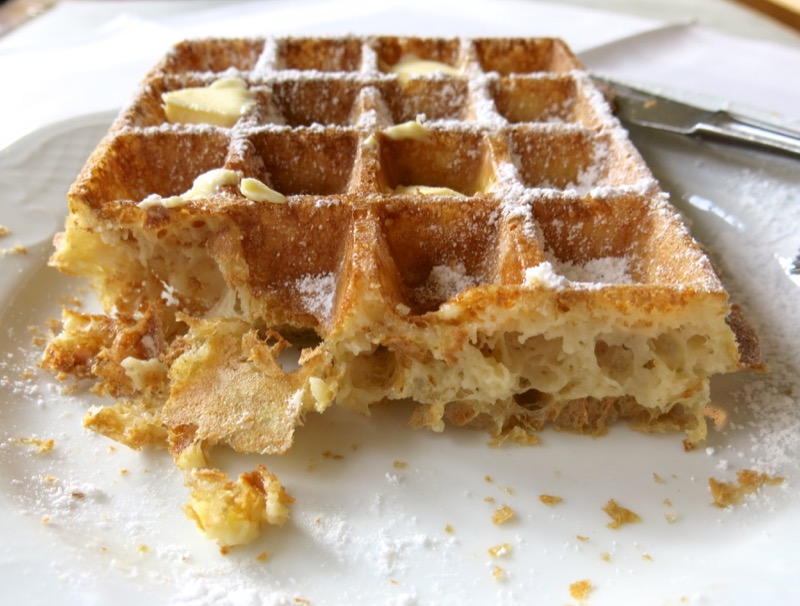 Oh, I expected to eat a waffle in the place they were invented, but I thought I had experienced eating a waffle.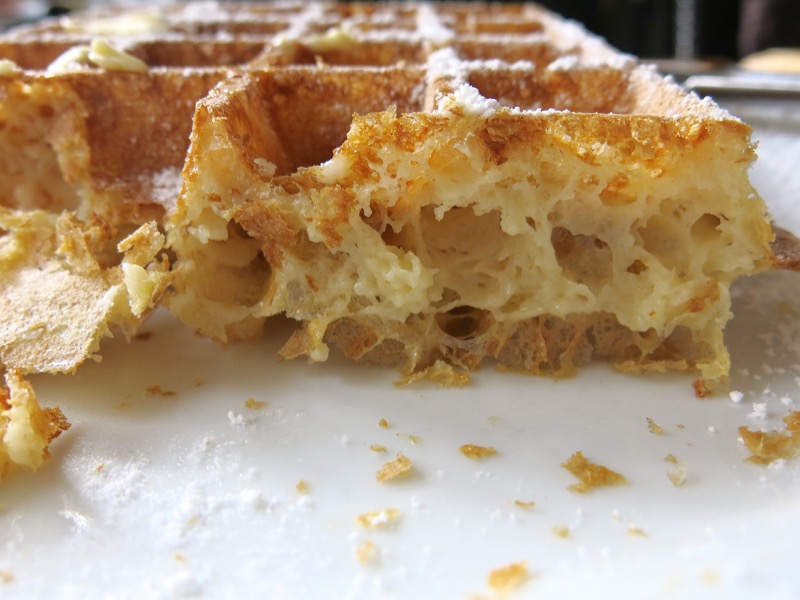 I had no frame of reference in my culinary experience or in my vocabulary for this waffle.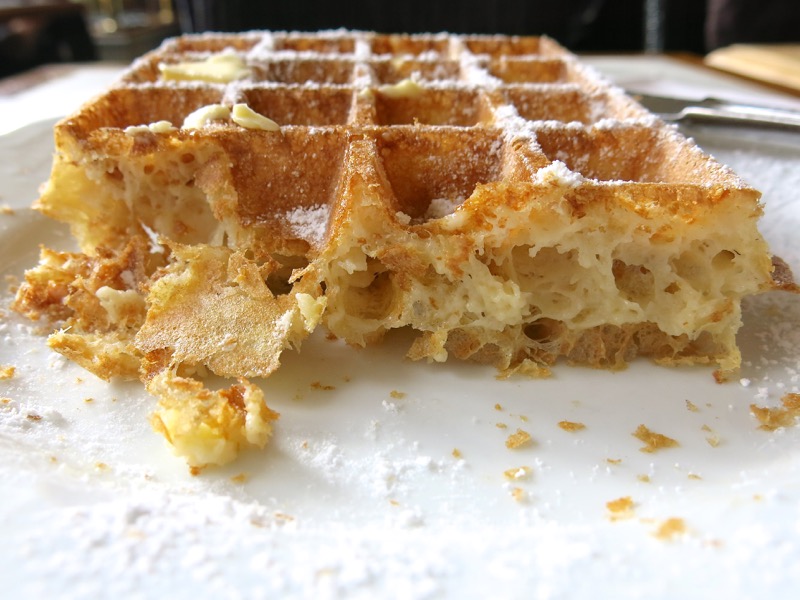 I have craved another each day, since. Likely, as I will never have one again. Unless I go back to Etablissement Max. That is not going to happen. Is there another establishment that presents the authentic Brussels waffle with the same passion and precision of execution?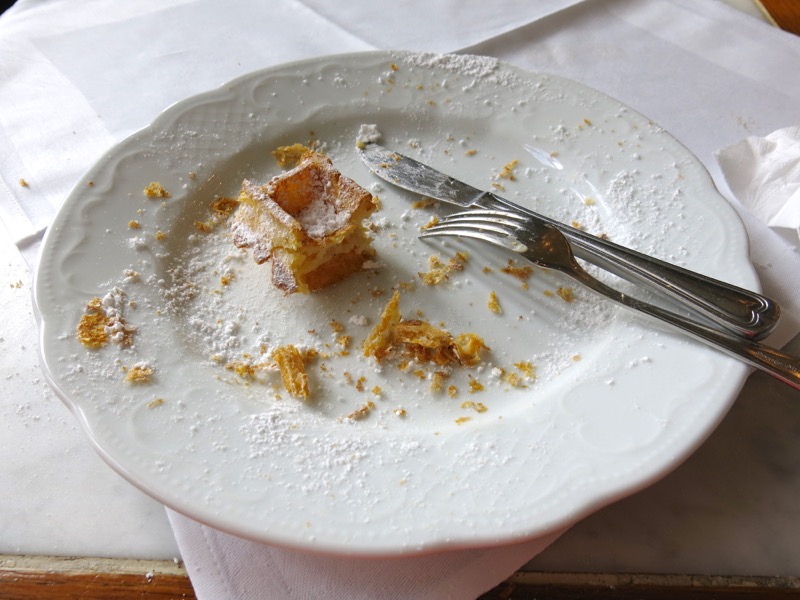 I believe I could try. I desperately want to try, yet cannot find a waffle iron that has 20 pockets for a 110 electrical outlet. I cannot find a cast iron waffle iron that has 20 pockets to use over my gas grill. Help? The deep wells, shape, recipe and heat would all be essential components of such a recreation.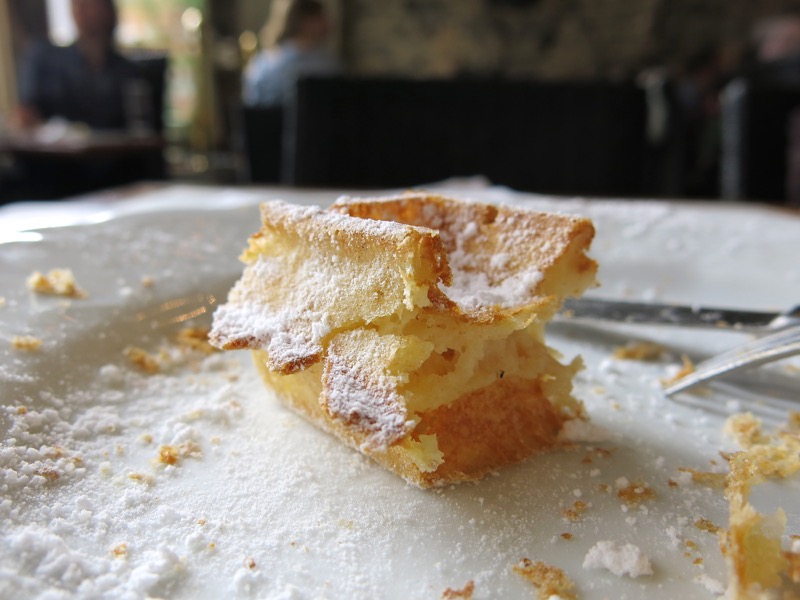 Aware that this was my last bite, I studied it.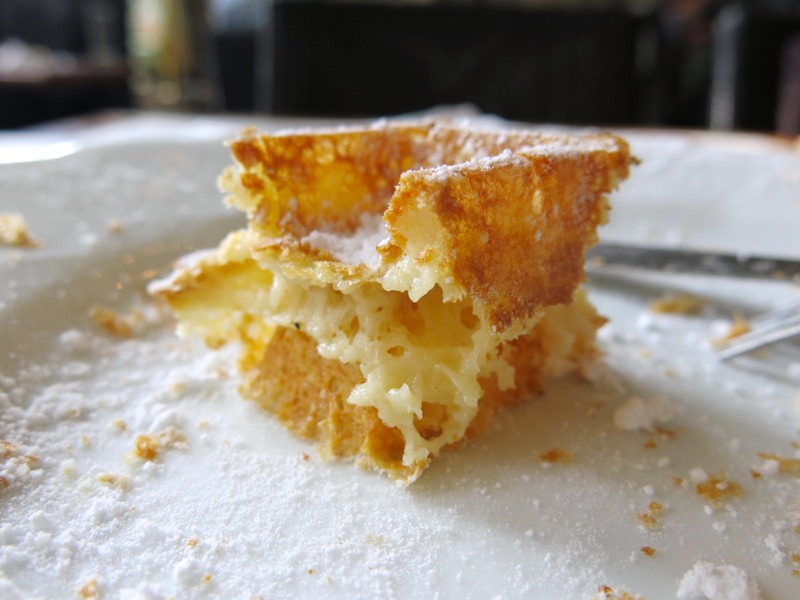 Eggy warmth within. Oh, tell me your secret. I promise to savor you and remember you and am ever so thankful for you and our rare and unexpected moment together on this day in Ghent.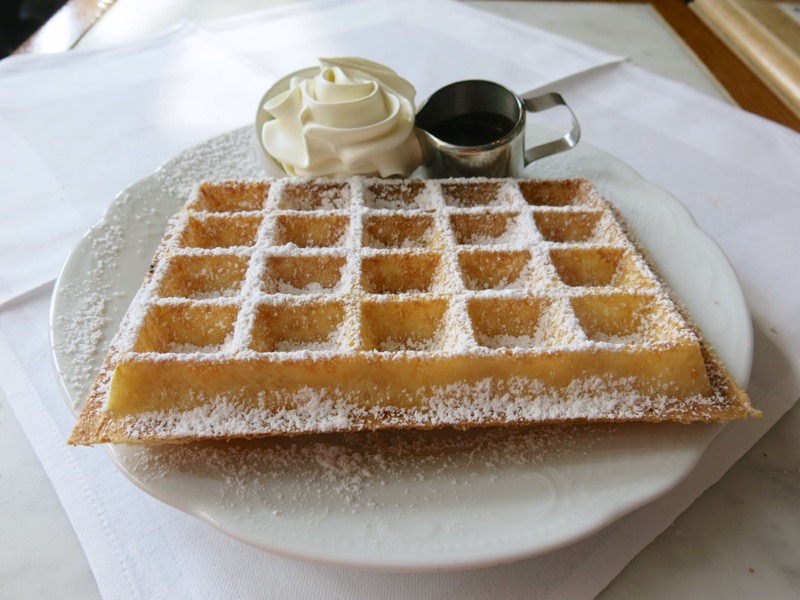 Vanja is finished his soup, and a quiet aesthetic little package of pleasure lay in wait on this plate.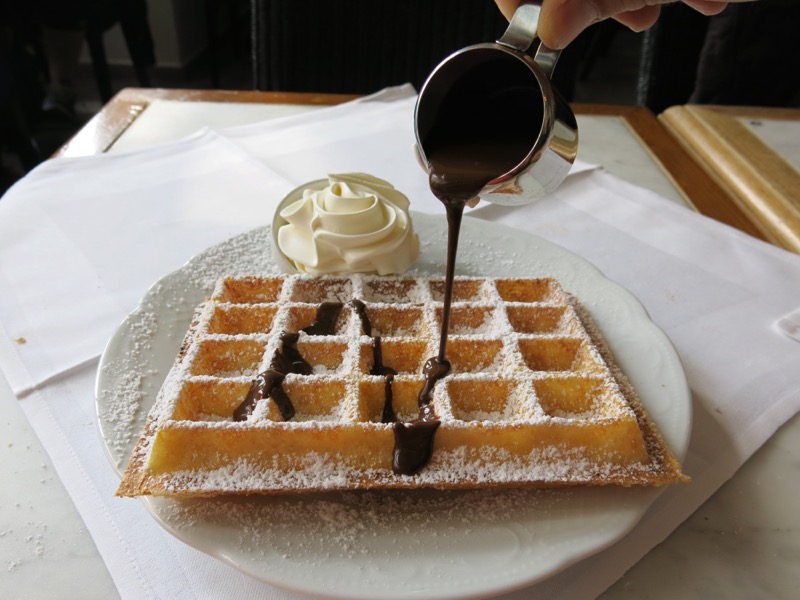 We approach our food with such opposing perspective. I would have tasted the waffle. Tasted the sauce. Then determined how much of a pour.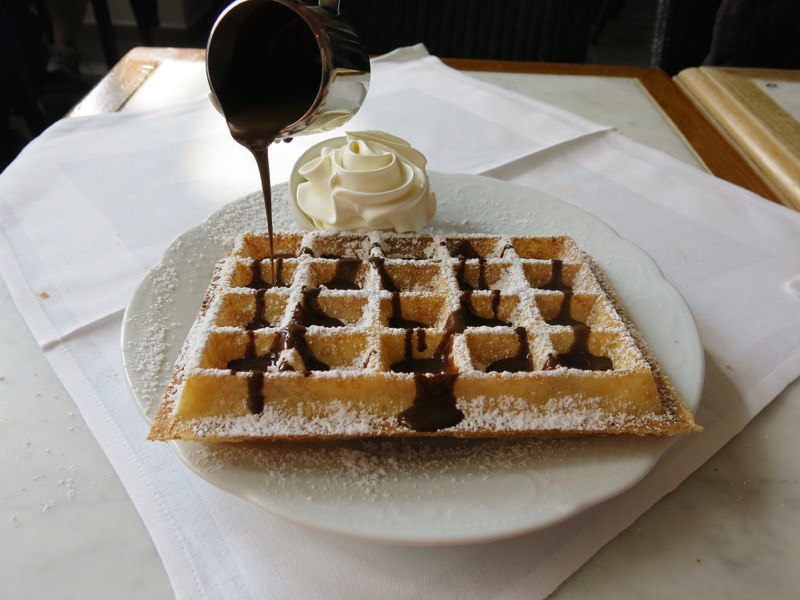 Not my Vanja. He emptied the jug.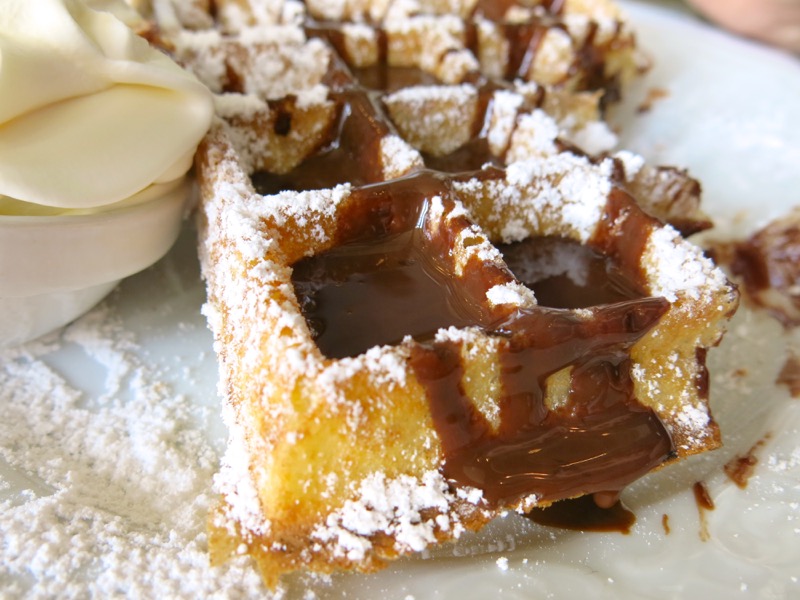 The pure Belgian chocolate sauce pooled into puddles inside of each deep waffle well.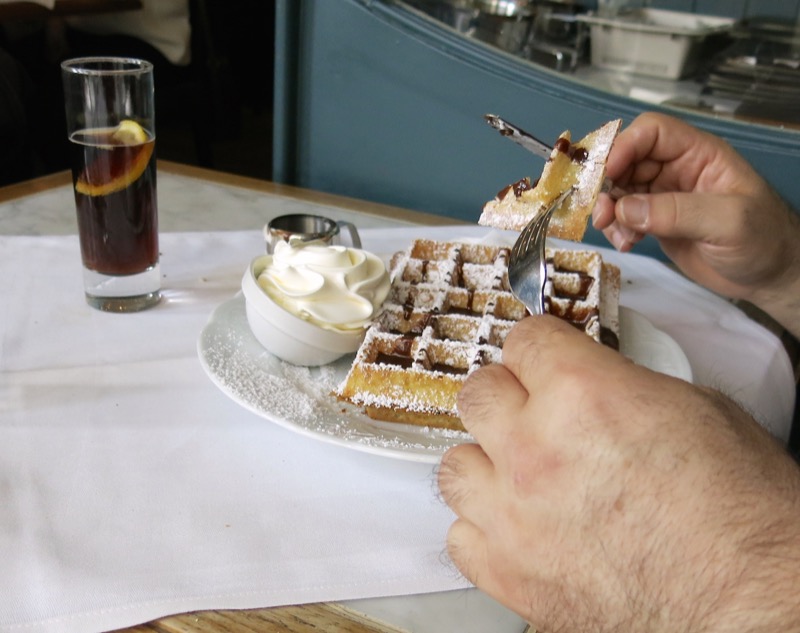 I watched him take his first bite – expecting the transformational manifestation of a culinary awakening. I remained silent. Watching. He took another bite, and looked at me. "What? It's good, okay? It's good." Well, clearly, not everyone possesses the acute culinary palate and sensitivity for perfection that I do. But, I knew that he wasn't going to be very invested in any culinary experience that didn't include meat. He came for me, and that should have been enough. I truly was surprised that his eyes didn't widen, his brows didn't rise and his knife and fork move a little more rigorously across his waffle after his first taste. Yet, that is my Vanja.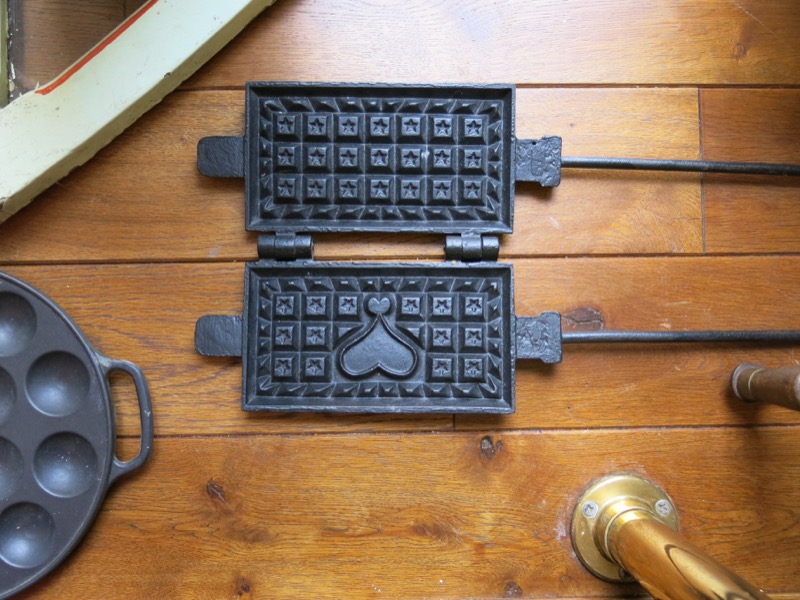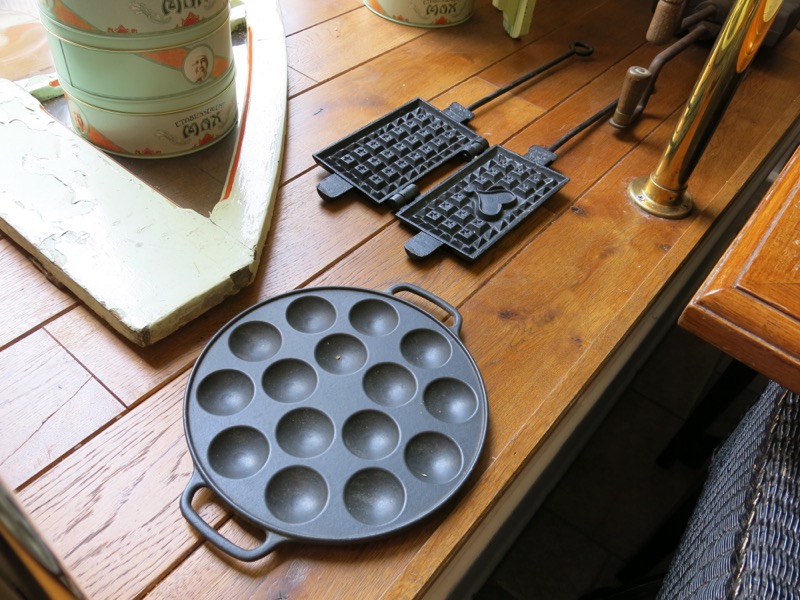 And the chocolate sauce? I had forgotten what such sauce is like in Belgium. Yes, that I have had before. Unlike anything in North America and I am not sure I could actually replicate it. I am bound to try, though.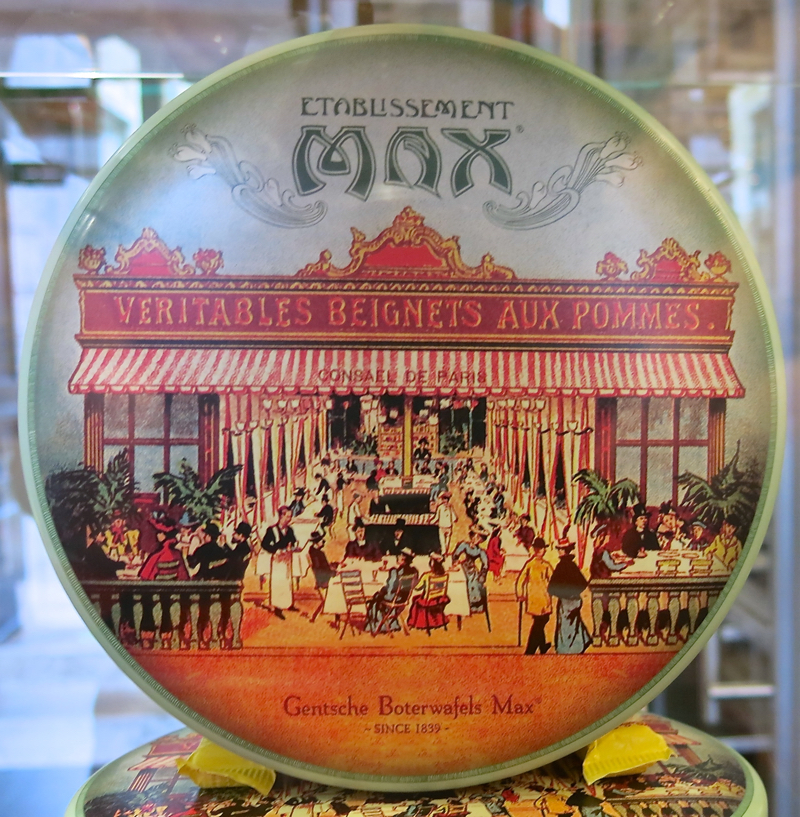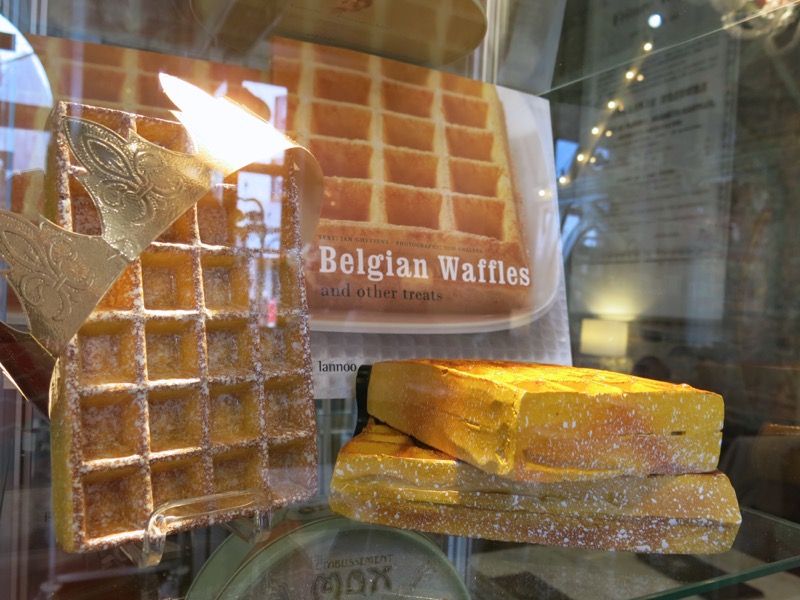 Each round box contains the miniature waffle bites served with the coffee at Etablissement Max. Top, right, display of the cookbook, coming in, that I completely overlooked. I took a photograph of it, yet didn't "see" it.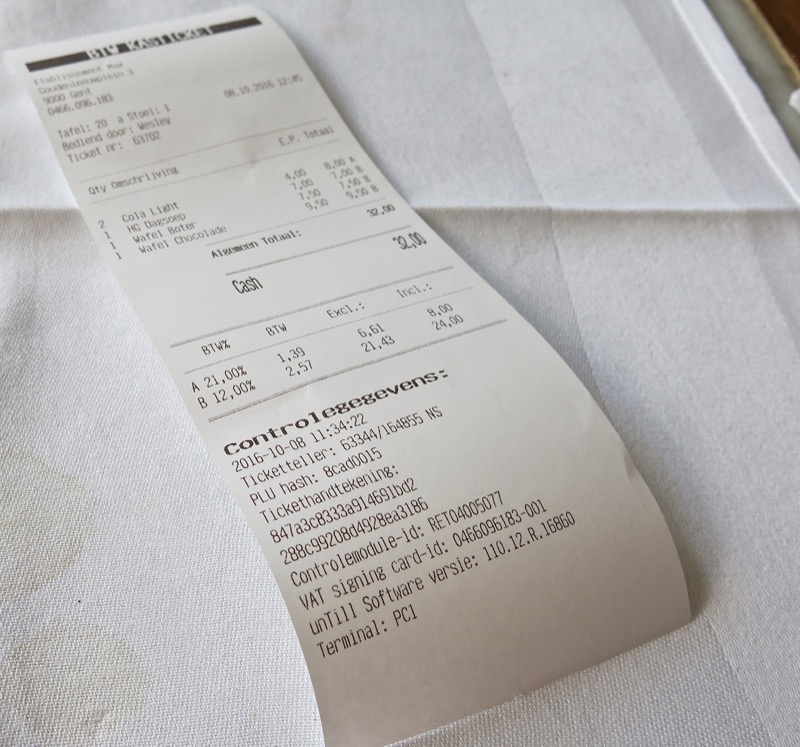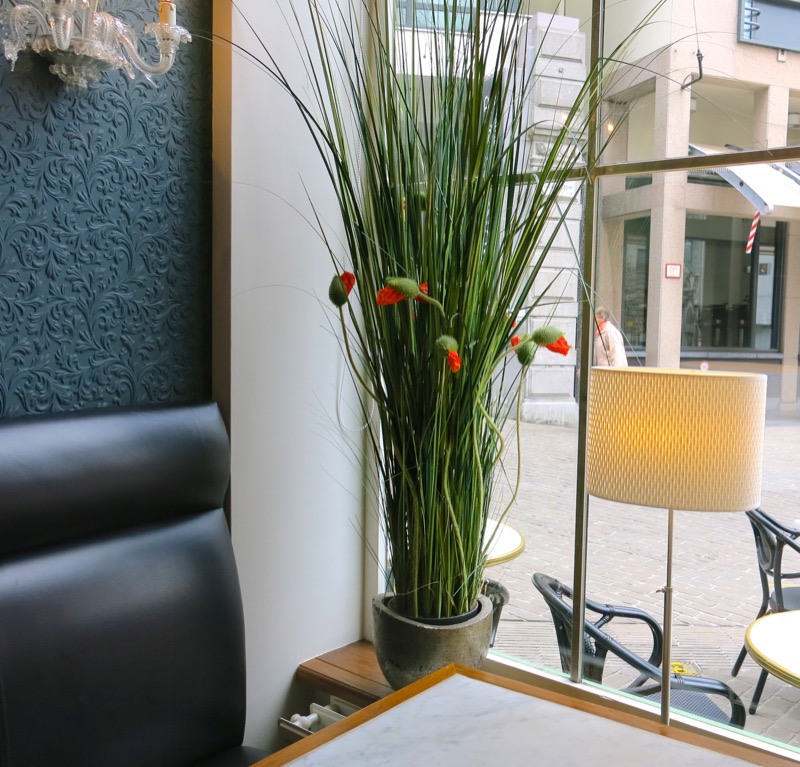 The table next to ours had a reserved sign on it all through the lunch hour, and as we were leaving, the most well dressed elderly woman arrived, was greeted with kisses from the waiter and seated in what is likely her spot every Saturday. Maybe, every day? Clearly a regular. Clearly has a wonderful little corner saved for her regularly and likely many, many Etablissement Max stories to tell.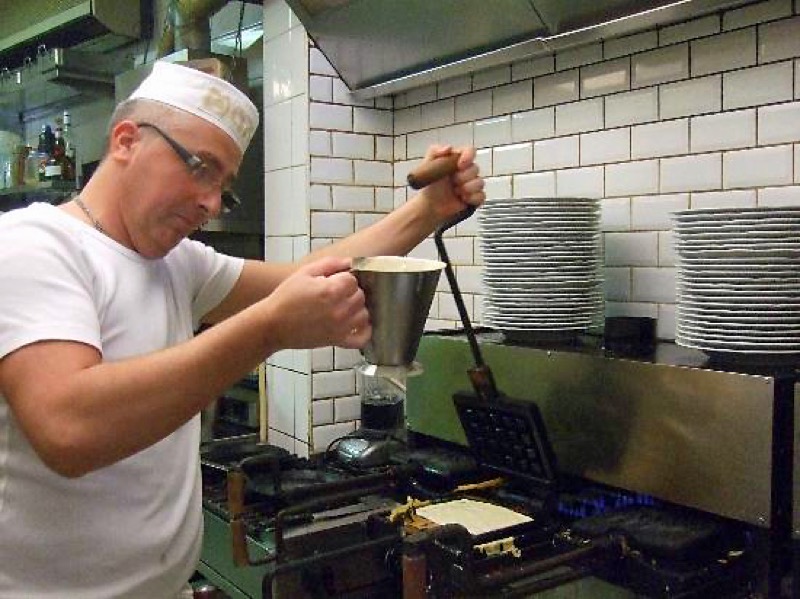 We met our guide, Hilde Proot, immediately after our lunch, in front of Etablissement Max. She was incredible and immediately took us back into the restaurant to tell us the history and asked if I could visit the kitchen and take some photographs for this article. She asked the staff, and was told, "Through the window." but when I started to take my photos, the usual gregarious and camera friendly Yves wagged his finger at me: "No!No!No!No!No!"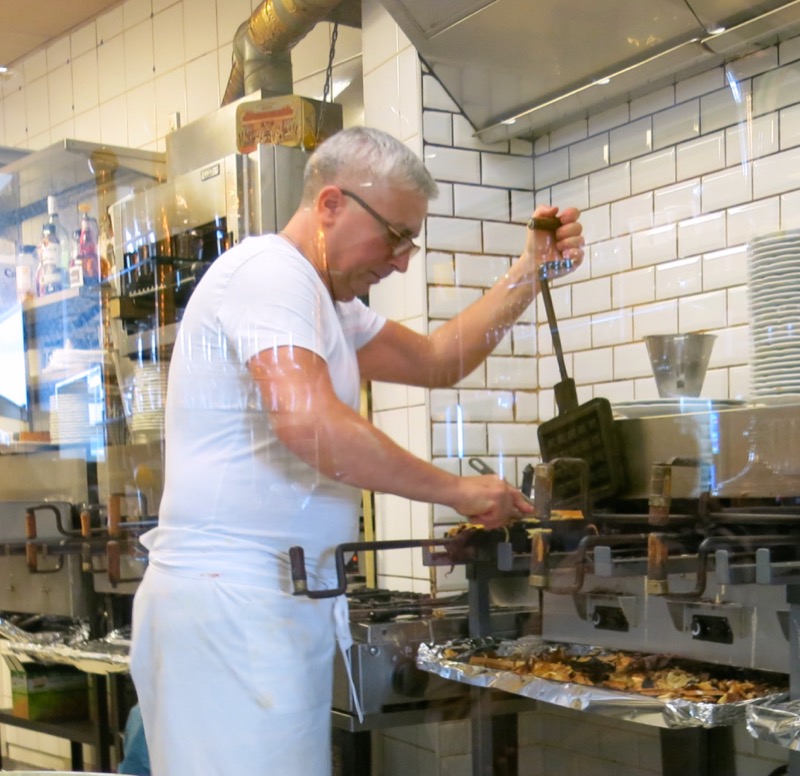 So, I found images that I could not locate ownership of and have used them to provide a little view into the kitchen. Above, he is shaving the extrusions from the waffle iron to create the perfect rectangle. Below, he did pose for me, through the glass, and he did smile, but the camera missed that!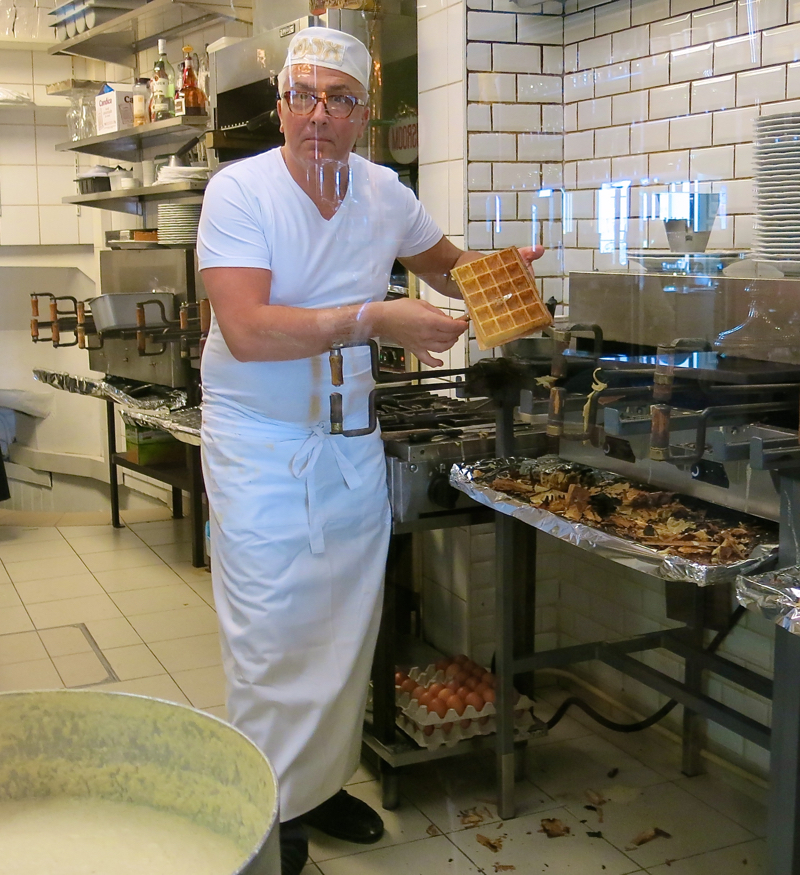 The massive vat of waffle batter will likely be empty by the end of the day.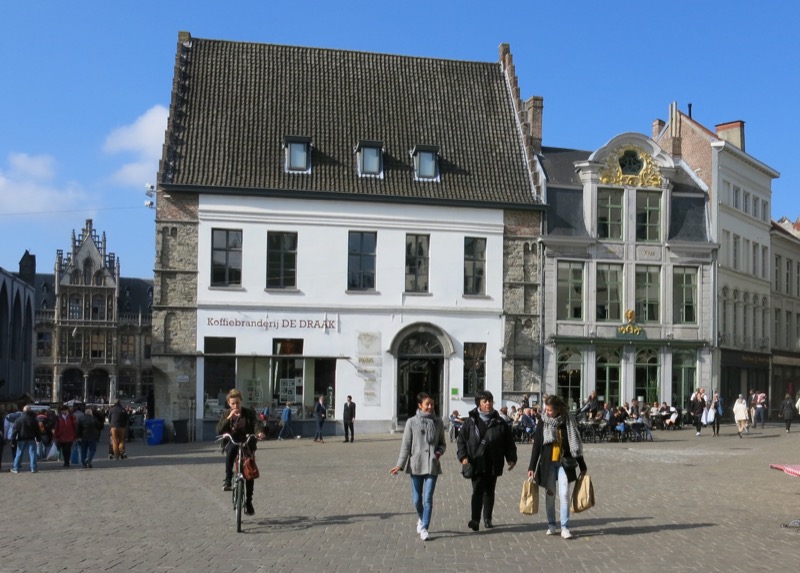 As we depart, Hilde takes us on a vibrant, memorable tour of her city, stories yet to be told. Yet, with waffle in tummy, my first and best memory of Ghent will forever be my not-so-simple waffle with butter.