Early morning stop at Kleinblatt's Bakery specializing in Kosher Jewish baked goods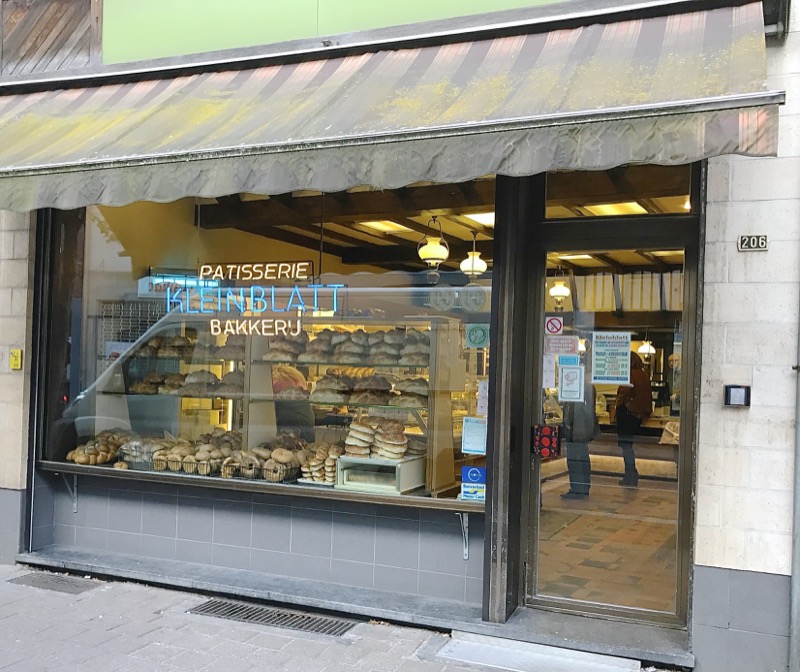 Up early every morning of our holiday! That's the way we rumble! Delft yesterday, in the footsteps of Vermeer; Antwerp today, in the footsteps of Rubens. Ninety minutes out of The Hague where we were staying, and meeting our guide at 10:00 am, I had Kleinblatt's Bakery as our first stop enroute as it opens at 6 am and would be the perfect stop for morning coffee. So I thought.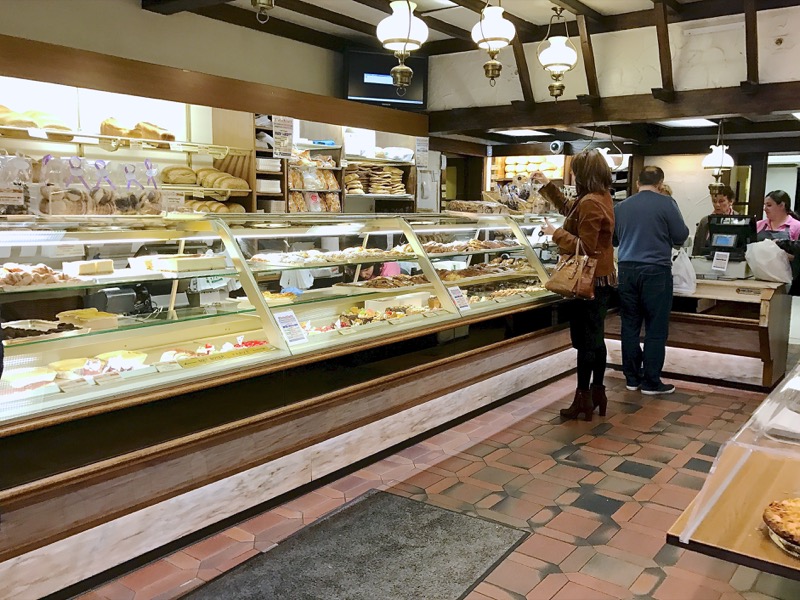 Antwerp has one of the largest Traditional Orthadox Jewish Neighbourhoods in the world
I had found Kleinblatt's Bakery noted in my research to be a great little local food stop in Antwerp, and though "out of the way" as it is in the Jewish quarter near the Antwerp Zoo and a stone's throw from the central railway station, it was on our way into town and fit perfectly into our schedule. I am a curious tourist and if I can mix food culture with art, history and architecture, I work to do it. Happily, Vanja kindly complies and we consistently have a very tight, well rounded, itinerary every day.
Immediately intrigued as we reached the area just as the little ones in clusters, or with mommies and daddies, were heading off to school. Clearly, this was a very traditional Jewish neighbourhood populated with what looked like Hasidic Jews from my limited experience with this sect of the religion. "Hasidism is a sub-group within Ultra-Orthodox ("Haredi") Judaism and is noted for its religious conservatism and social seclusion." I learned later that 95% of the 15000 Jewish population in Antwerp practices ultra-orthadox or Haredi Judaism attend Jewish religious schools and live amid kosher delis, restaurants and grocery stores. Kleinblatt's Bakery in the center of it all and famous throughout the entire city for it's incredible offerings.
I was mesmerized by the tiny little Jewish children "riding" tiny little bicycles "without pedals" to their schools with their cute little locks bouncing up and down. They were pushing themselves on these tiniest little two wheel apparati and were absolutely adorable. Later, our guide told us that this is how everyone teaches their young to ride bicycles. These little miniature pedal-less two wheelers are every child's first "bike". The Jewish Quarter in Antwerp is one of the largest ultra-Orthodox communities in the Diaspora that contains The Diamond District, as well.
Antwerp is internationally famous for diamonds, though we didn't go on that tour. Diamond dealers and traders belong to the Antwerp's Orthodox Jewish community, which has a long tradition of handling diamonds. More than 80% of the city's Jews are involved in the diamond trade and Yiddish is the main language of the diamond exchange. Interestingly, about 85% of the world's rough diamonds are traded in Antwerp each year.
Kleinbatt's Bakery early 1920's and still a family business

Jacob Kleinblatt and his wife started their first bakery in Krakow, Poland i 1903. Today's owners are the great grandchildren of Jacob and his wife. Jacob's son, Hirsch Kleinblatt and his wife moved to Antwerp in the early 1920's and opened a bakery. Brothers, Moishe and Abraham, joined the family bakery business after the 1929 stock market crash. Kleinblatt's has been at the current location since 1931. The second world war found the bakery closed 1942 as the Germans cleared everything out. Hirsch's wife, Regina, and brother, Moishe, returned to the bakery after the war. Hirsch's daughter, Golda returned to the bakery in the mid-1950s and built the Kleinblatt bakery into a booming business with her husband. Kleinblatt is famous throughout Antwerp and exports its Kosher pasta to major cities such as Paris and London.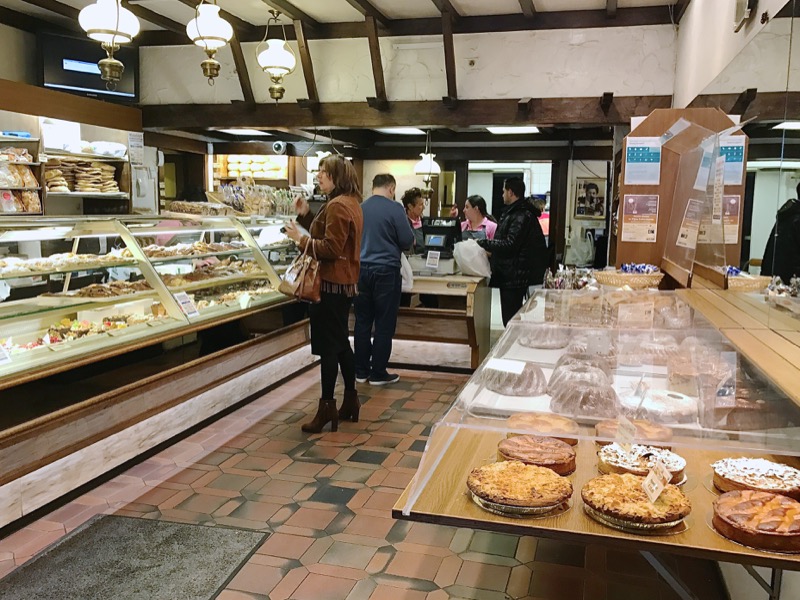 I was so thirsty, and we were looking forward to a quiet little 15 minutes at an out of the way bakery for a coffee, a water, and washroom, and a lot of interesting baking to peak at. Kleinbatt's Bakery is not "that" kind of place. No seating. No washroom. No drinks. It is an extraordinary local Jewish Kosher bakery in the heart of the Jewish Quarter in Antwerp. If you are a person interested in local food culture, it is a must visit. It was an exceptional and unforgettable experience for me. I wish I could have stayed longer in the neighbourhood, alone.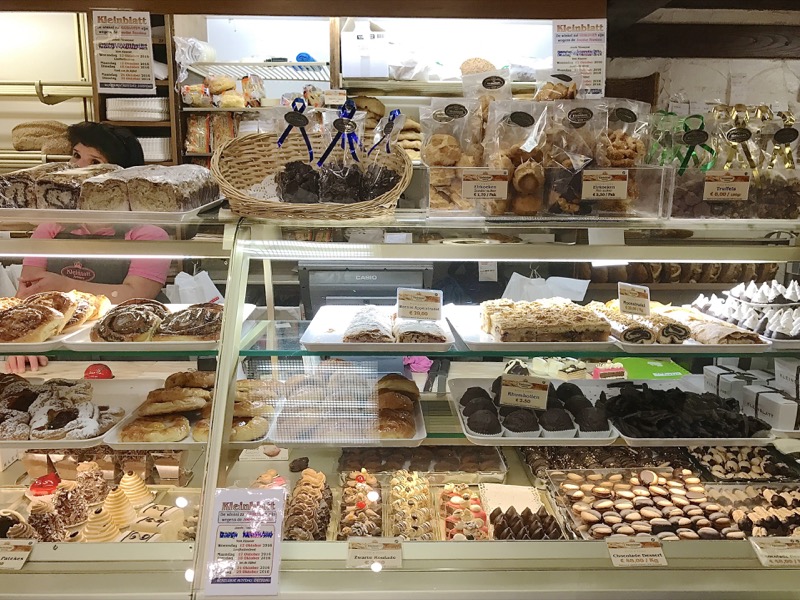 Just as we were to enter, there was a young Jewish teen with a larger hat on his head, sitting on his back, preparing for take off, wrapping his curls around his ear, smelling of soap, and clutching a bag of something delicious in his other hand. We entered. First, the aroma was warm, humid and scented with sugar, fresh bread and salt.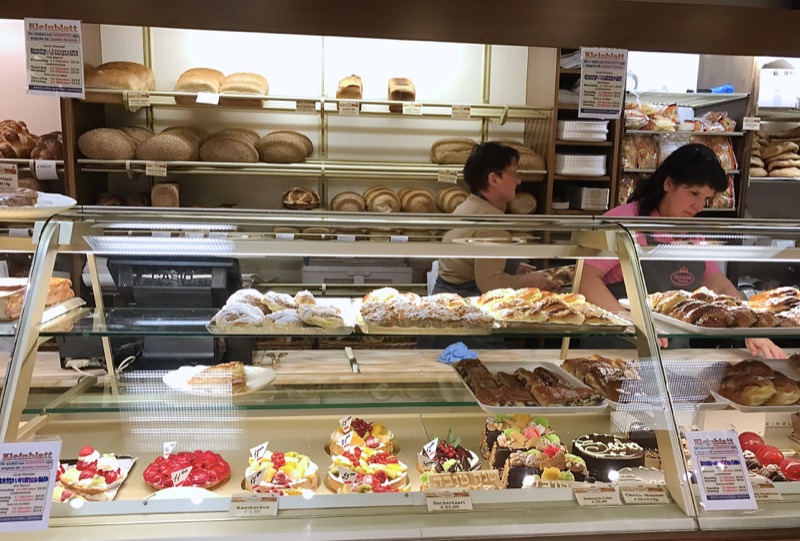 Second, all eyes fell upon us, and there was a small bit of a panic. Lots of smiles and nods, but I sensed that immediately they were aware we were English speakers and scrambling to find a person who could communicate with us. My eyes were darting everywhere. So much to look at and see in this long narrow space. Where to focus?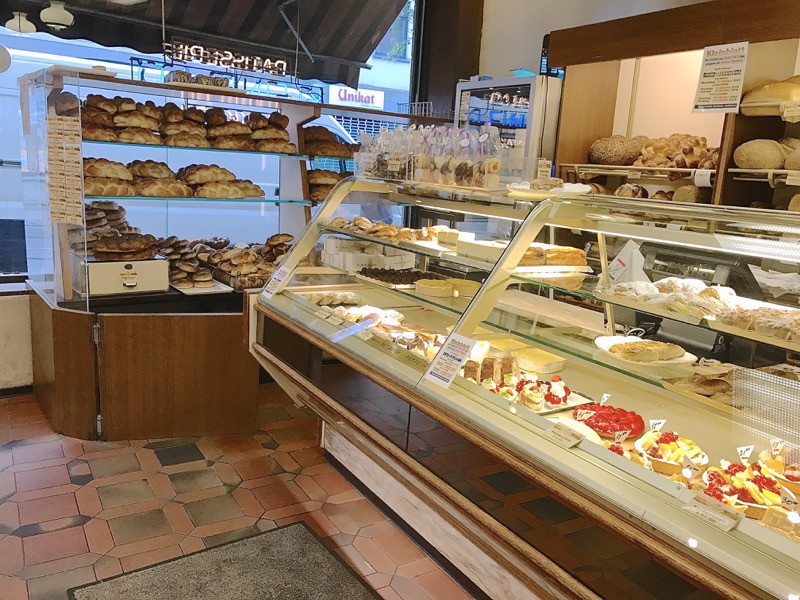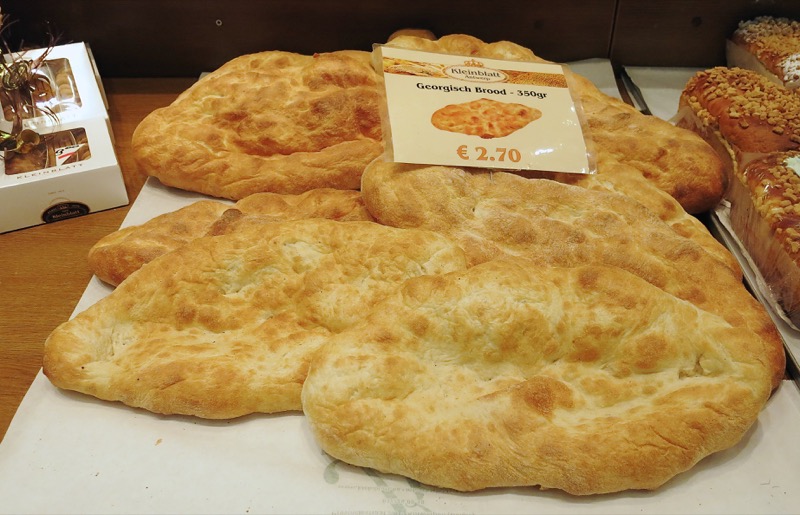 First, what is this? Clearly a flat bread, but one of the likes I have not seen before. Of course, I wanted to pinch a taste off of everything! How I wished I could have my own tour guide. What is this? What is in it? What is its origin?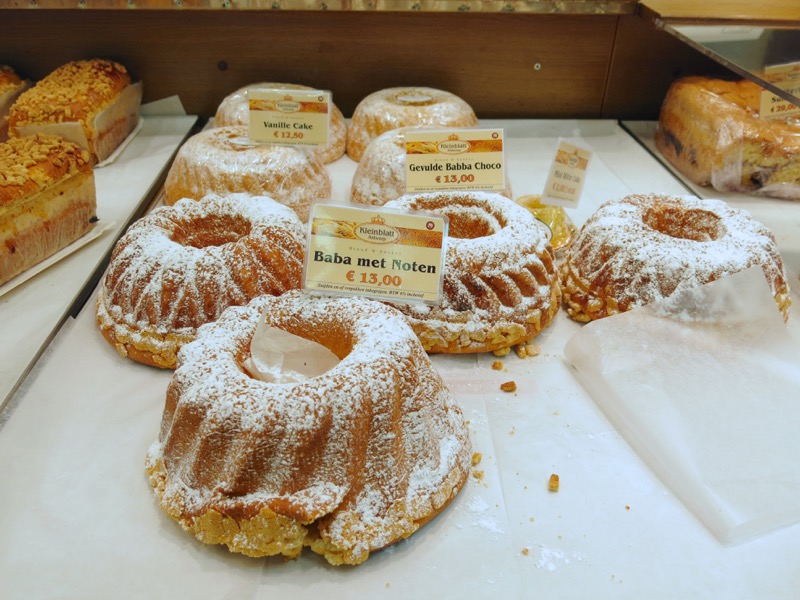 We arrived around 8:30 am and there were already empty spaces where many favourites had already been picked up in the early morning for the day.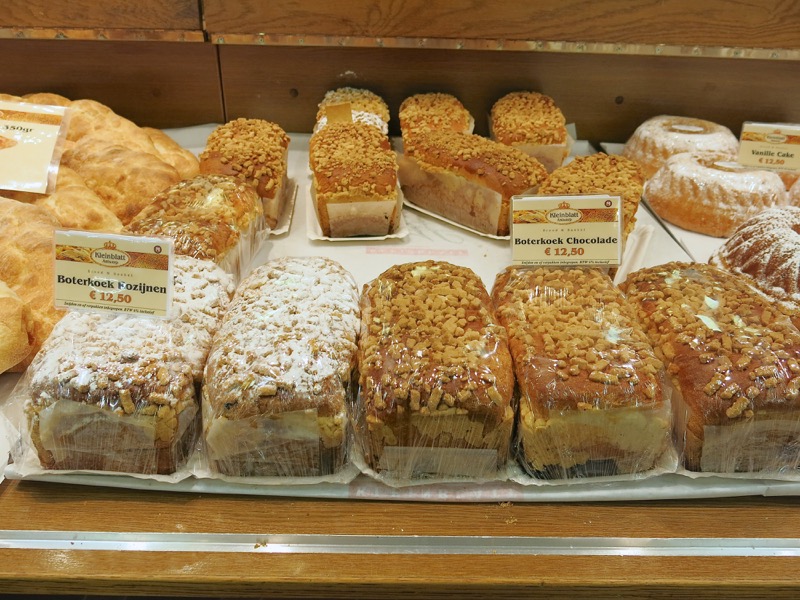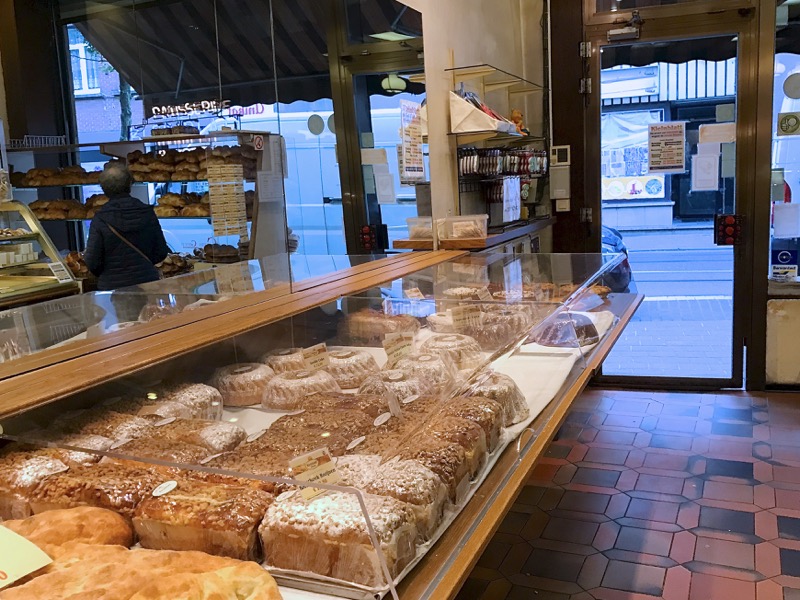 The breads were in the window in the front, and on the right, upon entering.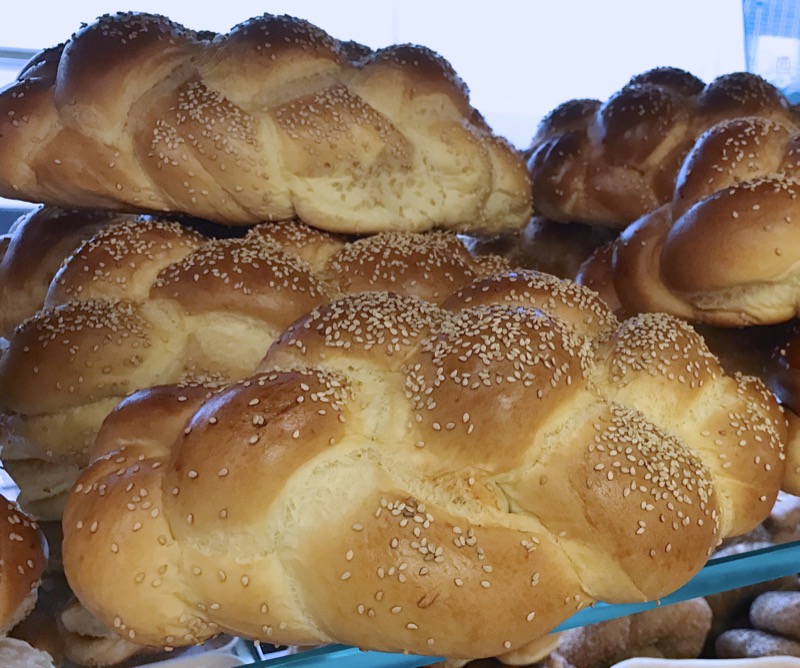 Also, we arrived on a Friday morning. By now, the lovely gal who spoke English had asked us if we needed any help, and I had enthused my curiosity and asked her to please show me the specialties. I could see that was a little of an impossible question, but she did very well to try! Above, the Challah or special Sabbath bread. "Only on Fridays!" She said an pointed to this and the smaller individual portions of it. It is customary to begin each of the three meals eaten during the Sabbath (Friday night is the first) with a blessing over two Challah loaves: think about 15 000 people in the area and six Challah per family every weekend.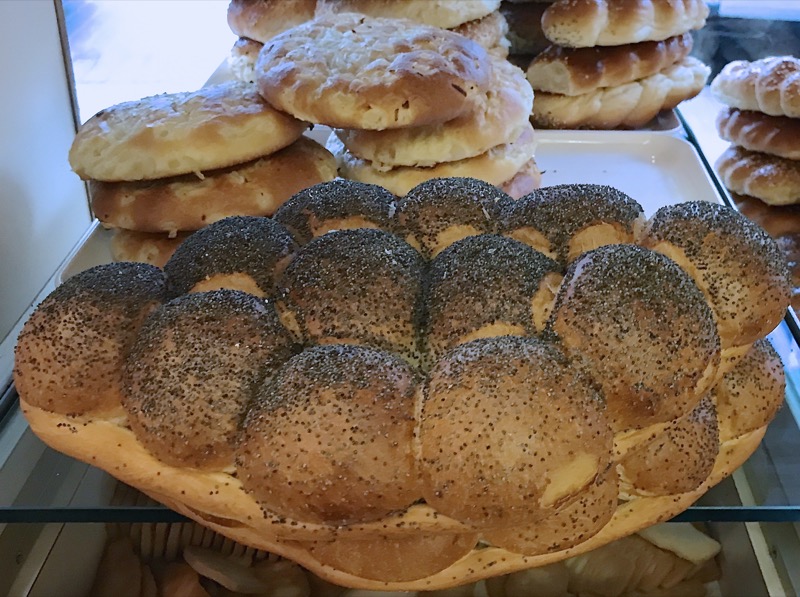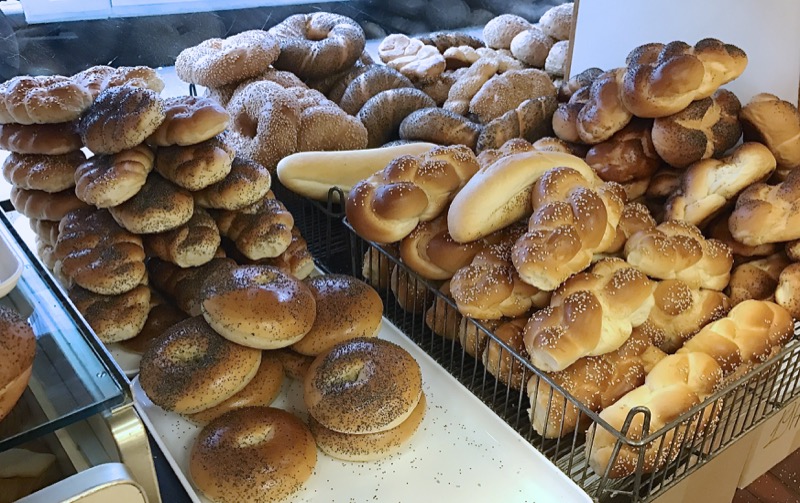 You can see them, above. And what would a Jewish bakery be without a bagel? Oh, I wanted everything!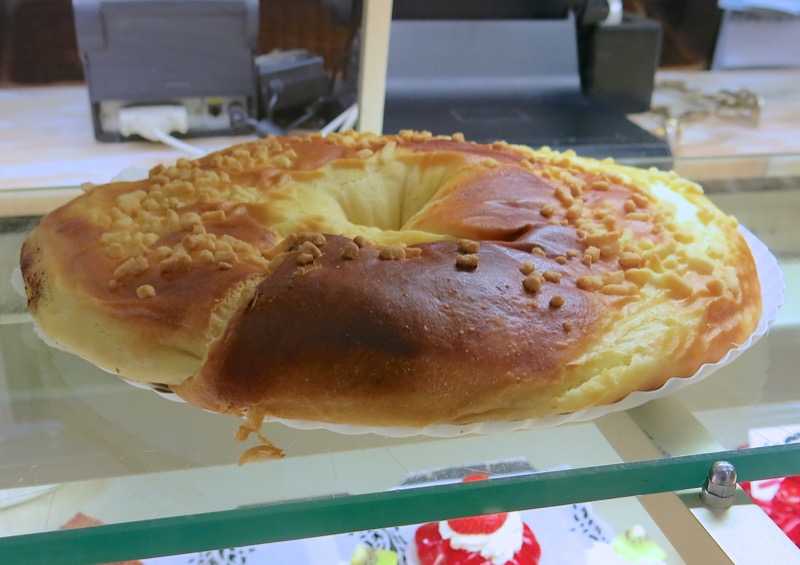 She pointed to this, above: "Only on Fridays. You can buy half." There was only one left. "Can I buy 1/4?" She sincerely looked sad, "No, no. I am so sorry. Only 1/2." It was 15 EU for the entire cheese bread… and huge. I just wanted a taste. Apparently enough to buy half, as I did.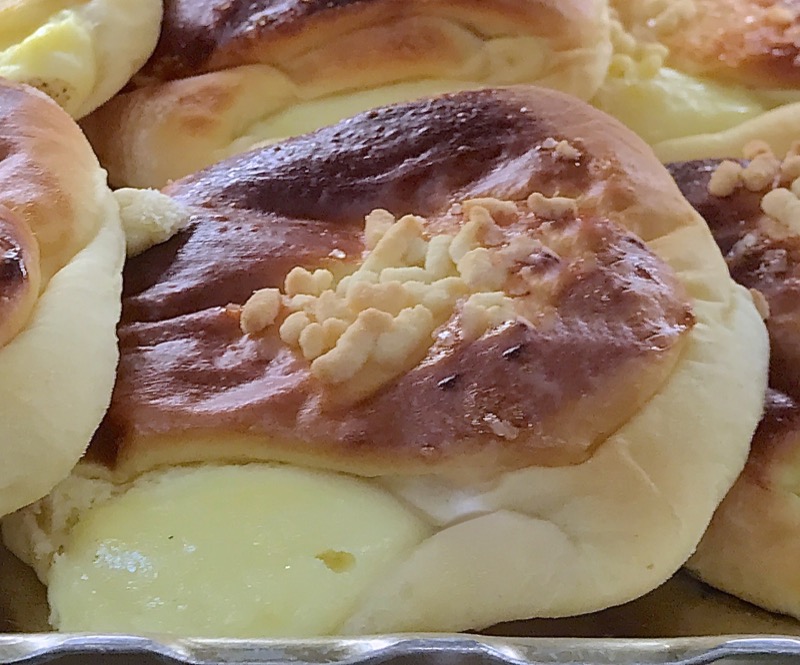 But not before asking her what the favourites were. She said, that (the one I bought available only on Fridays) and this, above and below.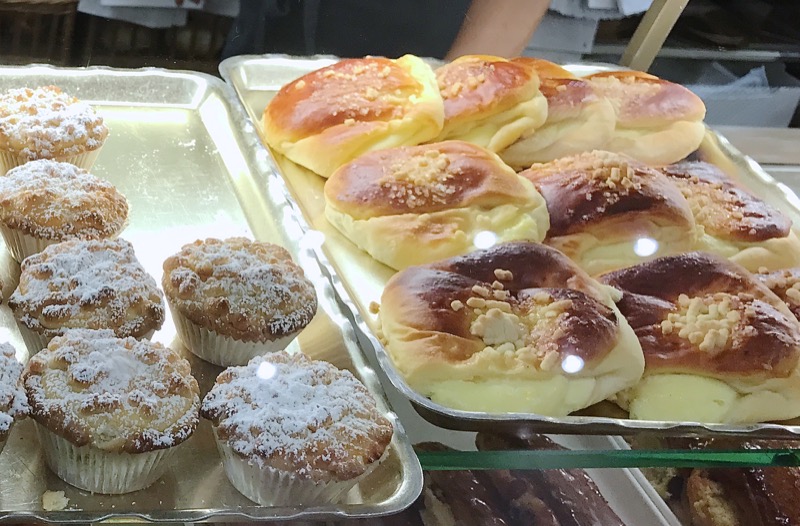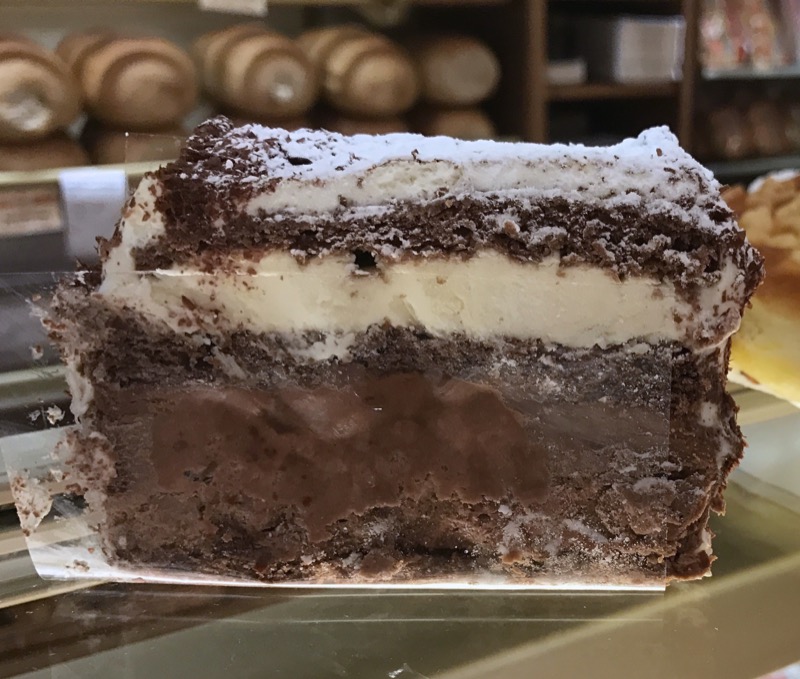 And the cake, above.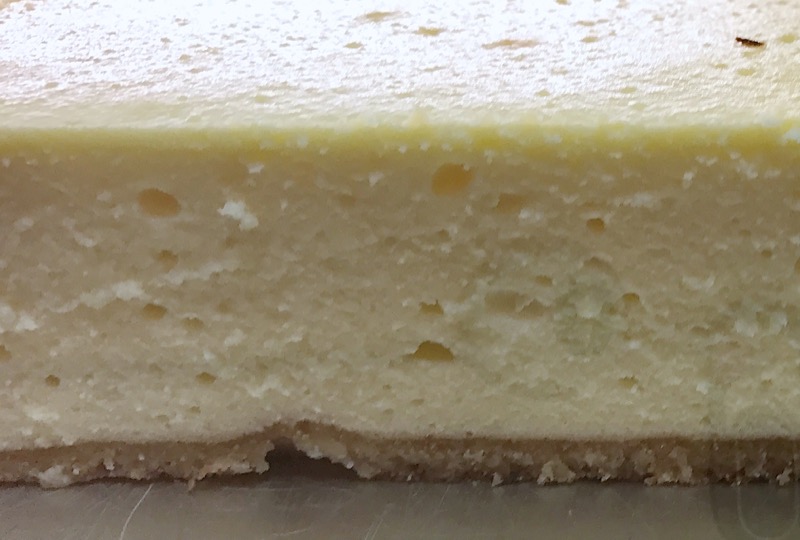 And their cheesecake. And she kind of shrugged looking at the entire breadth and depth of the delicacies before us and said, "It's about what you like?"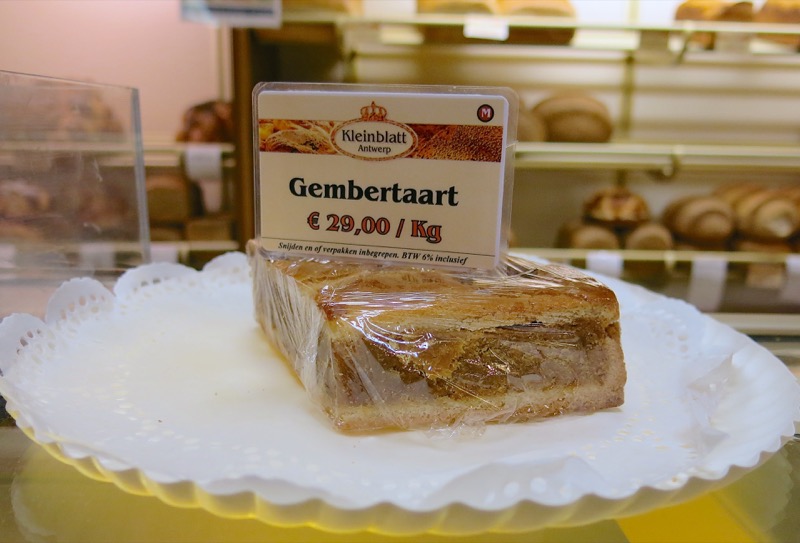 Of course it is! And I want to experience what I have not experienced before and what everyone likes the most in this culture.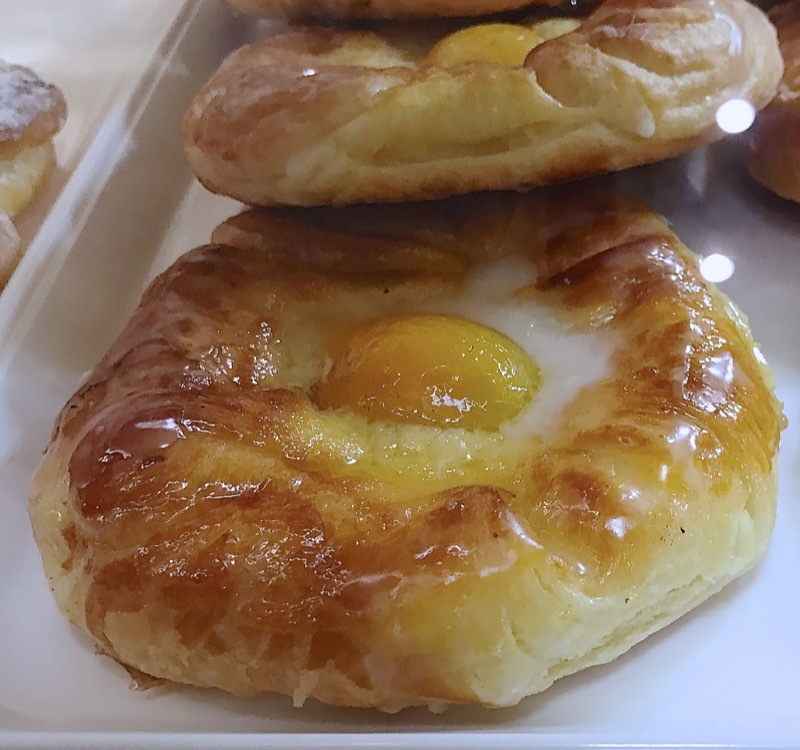 But, of course, most of the goods were what everyone likes everywhere, just made to an exceptional standard.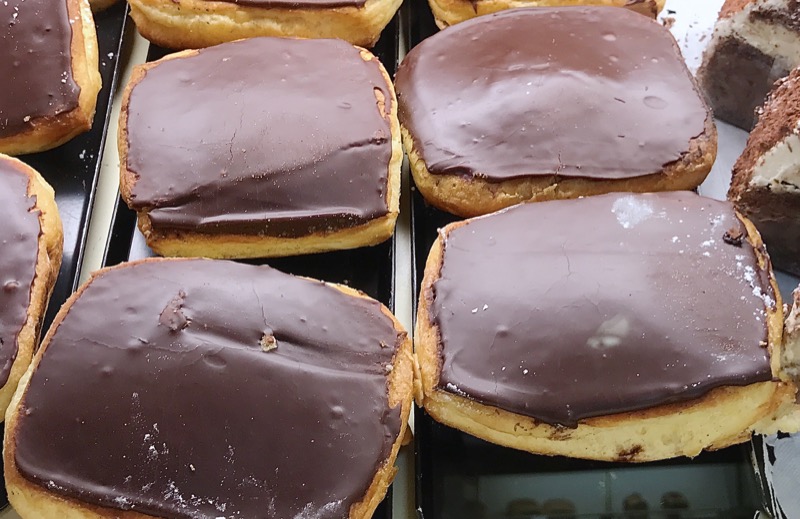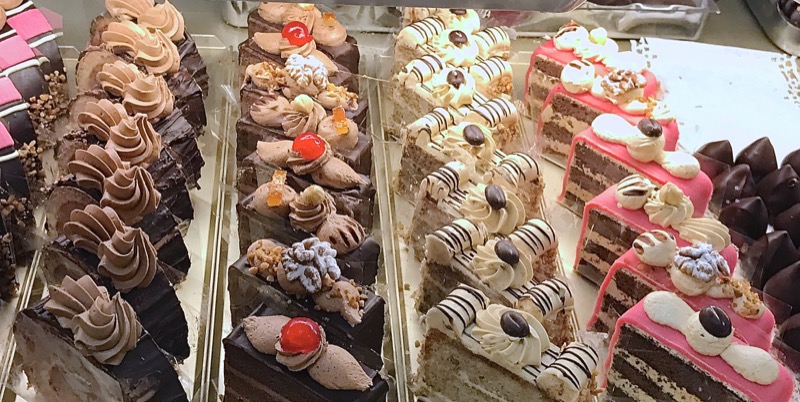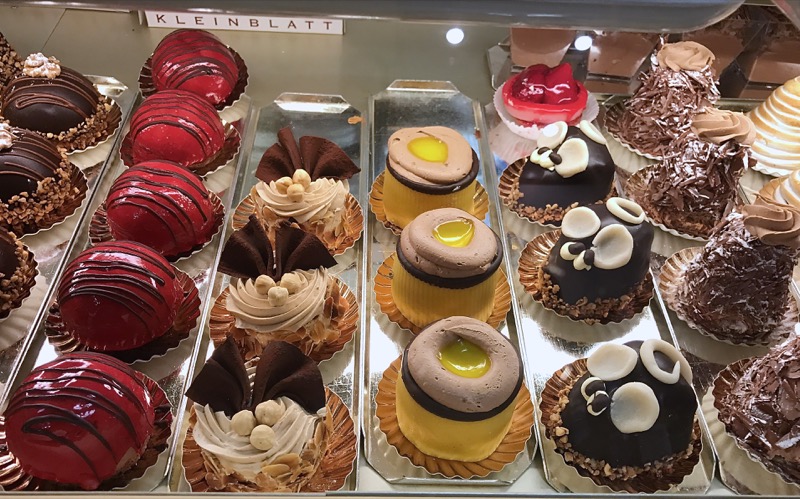 I mean, can you now understand how difficult it was to be in this space and place at this time with limited knowledge and limited ability to communicate to make a decision for a taste or two that would be educational and mark this experience with a taste memory that would be significantly local.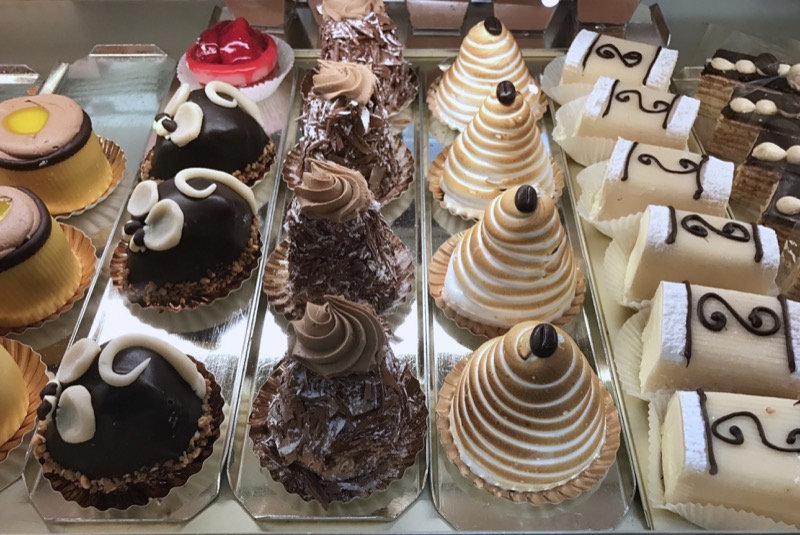 Javanais Patekes 2.50 EU is what the sign said. I cannot find any translation in any language. I guess Patekes means pastries? But Javanais is another matter. It could mean a specific area in Indonesia or it is a French slang for something I don't understand. Help, anyone? In any case, one of any of these is 2.50 EU.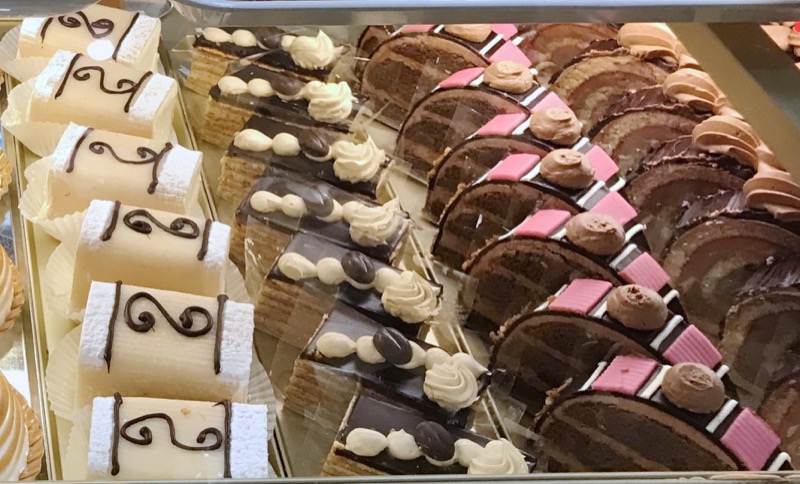 At home, in Edmonton, I have tasted every single morsel at my favourite local Bakery (Duchess Bakeshop), and I would be sure to do the same here, if I lived in Antwerp. It takes time, but not so much time if you gather together a group of friends, buy one of many things and each take a taste. It is a fun way to have a tea party!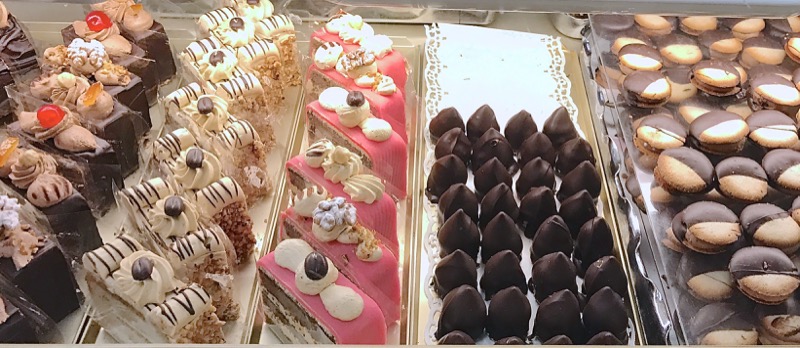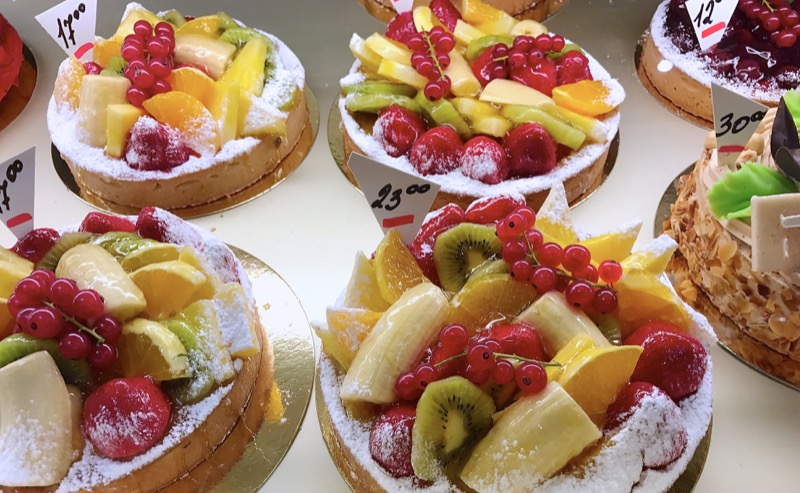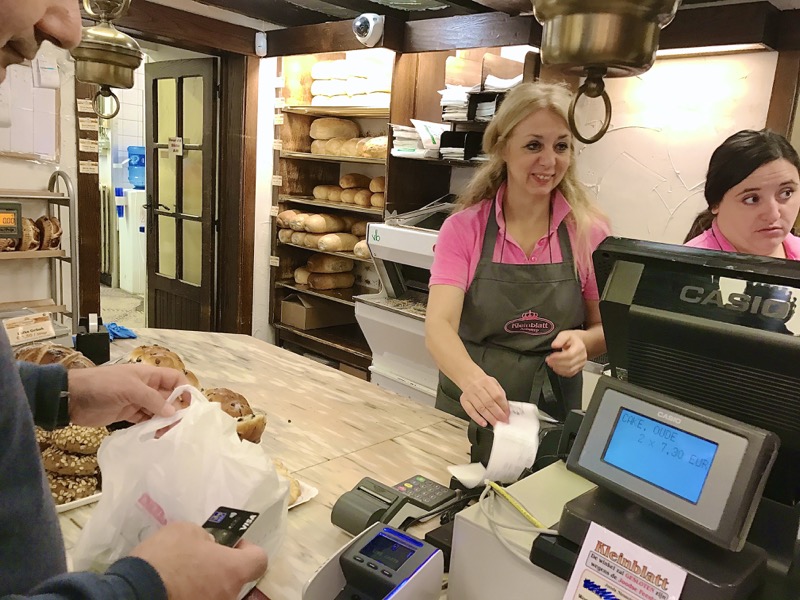 In the end, half of the cheese bread round, a slice of the chocolate "favourite" that I didn't realize was chocolate at the time, and one of the individual Challah-like breads. The gal with the blond hair, above, was our lovely host.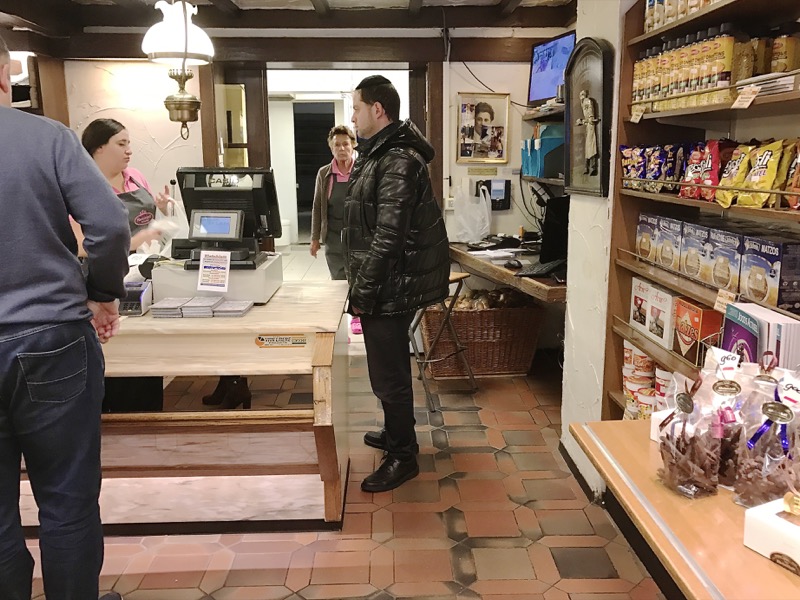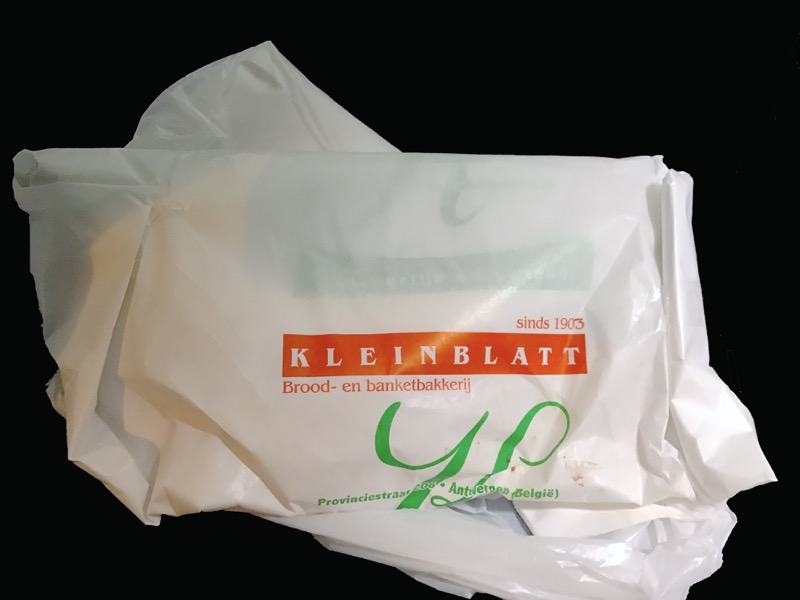 All wrapped up and ready to meet our guide in the old town at 10 am.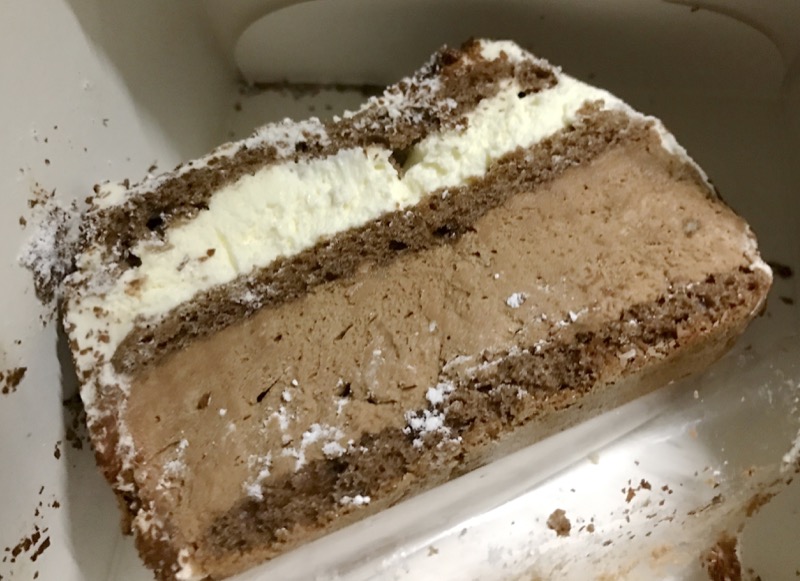 I needed to peak at what I had understood to be specifically a Jewish favourite. Ready to laugh. It is, but it is also everyone's favourite! Chocolate mousse cake. Understandably a favourite at their bakery as I have never had anything so divine of this nature. I was just looking for something traditionally Jewish in nature.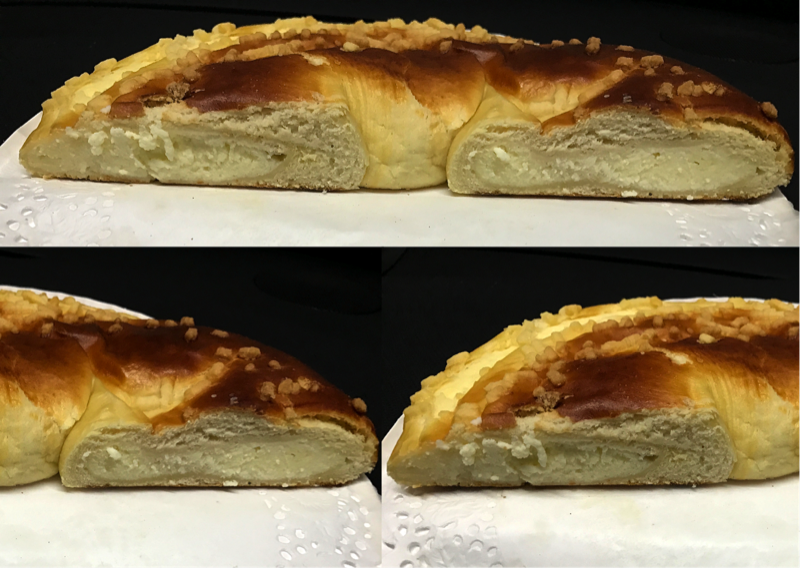 This may be it, above. I have truly never had anything like it. The bread was slightly sweet, and the filling was a little sour, but not off-puttingly sour… addictively sour. Oddly sour. Novel. Tasty. Compelling. Yes, I ate it all. Over a few days. But, I had to. It cost 7.50 EU! And the Challah-like bun? Crisp, crunchy chewy crust with airy interior and a lively yeasty wheat flavour that was bright, light and very tasty. Excellent bread. I would have no problem buying many loaves of these tasty Challah every weekend if I lived here. Finally, if you know what the above bread is called, or anything about the other items in this post, please tell me. I am so curious and so eager to learn about this food. Have you guessed yet that it is not traditional Flemish food? Also, they have an incredible website. Definitely worth a peek.
Final word to the folks at Kleinblatt's Bakery? Thank you for the wonderful early Friday morning Antwerp experience with you. If I was a tour guide, I would start my tour at your shop, then on to the diamond trade to watch the cutting and shaping of a gem, then on through the neighbourhood. It held so much charm that if one had a guide, I am certain many such treasures similar to Kleinblatt's would unfold throughout the day.