Sablefish to-die-for with coconut milk, ginger, lime, garlic and pastilla peppers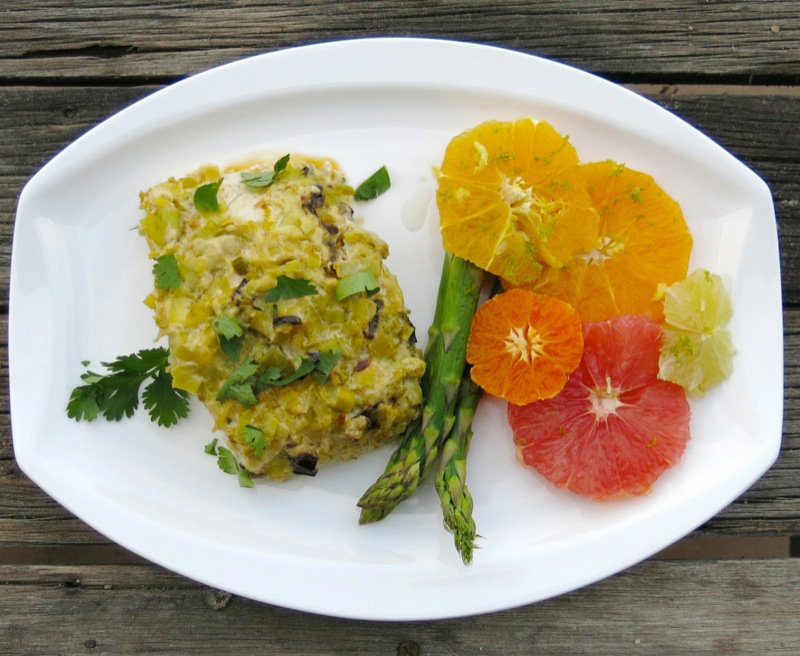 Black Cod or Wild Sablefish is a luxurious delicacy caught in a trap bottom long line on the West Coast of Vancouver Island. I purchased mine fresh last summer at Codfather's in Kelowna, British Columbia, and dinner last night was a plate lickin' fest. Longliners fishing for sablefish, also referred to as black cod, set gear on the sea floor at depths exceeding 1,100 metres (3,600 ft) using relatively simple equipment as sablefish is found in muddy sea beds in the North Pacific at depths from 300 m to 2,700 m (1000 to 9000 ft). Longlines with traps attached rather than hooks are also used for fishing crab deep waters. They are very high in omega-3 fatty acids, containing approximately as much as wild salmon. The Canadian Sablefish Association lists places to purchase this wild sustainably fished product.
The high fat content of the meat provides an unexpectedly sumptuous mouth feel and the fatty flesh is sweet and flaky. The delicate flavour of the fish did stand up to the bold sauce and the citrus salad provided a welcome counterpoint to the rich fish. This fish is highly sought after in Japan and considered a rare delicacy there because of its incredible flavour, texture and health benefits. Sea bass and sablefish are used interchangeably in high end restaurants.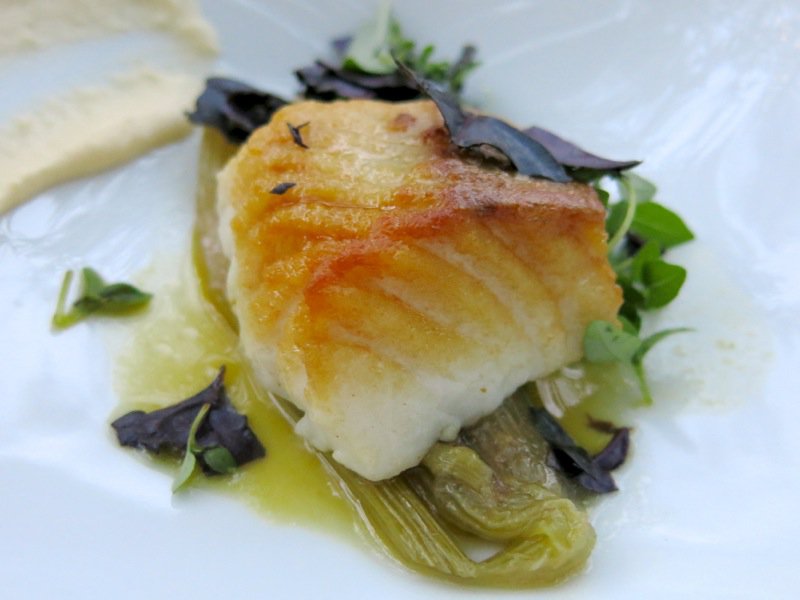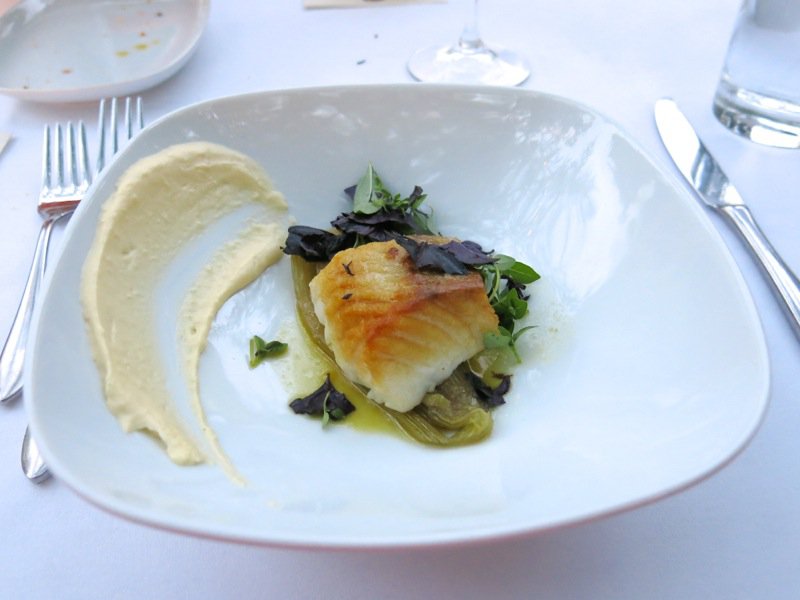 I recall first tasting this at The French Laundry, then at our Joy Road Dinner last summer on God's Mountain, plated above: Black Cod with saffron braised fennel, roasted lemon butter and summer herbs. That small bite was plenty, and simply unforgettable. That is the signature of this fish. Once you try sablefish, you are the one that is hooked.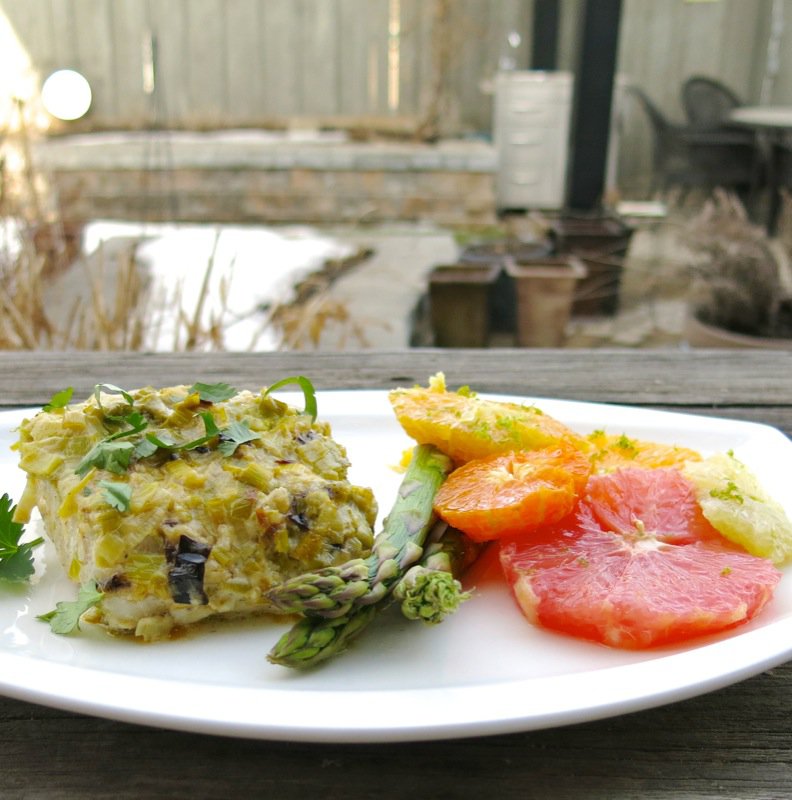 Craving fish and citrus in the middle of drab, dreary and dirty March, this dish brightened our day. I will confess, however, that any kind of gorgeous wild Canadian fish is almost always best simply seasoned, floured and fried in butter. Many will agree. This recipe would be excellent on any substantial white fish, and was lip-smacking bliss, but really, the fish speaks for itself and needs no help to prove itself.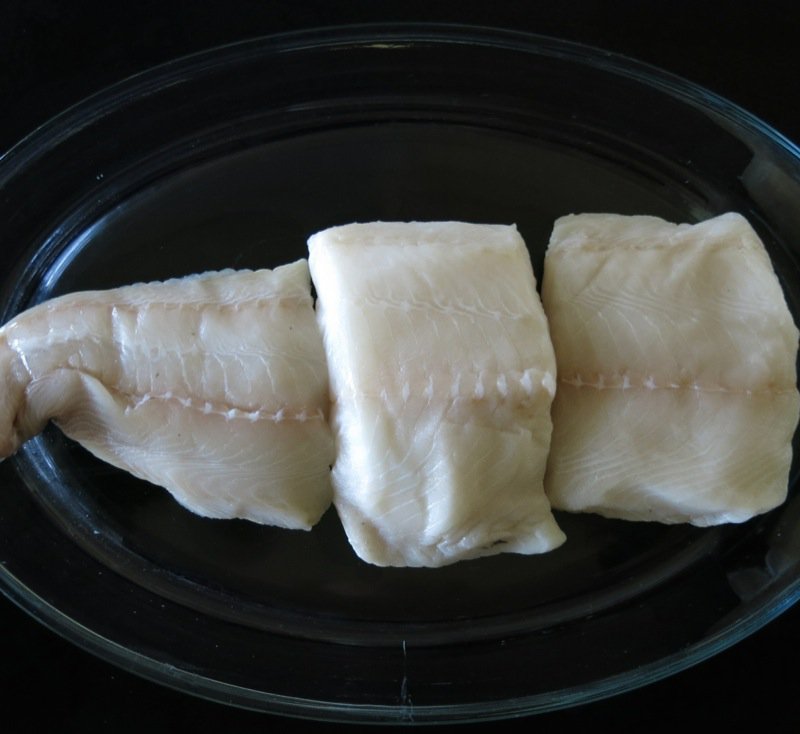 We bought a couple of fresh fillets and had them cut into generous portions and vacuum packed.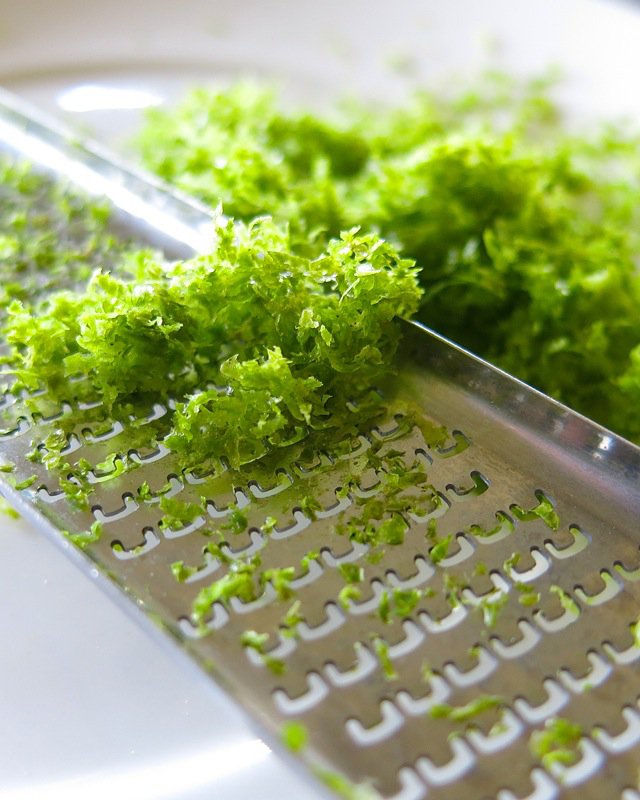 Mexican flavours on my brain, I decided to use lime and pastilla peppers in a Thai inspired recipe with garlic and ginger and coconut milk.
Fish was seasoned with salt and pepper and just a teaspoon and a half of lime juice to start the cooking process, then set aside while I finished the sauce.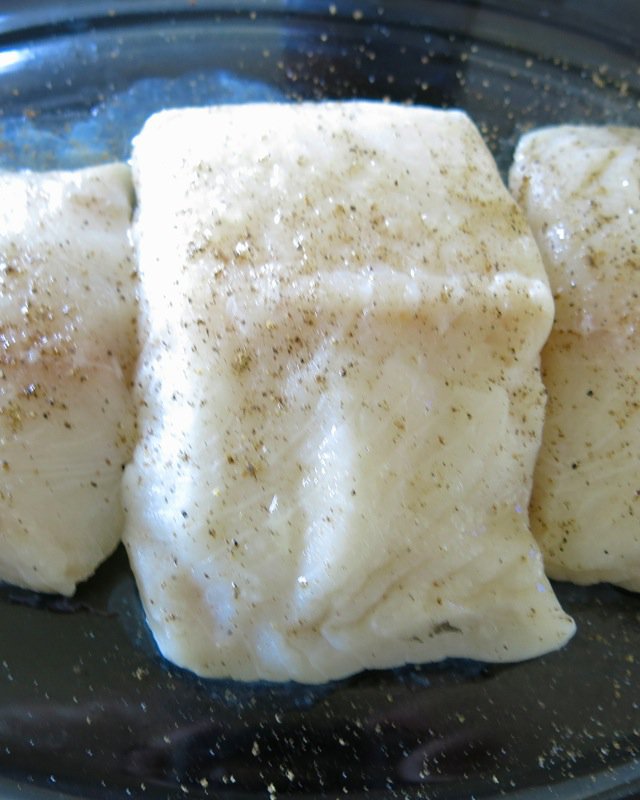 The leek in my fridge provided the perfect base for the sauce, sautéed until soft.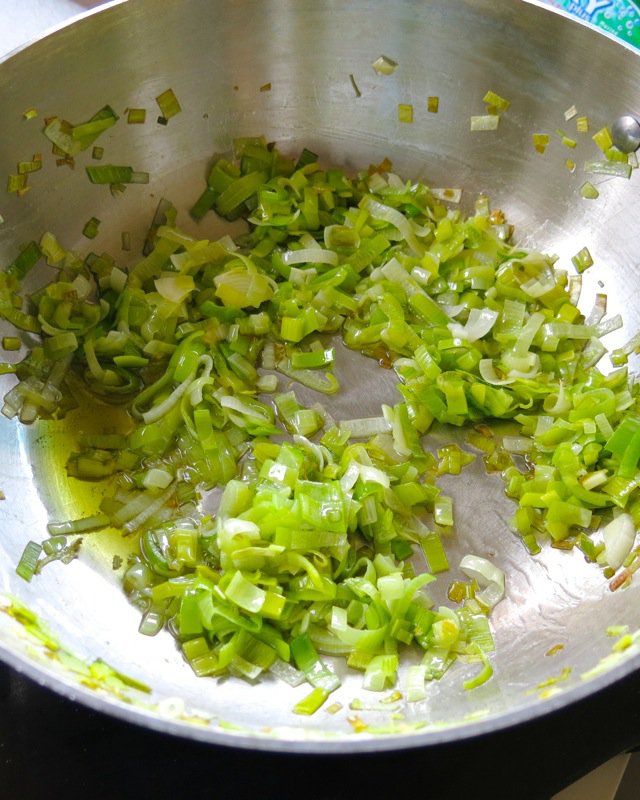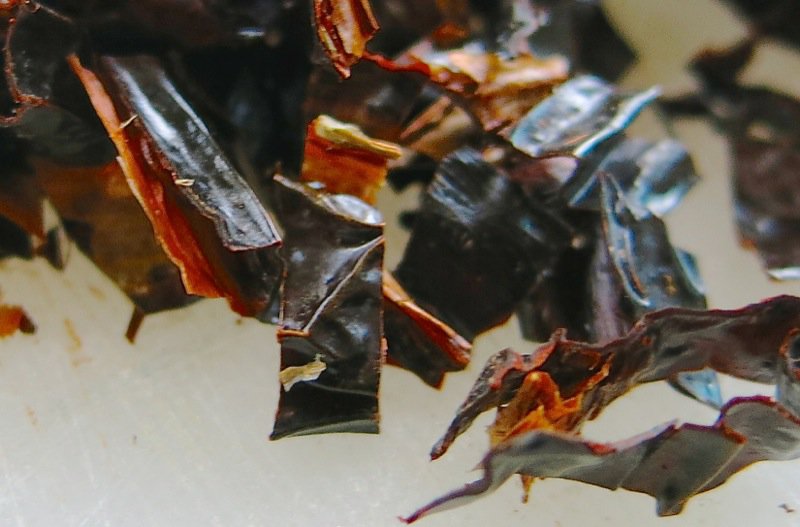 The remaining aromatics were added with the dried pepper for another minute.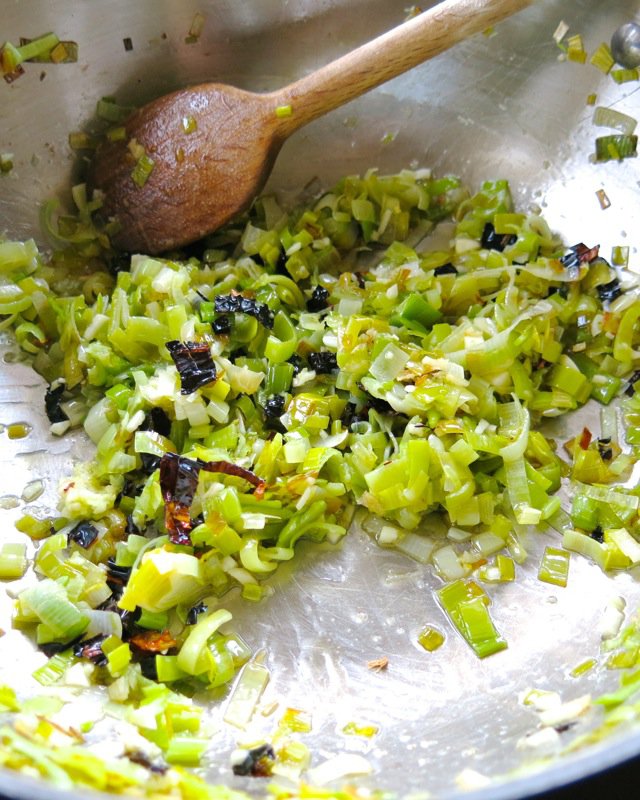 Coconut milk and lime juice were added last, and the sauce was cooked a few more minutes to thicken.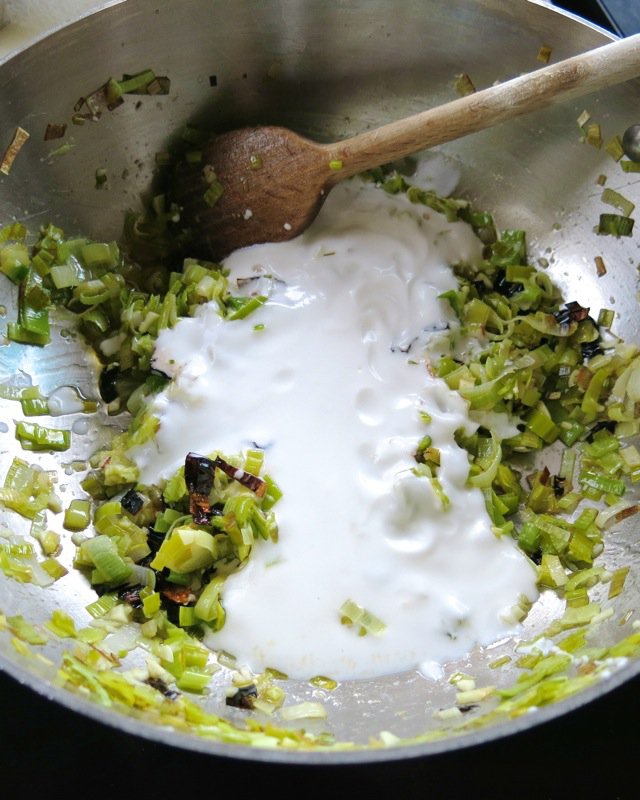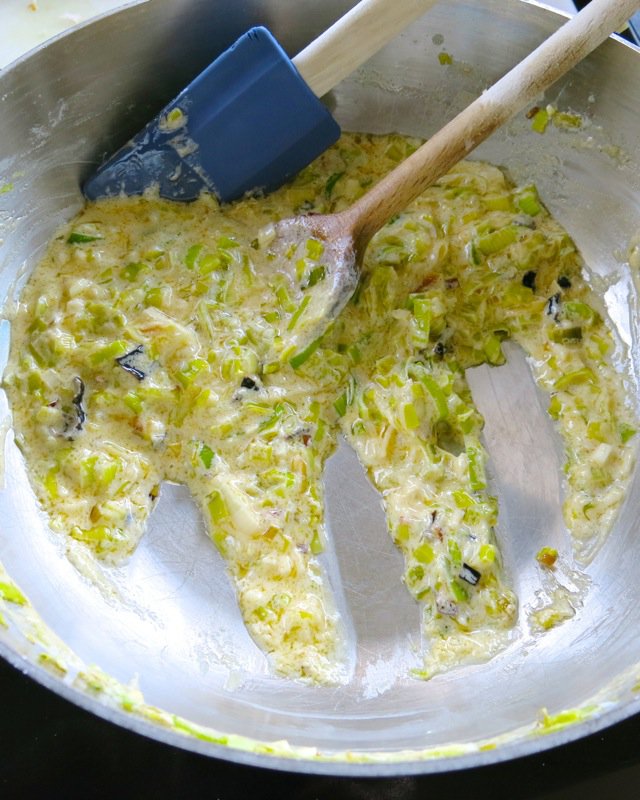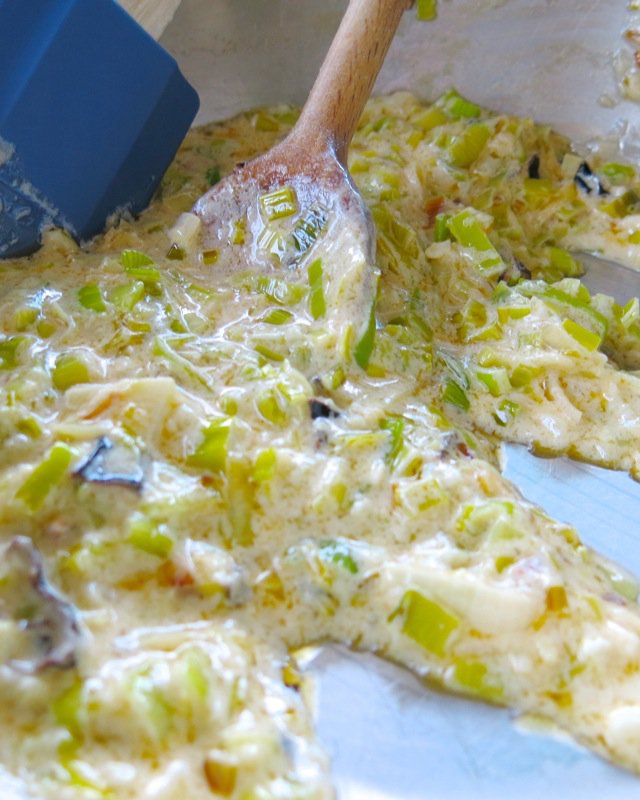 The sauce comes together very quickly and makes for a lively flavour burst to the weekly menu. Mixing the lime zest in at the last minutes, I ladled the sauce onto the pieces of sablefish.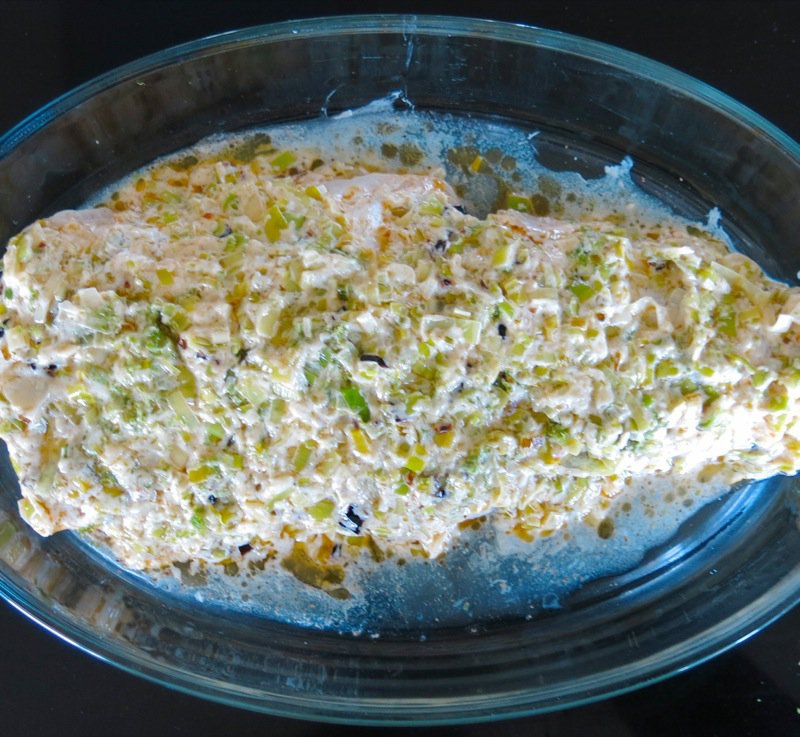 Above the fish is not cooked, though the lime juice had started the process. After only 15 minutes in a pre-heated 350°F oven, the fish is perfectly cooked. Just let it set on the counter for 5 minutes to completely finish cooking. Below, the fish is cooked. The aroma brought all to the table.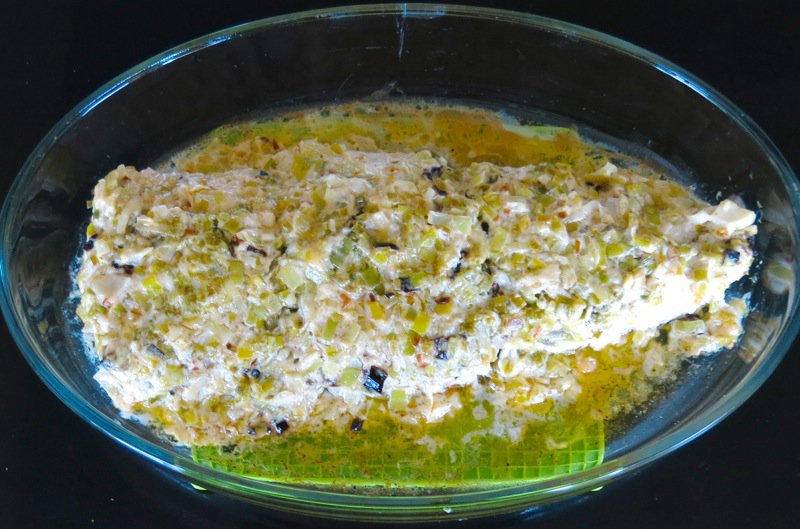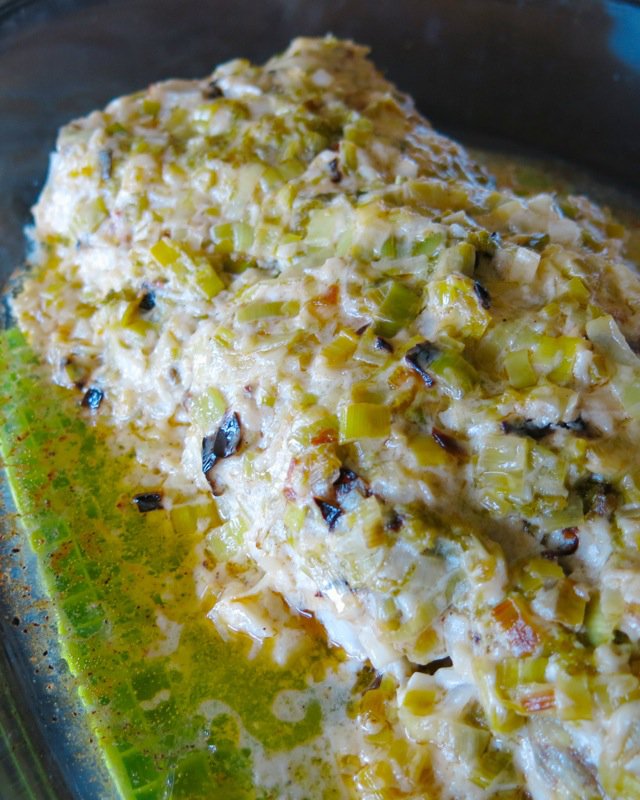 Vanja must have his traditional Serbian Potato Salad with any kind of fish I prepare. I haven't written about it, but I must. The citrus was a little too bold eaten alongside the fish, but gorgeous prefacing the meal.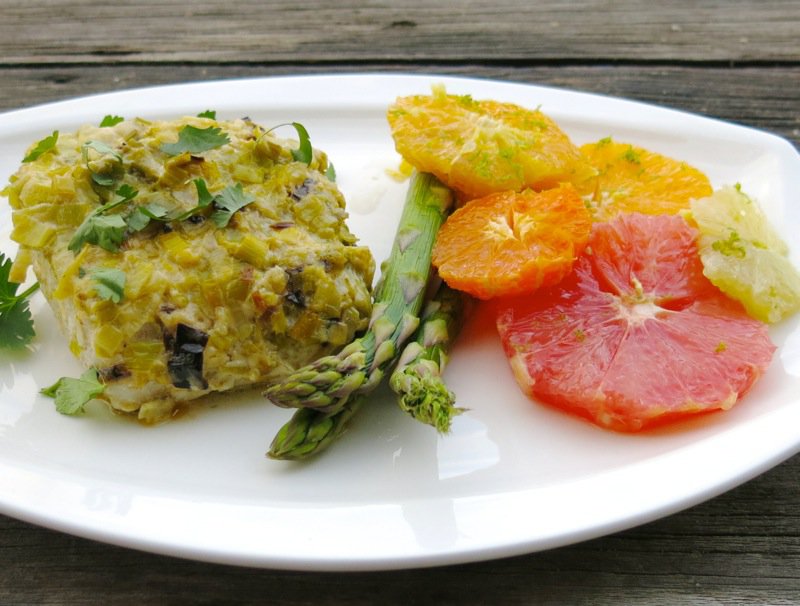 And the texture? Can you see the sumptuous silken flaky flesh?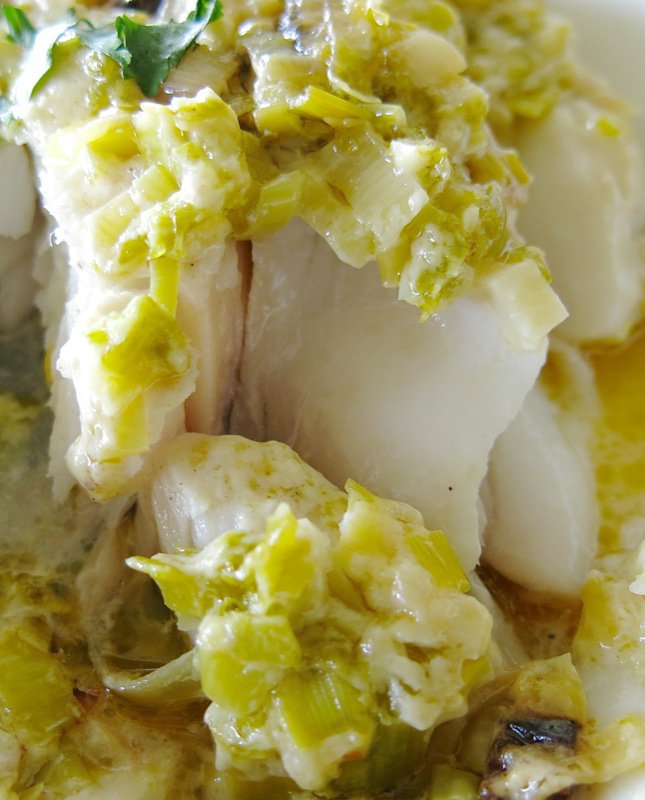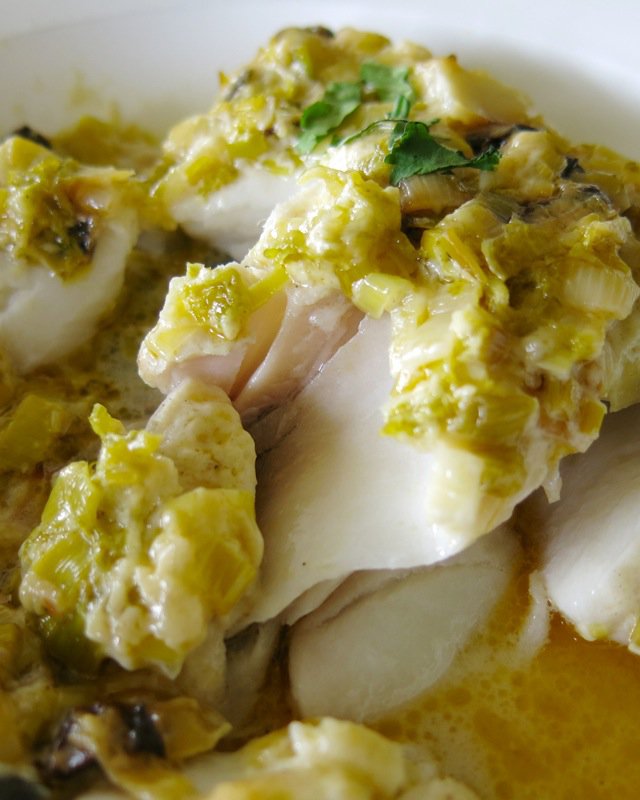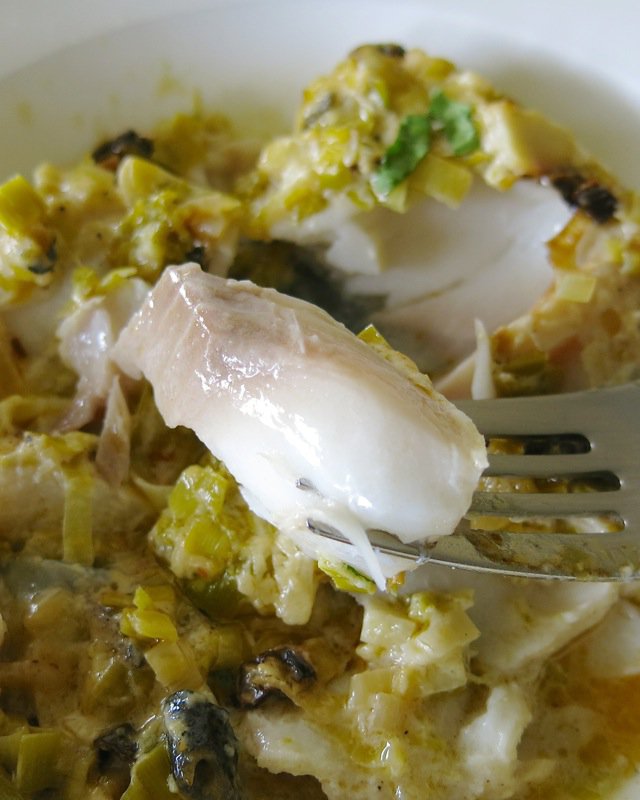 Have you tasted this fish?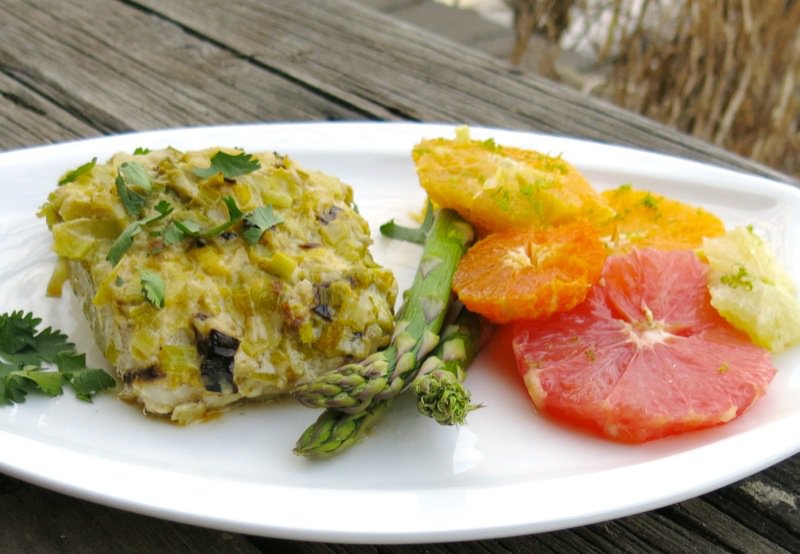 As I live in the prairies, I realize fish is a delicacy. Any kind, as I don't fresh water fish. Yet, it is important for a healthy diet to eat a certain amount of fish, and this is such a pleasure that we do not take for granted in our house. We make sure that our fish is Canadian, sustainably fished and we must know the fisherman or the fishmonger. Just like we must know the farmer of our beef. There is too much happening in the world that is affecting the sustainability of a healthy local food supply. We try to do our part and hopefully by sharing this recipe and the attributes of this somewhat unknown fish, that you will try it, too.
The recipe for the citrus salad is here.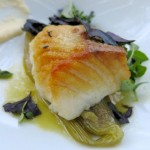 Black Cod or Sable Fish with Coconut Milk and Lime
This silken white fleshed delicacy is rich in omega-3 laden fats and presents a sublime flavour and texture due to its richness.
Ingredients
1 1/4-

pound

skinless black cod fillet

4

teaspoons

fresh lime juice

, divided (1 1/2 teaspoons and the rest)

1

tablespoon

olive oil

1 1/2

cups

chopped leek

(white and pale green parts only; about 1 large)

2

garlic cloves

, minced

1

tablespoon

fresh ginger

, minced

1

tablespoon

pasilla chile

, minced (pasilla is the dried form of the long and narrow chilaca pepper: 3-5 heat on a scale of 10)

1/2

cup

canned unsweetened coconut milk

1

teaspoon

(packed) grated lime zest

1/3

cup

chopped fresh cilantro
Instructions
Preheat oven to 350°F

Sprinkle fish with salt and pepper; place in glass baking dish; drizzle with 1 1/2 teaspoons lime juice

Heat oil in large skillet over medium heat; add leek and sauté 6 minutes

Add garlic, ginger and pasilla peppers; sauté one more minute

Add coconut milk with remaining lime juice; bubble until thick (about 4 minutes)

Stir in lime zest

Spoon sauce over fish; bake until fish is just opaque in center (about 12-15 minutes is in pieces or 15-17 minutes if a filet)

Transfer to platter

Whisk juices in baking dish and spoon around fish; garnish with cilantro
Recipe Notes
Be sure to let the sauce cook until thickened as the fish will give off quite a bit of liquid. Baking the fillet for 15-17 minutes will not find it done, but letting it rest on top of the counter for 5 minutes while presenting the dinner should yield perfect fish.