Mysterious Flemish Food: Waterzooi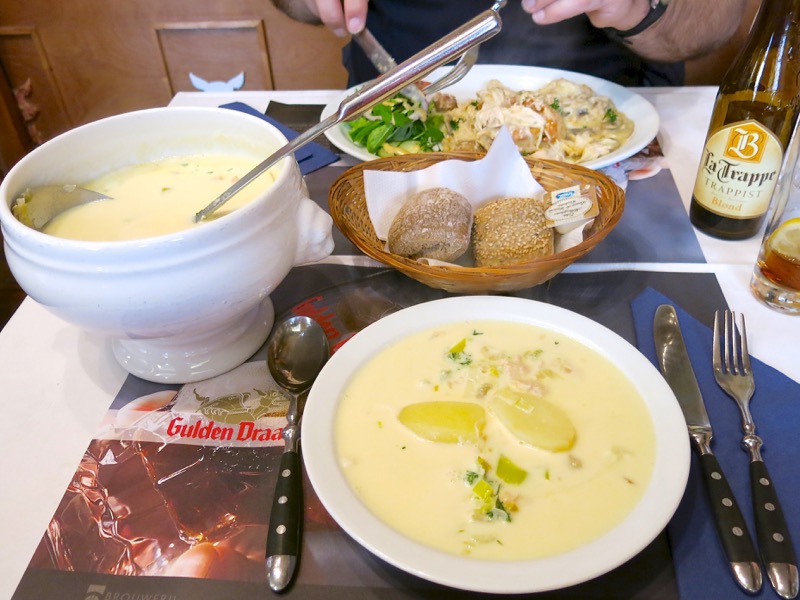 After the many, many activities and experiences we took in during our very short, yet ever so full day in Ghent, we almost jogged to Chez Leontine for dinner from our canal tour. What a gorgeous city!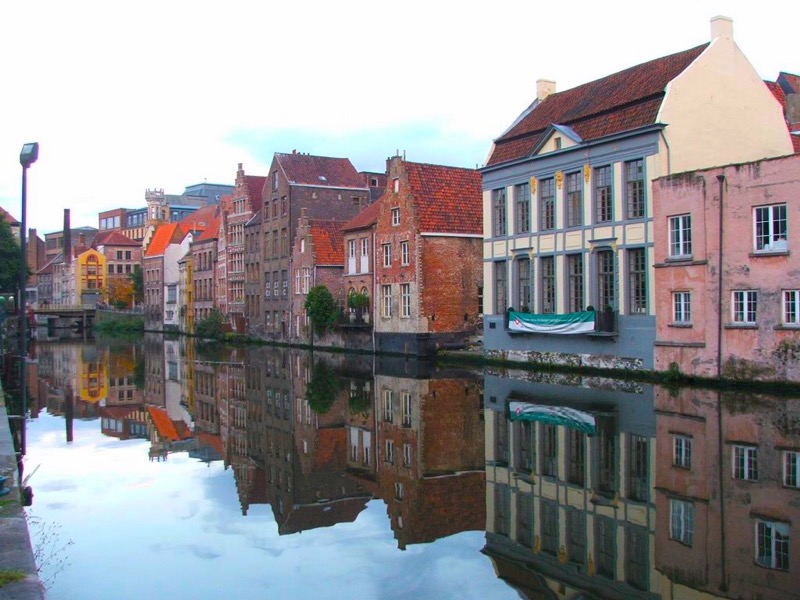 Starving! Again? How is that possible? I don't really know, but find it happens almost every day! Ah, more traditional Flemish Food. Our guide, Hilde, had suggested supper here, mentioning they had a really great Waterzooi. That sealed the deal for me.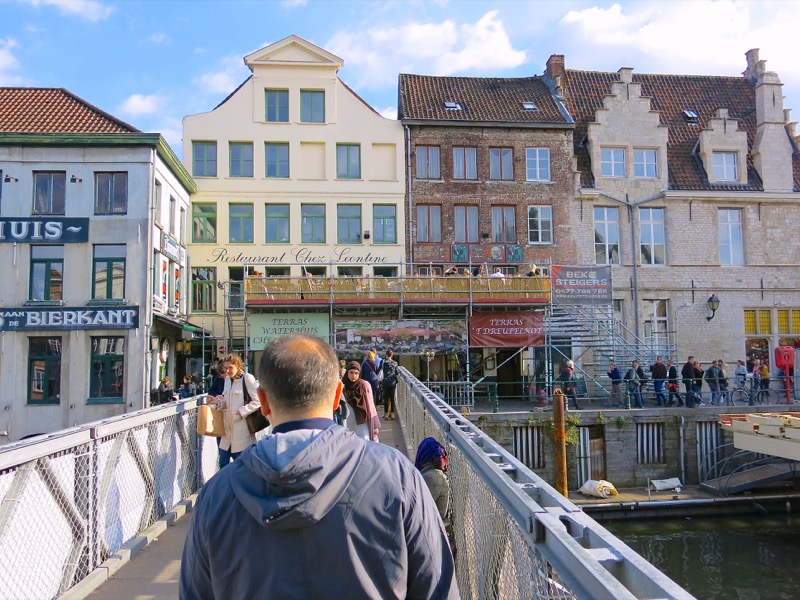 That it was attached to Het Waterhuis a/d Bierkant, housing every Belgian beer known to mankind, each served in its own special glass, won Vanja over.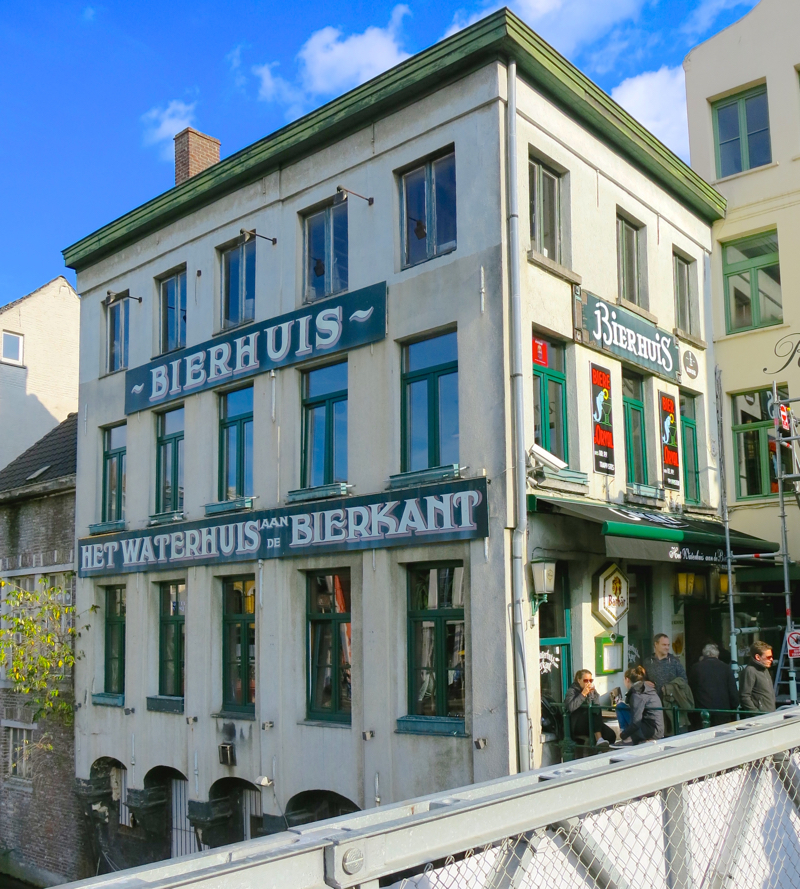 Built in 1726 as a water supply point during the plague, it evolved from brothel to barber shop and in 1986, to the Beer House.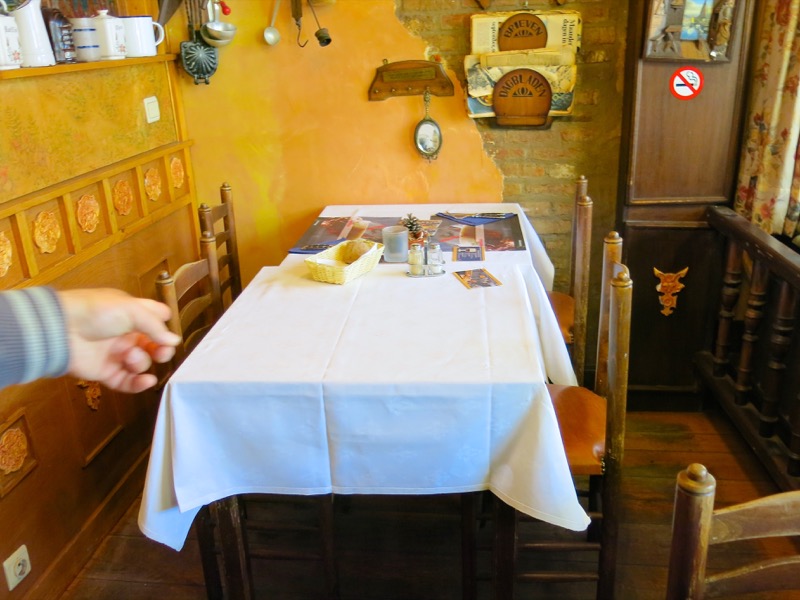 On this hot sunny late October afternoon, we opted to eat indoors. While there are four rooms available, the very first little room to the right of the entrance has 2 very small tables. Perfect.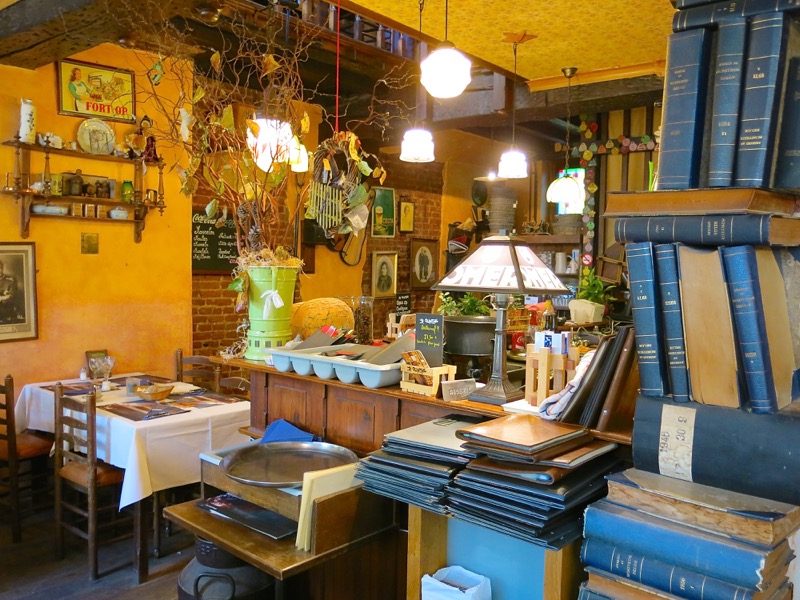 Standing in the entry way, to the left, is a much bigger room; a smattering of small groups were seated there.
As in de groote witte arend in Antwerp, at lunch, the day prior, immediately in front of the entry, was a staircase.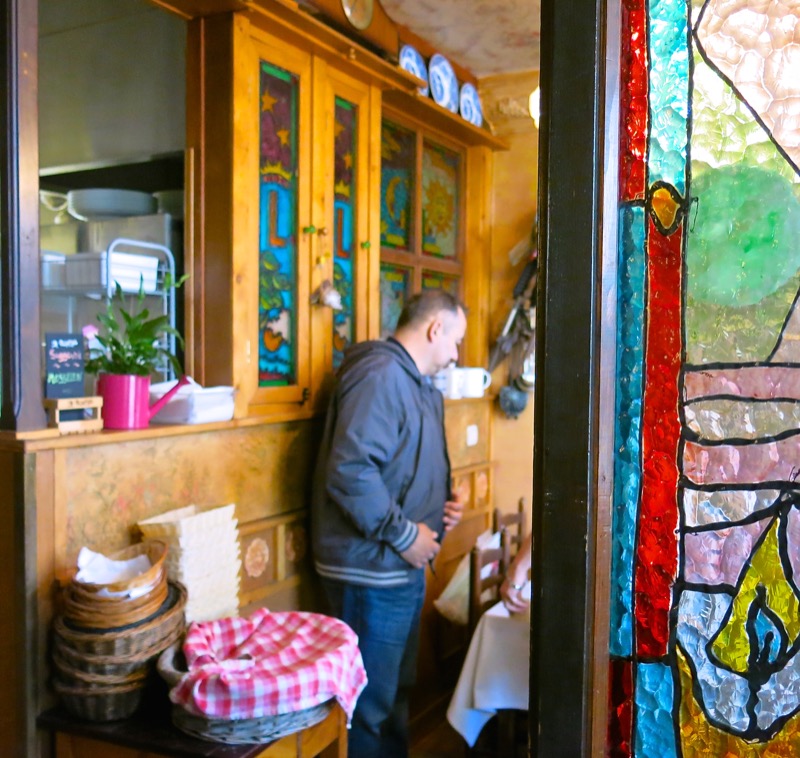 The space was tight, but comfortable and within a moment or two, we were not only seated, but the waiter from Het Waterhuis aan de Bierkant, next door, arrived with Vanja's beer in its special glass. That was fast!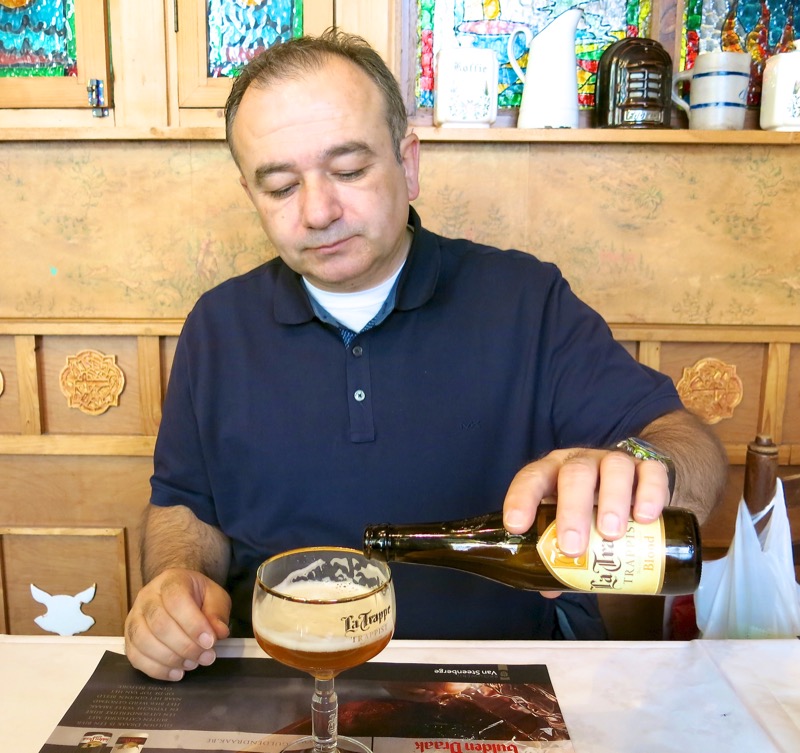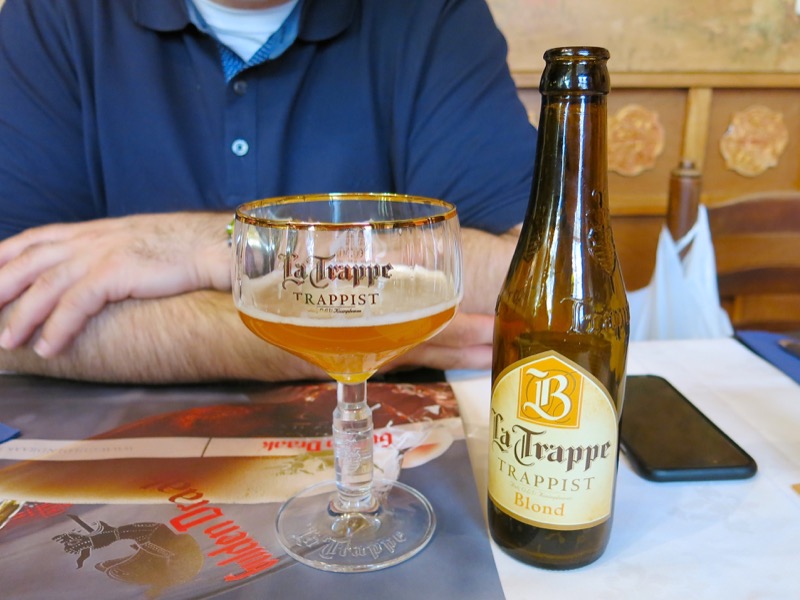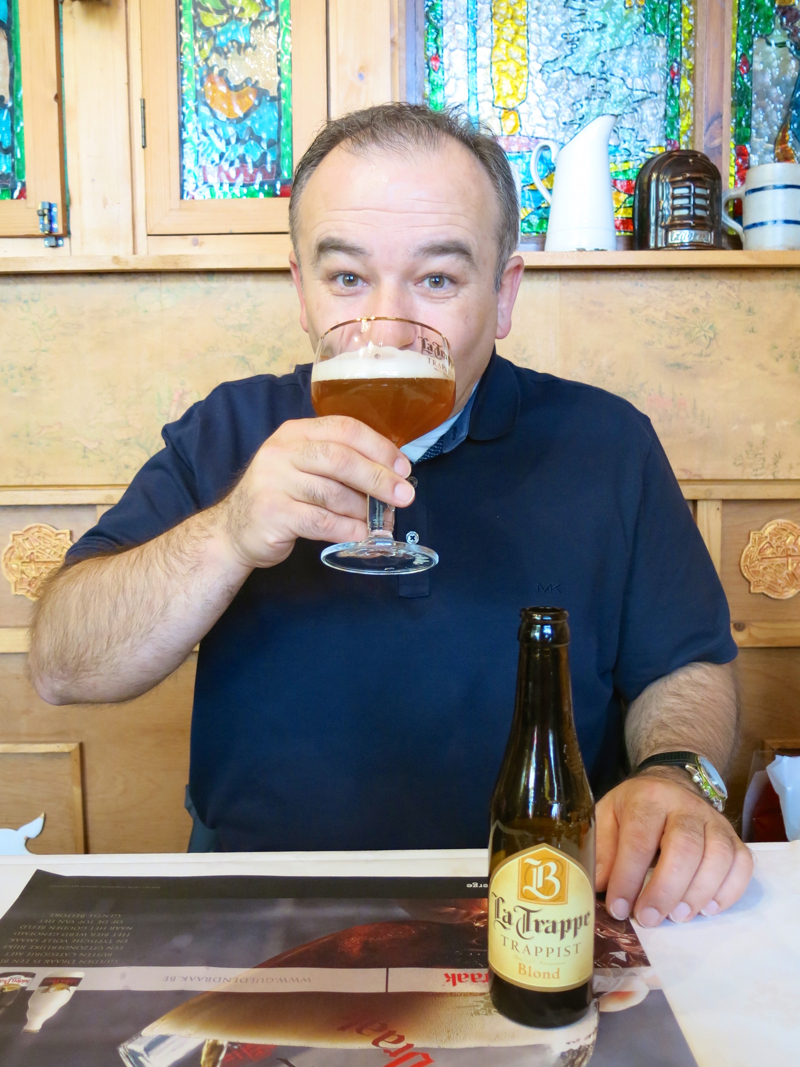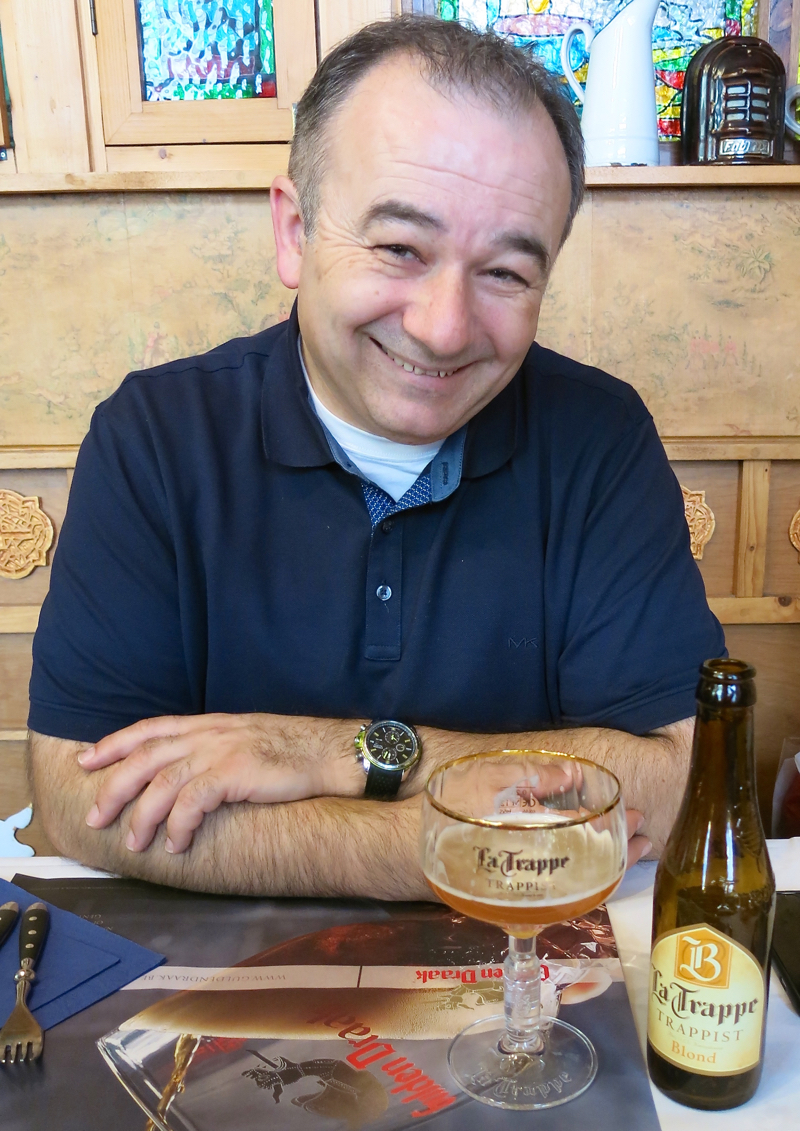 Our traditional local beer photo shoot. Yes, I always get carried away. His is drinking and tasting the beer. Mine is photographing him doing it. Never tasted a beer in my life. The scent is so off putting to me. Maybe too much of that "smell" in my youth at all those hard core parties!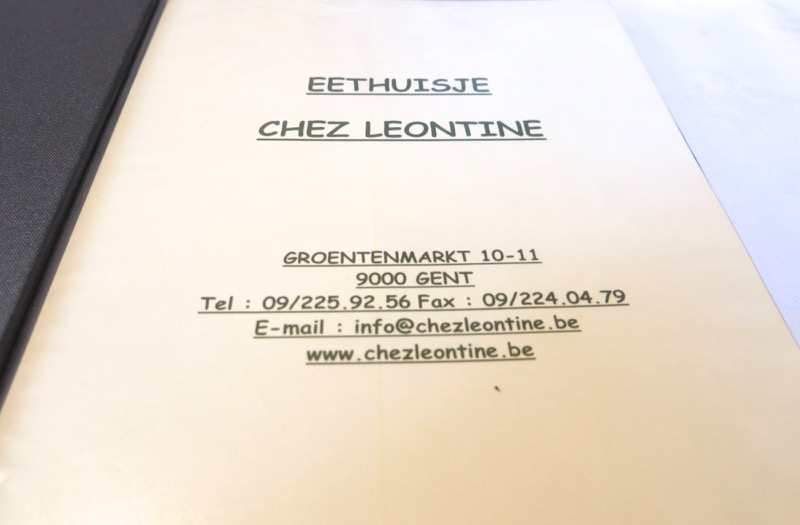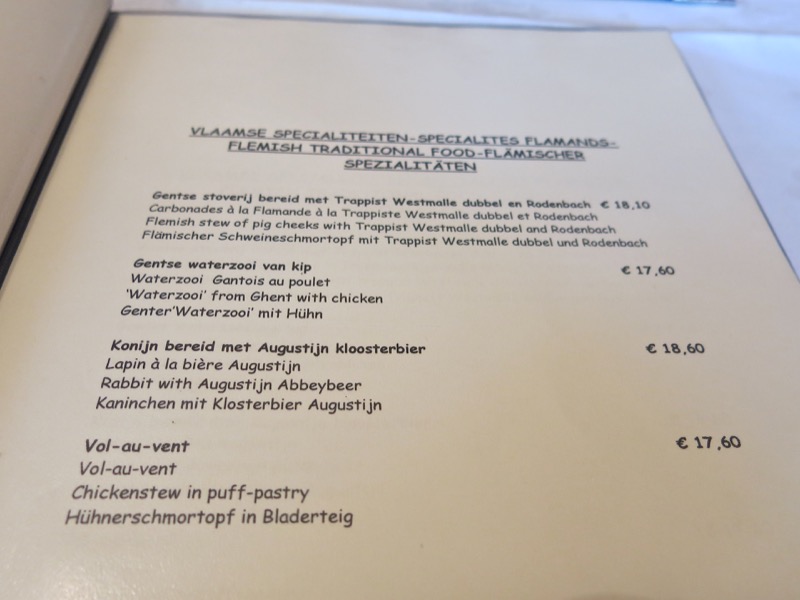 I was surprised Vanja didn't get the traditional Flemish Food stew with pig cheeks, but he opted for the French chicken dish.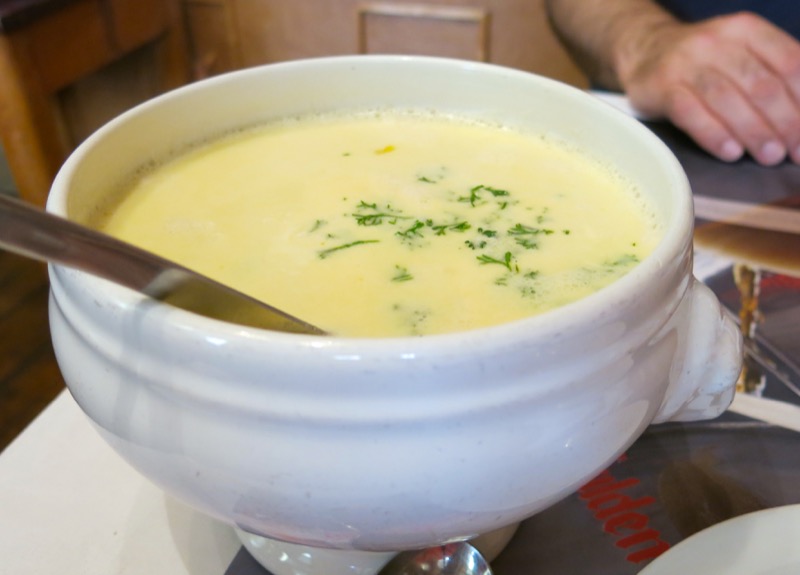 Me? It's all about Flemish Food! The mysterious Waterzooi! I had read about it. It was traditionally a fish dish, but the last 100 years or so, the chicken version is more popular. With an exotic name like that, I imagined a dish with its roots from the deep depths of the African jungle. I understood it to be some kind of soupish chicken based dish. When it arrived in this massive vessel that would feed a family of 8, I just looked at the waiter. What?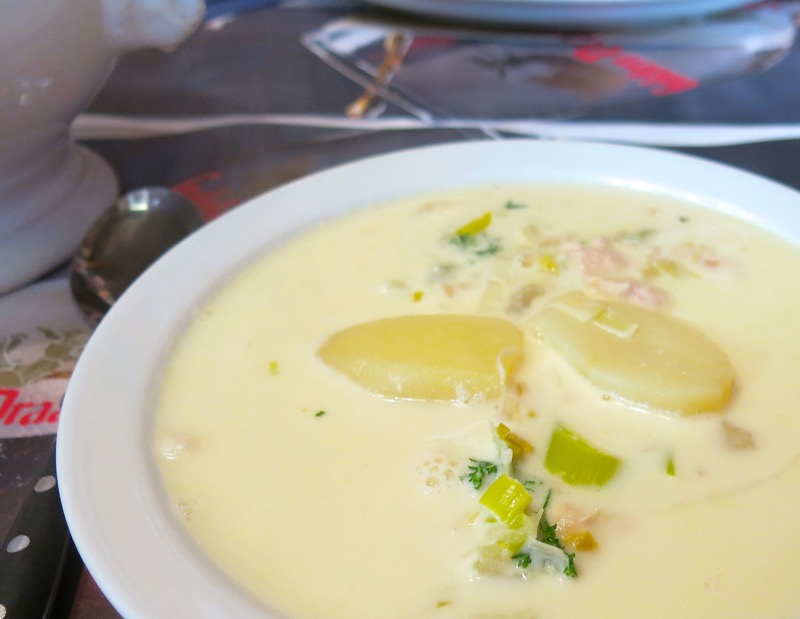 "This is how we make it. We cannot make it any smaller. We cannot make it in advance." It did say it would take 30 minutes on the menu, but I had forgotten that and it seemed to arrive quickly, anyway. But, seriously? I was told that one portion is this large, (and it would be large for a Belgian person, too) I would likely have ordered something else… maybe? I confess, when so focused on the local food recipes, there are times, like this one, where I find myself in such a quandary.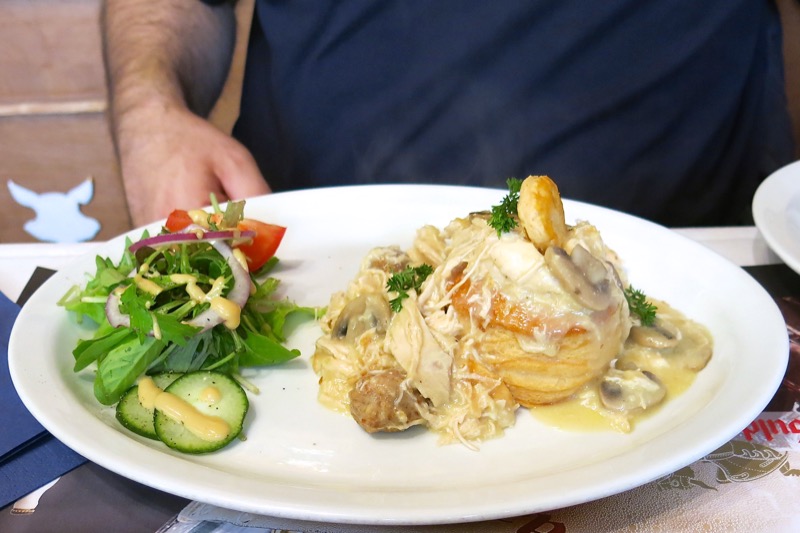 Vanja's chicken dish is exactly what I had expected.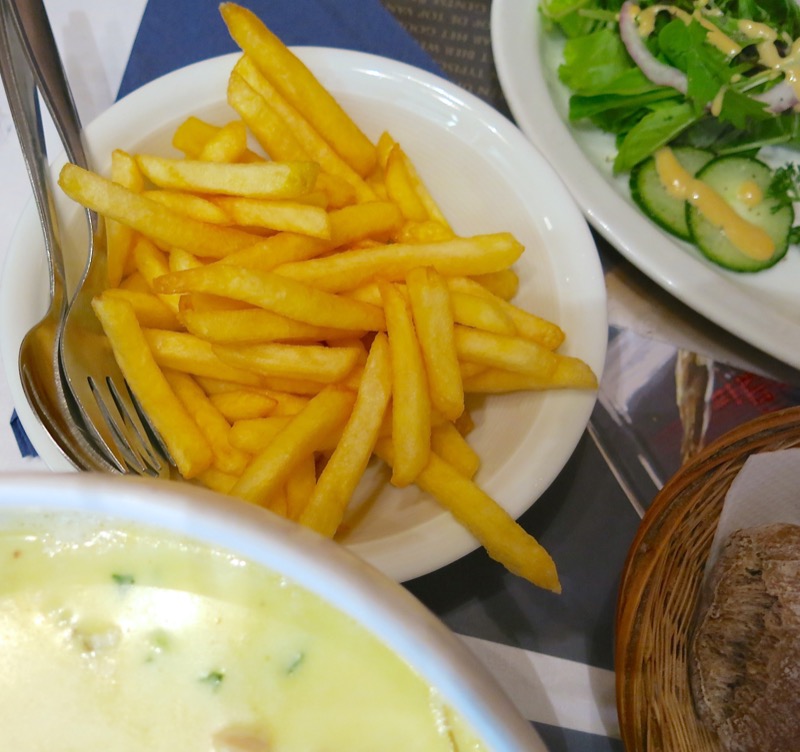 For some unknown to me reason, french fries are served with almost all Flemish Food dishes. Unknown to me until I tasted those fries. Those Belgians know how to make exceptional french fries. Seriously. I didn't know a french fry could be so delicious. Been to Britain where they used to be famous for them wrapped in newspaper on street corners and sold with fish. Been all over France, yet don't find fries on so many menus there. In Flemish Belgian, they are on the menu in the finest establishments and served with the finest dishes. What is the magic? Is it the terroir? The specific potato? The way the prepare them. The fat they fry them in? Likely a combination, but I ate my fair share of fries off of the side of Vanja's plate all over Flemish Belgian. Hot, salty, crisp. Savory centered sumptuous interiors. Just addictive. Ketchup would be blasphemous.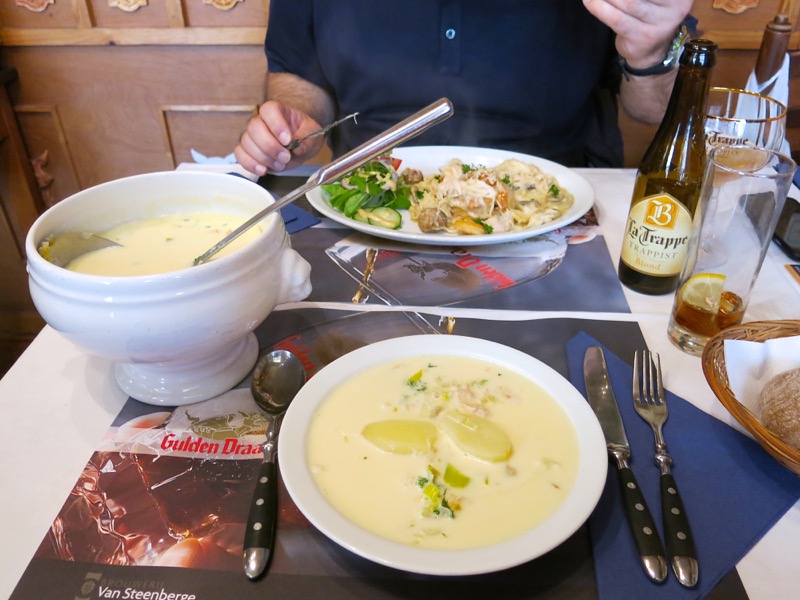 This should provide a little perspective regarding my reaction to the size of my order. Waterzooi is a Belgian recipe popular in Flanders. "Water" is the same word in Dutch as in English, and the original version of this traditional Flemish Food recipe was made with fresh water fish, so that may be how this name evolved. The second syllable, "zooien", comes from early Dutch meaning, "the act of boiling". Nowadays, there are two kinds or waterzooi as the rivers around Ghent no longer produce fresh and once abundant fish. The fish version is "viszooitje" and the chicken version is "kippenwaterzooi". Originating in Ghent, it is also known as Gentse Waterzooi. Also important to note: this dish was created to use the unwanted fresh water fish (bycatch) most often burbot, found in the nets of the local fishermen. It was a bowl of boiled fresh water homefood. Both versions are created with a soup base of egg yolk, cream and thickened vegetable broth and a medley of carrots, onions, celeriac, leeks, potatoes and herbs. Sound familiar? Chicken soup!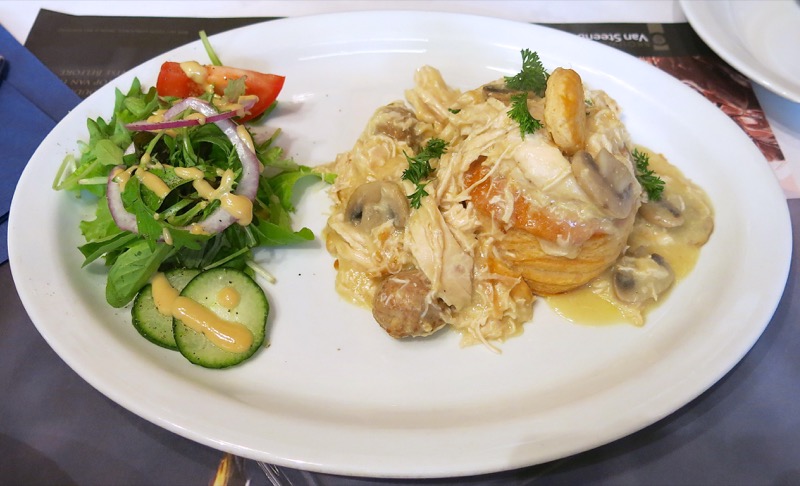 Chicken vol a vent is a traditional French recipe that would be "so 1970's" here. I made it many years ago, myself. Time to bring back those retro recipes.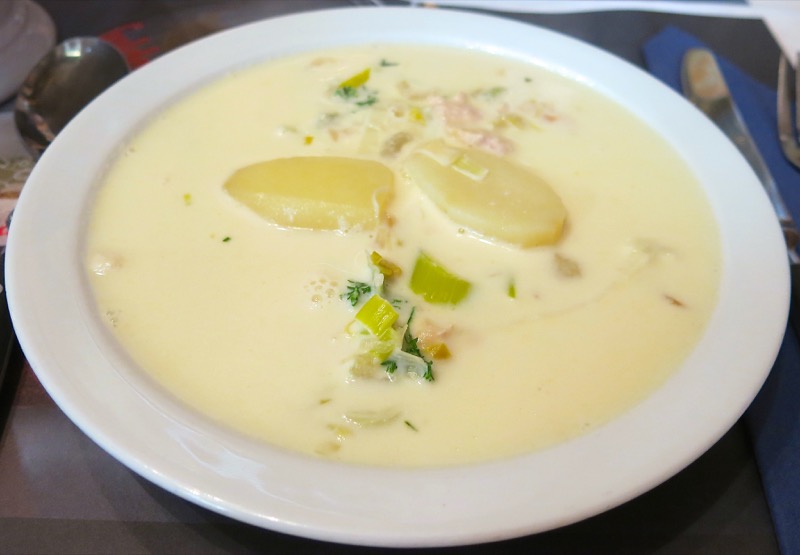 Now, please don't misunderstand. It is an exceptional chicken soup. The finest, richest, and thickest of buttery silken cream with the freshest and finest earthy vegetables and plumpest of chickens are used. Yet, chicken soup is exactly what it is. Definitely not the North American farmhouse version, but as soundly an upscale version I have experienced in finer restaurants. It is the cream with the yolk that breathes Ghent into the broth for the homefolk and the tradition of making use of the bycatch in such a delectable manner that the dish became famous.
I was not at all disappointed, but I was kicking myself under the table and laughing inside uncontrollably. Experiencing this unforgettably profound taste of place was not new. It was not exotic. It was so full of warmth and home and all I hold dear and familiar. Yup. Not a new tasting experience, but a new learning experience! And I ported a huge vessel of the remainder of my meal "all the way home" as waste is truly a sin, only to be tossed, so sadly, a few days later. Most definitely, each Flemish Food experience brings me closer and closer to my own home table on the multicultural Canadian prairies.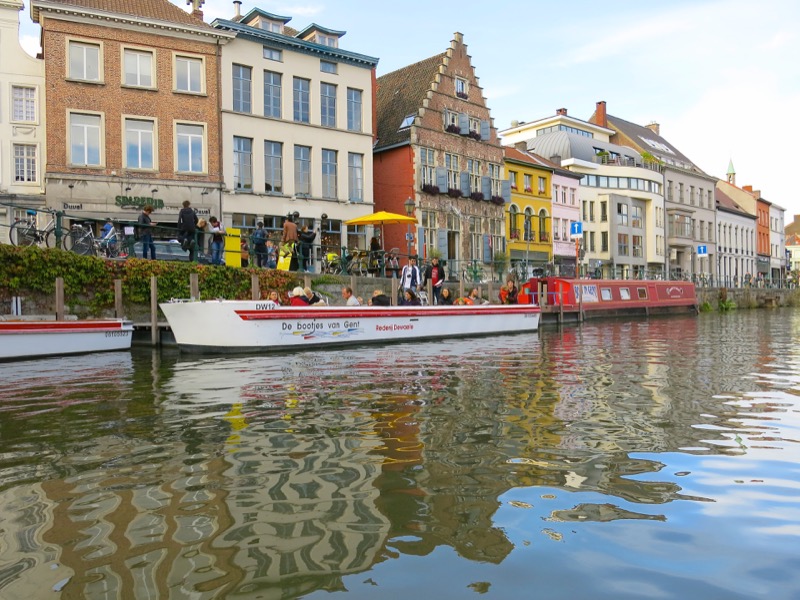 Into the car, and headed to Bruges only 45 minutes away, for the next couple of days, on the last leg of our Flemish Artists, and Flemish Food experience before changing course and on to Zermatt for a Swiss mountain village experience. All in good time. Right now, my Waterzooi is warm and I am very tired and hope our hotel in Bruges is as charming as I think it will be.