The Historic Building of de groote witte arend since 1977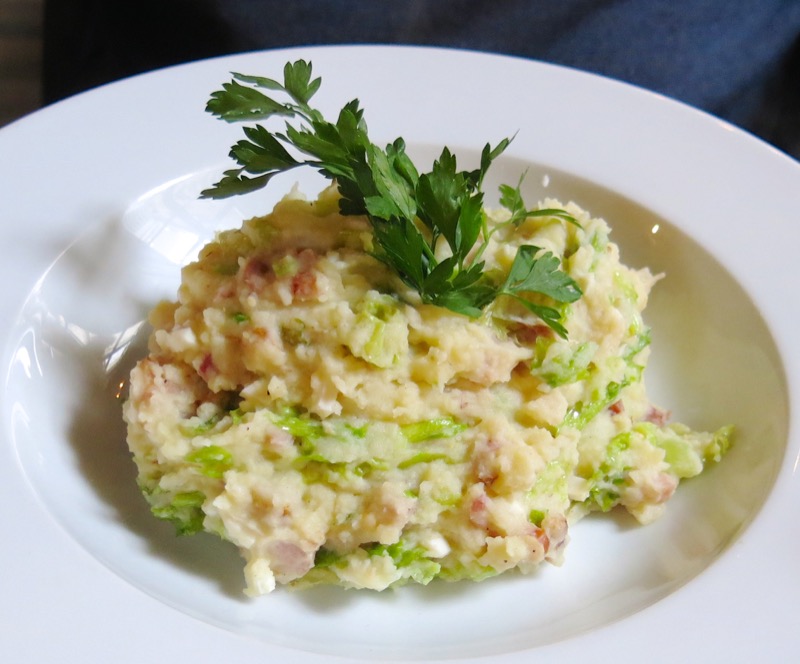 Of course, I had done my research. I had a few spots earmarked on my notepad, but de groote witte arend (official name is without capitalization) was top on the list for lunch or dinner today, depending completely upon Vanja's desire and our guide's recommendation. Ariane, our guide. was not enthusiastic about de groote witte arend (the white eagle) but agreed it would be a great lunch spot. She suggested a couple of spots for dinner, and Grand Café De Rooden Hoed (The Red Hat) was her number one suggestion: "My parents have been going there for 50 years. It is an outstanding traditional restaurant that would be my number one pick for anyone visiting the city [for the best traditional taste of our regional cuisine]." As she pointed de groote witte arend out on our way to Ruben's House, we found our way back, without a hitch.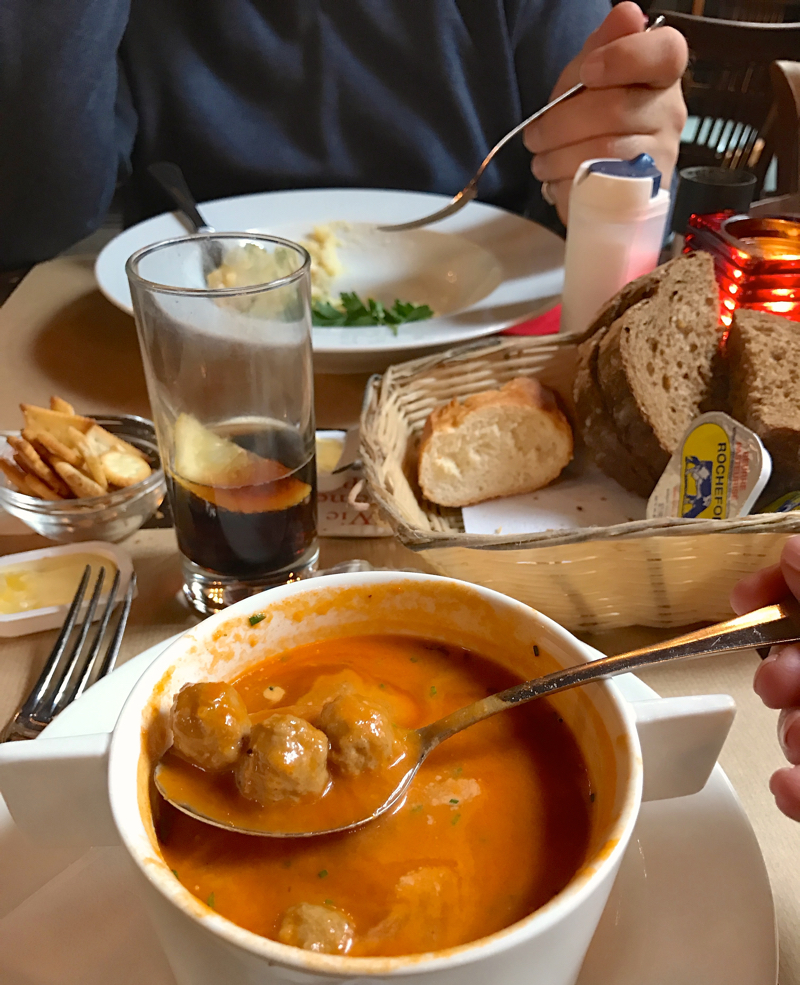 My research consistently listed de groote witte arend as a budget stop; a quick bite, but highly rated for its authentic local cuisine. A budget stop for lunch is always nice, but more important for our itinerary is that bite is authentic, local food. I would never evaluate de groote witte arend as a budget stop for a meal. Certainly, it is reasonable, but "it is no hamburger joint." It certainly isn't a counter order or what I would ever call a quick stop, either. It is a lovely casual restaurant with just a touch of a formality. Our meal was scrumptious and most definitely, memorable.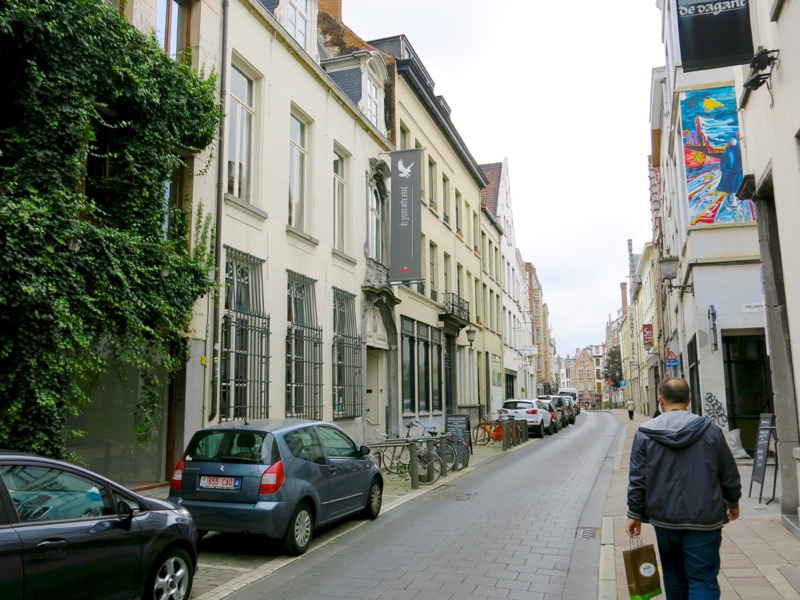 The first mention of "de groote witte arend" in this spot is found as far back as 1554. The two wings were built between 1563 and 1660 that resulted in the fully enclosed courtyard. It has passed through many owners and served several purposes during its long life: as shady as possibly housing a counterfeit money making lab to as noble as serving as a monastery for "Les Filles de la Charité de Saint Vincent de Paul" or "the Daughters of Charity" in 1901 when they bought property.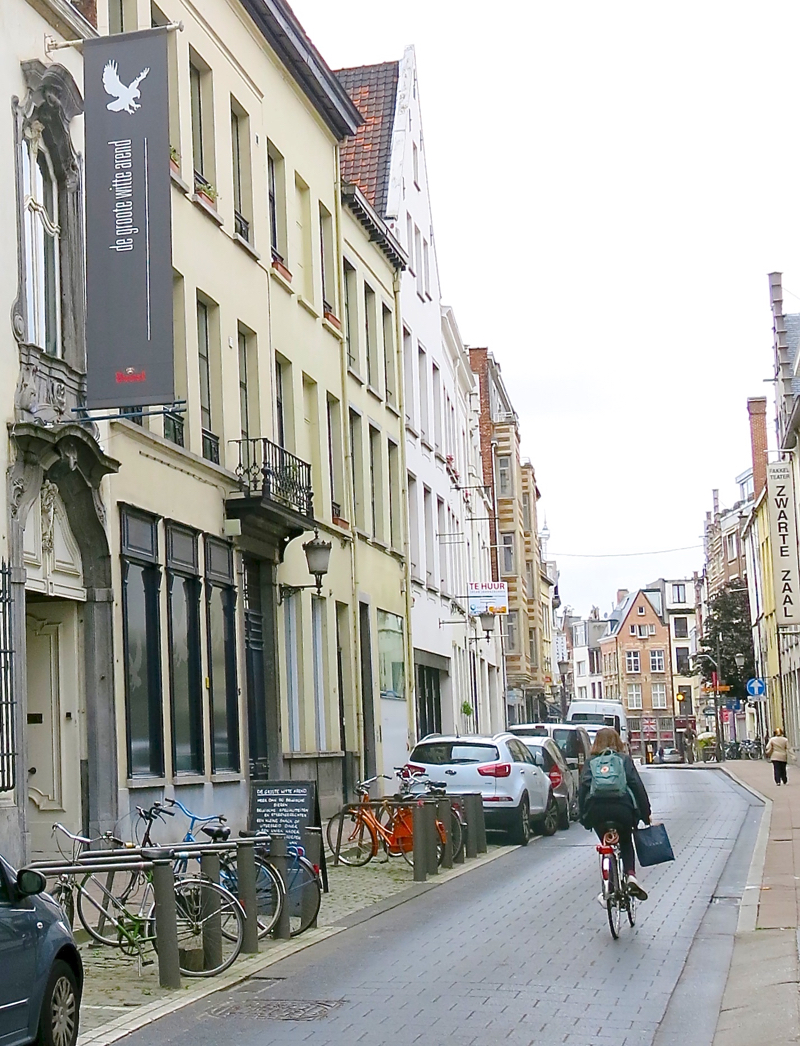 In 1976, it became a historic monument and a protected building when the Van Hoof Embrechts family bought it from the sisters. Do you see the entry, above? It is the massive arch, to the left, just under the banner sporting its name.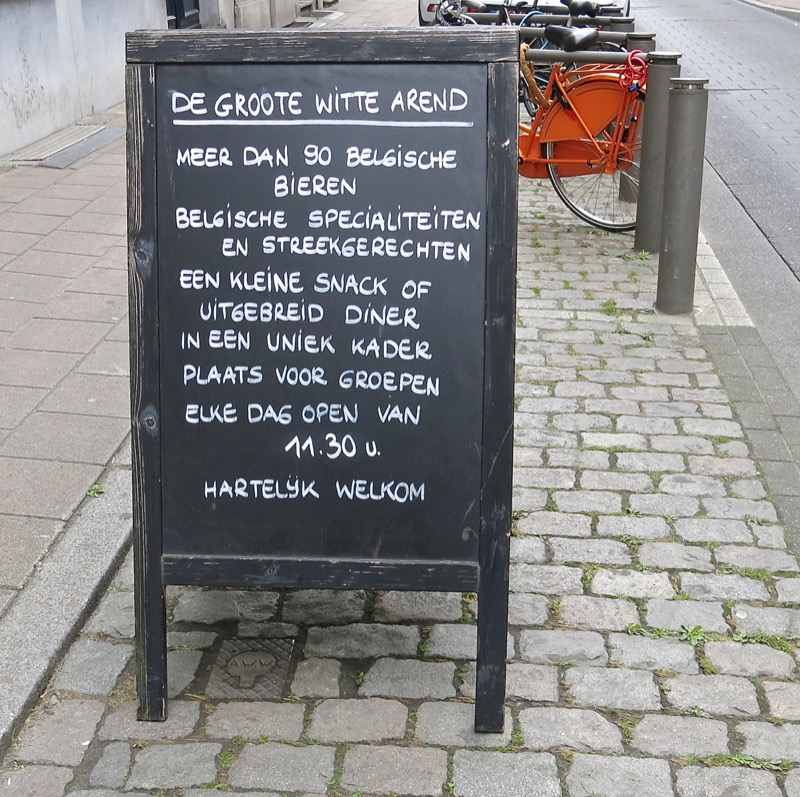 Since the spring of 1977, the historic building, de groote witt arend, or the white eagle, opened a restaurant by the same name, to the public. Apparently, there was a change of ownership, some refurbishing and another look for the restaurant opened in 2005. What I was not expecting was any of this. We entered through the majestic arch, into the courtyard, below.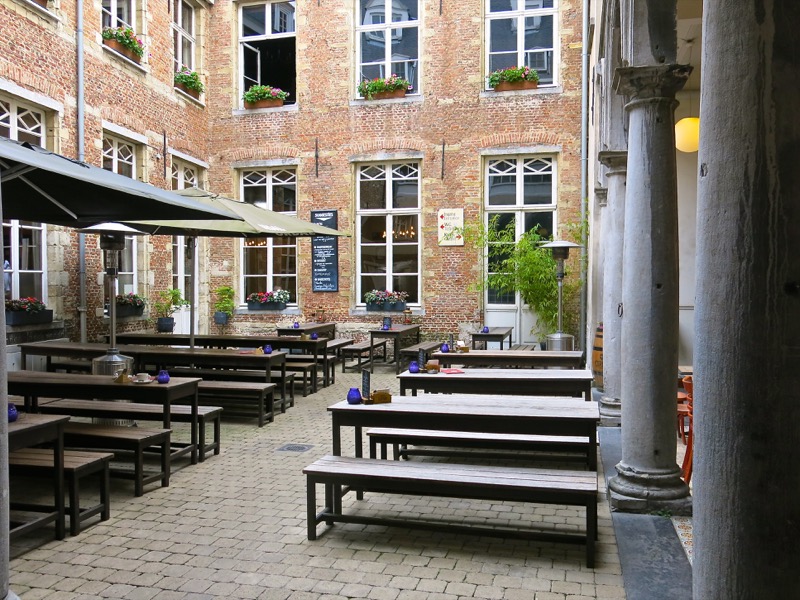 It was 2ish, so certainly we were late for the lunch crowd, but it was also October, and not high season. The day was balmy, and if we were in Canada on this day with this weather, this courtyard would be packed. Here, the people chose indoors. The courtyard was so grand, yet the tables and decor so casual, I was charmed by the juxtaposition.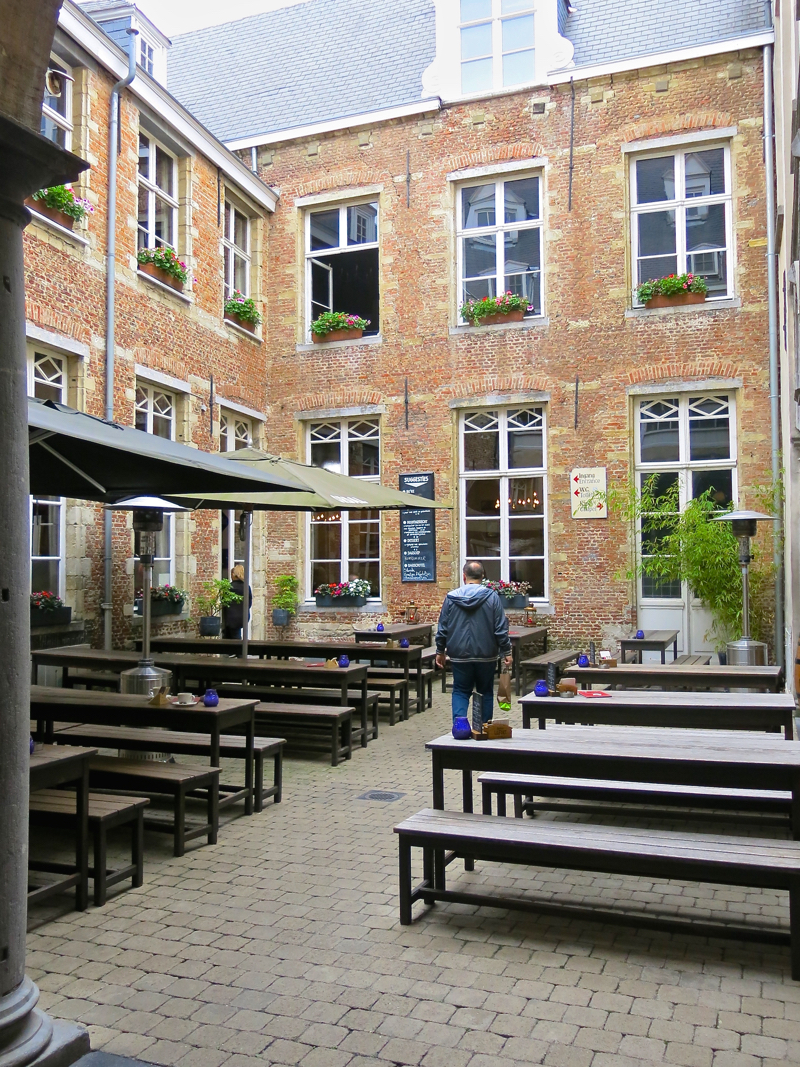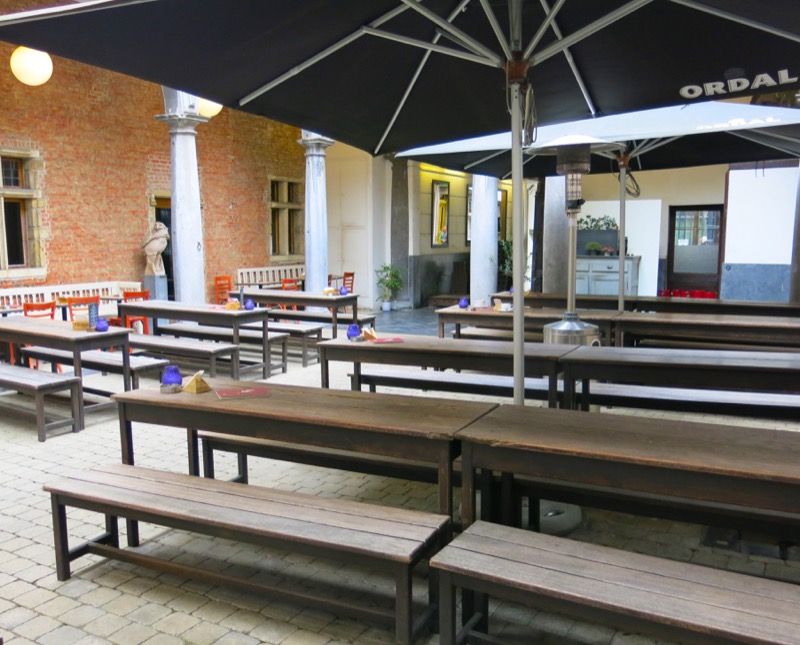 Where do all the doors, windows, nooks and crannies lead off of the above courtyard?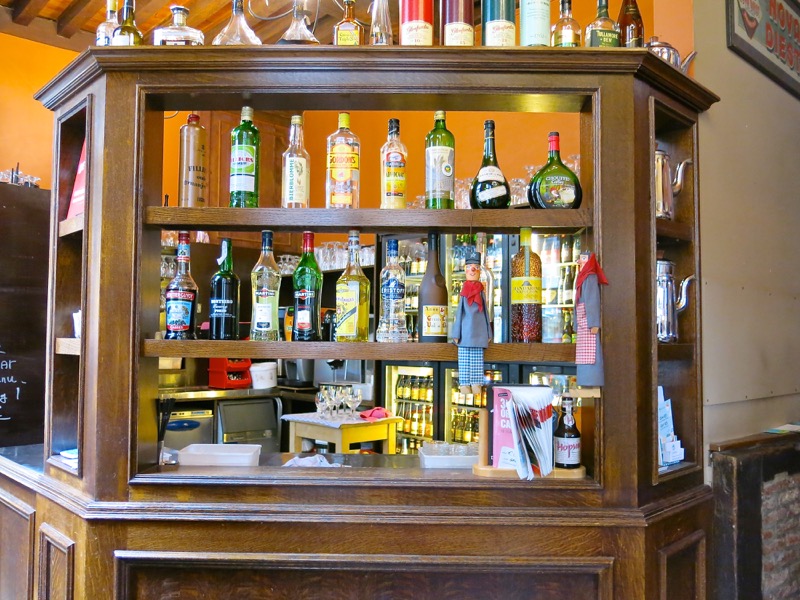 This entry was small. Tiny, even. The bar was immediately leftish and kind of "in your face"; just to the right of that, and right in front of you when you enter, is a rather worn staircase.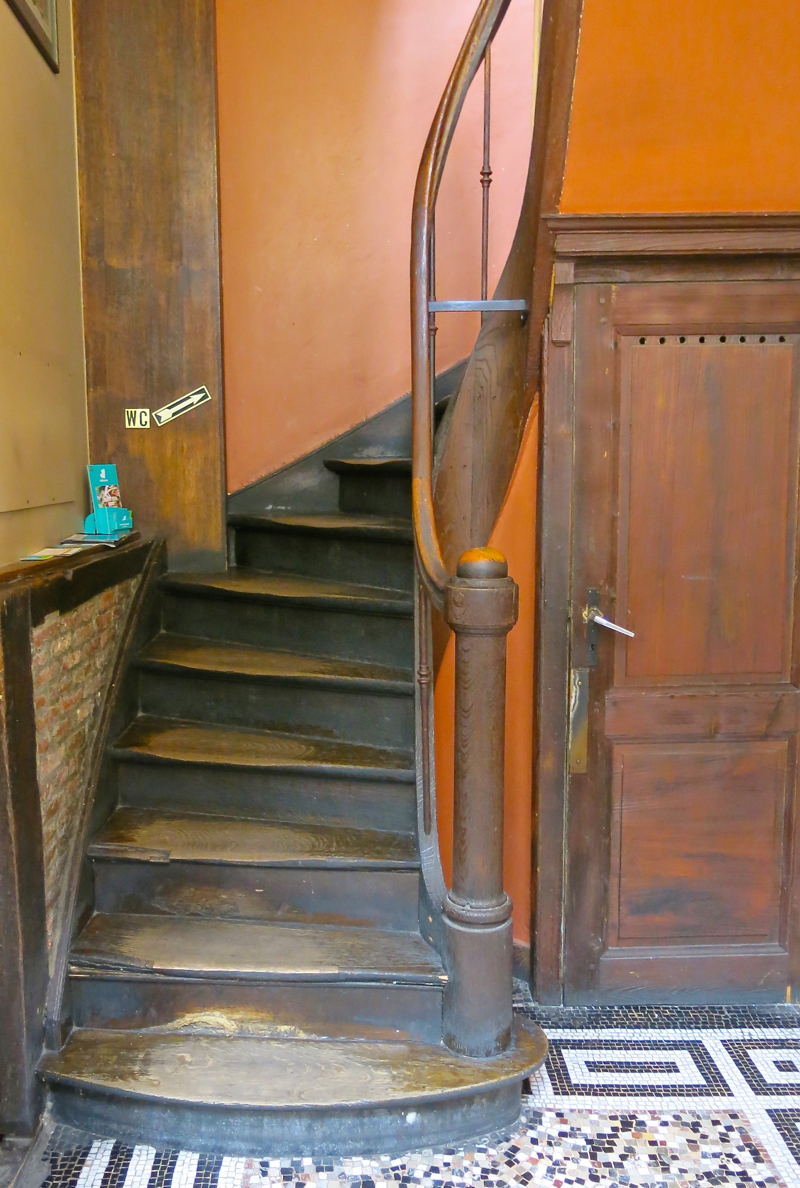 Ok. Very, very worn. And seemingly rickety. Washrooms above are lovely, and there are large party rooms up there that look out onto the courtyard below. I can imagine that this would be one of the restaurants on the list of student tours. I have traipsed up many a staircase in my day with more than a gaggle of middle school teens trailing behind me, to be seated banquet style and served something simple, but delicious, in places like this, all over Europe.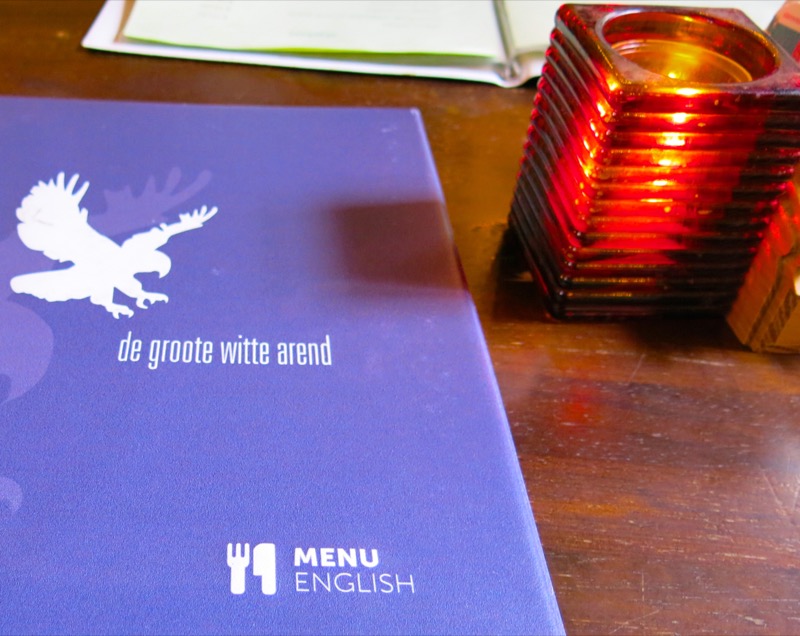 And have longed to have been able to choose from the menu. Now, I can!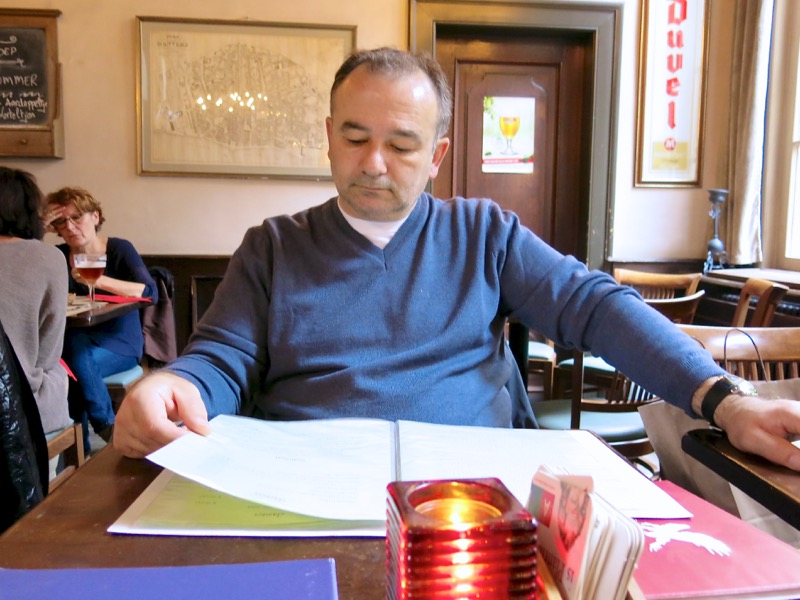 Soup. It is almost always soup for me with my digestive issues. Vanja loves the deeply rich beer and beef laden Flemish stews.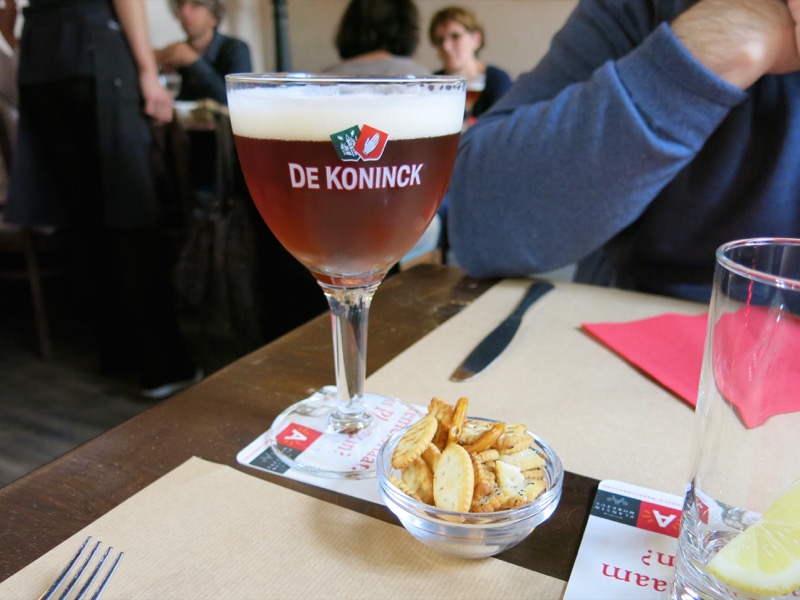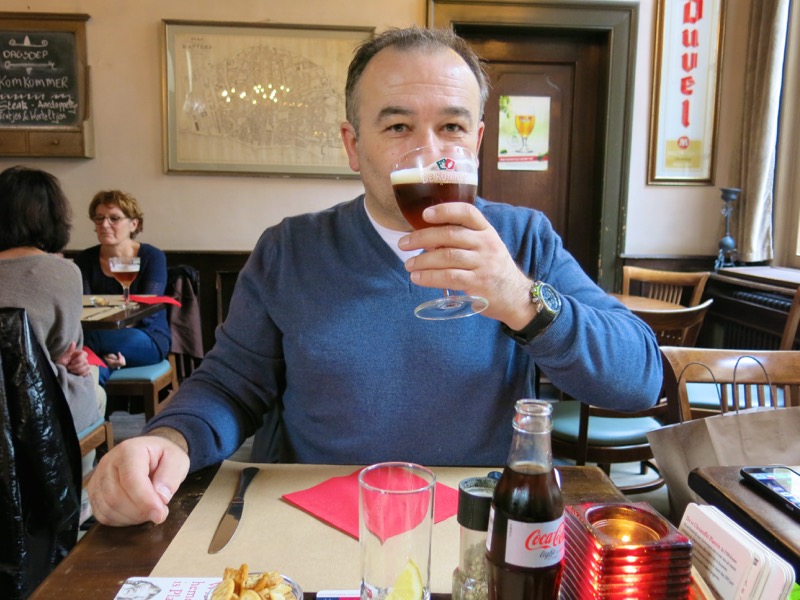 Keeping with his time honoured tradition: a local beer with a photo to send to his brother. Kind of an "I wish you were here" nod.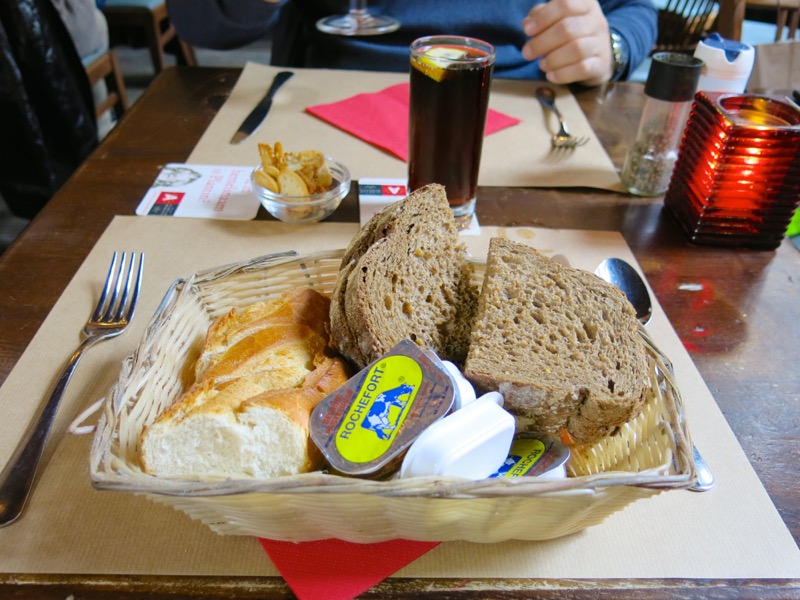 I read later that Antwerp is famous for its butter. Most of the research was difficult as I had to use google translate, which is better than nothing, but at times, close. I could not find where to purchase any or what kind, but this butter was memorable. Both of us commented on that. Very different that in Canada where you can ask for more butter. Maybe that was possible here, I didn't need it, as you can see they provided 4. Most places did not: one, or two, and if you wanted more, you paid 0.80 EU per. de groote witt arend was very generous with its butter, the butter was delicious as was the bread. Both Vanja and I believe the quality of a restaurant can be determined by the bread and butter served. Happy! Happy!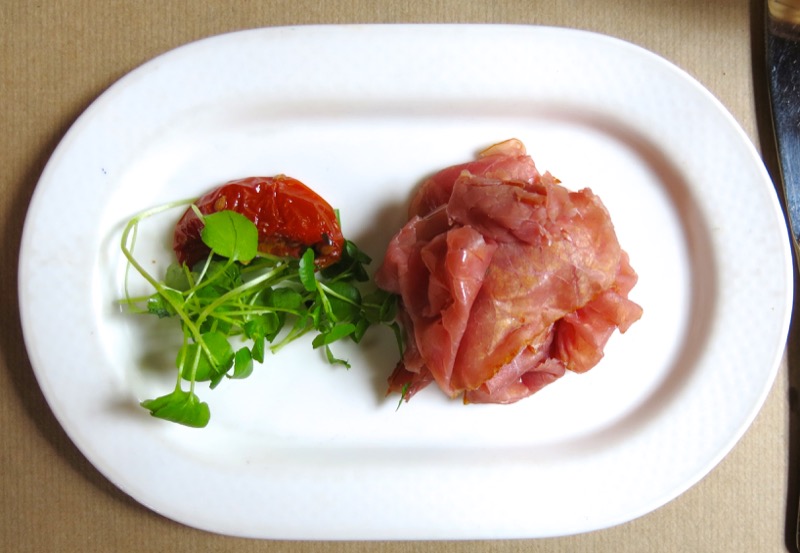 Time to order. "Madame?" I had seen the Filet d'Anvers on the menu in a large main dish, but asked if I could be served a small portion just to taste it. "Will see what I can do, Madame!" I was tickled. Had no idea what it was, as just that morning Ariane had told us about this Antwerp specialty. I cannot eat meat, but when I saw this plate, with the shaved supple transparent slices, I knew I could digest it.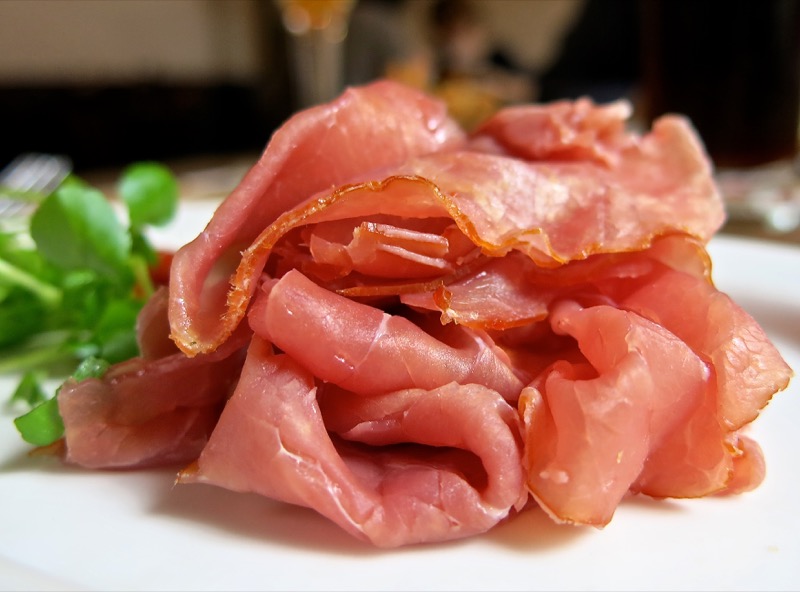 This thin, supple smoked beef is famous throughout all of Flanders and after a taste, I could completely understand why. It is not just about the taste as the soft, tender texture is equally powerful to this Flemish Food experience. The beef is brined, smoked, dried and aged, then sliced ever so thinly. Like all local products, there are many variations. This one was divine.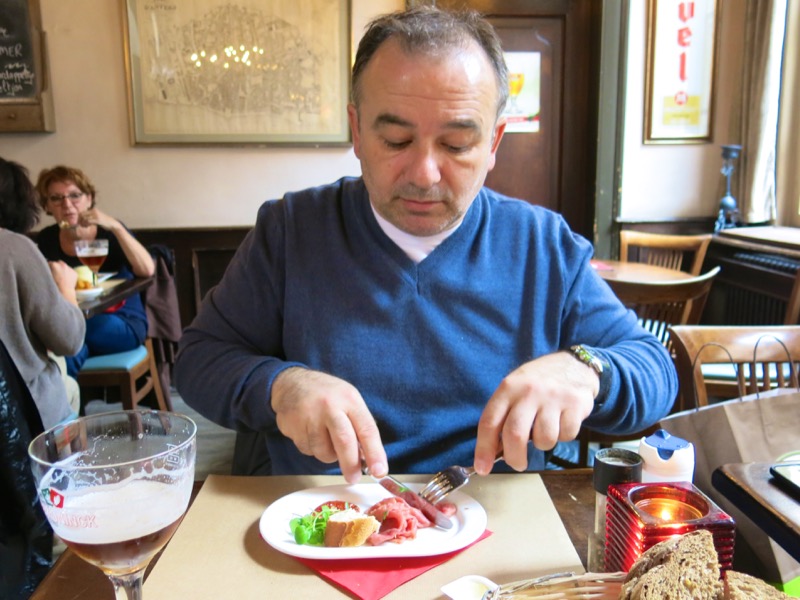 We were so tired later, that we did not stay in Antwerp for supper as planned. With the 90 minute drive back to The Hague, Vanja decided to purchase more of this for a dinner sandwich. One cannot help but want more, once experiencing it. Vanja did find a package in a local grocery store on our way home that just did not do this delicacy justice (images at the end of this post).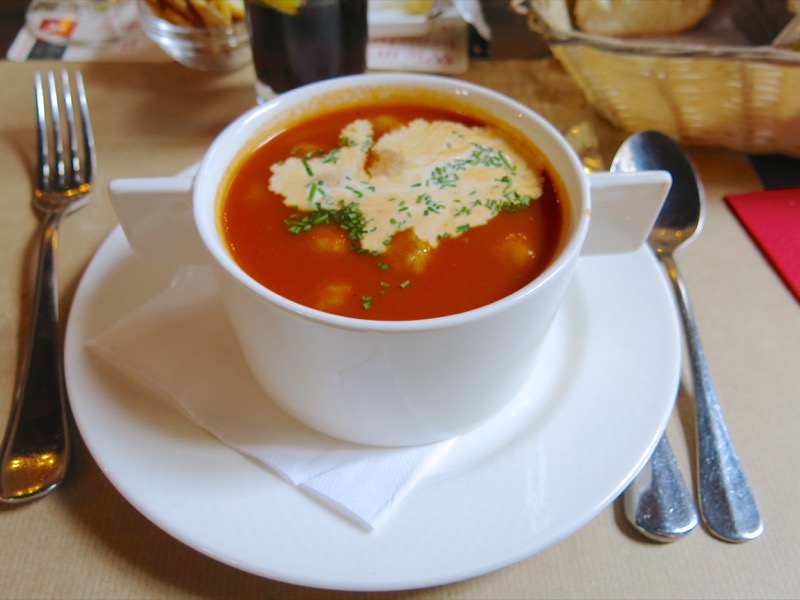 I ordered the Tomato Meatball Soup. Who'd a thunk? I don't think this is so much a traditional recipe is simple a great idea based upon the Flemish Food culture. It was a savory concoction of scrumptious velvety tomato soup with a very generous amount of really delicious flavourful meatballs. Nothing new or novel in the flavour of each, but the combination was a very satisfying surprise and I would guess there were over 12 meatballs in my bowl. Maybe over 15.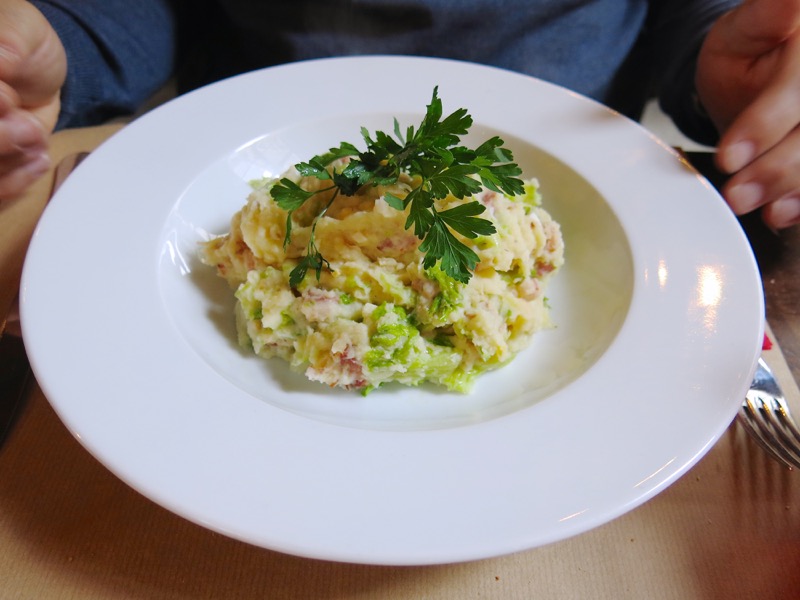 My ultra accommodating best friend and husband ordered a Flemish specialty on the menu called Stoemp. It is typically served with sausage and not so typically a little sour, as this one was. Vanja would have most definitely preferred a sausage atop his plate. He ate it, didn't exactly "enjoy it" but, found it satisfying. Of course, he is an uber carnivore and I thought there would be more meat visible in the dish. There was a base of bacon, which was tasty, and definitely very well balanced from my view, but from his? Nope. "Where's the sausage?" Of course, a sausage was not intended, but is the traditional accompaniment and would have made Vanja's day! And, mine, as I was feeling more than a bit guilty encouraging him to order it. Thrilled to see it and try it myself, though. But, the "soury" taste this stoemp presented isn't the traditional flavour profile. Have you ever had a dill pickle soup? Not nearly as strong as that, and not dill flavoured, either…., but reminiscent of it.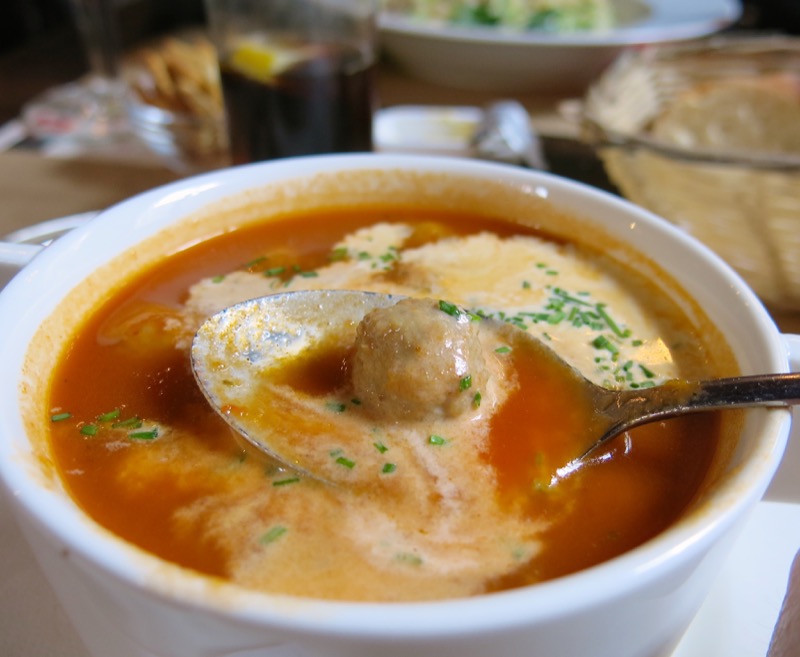 The little touch of cream on top was divine, and the chives sparkled my palate into submission.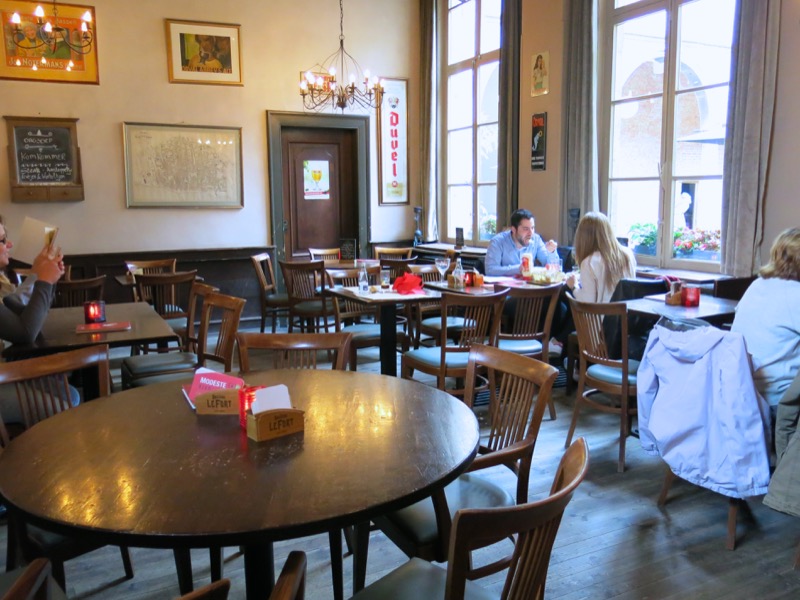 We had a lovely reprieve: a delicious lunch in a bright sunlit room in the old town of Antwerp in the historic de groote witte arend building. Deeply satisfied, warmed in my tummy, heart and soul, it was hard to leave. Thank you, de groote witte arend.
Flemmish Food: Filet d'Anvers from a Grocery Store (a little post script)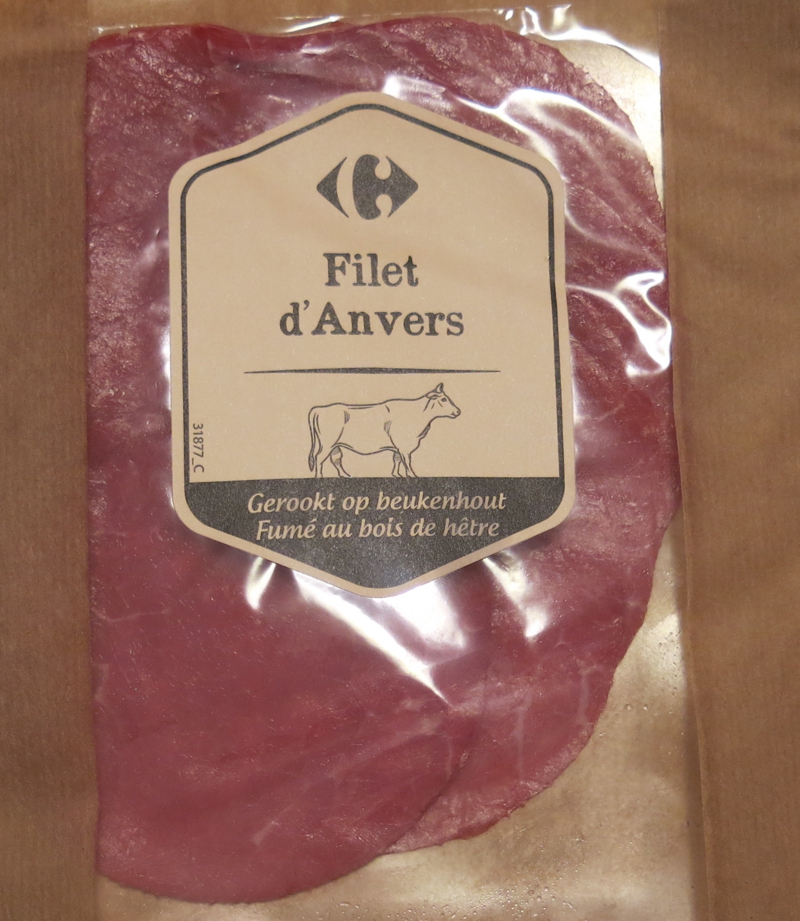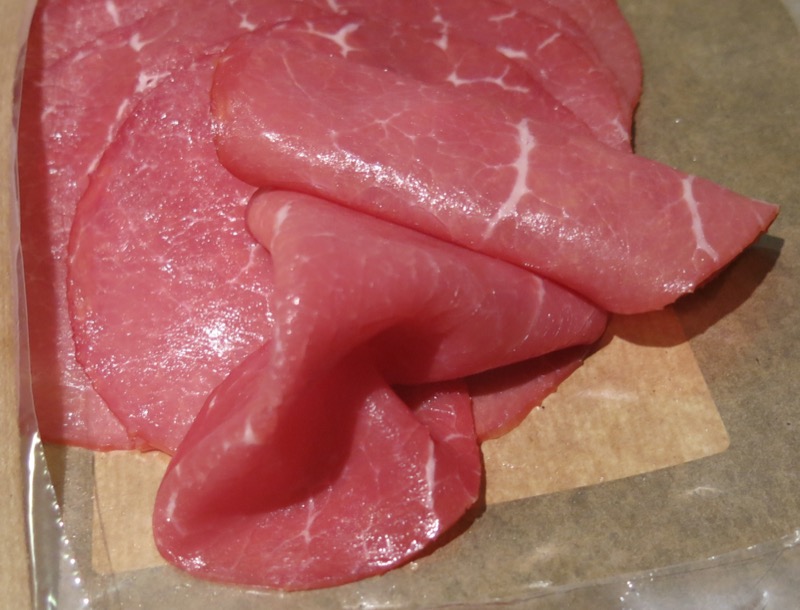 Apparently it was tasty in Vanja's sandwich but not even close to the delicacy experienced at de groote witte arend. You can see the difference with your own eyes.