Thermomix June 2018: The Month to Dive in!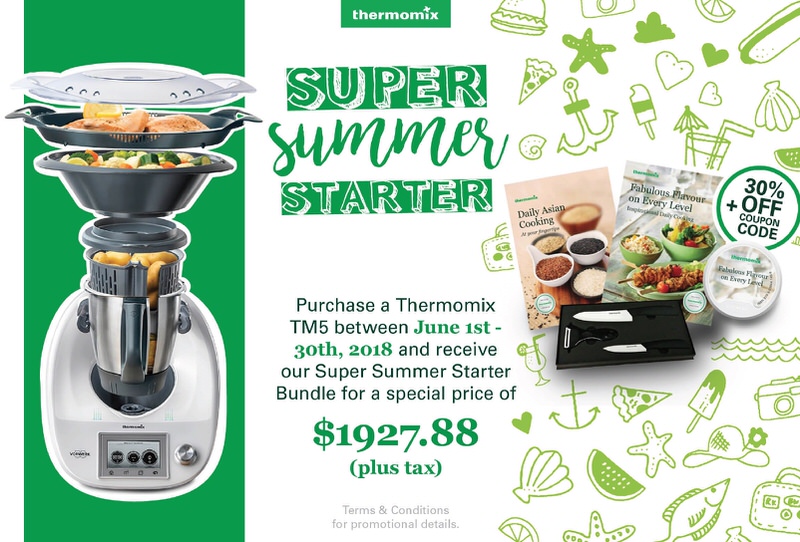 Thermomix June 2018: SSS Promo includes:
1 x Thermomix TM5 with standard accessories.
1 x Fabulous Flavors on Everyday Level Bundle.
1 x Daily Asian Cooking (bilingual) Cookbook.
1 x Ceramic Knife Set.
1 x 30% Off Coupon Code (for any 1 accessory on www.shopthermomix.com).
Thermomix June 2018: Terms and Conditions
Promotion is only valid on one (1) Thermomix TM5 purchases placed between June 1st till June 30th, 2018.
Prices listed do not include applicable taxes.
Shipping is included in the final purchase price.
No exchanges or refunds on any promotional items.
Promotion and 30% off coupon code is only applicable one (1) time during the time of purchase through our online e-shop.
Promotional 30% off coupon code is only generated by Thermomix Canada Office and valid during one (1) online Thermomix TM5 checkout purchase and redeemable for one (1) accessory available through our e-shop, www.shopthermomix.com.
While stock last.
Thermomix June 2018: We have Thermomix Consultants Across Canada
If you are interested in participating in a Thermomix Cooking Experience, please leave a message below.