Thermomix TM6 Zero Percent Financing: Noon PST January 10 to Noon PST January 12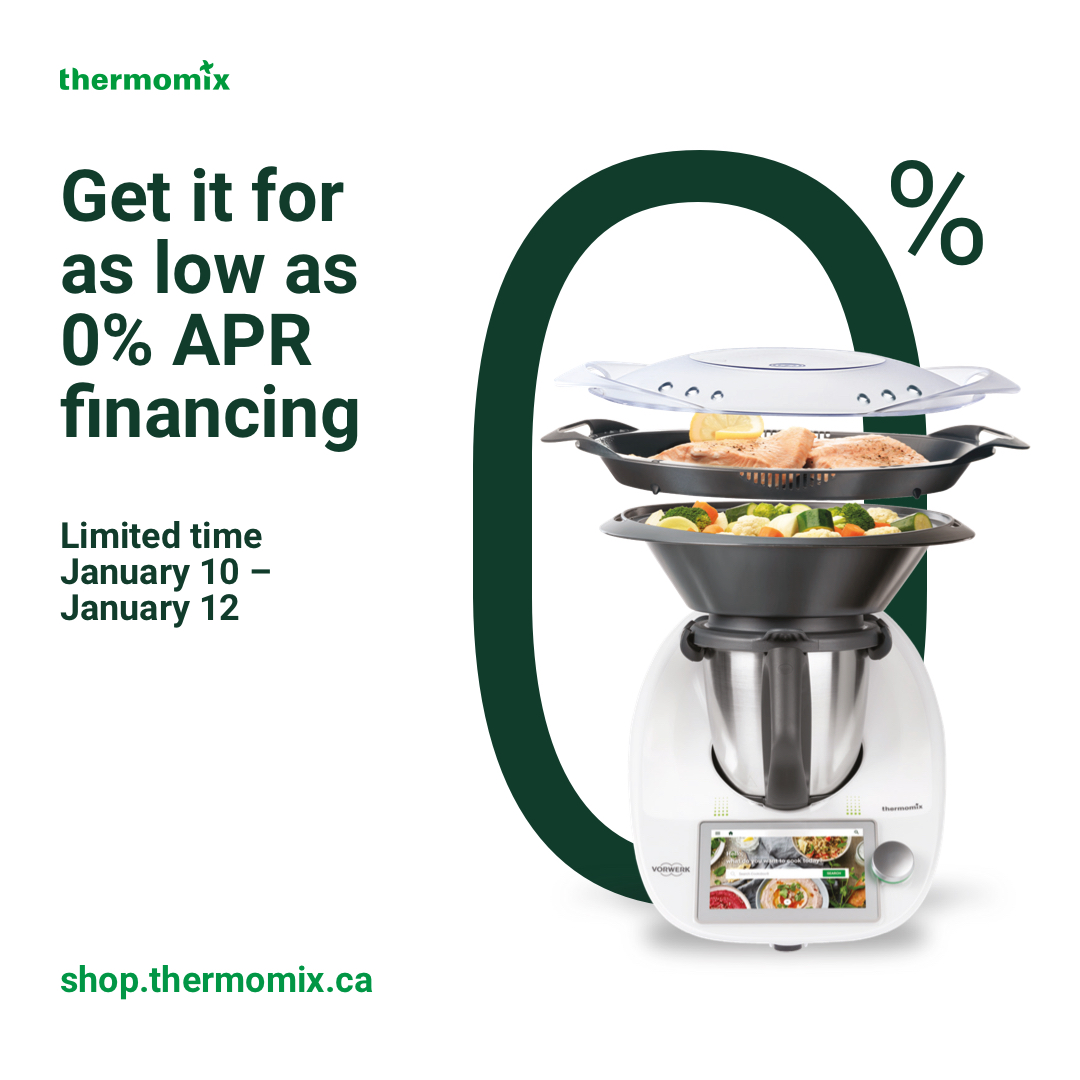 Thermomix TM6 Zero Percent Financing: Here's the link you need to make it happen
Valerie Lugonja' Consultant Link: tps://shop.thermomix.ca/consultant/400659/
My Consultant ID is: 400659
Purchasing Process: Once you get the the link:
Select the Thermomix TM6 or TM5 you wish to purchase (TM5 is free shipping)
Price will include Thermomix price, then add tax, shipping at 69CA, Admin fee at 59CA
Zero % is over 12 months; financing for 24 months starts at 9.9% dependent upon your credit status
Of course, contact me at any time for support and service throughout this process (some just prefer to do it themselves)
Record the purchase order number immediately after your sale is confirmed
Contact me at valerie AT acanadianfoodie DOT com with your Purchase Order number
I will arrange the following for and with you: Cookidoo Account Set-up and Training, Delivery Process Information and Advice, Delivery Experience and a Get Cooking Experience as well as Virtual or, when possible, In-Person support.
Thermomix TM6 Zero Percent Financing: Information about the Lending Organization (Flexiti)
Upon approval, the cardholder (you) will receive the plastic card by mail typically within 5 business days. However, you are not required to have the physical card to complete the first and or additional purchases. You will receive your account number by email. In the case of online transactions as a brand-new applicant, upon approval, the account number will auto-populate the card number field to allow you to finalize the purchase at checkout. Best to record this.
Payments are accepted via online banking, at your local branch through a teller, or by mailing a certified cheque. These instructions will be provided in the email sent to you upon approval
The URL to view their transaction history will be provided in the email sent to you. By default, your statements will be e-statements. You will be able to convert to paper statements if you would like. While no fees apply or appear on e-statements, Flexiti will charge $3.00 for paper statements if those are chosen.
You will be able to reach cardholder services at 1-877-259-3745 open 7 days a week from 8 am to 11 pm EST for anything related to your account.
Thermomix TM6 Zero Percent Financing: The BEST DEAL YET for TM6
It doesn't get better than this. Now is definitely the time. Keep me informed. And remember, Edmonton, Calgary, Vancouver and Toronto have regular cooking classes in the area with more to come in a location near you! We just opened doors at Vorwerk Canada Ltd. July 1, 2019, so are in month 7 and are focusing on growing the business. Interested in joining us? I would be tickled to explain my passion to you. Email me or leave a comment below.