Sour Cherry Slab Pie: Perfect for Picnics!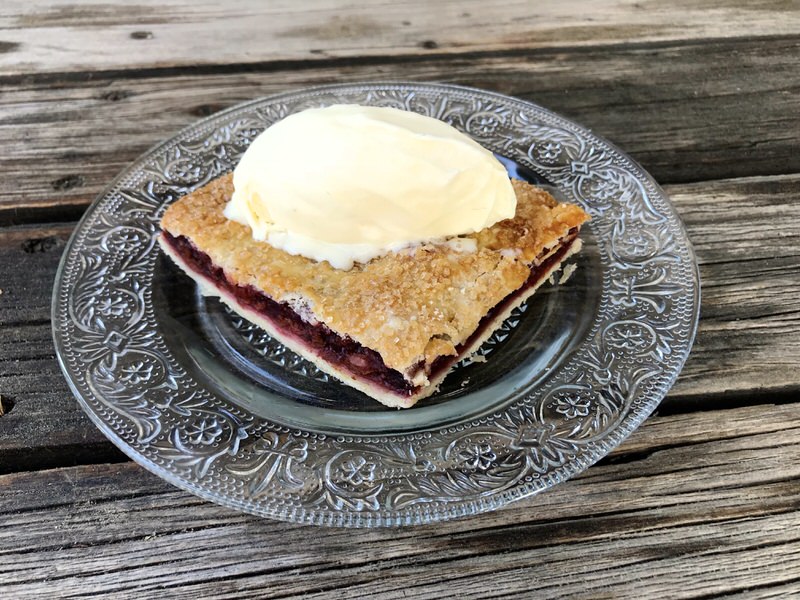 I am addicted! Slab pies have reared their heads the past several years, but I have never met one in real life, but when faced with so many sour cherries still in my freezer with the new cherry season close at hand, I was motivated to give one a go. What a success! Sensational fun hand-pie squares perfect for summer picnics and outdoor festivities.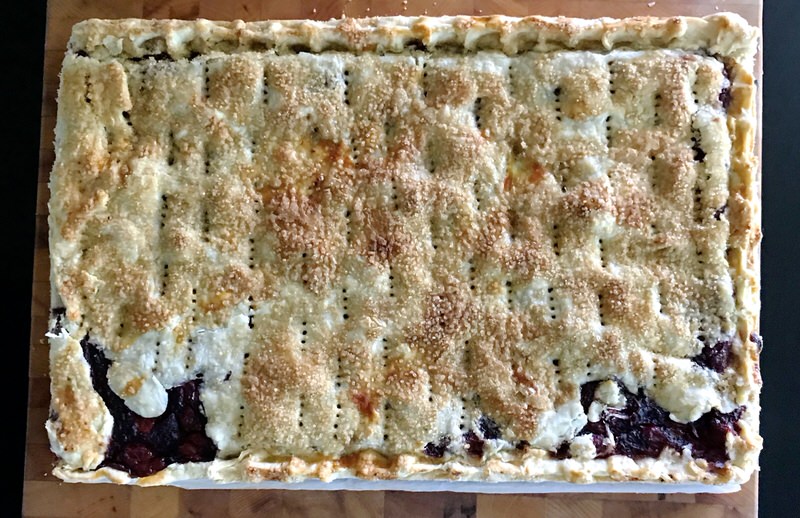 We Canadian prairie folk are so staid in our ways. "When something works, why change it?" is our mantra and we live our happy, simple lives. Today, I switched up the quintessential prairie pie to a slab pie and what a lovely little moment it was.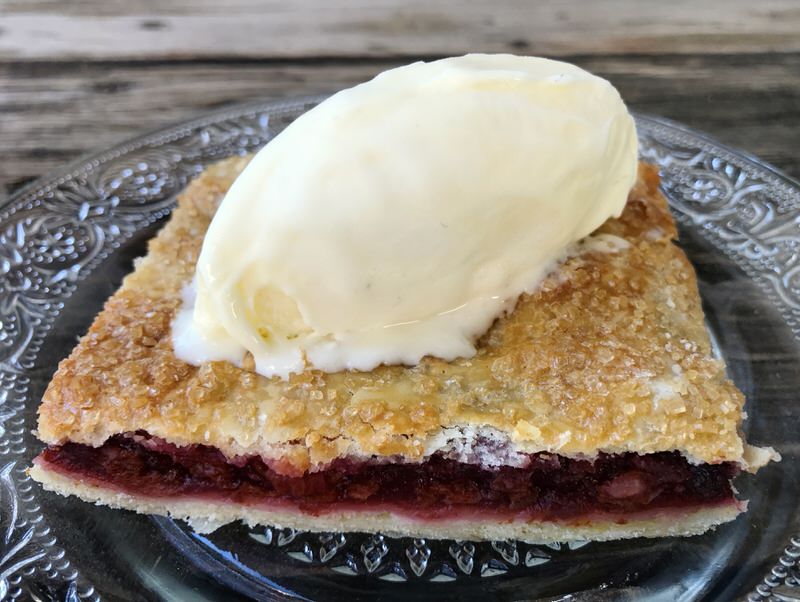 Such a simple little change. The shape and size. More surface area, more pastry, same amount of filling with a completely different experience as the outcome. A very simple little switch up with a very dynamic result. This is my new favourite picnic go to for 2018. Hey, I know I am behind the times, but I did finally get with the slab pie program. Have you? If you make homemade pies, you must try a slab pie.
Sour Cherry Slab Pie: Rolling out the Pastry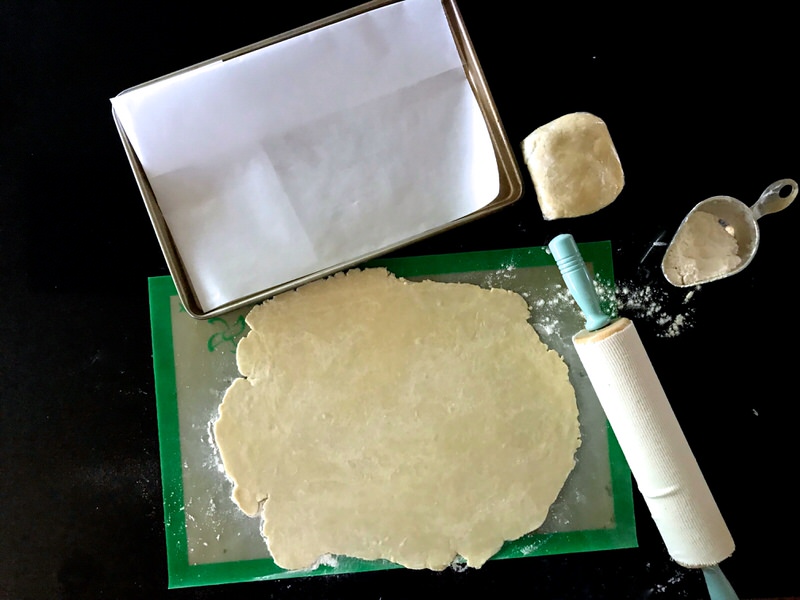 I have large pie plates, so make 4 discs of pastry with one pound of fat. I used 2 with this recipe and you can see I needed a little more for the top crust.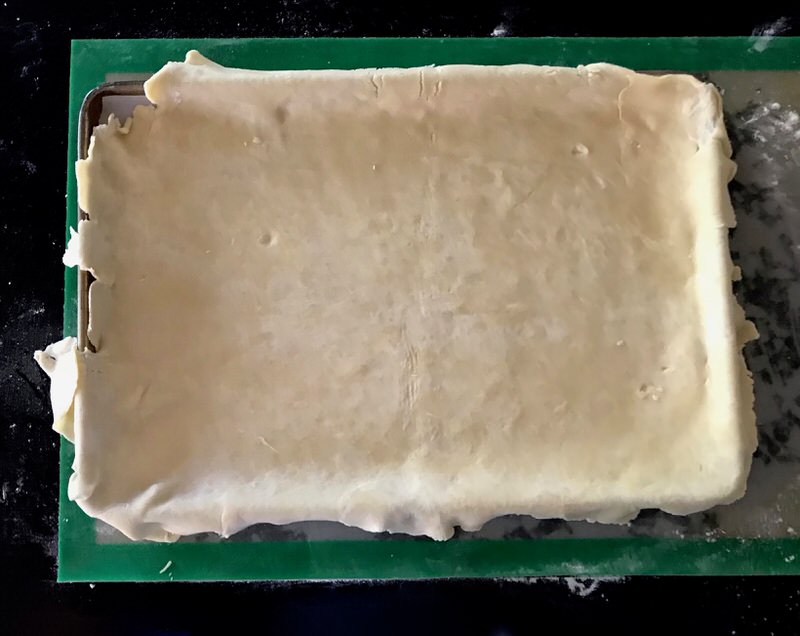 I didn't find it so difficult rolling the dough. Setting the pan beside motivated the process and moved the bottom shape along well. I did layer the sheet pan with parchment for easier removal and would say that is essential.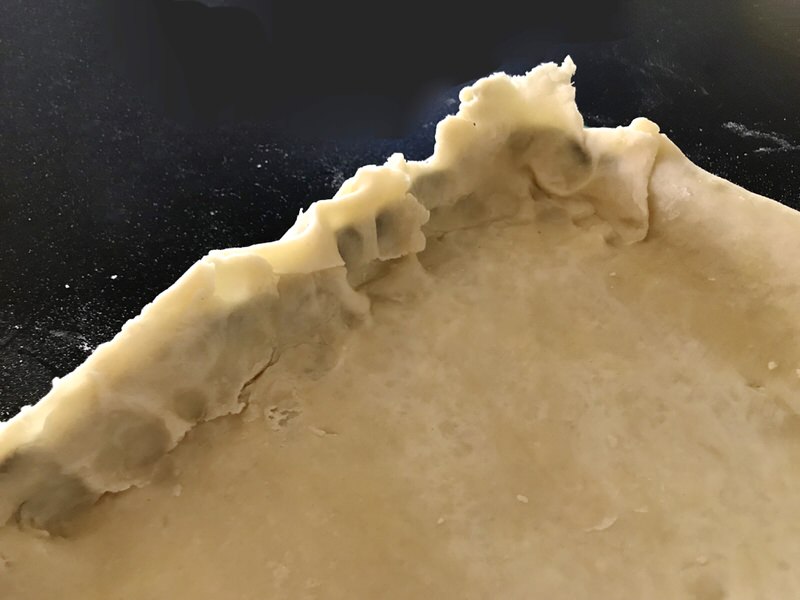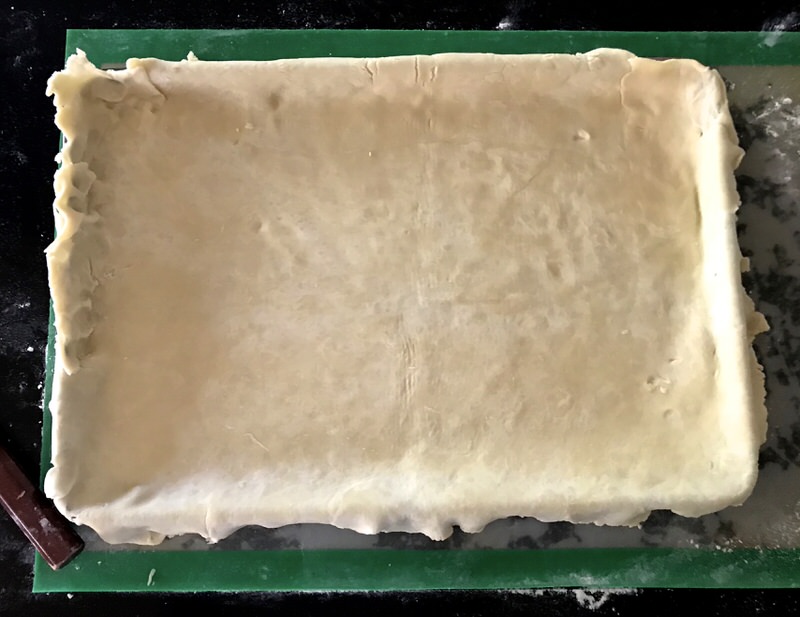 Any missed portions can be patched, as I did with the corner above. The bottom must be completely covered.
Sour Cherry Slab Pie: Adding the Filling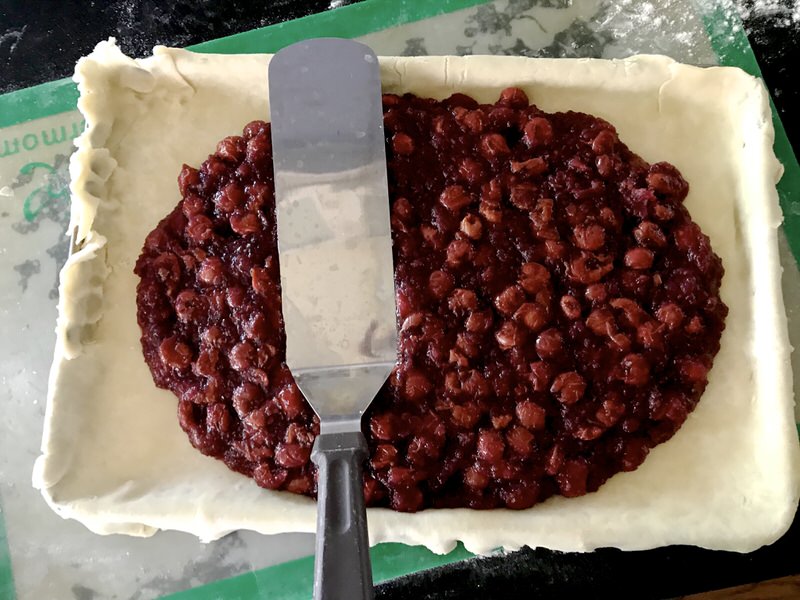 I actually freeze 6 cups of homemade cherry pie filling in the large freezer bags to make the pie making easier. I used one for this pie and added a little more lemon zest for sparkle.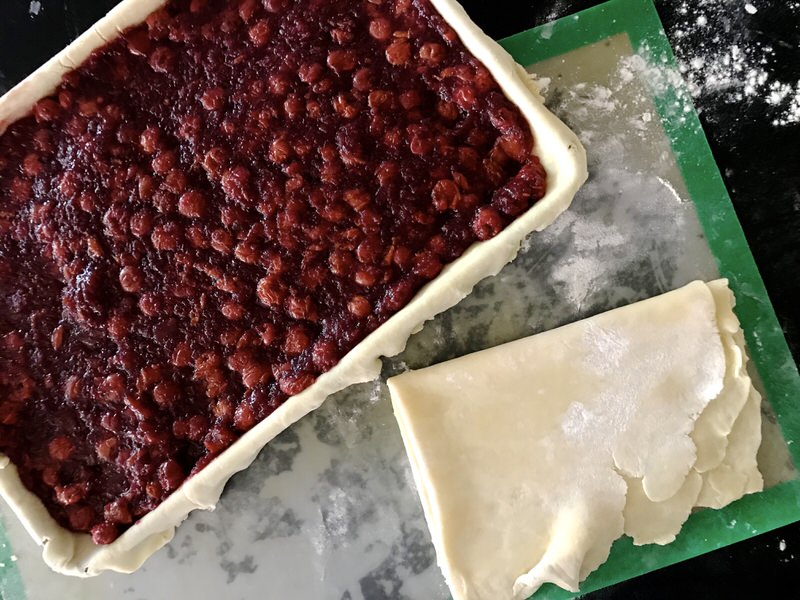 I was worried I didn't have enough pastry for the top, but it was so close, I was willing to let the pie do its rustic thing. The word "slab" certainly connotates rustic, so I was fine with whatever would be.
Sour Cherry Slab Pie: Covering the Filling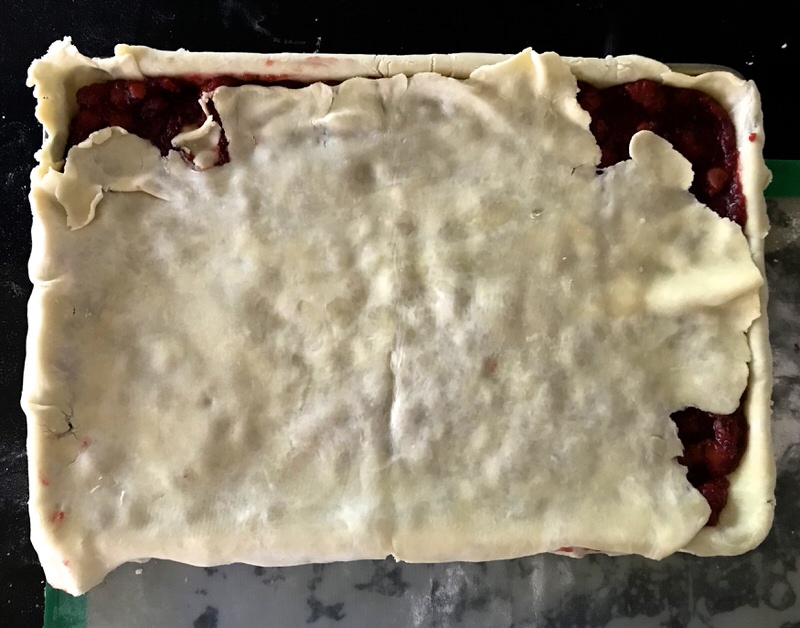 I didn't expect to be quite so short on the top, though. Woops. "Oh, relax!" my "other-self" bantered back, as my "perfectionist-self" had a momentary vision of tossing out the top crust and starting a new. I have worked hard to overpower that perfectionist within. "Natta worth it!"
Sour Cherry Slab Pie: Fluting the Edges and Preparing for the Oven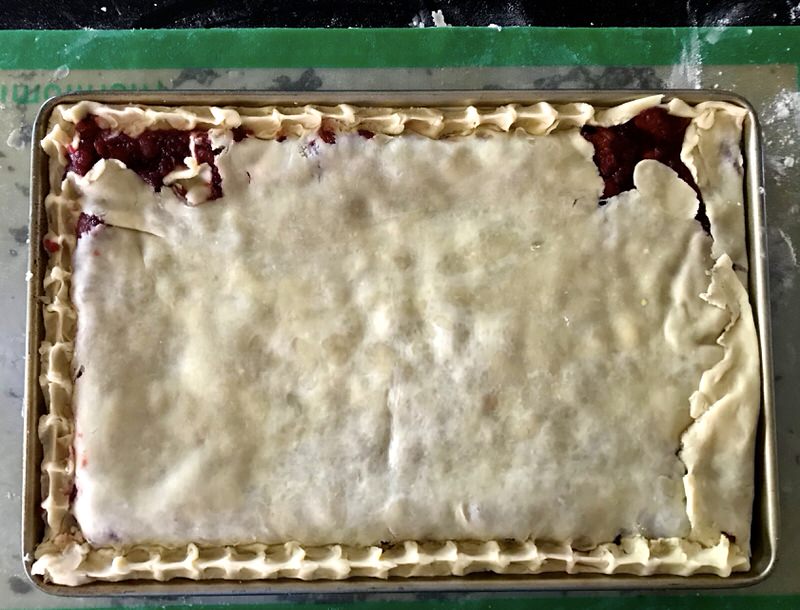 And look, is it just me, or it my homely slab pie coming into its own? A little crimping and folding and preening….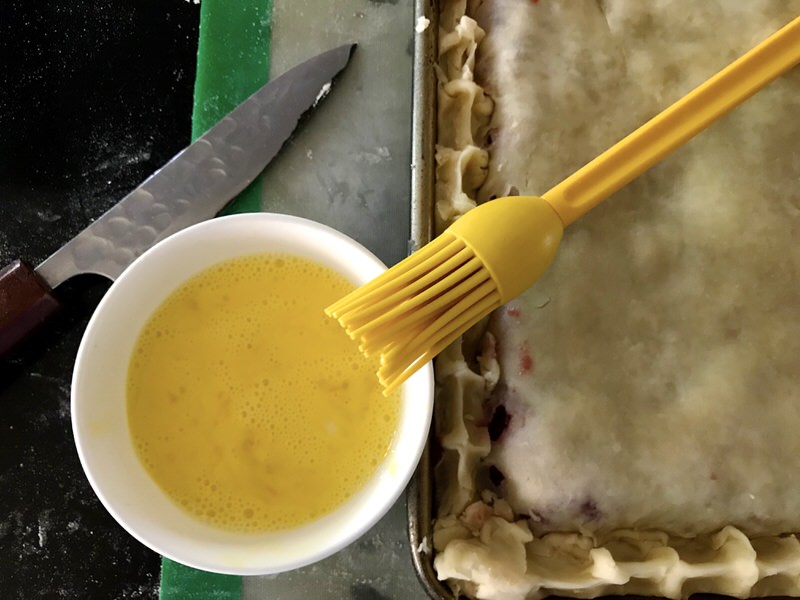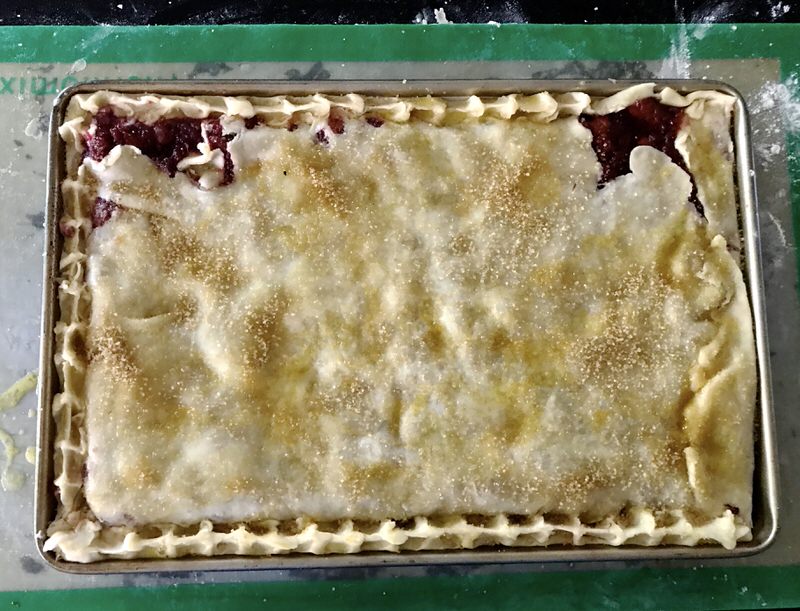 Brushing gloss on top, then sprinkled with raw crunchy sugar to add appeal and texture…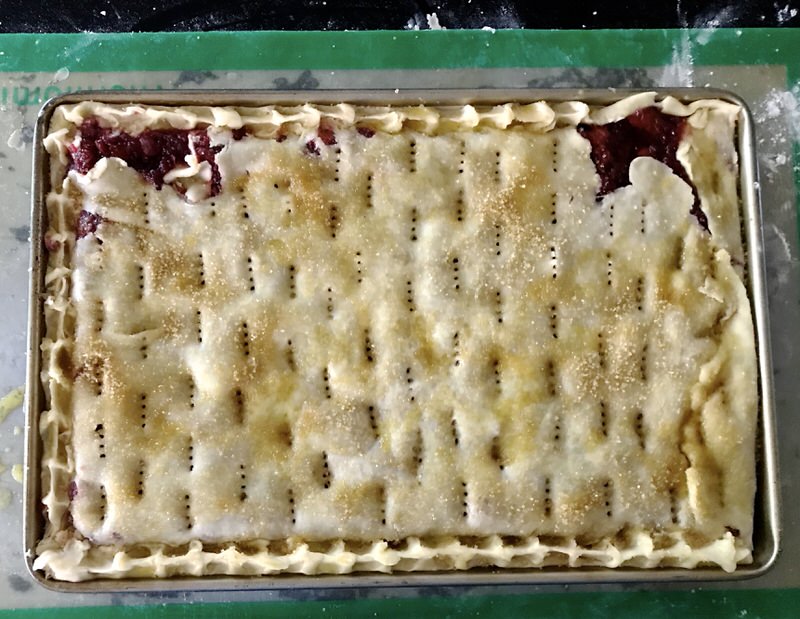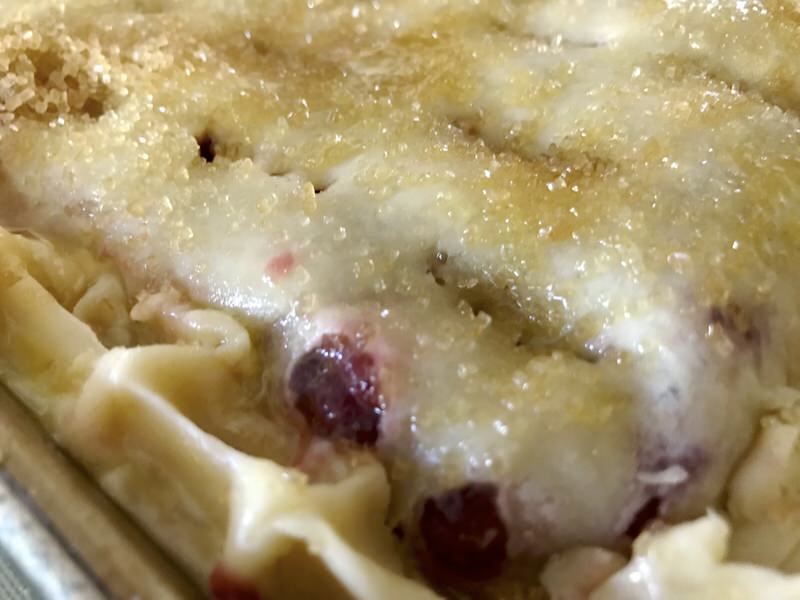 Looking pretty darn lovely if I don't say so myself!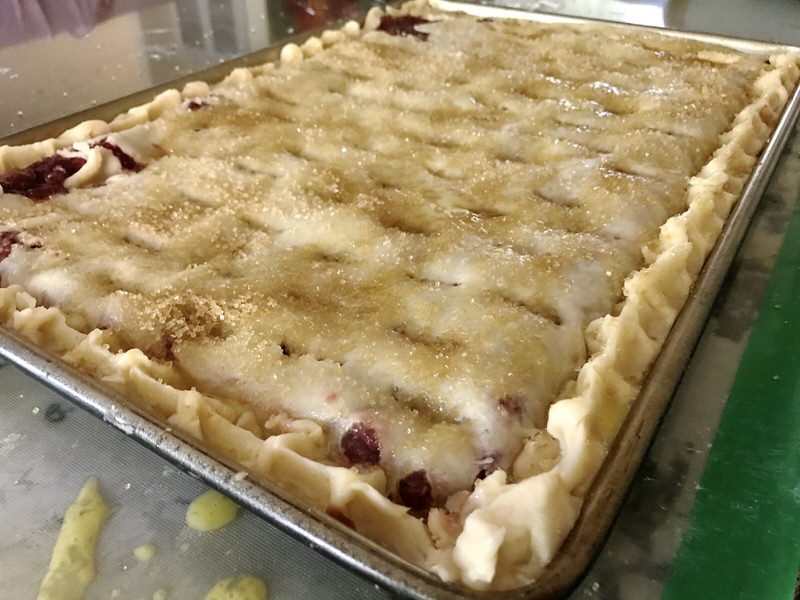 Docked to enable the tart little cherries to breathe and bubble beneath the flakey pastry topping while baking into golden sublimation.
Sour Cherry Slab Pie: Baking the Pie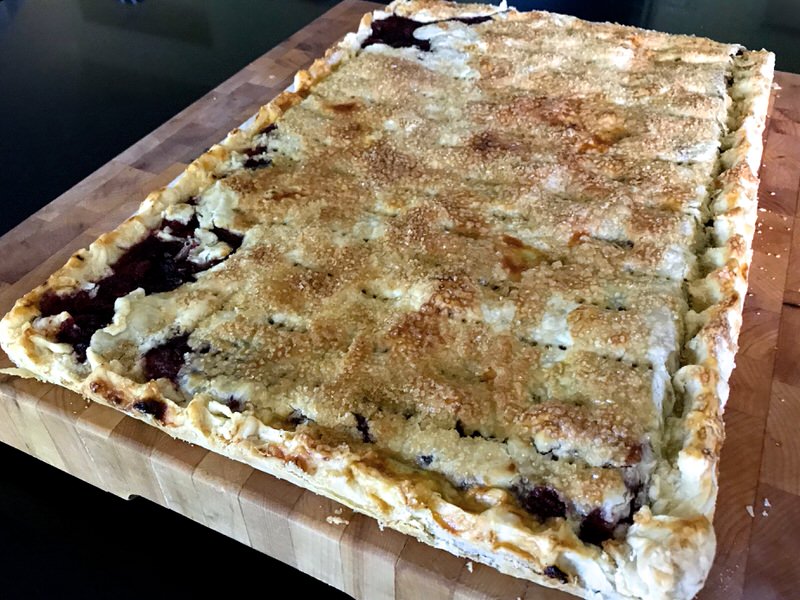 Lovely, imperfections and all.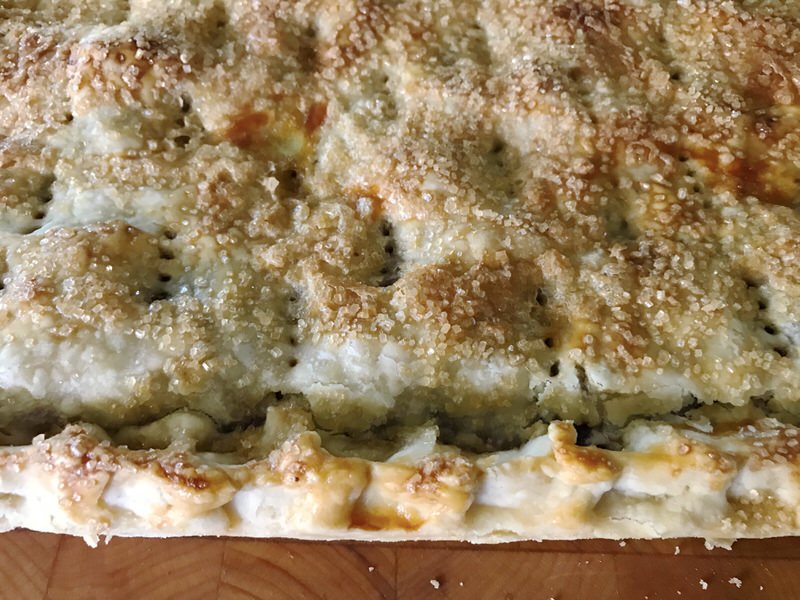 I do love the crunch that sugar adds to a lovely flakey homemade pastry.
Sour Cherry Slab Pie: Slicing and Serving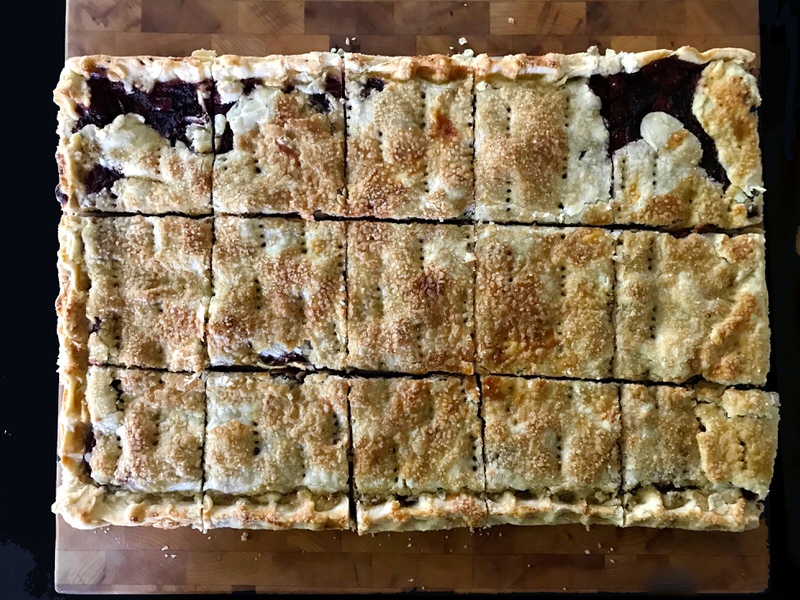 Fifteen 4×3 inch slices. Perfect.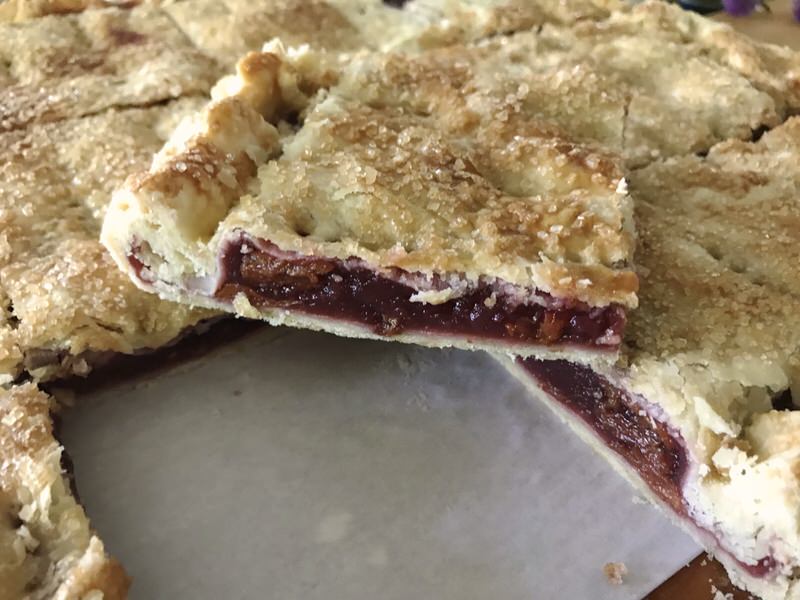 Flakey pastry with filling set to be sliced and held like a square.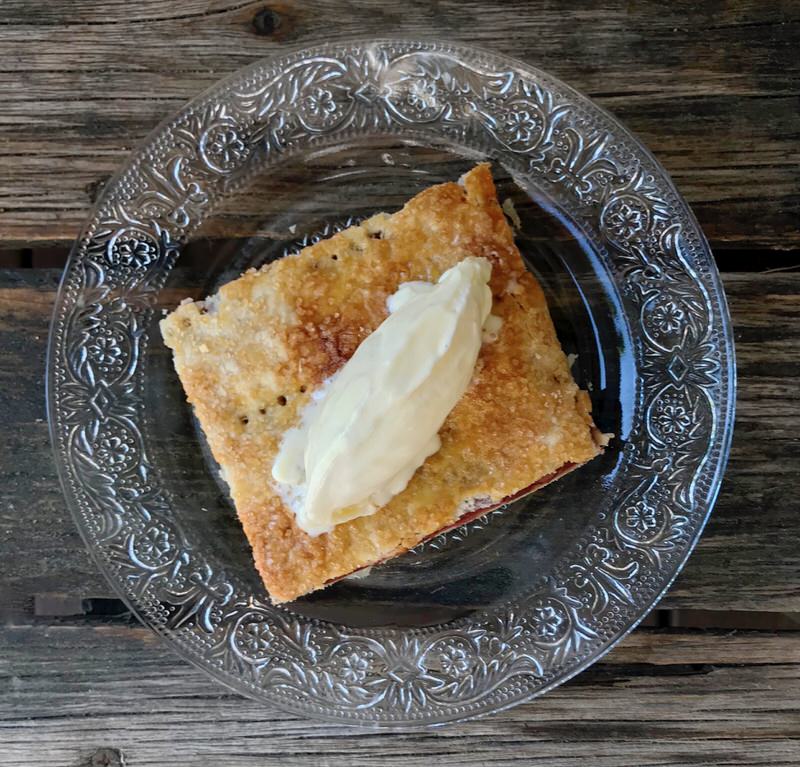 Warm with ice cream if at home… or room temperature held in one's hand at a picnic. Perfect either way!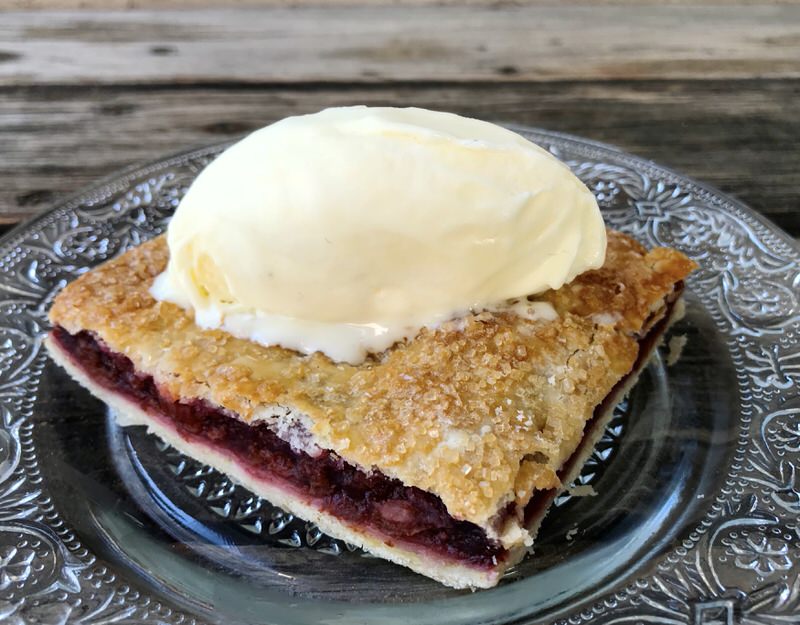 Have you had a slice of slab pie?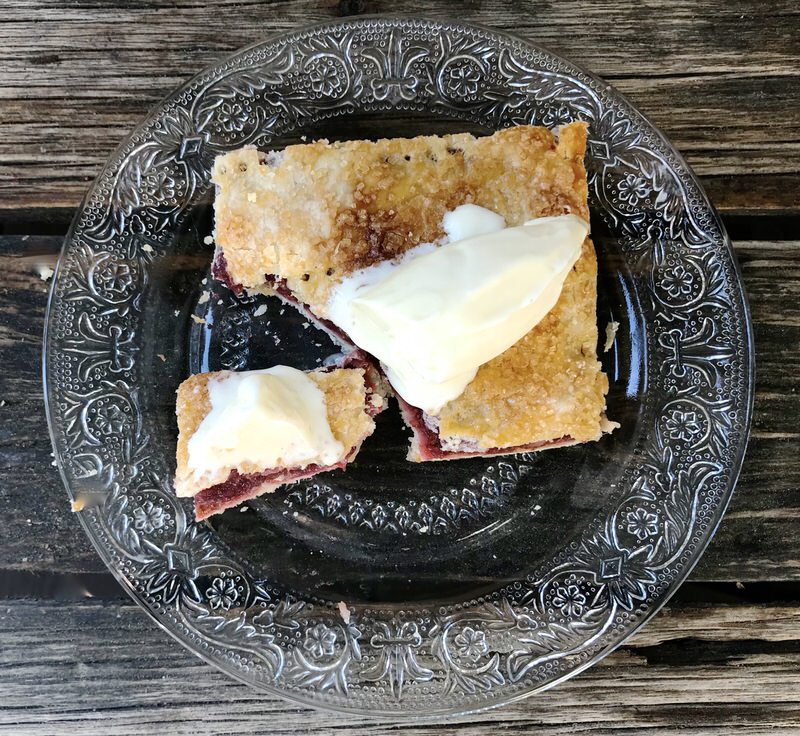 Every made one?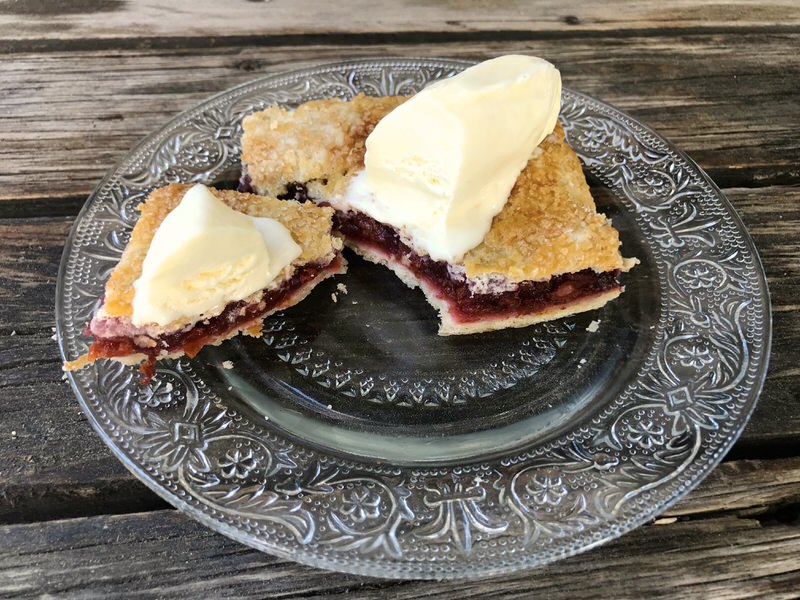 Sure want to hear from you if you have or if you do!So much inspiration here! Summer is upon us with so much fun to be had. Loved sharing my little bit of kitchen fun this month with you!
Sour Cherry Slab Pie
A perfect picnic dessert; just slice and pass! A delicious alternative to the traditional pie.
Total Time
1
hour
15
minutes
Servings
15
Squares or Slices
Ingredients
Ingredients for Pastry
3

large discs homemade butter-lard pie pastry dough

thawed overnight in fridge or freshly made, wrapped in plastic and chilled an hour

2

tablespoons

heavy cream or whole egg

beaten with a tablespoon of water

Demerara Sugar
Ingredients for Filling
6

cups

Homemade Sour Cherry Pie Filling

1

teaspoon

lemon zest
Instructions
Instructions for Preparing the Pastry
Preheat oven to 375°F; prepare 15x10x1 inch baking pan with parchment paper

Roll out 1 ½ discs of pastry dough into 12x18 inch rectangle; transfer to prepared baking pan letting pastry hang over sides

Repeat with second portion of pastry dough (1 ½ discs) but roll into 11x16 inch rectangle; set aside
Instructions for Filling Slab Pie and Preparing for Oven
Pour homemade cherry pie filling into prepared pastry; place second smaller portion of prepared rolled pastry dough over filling

Bring bottom pastry edges up over top pastry; pinch to seal and flute edges

Brush top with heavy cream or egg wash; generously sprinkle with course raw Demerara Sugar

Using a fork, dock top crust; place in middle rack of oven

Bake until golden and filling bubbling: 50 to 55 minutes

Transfer to wire rack until just warm: about 40 minutes

Slice and serve