Experience Thermomix Edmonton: Experience the Magic!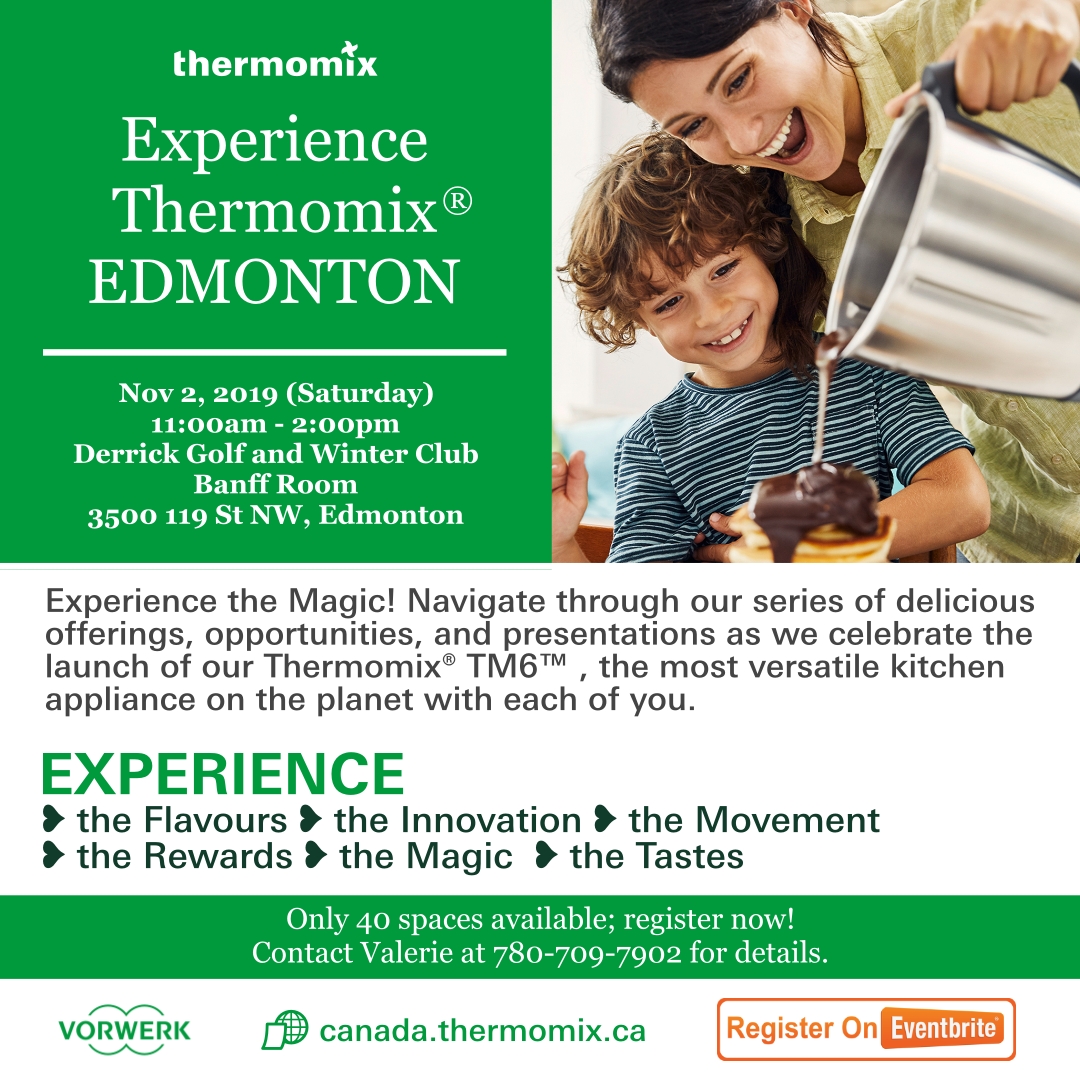 Experience Thermomix Edmonton: What do we offer?
Navigate through our series of delicious offerings, opportunities, and presentations as we celebrate the launch of our Thermomix® TM6tm the most versatile kitchen appliance on the planet with each of you.
Register for our first Vorwerk Canada Ltd. Experience Thermomix Event in Canada in our very own Edmonton Alberta and be prepared to participate!
Experience the Flavours as we introduce you to the World of Thermomix®
Experience the Innovation as you briefly explore the 130-year history of the most versatile appliance on the planet!
Experience the Movement as you investigate the rich and dynamic business opportunities to join us!
Experience the Rewards as we share with you the earnings and gifts we offer you!
Experience the Magic (Introducing the TM6): spend a couple of hands-on minutes whipping up a delicious, nutritious and economical recipe from scratch effortlessly!
Experience the Tastes: Be prepared to stay awhile and enjoy an interactive Thermomix® Cooking Class featured mid-point
Experience Thermomix Edmonton: Space is LIMITED!
Register here for the event. There is no charge, but as space is limited, we ask that you do let us know if you cannot attend. My phone number is in the Eventbrite registration. There will likely be a waiting list, so please consider letting us get someone in your seat if you are unable to attend.
Be prepared for a highly interactive, dynamic jaw-dropping day. Thermomix® must be seen to be understood.
Here's the direct link for registration:
https://www.eventbrite.com/e/experience-thermomix-edmonton-tickets-74629467747