Dueling Daughters: all for the love of good food!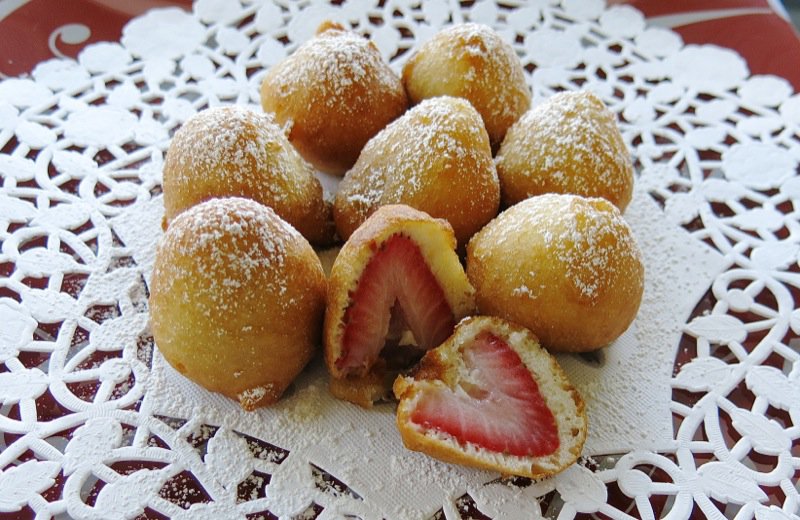 Champagne and strawberries are classic lovers fare – in the movies, anyway. I haven't been wooed with Champagne and strawberries, have you? A gorgeous flower arrangement makes me weak in the knees, but an invitation to dinner is usually out of the question as I am having too much fun in the kitchen concocting my own Valentine's Day meal. These fritters look like quite a bit of naughty fun, don't they?
And I have the perfect plate for them. When Isabelle from Crumb Blog wrote about this recipe for strawberry fritters on one of The Canadian Food Experience Project's challenges, I knew I wanted to make them. Yet, I never have time to do everything I want, so I have initiated a new project that involves my daughters doing all the cooking and I just get to enjoy it and write about it. With Lauren living so far away, the gals don't cook together any more, yet both do enjoy cooking. So, every few weeks, I will send them a few recipes I am interested in writing about. They will choose which one to make and enjoy sharing their experience with one another from afar. As our family loves to cook, this is our first post of "Dueling Daughters", though the dueling is all in good fun. I believe a family that cooks together, grows together. (Dueling Daughter Project instructions and information)
These little devils are sinfully delicious, but must be eaten warm, right from the frier after being dusted with a liberal amount of powdered sugar. They do not keep well at all… so only make what you will eat as no one wants to through out gorgeous out-of-season strawberries. (Valentine's Day is the only time I would ever permit myself to buy out-of-season strawberries!) And, they do not need any dip. The crisp fatty dough is heavily scented with vanilla and the strawberry is warm, but not cooked, so still very fresh in flavour and texture which makes the first bite an unexpected pleasure. Every bite after that is simply sinful indulgence. (The fresh strawberry inside offers the devious idea that these are actually "good for you".)
According to Menon from "French Family Cook", strawberry fritters have been around since the 18th century: Make a paste with some flour, a spoonfull of brandy, half a glass of white wine, the whites of two eggs beat and green lemon shred fine. Mix it well, neither too thick nor too thin. It should rope in falling from a spoon. Dip some large strawberrys in to it, fry them and glaze them with a salamander. And my little gift to you is introducing my new fun app: Waterlogue. Best $3.00 I have spent in a long while.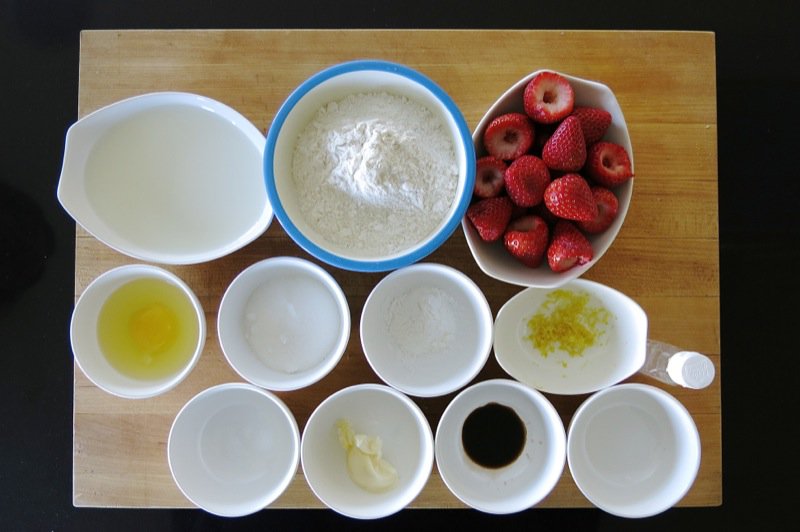 Mis en place above, is Ragan's and below is Lauren's.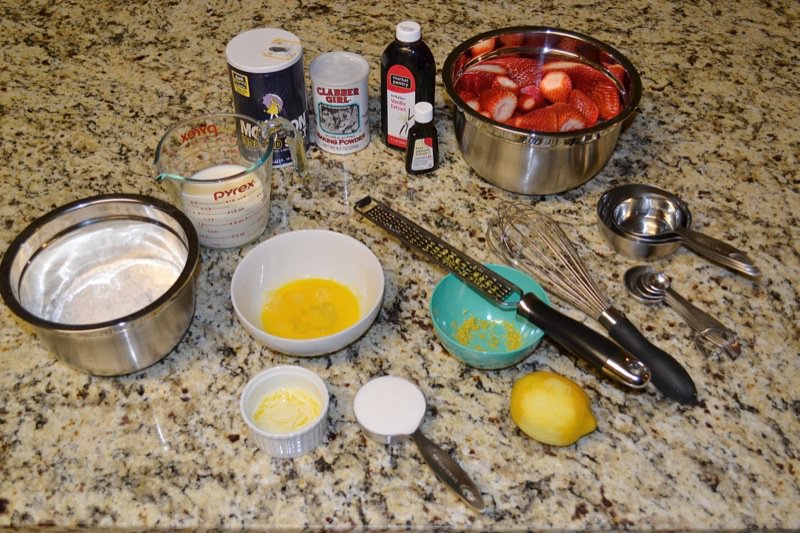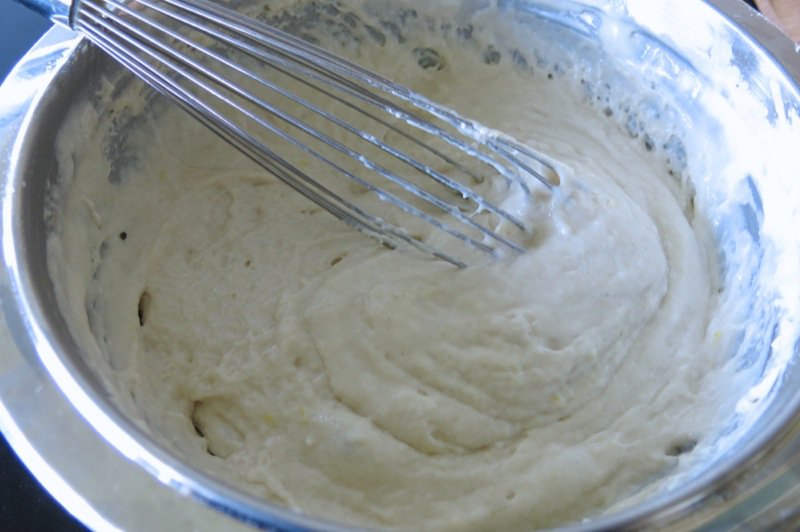 Ragan whipped up her batter, heated her oil in my deep frier, and dipped her berries.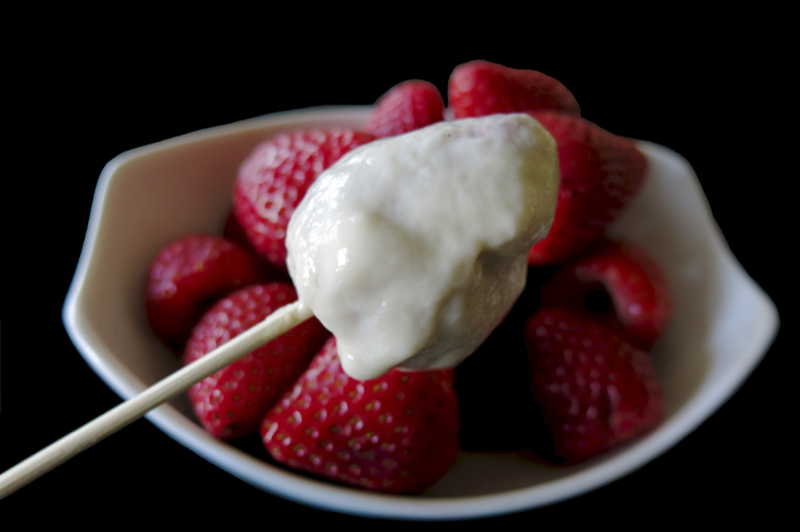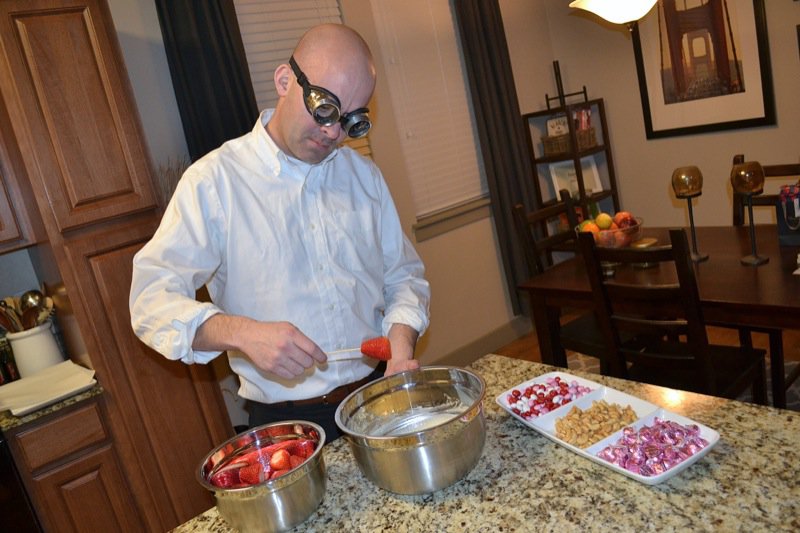 Above, you will find my son-in-law, Aaron – a culinary genius, in his own right – starting to dip the berries in the batter he and Lauren whipped up. You will see the "competition is on" as they have strategically placed decorative Valentine's treats in the photo and he has his kitchen safety glasses on. Below, Lauren also models her new kitchen safety glasses. The have side guard protectors you cannot see in the photo. Both gifts from moi for this dynamic duo at Christmas as they do love to cook together, yet I understand all too well how much trouble both can get into in their kitchen.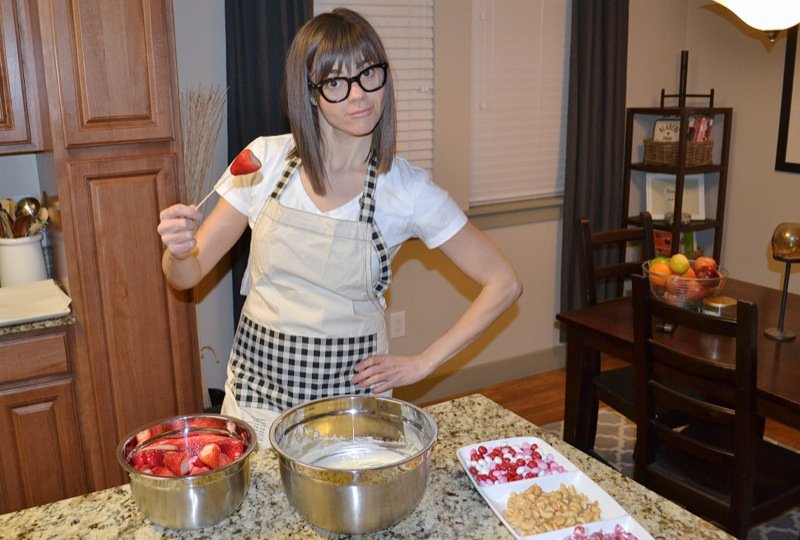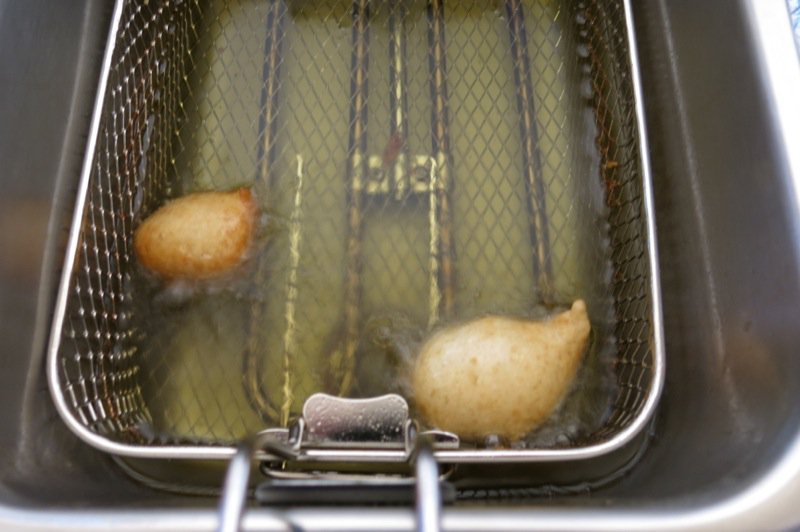 Ragan offered up a photo of her strawberry fritters frying. That is 2 for her as we got a batter photo from her, too! She did mention that it wasn't easy to get a nice shape when battering the strawberries and frying them. She had to work at getting that nice strawberry oval. But, no problem. The "duds" went into the discard pile and were eaten before photos.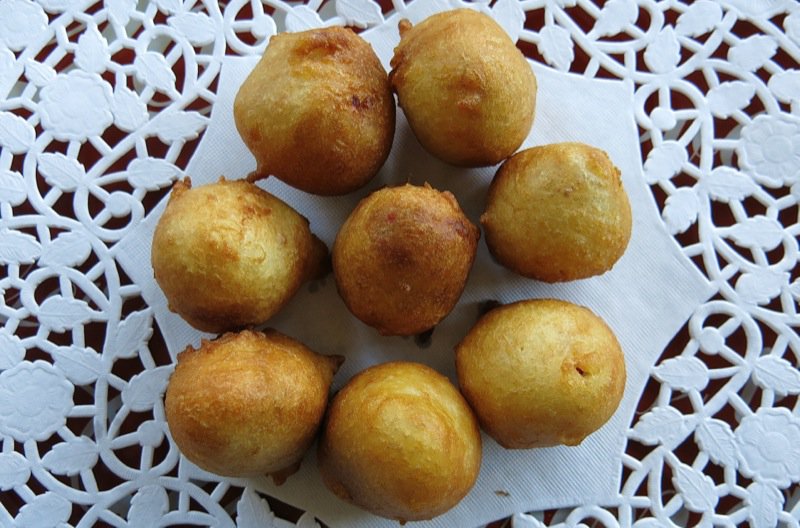 Above and below are Ragan's fritters. Immediately after coming out of the frier and then dusted with powdered sugar.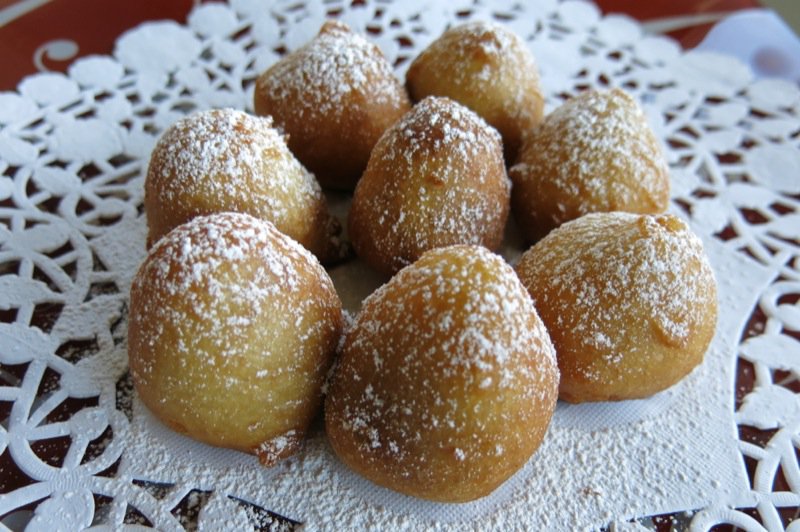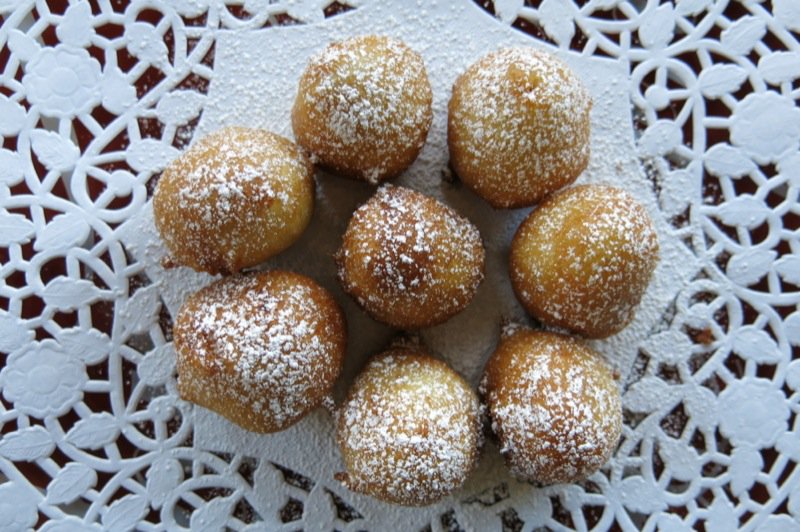 Apparently, it was a good thing I bought those safety glasses as both Lauren and Aaron were afraid of deep frying. Hot oil is not something either want to deal with in their kitchen, so they were being very good sports making this recipe. However, they certainly did get into it. Sans thermometer, they did get the little bobbles to fry into lusty crisp golden fritters that would fulfill anyone's fantasy and then they just fried dollops of dough. Clearly, they were on a roll, as the mini-oreo cookies came out next and you will find a photo of oreo cookie fritters at the end of this post. A deep frier may be on their gift list next Christmas. Who knows?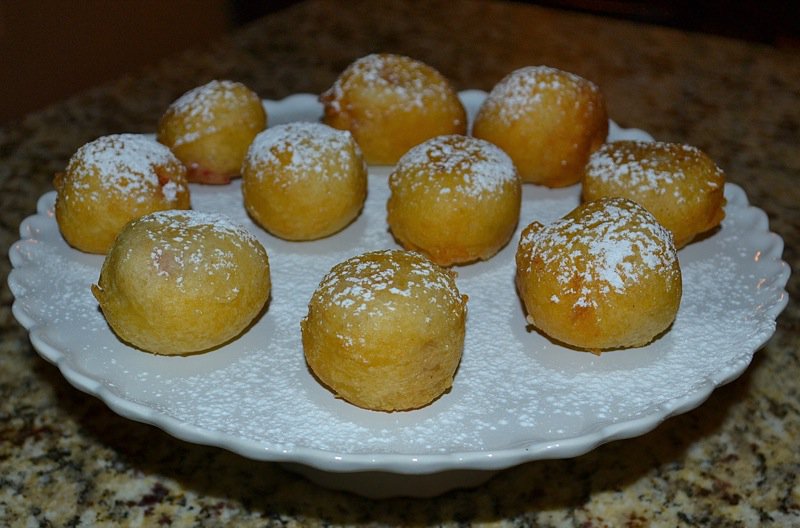 Lauren and Arron ate them so fast that they didn't take a cross section photo of the fritter, which was, I do recall, one of the project requirements. 🙂 That would be 3 for Ragan. But, really? Who is keeping score? I will probably get into trouble for even joking about this, now. You know: sibling rivalry. It doesn't exist between my gals until I make it happen.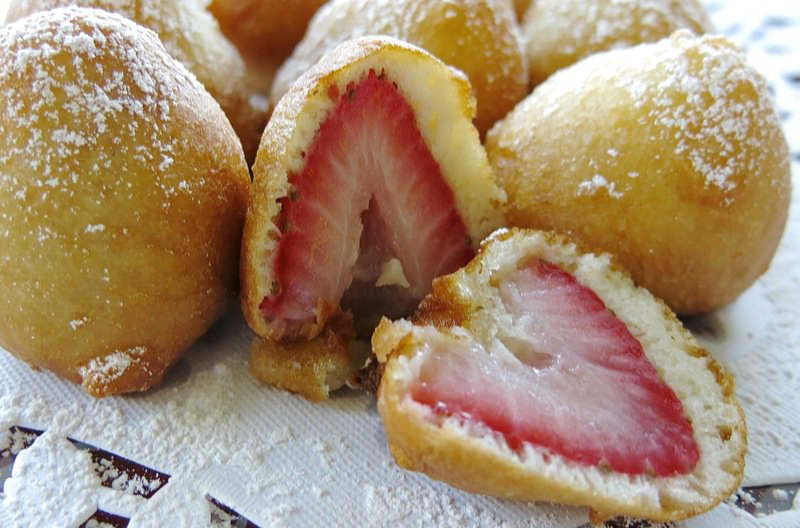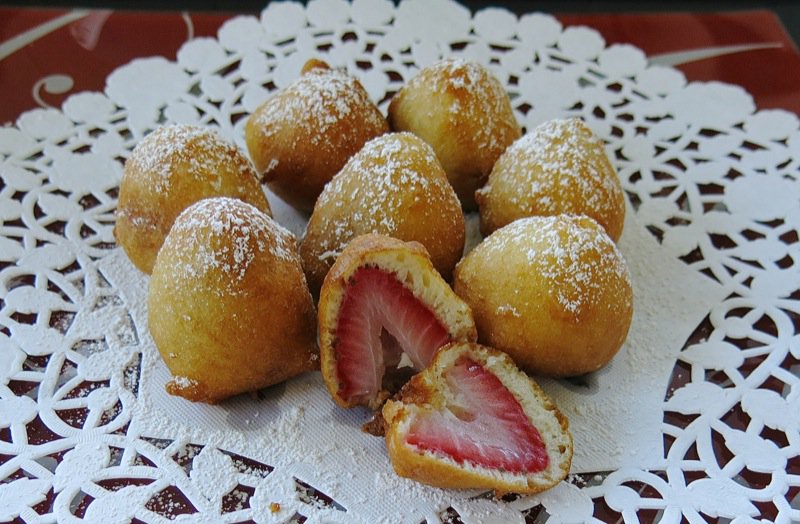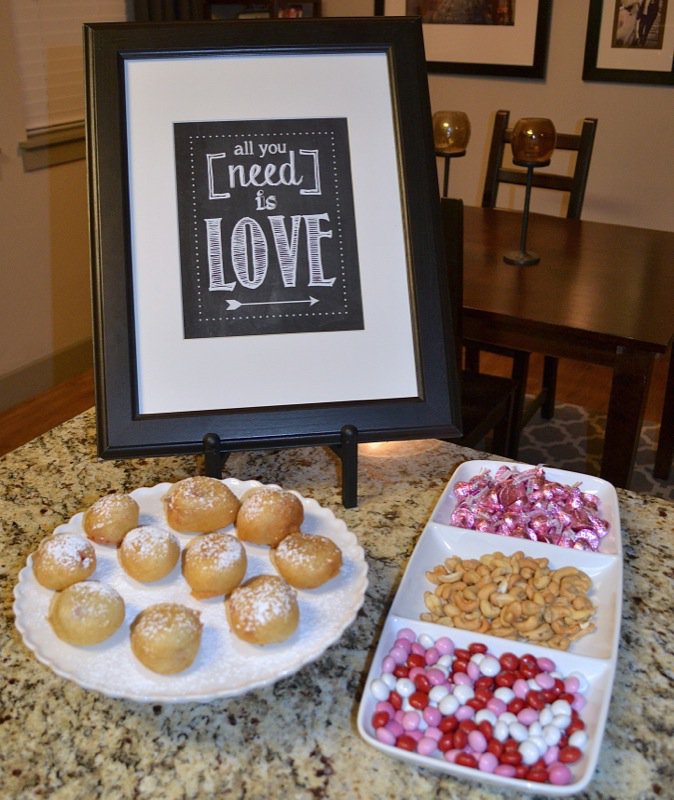 And how can one not be charmed by this artful display of Valentine's Day gratifications? I had so much fun immersing myself in this cooking experience that my daughters engaged in and I didn't make a thing! But, I did taste Ragan's fritters as she is living here temporarily. I was her photographer. Aaron was Lauren's photographer and her Sous Chef. Participating in this activity is an expression of love within our family that will continue throughout the year. I am looking forward to the food and how cooking together, though apart, will draw us all closer.
So, what did they think?
In Lauren's words: We were very excited to make strawberry fritters; however, I did have reservations because I'm not really into deep fried food and I didn't have a deep fryer or a thermometer to measure the heat of the oil. I haven't deep- fried food except Thai fried bananas once years ago. Without a thermometer, I wasn't sure how to measure the heat. I started by turning the burner up very high, thinking that the oil needed to boil and within 5-8 minutes, the whole house was in smoke; the smoke alarms were wailing away, and I found myself frantically running around opening doors and fanning the alarms. Luckily, Aaron had perfect timing, arriving home from work while I was mid-panic and to me yelling "HELP!! HELP! I NEED YOU!"
Before Aaron even had a chance to put his bag down, he was quickly at work. I soon realized (after a mercy call to Ragan) that I didn't need the oil on high heat (or to boil), but rather medium was just fine. Next time I attempt any similar task, I think a thermometer will purchased. Once all was settled, Aaron and I got a system down where he would dip the strawberries and I would regulate the oil. We had some really nicely rounded fritters alongside some truly odd shaped ones as our strawberry selection was comprised of a variety of different sizes.
For the most part, it was rather easy, although we noticed that occasionally it was kind of hard to get the batter to stick to the strawberries and it was a little difficult to tell whether the dough was cooked all the way through. After we were done with all of the strawberries, Aaron pleaded to try plain fried dough, so we plopped a few balls of the batter into the oil, just for him – gross, eh? And that quickly escalated to his adventurous suggestion: "this is OUR chance; what else can we fry??" So we found some mini oreos in our cupboard and with our remaining batter, threw a few in and they were surprisingly delightful.
All in all, these were very pretty looking, quite simple (minus the smoke at the beginning) and quite tasty. Note: as the recipe says, they definitely do not store well.
And Ragan's reflection: When mom presented this idea, I was excited! I know my sister and I love to cook and I was looking forward to our takes on these recipes. When Mom suggested the strawberry fritters, I was excited yet a bit hesitant as I have never deep fried anything since we were kids and made doughboys with my dad. These were just pockets of fried dough, we would eat them right out of the friar with sugar or jam. BUT, back then, it was our dad that got the 'stuff together', now known as mis en place. Mom ensures that we were taking the right steps to create beautiful food and memories over the years. She has miraculously passed these genes to the two, duelling daughters. I am lucky that I'm able to work in such a kitchen as this, and have a personal photographer as my dear sissy does. I know that once I am back out on my own I will (yes, mom, it will happen) be back here to make every post for the Dueling Daughters Project.
The recipe was easy to read and prep for. The only thing we both found was the instructions of where to add the lemon zest and the baking powder were missing from the original recipe. When my sister called me to get some advice, I told her that I added my zest with the wet ingredients and the baking powder to the dry. The challenge was to not heavily coat the strawberry. I ended up using bamboo skewers to pierce the strawberry to dip in the batter. I stood in the very chilly garage with the deep fryer (thanks mom) on the deep freezer (so I wouldn't mess up the kitchen), coating and frying the first 6. After discovering the technique to ensure each fritter actually looked like a strawberry, I then came to realize to not let batter seep into the hulled cavity of the strawberry as the batter wasn't cooking in there. Success!!
The berries were warm, but not cooked, juicy and sweet. The batter was crisp and full of vanilla lemon flavour. As the recipe says, eat as soon as you can because the sweet juice from the strawberry will escape and soften the crispy exterior.
Having the childhood memories of the sweet warm doughboys, I was definitely motivated to fry some dough: it was crispy and sinful and I enjoyed every single morsel!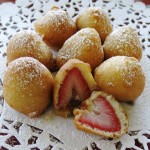 Strawberry Fritters for Valentine's Day
The crisp fatty dough is heavily scented with vanilla and the strawberry is warm, but not cooked, so still very fresh in flavour and texture which makes the first bite an unexpected pleasure. Every bite after that is simply sinful indulgence. (The fresh strawberry inside offers the devious idea that these are actually "good for you".)
Ingredients
1

quart

strawberries

, cleaned (not hulled)

1

egg

, lightly beaten

1

cup

milk

¼

cup

sugar

1

tablespoon

butter

, melted

1

teaspoon

vanilla extract

½

teaspoon

almond extract

1½

cups

flour

1

tablespoon

baking powder

½

teaspoon

lemon zest

½

teaspoon

salt

Icing sugar

, for dusting
Instructions
Ensure strawberries are completely chilled (these are not hulled as the batter gets inside the hull and tends not to cook there)

Whisk together egg and milk; add sugar, butter, lemon zest, vanilla extract and almond extract, Whisk until well combined

Sift in flour, baking powder and salt; whisk until you have a smooth, thick batter.

In a deep, heavy pot, heat 2-3 inches of oil to 375F (or use a deep fryer)

Working in batches of 4-6 fritters, spear a strawberry with skewer, dip into batter to coat completely

Drop battered strawberry into hot oil and fry until golden brown, about 1-2 minutes, turning once to ensure all sizes are golden

Transfer to a baking sheet lined with paper towels, to drain excess fat

Dust fritters generously with powdered sugar, and serve immediately
Recipe Notes
Make only as many as you can eat; they do not keep
(Nice dental work, Lauren! XOXOXO)