A Holiday Show Stopper with Leftovers that the family will eat!

Porchetta is usually rolled in a swirl shape, but I had too much stuffing, so I simply rolled it in a circle around the gooey goodness in the middle. My first Porchetta and a huge hit at the family table. Certainly holiday fare, but this was the practice round. After receiving our Tamworth pig from Nature's Green Acres, I had the pork belly ready for this. Over to Corey, at ACME Meat Market to get a whole grass fed pork loin butterflied was step two. Step three? Thaw a package of the fatty ground Tamworth for the stuffing and turn up the music!

Porchetta was on my list for so long and is so easy to make, I am stunned. What was I afraid of?

With a huge fresh side salad this was the ultimate Sunday Supper last week. I learn best from watching an expert, and never imagined I could pull this off on my own, as I did! The Porchetta is a show stopper. I am so proud of myself. My husband has never given me a 10 out of 10 on anything I have ever made. If I get an 8, that is excellent. This dish got a 9. My first 9, I do believe. That is testament to you, as well! If I can do this, so can you. No doubt about it!
Porchetta Stuffing

There are so many recipes for stuffing and so many recipes for Porchetta. Some have the pork belly. Some do not have the pork belly. Some have a stuffing. Some have only an herb rub rolled into the meat. So many decisions. If I did not buy a whole pig from the farmer, I would order my Porchetta meat from the butcher with the belly still attached to the loin, butterflied in one piece for rolling. It made little difference, but if you have to order both, best to know the belly is attached to the loin and can be ordered and cut specifically for this dish by your butcher. You could likely ask him to pierce the skin for you, as well.

From Wikipedia: "Porchetta has been selected by the Italian Ministero delle Politiche Agricole, Alimentari e Forestali as a prodotto agroalimentare tradizionale ("traditional agricultural-alimentary product", one of a list of traditional Italian foods held to have cultural relevance)." Porchetta originated in central Italy, with Ariccia the town associated with it, though it is popular throughout the entire county mostly considered a celebratory dish. I settled on a Sicilian type of dressing with fruit and pinenuts, but definitely developed this dressing to suit the palate of my family. I used a pound of unctuous fatty ground Tamworth, and a few breadcrumbs to absorb the flavours.

Turkey dressing is my main frame of reference, but garlic was a must with pork.

I have used pork sausage in turkey stuffing in the past, and it just wasn't my thing. I have kept to the basic, traditional Canadian prairie recipe. Yet, Porchetta is pork loin wrapped in a pork belly. Doesn't that call for pork shoulder in the dressing? Yes it does! So, in went the ground meat!

And the aromatics? The onion and garlic provided the foundation. The toasted pinenuts and Vin Santo soaked Sultanas, the Sicilian base and a flavour-textural component that so compliments pork. A little rosemary, a little more sage, and yet more flat leaf parsley completed the balance of flavours. The panko was added to absorb the fat of the ground pork. Oh, my.

You know you have a great recipe for stuffing when you can eat it out of the bowl before it has been cooked inside of the meat!
Stuffing, Rolling and Tying Porchetta

I had asked my butcher to slice my porkbelly in half horizontally. Somehow, it was sliced in half vertically, but that actually worked very well. Vanja butterflied it and one half had rind while the other half did not. It would be difficult for me to roll the rind into the loin in a coil, but this was going to work well as the belly didn't have rind on the half to be rolled into the belly.

Pork belly is uncured and unsmoked bacon for those of you that are curious and don't know. Bacon is made from the belly of the pig. The belly is very fatty, and very flavourful as there is so much flavour in the fat. This pig is a heritage breed and was free range on the farm feeding in the bushes and on the rich grasses at the farm so the flavour is clean and bright. Yet, the belly needs preparation. Skin side needs piercing. Lots and lots of piercing to release the fat as it cooks and to enable the skin to be that crisp edible pork candy one loves. The inside of the belly must be scored and seasoned. The scoring enables it to be most easily wrapping around the loin.

The belly is seasoned. The loin laid on top of the belly is also seasoned. A couple of tablespoons of Vin Santo on each slab of meat is a nice aromatic addition to the porky goodness.

The stuffing is placed on top. If it is an herbal rub, it is simply rubbed into the loin, and sometimes into the belly, too. Then the pieces are rolled together and tied. In my case, the stuffing was as thick as each portion of meat. Hmmm. I would remove 2/3 of the stuffing and roll the Porchetta in the traditional coil, or go with the flow and see how much stuffing I could stuff into these pieces of pork. Placing the pre-cut strings under the porkbelly at the onset is a really good tip.

You will need a second set of hands to tie the pork if you have this much stuffing! Fortunately, the meat closed beautifully around my stuffing, though it was impossible to get a coil rolled with the thickness of my meat and my stuffing. A happy accident, I suppose, as the outcome was spectacular and there was a nice serving of stuffing within each generous slice.

Into grandma's old roasting pan it went upon a bed of large and lovely garden carrots. I had to really push it in to fit, keeping the skin side up and the seam end to the side of the pan. Roasting a turkey dinner is one of the easiest meals I made every year. I would say this is comparable. The difference is that the pork must be special ordered. The cooking time was a breeze: 40 minutes on high to brown the crackling and an hour at medium heat. Perfectly juicy, tender, crispy and fully cooked in no time.

Above, you are viewing the seam side of the Porchetta.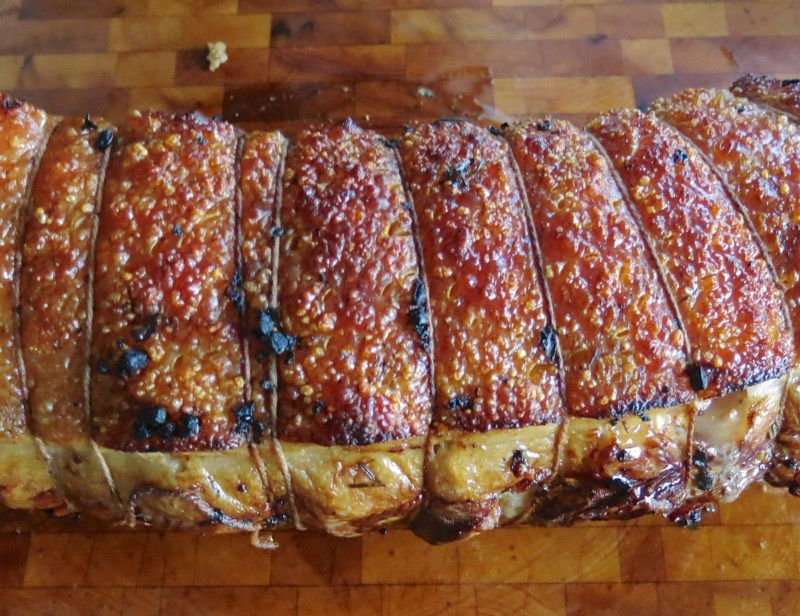 This was just enough skin: a happy accident.

You can tell I had a little quiet celebration all by myself in the kitchen when I pulled this out of the oven, and then onto the cutting board to rest.

I was excited, delighted, ignited and over the moon. Just look at that! I knocked on the skin and it was hard and crisp.

After the presentation and the "ooo's and ahhh's" which I fully encouraged, the first slice revealed the juicy loin and flavourful stuffing. The butterflied pork belly provided that layer of fat that pampered the loin into blissful submission. The layer of porkbelly was perfect. Not too thick. Just right. And, everyone ate it. Not the white pure fat bits, but the skin was divine. Moans were audible. The pork was apparently, "…the best pork roast I have ever tasted in my life!" And the stuffing?

"A little too much of that green stuff." was Vanja's comment, "but good!" He mean the sage. Or, maybe the parsley. With him, one can never tell. His aversion to "green stuff" is not exclusive. Mom and Ragan loved it and commented that the pinenuts were particularly lovely in it. Neither recognized ground pork in the stuffing even after I told them it was there.

The roasted carrots were exceptional. Should have added more to the bottom of the pan. In time for the holidays: Porchetta! Let me know if you make it, or have a tip or trick to share when you make yours… or, please share your favourite Porchetta stuffing recipe! My relationship with this recipe is young and passionate. I have much to learn and many more Porchetta's to create in my porky future.
And the leftovers? Slice thinly and make the BEST sandwiches ever! We prefer to heat the thinly slices Porchetta and serve it warm in sandwiches with all your favourite fixin's.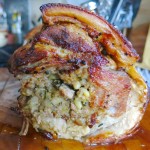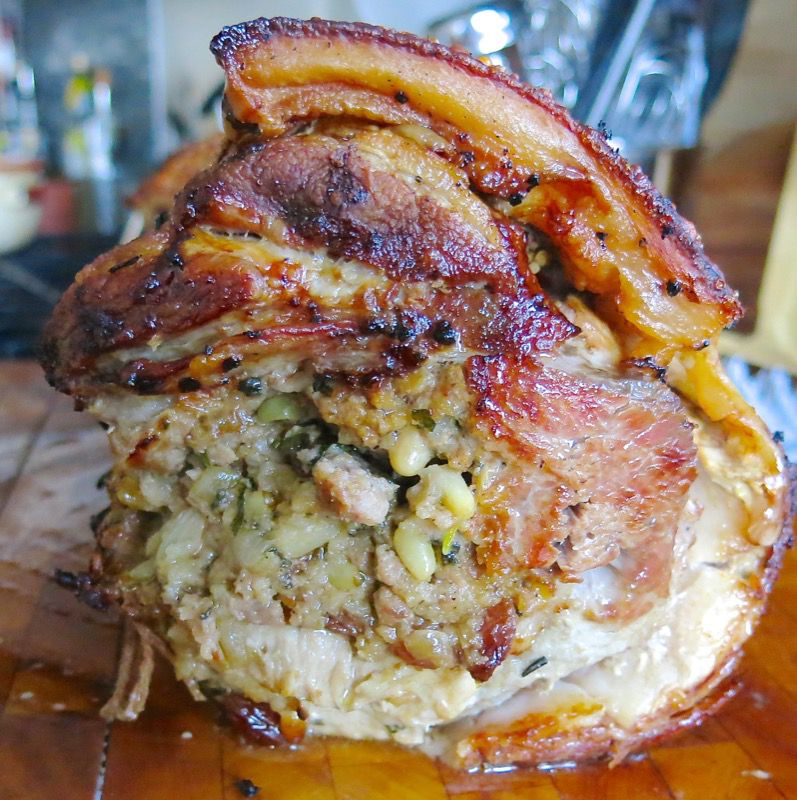 Porchetta


This is a show stopper. Order cuts from the butcher. Make the dressing. Tie it up and roast it. Not hard, just requires advance planning.
Cook Time
1
hour
40
minutes
Total Time
2
hours
20
minutes
Ingredients
3

kg

boned know-your-farmer pork loin

(not tenderloin), skin on, butterflied by your butcher

sea salt

(I got the pork loin and had the pork belly, so mine were not attached, but best they are)

freshly ground black pepper

salt

60

g

of Vin Santo Wine
Ingredients for the Stuffing:
2

onions

, peeled and finely diced

6

cloves

garlic

, minced

olive oil

250

g

ground pork

100

g

panko crumbs or Saltine crackers

, ground

100

g

pine nuts

, toasted

100

g

sultana raisins

½

bunch fresh sage

, leaves only, roughly chopped

½

bunch flat-leaf parsley

, leaves only roughly chopped

1

strand of rosemary

, needles minced

100

g

Vin Santo Wine

Baker's Twine
Instructions
Instructions for the Pork:
Set belly skin side down; with a sharp knife, score belly flesh in a checkerboard pattern 1/3" deep to enable even cooking

Flip belly skin side up; poke dozens of 1/8"-deep holes through skin all over belly (when you think it is enough, do more)

Optional: using the jagged edge of a meat mallet, pound skin all over for 3 minutes to tenderize, which will help make skin crispy when roasted.

Turn belly to be skin side down; generously salt both it

Season loin; sprinkle inside of each with 30g or Vin Santo Wine

Arrange loin down middle of belly; top with stuffing

Roll belly around loin; tie crosswise with kitchen twine at 1/2" intervals, very tightly

Trim twine; transfer roast to a wire rack set in a rimmed baking sheet

Preheat oven to 500°; season porchetta with salt

Roast on rack in baking sheet, turning once at 15 minutes, for 30 to 40 minutes, until golden (the oven will be a huge mess, so best to do this step outside on the grill)

Reduce heat to 300° and continue roasting, rotating the pan and turning porchetta every 20 minutes for one more hour, or until an instant-read thermometer inserted into center of meat registers 145°

If skin is not yet deep brown and crisp, increase heat to 500° and roast for 10-15 minutes more

Rest for 30 minutes; sing a serrated knife, slice into 1/2" rounds
Instructions for the Stuffing:
In a large skillet on medium heat, saute onion in olive oil for 10 minutes; add garlic and saute for 30 more seconds (Both should be softened but not coloured)

Turn heat down to low; add ground pork

Quickly break pork into small pieces to combine; add pine nuts, raisins, sage, parsley, and rosemary

Season with a good sprinkle of salt and pepper; pour in a splash of Vin Santo wine, stir well and remove from heat (do not cook ground pork, just separate it for the stuffing)

Add panko; combine well

Season with salt and pepper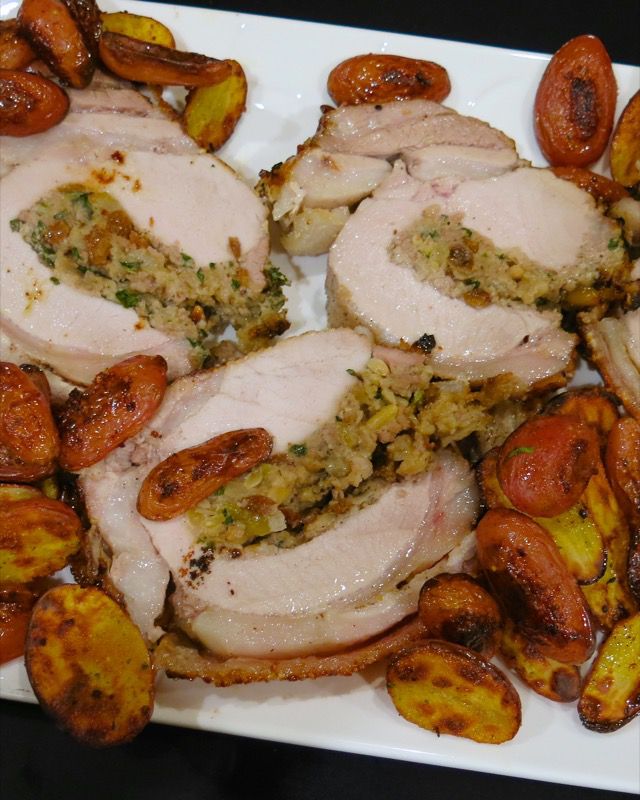 Did I taste it? No. I cannot eat meat. But the dressing I did taste and really enjoyed it. I could see substituting my Preserved Evan's Cherries for the raisins another time.