Homemade yogurt is easy-peasy, and these cheese balls are YUMMERS!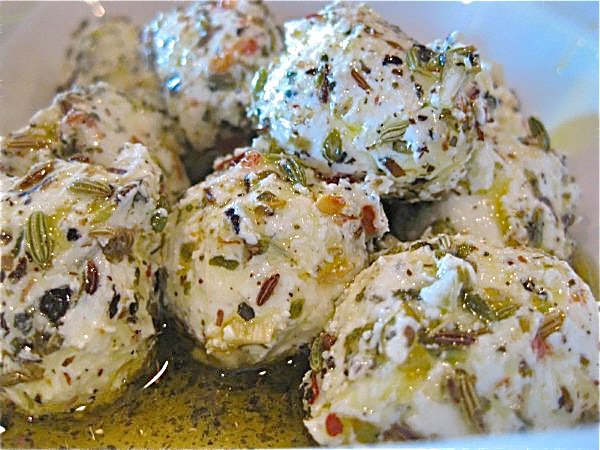 Do these not look DE-LUX-I-O-ISHES? I was inspired to create this recipe after tasting a cheese dip at one of the booths at the Old Strathcona Farmer's Market. I am pleased with this flavour combination, but this is the kind of dish that begs you to play with other flavour combinations. They are wonderful spread on a cracker or on toast – luscious, creamy, and bursting with flavour.
Homemade Yogurt
The first time I ate yogurt I was in 1969. I was 14, shortly after it was introduced to the western Canadian markets. It was a foreign food at that time. Can you imagine that? Now, we were all hooked! That is what I love about
Canadian multiculturalism
.
I don't have to travel the world to learn how to cook an international dish. I just have to run next door! Plain or natural yogurt didn't hit the mainstream marketplace until much later, but we eat nothing else due to
the nutritional value of it.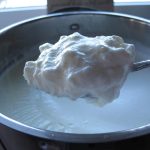 Homemade Yogurt
Ingredients
2

litres of whole milk

(or 2 quarts)

60

grams

of natural

, plain yogurt* (or 1/4 cup)

*the ingredients on the side of the plain yogurt you choose to purchase must read only yogurt culture and milk solids; there must be no artificial ingredients

, chemicals, or gelatine
Instructions
Place the milk in the TM bowl; cook at 80 degrees Celsius 20 minutes at speed 2-3

Cool milk in the TM bowl to 37 degrees Celsius (take lid off); set your timer and check back every 15 minutes, or cool in the fridge and set timer for 20 minutes (do not let the milk cool to room temperature or below 37 degrees Celsius)

Add yogurt culture to the warm milk; combine for 5 seconds at level 1-7

Heat mixture at 37 degrees for 20 minutes at level 2-3

Pour into ThermoServer, cover; set on counter for 5 hours

Place in refrigerator overnight; yogurt will thicken overnight and be ready to serve
Recipe Notes
Remember to retain enough of this yogurt for your next starter.
Measure the milk into the Thermomix bowl, and turn it on: time temperature (in Celsius), and speed.
Cool the "cooked" milk in the fridge with the lid off until 37ºC, and then add the yogurt culture (plain yogurt).
And, again: time, temperature, and speed. Done to foam perfection.
Pour the yogurt into a thermal bowl, cover, and leave on the counter for 5 hours. Then refrigerate.
You will find a creamy, glossy, thick white yogurt ready to mix into your homemade granola for a nutritious, delicious, and healthy breakfast!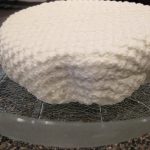 Yogurt Cheese
Ingredients
One batch of homemade yogurt made from 2L whole milk
Instructions
Place the tea towel, or cloth into the straining basket or onto the Varoma steaming tray

Pour all of the refrigerated yogurt into the straining basket or onto the Varoma steaming tray, ensuring all goes inside of the cloth

Set the straining basket or onto the Varoma steaming tray into a larger bowl, or over the sink, to drip into, ensuring that the basket or tray is well above the dripping area

Leave this over night, or for 8-10 hours; replacing the cloth and turning on the straining tray about 6 times during this process to enable a firmer, and creamier final product

When the cheese peels or falls away from the cloth easily, it is done!
The batch below is just ready to be taken out of the basket. I have removed it from the sink grate and am just admiring the texture of it. It is sitting in a dishcloth I used at the end of the process. There is far too much volume at the beginning, and a tea towel, or a larger piece of fabric is essential at the onset.
Take a closer look. I even love the little texture bumps that the fabric impressed into the cheese.
And here it is turned out onto a plate. I am absolutely thrilled every time I make this. It is time consuming, but so simple, and there is so much that can be made with it! It is so delicious and healthy and the satisfaction I feel when turning it onto the plate is as if I actually raised the cow, and milked her myself. Yes, the depth of my satisfaction is palpable, and a true testament to the intimate connection I have with preparing food with my hands for my family and those I love. As most of us are no longer in the position to produce our own food on the farm, there is so much more we can do, similar to this, to be an integral part of the food production process.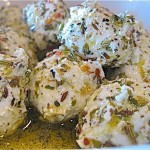 Marinated Yogurt Cheese Balls
Ingredients
one batch of yogurt cheese made from 2 L whole milk

1/2

c

of fruity extra virgin olive oil

3

large cloves garlic

, finely minced

1

tablespoon

dried oregano

1

tablespoon

dried basil

1 1/2

teaspoon

fennel seeds

1 1/2

teaspoon

caraway seeds

3/4

teaspoon

dried hot pepper flakes

(to taste)

3/4

teaspoon

cumin seeds

1

tablespoon

Maldon Sea Salt

more than a good few turns of fresh ground black pepper
Instructions
Using a melon ball scoop, or a mini-ice cream scooper, form small balls; place them into a small container

Drizzle balls with fruity extra virgin olive oil to be sure they don't stick to one another; continue drizzling as you add layers

Once all balls are made; combine remaining ingredients into second container of similar size

Slowly "roll" balls from one container to the other a few times to mix ingredients around them OR roll balls in spice mix and then preserve in oil; taste is similar, appearance is dramatically different

Serve with crackers

Will keep fully submerged in oil for a couple of months; almost forever, if balls are plain.
Recipe Notes
Do this according to your own palate. I have made this many times and usually to this standard.
These should keep at least a couple of weeks in a refrigerator. I find that my yogurt cheese keeps much longer than my homemade yogurt, so this should keep about three weeks, properly sealed.
See these delectable little cheesy balls? They seemingly quiet, and unassuming, yet, they can be absolutely dynamic and pack a huge punch with properly seasoned.
I could not resist getting a close up of the texture of this yogurt cheese. Is it not absolutely gorgeous: dense and creamy?
And here we are again, back to the final product. Something to smile about in a quiet moment, in a quiet corner, savoring a bit spread on a small cracker… that little sideways grin starting to pull at the corner of my mouth. Does it get any better than this?
Now, to view this experience on video, check out how I did it in "real time" here.
If you make these, let me know how it goes!