This time, I used the Italian method as described here.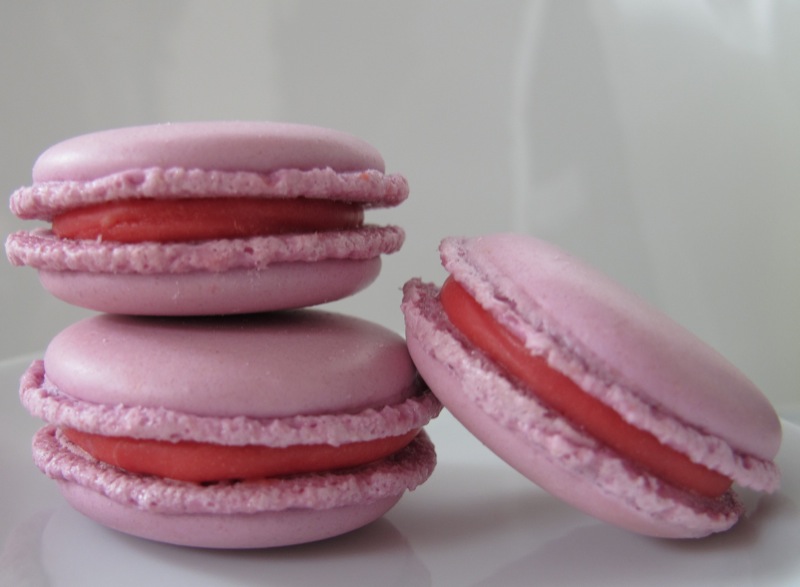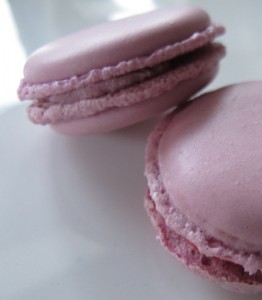 I chose to use the Italian method for three reasons. The first, though I find Béné's recipe prefect for la macaron au chocolate, I have had a great deal of difficulty adjusting it to make a plain shell. Giselle, from Duchess Bake Shop had told me that the Italian method was her "no fail go-to" recipe at home, and then the conversation on Egullet also referred to this method as more successful that the French method, adding it was more time consuming. Another reference to Eddy van Damme's site was on Egullet with the recipe I am using that Corry had initially led me to. So, thus it is.
I began last Saturday morning working to prepare this recipe with excitement, enthusiasm and filled with glowing positive energy. I finally had time to again try to conquer my quest to Master the Art of  the elusive French Macaron in my own kitchen. I am so insecure about my ability in this area (based upon my past trials and errors) that I found I was becoming fearful as I was preparing my almond sugar mixture. I got myself out of that funk in a hurry! Gorgeous day, great project, lots or reading, practice, coaching and enthusiasm was on my side.
I bought my almond meal (poudre d'amande en Français) from Planet Organic, as Bénéhad instructed. Her almond meal was so soft compared to mine on the day she shared her expertise with me. I then ground it with the icing sugar, even though many recipes say this is not necessary if you have really fine almond meal. I wasn't going to take any chances. Look at how fine the powder is with the sugar in it!
Then I pushed it through a tami (drum sieve) to ensure the absolute finest product. Bénéhad also taught me that, and it could only add to the quality of the final product. I was going through all of the stops to ensure I was doing everything I knew to do. No short cuts here! Many of the successful French Macaron makers do not go through this step, either. I cannot take any chances… and I actually find going through this process gratifying as I am working a LOT of love into these little precious pleasures. Just look at that!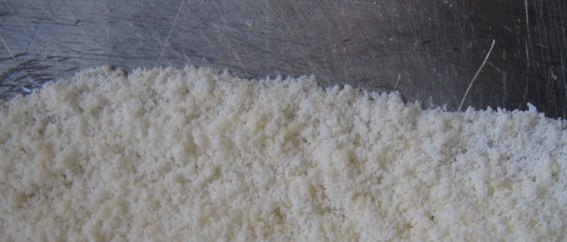 What is left on the tami, I put back into my Thermomix, and ground again, and pushed it through again. Then I discovered a made an error. I had actually added too much sugar. So, Vanja and I figured out the math, put everything back in the Thermomix again, added the extra almond meal needed, and ground the mixture together again. Back into the tami, and you can see that I got a beautiful powdered mixture again. But, it was much more moist this time, with the correct portions of each ingredient. So, pushing the final amount through the tami was becoming impossible. Another stroke of sheer genius. It often happens after episodes of pure stupidity (adding 355g of sugar instead of 255g). I decided I only needed the original amount of the mixture which would be 555g total… so, I weighed what I had managed to push through the tami, and only needed 30 more grams. That was easy! it was such a beautiful and helpful mistake, that I may repeat it next time. I actually ended up using the moist mixture that became impossible to push through for the violette filling, later. To be honest, it was absolutely delicious. I could have just eaten it all with a spoon on the spot, anyway!
You can see how fine the powder became, and how moist, in the middle picture above when I moved it to another bowl to make my tant pour tant. The Thermomix came in really handy again to weigh the egg whites(a) for the tant pour tant called for in the recipe.
I found it very helpful to experiment with my colours on a white plate with some water, first. I was planning to make Macaron au Violette and wanted a beautiful colour. Sometimes a turquoise blue and a pink red makes a muddy colour. Best to test first. Of course, it will lighten so much. Loved the colour on the plate: 7 drops of red to 1 drop of blue. I used the same ratio in my tant pour tant. In the end, it needed more blue to be the violet colour I wanted.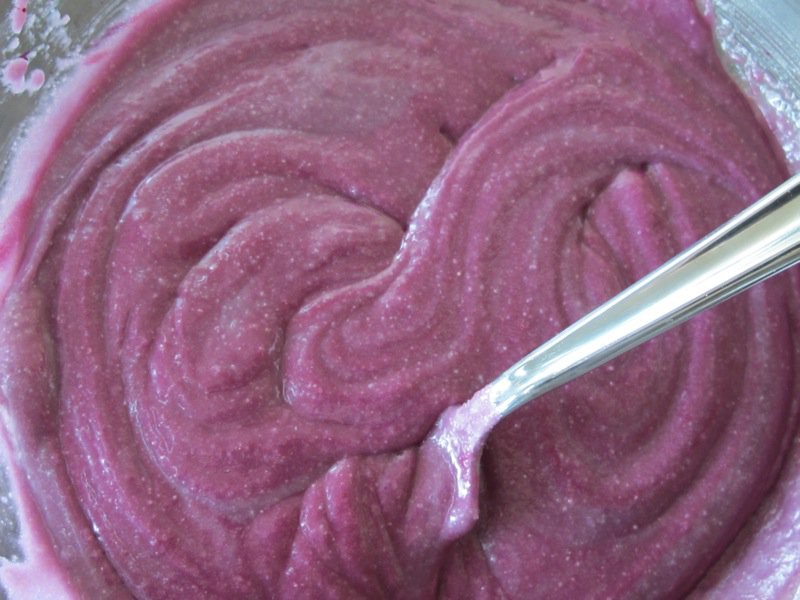 I became concerned when my tant pour tant was obviously too wet in appearance. Check out the photo in the recipe. What did I do wrong? I went over everything. Nothing. Why was it so wet? I really do not know. But I did know that this was a problem. And, it was only my first.
Now I had to get my egg whites (b) ready in my Kitchen Aid, and put the sugar water mixture on to boil to make the syrup for the meringue. I used my Thermomix to weigh everything first. Erring on the side of caution, I used two thermometers in the syrup. Good thing, too. One was way off. How did I know which one? Thankfully, I have some experience making sugar syrups! I wasn't happy about this as both were new thermometers, but learned long ago to always use two for this very reason.
This is when my second concern reared its head. Vanja was assisting, as I was worried about watching the temperature and getting my egg whites to the right consistency when the syrup was at the correct temperature. I was well aware that I needed to start beating my egg whites about 5 degrees away from the correct temperature of the syrup… and I did that… but, every one's kitchen is a little different. I needed to start at least two or three minutes before I started. My whites were just past the foaming point, and had just started to balloon when the syrup was ready and I had to pour it in immediately. Maybe I could have controlled the temperature of the syrup and held it until the whites where ready. I just panicked, and poured it in and kept beating, hoping for a miracle. I was becoming full of anguish. I knew how my whites were supposed to look. I have made chocolate mousse before with the syrup meringue method. They were just not holding the air that they needed to hold. The peak was weak. I kept beating the mixture. Well past the advised time looking for more lift. It didn't happen, so I succumbed to the whites in the bowl, and added a small amount to my tant pour tant. Just as I was to do. I knew the results were not going to be the way they should be, and I felt a rushhshshsh of disappointment. I know better, but it just overwhelmed me. My quest for once again "failing" at another attempt to master the art of the French Macaron devastated me.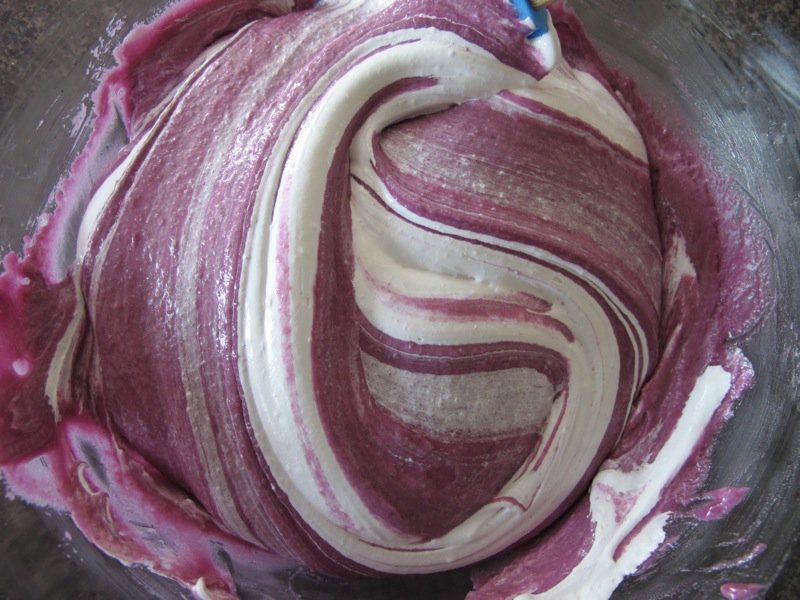 When I saw how gorgeous the mixture was, my heart lifted a bit. I was hoping that the passionate and powerful will of my stalwart and independent will, alone, would miraculously do what all heartfelt prayers are supposed to do. I held my breath a bit. I slanted my head, at just the right slant. I am certain I was chanting a whispered mantra of "please-work, please-work, please-work" as I folded the remainder of the meringue into my tant pout tant. I did notice a difference in the appearance of the mixture. I was counting my turns carefully as I slowly turned the bowl and folded in each quarter turn. The dull batter began to garnish a bit of a sheen… then a little more of a sheen. I knew there needed to be a sheen. I knew I had to fold enough. I knew it was important not to overfold. ARGGGG!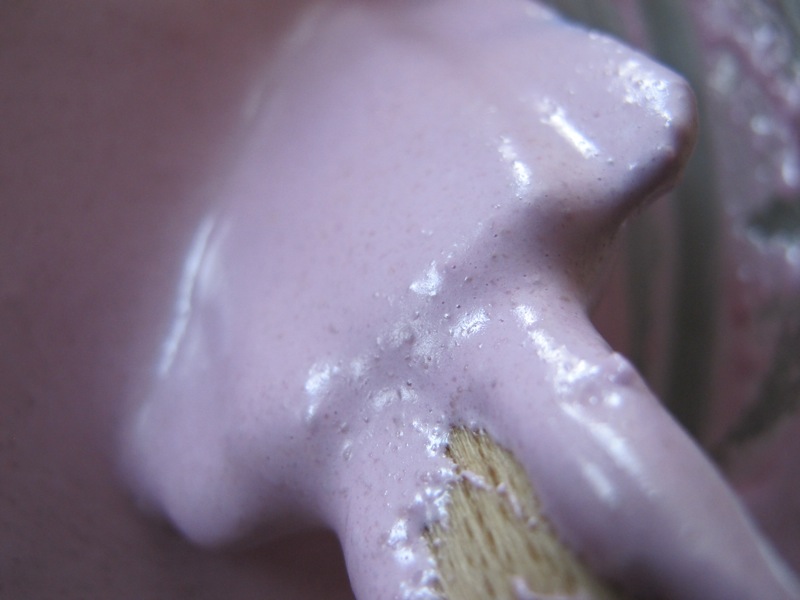 So, this is when I stopped. The sheen looked good. I knew my egg whites had not the lift they needed when folded in, but now the batter looked how it was supposed to look. Maybe…. just, maybe….
I filled the pastry bag. I liked this recipe because the bag was full. Not too full, but full. I knew I would have a lot of macarons. The recipe said 75. I actually had 85 (paired shells) when I was done. You can see that I did place two pans together with each tray to provide the extra temperature control when baking in the oven. Most people preferred silpat, so silpat it was. I used parchment paper on one. Both worked fine for me. I did lay them on my outside table to cool a bit faster, and to release the shells from the paper in tact.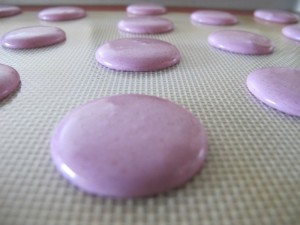 Look! Look! They look exactly like they are supposed to. The peak from the piping falls back into the shell within thirty seconds. I am not breathing. Well, barely. I am still chanting, and tilting and willing as I talk my cookies. "Please, please, please, please grow. Become puffy and proud with a soft chewy centre, a matte perfectly smooth shell and beautiful little feet."
I followed the instructions exactly, understanding my oven, elevation, humidity, and my personal aura might effect the results of these temperamental morsels.
I created the filling using Corry's recipe, here. She has been an excellent, and kind support to me through this process as well. Make sure you check out her site. She is clearly a pro in this area. I was so excited to make something with violette flavouring. I cannot even express to you how I had been anticipating creating my own violette confections. I am crazy over this flavour. I ordered it from a place in the US. It didn't smell great. It had a great first tasting note, then was extremely bitter. The filling was bitter. I wonder if the sugary shell will balance the bitterness and bring out the violette flavour. I believed it would because this ingredient was so difficult to get. I knew I had to make another flavour filling in case it did not. I had also just purchased some long sought after rose essence. So, I melted 200g Valrhona Ivoree in the Thermomix with a cap full of rose essence, a good shake of the new gel food colour I had just purchased, and 50g of heavy cream. Lovely ganache centres. I loved the colour, too… but it didn't go with my lilac coloured shells. And then I decided it did. They looked very stylish in their unmatched presentation.
As I was making the fillings, the shells were coming out of the oven. I was sickened. Truly. Some slid a little sideways. Some had barely any feet. Most had nice feet, but they were not nicely under each shell as they should be. In retrospect, these actually turned out very well, and far better than I ever imagined they would due to the two major problems I had through the process. But that day, I was inwardly devastated. I felt like a failure. For the entire day. I didn't look at them, eat them, or talk about them.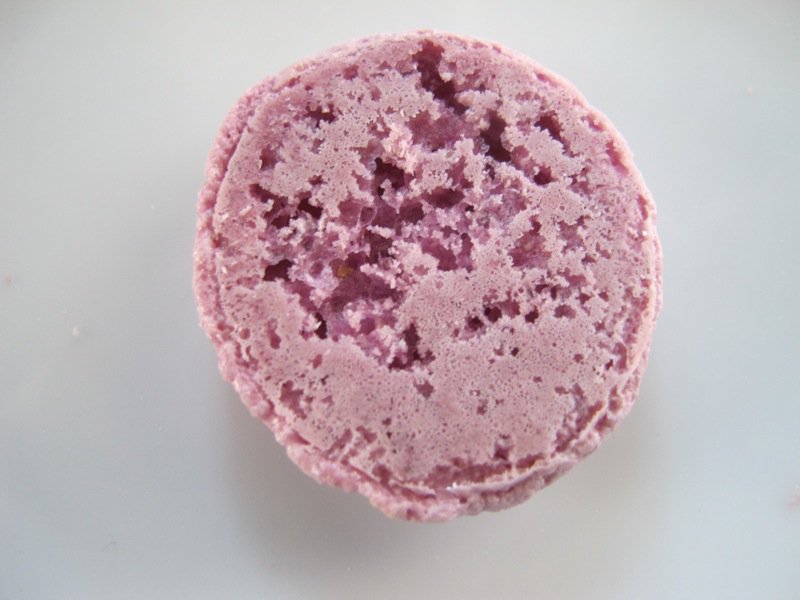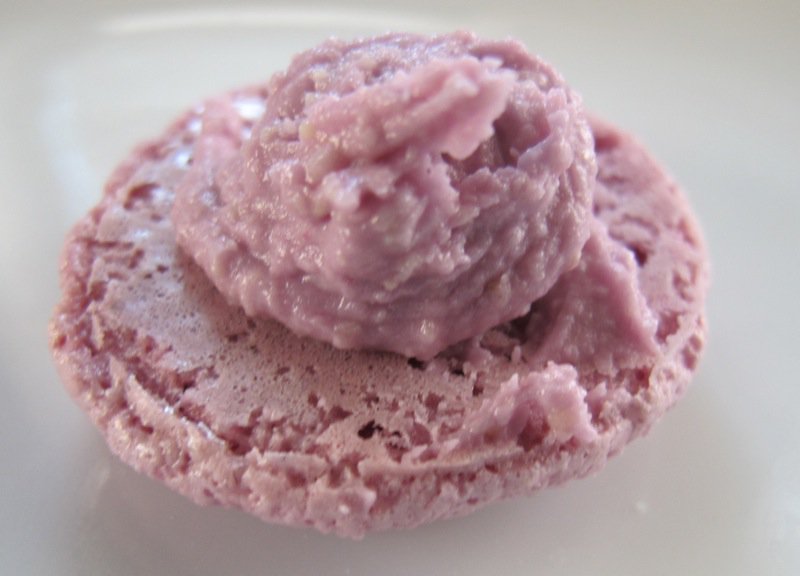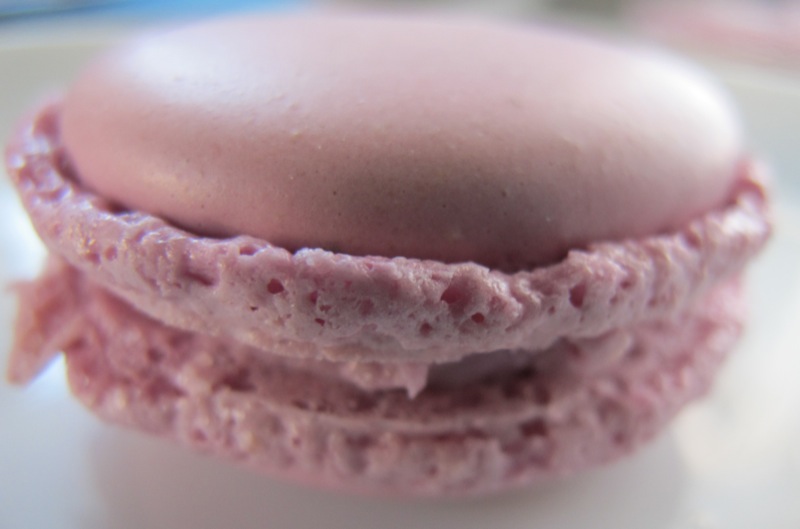 I think this is a beautiful and lovely shell…the first two photos make the cookie look perfect. Then there are the feet. But, there ARE feet!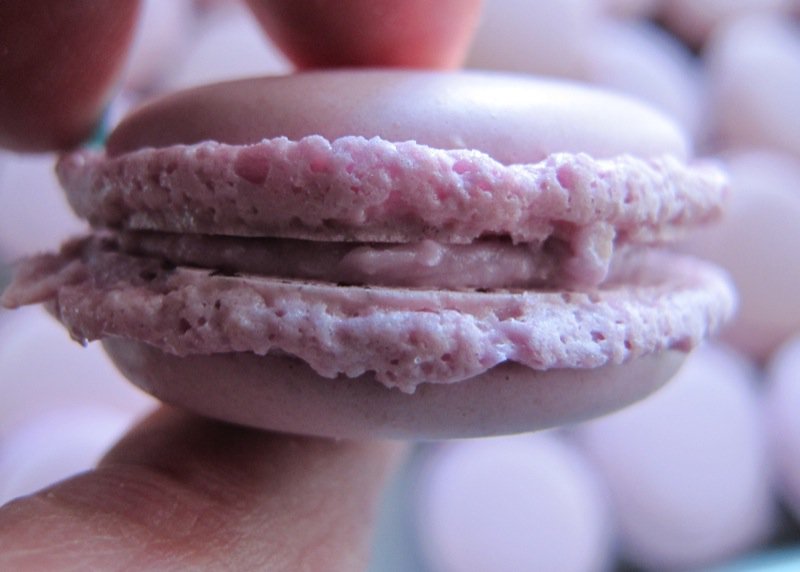 And today, as I look at them, and crunch on the delicate chewy tidbits, I am proud. Bravo! Gorgeous! What was your problem, Valerie? But there really was a problem. I let the imperfection of this wonderful creative practice and learning moment take over my attitude, my esteem, my day, and my common sense. Who knew this quest could take me down such a dark road. It is unnerving to be this good at so many things, and so helpless in something I want to do so well. But…. I can, I can, I know I can.