Beavie and I were delighted with the opportunity to meet my fellow food blogging friends. I have communicated with several, and had a sense of each, but now had the opportunity to connect in "real life'. Immediately, I wanted to make something to take with me. A little gift for each person. A little treat of some kind from my kitchen. That's what had brought us all together, and it is so much a part of who I am. What would it be? We both put our clever little heads together and were wagging our tails in less than a minute. Well, Beavie was slapping his, rather rambunctiously, too.
Chocolate! And, as this would be an after dinner treat: espresso truffles. I had made them a gazillion times. Perfect! But wait! Last summer, when Vanja and I travelled to San Francisco, part of our walking tour included a truffle making session at XOX Chocolates in North Beach. A passionate French chocolatier, Chef Jean-Marc Gorce, demonstrated covering the ganache with a very thin coating of chocolate and then quickly dusting each with cocoa powder. He explained the incredible difference of the mouth feel when you do it this way, and then I was able to experience it through his samples. Très Manifique! I have made truffles many, many times in my life, but never this "proper" way. I would try for my foodie friends! It is always such a great pleasure to make something for others who enjoy and appreciate food. So, Beavie and I got busy whirling and twirling and mixing and fixing.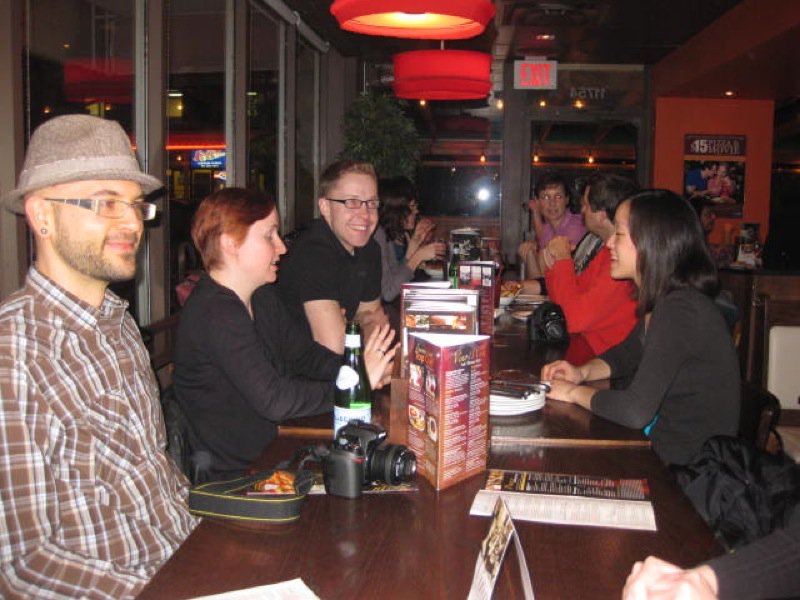 And, it was a fun evening. Everyone was very warm, open, interested, and interesting. The venue was perfect as it was central, the service was fast, friendly, and the pizza appeared excellent. A stand up bar, or something that enables movement will definitely be a consideration for the next meet up, I am sure. I believe that Sharon and Chris never expected such a large turn out when they organized the event. Neither did I, when I signed up. I must admit, I was a little intimidated as I headed in the door that evening. Joining a small crowd for a meal and a chat is very different than heading into a large one. The warm smiles and welcomes immediately erased any of my inner fears.
Maki was the first to put me at ease when I attempted to plunk myself into my very wobbly high-chair with her warm, "Valerie!" I was surprised she recognized me from my photo. (It is a very flattering photo. That is why I chose it!) She immediately started chattering;everyone else chimed in. There were introductions and I felt completely at home in less than 5 minutes. I sat with Sharon, Carol, Cathy and Michael , and Lea and enjoyed a lively light-hearted evening full of laughter and chat about food. However, I completely missed the sushi conversation. I was probably much too busy eating my tomato sauce. It was tasty. The meatballs were really nice. When Lea bit into her sandwich, I knew this was a gal I wanted to know better. It was one of those groans of pleasure everyone who cooks loves to hear. But, everyone I met, I wanted to know better.
There were already 10 or 11 people when I arrived, and the table grew through the evening, so there were people there that I never spoke with at all. They might not be so lucky next time! What a pleasure to sit with people that share a love of and for food as each one of them does. Thank you so much Sharon and Chris.
If I didn't have my Thermomix, I know I would not have made these this week. It is really hard for me to do much on week nights. My little critters at school get all I have during the week. But, I came home right after Catering Club on Tuesday, washed my hands, threw on a clean shirt, and Beavie and I got rockin' and rollin'.
Why Beavie? Because this is Beavie's first "official" outing. Since I launched the updated version of my site on January first, Beavie has been confined to the dark humoured shadows of my mind. But, I have given him special permission to attend the little event, so he could not be held back from the cooking experience. And, who doesn't love chocolate? (It is true that he has just recovered from the chocolate tasting in February.) But, he kept me laughing the entire time. Just look at his eager little face.
I used the dark bittersweet Callebaut chocolate for the truffle centre and chopped it before scaling it into the TM bowl. Three seconds later, look at the chocolate "dust". The recipe follows, but very basically, I melted the chocolate at 50ºC, scaled in the remaining ingredients, and blended at 50ºC until the mixture was a silky texture. I was wondering what in the world the wildly loud and fast slap-clapping sound was when I was about to pour it into a bowl to chill until I turned around and spied Beavie in a euphoric tail-slapping frenzy reverberating over the up-coming possibility of an espresso-sambuca rich chocolate instant gratification moment.
He almost fell into the bowl. The fragrance was intoxicating. Look at those pleading little brown eyes. I did say "no" because chocolate isn't good for little beavers, but it was not easy. I had made the exact amount for the expected crowd of 20 and extras for the serving staff.
After the ganache set, I scooped out little balls with a mini-scooper onto parchment paper. I had to wash the scoop a couple of times as the chocolate would build up inside of it. I then washed and dried my hands really well, and quickly rolled each little ball to form each into more of a ball shape.
I got out my chocolate dipping tools and the Valrhona cocoa powder ready to cover the thin layer of Valrhona Manjari chocolate I was melting in my Thermomix. Ready… set…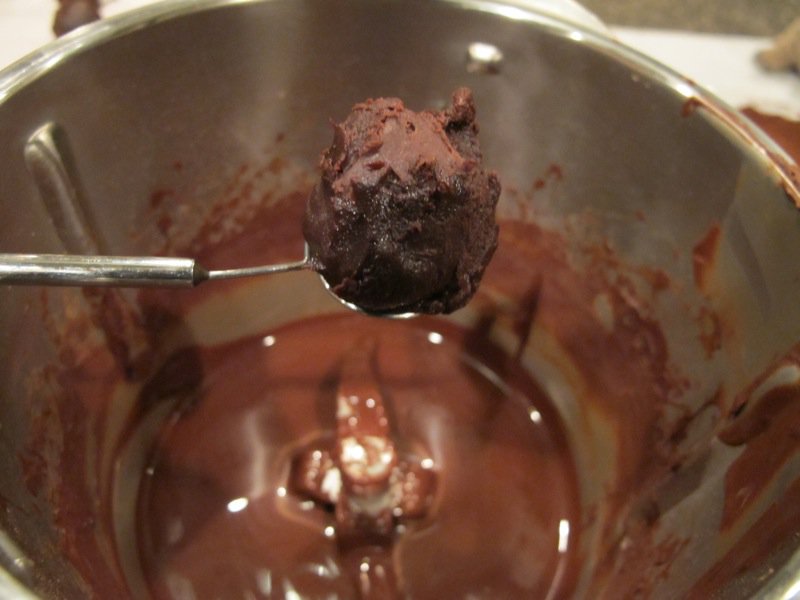 DUNK!
Now into the coco powder very quickly into my hands (filled with cocoa powder) and tossed back and forth to shed the extra powder from the hopefully thin layer of chocolate covering. I was happy. They definitely looked like truffles. And, I did have one… then another… and both were better than I ever imagined I could possibly make with my own two hands. Yum! Yum! Yum!
But when Vanja came home and tested my delectable treat, he found that his had a thick coating of chocolate on one side. Sigh. But, I did know that the last three had been dunked into thicker and cooler chocolate.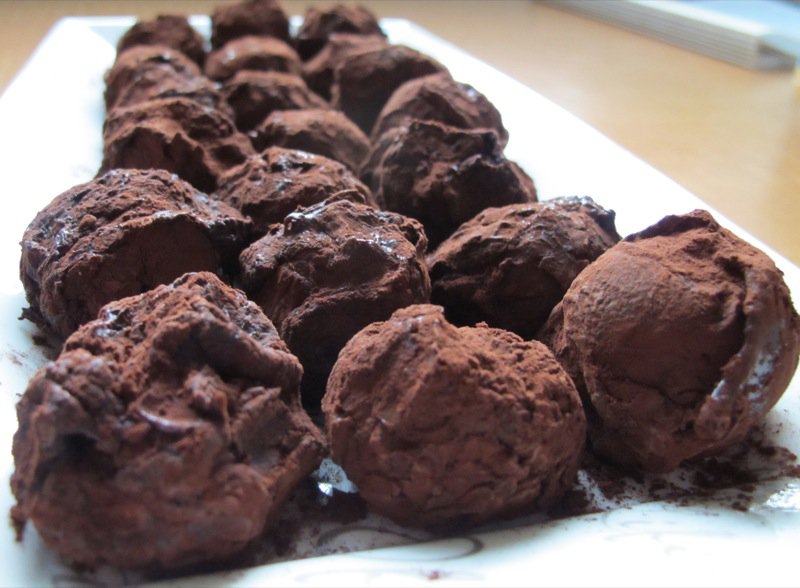 I was a little timid about going out alone to meet up with a lot of "strangers", but I had a "whole lotta love" packed into my little black bag and knew that these "strangers" would know what that was all about. And, that, with Beavie's prodding push, opened a whole new door for me on Wednesday evening. Thank you, all.
Dark Chocolate Espresso Truffles Recipe
Ingredients:
350g chocolate
60g unsalted butter, cut into pieces
60g cup heavy cream
15g instant espresso powder dissolved in
40g Sambuca or other anise liqueur
1 cup unsweetened cocoa powder for coating truffles
200g darker chocolate (over 70%)
Instructions:
Scale chocolate chunks in TM bowl, remove and cut into pieces; replace into bowl
Grate for 5-10 seconds; speed from 0-10
Melt for 4 minutes at 50º C, speed 2-3
Scale in butter, cream, Sambuca and espresso; combine for 4 more minutes at 50º C, speed 2-3; remove from bowl
Cover mixture until set firm
Scoop mixture into small balls and place on parchment paper
Dip each ball in melted chocolate, into cocoa, and then quickly toss back and forth in clean dry hands; place carefully on parchment to se
Truffles keep, layered between sheets of wax paper and chilled, in airtight containers 2 weeks.