An absolute must if you are a lover of food and local producers of food.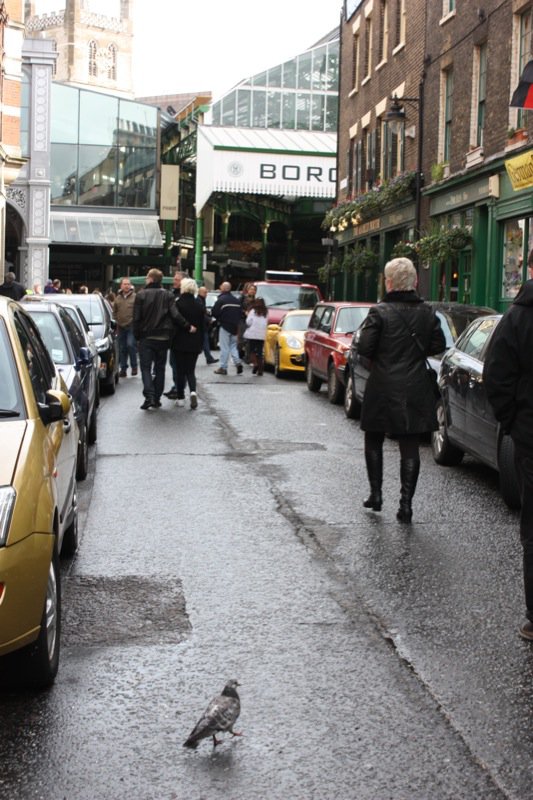 The last full day of our London trip, we rose early to take in the Shakespeare Globe Theatre on our way to Borough Market. When I travel, it is all about the art, the history, and the food. I learn so much about the culture by visiting a local outdoor market and never miss a famous one. It was a drizzling and dreary day outside, but we were happy to be in this city and happy it was only drizzling!
We approached the market from the side street where Neal's Yard Dairy is situated. That was an amazing coincidence. I had just found the other location in the Coventry area the night before, and this was definitely on my list. I have actually prepared a separate post about this which I will link to when I have published it. If you love local cheeses, this shop is a must-stop!
Then into the flowers and a bustle of movement and colour and aromas swirling around me at once. I was immediately intoxicated and Vanja and I made arrangements to meet back "by the clock" at the corner of this entrance in an hour.
"Strawberries! Two quid a pound! Two quid a pound: fresh strawberries!" The lilt in his booming voice was charming, except that he continued on and on and on and on. I don't know how he did it. By the end of the day it was, "Strawberries! One quid a pound! Only one quid a pound: fresh strawberries!"
And the hot mulled wine charmed me into a trance. It would be exactly the aroma what one would want to whiff on a drizzling day in an open market in London. I did not have a glass because I could not have everything I wanted. But, I wanted a little bit so very much. It was absolutely tantalizing. One of those perfect, yet unexpected, moments.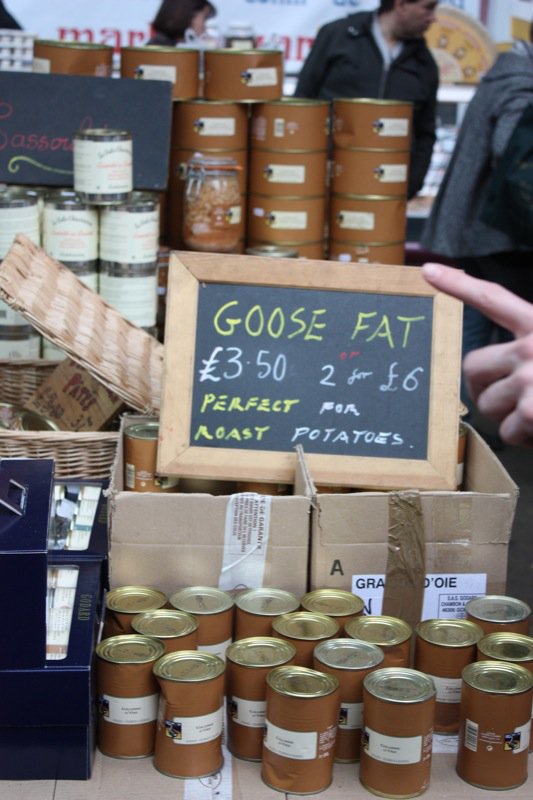 Oh, my gosh! One can buy this in cans here! Do they know how fortunate they are? Duck fat I can buy at home… but it is hard to find. The Italian Centre Shop South carries it, as does Greens, Eggs & Ham. But, goose fat? Please tell me where to find this in Edmonton.
Pork shoulder and bacon with dry goat cheese, wine, and wheat sausage: manifique! Woops! Wrong country. And I looked everywhere for the Foie Gras Tasting. One had to buy it to taste it. But who cares? It is for sale at this market. Isn't that wonderful?
The Duck, Rabbit, and Goose Rillette and Terrines looked really interesting, having never seen the likes of such delicacies all in one place before! A French artisan sausage from the Southern Alps area also looked so yummy. I am not sure why. It just did. Double click on these photos to enlarge them and you can read all of the ingredients on them. The saltpetre interested me.
These walnut sausages were everywhere. They are also from the South of France in the Alps area. I have seen something similar on the counter of the deli area at The Italian Centre Shop South.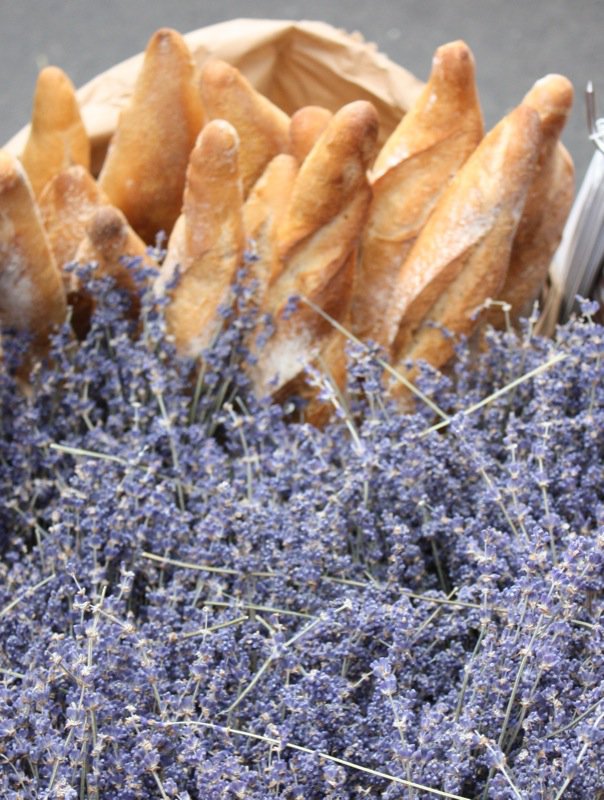 Certainly, there was a huge international flair at this market. An advantage of living in London is that you can come here and get foods from all over Europe. What is more French than a massive bouquet of Lavender in the Spring with crunchy baguettes in the background? I actually thought of diving into these head first and just breathing them in.
And cassoulet in a can? Amazing. Now here comes some British food. Hot pies! I have still not eaten one and this is our last day here. The assortment was astounding. Truly. People obviously eat these and love them. I need to try one. I have decided I am going to buy a Steak and Ale pie to try sometime today. I will keep looking. They just appear to be so dense and so heavy. And, still so varied and full of flavour. One thing that was clearly apparent was the abundance of wild meat and game everywhere through the city. In restaurant menus, in meat market windows, in the pies, and throughout the market. This is very different than at home.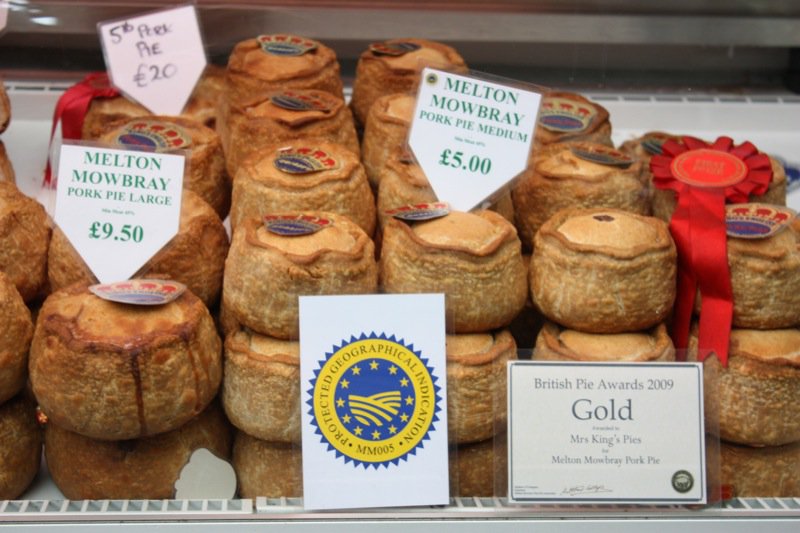 I would have picked one of these pies. How could I go wrong with the gold medal winner? He was already out of Steak and Ale. I was stuck on Steak and Ale. Aren't they gorgeous?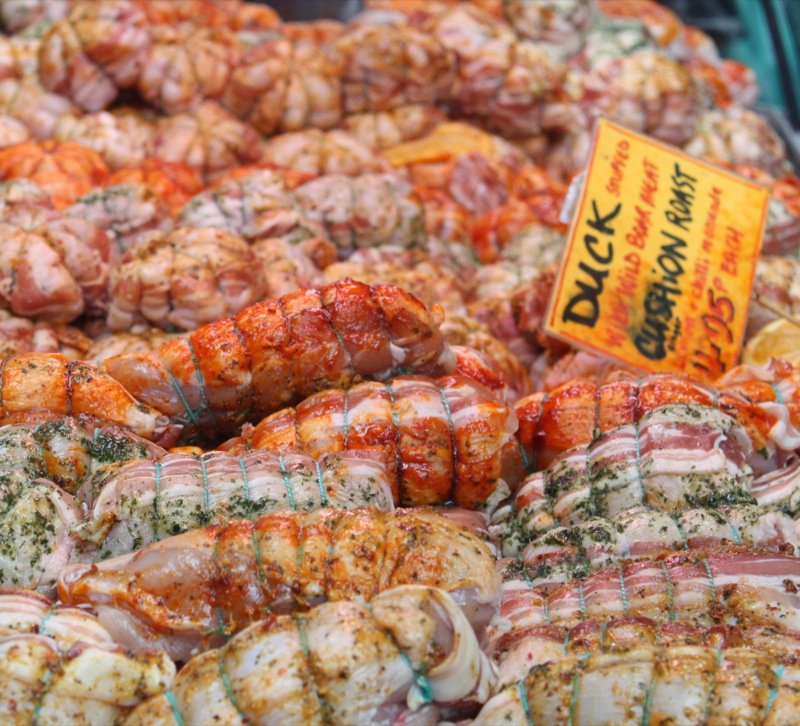 And then there was an entire window filled with seasoned and tied duck roasts of varying flavour profiles. I have never seen anything like it and was having aparty all by myself marveling at the choice and variety available at this market. This market is definitely brimming with meat. Brits are clearly meat eaters. Very different than the market in San Francisco at The Ferry Building that was brimming with greens and herbs and cheeses and breads and fruits.
The animals and birds were labeled not only for their location, but for the type of animal of bird, specifically, and the farmer. Spelling was fun!
I saw an episode of Laura Calder's where she did a dressing wrapped in a pounded breast like the ones above to the left. Very pretty.
Bacon. This county celebrates bacon: every kind of bacon from every kind of pig.
And the sausage combinations were incredible and leave our artisan sausage industry looking rather limp. But, we are a young country with a much less dense population. I should not be so harsh.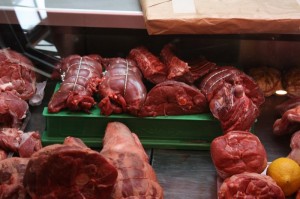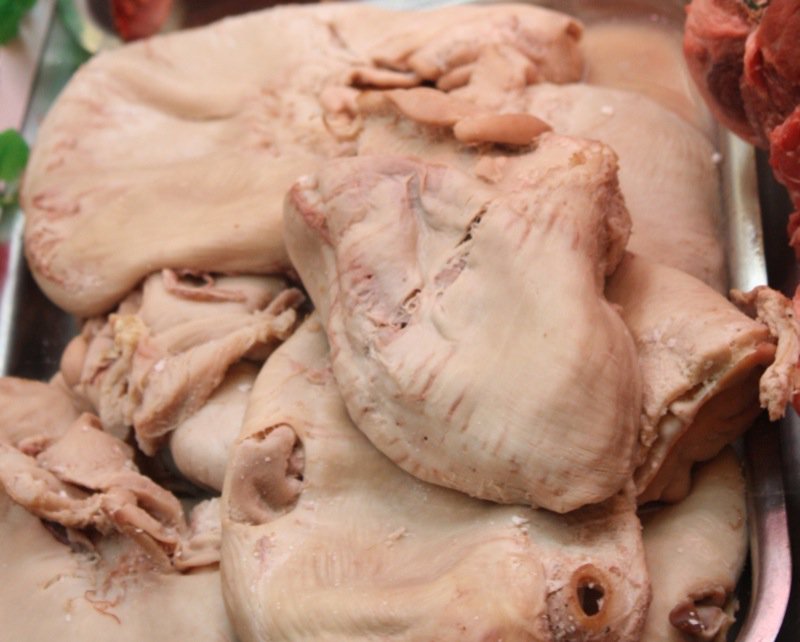 I have never seen stomachs sold like this before. I found them surprisingly inviting. They did not smell, and were so clean. This should not have surprised me, but it did. This is the first time I have seen a whole animal stomach.
The cuts of beef were huge. I thought we had the corner of the market on huge pieces of beef.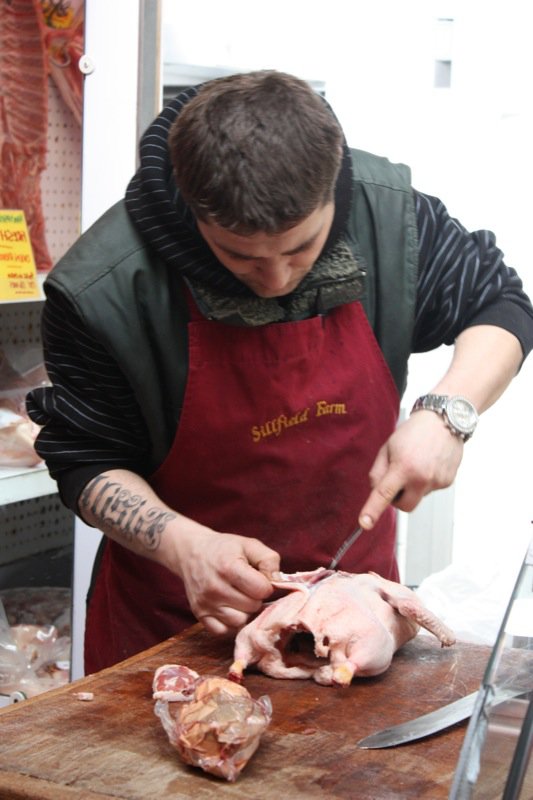 Isn't this wonderful to be able to have what you buy cut how you want it cut on the spot? This man was exceptional with his sharp knives.
Dry cured rare breed pork lardons: what can I say? I wanted to buy it all. And, fresh goose fat, or at least, not canned.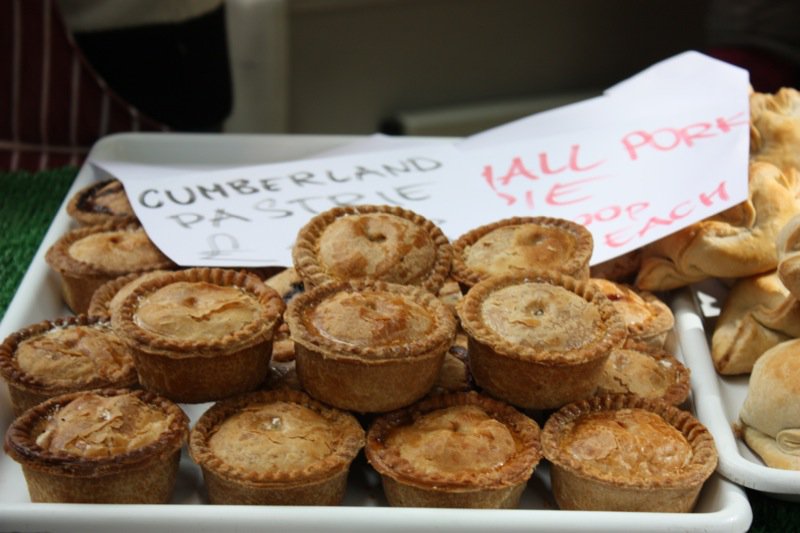 Soups of all kinds. I am a soup fanatic as I can digest soup and unfortunately can only taste meat these days! (grrr!)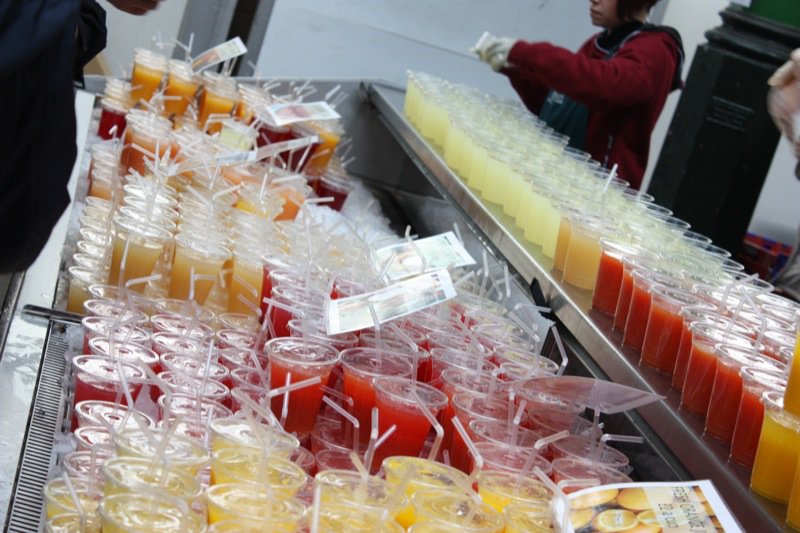 An hour had almost passed and I was still in the same little area I started in. I guess I am a cheap date! Almost time to meet Vanja for lunch and I haven't even begun to get a feel for this market yet.
All I did was turn the corner to find these delectable places.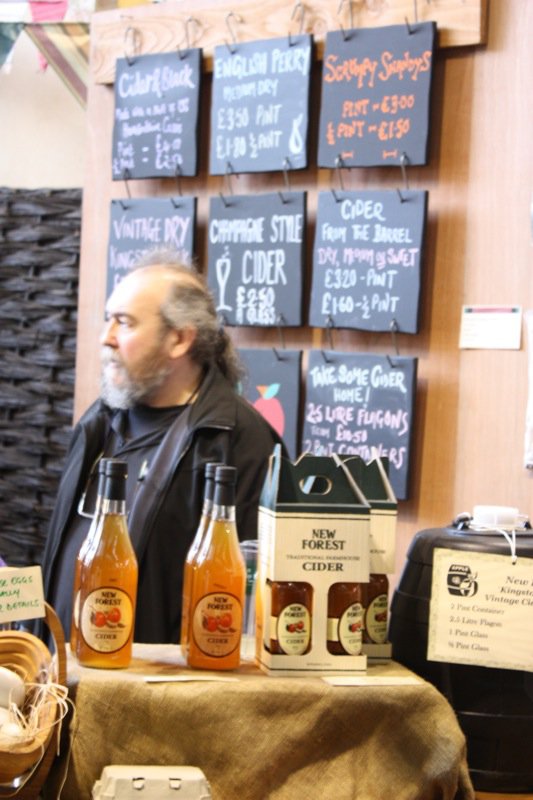 I couldn't get the cider, so I brought back the mulling spices. Three bags. I have looked everywhere. Where are they? The man above had a charm about him that had me spellbound until I remembered I was on a time line.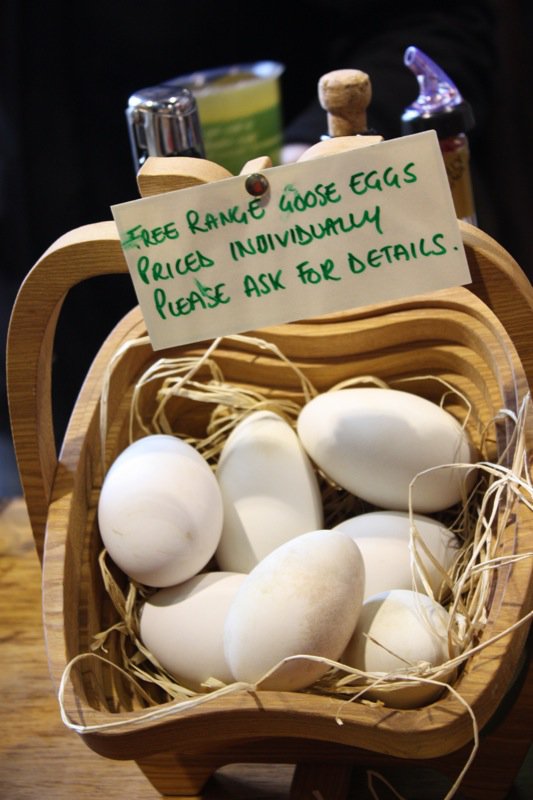 I wanted to try one of these!
And I have never laid my eyes on the orange part of a scallop before. Or, if I have, I have never noticed it. I definitely need to find out what it is. ( And thanks to Simone, I now know it is coral, the roe part of the scallop. I am so blessed to be able to learn from my fellow food lovers!) The fish at this market was so fresh smelling and shiny and bright and gorgeous. I had never seen many of these kinds of fish. I love fish tastings so that I can compare a new fish with a fish I already know.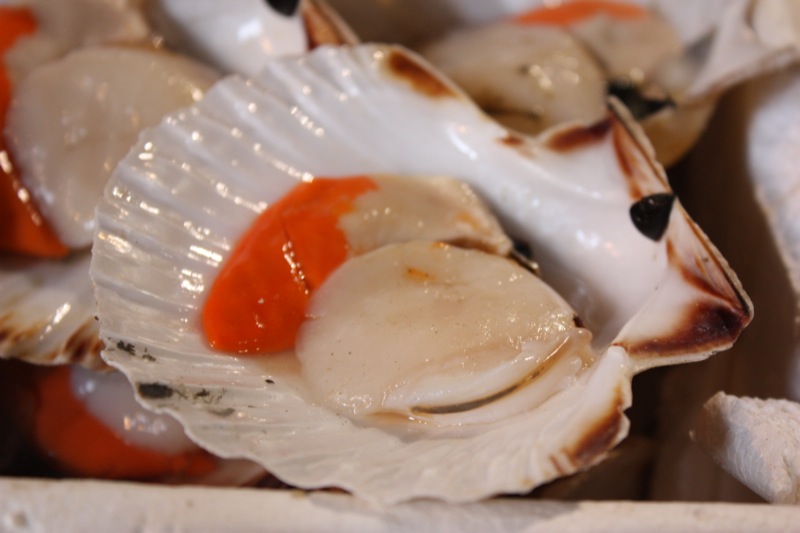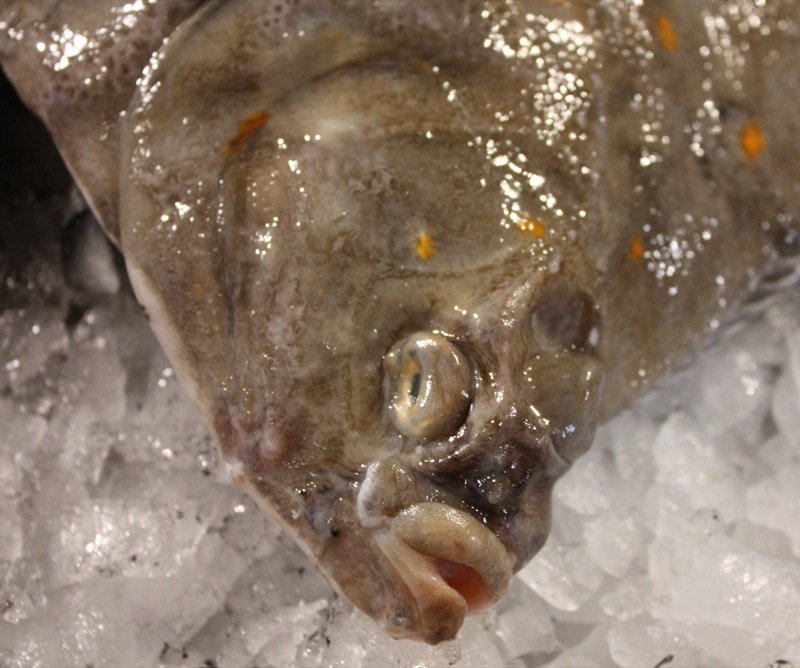 I found a fish with fish lips!!!

Brindisa Spanish Foods caught my eye, too! Vanja bought this sausage to bring home and he ate the whole thing by himself. Not at once! But, he loved it.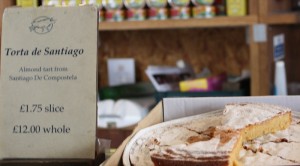 Everything in the shop was interesting to me. I have not yet been to Spain. As I have just done some tastings of the Jamon Iberico at home, I was very curious. Look at all of the different kinds of special cured hams! And, I have only seen the boneless. I had never seen the leg carved like this before. It is so much more primal and appealing. Grrrrrr! I was into it. The fellow in the red hat was surprised that I had tasted the 3 year acorn Iberico in Canada. He thought it was not exported to us. As he saw my interest, I got a sample of almost each… and he was very interesting. It was a slow moment… then a crowd came, and I remembered I had to move on. I wish I had taken notes, but what I do know is each was fantastic!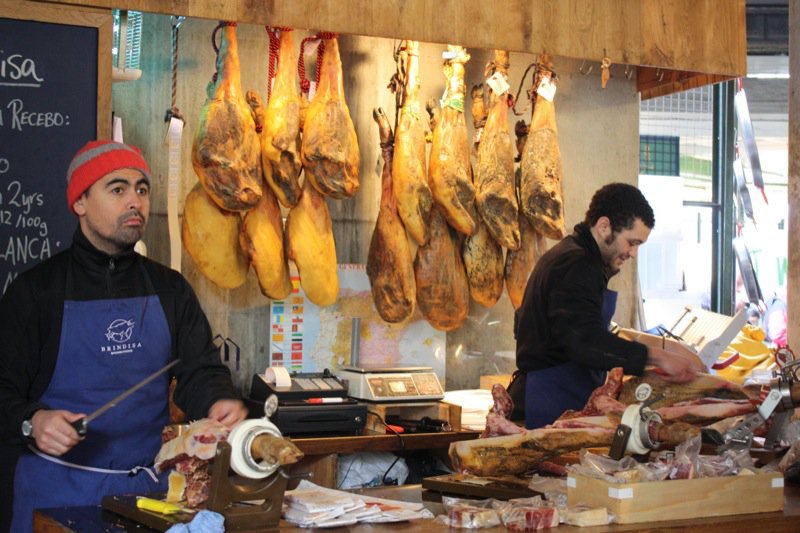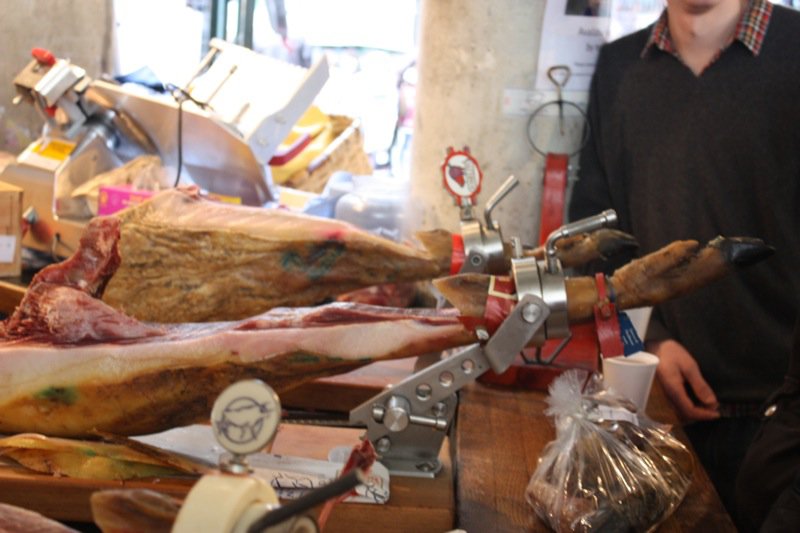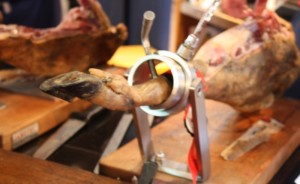 Have I become a sadist? Why was I so elated to see this lovely little leg in a brace?
And the vegetables were abundant! Many familiar and some not.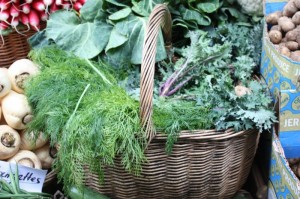 The variety of fresh mushrooms was phenomenal!
I would eat watercress sandwiches for tea, too, if I could buy watercress that looked like this!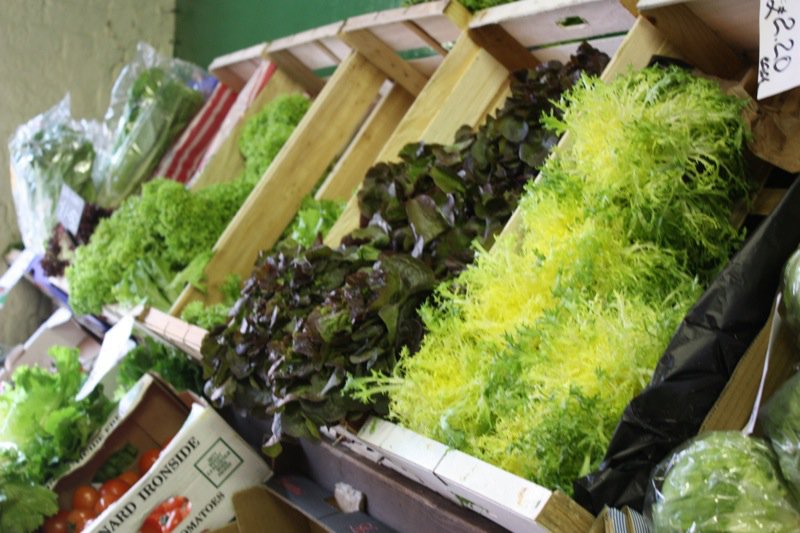 I bought the green peppercorns on the far right for a decoration for mom's 80th birthday tea, and then forgot to use them (sigh). They have turned black, but are very tasty.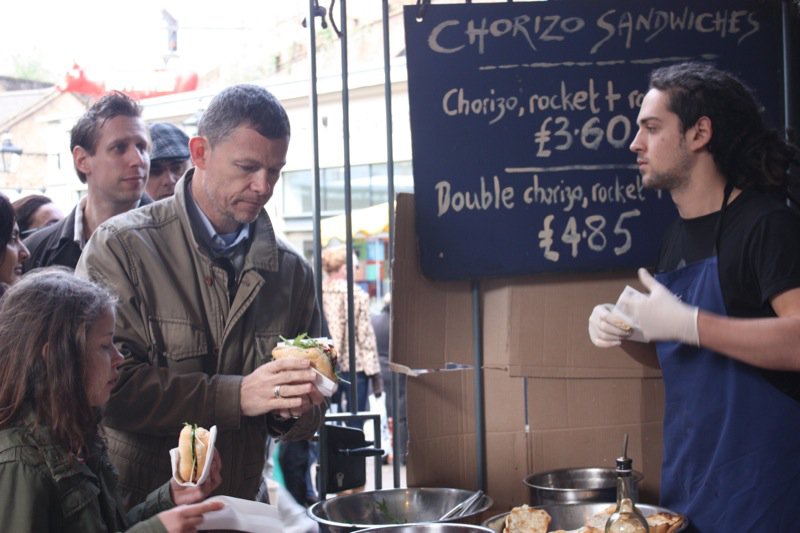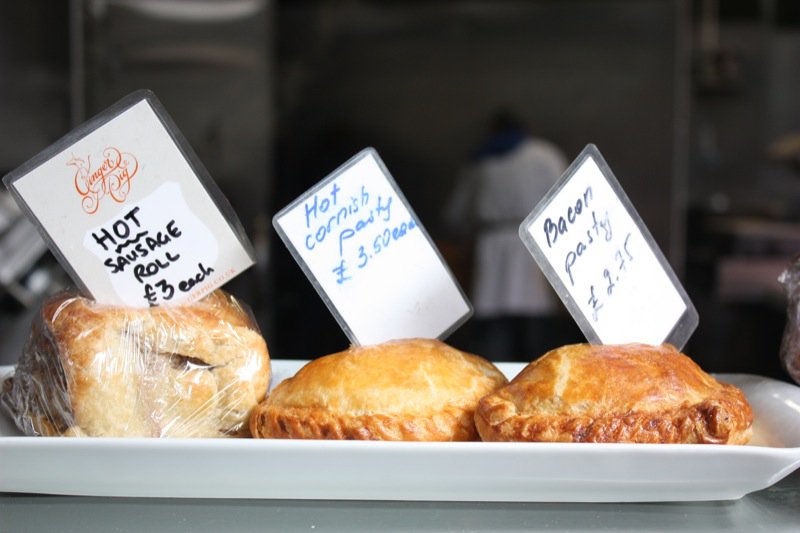 I bought my steak and ale pie here and brought it all the way home with me. I gave half to mom and dad and we ate the other half. It traveled very well, and was extraordinarily savoury and moist and flavourful and delicious. Very dense, too, with huge chunks of steak which was actually part of the eating appeal.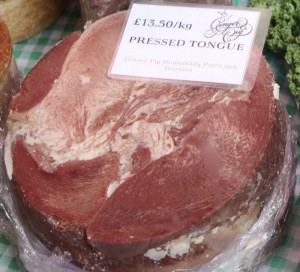 Jellied terrines were very common. Not so at home in Edmonton. I do enjoy them, though. They used to be much more common when I was younger, and when more people actually cooked at home. Those were the days!
I wonder where I can buy marrow bones in Edmonton. This has to be a possibility. Does anyone know? I was excited to see them in the market. They were not out for display as they were in the refrigeration unit.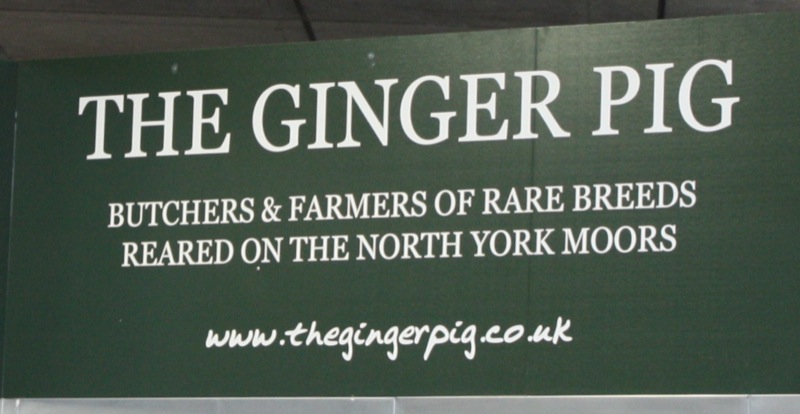 I really appreciated having the butcher there to cut the meat to order. This would be a wonderful opportunity at home, but we do not have this available to us in our markets. We have very few local butchers, at all. Hopefully, there will be a come back of these as the neighbourhood butcher is sorely missed by me!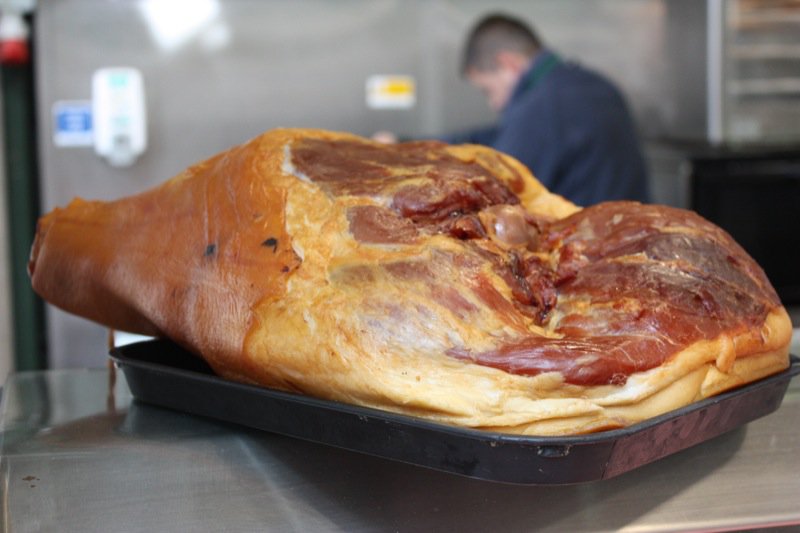 Look at these choices! The beef must be finished with barley here, too, as it is in Canada. The fat is glistening and white. In the USA, it is finished with corn, and the fat has a yellow hue. I have never had the opportunity to compare the flavour of each fat, though.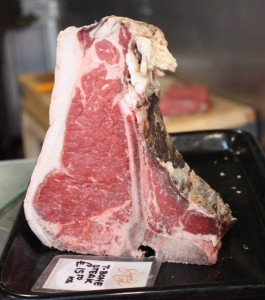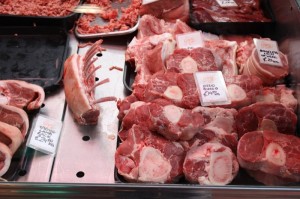 Now, that is Osso Bucco! Fantastic!

And here I am back where I started. Neal's Yard Dairy is below in the blue on the right side of the street. Vanja is standing under the clock kitty-corner to it and is hungry and happy to eat and is completely over all of this. "How much longer do you need?
"A few weeks? How do I answer a question like that? I just felt bad for him wasting his precious time in London with me at the market… so had a fast soup from the little place I had seen with the juices, earlier. I don't even recall what he got. He did get a juice from the same place I got my soup. It must not have interested me as I didn't record it on my camera!
We made our way through the crowd to the outside tables I didn't know existed, but my scout had scouted out the entire place by now.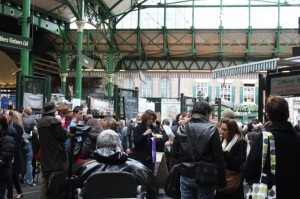 And, I was not a great date, as I left him eating to continue my rambles at a much faster pace now. How could I sit? Look at all that before me. I was propped ready for take off and had to get up and look. Another hour… and a half? Ok, and 15 minutes.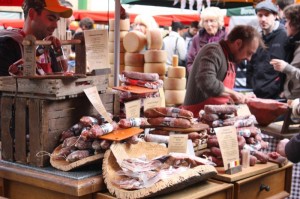 More jamon and cheese. Gorgeous.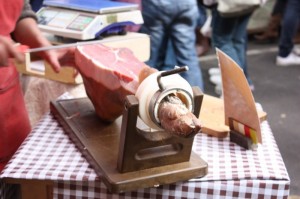 And then a mushroom patéthat was so delicious I had to buy some on the spot. What would I do with it? I had no idea. I had to have it. It freezes beautifully, I was told. Perfect. I will serve it for Mom's 80th Birthday tea. YUM. It was not herby at all. Just a burst of gorgeous mild mushroom with a creamy, yet fresh texture. I don't know how they did it, but do know I could not repeat it at home.
Across from the mushroom paté, and beside the jamon and cheese booth, was the Sicilian Honey Man. He was a character, too. Very informative. He had six different flavours of honey and explained how each was created. Well, he tried, but was interrupted so many times. Finally, he just swiped the bowl of cheese samples from the booth beside him and gave me a taste of his orange honey with their cheese. Deadly! Truly. I was in, I bought the 4 sampler jars to be served with the cheeses I was bought at Neal's Yard Dairy for mom's tea. I don't know how I will do it. I just know I must. (The cheese guys next door were ranting at him as I left and he returned their samples. He saw me watching and just grinned and winked.)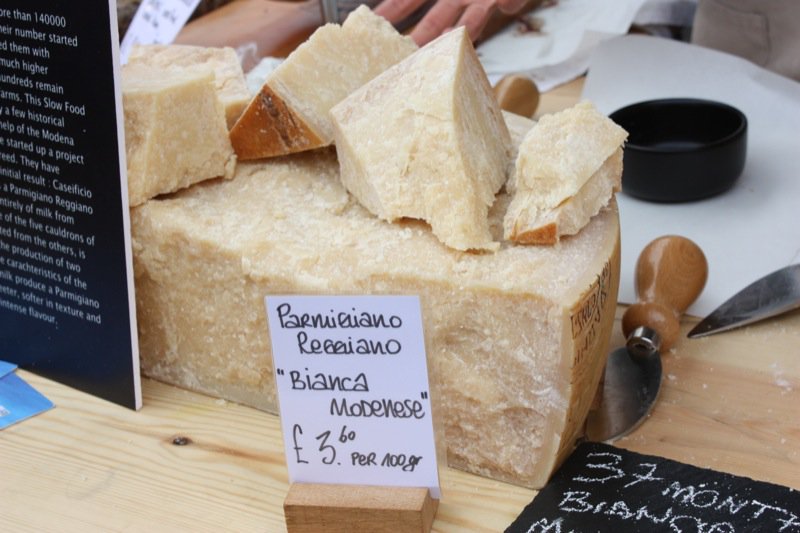 At this moment, I wanted my sketch pad and a paper. I was truly moved by the rugged edges and colour and cut and angles of this cheese. So gorgeous.
And more meats I have never heard of, and some I have that looked different than I had ever seen them.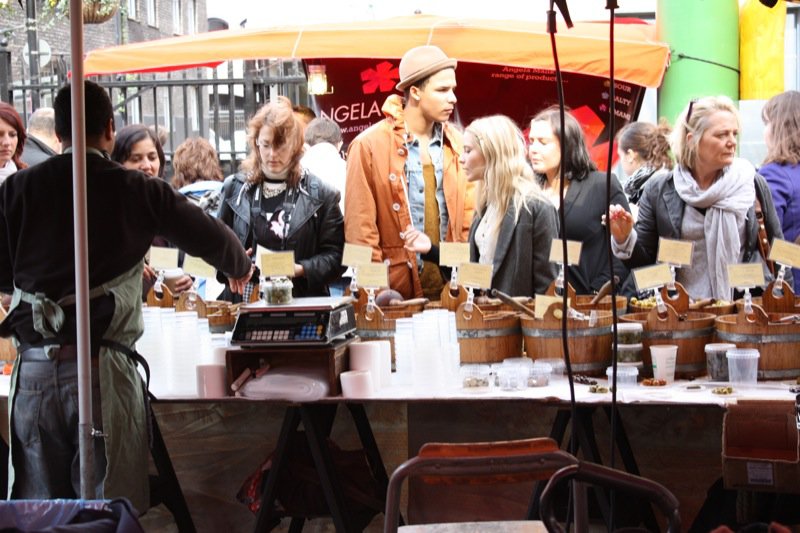 The Swiss cheeses were on sale for an Easter fondue. Lucky Londoners!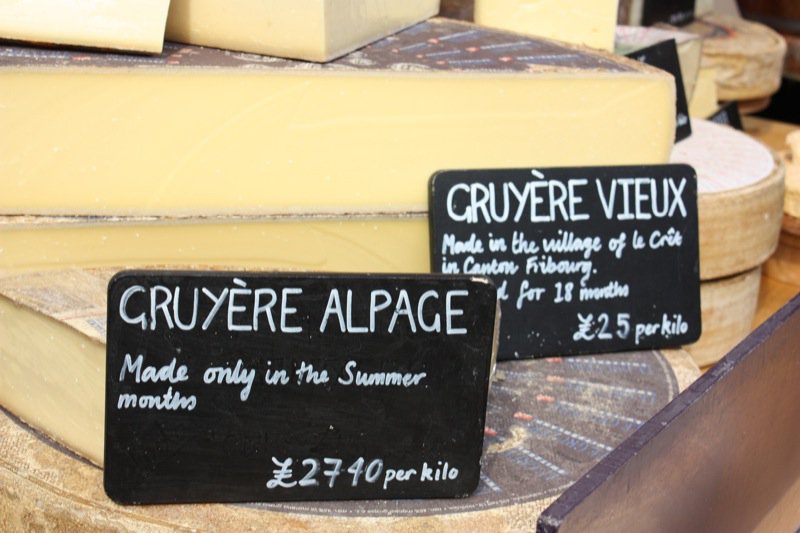 This is the cheese used for racellette. I was dying for a sample as Lauren (my duaghter) had been in Switzerland and had a racelette dinner and raved about it. A gal eying the cheese beside me read my mind and told me where I could find a booth to sample this cheese. I was not going to miss it! There is something smooth and unusually mellow looking and beautiful about this cheese.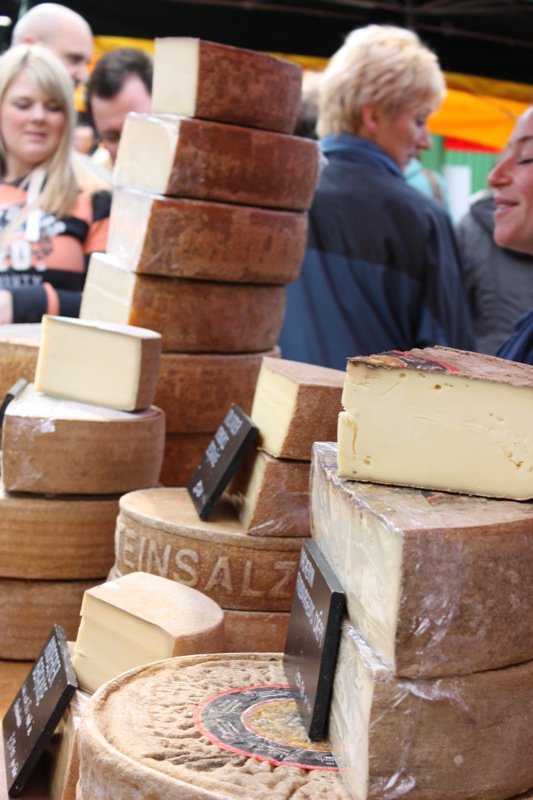 I had to touch the letters embossed in the rind of the cheese above. Bulging with goodness!
After my bread baking course in Bath, I was eying the various breads here. Some I had never seen before.
Almost nothing appeals to me more than tomatoes at a market. The glistening colours are vibrant and the possibilities are endless. There is nothing better than a really great tomato. They are hard to come by, even at markets. That is sad. However, these were incredible. Yes, I sampled.
My attention was wandering to the Calabrian meat next door, yet I did stop to examine the oak roasted cherry tomatoes. People were heading straight here to buy them, and leaving. A completely new flavour profile for me. Difficult to describe. Oaky, smokey, yet lush and fresh at the same time. One package please! These will be perfect on a little open faced something for mom's 80th.
Look at this! What is it? I had to have a taste.
This is a patétype of spicy sausage from Calabria called Ndyja (read the sign in the message by double clicking to enlarge the photo). The sample was so tiny, yet the flavour burst and texture so appealing. It was made from the belly and the cheek of the pig with 25% hot chili and then smoked. I had to have some of this, too. How much? Hmmm… how much? Oh, I'll take a whole one. (It would travel better than a portion.) I am glowing by now. Glowing. I cannot feel the weight of my bags.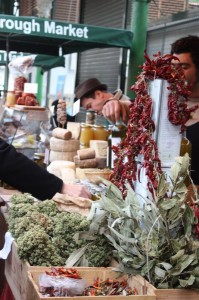 Perpendicular to the Calabria table is an array of French cheeses. My knees go wobbly. Just to see them, I felt blessed. To eat them, I would be in heaven.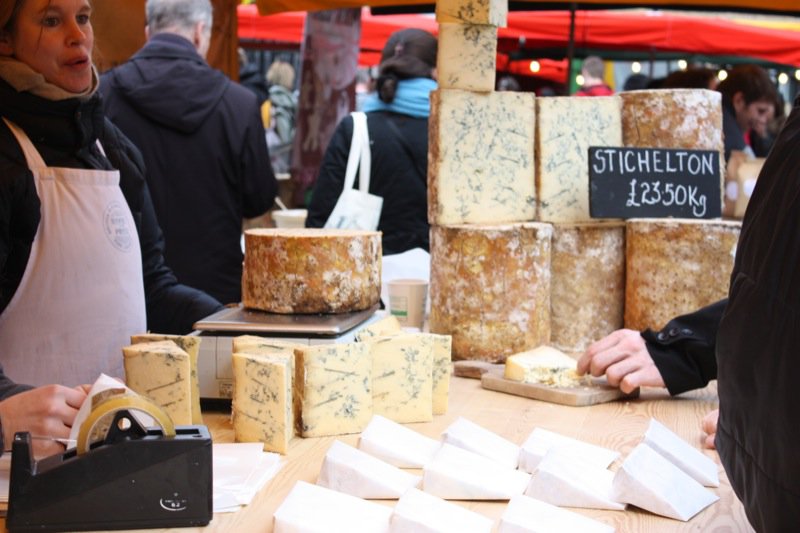 See the man sampling the Stichelton, above? That is how it was done. Not so sanitary. I didn't care. I sampled it, too. Outrageous. Talk about umami.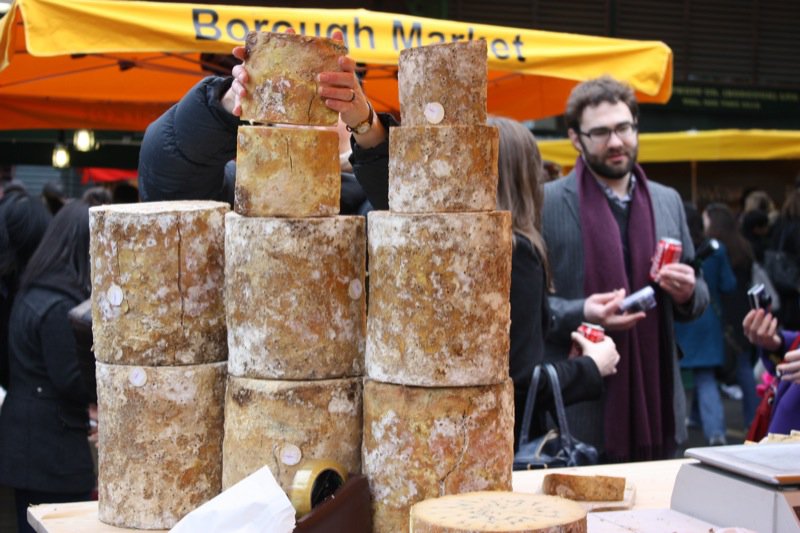 I had not seen cheeses like this before this trip and found the experience to be so moving. I was in awe of the gorgeous discs and drums and of the artisan cheese makers who know how to create such texture and flavour.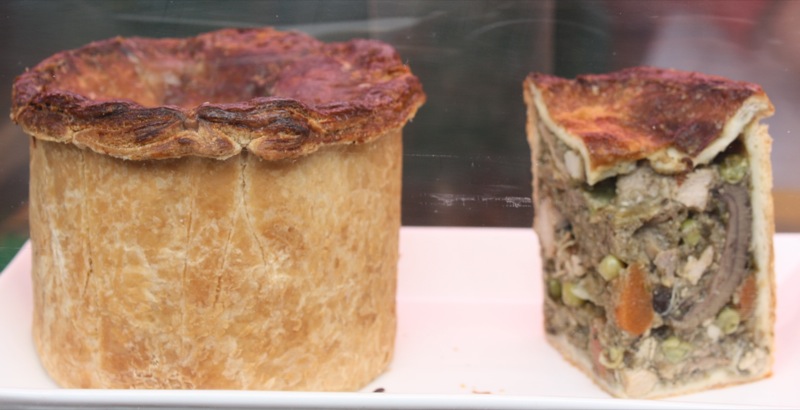 Where else would one find a terrine of wild goose, foie gras, and wild garlic?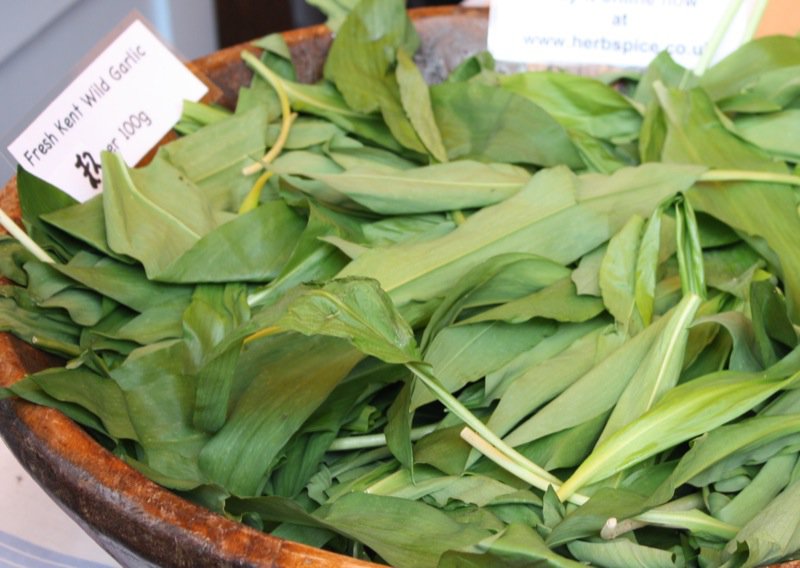 I stopped myself from tasting a leaf. I had never seen this kind of garlic and it took a great deal of restraint to not sample.
AH! Here is the Racellette! The name of the booth is Kappacasein (and The Brulee Blog was there a week before me). There was a crowd around this station so I peeked in to see the curiosity. Oh, my! The set up was simple, yet smart. When an order comes in, the cheese is maneuvered into position under the heat lamp and melted until bubbling and golden.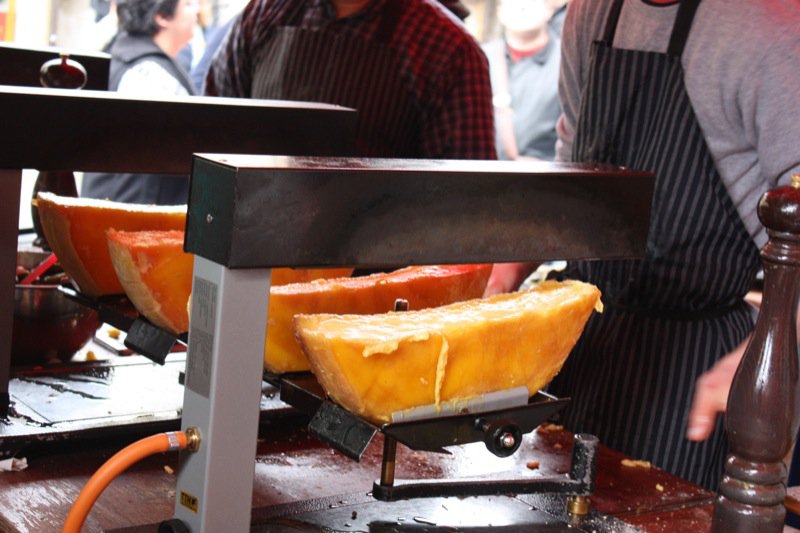 Montgomery Cheddar was an offering as well as the traditional Swiss cheeses; the traditional plate is filled with dill pickles, boiled potatoes, and pickled baby onions. The molten cheese is slathered onto the plate blanketing the vegetables in one smooth motion. You can here an audible "Ahhhh!" from those of us "just watching".

The Lenonese fare looked tasty. I was thrilled to see the little pastries to the right above. I have the mold for these, but no recipe. I found it and knew I would want it someday! If anyone has a recipe, please e-mail it to me! (And Heavenly Housewife did in the comments, below! Lucky me to have such an amazing friend! Joumana tells me they are called: maamoul. I as counting on her to help me with this.)
It was Easter Saturday.
The nougat above right looked too good to be real.
This is my first puzzle cake!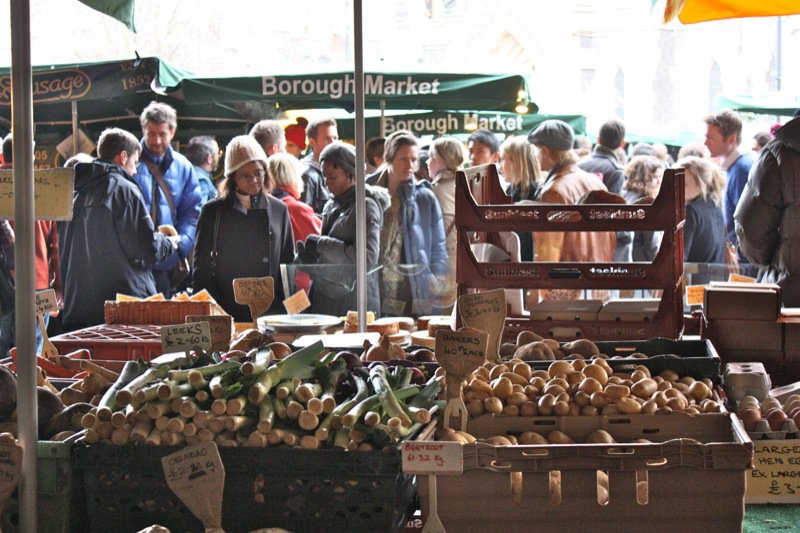 The above were a special specific cake that I have definitely heard of. I asked, and cannot recall what the answer was! (Lamington's I have since learned! Thank you, Sarah!)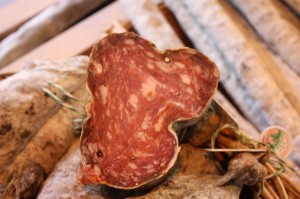 More mushrooms.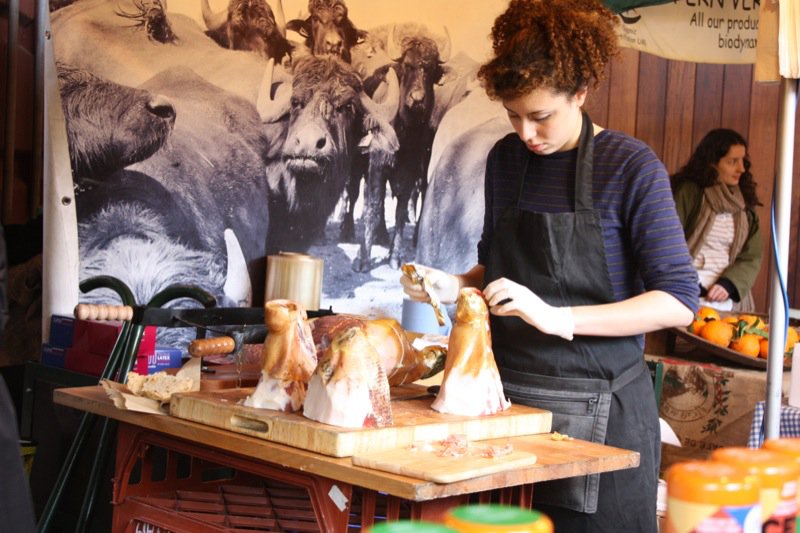 I was a bit confused with the mural on the wall. I knew that whatever this was, was important due to the gold foil on each hoof.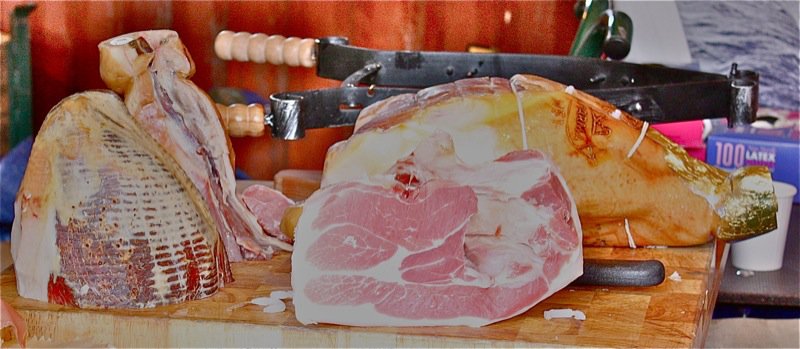 I have never seen it with a bone in it. I loved reading the information and seeing the really special artisan foods. Look at that leg!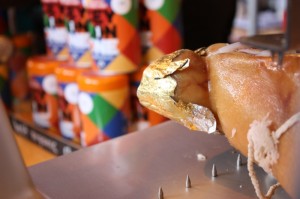 Why, oh, why don't the Londoners get back to the Fish and Chip stands? We tourists all crave fresh seafood. Vanja and I had the best battered cod we had eaten in our lives at a quaint little restaurant aptly called Wharf during our Thames River walk. This fish looked as good. I had it other times, but nothing came close. My nose was pressed against the glass for a little bit here!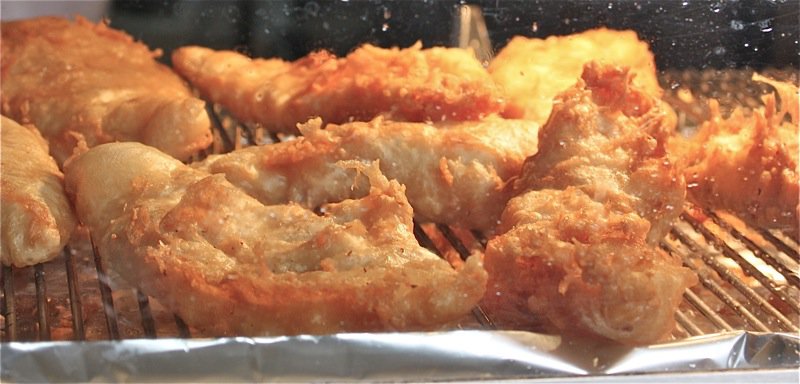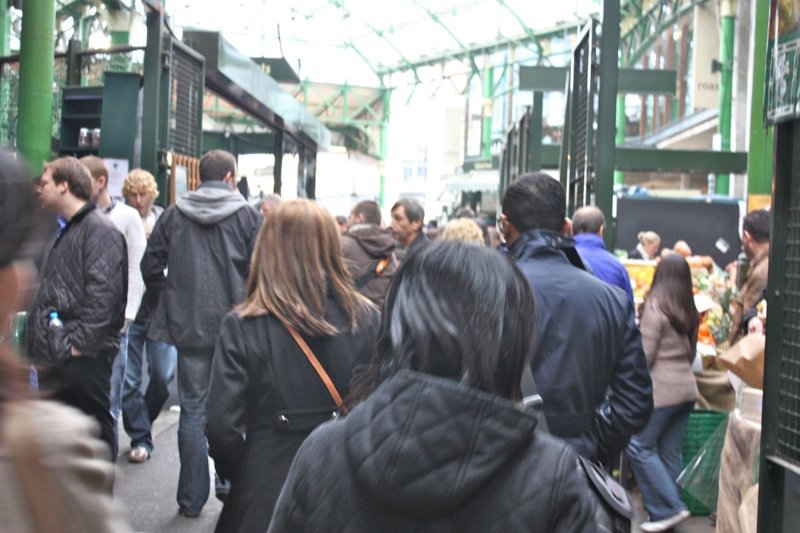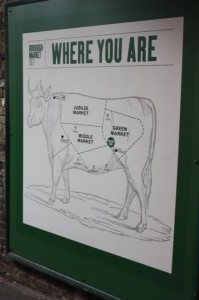 I just had the last side of the middle market to scoot down to meet Vanja. I still had plenty of time.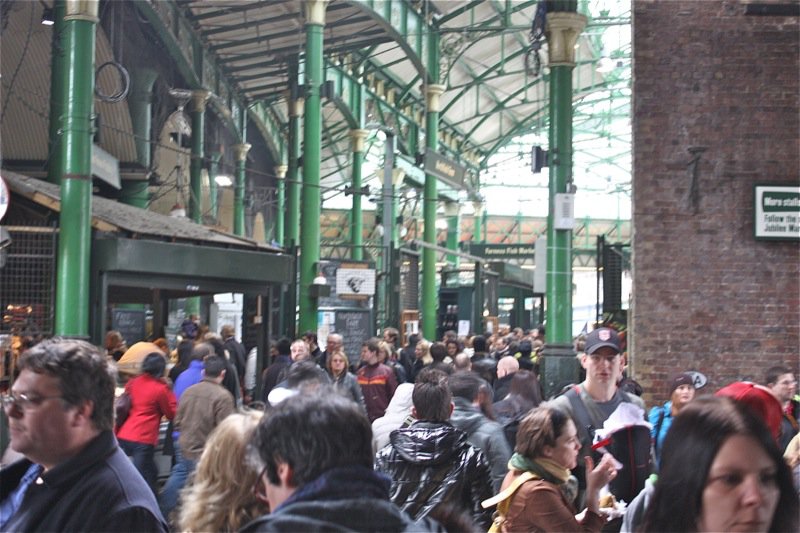 I have no idea how they dried this puffer fish; it captured my attention, too!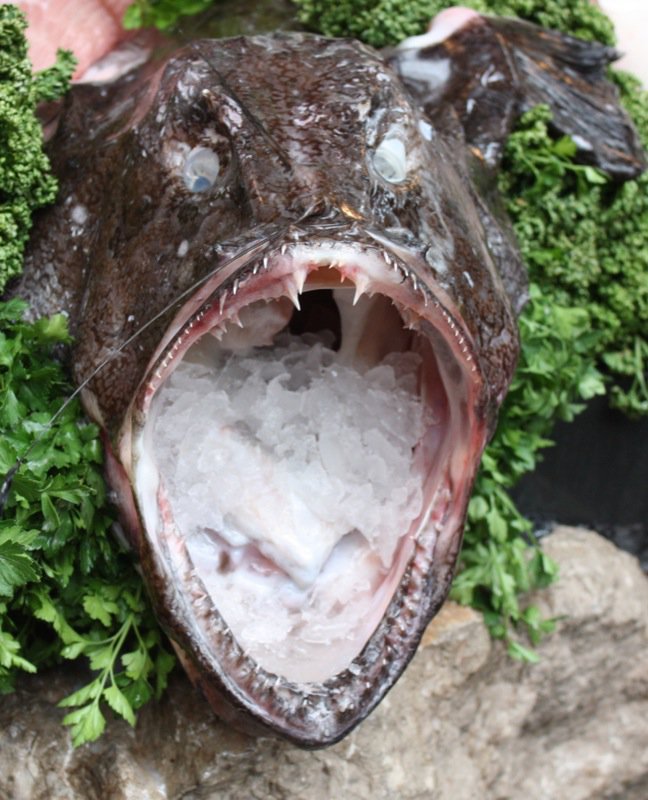 I have never seen wild brill or langusteen.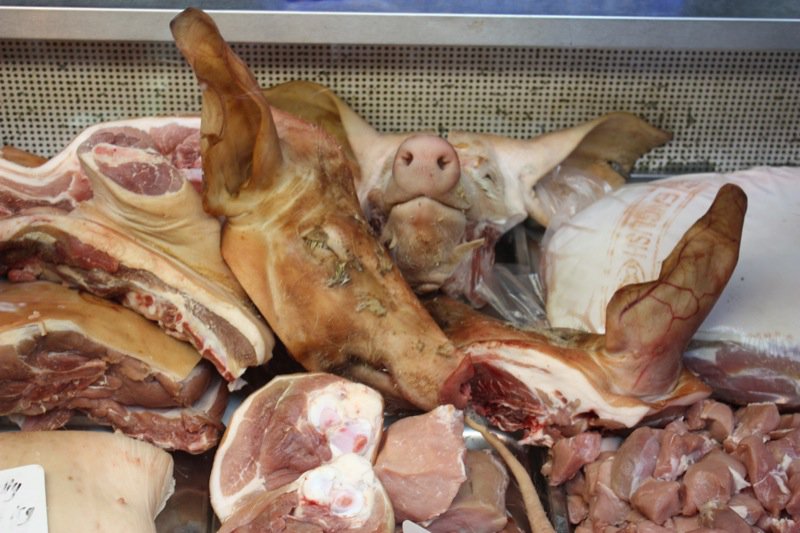 I love this photo. I love the veins running through the ear, and the position of the head against the wall with the ears flapping back like the flying nun. I am sure one of the heads had eyelashes on it.
Artisan butters. I love artisan butters. I will continue to lobby for artisan butter makers in the Edmonton area. Cheese makers, farmers with milking cows, people looking for a great hobby: get into artisan butters. There is no one around here doing this, in Alberta that I know of. Is there?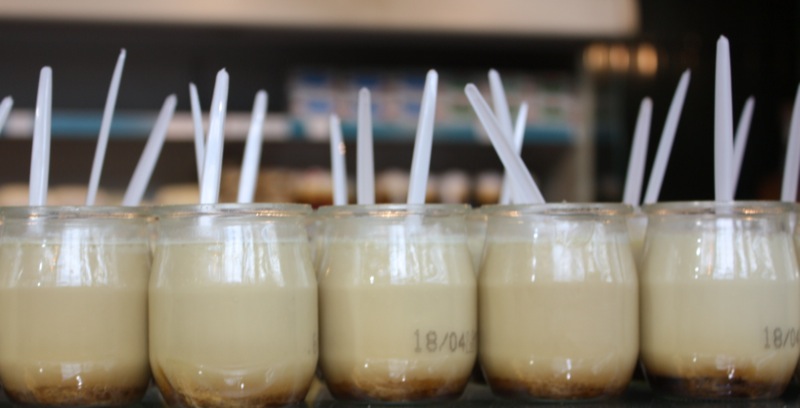 The silliest things excite me. I have seen these little jars in many of the more well known food blogs and have written and asked about them and was told they were from Europe and used to contain yogurt. I did see them in Harrod's Food floor and almost bought a dozen yogurts just for the jars… but, again, cannot waste food. This young man told me he could have a dozen jars for me if I came back in an hour. That was very kind, but I didn't have an hour. However, I recently found them on Megan Gordon's blog, "A Sweet Spoonful", and she wrote back telling me : The jars are from Weck, a German company. They have a website and you can order directly from them. Can also order from Heath Ceramics–they carry Weck, too." So, I will be doing this, soon. Anyone interested in a group order?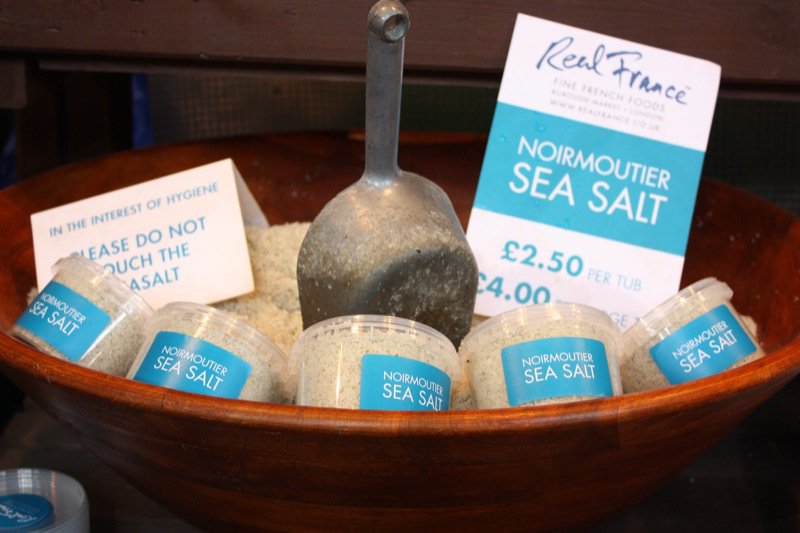 I can never pass by a salt I haven't found without buying some. This is a wet grey salt and I have been using it in my bread baking since coming home, and it is fantastic.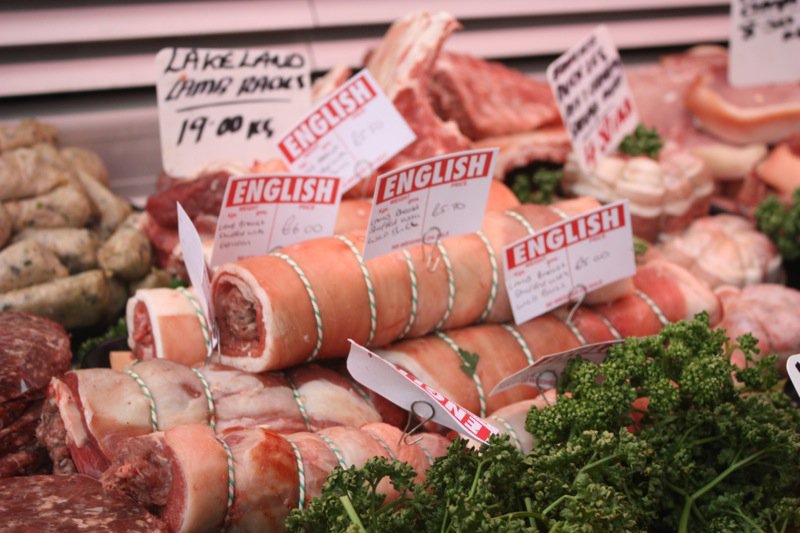 The rolls looked so interesting. Great ideas for a summer barbeque!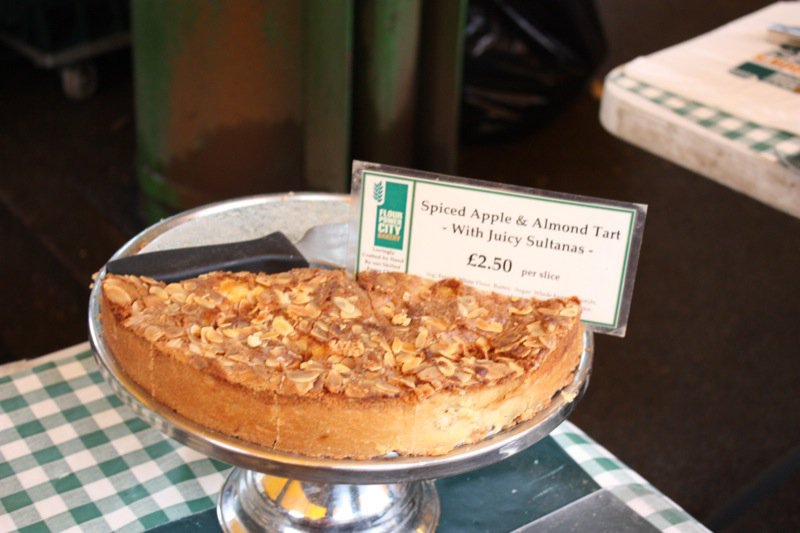 Gorgeous breads back at the beginning of the Market (by Neal's Yard Dairy, again), and just across from the most charming flower market.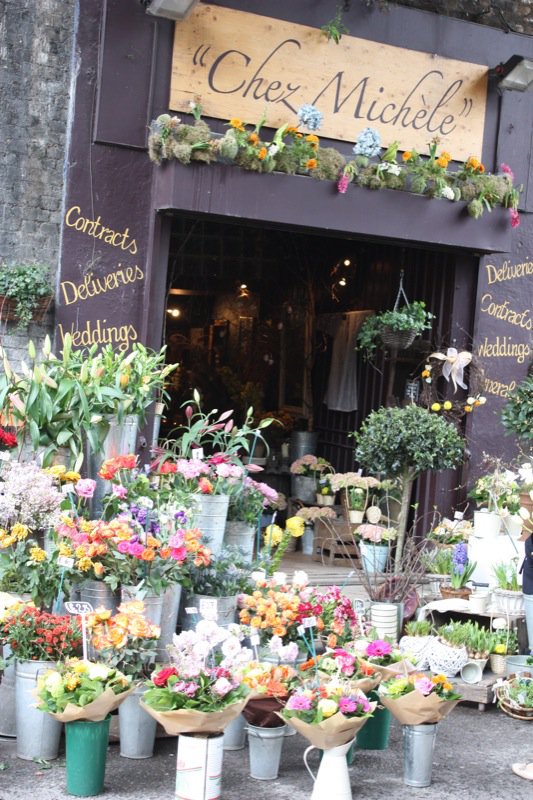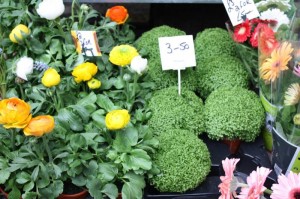 Time to go. Vanja is under the clock grinning at me with that little twinkle in his eye he gets when he is enjoying me enjoy myself.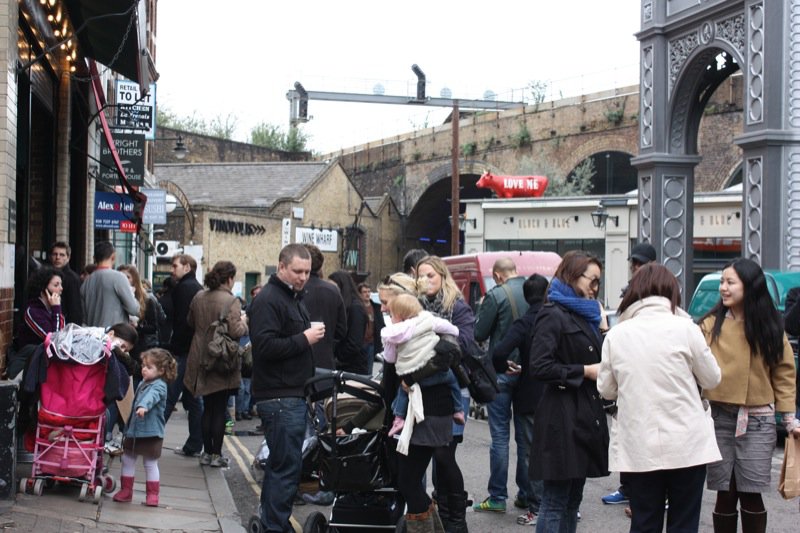 My bags laden with the most amazing products feel light in my arms as I am still giddy and grinning from the wonderful whirlwind trip to the market on a Saturday. There is no better place to be. And, we are off to our hotel for a change of clothes and to go our for a formal British Tea. The last thing on my list that I have to do before going home. And a great farewell on our last night in London town.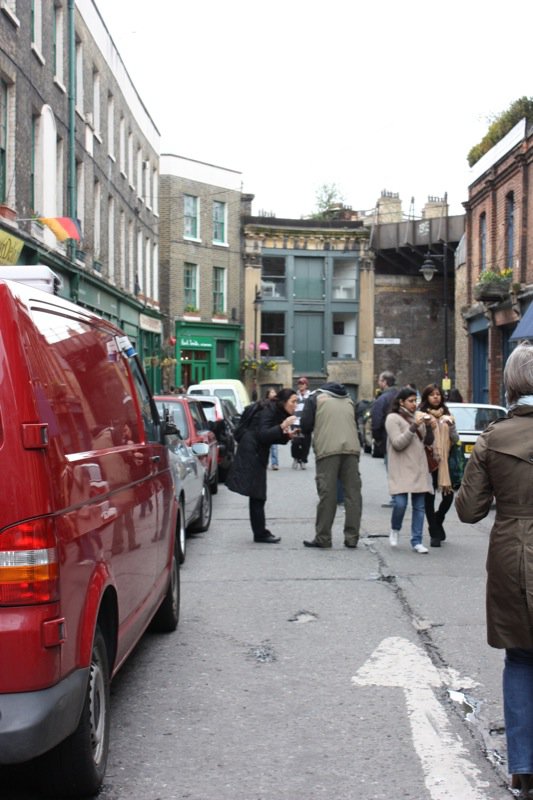 This market surpassed my expectations and my imagination. A must for any foodie visiting London.
And Beavie was waiting, not so patiently in the hotel room when we returned. Not at all happy that we were going out again.
Little did Beavie know that Beaver meat was about the only meat I didn't see at the market today. Who knows what would have become of him. 🙂