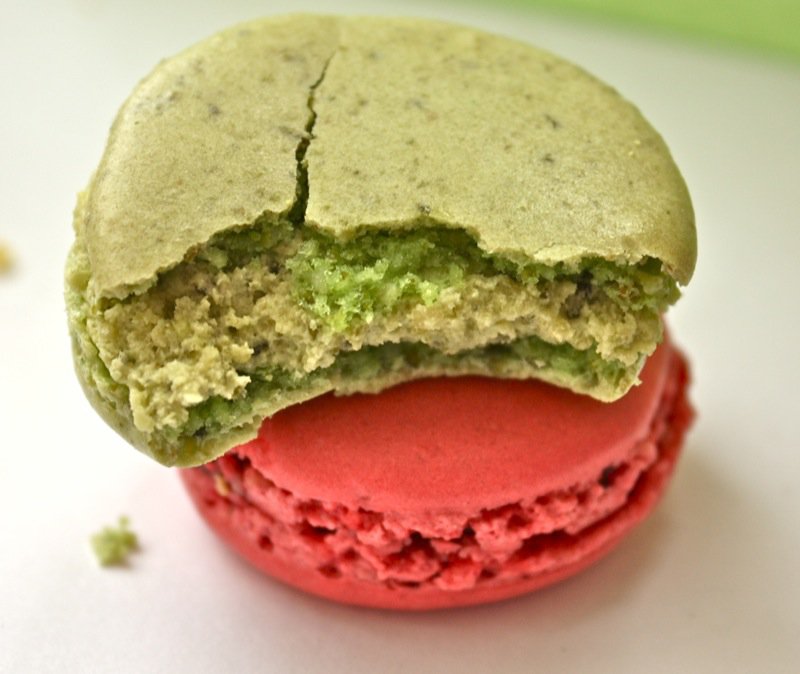 I recall reading about Twyla's visit to Paris and being full of excitement when I saw her box of Ladurée Macarons. YUM! I am completely in awe of these precious sweet delicate shells. I knew I would be going back to Paris, but didn't expect to find Ladurée in London! When I was wondering around Harrod's Food Floor in an ecstatic London Fog, I looked up and saw the Ladurée canopy.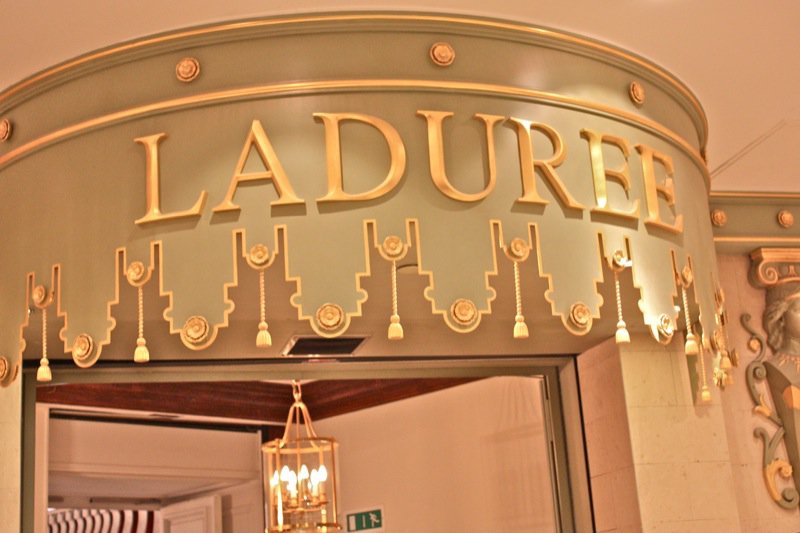 Â
I wondered under the canopy and looked up in it knowing that something magical was sure to happen as I stepped through it. To say I felt like "a kid in a candyshop" would be an understatement. I was "Valerie in Laduree, Valerie in Laduree, Valerie in Laduree"!
"Excuse me, may I help you?" a very lovely and formally dressed young woman asked me with a rather amused smile on her face. I recall her face coming into view like an image though a window in the rain. "Oh. Yes, yes. Do you serve British High Tea?" I actually did ask this of the hostess in the world famous French Pastry Shop in London. It was like stepping under the canopy had altered my brain. If Ladurée was in London, maybe they would be serving a British High Tea.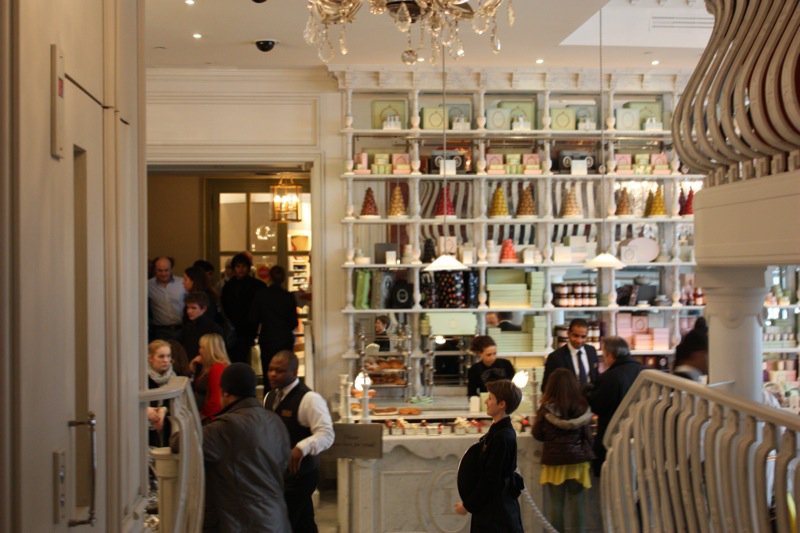 And, the funnier thing? The lovely young lady had no clue what British High Tea was. But, no. They do not serve British High Tea at Ladurée. Stop laughing.
And photos are not allowed, so I was inclined to buy one of everything. However, I "settled for" eight of the twelve flavours of French Macarons on display.

From left to right: vanilla, bitter chocolate, chocolate, lime, salted caramel. raspberry, lemon and pistachio. I had no trouble picking out the first seven. The last one was difficult. I asked the gal behind the counter which of the remaining flavours was the most popular. She said that most people do not choose vanilla, but that it is definitely one of their best. That was that. Eight it was.
It was quite sometime before I was home that evening… and I didn't open this box until the following afternoon when we had returned from Borough Market and were readying ourselves to go for High Tea. Perfect light for photographs.
Vanja laid down for a fifteen minute rest, and I took advantage of the time to play with my cookies.
What do they look like inside. The pistachio is always the ultimate flavour choice for me. Oh, my gosh! A whisper of the most delicate texture and the most powerful flavour. Not too sweet. Chewy, but not very chewy. A melt in your mouth moment of pure delight. I remember the magic of my first cotton candy experience. I had no previous frame of reference for anything like it. It was addictive. That's how these were. Not like cotton candy, but like nothing I had any experience tasting and no previous frame of reference for. And, they were addictive.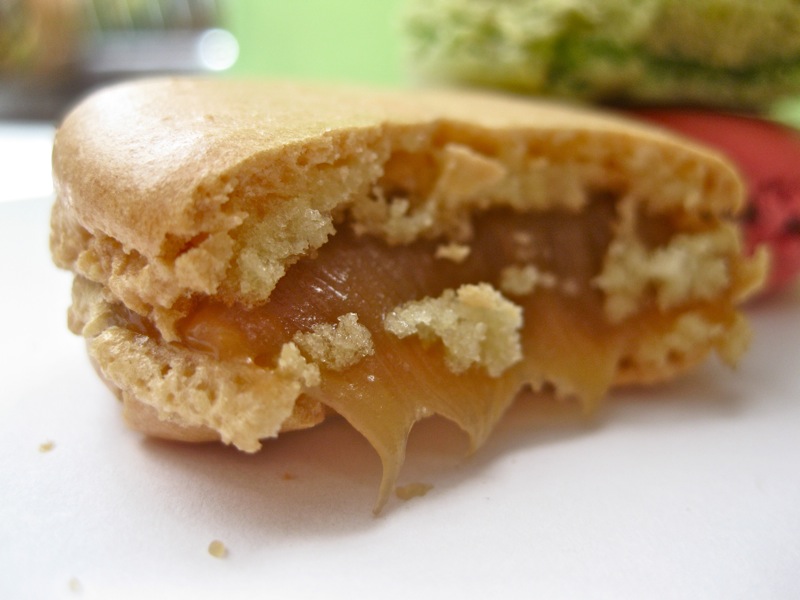 How sumptuous this looks cannot come close to how truly incredible the salty caramel paired with the sweet crisp melting crumbly shell tastes.
I loved the lemon with the buttercream filling. It was bright, but not overpowering with pucker power: a lovely, smooth and buttery lemon similar to a French Lemon Tart. The lime had pucker power; it had zing. The filling was not a curd, but similar to a curd.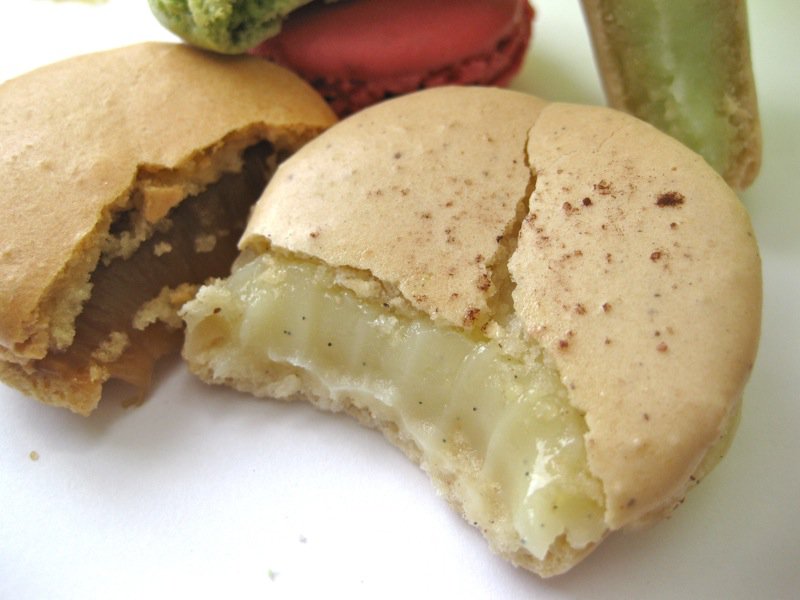 I chose the chocolate next: the "regualr" chocolate macaron. It would be impossible to improve upon this. What would the bitter chocolate taste like that could even equal the dark depth that lingered on my tongue after a bite of this one? And the raspberry? I love anything that bursts with the flavour of fresh, glistening raspberries, and this macaron did that. The geleéfilling was perfect. Perfect.
But the feet were not perfect. See? They were beautifully lacey and delicate and unpredictable. I will no longer be quite so hard on myself!
The bitter chocolate macaron introduced me to a completely new taste reference as it was deeper and darker and richer and more powerful than I thought possible in one small two-shelled macaron. It was not sweet. It was not bitter, but the lack of sweetness with this depth of flavour made the reference of "bitter" the perfect descriptor.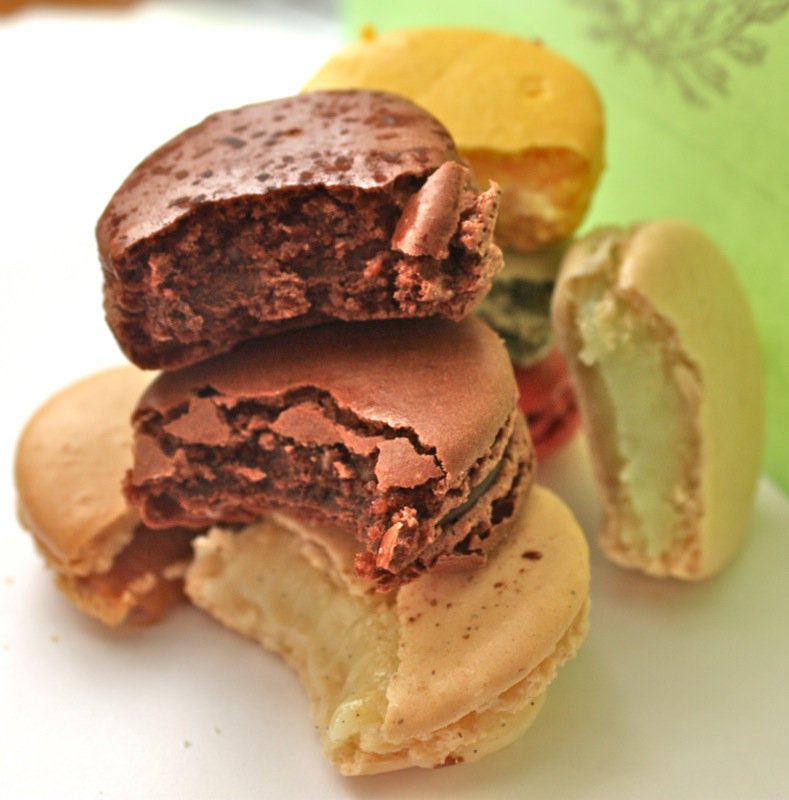 Suddeny, there was a fury of flapping in a corner of the room that startled me and woke Vanja from his nap. Orange teeth were flailing; eyes buldging and the look of betrayal in the little brown beady eyes melted my heart.
Beavie! Don't worry! I brought some toothpicks for you to enjoy!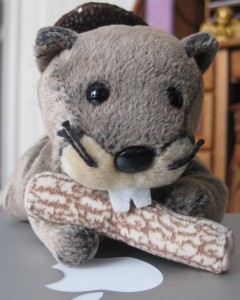 What gives you the impression that I like to EAT WOOD? Why does everyone think beavers eat wood? We DO NOT eat wood! HUMPH!