A delicious fresh herbed cheese spread for Cheesepalooza!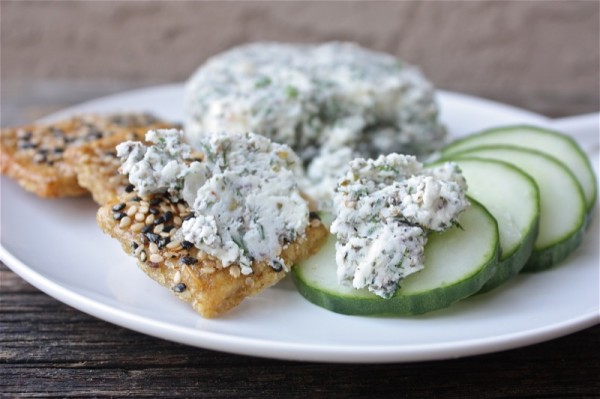 This is my absolute favourite, bar none, cheese spread. I was making it long before I learned how to make my own cheese (and crackers, for that matter) and it is always a hit!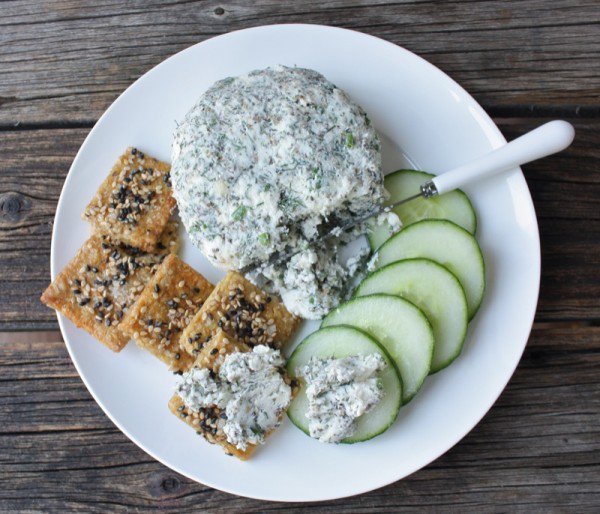 When I made the Whole Milk Ricotta that looked and tasted more like a sweet cream cheese, I knew immediately what I was going to use it for. It worked perfectly in this homemade rendition of Boursin cheese. Inspried by Fromage Frais and fresh herbs, Francois Boursin created it in Normandy in 1957. Little did I know that my seemingly novel idea of serving an edible bouquet with fresh cheese had been a long standing tradition in that area of France. However, guests created their own seasoned cheese from a bowl of fine herbs, not a vase, and it was after this tradition that the expert cheese maker introduced Boursin Garlic & Fine Herbs. His recipe quickly became the first flavored fresh cheese to be sold throughout France. Today, discerning fans in over 35 countries across five continents enjoy the taste of Boursin Cheese. I think if you taste this recipe and compare it to his, you will find that fresh is still better!
Homemade Boursin
Ingredients:
8 ounces Cream Cheese (I used my homemeade Whole Milk Ricotta that tasted very cream cheese)
1 teaspoon dried basil
1 teaspoon caraway seeds
2 teaspoons minced fresh dill
2 teaspoons minced fresh chives
1/4 to 1/2 teaspoon hot pepper flakes
1 to 2 cloves of garlic, minced
Instructions:
Combine all ingredients together well
Form into a mould or a disc shape
Wrap in plastic and store 8 to 12 hours until the flavours have combined well
Set out at room temperature for an hour; serve with your favourite crackers or crudités
Note: This is lovely also stuffed inside of zucchini blossoms, around a caperberry with smoked salmon and is a very versatile recipe