See what you get for breakfast if you are a good boy?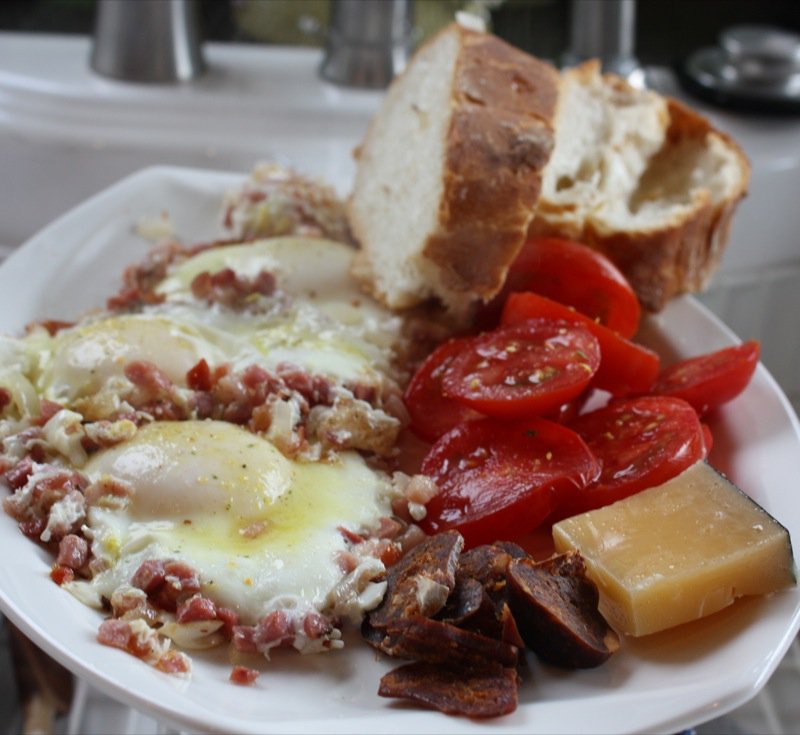 All from local Farmer's Markets or Local Suppliers: the only way to feed your family!
The tomatoes and cheese from City Market downtown yesterday. The cheese: Sylvan Star's Award Winning Grizzly, absolutely the best; the tomatoes: Gull Valley's tomatoes on the vine, so "tomatoey"! Really. I know! Why is that so hard to find? But it is, and Gull Valley has that old fashioned real tomato flavour packed in – guess what? A real tomato! YUM! They are a great alternative to an orange for breakfast.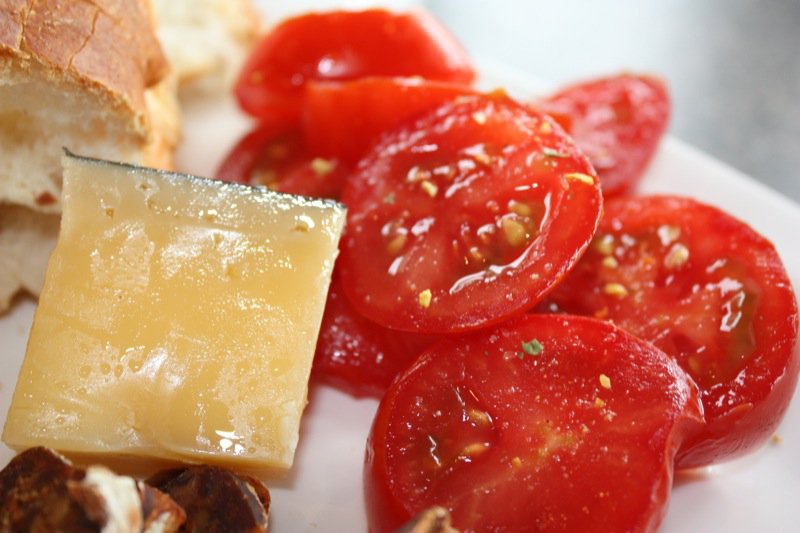 Bacon and eggs can be a typical special big breakfast morning meal, but today I had some of Budapest Deli's double smokes and artisan cured sausage: deadly delicious sliced very thin. Also found at City Market downtown or their store. It is also great on a charcuterie platter.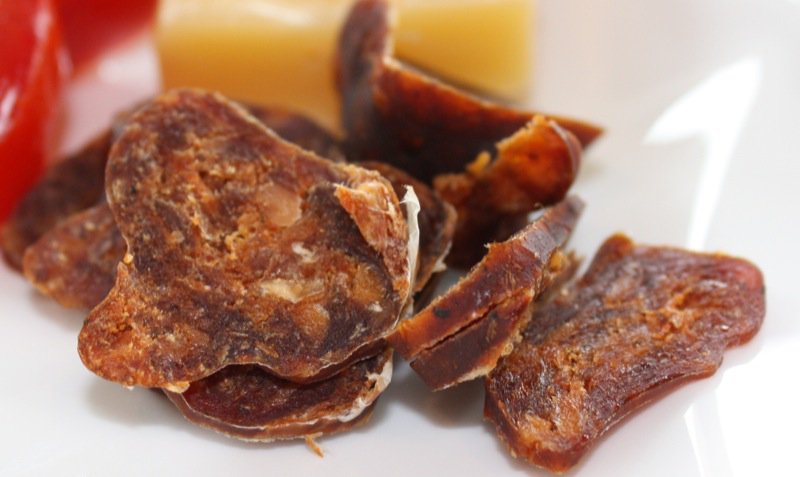 The bread was not my own. I stopped by the Italian Center South for a little coffee, chat, and to buy the last of my groceries at the end of my day yesterday and got the last massive loaf with the hole. I forget the name of this bread, but it is really crusty and really soft in the middle. Angelo is a master bread maker at the Italian Center South. Wait until you taste his Red Fife Wheat bread that will be featured at Edmonton Slow Food's Indulgence 2010: he let it rest of 36 hours! Incredible.(Tickets are almost sold out for this event. Call and order now.) A perfect artisan bread for breakfast (or lunch or dinner) because I was out all day instead of making my own!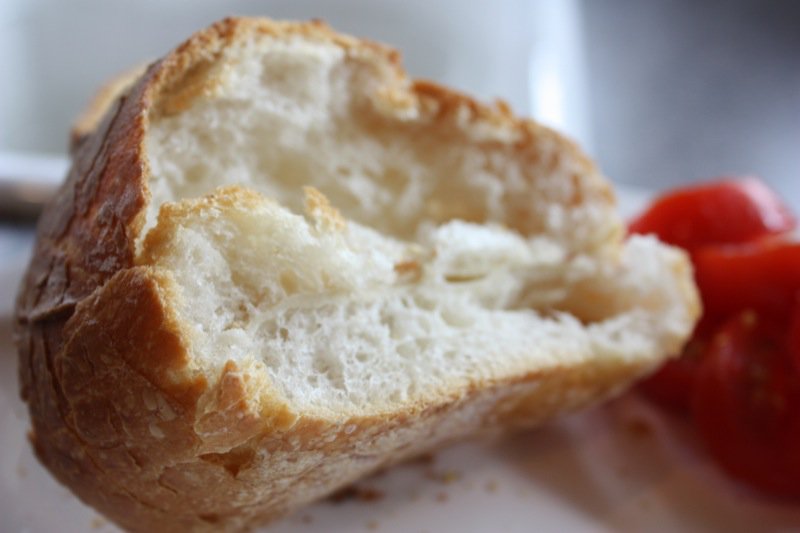 As my husband is an Eastern European man who doesn't feel fed unless he eats meat, or unless there is pig on the plate, I used some lardon's from Sunterra Market and sautéed them with a few minced onions, then fried the Sunworks Farm eggs on top, just as he likes them. I get y eggs from the Old Strathcona Farmer's Market.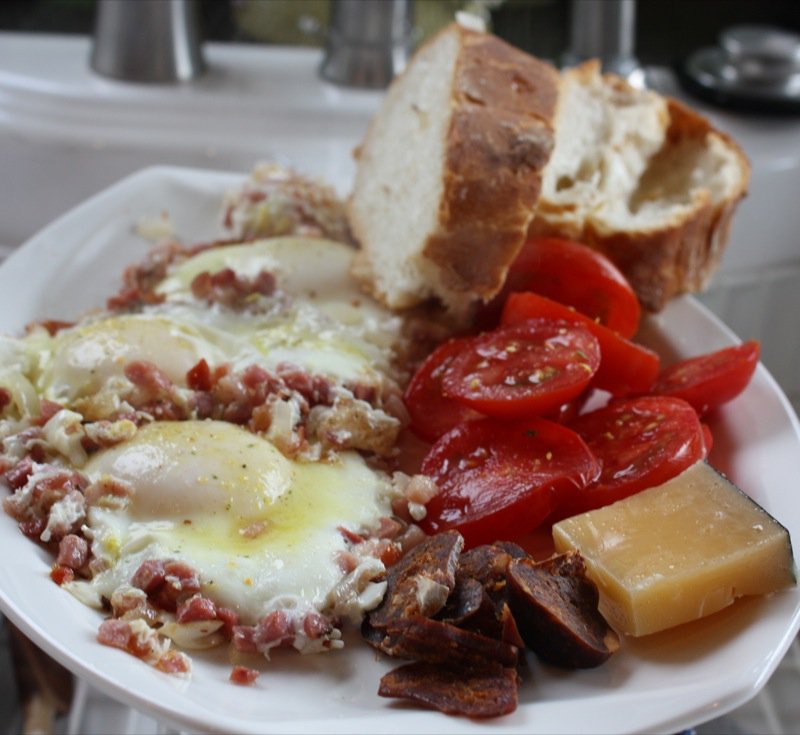 Not bad for a quick minute in the morning before Vanja is off to work. Yes, substantial. He works a long day, and I only do this for him on the weekends. And, only if he is a very good boy! :)Â And, when I tell him how much I appreciate him, in true Vanja fashion, he looks at me and says: Well, I don't think I'm too hard to appreciate, and I? or What's not to like? And he grins, and eats his breakfast with a big grin on his face.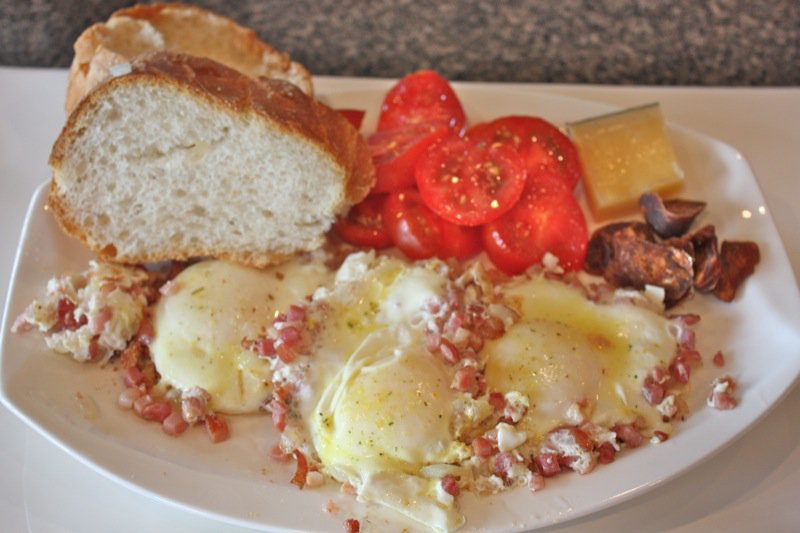 And I have a big grin on mine, too!