My Christmas Gift to all, this year!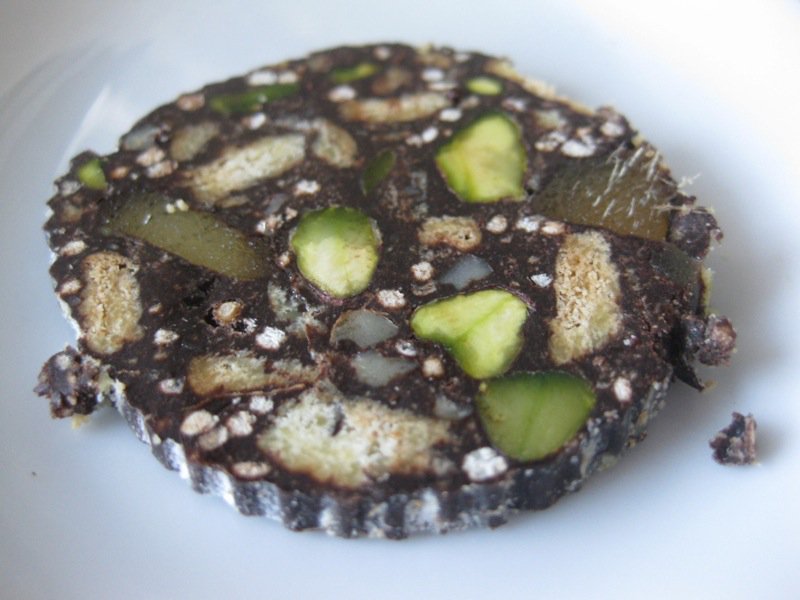 Chocolate Salami! Who knew? Not until I was in Assisi had I ever seen the chocolate version of my husband's favourite savory snack!
I first heard about chocolate salami made in the Thermomix from The British Larder . For some reason, I was not interested in trying the recipe. Not until Helene wrote about it, and made the "Slideo" of how to make chocolate salami in the Thermomix on her site. Then I was in! It was so incredibly easy to make and a real novelty for most in these parts of the world. Even though my dear friend, Marie, had just had some served with her coffee her last trip to Italy, she was elated with her gift.
The ingredients are also fun to construct as you look for ingredients that will look like what one would find in a savory salami. I wandered through the Italian Centre Shop and Planet Organic collecting my goodies.
The puffed quinoa really appealed to me and add a fatty look to the salami. I used 85% and 90% dark chocolate for this recipe as there are so many other ingredients in it. I halved the sugar because I found the first batch too sweet. But, it is always according to one's palate. The Thermomix makes this an absolute breeze to make, but, it can be made without one.
I do prefer it with Port though did try a variety of spirits with my few batches. I also find that the smaller ones do not have the appeal that the two larger ones have. Three is the best I could do per batch to still have the salami look substantial. Otherwise, it became a sausage!! Just too skinny.
Roll the chocolate in the plastic, and then shape evenly into the log; be careful to not get an edge of the plastic wrap tucked into the wet mixture, as it will be difficult to tug out when set, and will deter from the corrugated edges that the sushi mat will create on the exterior. Two sets of hands do help, if available, to get the knots tied in both ends of the log, and to ensure that the elastics around the sushi mat are as tight, and as even, as possible.
I really enjoyed my salami making power! It was such a blast to unwrap the chocolate salami and covering them with any number of crumby tasty concoctions to dress up the look. I did add some ginger to the salami and chocolate mixture, as suggested by Helene, and it looked great, though I was surprised at how subtle that usually intense flavour was in the salami. This concoction truly melds flavours. And, it slices so thin that its appeal is heightened.
Now this is MY kind of sausage!…workin' my way to the hazel nut on the plate….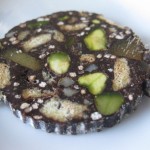 Chocolate Salami


Chocolate Salami Recipe (for two large, or three medium salami)
Ingredients
200

grams

. digestive biscuits,

broken by hand (do not pound)

80

grams

pistashios,

toasted

40

grams

hazelnuts,

toasted

40

grams

blanched almonds,

slivered

40

grams

dried cranberries

40

grams

candied or sugared ginger,

cubed, if necessary

10

grams

puffed quinoa

50

grams

icing sugar

80

grams

unsalted butter,

room temperature

200

grams

bitter dark fair trade chocolate

(70% or higher)

80

grams

sweetened condensed milk

2

know-your-farmer organic egg yolks

80-90

grams

port wine

(I tried several others, but do prefer Port)

1/2

teaspoon

vanilla

1/2

teaspoon

salt

mix of cocoa powder, icing sugar, ground biscuits and nuts,

for dusting over unwrapped salami
Instructions
Break biscuits into tiny pieces without turning them into crumbs with hands (do not use a machine or pounder, or the crumbs will be too small to use)

Prepare nuts (chopping harder varieties into smaller pieces; slivered almonds and whole pistachios are fine; but whole almonds, hazelnuts and other need to be coarsely chopped) and toast each

Add nuts and dried cranberries to cookie pieces

Drizzle half the alcohol over these dry ingredients, toss thoroughly; set aside

Coarsely chop the chocolate, place into mixing bowl and grate 2 seconds on Turbo, or until fine; scrape down sides of bowl with spatula

Add butter to grated chocolate; melt for 4 minutes at 50°C on speed 1 until completely combined and melted

Add egg yolks, icing sugar, condensed milk, salt, remaining alcohol, and vanilla; cook for 6 minutes at 50°C on speed 2

Cool for 10-15 minutes in mixing bowl (important)

Add chocolate mixture to dry ingredients in set aside bowl; mix well with a spatula in a large bowl
Putting it all Together:
Lay two to three pieces of plastic wrap on the counter depending upon number of salami you are making and equally portion 1/3 to 1/2 of the mixture on each piece of plastic

Roll and form the mixture into salami shape using the plastic wrap as a guide

Tie off one end of the plastic wrap, and then the other (it really helps to have another set of hands holding things in place while you do this the first couple of times so you get the diameter and length you prefer)

Use a bamboo sushi mat to mold the salami by wrapping it tightly around the rolled pliable chocolate log, and secure each with 3 elastic bands evenly spaced; refrigerate overnight, or until firm (at least 3 hours)

Prepare dusting ingredients

Unmold carefully, snip the knots, and remove the plastic wrap

Dust salami with prepared ingredients using a plastic brush (ground nuts, biscuit crumbs, cocoa and icing sugar); use the plastic to shield your hands from the chocolate as the heat from your hands may melt the ridges in the mold when you are dusting your salami