A walk down memory lane…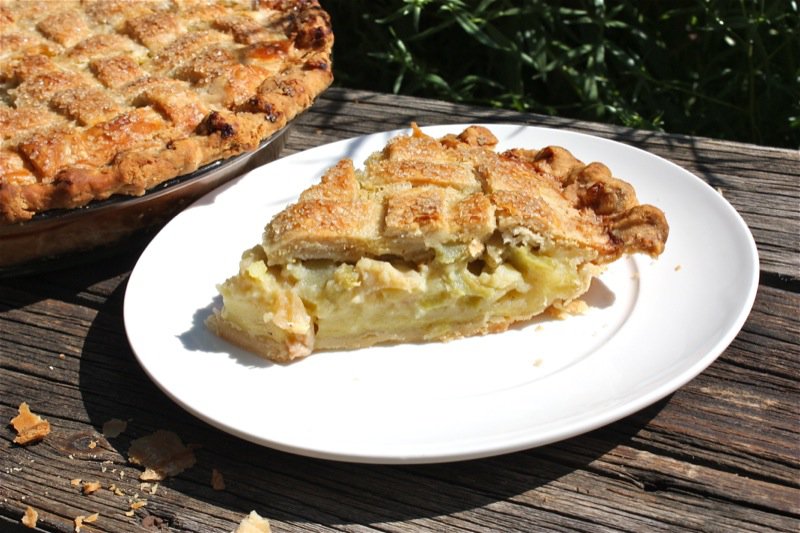 Rhubarb. I could never share my mother's excitement. Bare feet sinking into the rich black earth, bent over in her little white pedal pushers with turquoise polka dots, cutting long fat stalks of rhubarb for all sorts of concoctions dancing in her eyes. Never a spot of dirt on her clothes. The great great leafy tops sliced and lobbed my direction. A skirt? A hat? Why such giant leaves? "Smell this?" and a tart sour greenish red stalk would present itself under my tender little nose. I could almost picture it curling up at the same time as my toes just at the thought of that smell. Yet, each year, I would take a little whiff… thinking, "this year, I will understand the magic of the barb".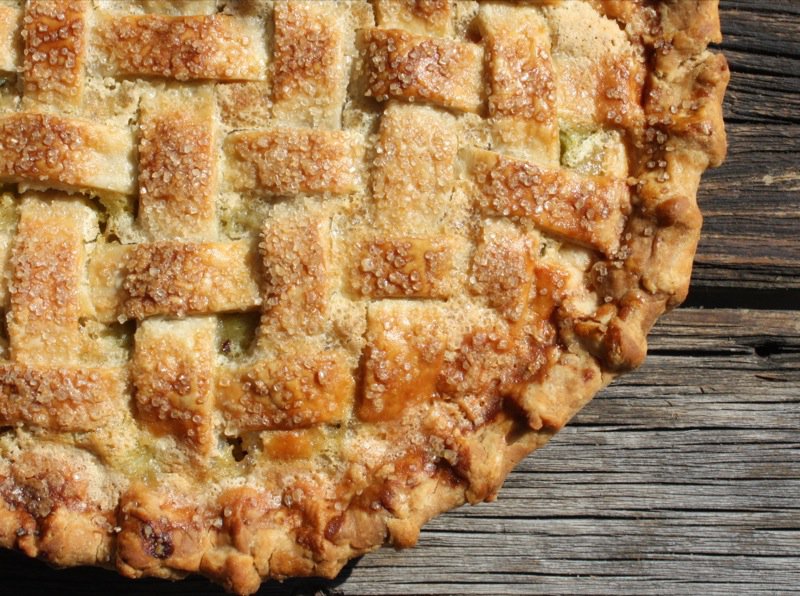 That took a lot more years than I like to admit. But, I find I am now as inherently connected to Spring rhubarb as my mother is.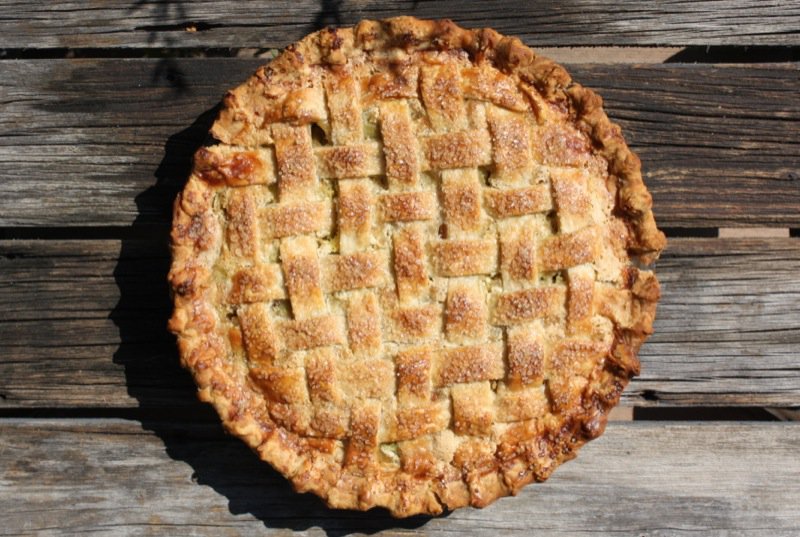 There was a time when there was a garden up and down every back alley where rhubarb claimed a corner its home. The slender dark red stalks were rarer, but addictive when dipped in sugar. Not so delicious, yet that next puckery bite was compelling, every time.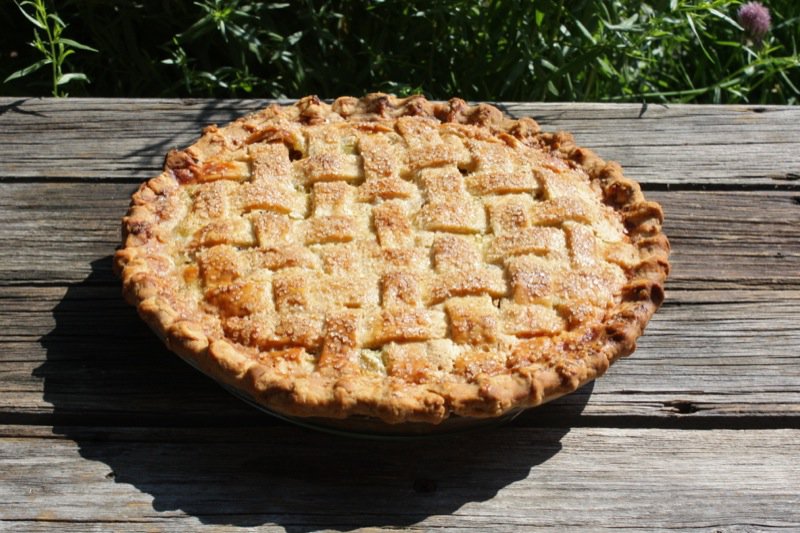 Now, there are no more back alleys, almost no more city gardens. My own patch is so spindly this year: the stalks are red and skinny and sparse. At the last Market Mob, I found a table selling rhubarb for 2 dollars a pound. "I will take it all." but immediately changed my mind when enough for a pie would cost $12.00. My prairie code of ethics bound me to that "No.".
Amanda and Eric happened to hear my rant, and offered to share their 'barb. It has been years since I have seen a patch as prolific as the one growing behind their house between the fence and the garage. It would be a child's paradise. A little one could play in there for days and not be found. I am now in rhubarb heaven. (They have a back alley.)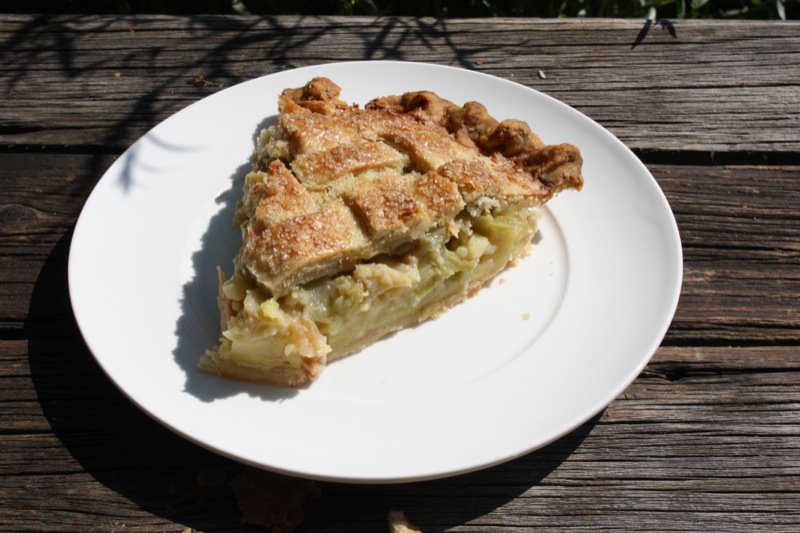 First up: Grandma Maude's Rhubarb Custard Pie inspired by Bridget of Bridget's Green Kitchen. She included her mom's recipe for this pie with her First Authentic Canadian Food Experience for The Canadian Food Experience Project. Her pie is stunning. I had never made a lattice top pie. I asked my mom for grandma's rhubarb custard pie recipe, and it was exactly the same as Bridget's… hundreds of miles away. My grandma just baked this custard pie with the bottom crust. No lattice. Nothing. The top was "crusted" with the custard bubbles on top. That was my favourite part. We didn't have it often, yet as I loved this pie, my memory of it is vivid. Mom would lattice hers, but rarely made it. The rhubarb pie made at home was almost always the Traditional Rhubarb Pie made exactly like our apple pie.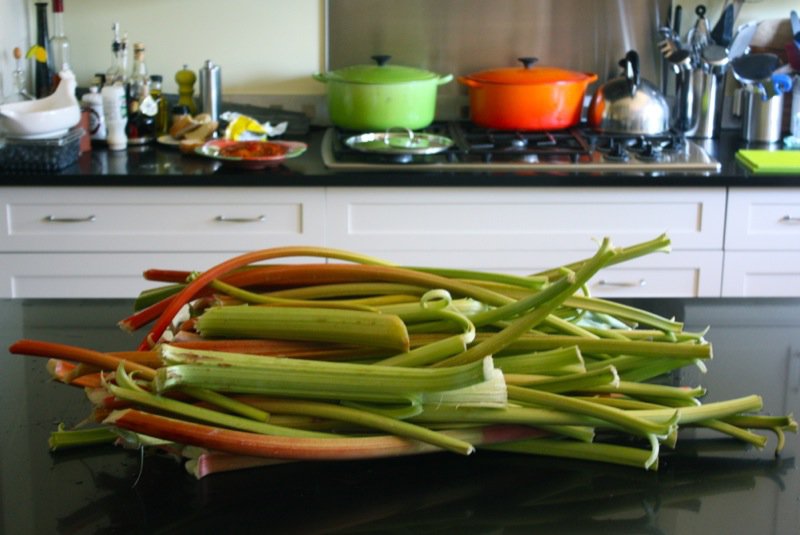 Armed with a massive load of barb, I reached way back into my family food memory and worked to recreate Grandma Maude's Rhubarb Custard Pie. But, this time, with a lattice top.
Look at the size of some of those stalks!
Lots for the freezer for cooler days. On with the pie. This crust is 1/2 lard and 1/2 butter. I have discovered that this is my preferred pastry fat combination.
A very simple custard base of sugar, flour, egg and nutmeg is mixed together well and then combined with the rhubarb and poured into the prepared pie shell.
Grandma Maude would stop here. She would crimp the edges and bake the pie. I must do that as an omage to her culinary cunning.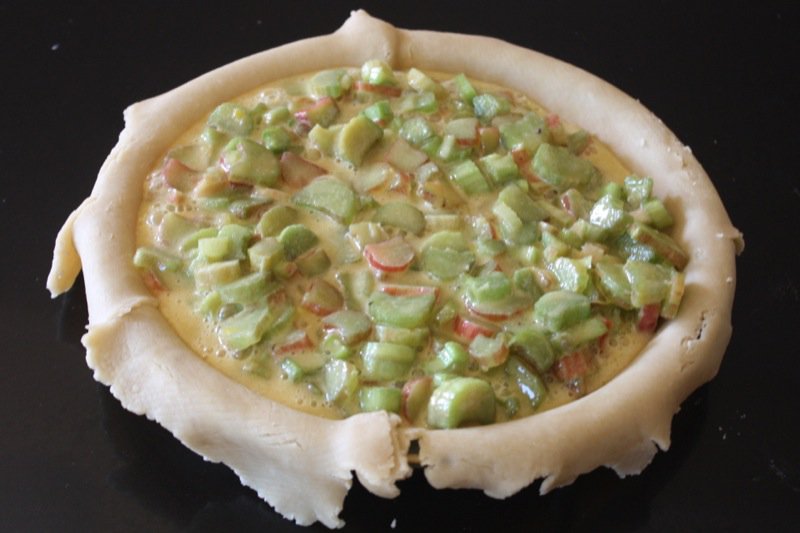 Humm. Didn't look up any "how to's" on this one. Just "winged it" from my construction paper basket weaving days in elementary school.
Where can you find me now? Dancin' in the street after lookin' at this beauty. Brushed it with an egg wash and Turbinado or Demerara sugar: something large, sweet and sparkly.
The second pie was made first. The pie plate was 9 inches, but took double the filling, so I decided not to risk a lattice top. That is what inexperience will do: stifle risk taking. I went for the full canopy on this one.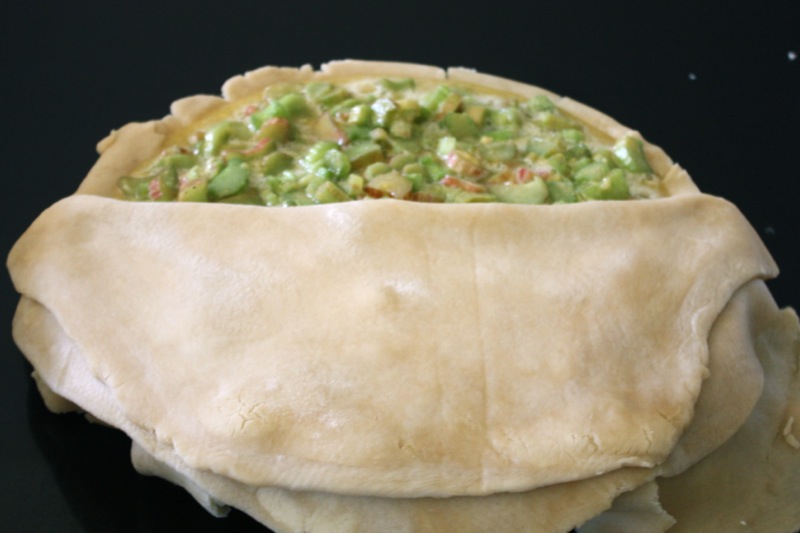 Cut off the overhanging pastry and tuck under the edges to secure the filling inside ensuring it won't leak under or over the crust, then crimp the edges and piece the top to let the steam release.
The custard definitely needs to breath to enable the crispy caramel bits form in the air holes between the lattice. The custard pie always has the lattice or no crust at all. That is just how it was. Vanja loves this pie which is a wonderful bonus for me as I thoroughly enjoyed reliving the memories that swirled about in the kitchen as I was preparing it.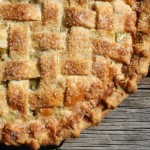 Grandma Maude's Rhubarb Custard Pie


This amount is for an 8 inch pie plate; a 9 inch pie is 1 1/2 times this recipe; the lattice top takes as much pastry as a regular pie crust top.
Total Time
1
hour
15
minutes
Ingredients
1 1/2

cups

sugar

¼

cup

flour

¾

teaspoons

freshly grated nutmeg

3

eggs

, beaten

4

cups

rhubarb

, sliced

2

tablespoons

butter

Two discs of frozen pie pastry
Instructions
Combine the sugar, flour and nutmeg; add the beaten eggs and combine into a custard type batter

Add rhubarb to the mixture and combine

Roll one disc of pastry out and place on the bottom of 8 inch pie plate; pour filling onto the pastry

Dot rhubarb with the approximately 2 tablespoons of butter (don't forget this part like I did)

Role the second disc of pastry and slice into 1/2 inch strips; lattice the pie, starting in the middle

Fold edges up and under to secure the pie filling; crimp the edges

Brush top with milk or egg; sprinkle with Demerara sugar

Bake at 400°F until bubbly and crust is golden
Recipe Notes
Cover the pie with foil to prevent over browning when baking the last 15 to 20 minutes.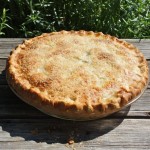 Traditional Canadian Prairie Rhubarb Pie


This is a double crusted recipe for an 8 inch pie
Cook Time
1
hour
15
minutes
Total Time
1
hour
35
minutes
Ingredients
For a large 9" pie shell, double this filling:
4

cups

or 425g rhubarb

, sliced

2

cups

or 440g sugar

2

or 15g tbsp flour

1/4

tsp

salt

3

tbsp

or 45g butter

2

discs prepared pastry
Instructions
Preheat oven to 450 F

Stir together sugar, flour, salt; add rhubarb

Turn into pastry-lined pie pan; dot with butter

Top with pastry or lattice and flute edges

Bake 10 minutes at 425 F 10 min.; turn heat to 350 and continue baking for 30-40 min. or until brown

Cool or serve warm with ice cream