Faeries do live in my garden!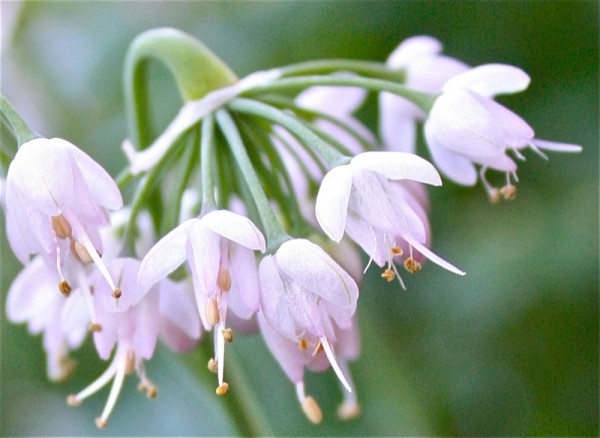 Nodding Onions are perennial plants with elongated pinkish colored bulbs, often growing in clusters with nodding bunches of pink flowers that bloom from May to July. They are indigenous to Western Canada and not only delicious but stunning!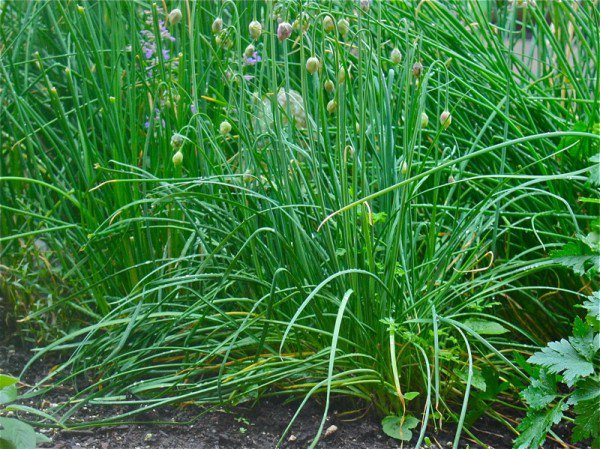 Allium cernuum, also known as sweet onion or barbecuing onion, reproduces from seed or bulb division. The bulbs, young leaves and flowers are all edible, either raw or cooked, and have a mild onion flavor, with the leaves tasting similar to chives. In a side by side taste test, the nodding "chives" are more toothsome, dense, deeper and more complex in flavour than its chive counterpart. They are wonderful in salads, particularly their blossoms, but they do stand up to bolder flavours well as a compliment to a main. I was very fortunate to receive this cluster from Kevin Kossowan early this Spring. He brought them back with him after foraging a couple of clusters on Vancouver Island a few years ago. Kevin is an exceptionally generous soul, and I am very thankful for that, as I also purchased seeds for them from Bedrock Seeds and learned that they can easily take up to two years to germinate. My regular readers know that patience is not a virtue I have conquered.
I was tickled pink about three weeks ago when the blossoms started to form and I got to see them nod! As they bow to their gorgeous blossom wrapped in an ethereal translucent pink gauzy film there is a graceful stillness in that part of the garden. There is the whisper of a promise. I can visualize them in the temperate rain forests hundreds of years ago when the Interior Salish and neighboring indigenous peoples whose territories covered Southern British Columbia foraged these as an important traditional cultural food. The stature of the onion echoes the spirit of the people who depended upon it so many years ago. They were usually harvested before flowering, the leaves braided and the bulbs cooked in earthen ovens. MMMMmmmm.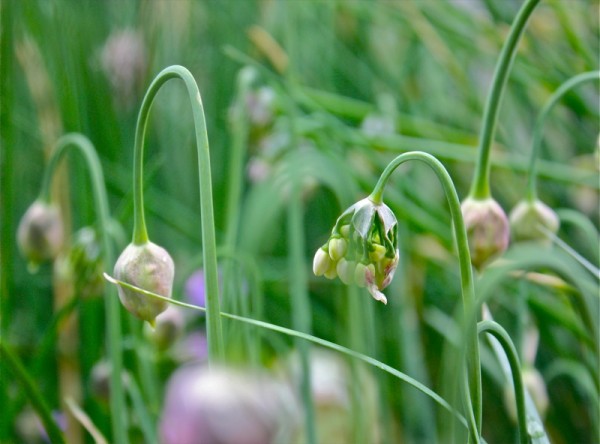 I was curious to see what the cluster was inside of the nodding bundle.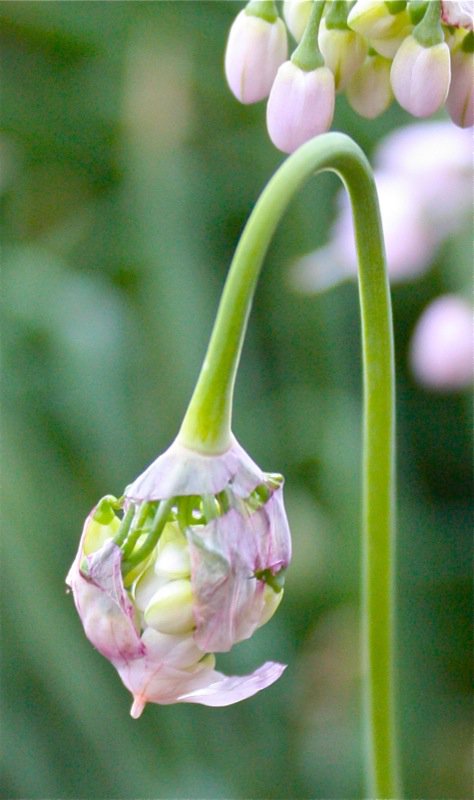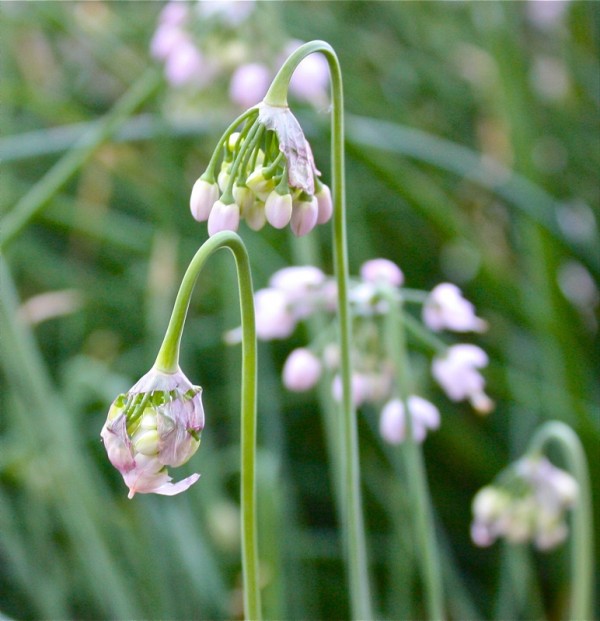 And look! A gorgeous allium bouquet upon each stem! Now that is a celebration!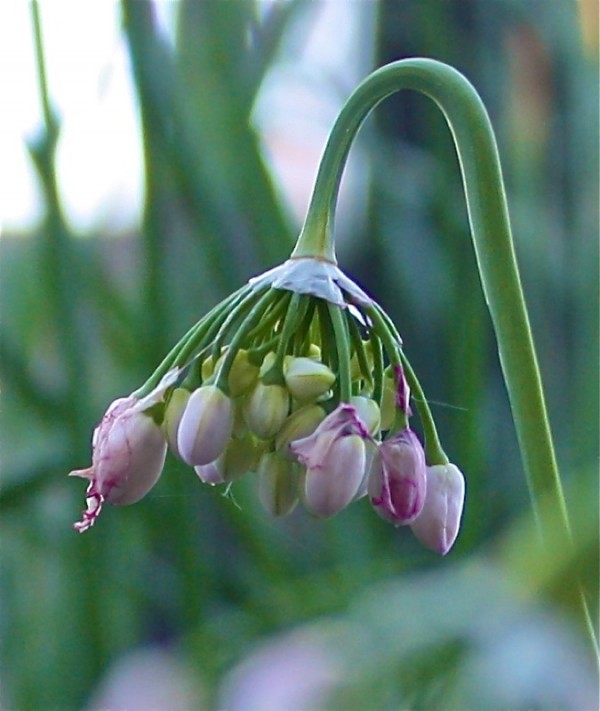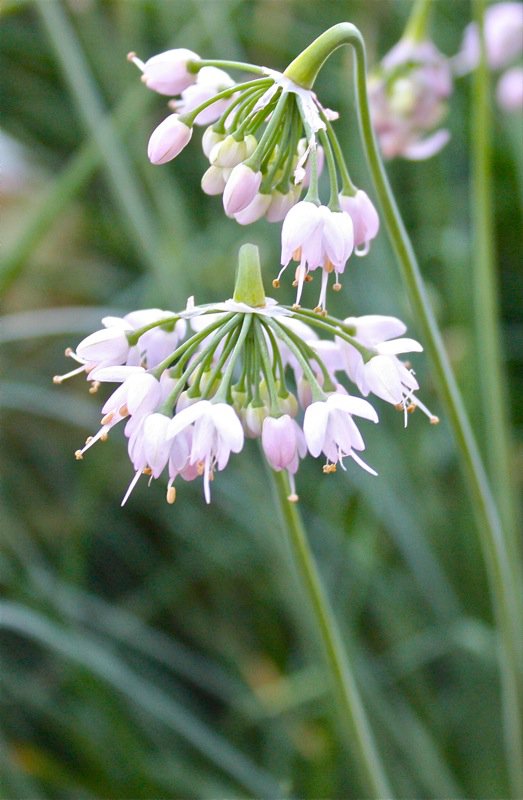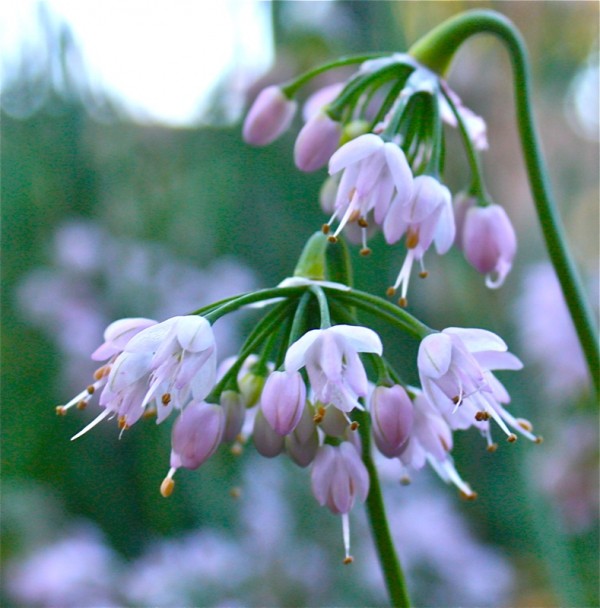 Each tender delicate bud bursts with the brightness of a fresh spring onion: light, lively and lovely. A much more powerful personality than the chive flower. Juicy. Just the sass one might expect from a sprightly floret.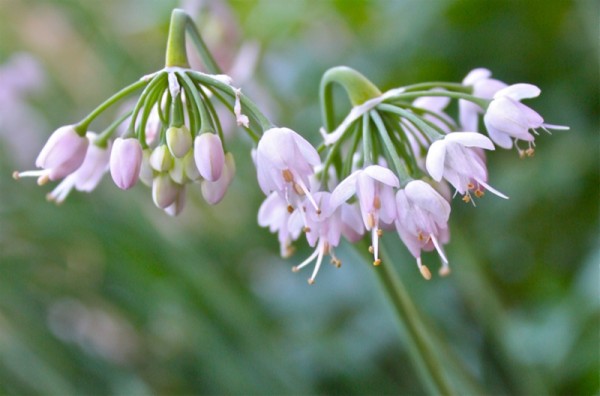 Sadly, the loss of their natural habitat has been threatened caused by housing and industrial development as well as from the impact of environmental pollution and invasive species. As the plants are lost, so is the historical knowledge and practice of gathering the plants practiced for generations by First Nations people. I am not a First Nations person, but I am a seven generation Canadian, and so I have a very close affinity to those that came before and am definitely interested in the preservation of our shared cultures.
Traditional gathering sites have been lost to large housing subdivisions, big box store shopping centers, and even university campuses, although not without strong protests by First Nations and environmental groups. Protecting the Nodding Onion is important not only for the continued existence of the plant itself but also for the continued existence of the historical knowledge and practices associated with the gathering of this wild food. (Slow Food International)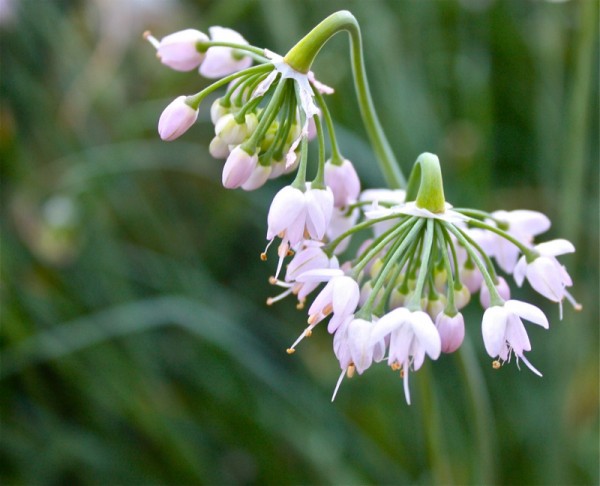 Working to preserve the biodiversity of our food is a basic tenet of Slow Food International. The Ark of Taste was developed in 1996 through the Foundation of Biodiversity within the organization and travels the world collecting small-scale quality productions threatened by industrial agriculture, environmental degradation and homogenization. It searches out, catalogues and describes forgotten flavors from all around the planet: products at risk of extinction but surviving, that could be rediscovered and returned to the market. The nodding onion is one of our own nominated by the Slow Food Canada National Ark Commission and accepted by the International Ark Commission. The Saskatoon Berry and Miner's Lettuce have also been accepted to the Canadian Ark of Taste; we hope to raise awareness of the threats our important wild foods face and to help people to understand the importance of protecting wild, natural spaces and the edible biodiversity found across Canada. These foods are extremely important to the health and traditional cultural practices of the First Nations peoples and without them we lose a vital part of our Canadian heritage and history. (Slow Food International)
The Slow Food Foundation for Biodiversity:
Protects the environment
Defends food biodiversity
Promotes sustainable agriculture
Supports small-scale food producers and values their traditional knowledge
Runs projects around the world in support of Terra Madre communities: the Ark of Taste, the Presidia, the Earth Markets and the Thousand Gardens in Africa
Defending food biodiversity is worth working toward. The colours, tastes, and textures of the past cannot be lost. It is a miracle that such beauty exists. Preserving it is a no-brainer.