It's blasphemous to put that beautiful pork on that pathetic bun, isn't it? I am so busy with the sous vide machine, I haven't been baking my breads! Look at that luscious pork!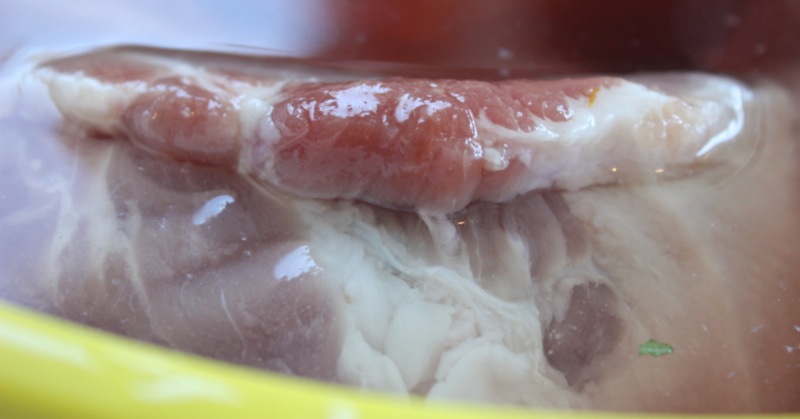 The beautiful pork shoulder roast was cut into five portions that were marinated in a 70% salt and 30 % sugar solution for 12 hours, rinsed well, patted dry, and seasoned with Kosher salt and freshly ground pepper.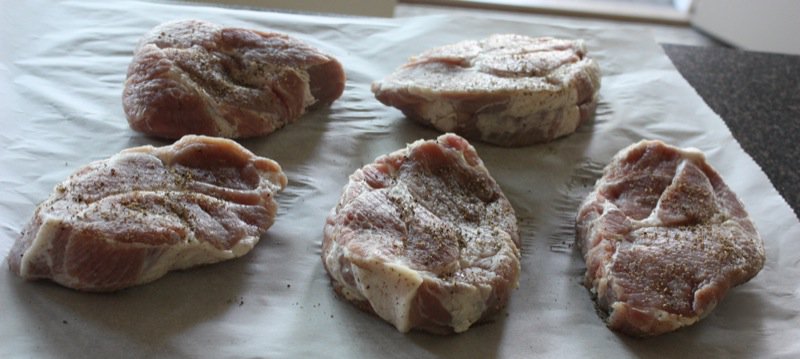 Each seasoned portion was placed into its own bag, 2 tablespoons of duck fat were added, then vacuum sealed and cooked for 24 hours at 155°F (68°C). The pieces were to be about 7 ounces each, Mine were about double that, but were as thick as they were to be, so I didn't adjust the time or the temperature.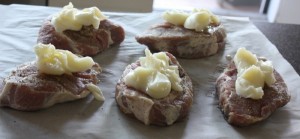 Look at how beautifully they come out of the bag. The jelly is phenomenal: it is a distillation of the flavours and I kept it to mix with the barbecue sauce, but I did remove the fat.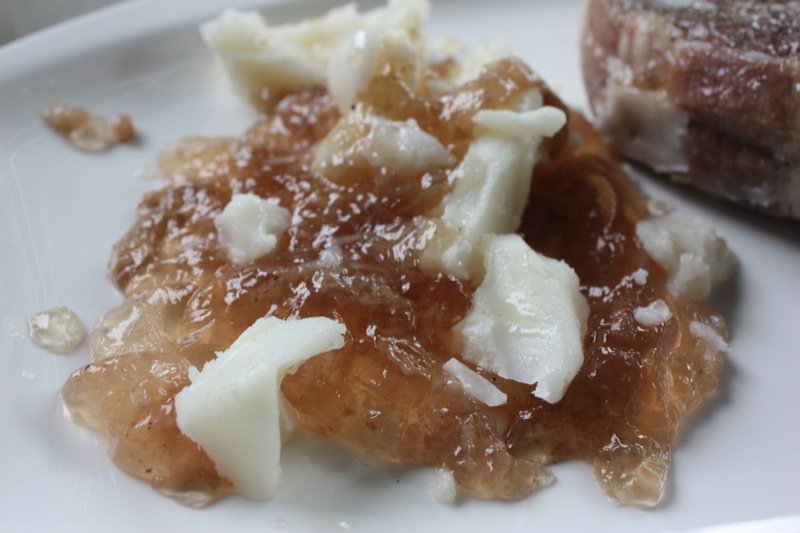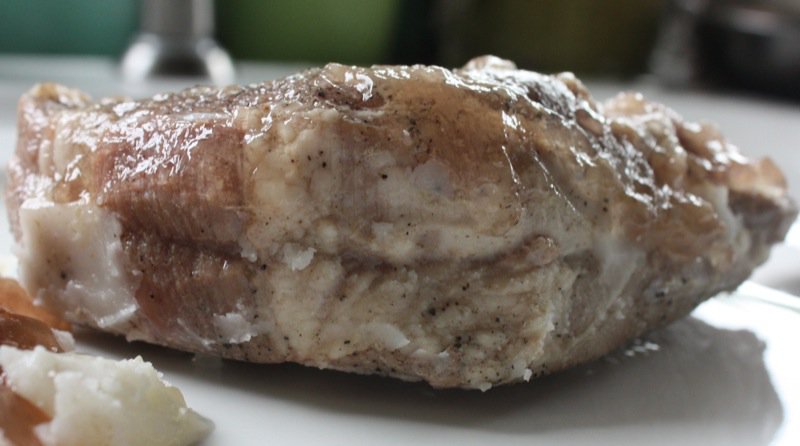 I have never made any kind of pulled pork before. Pulling it was easy, but I think I should have cut the pieces the other direction so the pulls would be the length of the pork instead of such short little tugs of meat. The meat was moist and lush and full of flavour. Vanja thought the sauce I used didn't work well with the meat. I thought it elevated it 200%. But, I am not the pork eater. The barbecue sauce is home made and a wonderful sauce that I use on ribs cooked the traditional way.
I mixed some of the sauce in the pulled pork with the jelly. I thought it was deadly delicious. Vanja thought it was: "Good."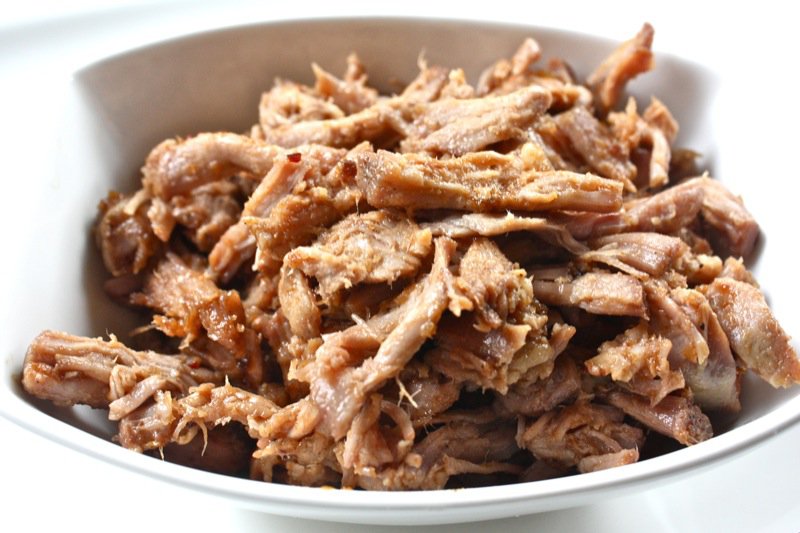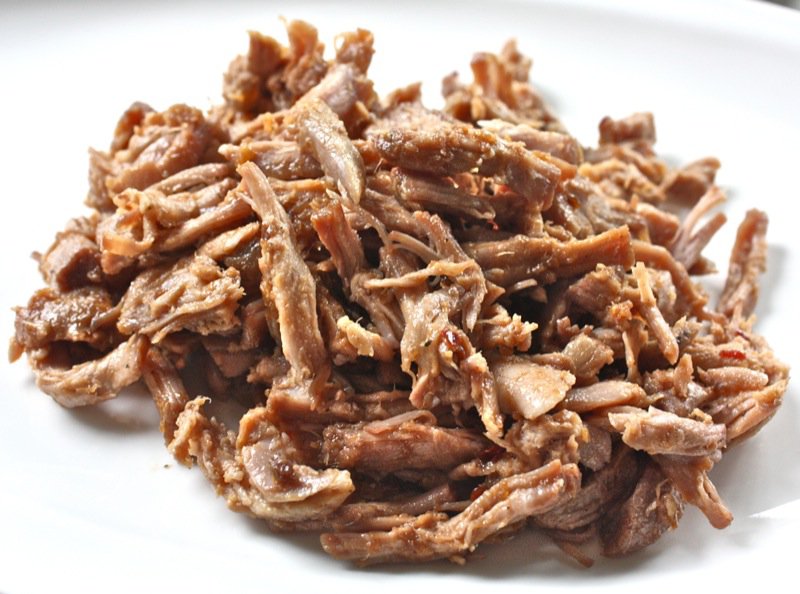 Douglas Baldwin's Pulled Pork Recipe
Ingredients:

Pork Roast (Boston Butt Roast or Picnic Roast)
Lard
Salt and Pepper
Instructions:
If bone-in, remove the bone from the pork roast with a boning knife; either cut roast into steaks which are roughly 7 ounces each, or cut the roast so that it is no more than 70 mm (2.75 in) thick (I used the thickenss as a guide)
Brine roast in a 7% salt, 0″"3% sugar water solution (70 grams salt and 30 grams sugar per 1 liter) in the refrigerator for six to twelve hours ( I did the 3% sugar and 12 hours in the fridge)
Drain, rinse and pat dry with paper towels; season the pork with Kosher salt and coarse ground pepper
Place each piece of pork in a vacuum bag with 1″"2 tablespoons of lard (preferably non-hydrogenated) and seal (I used duck fat)
Place the pork either in a 176°F (80°C) water bath for 8″"12 hours or in 155°F (68°C) water bath for 24 hours (I did the later)
After cooking, the pork may be rapidly cooled in ice water and frozen or refrigerated at below 38°F (3.3°C) for three to four weeks, or used immediately
Remove the pork from the bag and reserve the liquid from the bag (Place the liquid in a container in the fridge overnight, skim the fat off and reserve the jellied stock for future use)
Dry the surface of the meat with a paper towel; for American style pulled pork, shred and serve with your favorite barbecue sauce, and for Mexican style pulled pork, sear the surface with a blowtorch (or in a pan with just smoking vegetable or nut oil) before shredding