Vince and Colleen were the quintessential hosts, and Sophia gave her all to us all night long!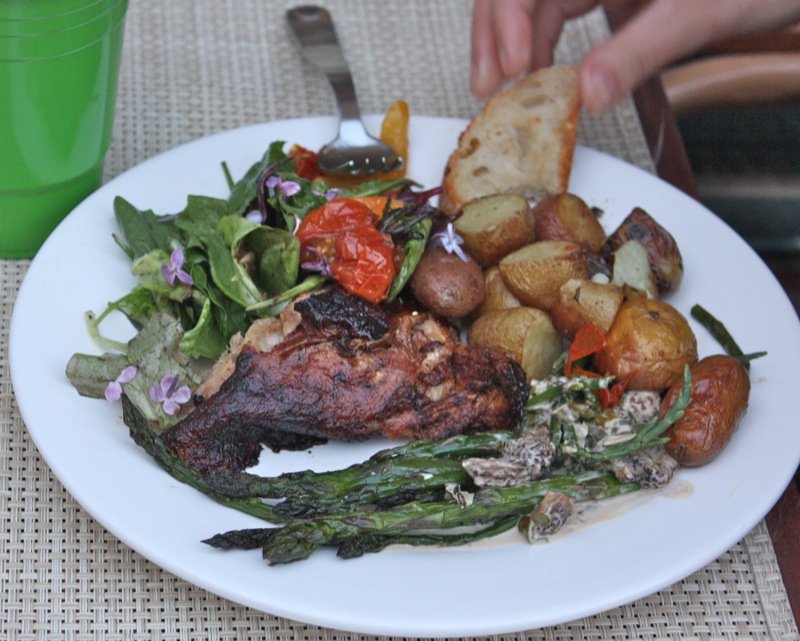 May I present "Sophia", the newly christened member of Vince and Colleen's family. Vince built Sophia (their outdoor oven) single handedly a couple of years ago. A true testament of his love for Colleen, as she birthed the idea of an outdoor oven when she was taking a bread making course at NAIT and could not shake it from her head. Before long, Sophia was in the planning phase. Good thing this couple is multi-talented. You can read all about the building of Sophia on Colleen's blog dedicated to the process called: The Oven.
After the Winter Solstice dinner plan was hatched late last year, and celebrated in January, Colleen and Vince immediately announced this Summer Solstice dinner. I have been waiting all six months for it! The wood fired oven baked artisan bread they baked and brought to the Winter Solstice dinner had all of us eager to attend! What an amazing celebration this was!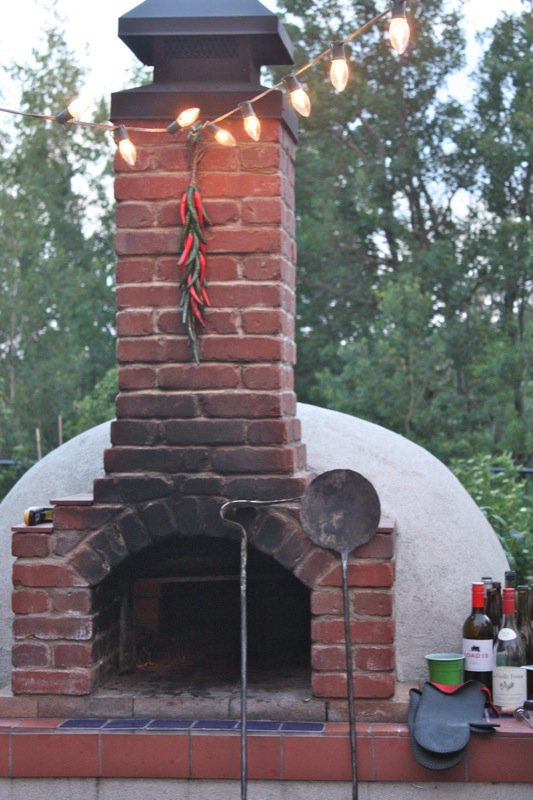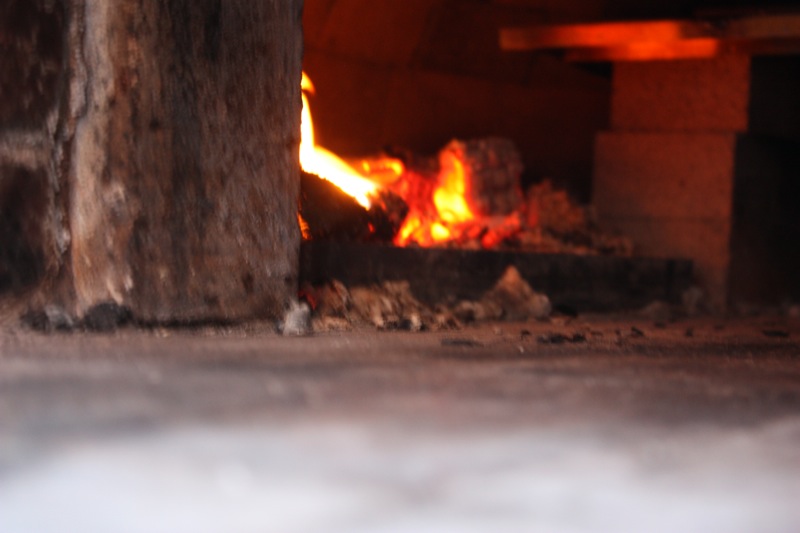 The day was hot. This is definitely rare for a weekend day in Edmonton, this season, so we were all very much in the celebratory mood! Vince had Sophia all fired up and was heating her to be able to cook all of the delectable items the couple had doled out to all of us. Planning this party, Vince and Colleen decided to have all of us bring food to be cooked in the outdoor oven. They organized it just enough to know what was coming, more or less. They were amazing hosts. Calm. Reassuring. Positive and nurturing. And, by my third pizza creation, I needed a little nurturing. It wasn't hard… but, Sophia cooked them so quickly that she really kept us hopping to get them done one after another.
Four people were designated to bring enough toppings for three pizzas each. I was one of those four. I was really happy about that. I make homemade grilled pizzas all of the time and had my pestos and sauces made and frozen in individual portions in the freezer. (Yeah!) Vince and Colleen made all of the dough. What beautiful dough. Colleen, please tell us what kind it is again: give us the name for it, and the recipe in your comments here, please! They not only made dough for 12 pizzas and had that proofing when we arrived, but they made all of the breads that were served at the meal, and the cookies and the panacotta for dessert, too!
When Sharon and Mack, Wendy, Teresa, and myself had arrived, Vince gave us a little lesson about how to work with the dough and what to do with it. Then we each made our pizzas and handed them over to Vince to cook in the oven.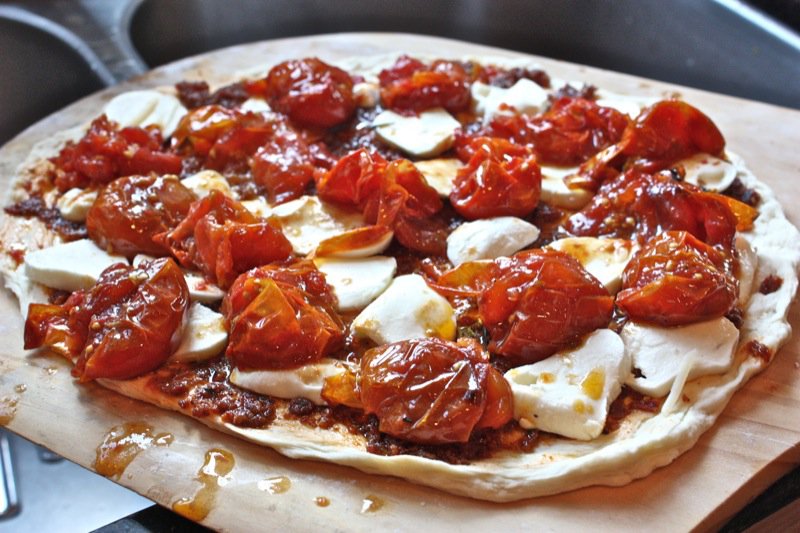 I had, like most attendees this evening, got up early and went to the Farmer's Market for my produce. I went to OSFM this time, as it is open at 8 am and I had a very busy day. I picked up a lot of the Gull Valley cocktail tomatoes on the vine and roasted them with garlic, olive oil, and Maldon Salt. Tom Olsen, the owner, was telling me the week prior, at The City Market that these were the ultimate tomato right now. Was he ever right! Usually I only roast the extra tomatoes from my own garden in the fall, then freeze them to preserve them for the winter. However, they are really yummy on a pizza, so I had to do them for this one. So simple: sun-dried tomato pesto, the oven roasted tomatoes, Bocconcini from the Italian Centre Shop (where I went right after the OSFM), and after it comes out of the oven, a lot of fresh basil leaves, chiffonade cut, over the top.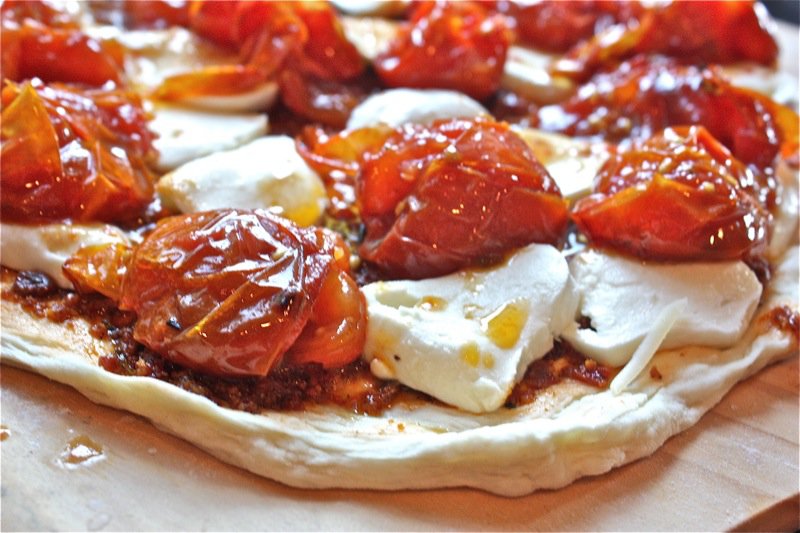 Sharon and Mack worked as a team in the kitchen. Hey, where was my Chef Sous? (I think he was outside tending the beer!) They also brought Bocconcini cheese, tomato sauce, beautiful heirloom tomatoes, and Capicola and Prosciutto. They topped their pizzas, after they came out of the oven with baby pea tendrils (micro-green size) and they looked fantastic. Theirs was Vanja's favourite. (Humph!) Well, one of mine tied with it.
Wendy felt so much out of her element as she has never made homemade pizzas before. Did she ever triumph! That is the thrill of events like this. She brought some beautiful fresh and local ingredients and played with her food. She learned that you can make an incredibly delicious pizza without a traditional sauce. She used olive oil, and her pizza turned out delectable.
Sharon and Mack building their creations, above, left. Wendy, above right (far right), creating hers. I think Maria (right photo above, left side of it) was there for the entertainment value. No, she actually helped a great deal She always does, but she is a lot of fun while she helps, too!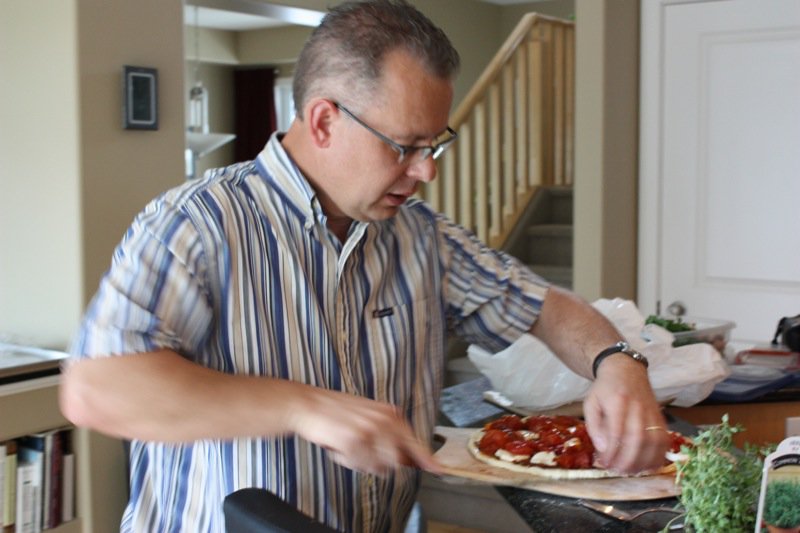 Oh! Oh! Valerie did not follow instructions. Too many toppings on her pizza, and it is to slide on the paddle. Otherwise, how can Vince get it into Sophia? I did learn how to do this while baking with Richard Bertinet… and I have done it many times at home…. but, only with bread. I completely forgot as I do my pizzas differently at home (no Sophia for me – yet!!!). Fortunately, Vince can fix anything. He gently lifted it up, floured the underside with Maria's assistance, and it turned out perfectly!
Wendy's first pizza was completely filled with green onions. I hope she tells us in a comment on this post what else she put on it. I didn't even get a photo of it when it came out of the oven. It was inhaled. Comments were incredibly positive. And whoever thought of an onion pizza? I love the idea and can't wait to try it myself, now!
Here is my first pizza out of the oven. I confess. I went photo crazy as everything looked so incredible. You will find out "fill" of food photos here, for sure.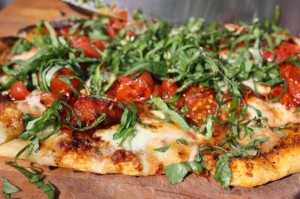 Neil was the pizza cutter extraordinaire! Below, Tara and her sister relax in the shade with a cold beer.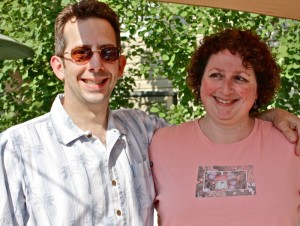 Nicole and David contributed to the dessert. Do you recall her chocolate chip cookies from the apple pie baking day last fall, and her chocolate cake from the Winter Solstice? She will never escape dessert duty now!
Teresa and Massimo worked as a team on their pizzas! What wonderful mom and son fun!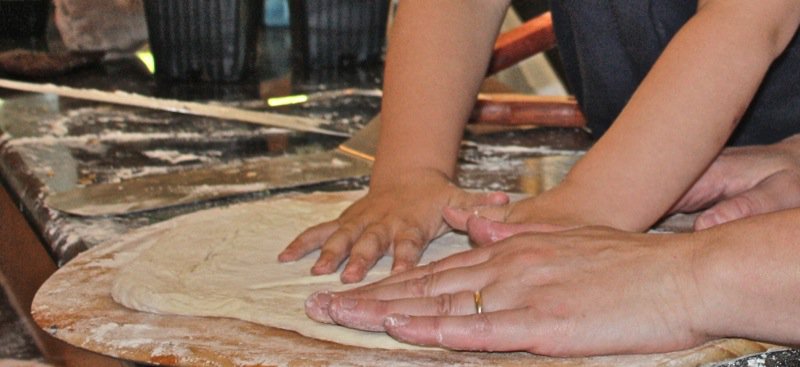 Oops! Just finished my second pizza. I made this one for my carnivorous husband. Pesto was spread on the dough, then it was topped with Sunworks farm (fresh this morning) grilled chicken breast, roasted red pepper strips, toasted pine nuts, and Sylvan Star Gruyere Cheese on top. I sprinkled gorgeous and flavourful chive flowers over this one when it came out of Sophia all crispy and melty and ooey and gooey.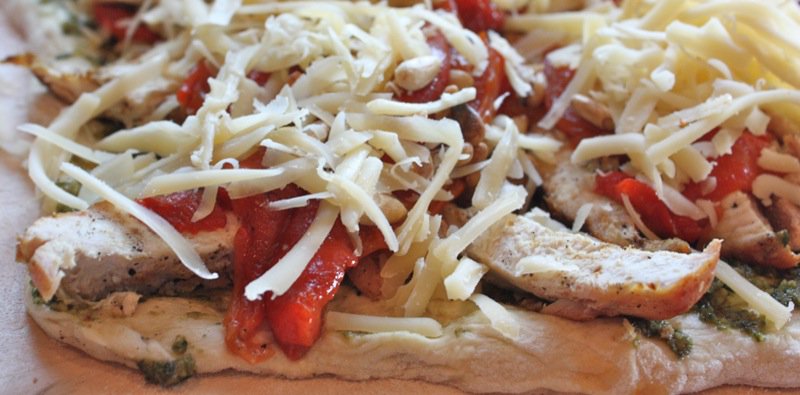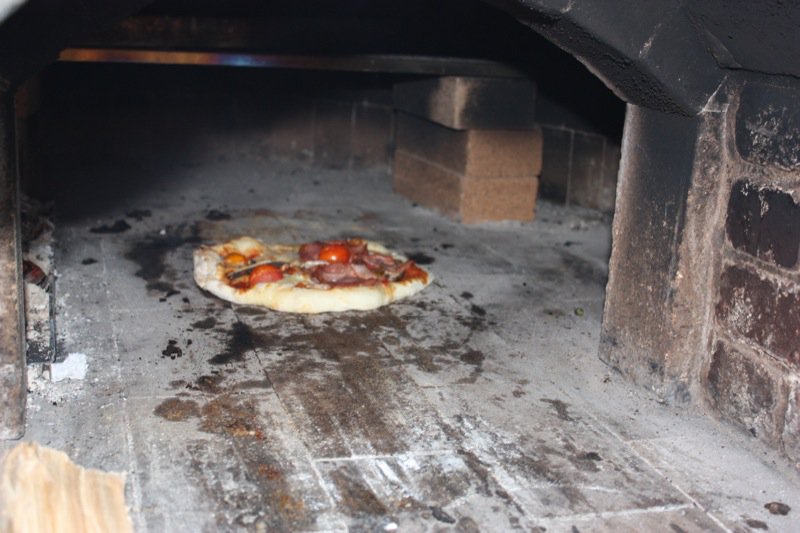 But, first, Sharon and mack's pizzas is baking! And look at that handsome bar tender, below! He didn't hang around long. Hopefully, he got some left overs the next day!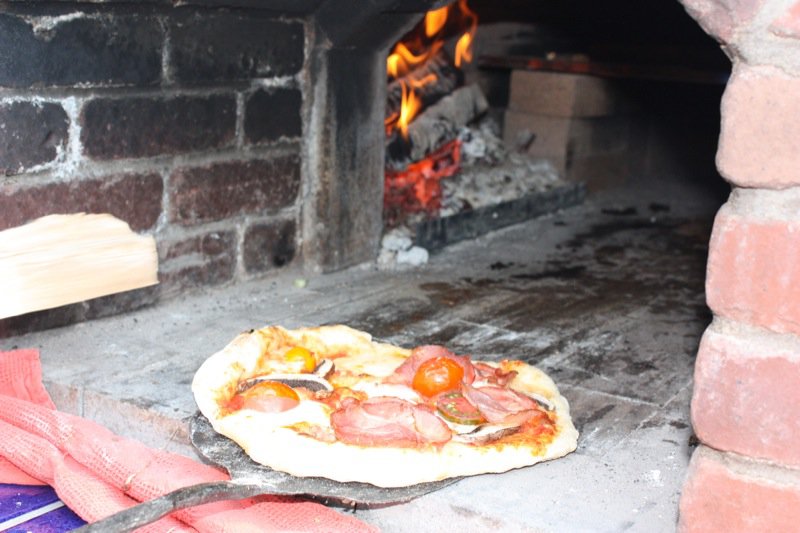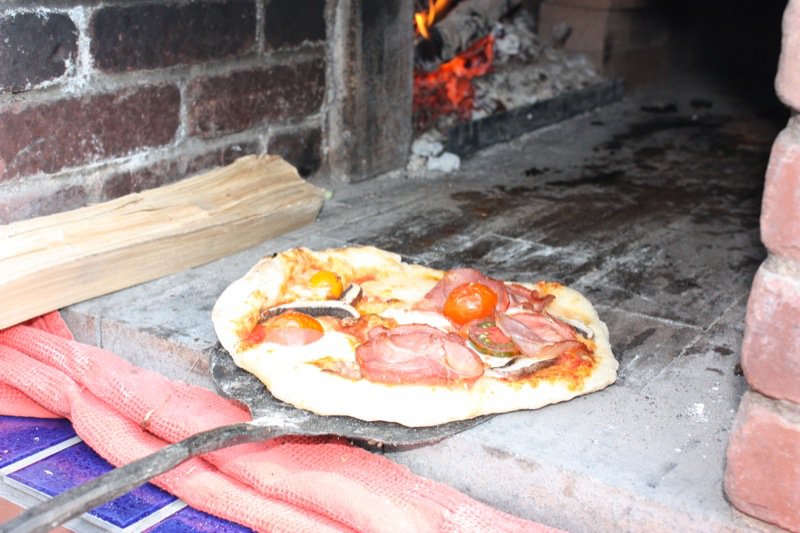 Can you see how absolutely gorgeous this pizza is? Mushrooms, too. I forgot to add the mushrooms, earlier.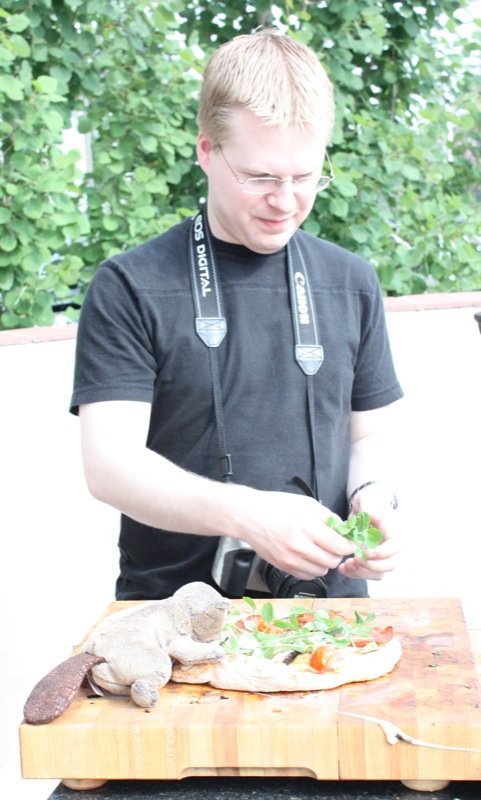 Mack is sprinkling on the pea tendrils and Beavie is making a nuisance of himself. He learned that from me, I think.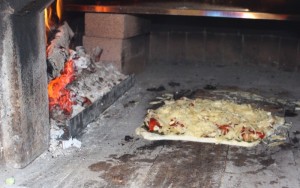 There is my Chicken and Roasted Pepper pizza in the oven now (above). I did get a little lesson from Chef Vince about what a Neapolitan pizza is supposed to me like: very little on top. "It is hard to get it cooked evenly and get it out properly with so much on it." When I was younger, and – well, you know… a smile would have sufficed. Instead, I just held my breath and confessed that I had no such restraint. Look at Mack and Sharon's pizza, below. Is that now a work of art! Gourmet, Food and Wine Magazine…. where are you?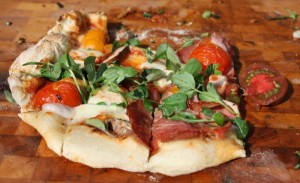 Another of Wendy's creative concoctions: a perogy pizza. Wendy, please tell us what you put on this! I heard groans of ecstasy when people were eating this one. Of course, Teresa was the best student and made Vince squeal with delight when her pizza came out. She had tomato sauce and cheese. Both locally sourced. "Now this is how it is supposed to be!" Vince exclaimed. Teresa was a little flustered and said that she thought everything was supposed to be local when she saw the Bocconcini and the Capicola and the Serrano (I brought, but never used) etc. Teresa! You are right! We do, though, on occasion, sneak in other artisan foods that are available from a local store owner and we recognize and appreciate that if we can source or buy it local first, we should. But, we would never want to put you our of business! (big grin)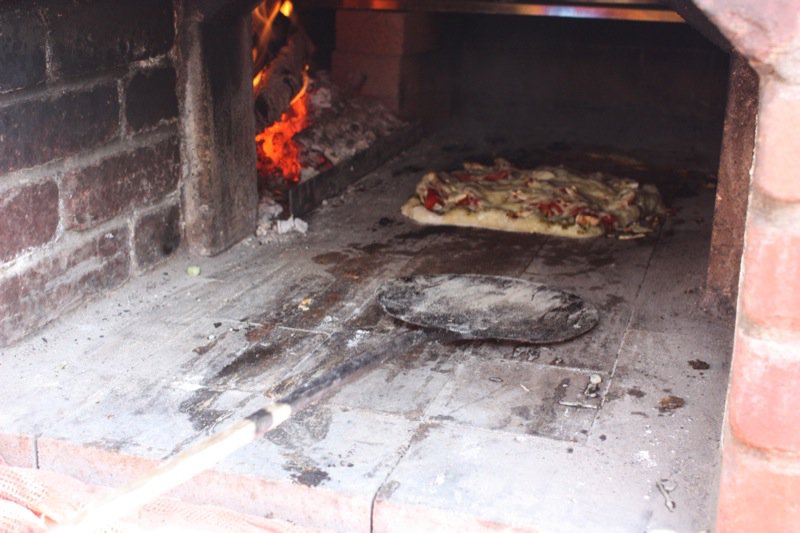 I was just mesmerized. There is something so primal about watching one's food cooked by an open fire.( Grrr….!) I could have pulled up a chair and watched the process all evening…. and almost did. But, one more pizza to cook!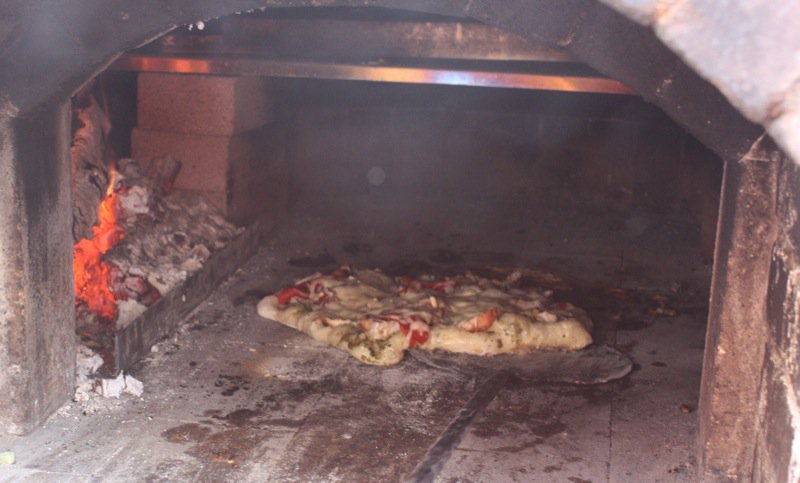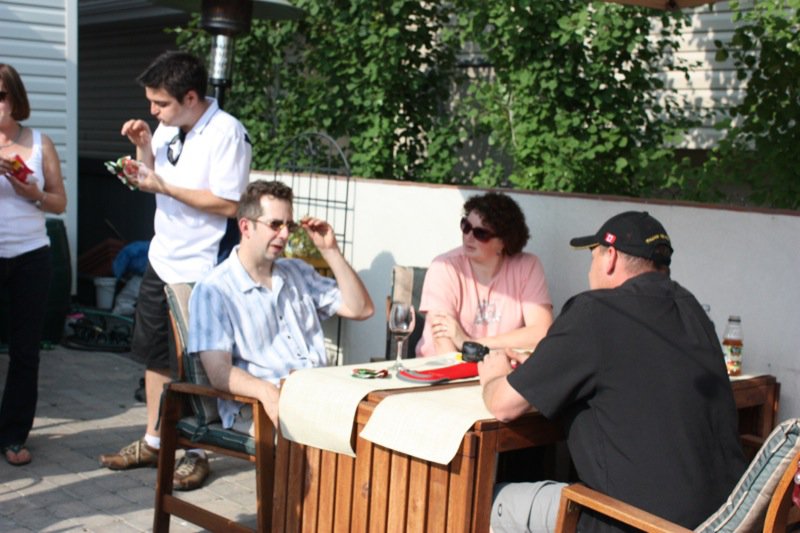 This evening was a really lovely time to formulate new relationships, as there were several new couples at this event, and reconnect with those we know. The perogy pizza is still cooking with another of Teresa's pizza in there cooking with it.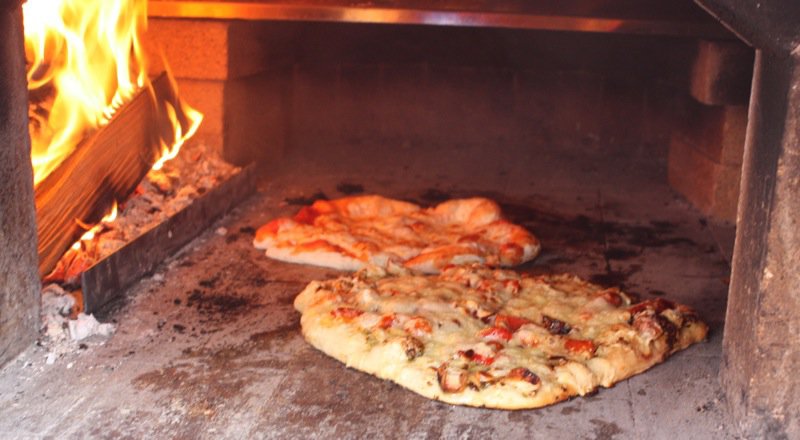 Above, Vince is using his infrared thermometer to check the temperature of the oven. (and a couple of other things!) I think I need a gadget like this. I wonder how precise it is. Below is my Chicken and Roasted Red Pepper pizza garnished with chive flowers. I loved how it looked. This one was Vanja's other favourite. (Phew!)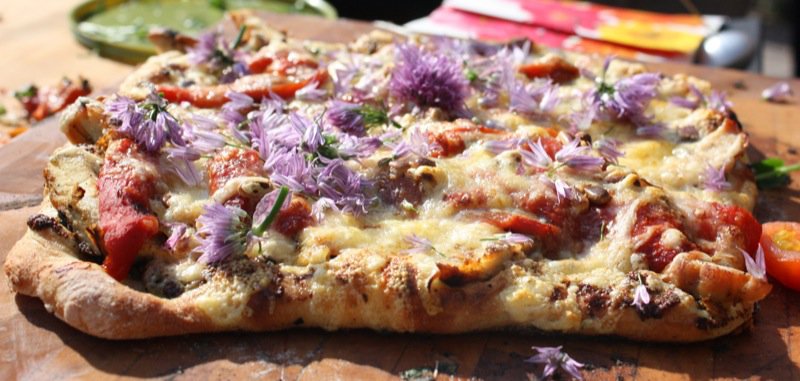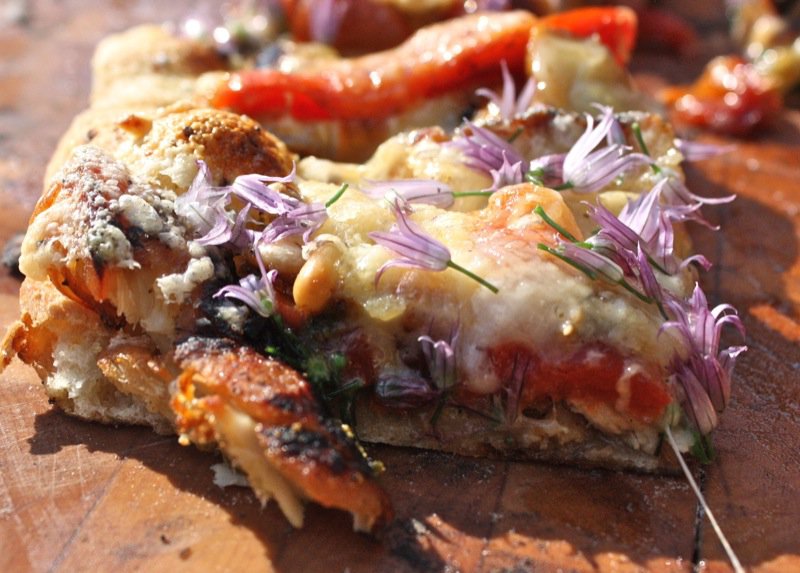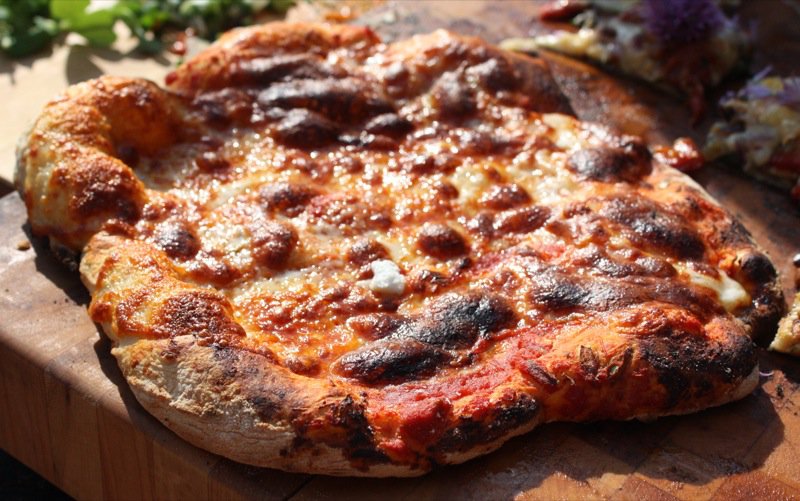 And here is Teresa's perfect pizza. Isn't this the life? Look at that wonderful rustic dish. Fantastico!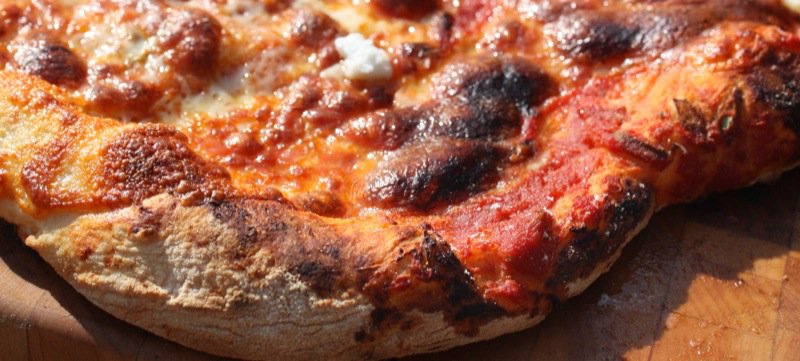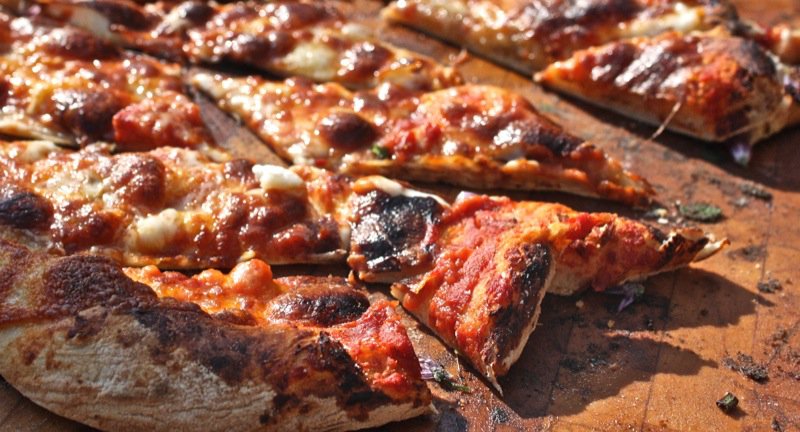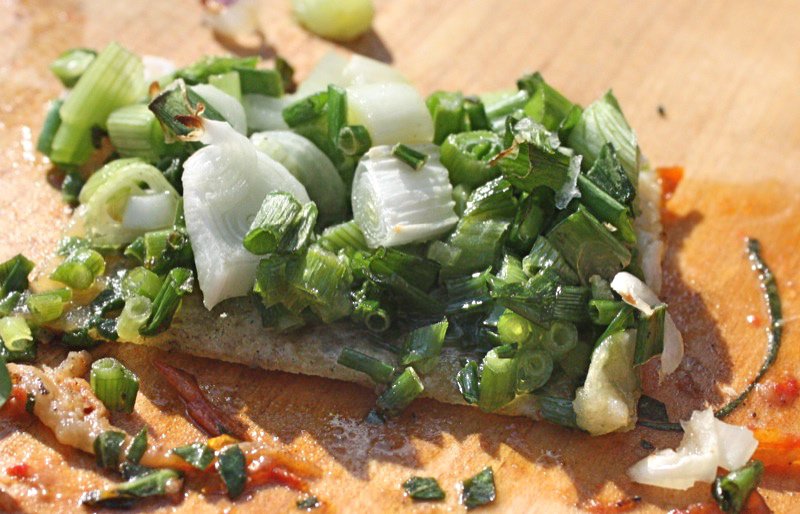 I found one piece of Wendy's onion pizza to take a photo of. Now you can see what I mean by completely onion pizza… and she did not top it with these onions after the dough was cooked. These were cooked in the oven. Below is Wendy's incredible perogy pizza.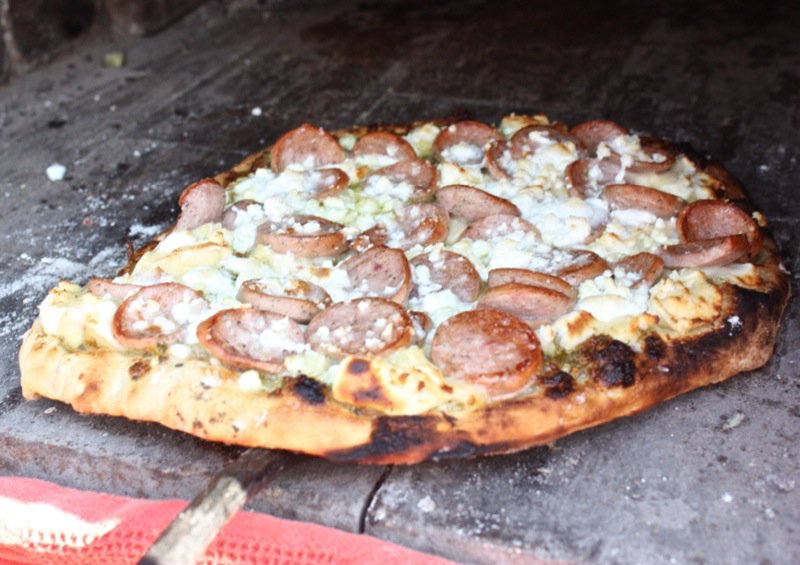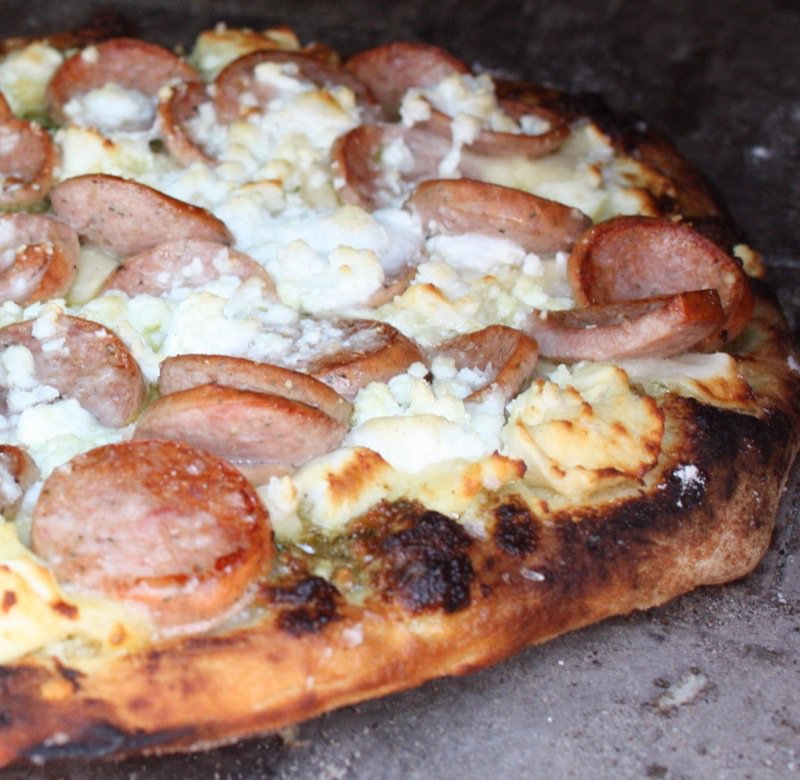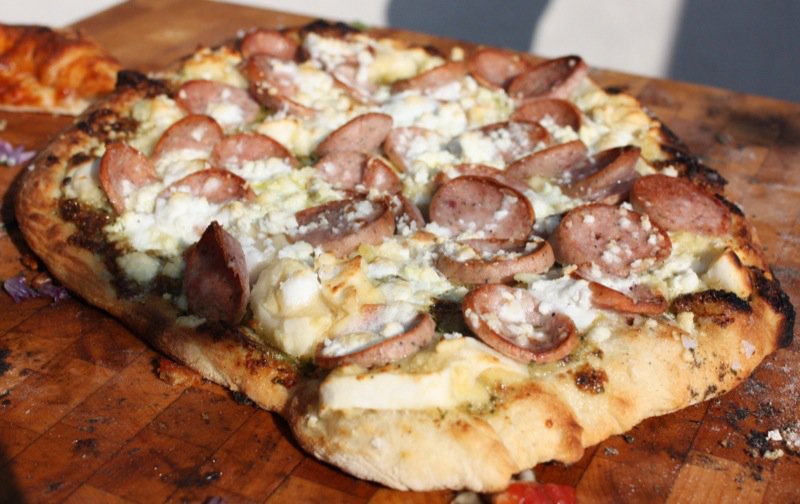 Above, one of Teresa's gorgeous pizzas, and more of Mack and Sharon's. People loved the pea tendril topping.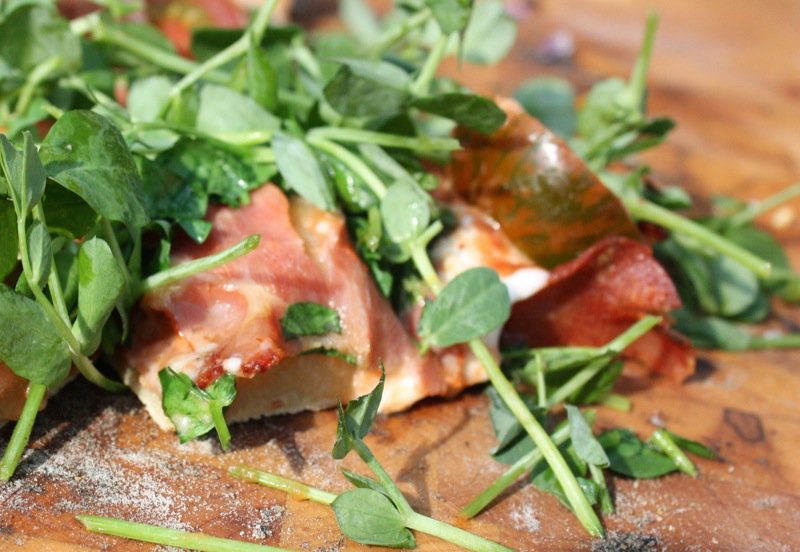 I took a photo of someone's nibbles as they walked by (below). YUM!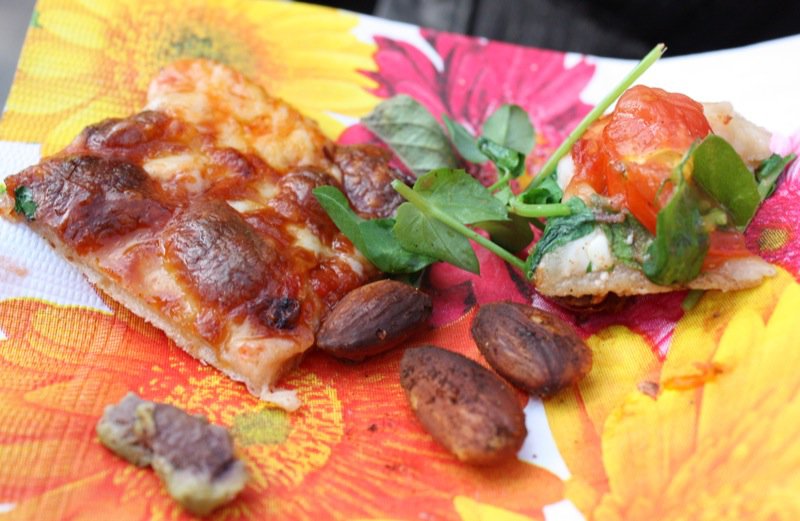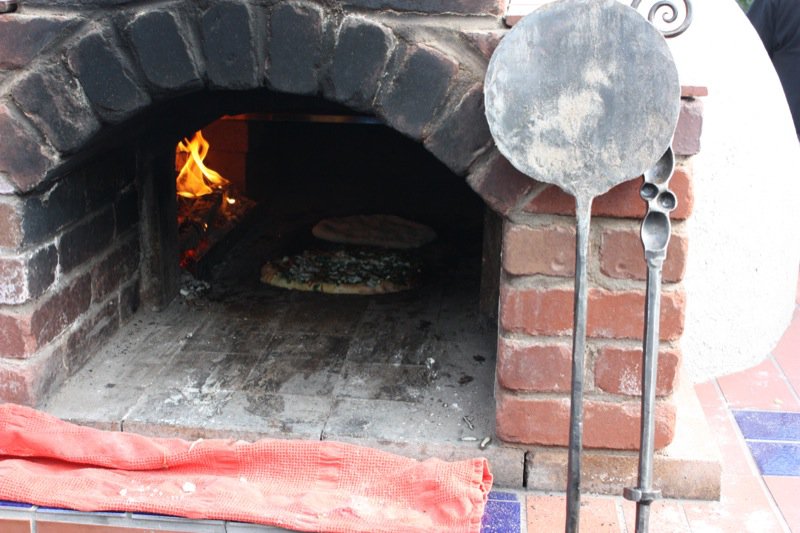 Here is Wendy's last pizza: Spinach and Feta cheese. YUM! And Teresa came up with a brilliant little creation for her finale: dough baked carte blanche, and a wonderful local jam slathered on top after it was baked. This was really yummy!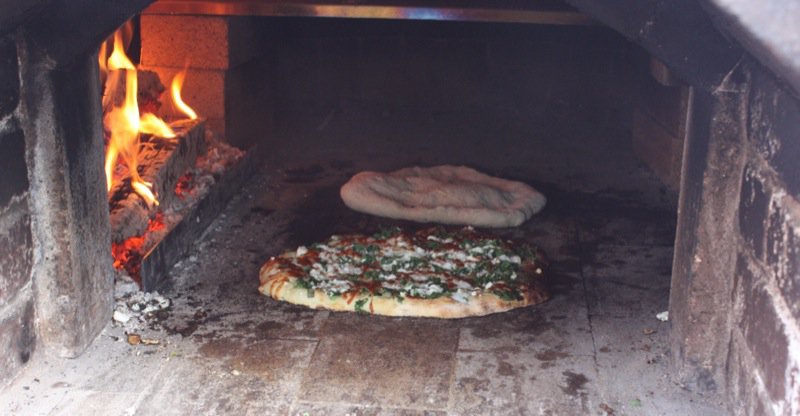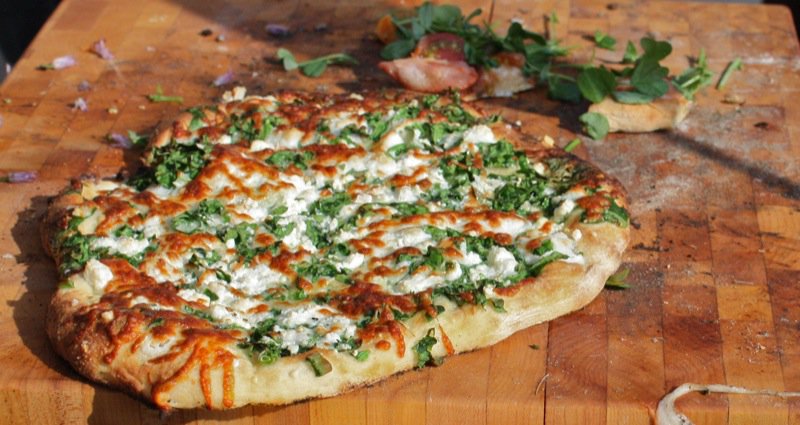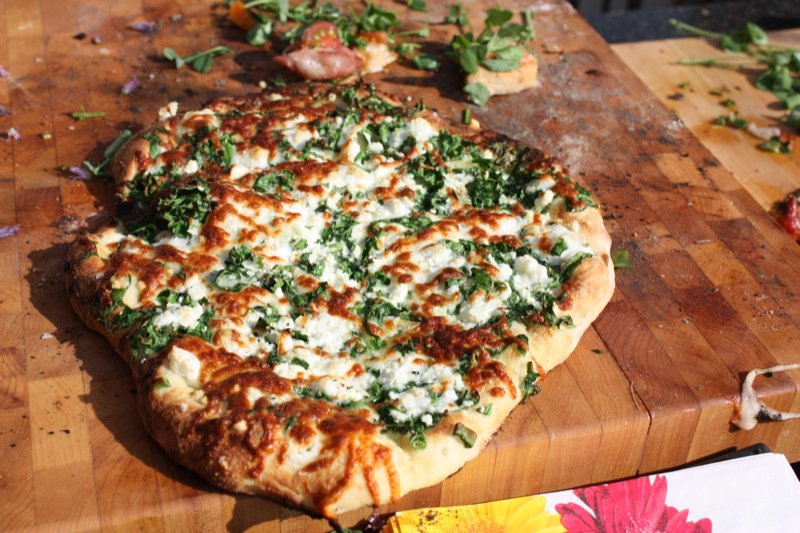 What a work of art!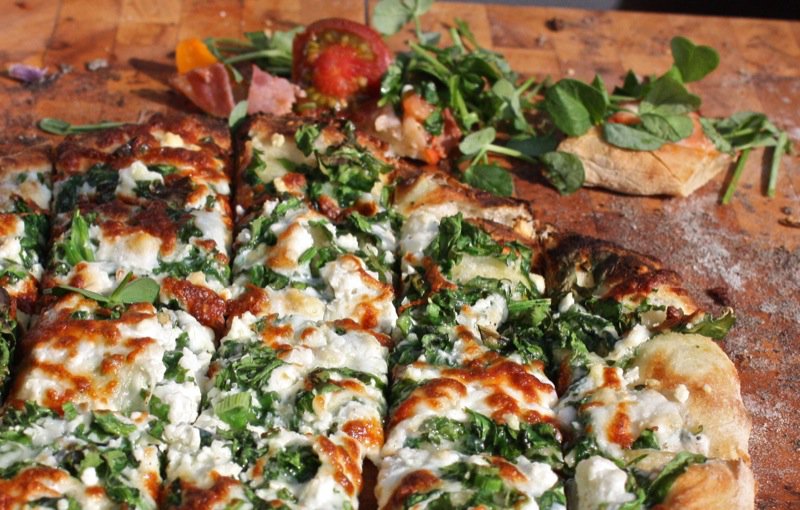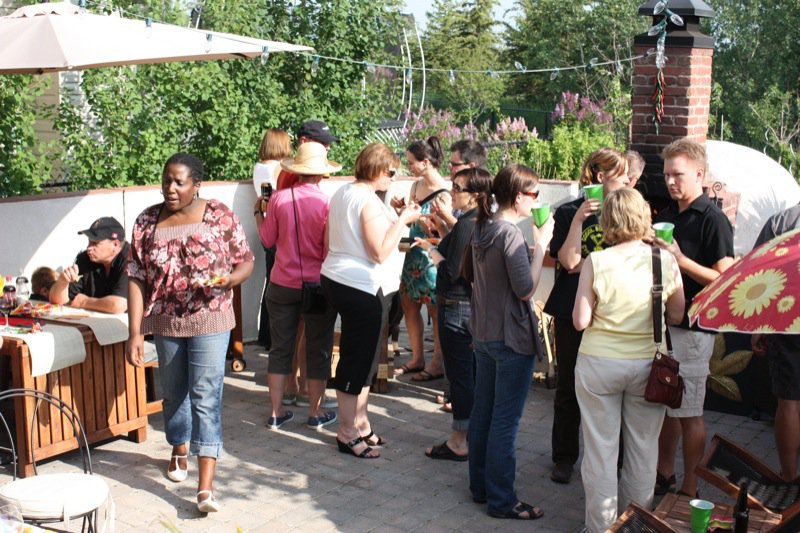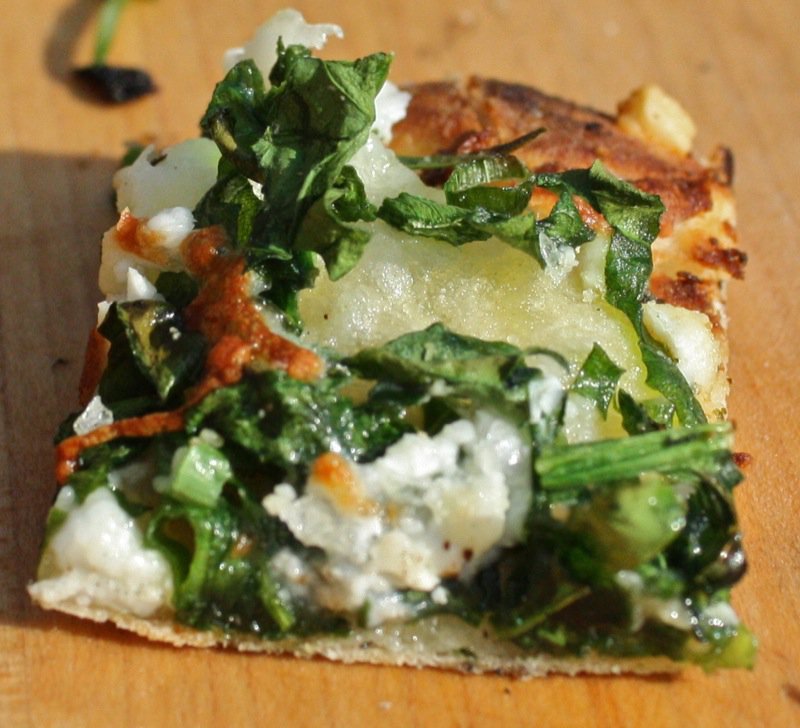 A close up of the Spinach and Feta pizza.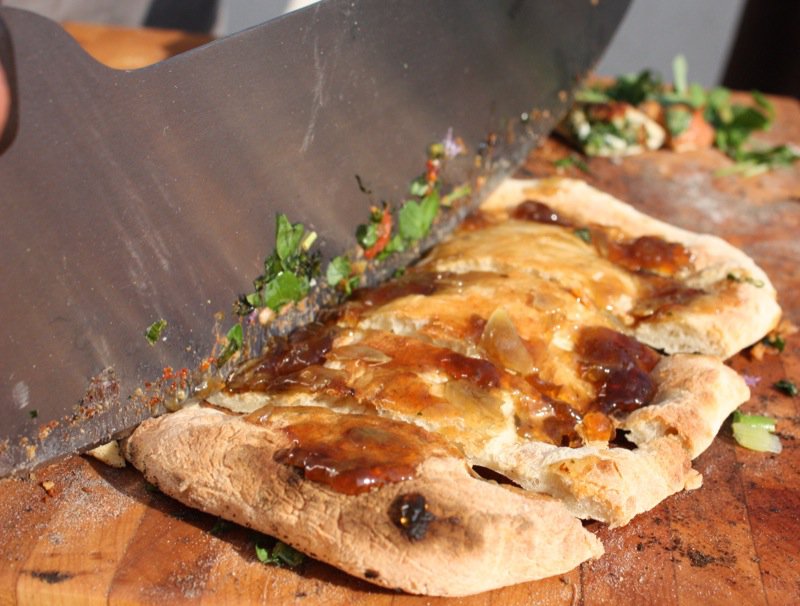 Zinter Brown's Garlic and Onion Jam made a really yummy topping for this lovely baked dough. Bravo, Teresa! I know I am going to be definitely adding this to my family favourites.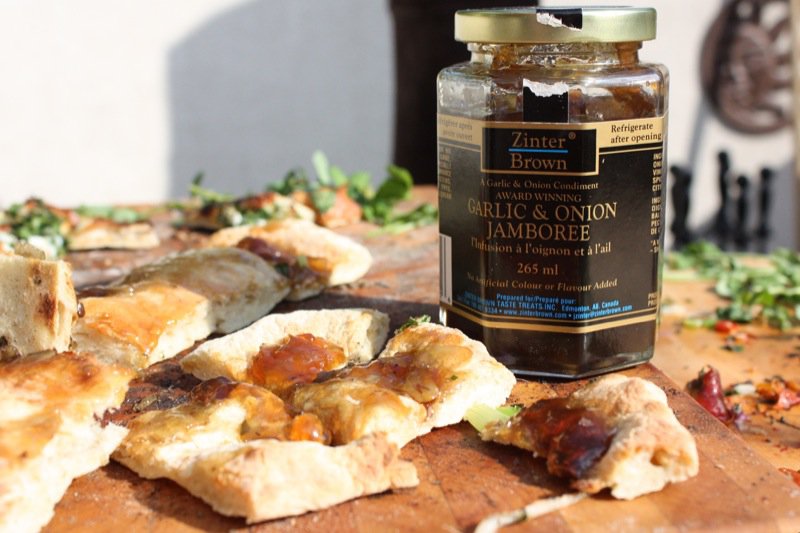 My last pizza is out waiting in line and I came back into to help with the kitchen clean up before the next set of "cookers" take over. Beavie is passed out beside the mess! I was first in the oven, then last in the oven. I must have got distracted! Because, when I returned after placing my pizza in line, the kitchen was almost cleaned! Thank you Mack and Sharon and Wendy – and, of course, Colleen.
Mack and Sharon's last pizza is out. What beautiful tomatoes! This would be a good moment to also compliment Vince and Colleen on their amazing dough. Look at it!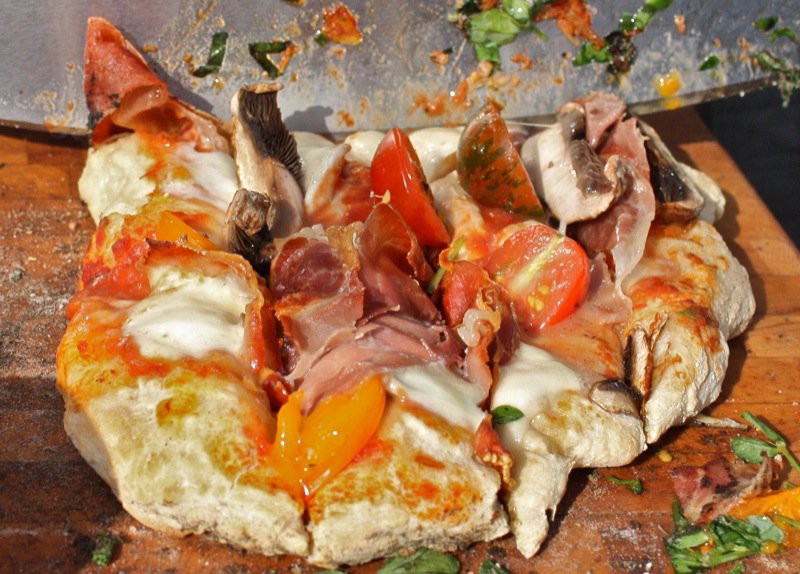 Above (right), my last pizzas is coming out of the oven. I made a walnut arugula pesto with pear, toasted walnuts, Gorgonzola and Alberta Mozzarella from the Italian Centre Shop. When it came out of the oven, I covered it with baby arugula. It is so good with that fresh tender slightly bitter green.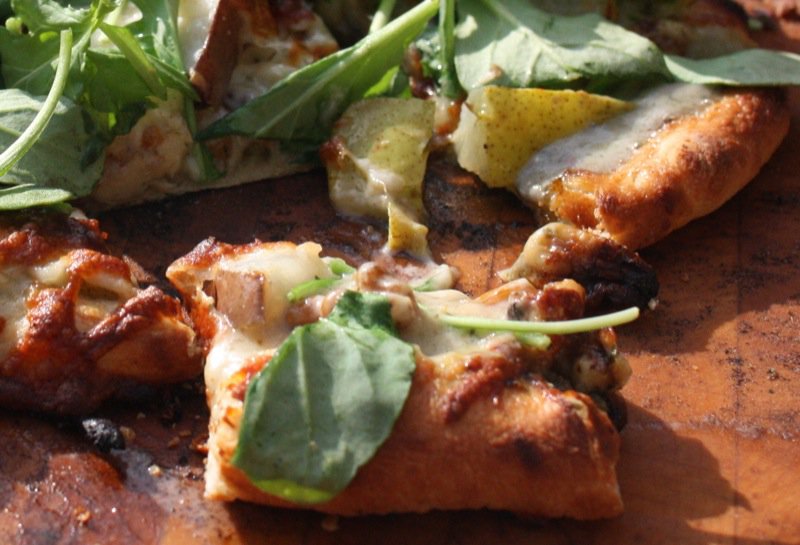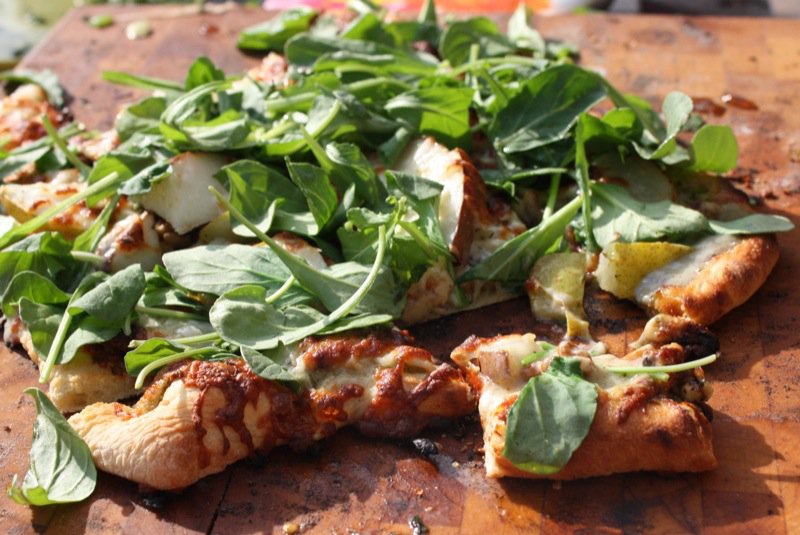 Is Maria not the best sport ever? I asked her to take a bit of the last pizza so I could take her picture, and she did! Now, who could make it look tastier?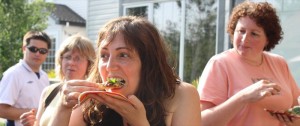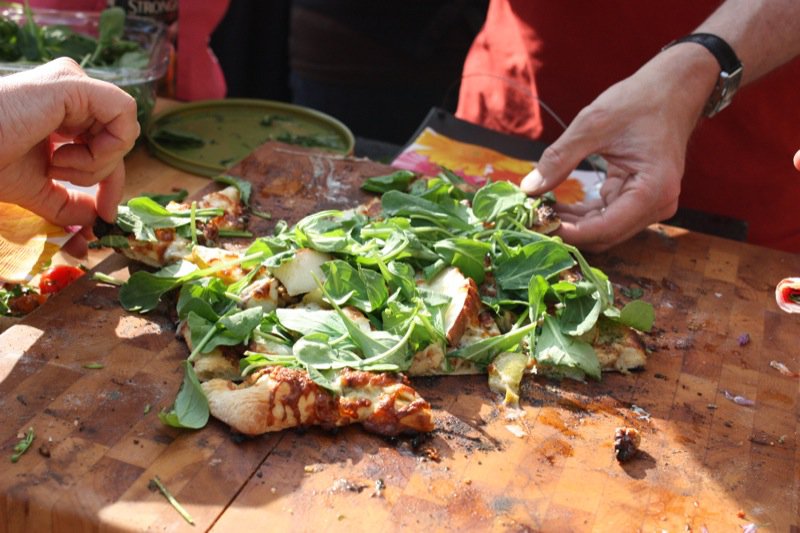 Kitchen cleaned, pizza gone, whole new crew in the kitchen getting instructions for the main course: time to snoop at the lovely garden. I was stunned by how big everything was. But, I no longer have a garden… just little spaces I plant it. I suppose I would have definitely planted by the May 24th weekend, if not before. So, I should not have been so shocked. But, I was. The garden looked beautiful. It was a delight to explore the varieties and see what I didn't plant in a corner that Colleen and Vince have planted.
They have a nice selection of greens. I didn't plant any root vegetables. I am just getting some rhubarb started thanks to Wendy!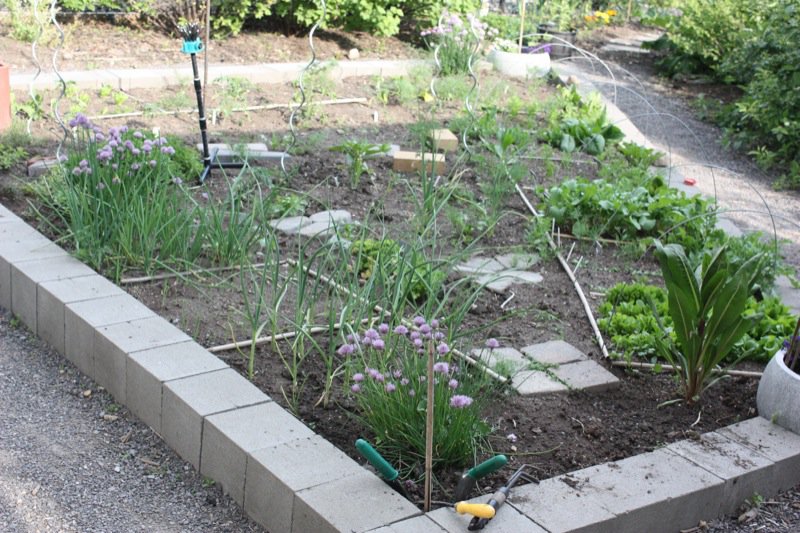 This little plot and paths are hidden behind Sophia and her wall. Vanja noticed the herbs in pots on a trellis near the house, too. Nice.
The screened in outdoor room is a lovely little refuge from the crowd. Colleen and Vince spend all summer in their yard and in this lovely place. The pergola is a recent addition which adds a lot of charm to the entrance. I can't wait to see what they do to it. Hmmm. Hops grow really fast. Maybe a vine of hops up and around it?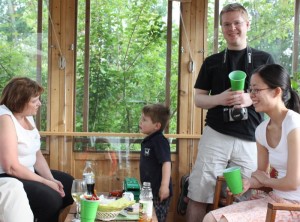 Main course people are rockin' in the kitchen… well, some are. Others are contemplating their dish.
Look at that bread. I know what it tastes like, so it was really hard not to sneak any! Vanja is definitely a bad influence on Beavie. Look at this! Beer drinking Beavie, and then?
Wipe out! Too much of that for a little fella!
Back in the kitchen, I discovered that there were two Guinea Fowls, one duck, on chicken and some pork on the meat menu. Be forewarned! Food porn coming up. Not the usual kind!
Birds were stuffed with herbs and lemon and seasoned with salt and pepper. Look at how gorgeous they are! The chicken is particularly plump!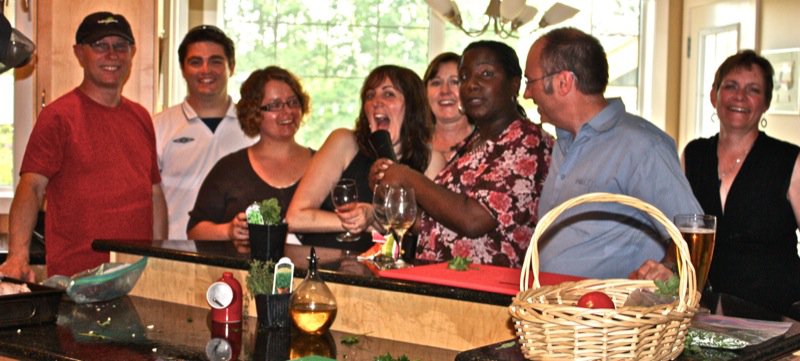 Time for a group photo! Too much sun behind them, and they were pretty busy giggling, too! (and singing karaoke!)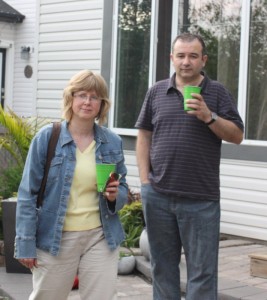 Renata and Vanja, both looking quiet and unassuming. See that beautiful fat little chicken? YUM! There is nothing like fresh local products!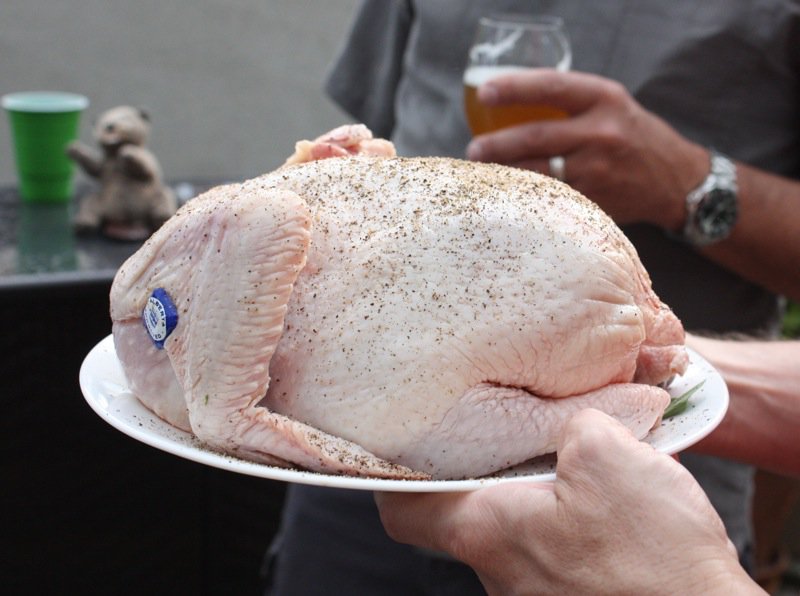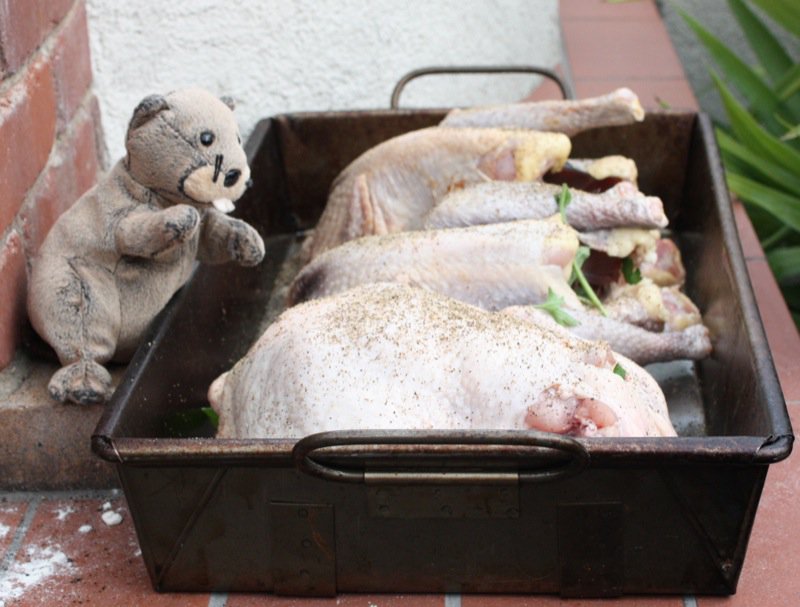 Beavie is not even a carnivore, but he is a curious and clever little guy. I think he was wondering what these birdies did to get into such a predicament. Vince had the duck in the oven earlier as it takes longer to cook.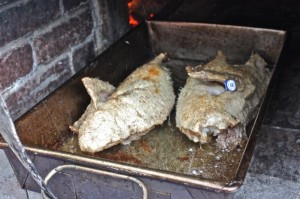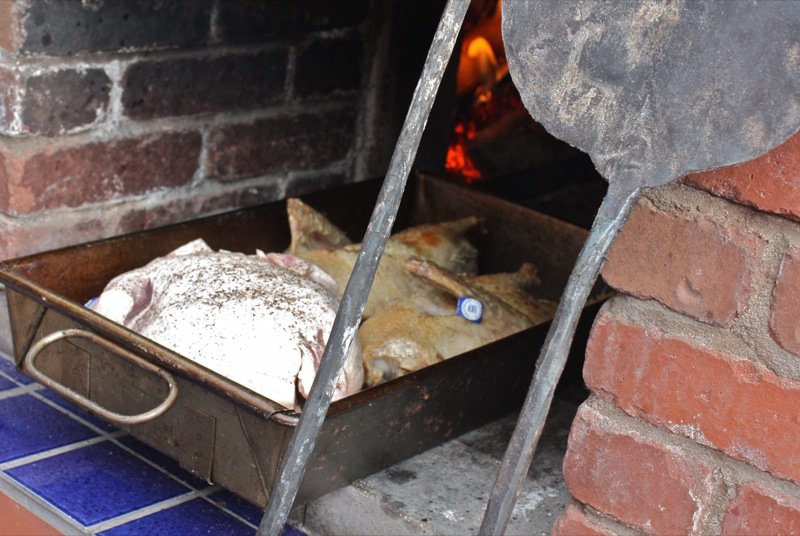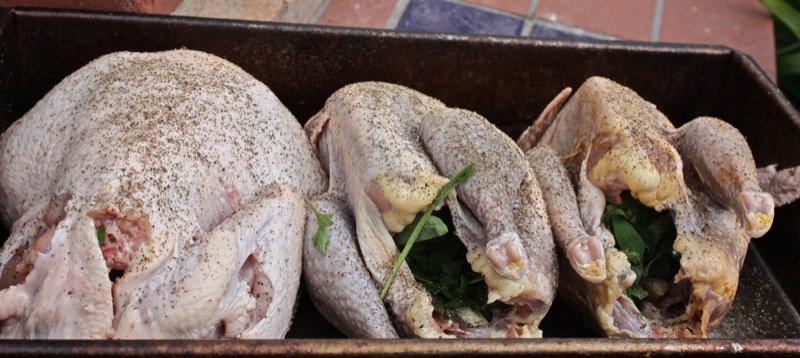 Oh, and I forgot about the Cornish game hen. Maybe that was what I called the chicken. It is here with the fowl, above. Maria brought a Cornish Game hen from Greens Eggs & Ham, so I know there was one of those, too. I think maybe that was the chicken as I know they grow really big Cornish hens.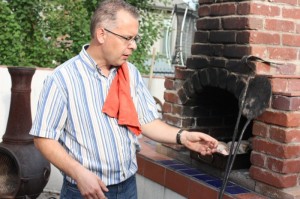 Vince is attending to Sophia like no other would or could. Time to baste the birds, and get rid of a little of that duck fat.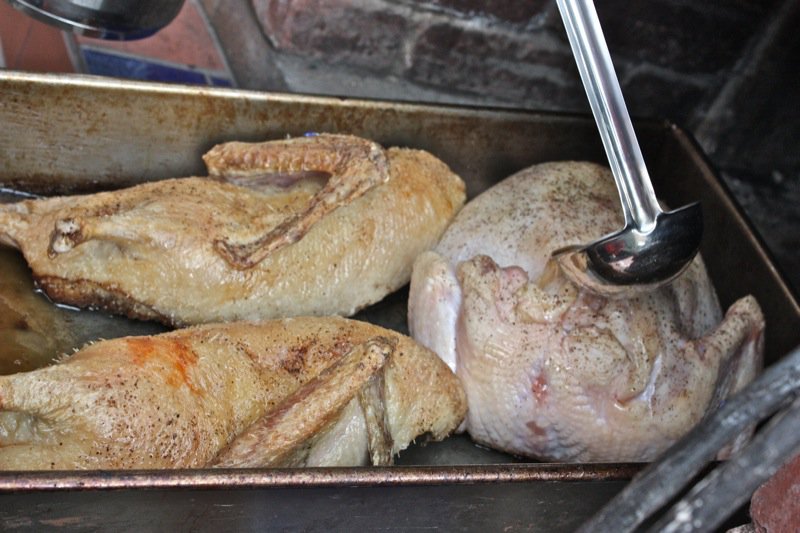 So now I am thinking that there was a chicken, too. Oh, someone set me straight!
There was a very long time between the appetizer pizzas and the meal. Now, this was not a hungry time (at first), but a great time for visiting and story telling.
Ah! Look at that beautifully cooked meat! I am getting very excited.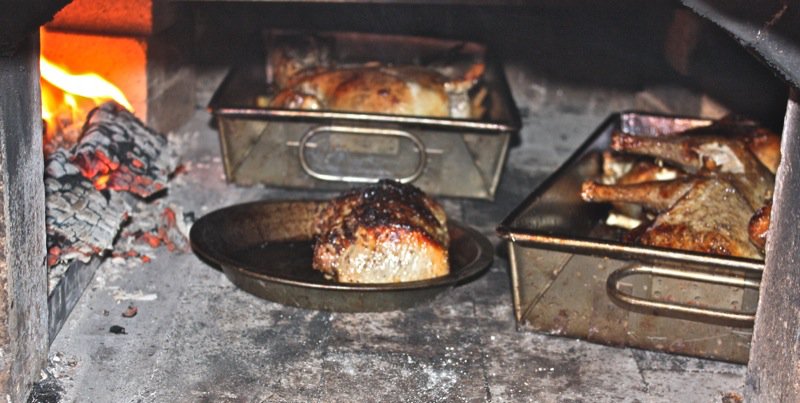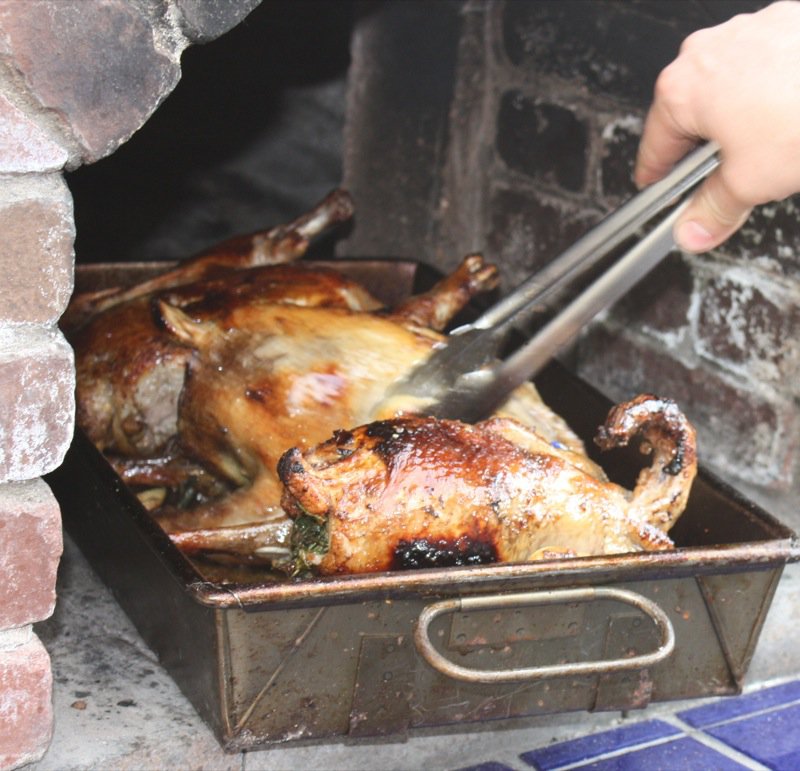 Not done yet, but time for the potatoes to go in.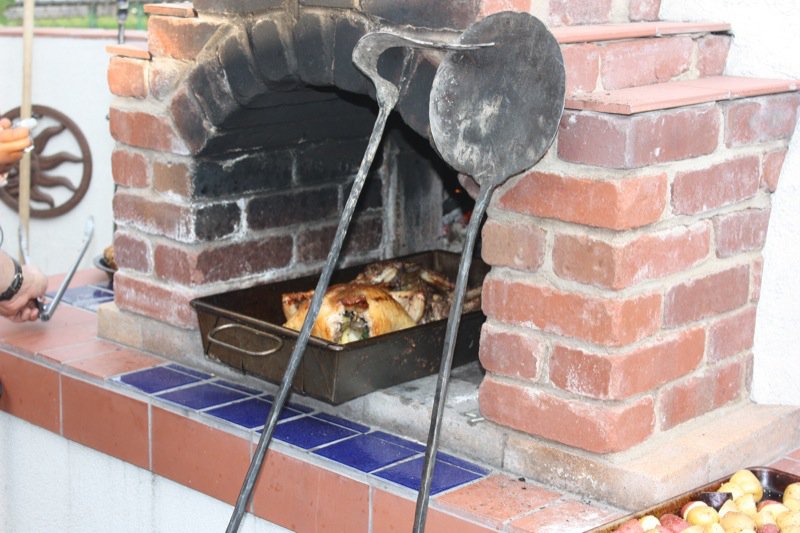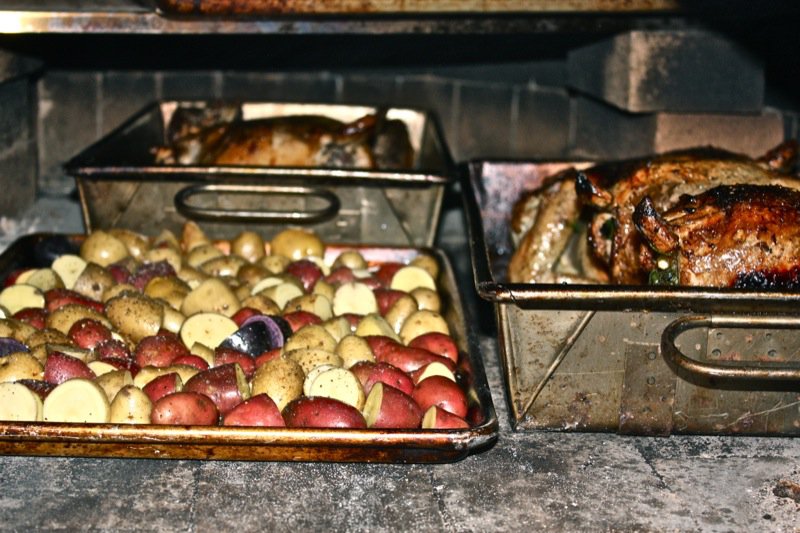 A lively discussion in the kitchen!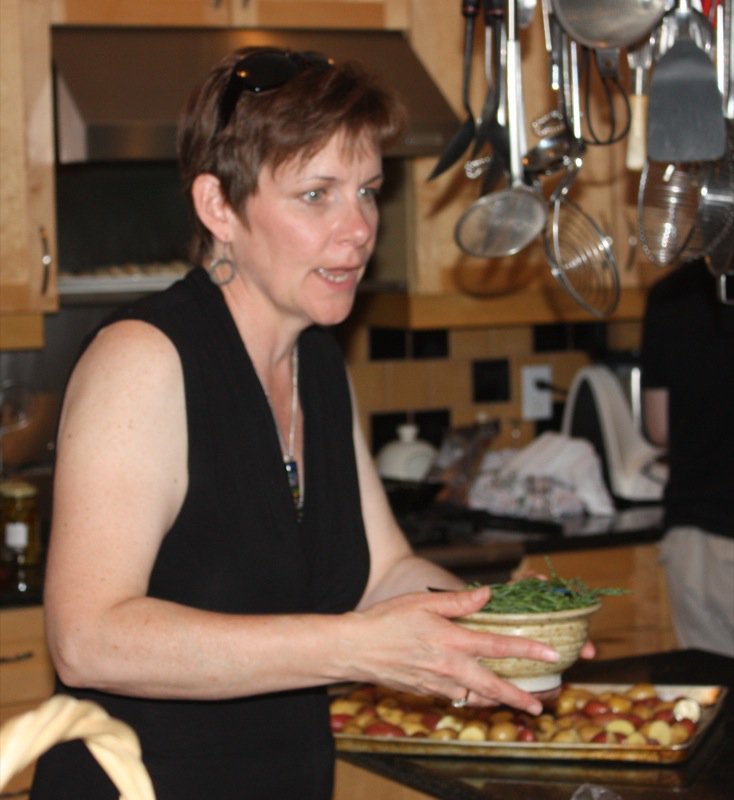 Calm Colleen (my new name for her) was setting up the table for the feast. She is taking some salt water asparagus out.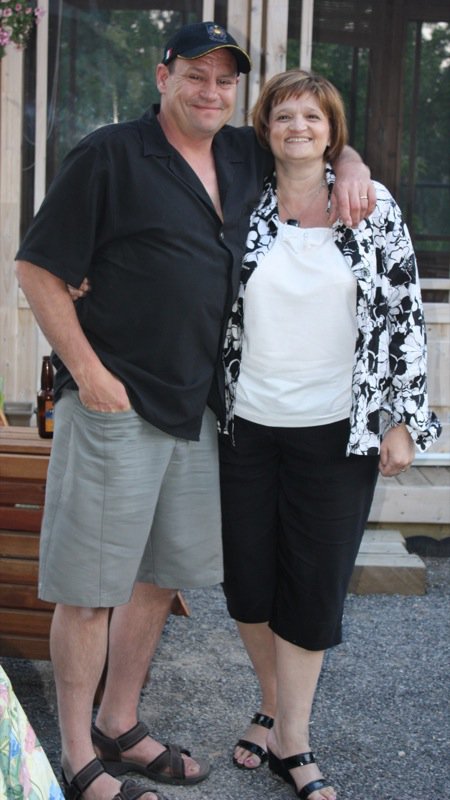 A little Kodak Moment with Mike and Teresa.
Cheers!
Ooooo! The asparagus is going in…. and the rhubarb is standing by.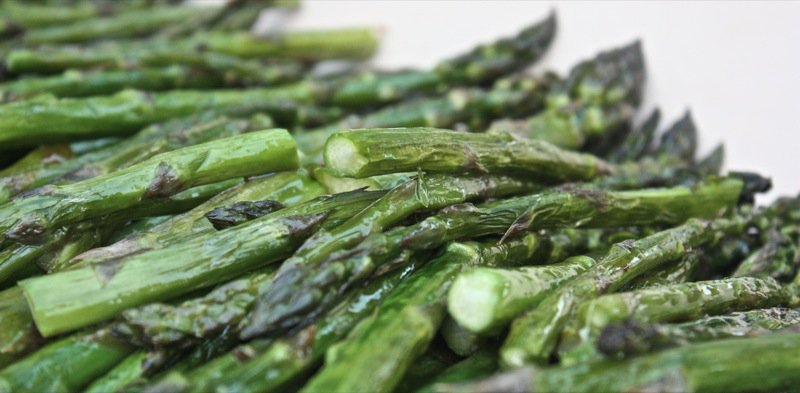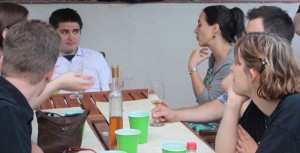 The Morel Cream Sauce is ready for the asparagus (or anything else you want to smother with it)! It was luscious!
And the grilled vegetable salad was perched ready for take off. The extra roasted cocktail tomatoes were added to the already magnificent salad and I just had to stand near it for awhile. My, goodness. Where was my paintbrush?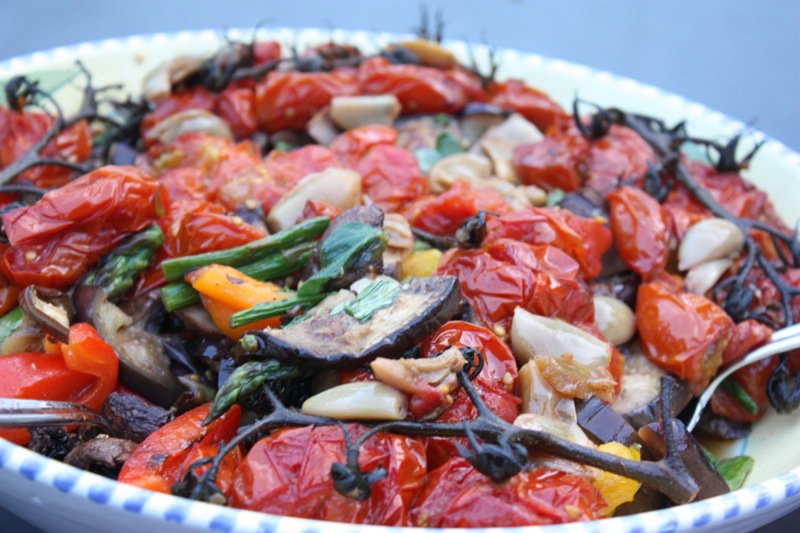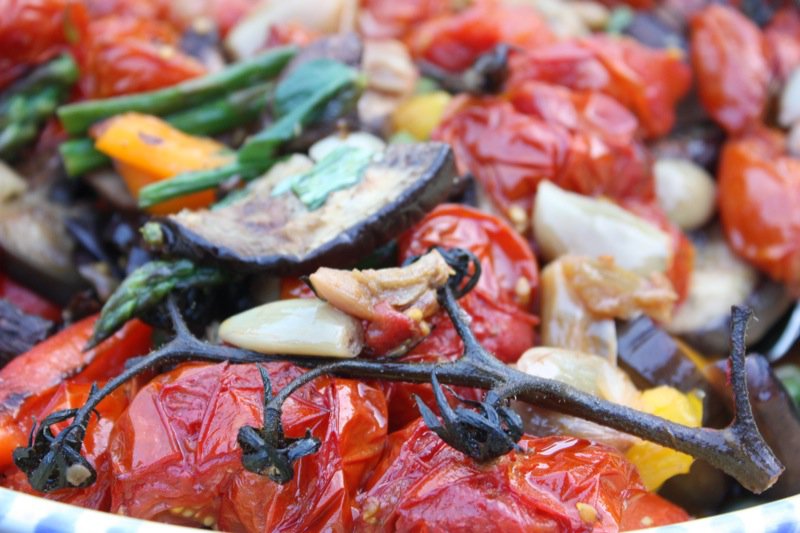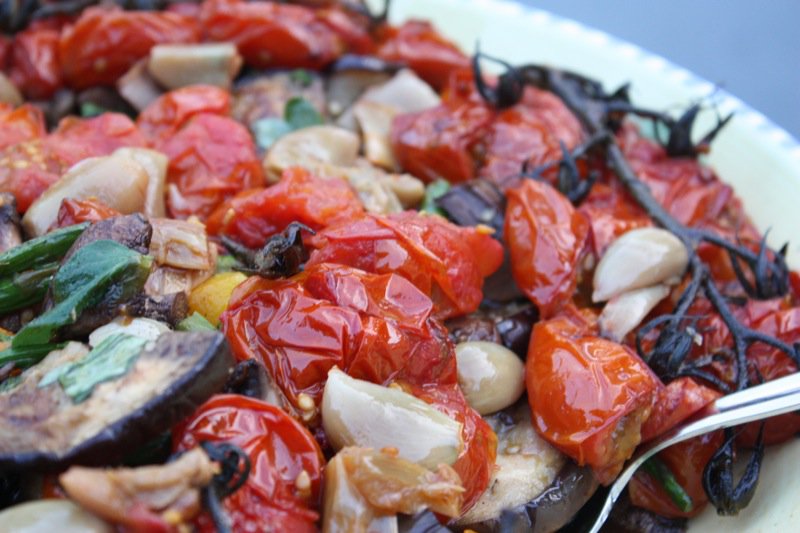 Thank goodness I had my camera. Following up this salad was a beautiful tossed green salad with lilac flower petals. Renata got the greens from Greens Eggs & Ham and I hope she will fill us in on the iilacs. I didn't even know they were edible until I was at Indulgence Tuesday when Gwen from Inspired Market Gardens served them with Leva's Lavendar ice cream as a garnish. What do they taste like? They taste how lilacs smell. Just like lilacs. But, maybe with everything else in the salad, they added a special twist? In any case, they were beautiful.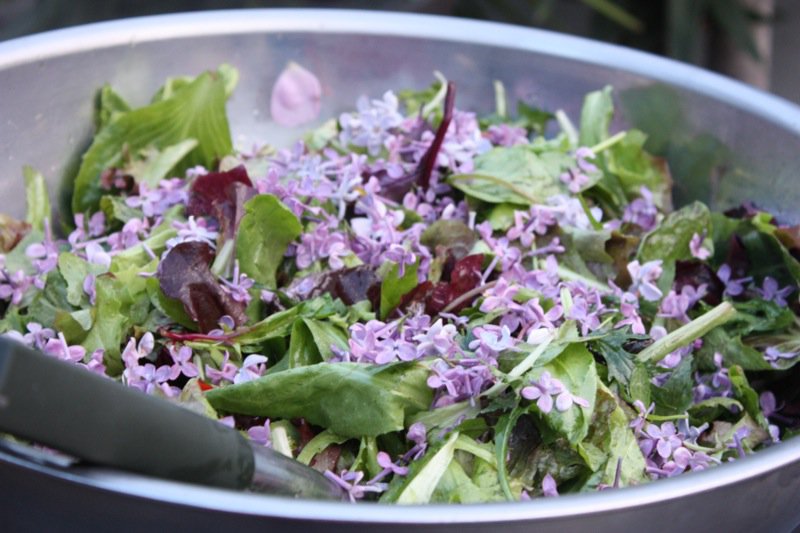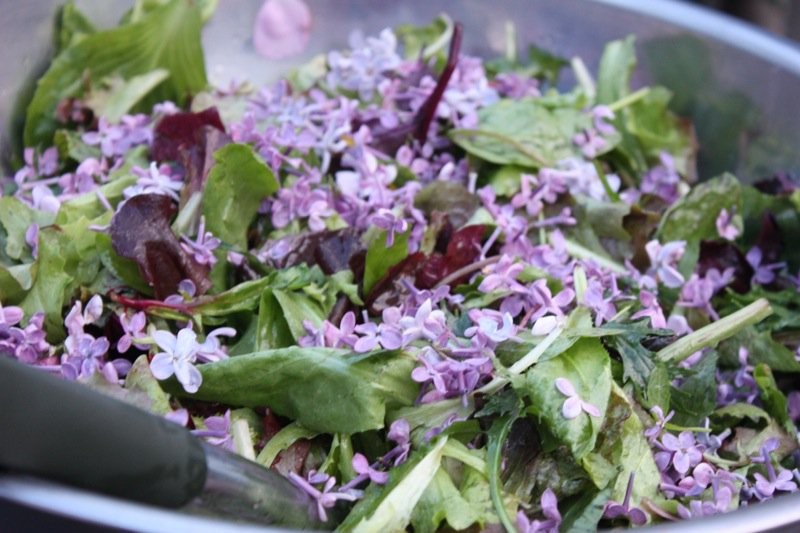 The meat is cut and ready for service.
Asparagus and potatoes: cooked.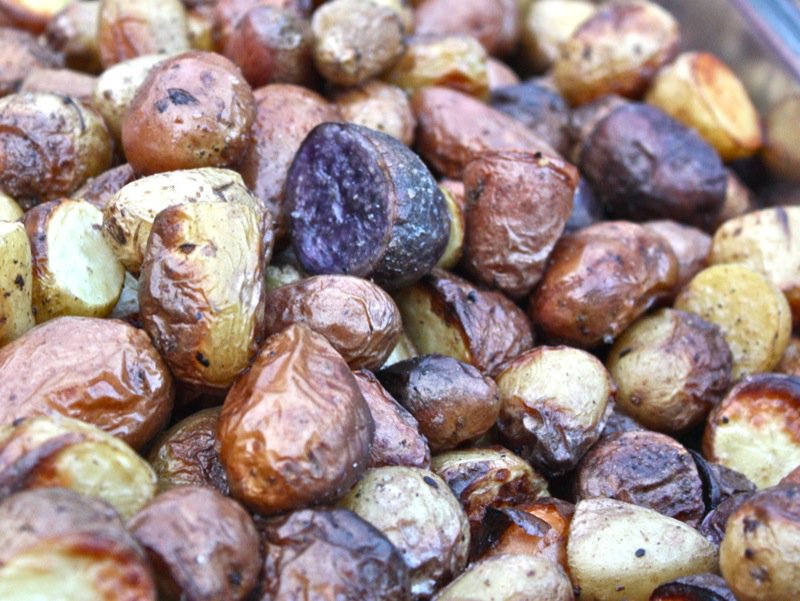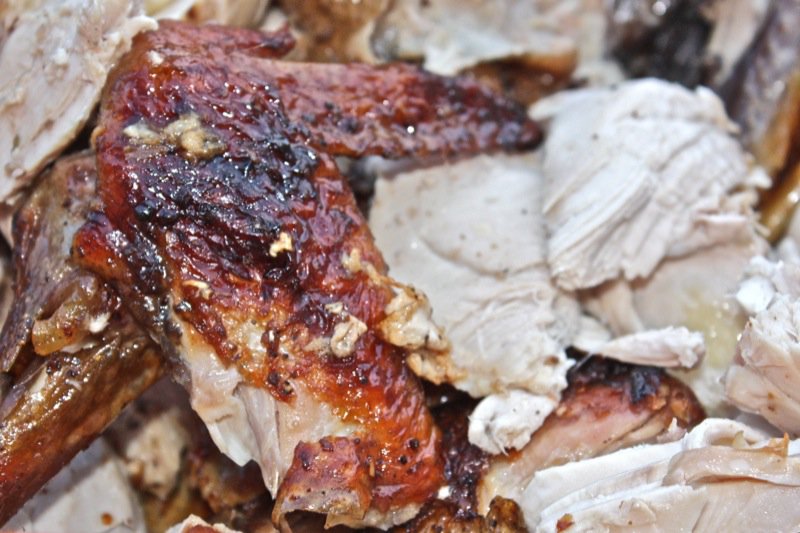 Our host rings the dinner bell, and with the most tender words and most eloquent speech, welcomes us all to his home and thanks everyone for coming to enjoy this evening with Sophia. No! Thank YOU Vince, and Colleen…. and, Sophia! What a truly wonderful opportunity you have provided for all in attendance. Bravo!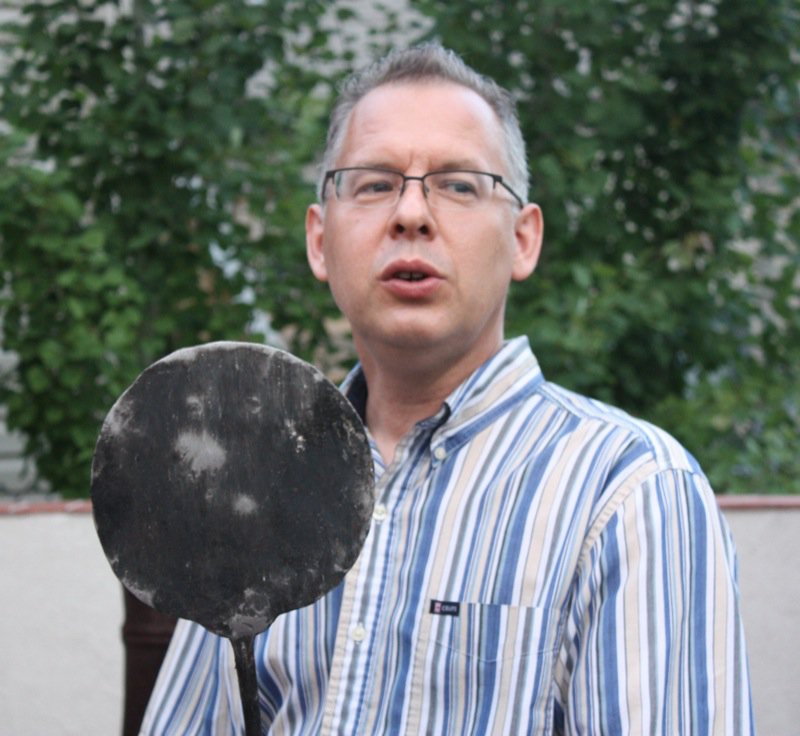 All line up for the food. At this point, everyone was hungry, but not for long!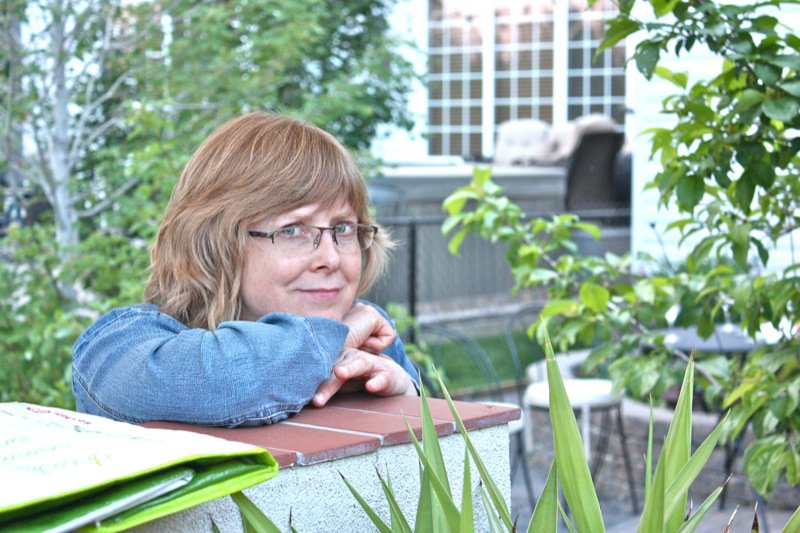 Miss Patient.
Colleen re-situated the bread. The bread below is made with the same dough as the pizza dough. Please help me out with the name again, Colleen. I truly want to know. It is so beautiful and was really chewy and tasty. I remained very close to the bread.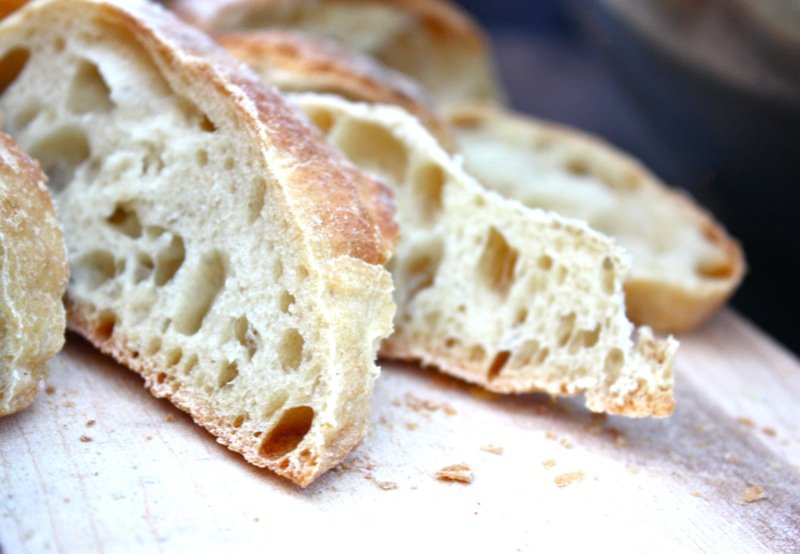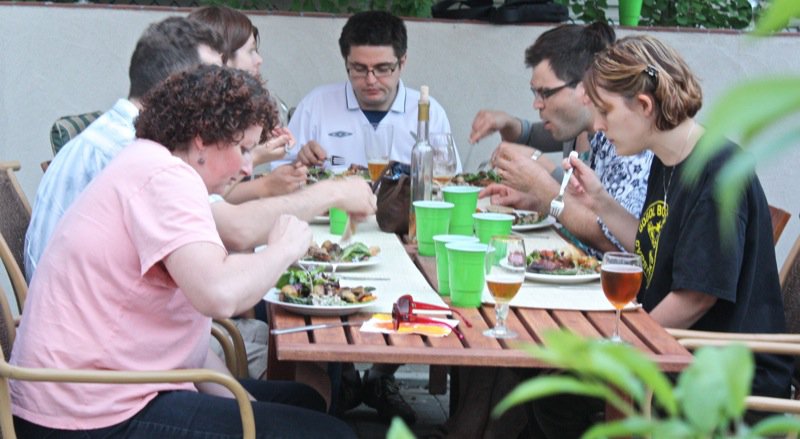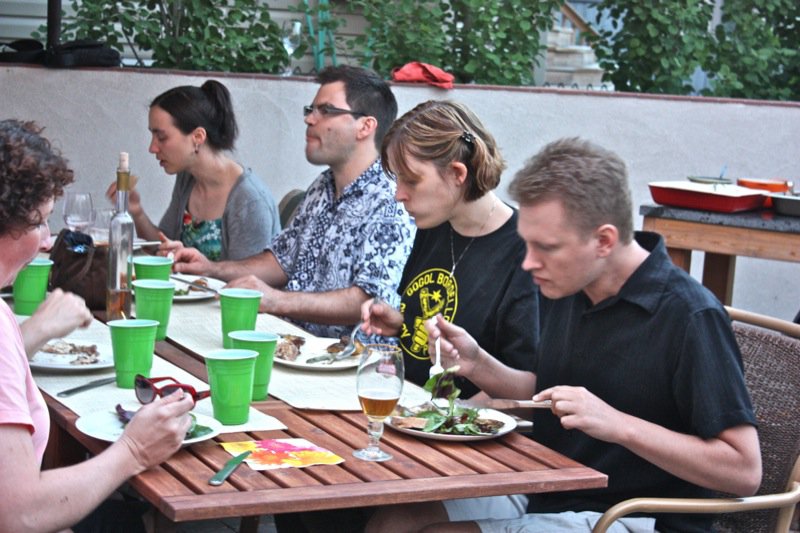 There was a place for everyone! And now, some plates of food for your enjoyment (or maybe, just for mine!).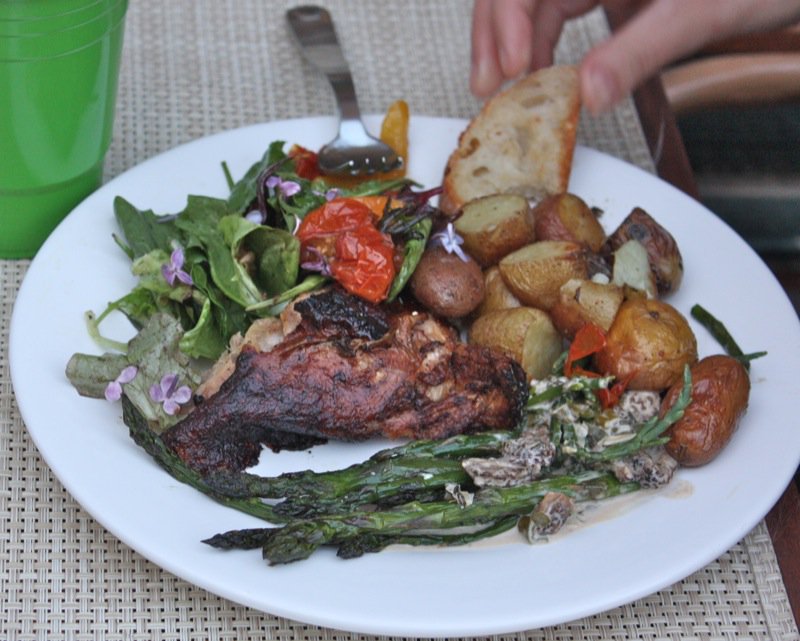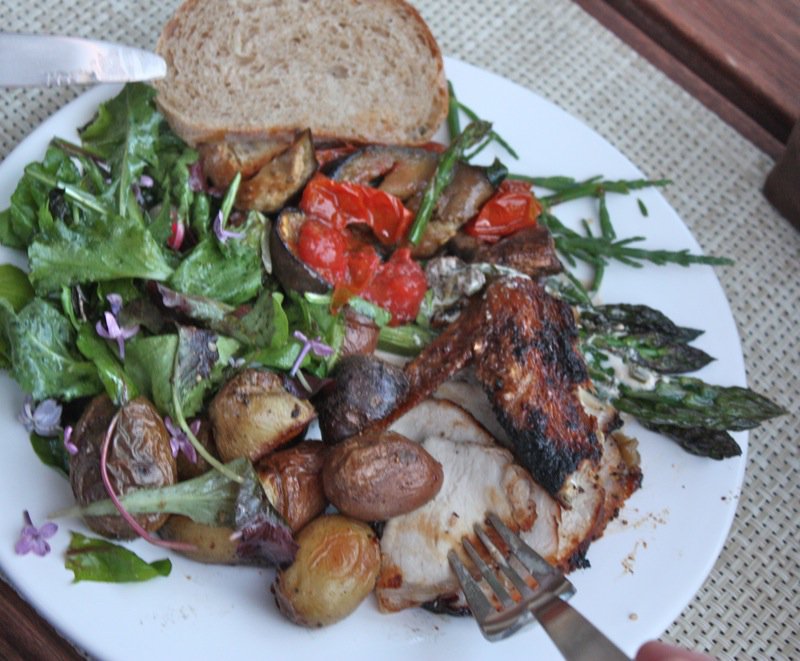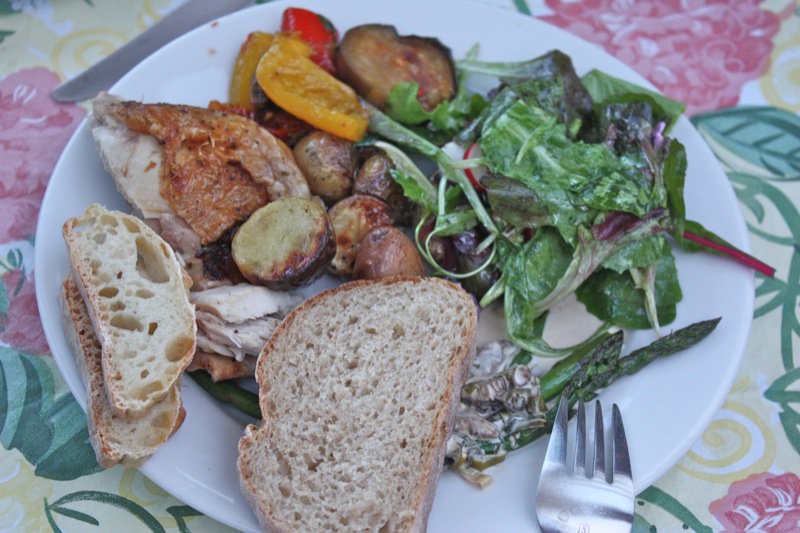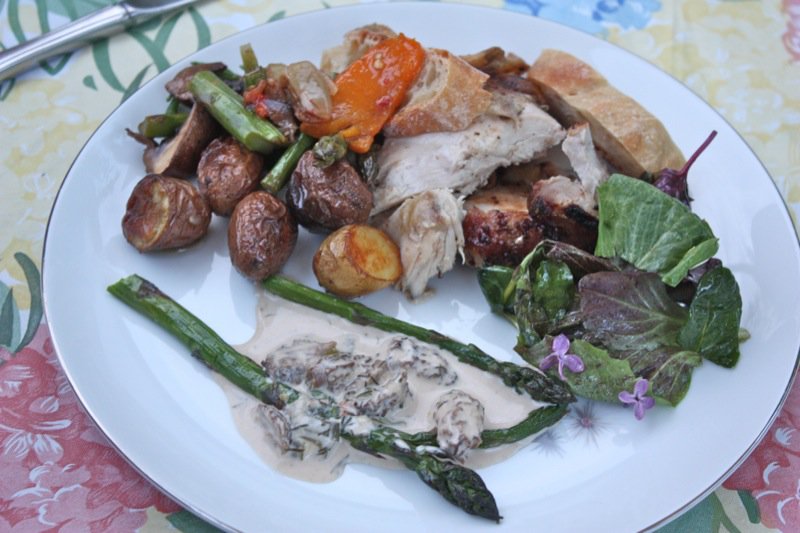 The setting was so lush. Little water features here and there. Lots of little hidden treasures to discover; statues peaking out from here and there. Massimo found this water pool a fun little place to play for a moment.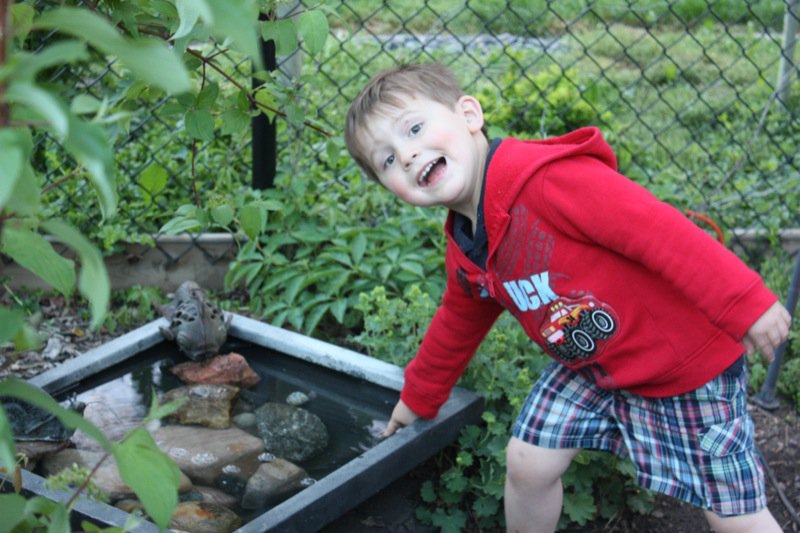 And, there were leftovers. Yes, there were! Not many, but some… and everyone is not quite finished eating.
Sophia is still blazing as she is cooking the rhubarb for dessert.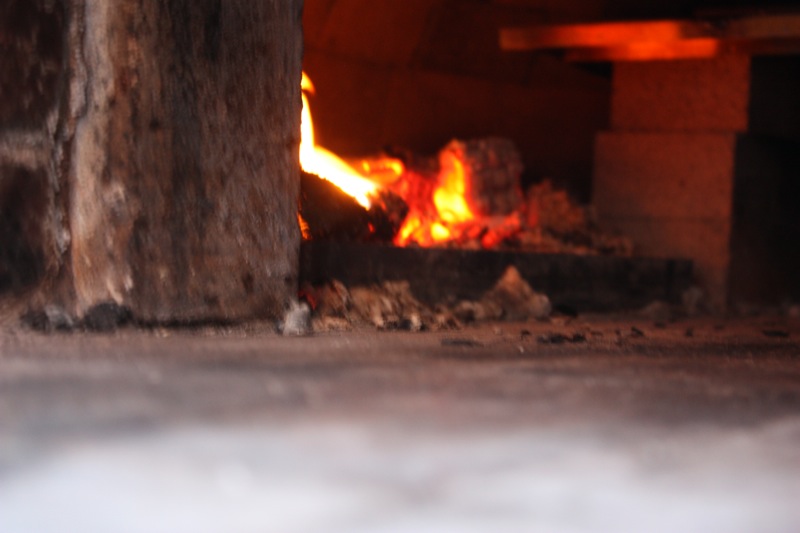 I was so pleased to see our honourable hosts actually had the opportunity to sit and enjoy the feast. And, I think they were even having a good time!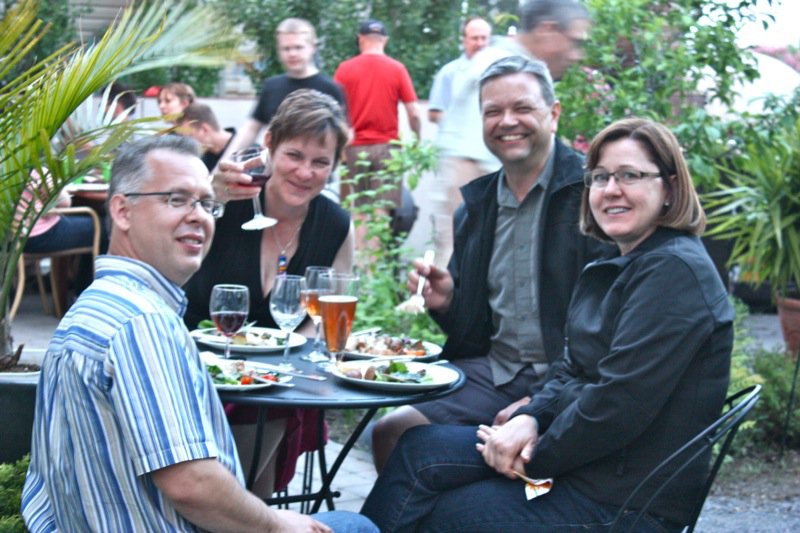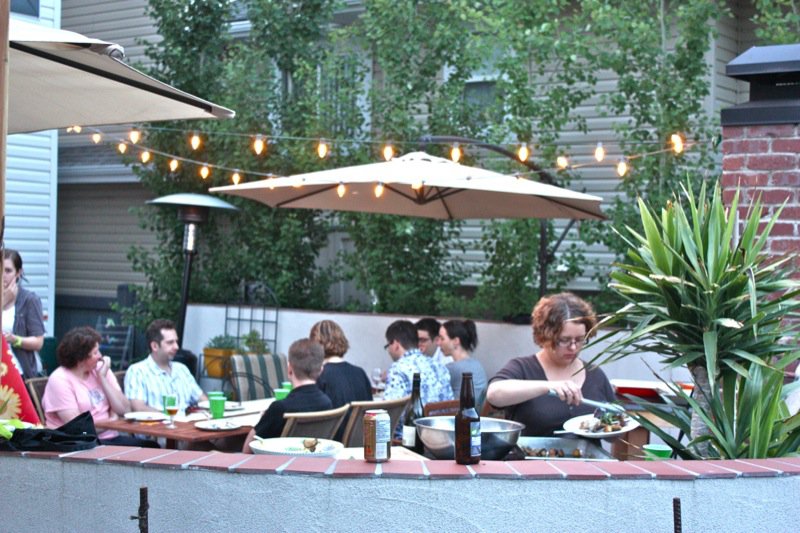 Panna Cotta and special cookies for all! Not biscotti. These cookies are similar, except there is no fat in them. Colleen will explain these.
The rhubarb was roasted and sweetened with sugar and ginger to top the Bles-World yogurt panna cotta. This was outstanding and the perfect finish for such a rustic gala!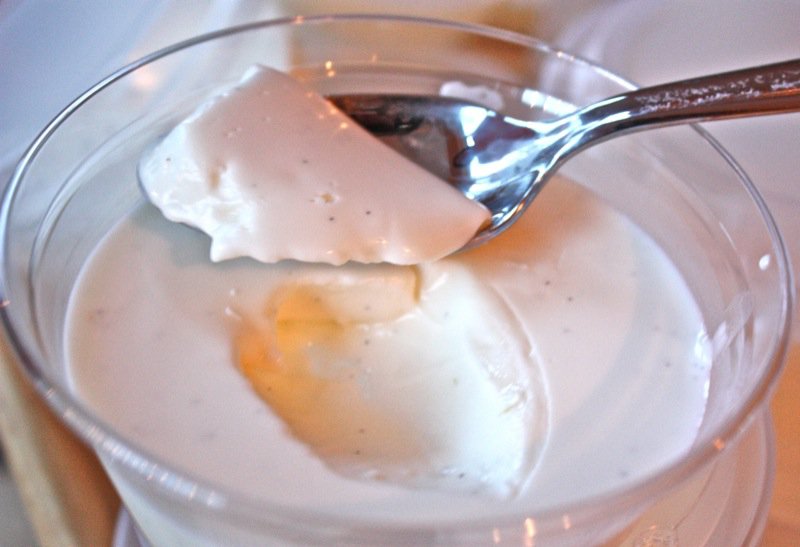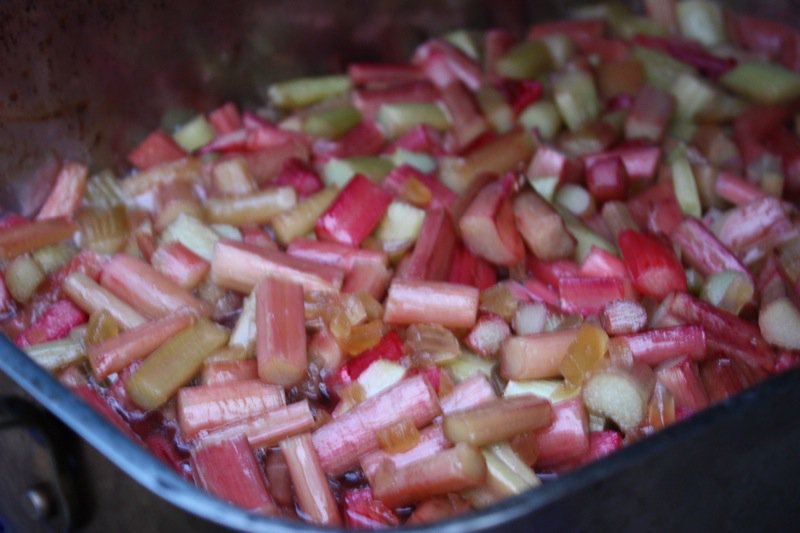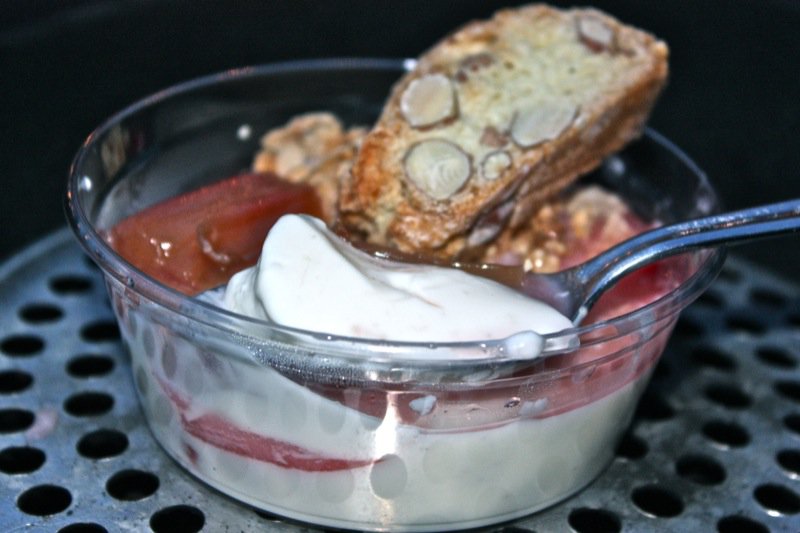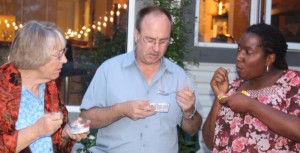 The sun has just ducked behind the horizon. The outdoor lights are twinkling. Sophia is dying down. Dishes are done and more await. Guests are trickling off toward home, big smiles pasted on their faces as little droplets of food decorate their shirts. What a day!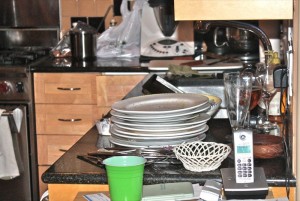 What a beautiful day!
To all who attended: please correct any of my errors or omissions in your comments, or through e-mail, and I will adjust my writing, accordingly. I was so busy having such a great time, that I definitely left a lot out, and would appreciate knowing what I missed!