After the Duck Confit, brisket was my second venture into sous vide cooking. I had two briskets in the freezer; both very recently purchased as I was wanting to learn to cook them from "Daddy Drew". Believe it, I have never cooked a brisket, and it was on the top of my list. Then the Sous Vide Supreme came for a visit to my house. What a perfect opportunity. And, Douglas Baldwin had a recipe for one, too! Interestingly enough, he did include a little controversy within his recipe. I chose to do this brisket his preferred way. But, this was just a portion of a brisket, and though I wanted it rare to medium, you will see that it is definitely medium to well done. With that noted, it remained extremely moist, tender and full of flavour!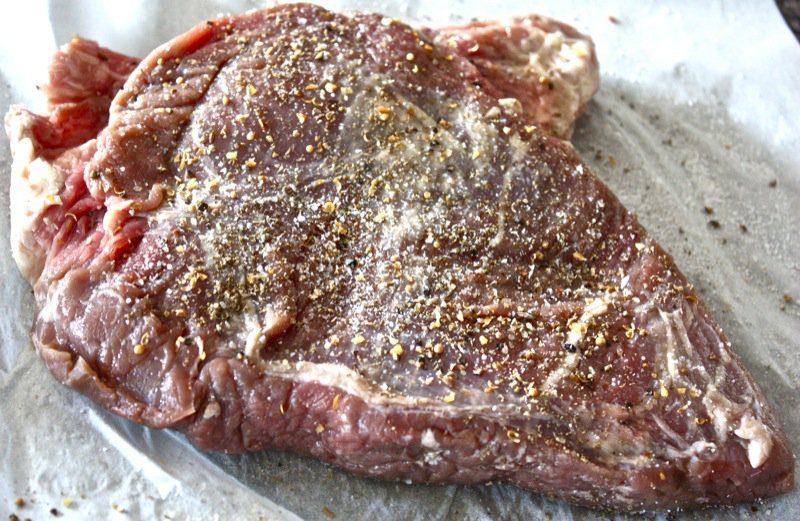 Where to start? At this point, I was still new to the process (not that I am seasoned now, after two weeks of "sous viding") so I consistently read the recipe. I started with a three hour brining in the fridge. I didn't cut any slits in the fat cap because my piece was so small. I was careful and studied with my seasoning. I used some of Schwartz's Montreal Steak Spice that we bought when in Montreal with a little Kosher salt and freshly ground black pepper.
Vacuum packed the seasoned meat and placed it into the preheated water oven at 176ºF for 24 hours.

Twenty four hours later I had a bag of ice waiting. When the time was up, I whisked the packaged meat into the icy water. I just used the ice bag to contain the ice as with a small portion to cool, have found that it is easier to control a minimum of 50% ice in the chilled bath.
I placed the brisket in the fridge mise en place to char and taste for Vanja's dinner. When ready, instead of using a blow torch, I heated my grill to 700ºF and then seared each side for 30 seconds, or so. It didn't look great, but it was acceptable in appearance when pulled off of the grill.
Once sliced, the meat was absolutely incredible. The photo does not come close to translating the flavour and texture of this meat. I was in awe. Truly.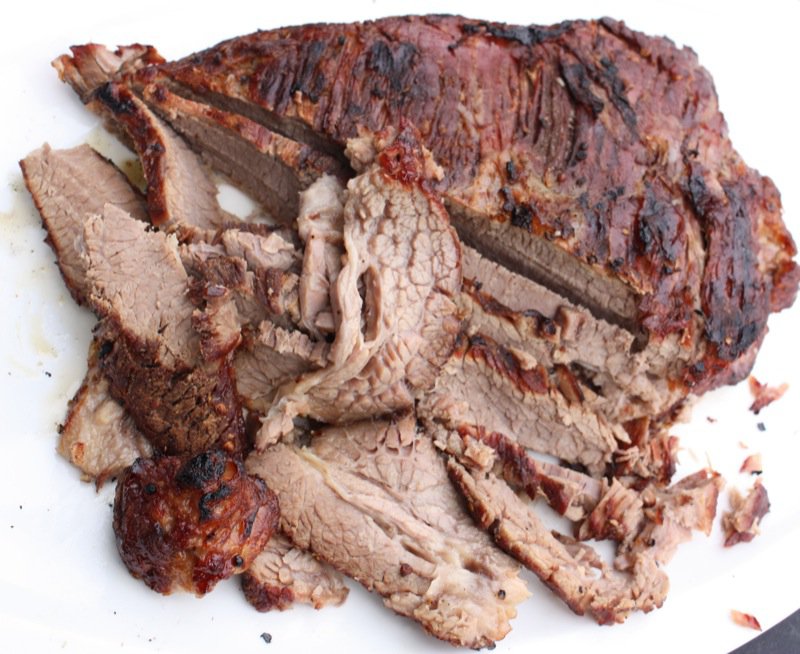 I had a large brisket that I wanted to do at the other suggested temperature and work at getting a rarer piece, but with all else I did in the machine, ran out of time before I could do it because I needed 48 hours for it to cook at 147°F. I was sad about that, but plan to do it when I get a machine.
Douglas Baldwin's Brisket Recipe
Ingredients:
Beef Brisket
Sugar, Salt and Pepper
Instructions:
Cut slits in the fat cap in a crosshatch pattern (I did not do this); brine the brisket in a 4% salt, 3% sugar solution (40 grams salt and 30 grams sugar per liter of water) in the refrigerator for 2″"3 hours; rinse and dry brisket with paper towels
Flavour the brisket either by smoking it for 30″"60 minutes or by searing the fat cap with a blowtorch (I really wanted to smoke it, but also wanted to do it without fuss, so I did neither; my blowtorch is too small); vacuum seal the brisket either whole or cut into two to four pieces
While the famed French Laundry is said to cook their brisket in a 147°F (64°C) water bath for 48 hours, I prefer to cook brisket at 176°F (80°C) for 24″"36 hours; alternatively, some like to cook brisket at 135°F (57°C) for 36″"48 hours. Since some of the liquid in the bag will change phase (to gas), the bag will puff and may float to the surface. To prevent uneven cooking, the bags should be held under water using a wire rack or some other restraint (which the Sous Vide Supreme has).
After cooking, the brisket may be rapidly cooled in ice water and frozen or refrigerated at below 38°F (3.3°C) for up to three to four weeks until needed
Remove the brisket from the vacuum sealed pouch and use the liquid from the bag to create a quick sauce by reducing in a pan over medium-high heat and adding a corn starch slurry to thicken (I did not do this); slice the meat across grain into long, thin slices and serve with beef glace