Paris Day One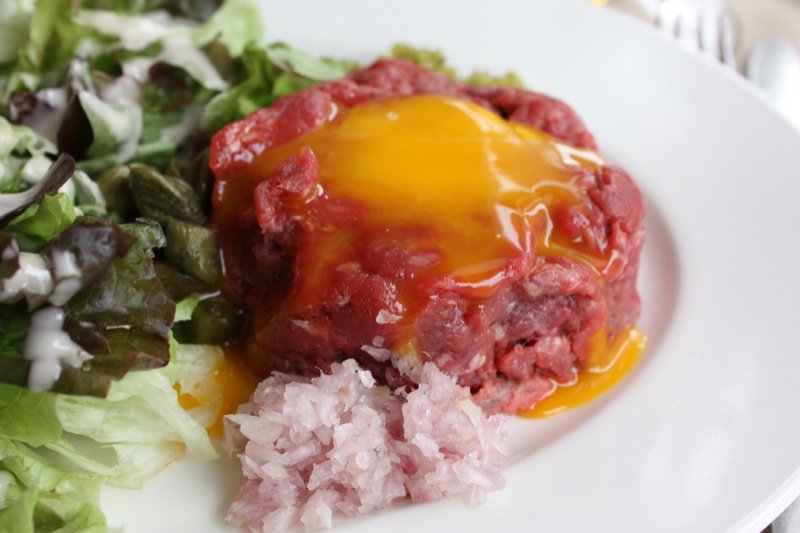 We arrived! 8:30 am Paris time, and we are filling out the forms for our missing luggage. All three bags. But, we are in Paris! Who can complain? A very short while and metro ride later, we arrived at our hotel in the Latin Quarter five minutes from Notre Dame in the Jussieu area: Hotel Familia. (A very basic, small and clean three star hotel with wireless internet service, basic breakfast and an excellent location.)
Our hotel will be available at 1 pm, and we are tired and hungry. We walk around a block on the Left Bank and choose the best of a few unappealing restaurants to rest and eat something: Le Royal Jussieu. The menu looks good. The chairs were adorable, and we could eat in cooler fresh air though risk smoke in our eyes as France has followed other members of the European Union with a no smoking in restaurants and bars law, so outside tables are filled with smokers. The water was the perfect refreshment as it was a very hot day.
Steak Tartar? I love the steak tartar at Cafe Select in Edmonton. I don't eat meat as I have such trouble digesting it, but steak tartar is usually not a problem for me. But, I usually don't eat so much of it, anyway. This steak came beautifully fresh served with a raw egg on top and the condiments that I am used to having mixed into the meat, on the side.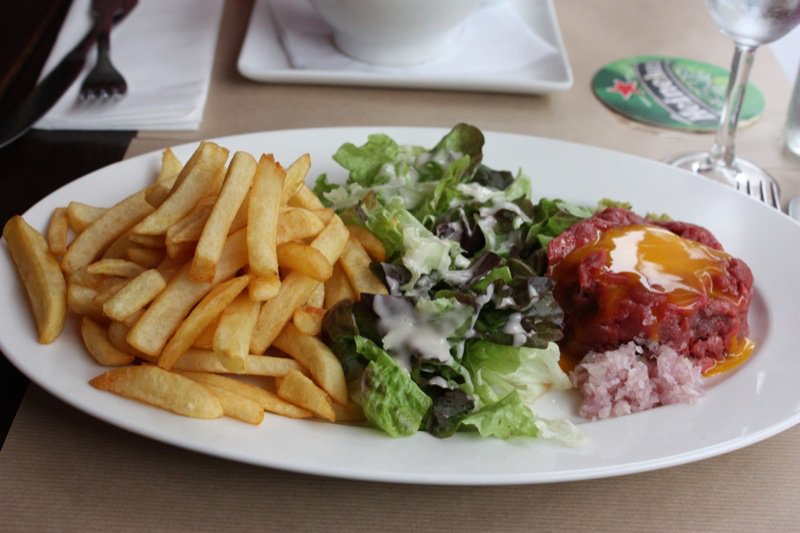 The minced onion breathed life into the dish. It was tender and luscious. The minced corchons added zest.
And the capers? One cannot have steak tartar without onions and capers. Perfection. These capers were large salty parcels of tangy goodness.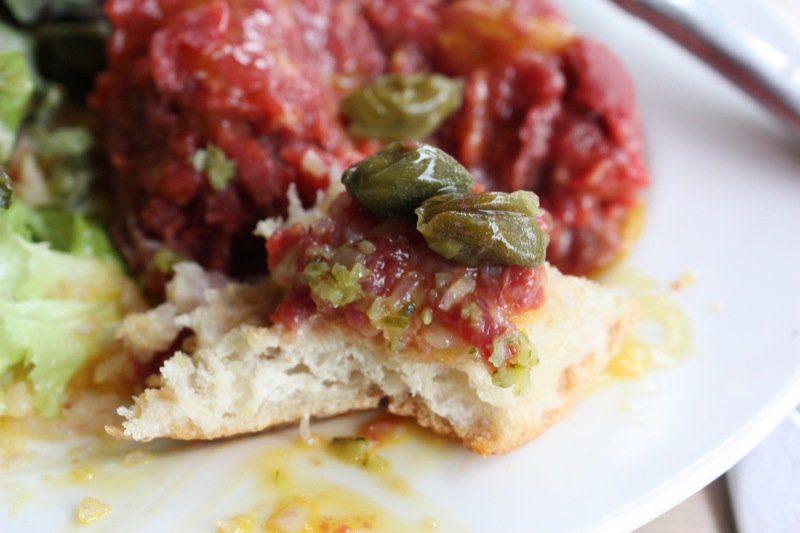 Vanja and I both adore French Onion Soup. His looked appealing, though the cheese was not melted on top.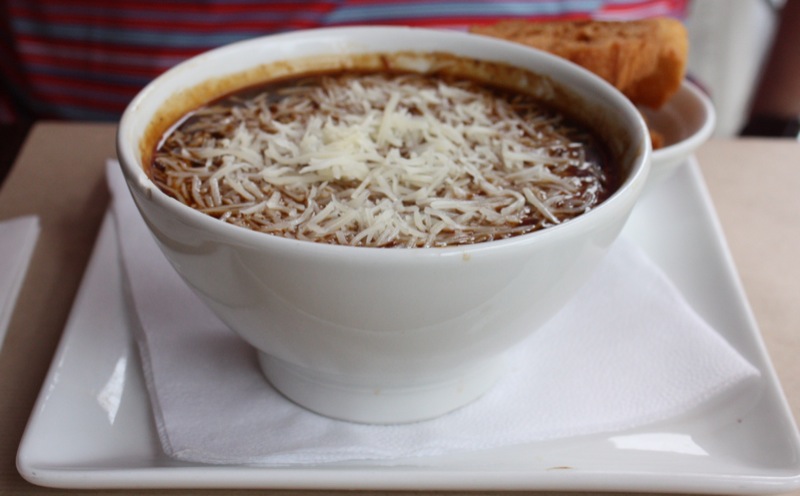 It was served with deep fried croutons (left, below) that is usually accompanied with the Steak Tartar at Cafe Select in Edmonton. His soup was really terrible. Thickened with cornstarch, the predominant flavour was that of burned meat. I still sour thinking of it. My dish was really lovely, but there were far too few condiments for the large portion of meat. That worked for me, as that was all I wanted to eat of it, but the meat was really very delicate and definitely needed the condiments to balance the flavours.
As we had walked from the Metro, and again from the restaurant to the hotel, the graffiti and the dirty sidewalks captured our attention and reminded us both of our time in Amsterdam a couple of years ago which is an incredibly beautiful city we both fell in love with, but had very dirty streets and sidewalks.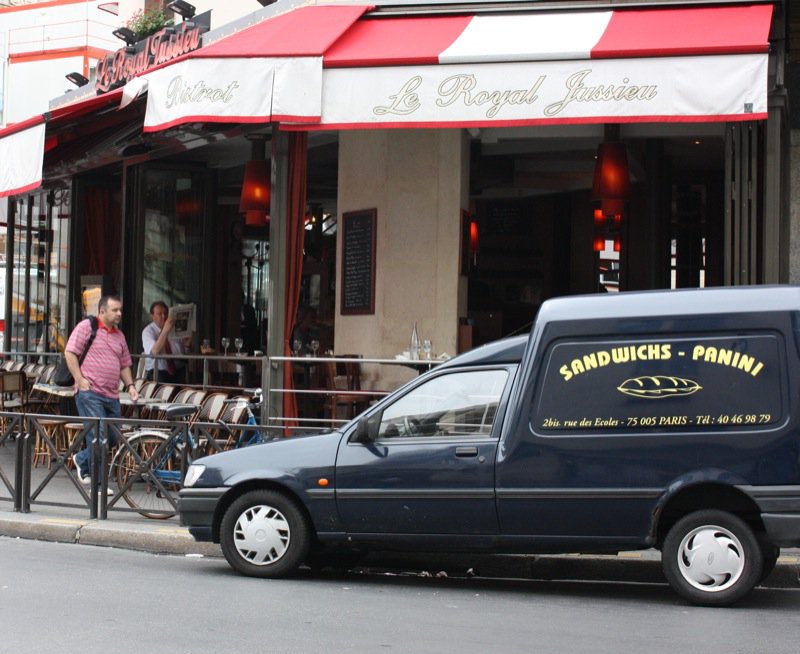 Up the two person elevator to our room on the fourth floor, down the quaint and tiny hall and into our room: a pill box with a bathroom and a bed. But, it was enough.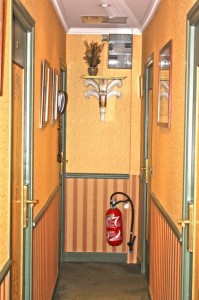 The view out the window held promise of the day and week ahead.
We turned on the air-conditioner and laid down for a little nap before our pre-planned fat bike tour of the city at 3pm. We woke up at 7.
We were both shocked at the time and at our level of exhaustion. In less than ten minutes, we were out on the street and exploring our territory. Vanja is on a bridge to the East of Notre Dame.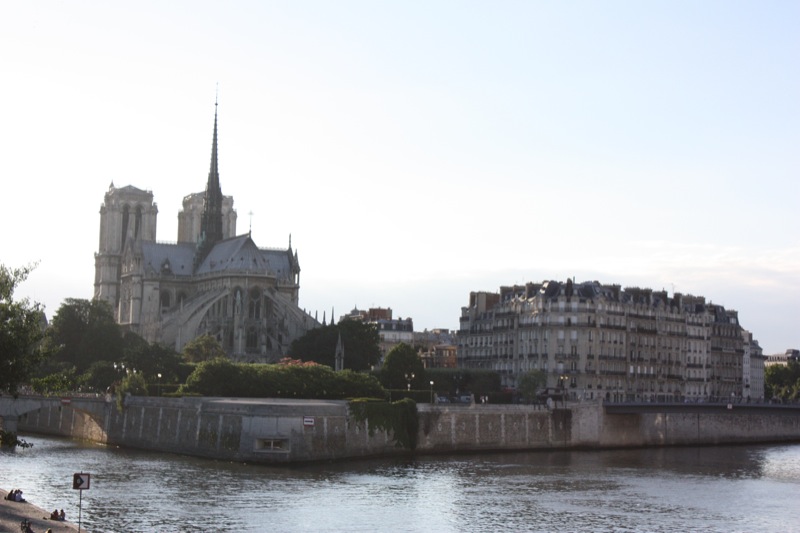 What a beautiful view. What a beautiful city. Notre Dame. Notre Dame! Notre Dame is synonymous with Berthillon Ice Cream! Once should never visit Paris without tasting this world famous frozen delight found only in this city with the main store beside Notre Dame on St. Louis en L'Ile. When I first tasted it in 1995, it was the only location where you could find it. It is still the only location with all of the flavours.
We had decided to head up to Montmartre for dinner, but dessert first was definitely in order. The first one I had ever tasted was the wild strawberry ice cream (not sorbet), and it had me on my knees. I believe that one scoop in 1995 was the equivalent of 5 Canadian dollars, and it was a very small scoop. This time, I tried the wild strawberry sorbet, the black currant sorbet (Berthillon Cassis sorbet is the very reason I grow black currants in my yard) and I asked what the most popular flavour is for my necessary third scoop. "Salted Caramel". Say no more Cute Scooper Boy. Scoop it on!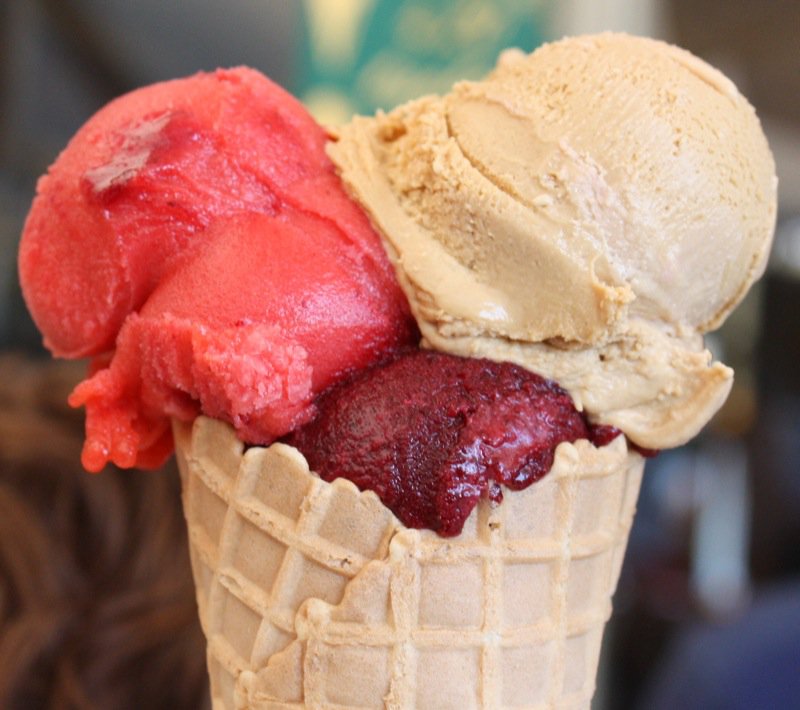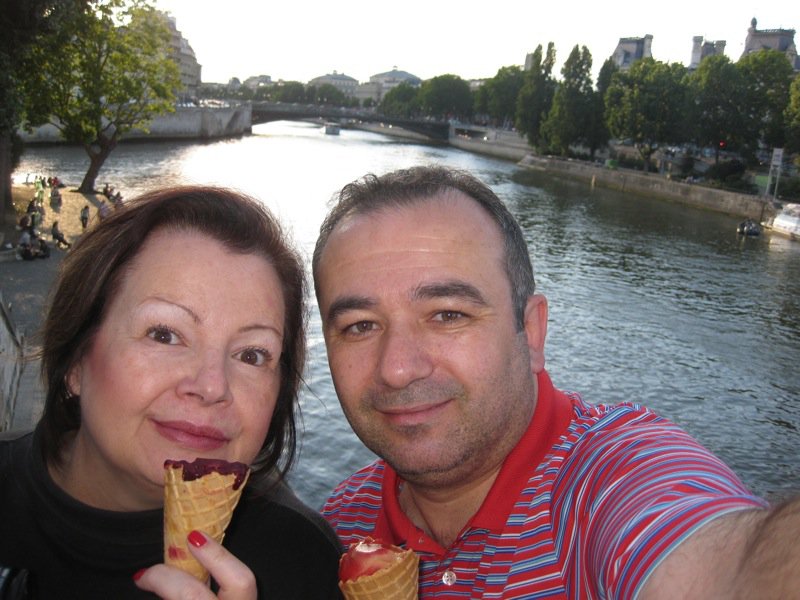 Sometimes a picture is worth a thousand words, but not this time. There is not a thousand words that could ever capture the distinct and vivid flavours of these scoops. Only tasting them will provide the frame of reference needed to understand the incredible quality of this ice cream. I am a connoisseur of ice-cream, and this is the best I have ever had. Ever. The wild strawberry ice-cream is better than the sorbet, though (at least in my mind). The salted caramel had me again on my knees. OMGosh!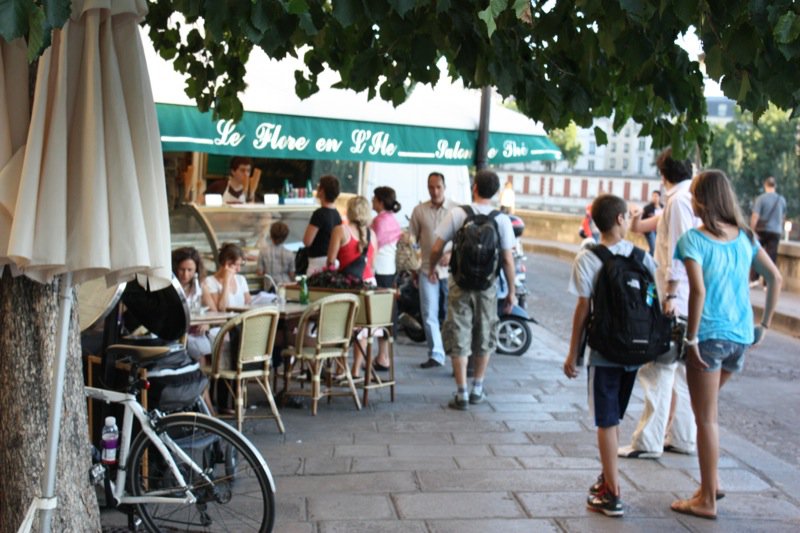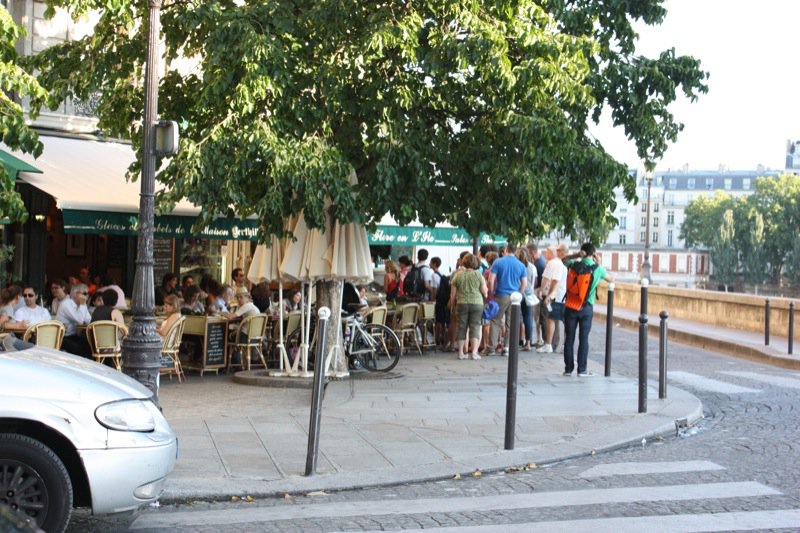 And the Cassis? Vanja said it tasted like a dusty old church basement smelled. I thought it was brilliant with a depth of flavour that was uniquely compelling and undefinable. Look at that colour. I cannot wait to try to duplicate it when I get home. My black currants were turning colour earlier than usual this season, and some were almost ready when we left the day before (11th of July).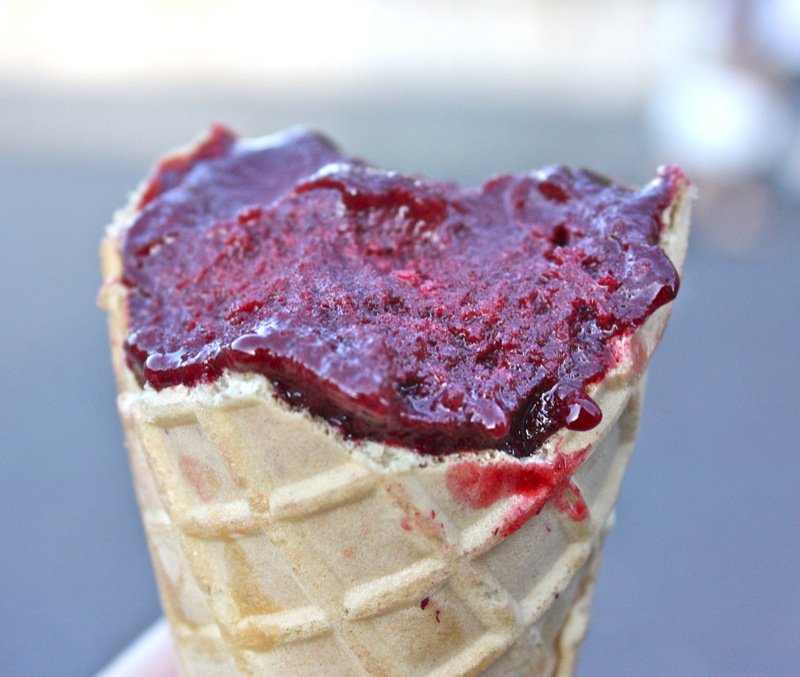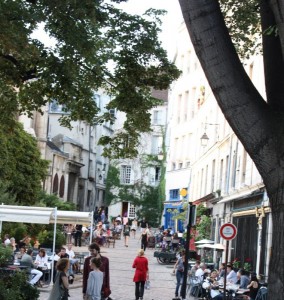 We crossed the bridge to the isle and bought our ice-cream, then just across the other, to the metro, was another lovely little niche where people enjoyed a meal in the sun on the steps of an old church.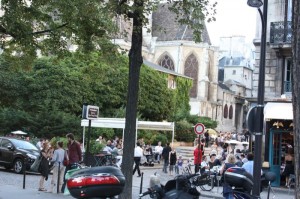 Everything is so manicured and green and gorgeous. I stood straighter, and walked brisker. Both energy and regalia breathed into me. It happens every time I visit Paris. It is the magic of this city.
Just off of the subway we are on our way to Montmartre through Sacre-Coeur up the touristy street with the Carousel at the top beckoning all, we did not succumb to the cat-calls and whistles of the shop owners working to capture our dollar.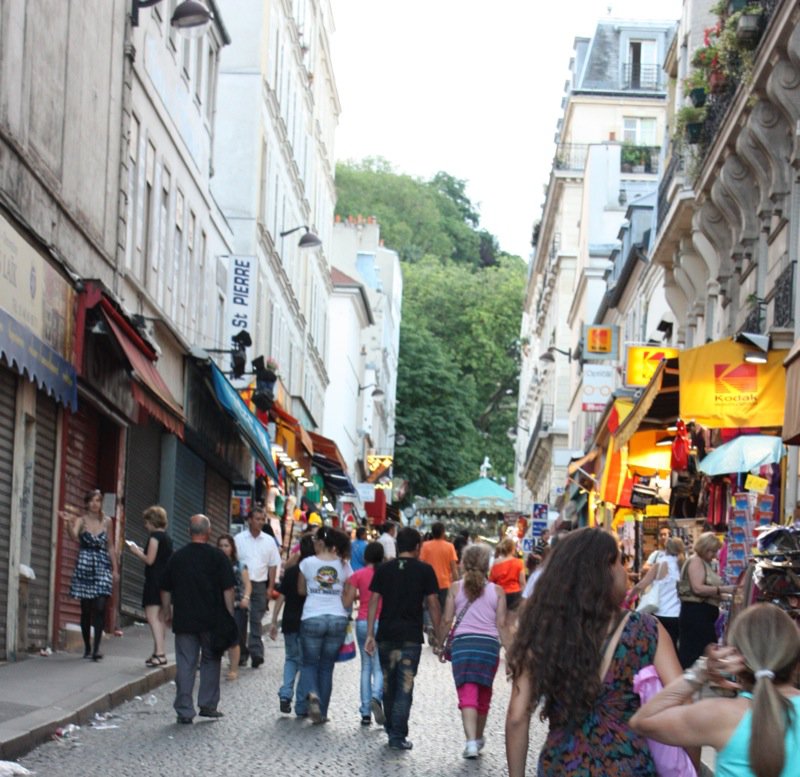 Finishing an asthmatic coughing spasm, we took the funicular up to the top. This was a new option since my last visit here, and the stairs in front of the church were roped off for the climb to the top, though hundreds were sitting on the upper levels. Once up, I saw my first vendeur à la sauvette. Every few years they change in ethnicity. The last time I was here they were almost all Nigerian. Now there are many from Bangladesh.
It is such a hot day. People are enjoying the sun and this breathtaking view of the city from the steps of Sacre-Coeur.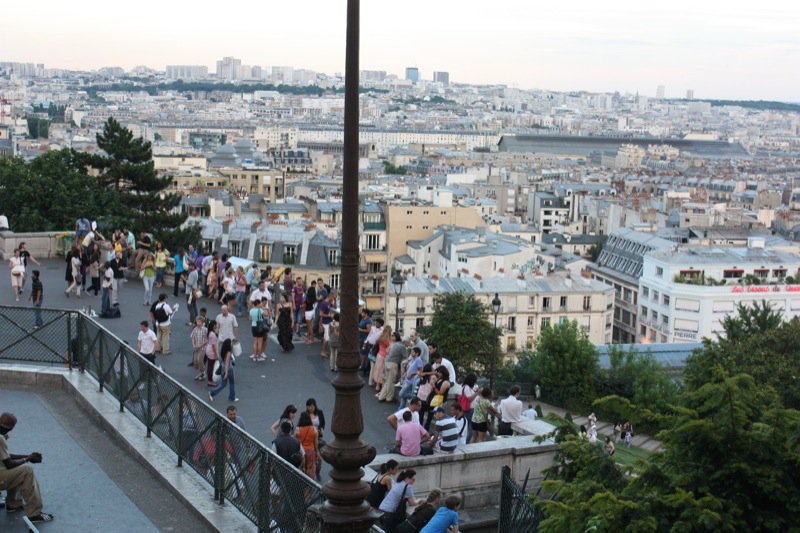 Can you find Vanja? He is there on the steps somewhere! And always someone is playing music for money. Above, right, is the drums of Africa with some beautiful dancing. Below right, is a highly talented string quartet that any music theatre or auditorium be hard pressed to match in quality and personality. These gals were spectacular and spellbinding. Their music graced the area with the charm and quality that one would expect to find on such esteemed ground.
Above, left, is the exit from the funicular and the necessary and charming souvenir shop.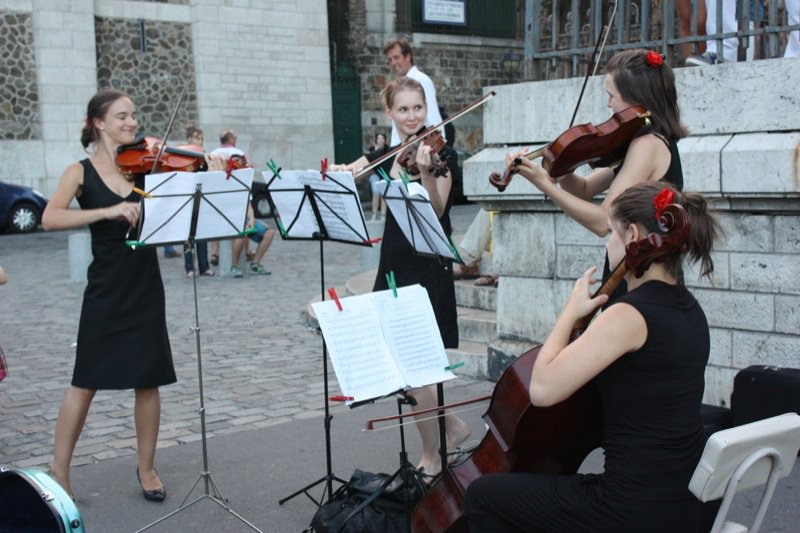 Vanja pulled me around a little bend to show me a view he had discovered while here in May for the European Basketball Playoffs. Our first sighting of the Eiffel Tower this trip!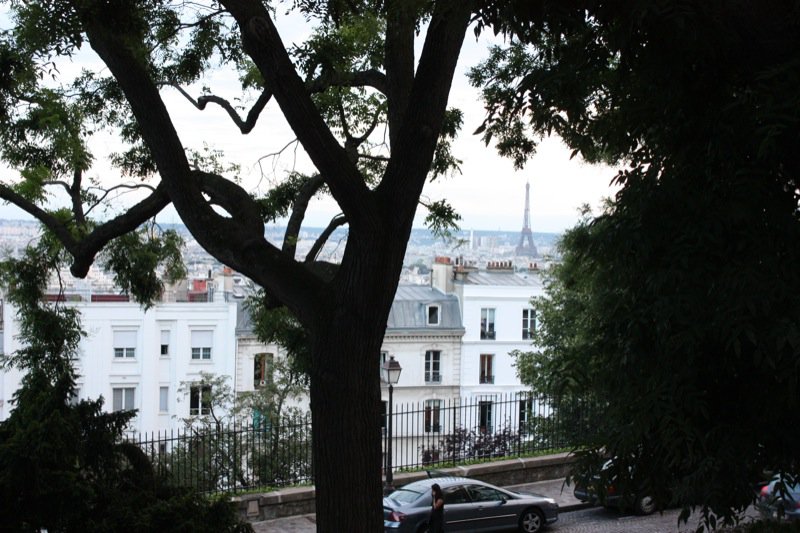 Just below this sighting were two men fishing bottles out of the trash and putting them into a large plastic bag. They had a black tub filled with ice beside it, and I had just purchased a bottle of water from such a man moments earlier! Clearly, they were scrounging for bottles. They then dumped the left over ice (as they were out of water bottles) and hid the black tub in the bushes below. Ahhh! Did I just drink water from a scavenged bottle that was refilled for selling? It is possible. I didn't check for the proper seal. Ahhhh! Beware, one and all.
As we scooted alongside the church, the little white train was parked that took passengers around Montmarte area was parked for reloading. If I wasn't hungry for supper, I would have climbed aboard. I never tire of these little trains. They are so much fun!
We are in Montmartre! Montmartre acquired its name from the martyrdom of Saint Denis, the Bishop of Paris and is the patron saint of France, who was decapitated on the hill around 250 AD. The square is just ahead! What?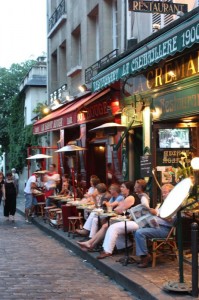 Everytime I have been here before (and there have been many), it has been March, and this square is empty of outdoor restaurant tables and equipment and filled with artists and their easels drawing portraits of their clients for all to enjoy or partake in. It had never crossed my mind that this square would be filled with tables and chairs for the summer, but it made perfect sense! What a gorgeous square, and all tables were lined as all are in Paris: facing the street with two chairs behind each to enable people watching.
People watching is the most fascinating pastime in Paris, and one must absolutely make time for it. Unfortunately, I have never done it enough, but I have unforgettable memories of the times I have taken to simple watch the people from one of those irresistible tables. On this occasion, those watching were also treated with an unfortunate incident. The waiter coming out of the arch, below, left, was followed by another older gentleman waiter laden with a similar tray to return to the restaurant across the pedestrian traffic pathway. Three African acrobats were performing, and though the one flipping had checked to ensure his backward path was clear, on his second flip he struck the older gent in the shoulder and the tray went flying through the street crashing to the ground. All were horrified. The acrobat was immediately after the gentleman to ensure he was not hurt. He had to be, though he continued to walk into the restaurant, now empty handed, without missing a beat. I am sure he was furious and in the greatest pain.
The artists that fill the square in the Spring, are lined up at one end of it in the Summer. I hadn't shared my wish for us to have our portraits drawn with Vanja. I think I was unaware of it until I was there again. Some of these artists are really very good. You can see for yourself. A sitting is usually an hour and costs 50 Euros, or more, or less: depending upon your ability to barter and the ability and appetite of the artist.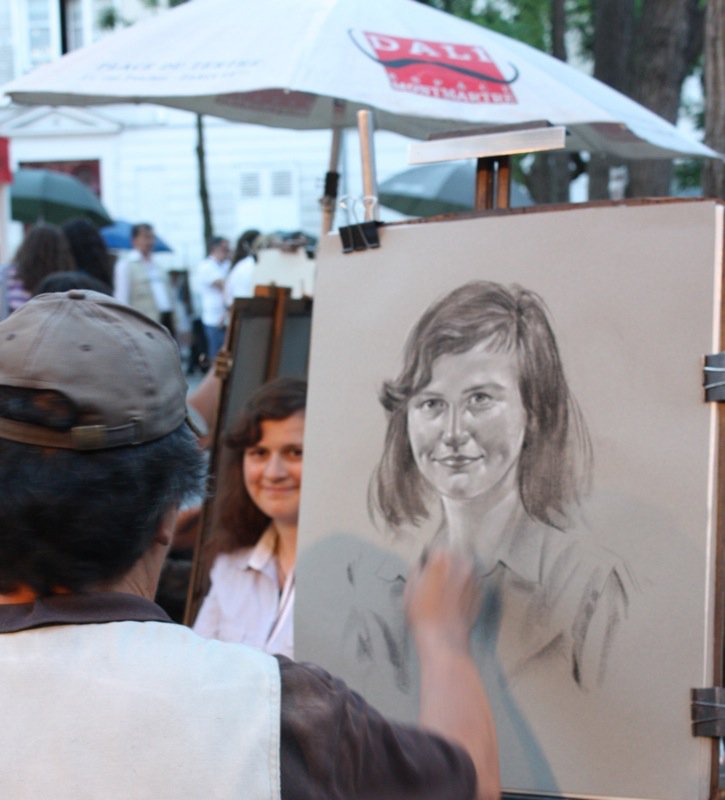 We came back at the end of our tour of the artists to see the progress here, and it is below.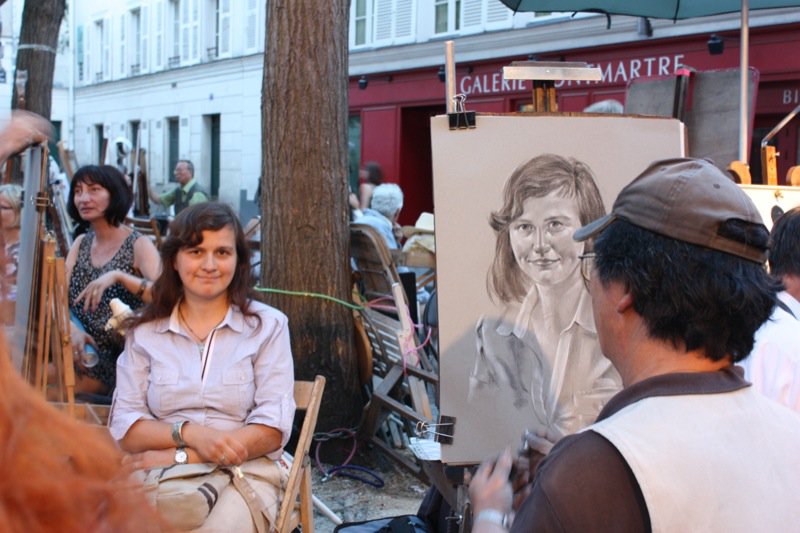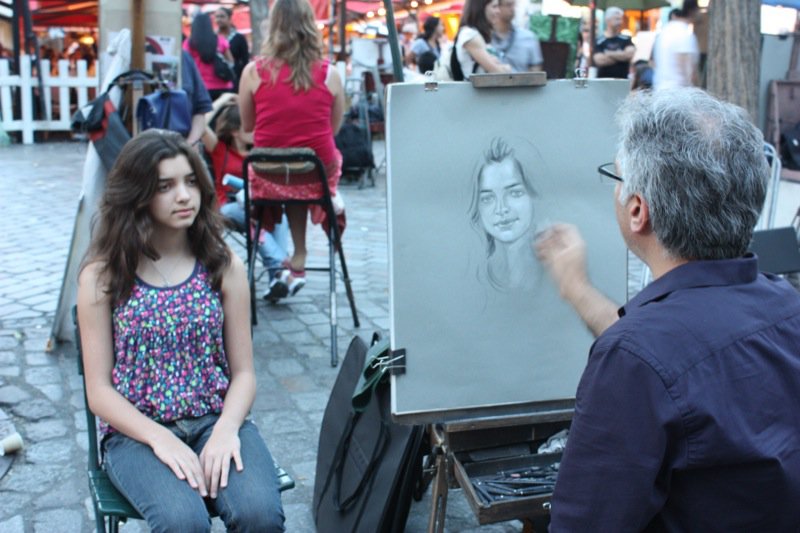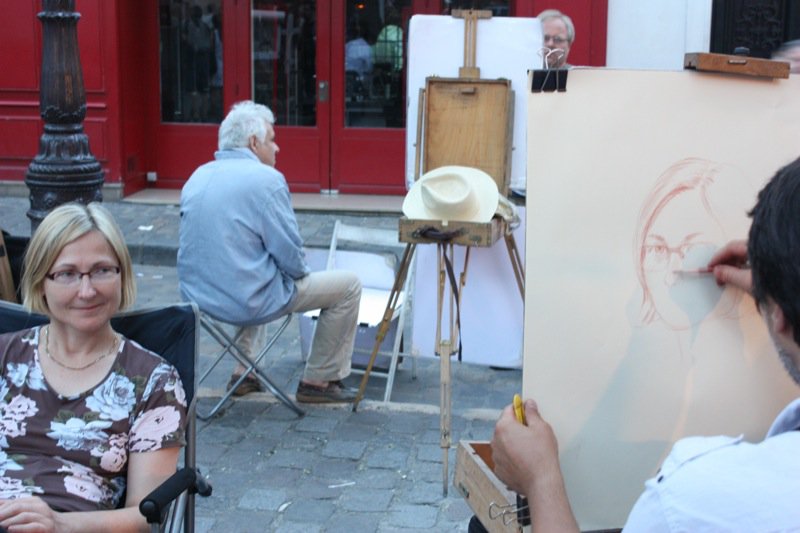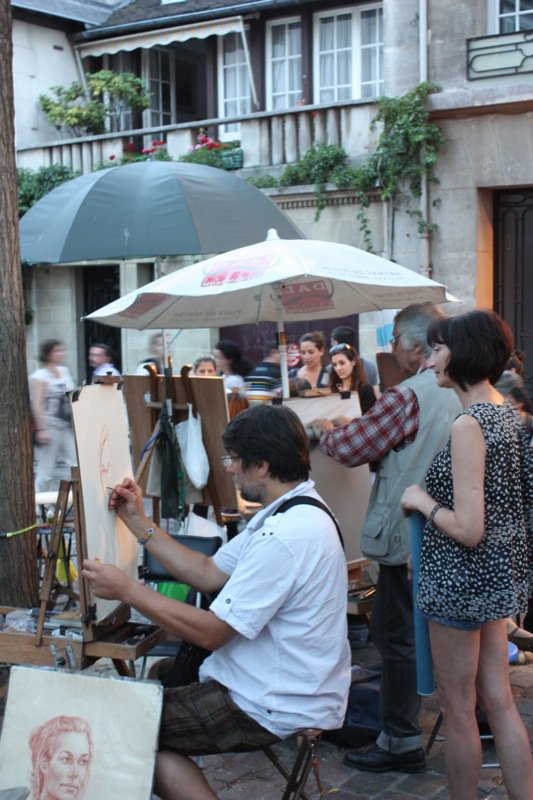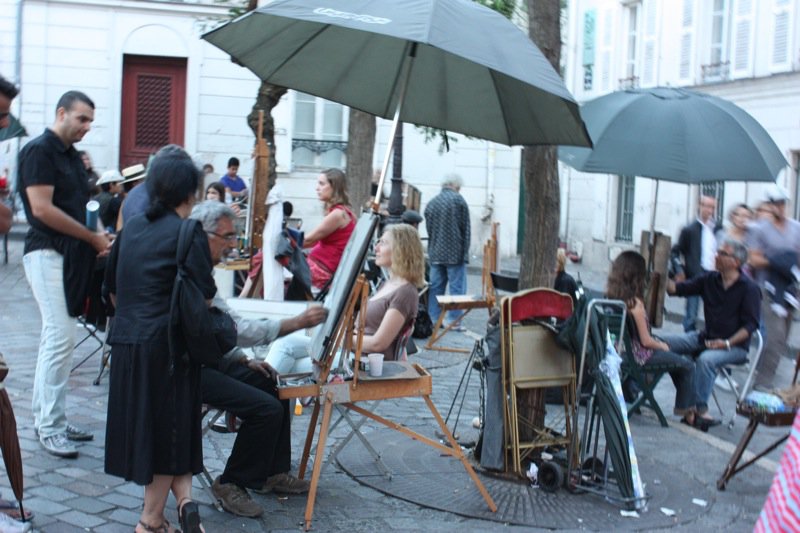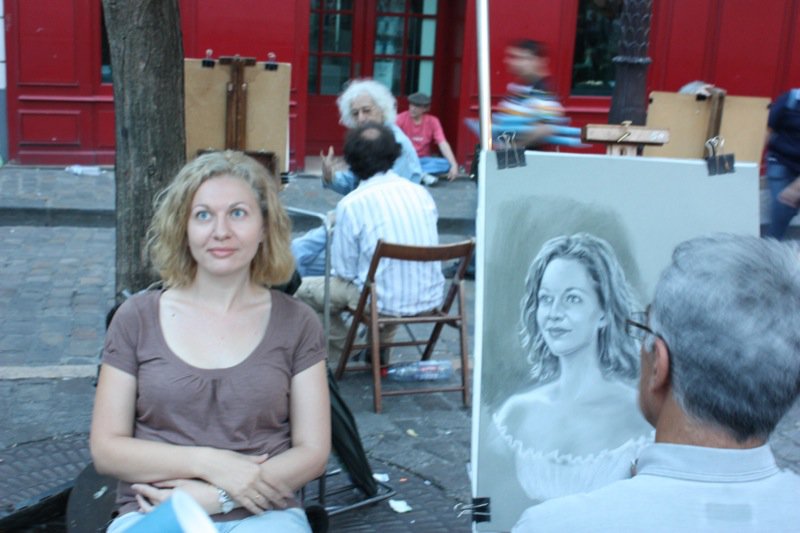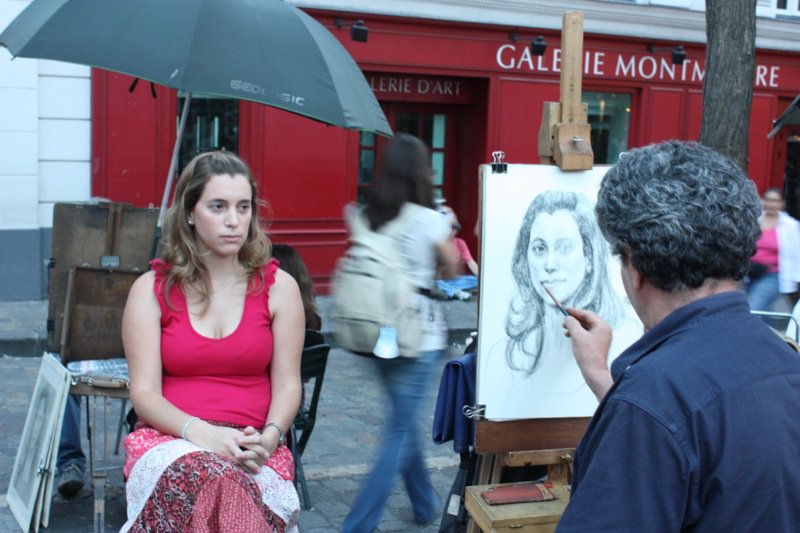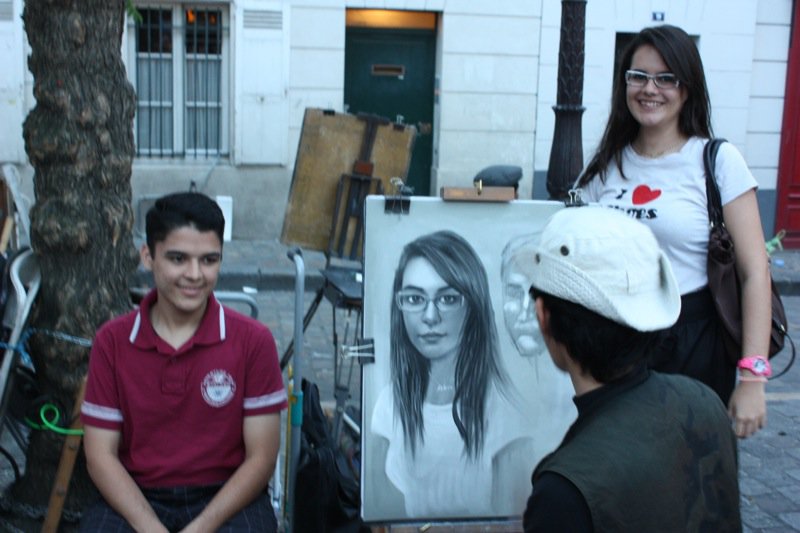 The gal above had hers drawn and now the artist is placing her brother behind her in the drawing. See them all in the row below?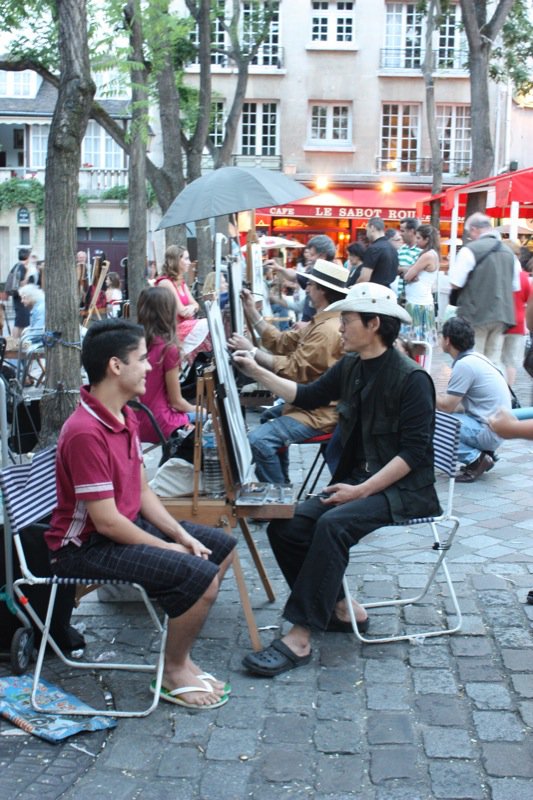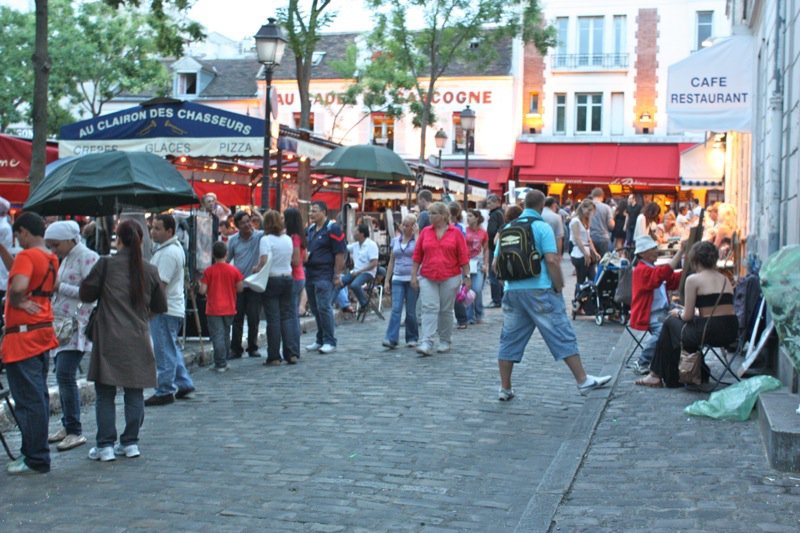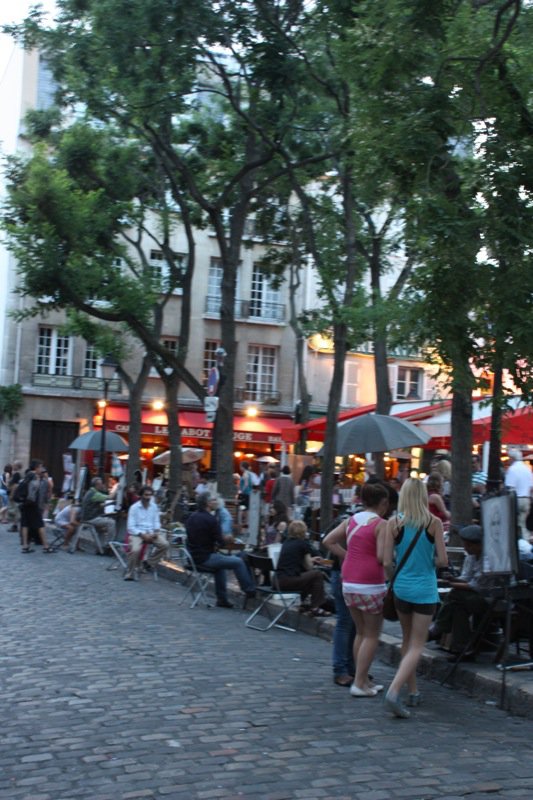 I absolutely love Montmarte and its Bohemian flare. It hearkens back to the day of Toulouse Lautrec who so carefreely and carefully memorialized that colourful time with his drawings and paintings. The square has seen its share of Impressionism, Cubism, Fauvism, Surrealism and modern painting; standing on such ground is indeed inspiring. I could spend the day with my paper and pencils if no one would watch my work! The air inspires artistic imaginings. The square is now shared by 298 painters, portraitists and caricaturists, all of whom belong to the Montmartre Artists Association.
In the 19th Century, artist associations such as Les Nabis, a Post-Impressionist, avant-garde collective and, The Incoherents (Les Arts Incohérents), an irrational and iconoclastic art movement, were formed here to include Vincent van Gogh, Pierre Brissaud, Alfred Jarry, Gen Paul, Jacques Villon, Raymond Duchamp-Villon, Henri Matisse, AndréDerain, Suzanne Valadon, Pierre-Auguste Renoir, Edgar Degas, Maurice Utrillo, Toulouse-Lautrec, and Théophile Steinlen; all worked in Montmartre and drew some of their inspiration from the area. The last of the bohemian Montmartre artist was Gen Paul (1895″"1975)and a friend of Utrillo, born in Montmartre . In La Bohème (1965), a song by Charles Aznavour sung by a painter recalls his youthful years in a Montmartre that has ceased to exist: Je ne reconnais plus/Ni les murs, ni les rues/Qui ont vu ma jeunesse/En haut d'un escalier/Je cherche l'atelier/Dont plus rien ne subsiste/Dans son nouveau décor/Montmartre semble triste/Et les lilas sont morts ('I no longer recognize/Neither the walls nor the streets/That had seen my youth/At the top of a staircase/I look for an atelier/Of which nothing survives/In its new décor/Montmartre seems sad/And the lilacs are dead'). The song is a farewell to what, according to Aznavour, were the last days of Montmartre as a site of bohemian activity.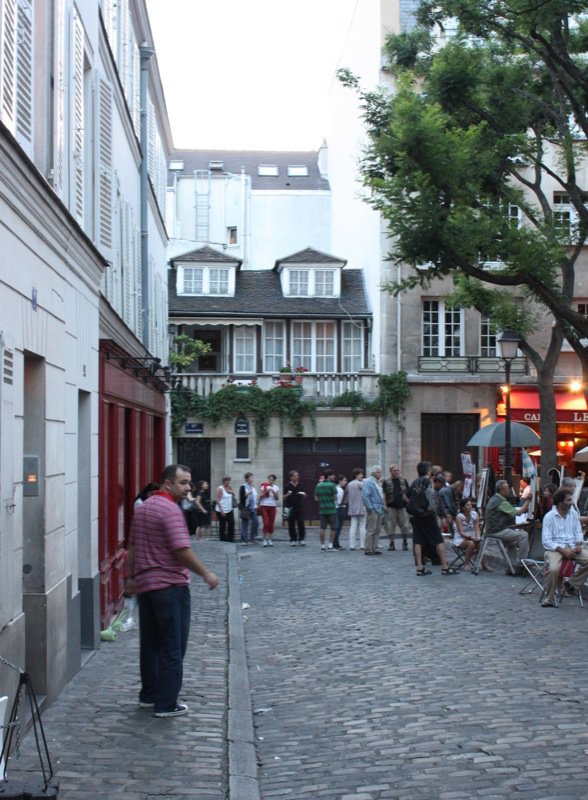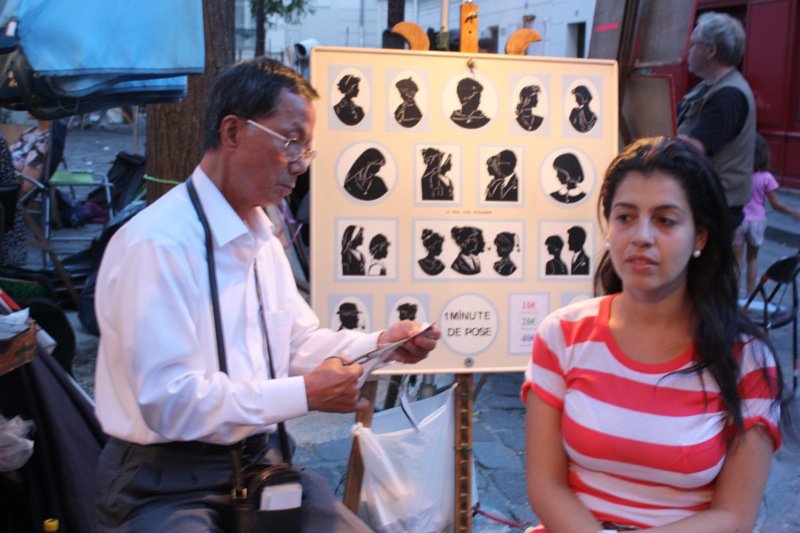 This silhouette artist seemed completely out of place, yet deftly worked magic with his scissors.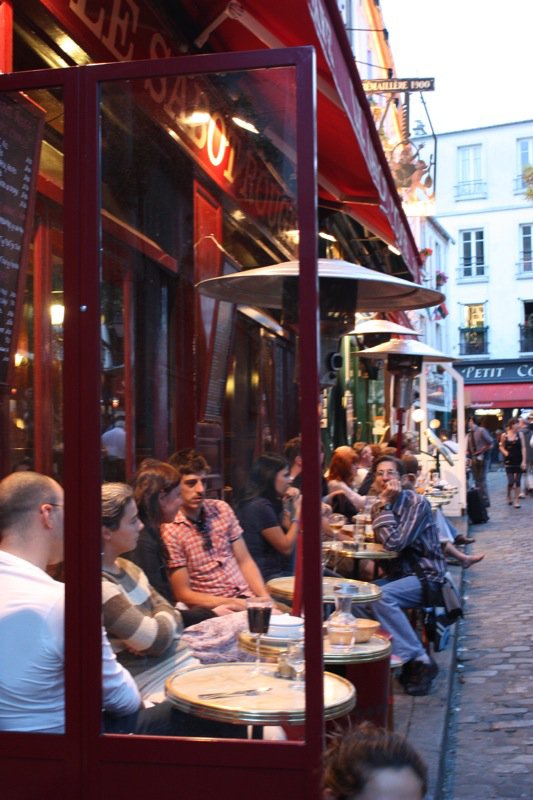 There is a lot of serious people watching going on in Montmartre: no further entertainment needed.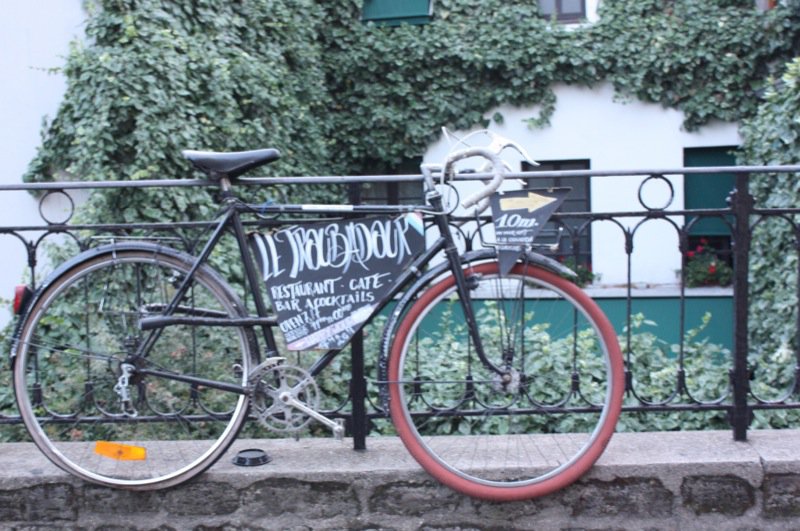 Around the corner, but the Salvador Dali Museum, a little creative advertising by the restaurant over the ridge is attached to the bicycle.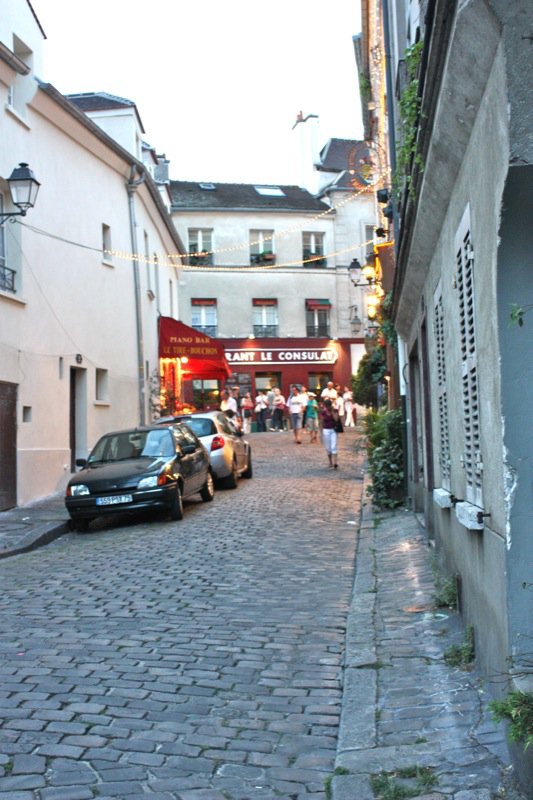 Vanja and Mario ate at a restaurant on this street while here in May.
It is above, right, and named Restaurant Le Poulbot. The food was unforgettable and brought Vanja back here this evening, but we arrived as it was closing. They had the French Onion Soup, Boeuf Bourguignon and a dessert all for 12 Euro. Each evening they host a Meal Special and it was coincidentally the same the evening we were there and just missed it. We will be back and we will go again. Vanja raved about the delicious food and the price was really reasonable. Their menu is below, left.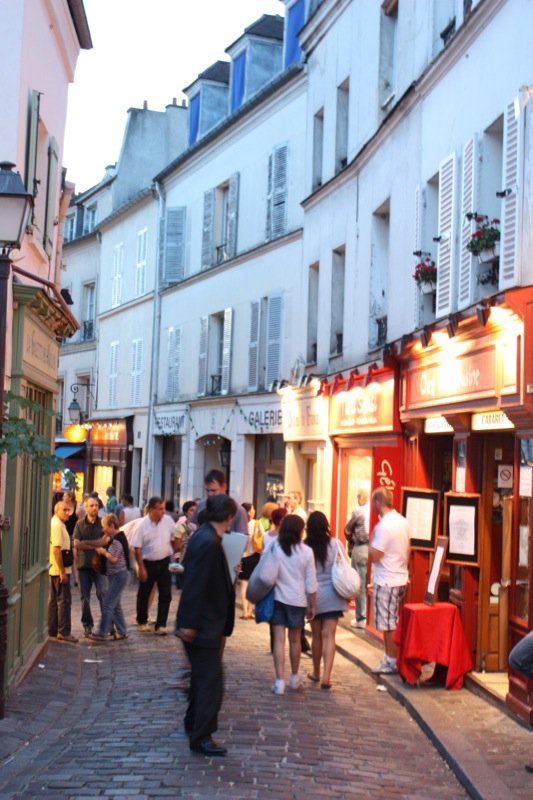 As we missed it, we strolled along the twilight streets peering into the golden glow emulating from the shop windows as people bustled through the cobblestone streets eating ice cream and crepes laden with bags of all sorts. Around the corner we spotted a little niche filled with tables that looked inviting. Chet du Tertre was the name of the restaurant and we ordered a simple bowl of onion soup.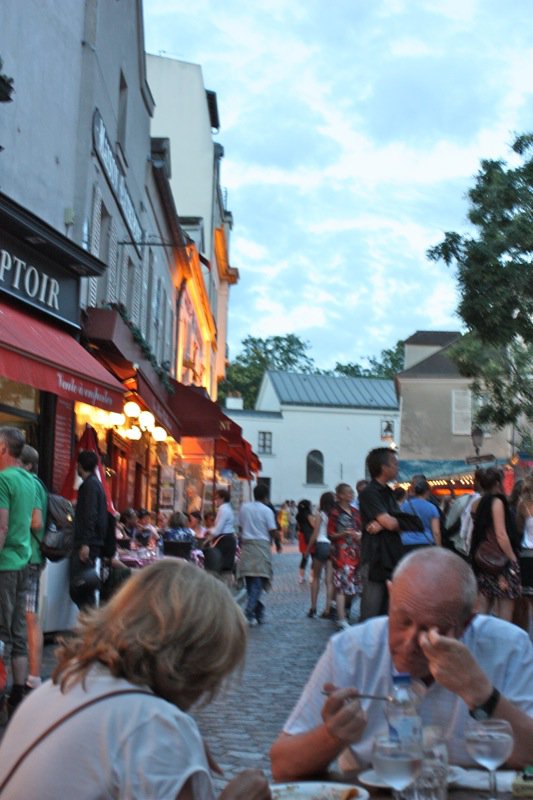 While it was being prepared we watched the man in the window of the restaurant making crepe after crepe and piling them up one after the other while the window next door had a line up in front of it … and, we watched the people!
Here is our soup. This bowl brought a whole new meaning to the term: French Onion Soup. First of all, it is everywhere in every restaurant. Second of all, as the story goes, it is believed to help recuperation from a hangover. Thirdly, this is the best French Onion Soup either of us has ever eaten. It was exceedingly hot, so took some time to get into .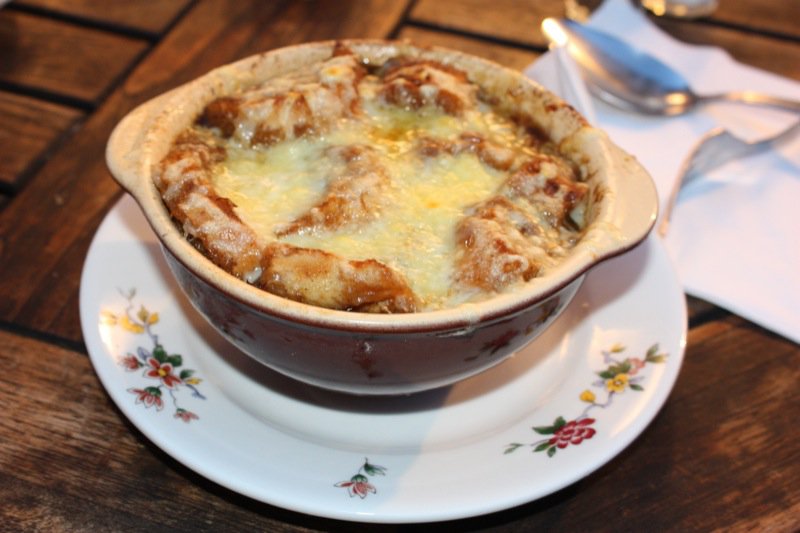 I was charmed by the rustic presentation. Perfect. The crust of Swiss Gruyere or French Emmental cheese (wasn't sure which) was thick and caramelized and deadly; it somehow melted into molten chewy chunks that were easy to eat. The bread inside was cubed and also easier to eat than the one large crouton that often accompanies this soup.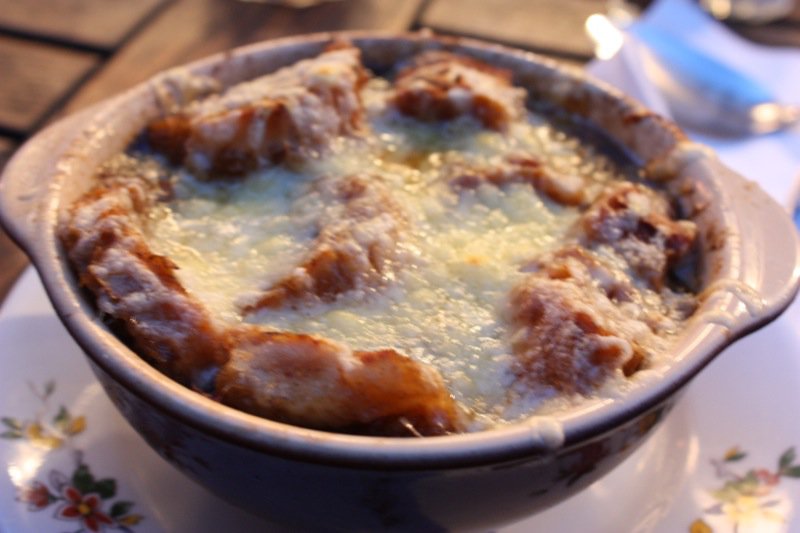 The broth was dark and meaty and rich and deeply complex with flavours of beef and port and onions and Paireeee!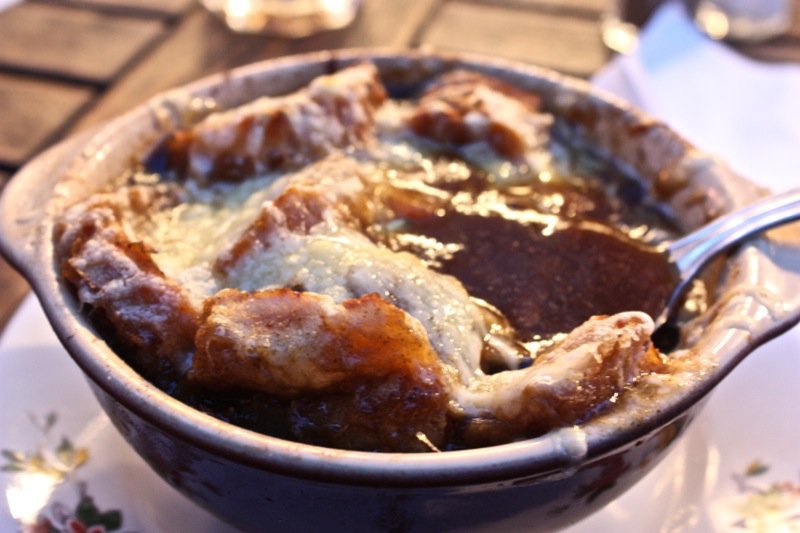 Flavour and taste connects so intimately with ones senses. This moment in time at this little round bistro table on Montmartre is instilled within that moment in time, forever. I was completely satisfied.
But, Vanja needed a crèpe! The perfect ending to the perfect first evening in Paris. I love the citron crèpe. They are rare, now. Simply sugar and fresh lemon juice: to-die-for. Vanja is a Nutella fan. That is the most common choice and understandably a satisfying one. When the man at the window (and we did choose the window next to our restaurant window that was piled high with crèpes made and cold, waiting for customers) saw that I was taking pictures, he immediately went into entertainment mode. I couldn't capture how high he was pouring the batter from!
He made a plain sugar crèpe for a little girl first, then Vanja's Nutella crèpe.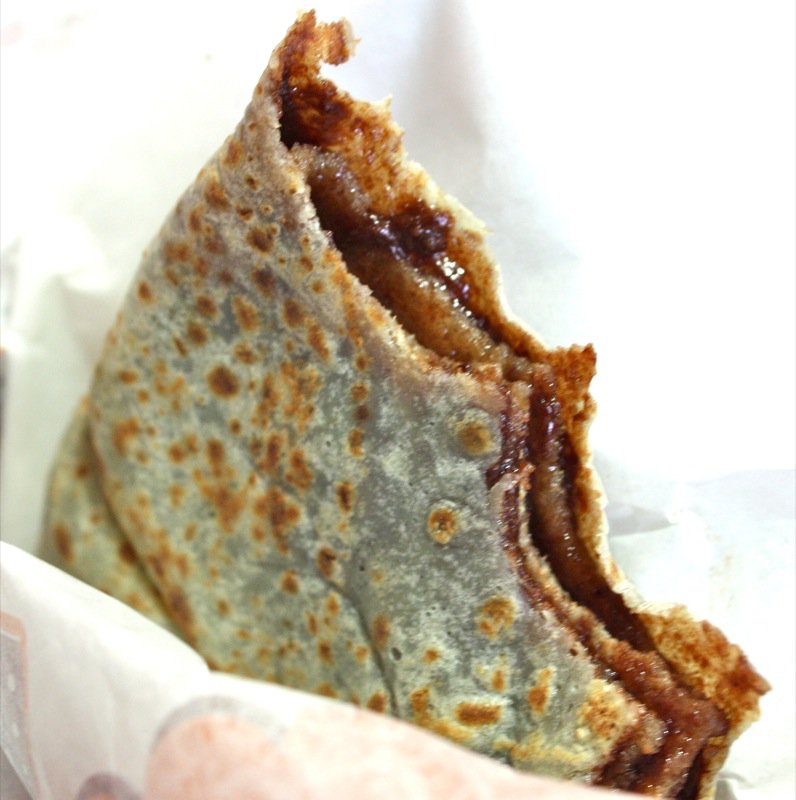 Almost as good as Pava's Palacinka, but, not quite! The perfect ending to the perfect day.