Day Six: Our Last Supper in Paris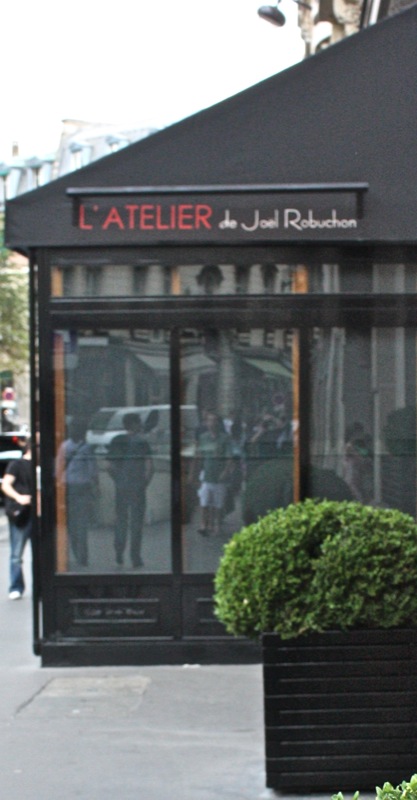 I like to start every post with a picture of food, but this time, the location seemed most appropriate. I had reserved a month or so before we left and we had to re-confirm the day before. Reservations are only accepted for the 6:30 seating which is when the restaurant opens. The night we were there was a Saturday; there was a line up of people with reservations waiting for the opening, but when we left, there was no one waiting to come in.
We actually walked right by it the night before walking back to our hotel from the Musée d'Orsay which made finding it this evening easy. I had wanted to eat one night in an exceptional Parisian restaurant. I knew of Jöel Robuchon and of Alain Ducasse and did as much research as I had time for to find out about other great places. I was looking for Michelin Star Chefs. In the end, Alain Ducasse at the Dorchester closed for the summer and the Thursday we were there would be their last night open for a month. I booked us in. It looked spectacular. Then thought about it. I really wanted to have dinner out on the last night, so it was L'Atelier that got out business. It is a unique project of Robichon's where he wanted to restaurant built around the kitchen so the diners could enjoy a personal interaction with the chef and the experience would be a much more intimate one for the diners. I love visiting the kitchens of incredible restaurants. I always ask and they do expect that, and have always welcomed taking us back to thank the chef for our meal. At least, that has been my experience. The opportunity to dine while watching the chef cook was a tremendous appeal to me.
There is a prix fix tasting menu here as well as other menus to order from. Most reviewers have said that this is a place for tasting and not for eating. I just loved that Vanja didn't have to have the prix fix menu. He could order whatever he wanted and not worry about having to eat something that didn't appeal to him. However, because they have such an extensive menu (and it is extensive for this kind of restaurant), they are very happy to replace any part of the prix fix menu with an alternate option. All places are, but it is actually advertised here.
Before we entered, while standing in line, I was disillusioned. I cannot help but compare this experience (the one waiting for me) to ours at Thomas Keller's The French Laundry and Heston Blumenthal's The Fat Duck. We waited for quite some time in the garden at The French Laundry for the restaurant to open and were so impressed by the respectful formality and attention to detail we observed through the windows of every staff member preparing for opening. I am sure most were completely unaware we were there. At The Fat Duck we were greeted like family.
Yet, here, the staff was clearly aware of the crowd gathering outside. The hostess sat (in a rather revealing pose) and chatted and laughed on her cell phone through the glass for all to see. The cleaning lady was still scrubbing the floors with the blinds open and it was not a pretty sight. At all. She was not careful about where she put her dirty rags. I was truly surprised that there was not any attention paid to us and the impression that this kind of work might make upon us: right in front of us, the casual and unappealing, almost disrespectful manner the workers carried out their opening tasks in. It was clear they were being watched and they were completely irreverent.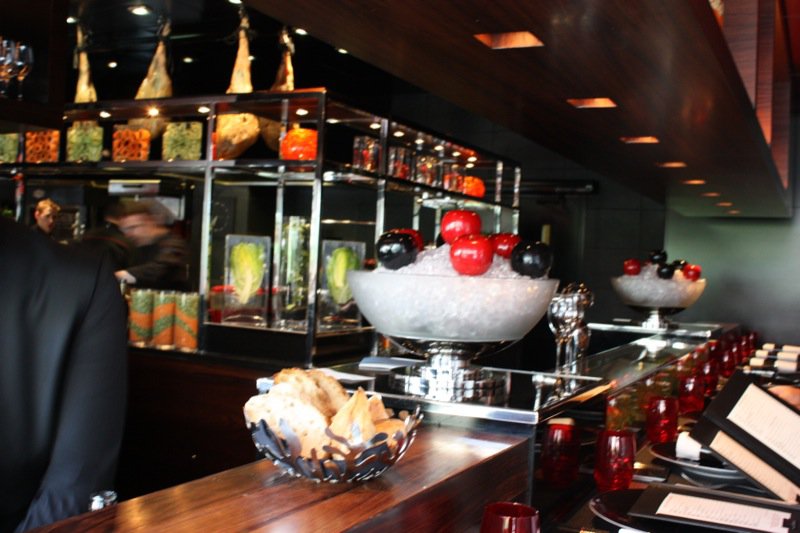 And, yes, once again, we were first in line. We had only been 20 minutes early. The restaurant opened 10 minutes late. We were greeted by that same young woman who had been on the phone without her even looking at us. A young man checked off our name, and she guided us to the very back corner to the last two chairs (above right). It was far too dark there for any good photos of food, so I asked if we could please sit here (at the corner of the bar, by the front). Hmmm… Well, she would have to rearrange her seating plan. The man behind the bar told her it would be fine and to do it. She was very flustered and did allow us to sit where I wanted, but was not happy about it. Too bad. We were the first ones in and everyone was to sit around the kitchen. Someone else could have that dark back corner.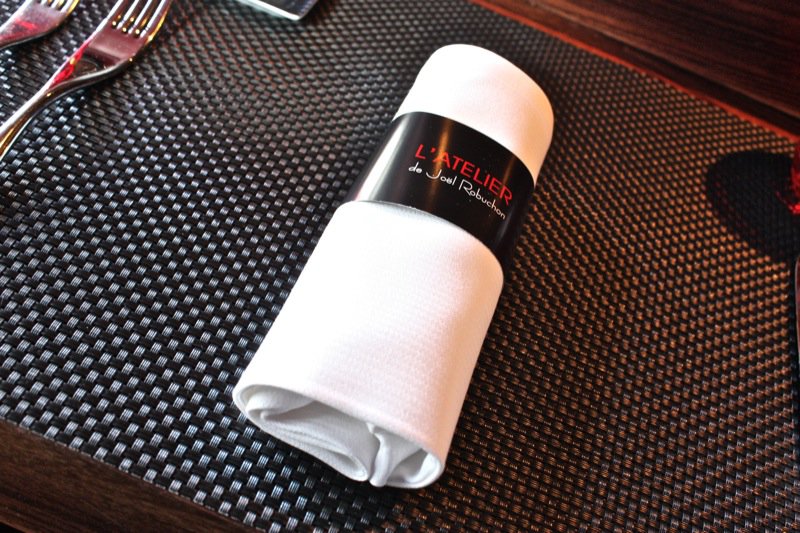 We were sitting in high bar stools. I was excited as I perched on my stool and peered into the darker room looking for the kitchen. Where was it? There was a man instantly in front of us asking us what we wanted to eat. I said I would have the prix fix menu and then Vanja decided to, as well. He had had quite some time to think about it outside. He asked for options for the caviar course. The young man suggested the langoustine, and so that was it. And to drink? Water, please. We had decided after out experience at The French Laundry when three glasses of wine totalled 150 US dollars to just enjoy the food at these kind of restaurants and drink at others. The bread appeared on the upper bar counter immediately, sans butter.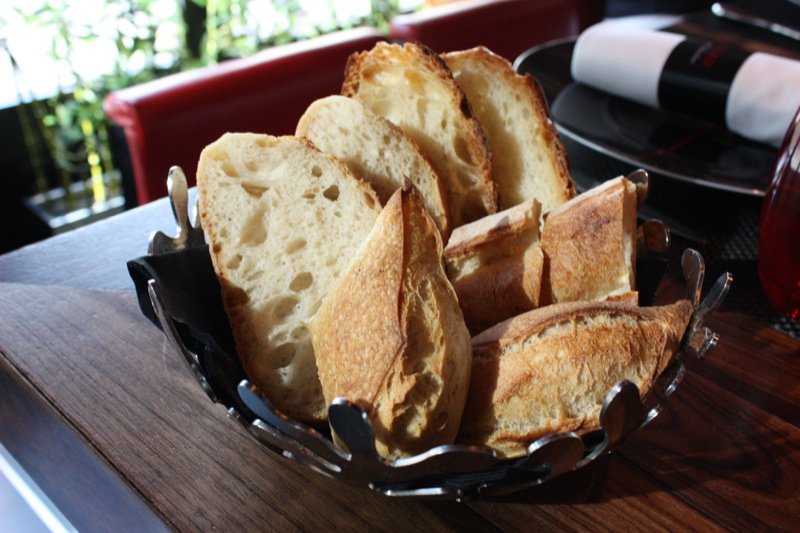 And where is the kitchen. We were clearly sitting at the bar. Everyone was. I got up, and walked to the other side of the restaurant. When you come in, there is an opening into the kitchen that you can stand at and watch the kitchen from, though it is still a bit away, and the hostess is right there with her table. There are then two doors: one to the right and one to the left and each side of the restaurant is exactly the same. There is an L- shaped bar on the left side, and the reverse L-shaped bar on the right side. Both sides surround the bar. The kitchen is at the back and very difficult to see much from any position.That was really disappointing.
The restaurant website even explains the concept as a kitchen opened on a circular bar with 36 seats that allows clients to follow the service, to watch the succession of dishes, and to compose their own meal according to their appetite, as the menu offers all the great classics to taste in small, tapas-style portions. A large choice of carefully selected wines is available by the glass. Attentive service, warm and casual ambience and impeccable cuisine directed by Joël Robuchon.
Below, I am taking the photo from our set at the corner of the bar. If you look carefully, you can see the 5 legs of ham hanging from the ceiling inside of the open walls of the kitchen. It is lined with the jars of vegetables . Can you see it there? In the middle, at the bottom, is a leg of prosciutto in a cutter and a blurry man moving behind it. That is one of the cooks. But, most of them are down where the photo ends. That is where they are working. And, if you are looking from the other side, it is the same. So, during the dinner, you cannot see anyone preparing your meal, at all. Vanja, and some of the dinners, could see the Chef de Cuisine standing directly behind the opening by the front door expediting all of the food in the kitchen. He was the only one talking. I could not even see him. The other chefs and cooks were behind the open dividers filled with objects that made it very difficult for anyone to see them.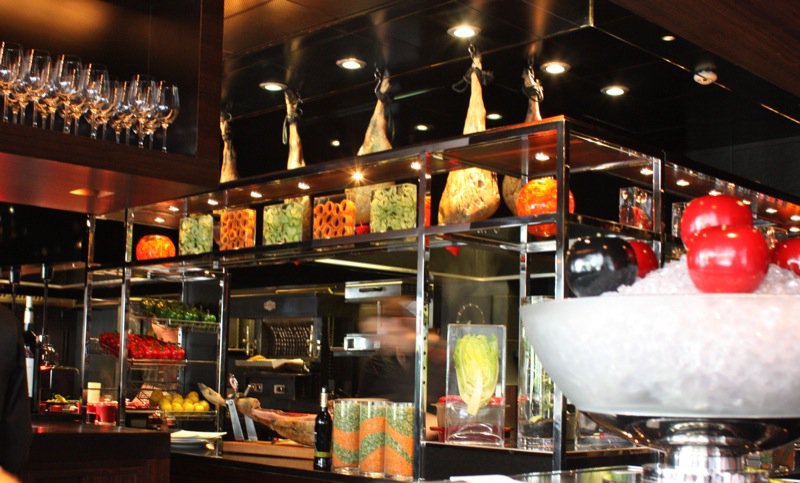 To say the service was fast would be an understatement. Honestly, we hadn't even sipped our water or said anything to one another before the amuse bouche appeared. It was presented to us at the top of the bar and we were told it was the amuse bouche. When I asked what it was, I was told, "Cold Soup." I think it was a butternut squash soup. It was a tasty non-descript, non-memorable taste. I really wanted to know what was in it. Our waited spoke English very well, but there was very little desire to ensure he had answered my question as he turned to chat with another guest in the middle of answering me. This was basically how the entire meal went, but, I will go on.
First, before the young man turned away, I did ask for butter with our bread. His helper heard me. That is always a treat for Vanja and I and we very much enjoy butter with our bread when we are out for a nice meal. We never have it at home and it is just such a pleasure. The butter was placed on a piece of slate and also served on the high bar in front of us where the bread was sitting. Our water was just behind that bar within the reach of who I supposed was our waiter. The butter was also non-descript. The I still recall the two butters served at The French Laundry: the salted one, and the none salted one with the detailed description of where each was from which I really did appreciate. And the butter at The Fat Duck was equally as memorable. This butter was not. But, it was only butter. The amuse bouche was beautiful. Both Vanja and I admired the presentation and the delicate tuille standing in it. I was still aglow with anticipation!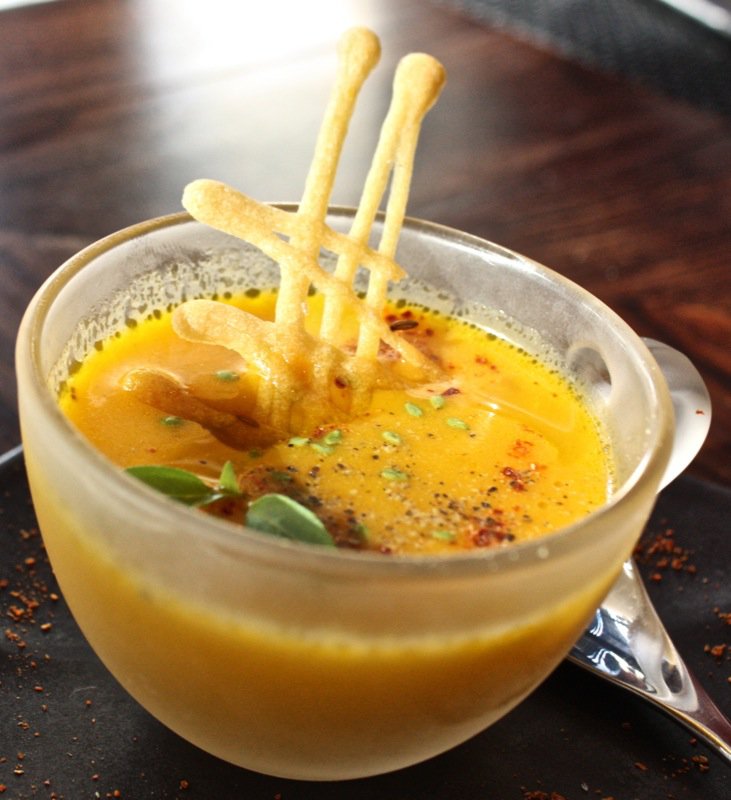 The couple next to me, around the corner of the bar, were exceedingly friendly: on vacation from Australia and had a wealth of information for us from their Paris experiences. Alas, it was out last night, but I was still listening intently. Isn't the paprika sprinkled on the plate an artistic touch (below, left)? You can get an idea of how high the serving bar was on the photo below. It was very similar to a kitchen where there is the high bar and the eating bar in front of it.
I am not kidding you when I say as I put the spoon into my empty cup from the last bite that one waiter was whisking it away while his helped was standing behind him with our first course when was in front of me within 15 seconds of my spoon hitting the bottom of the cup. It looks so gorgeous. I am crazy over caviar! I have had some really good caviar in my life. Never eaten Beluga caviar yet, but it is on "the list"! What kind of caviar is this? I ask. "It is from China." I do not lie. That is what he said. What kind of caviar from China? I question further. "From a fish from China." I just looked at him, in shock, actually. At that point, he turned and said something to another fellow behind him and the answer came back: "Osetra: a kind of Sturgeon." I didn't dare ask what kind of Osetra caviar at that point. The dish was called simply: Le Caviar. The first part of the menu, describing th ecomponents of this dish and the first half of the menu, is below. You will notice we didn't get what we were supposed to, and I only noticed that after, as I was looking so forward to the soft shelled crab that never arrived!
But, at this moment, the caviar had no flavour. I know that is hard to believe, and I am now sounding like a pouting child, but it is true. There was no flavour in it. Nothing fishy. Nothing salty. It was like eating water bubbles. The texture was nice. I was very confused as I would have thought it would be impossible for caviar to have such indiscernible flavour.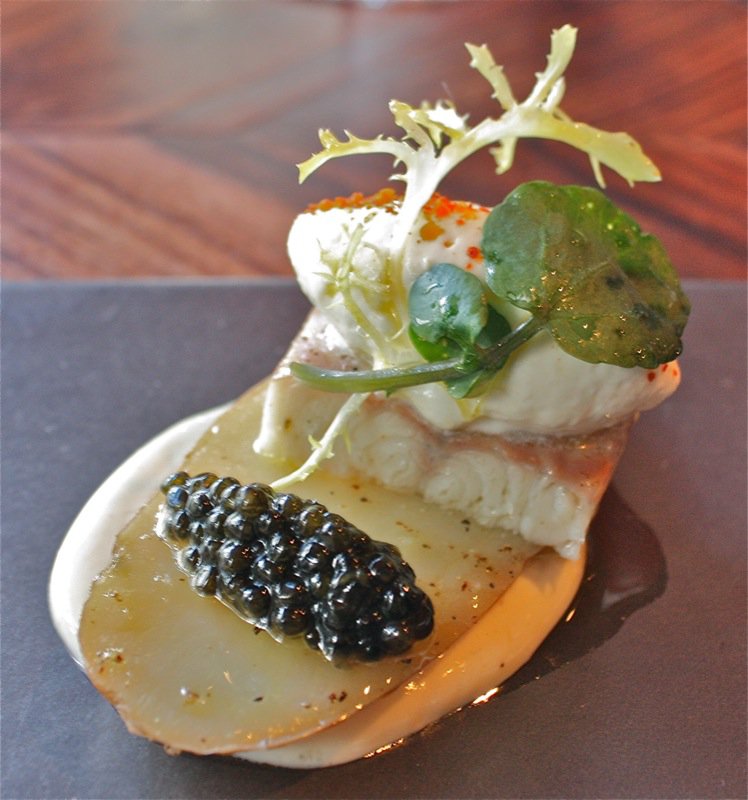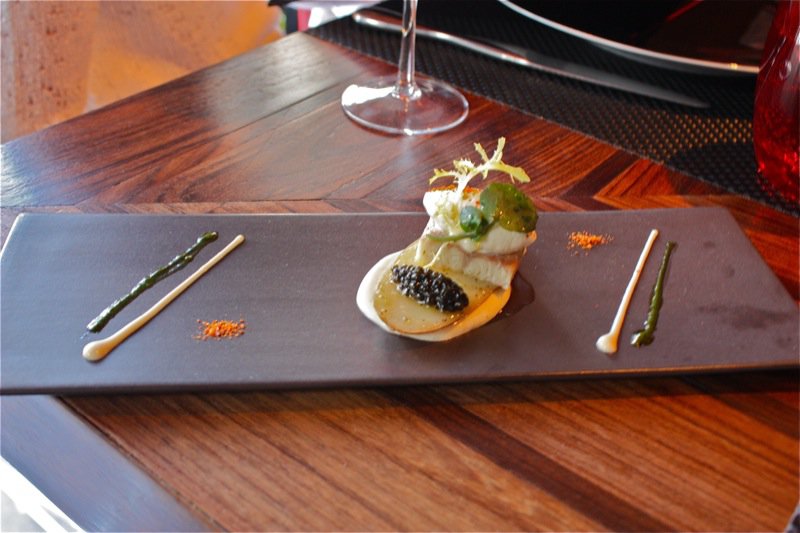 It looked lovely. Below is the first half of our prix fix menu which was very loosely followed throughout the evening.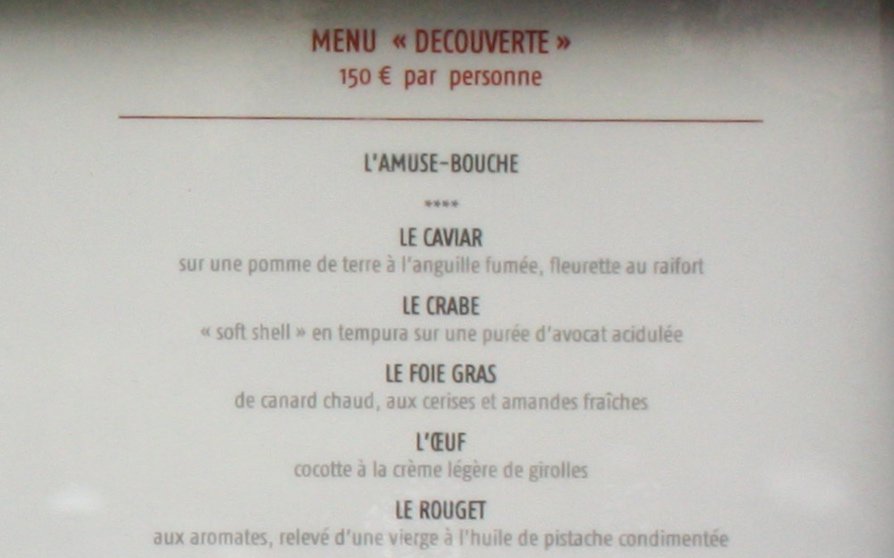 Vanja got his langoustine and both were succulent and buttery and wonderful. I had a very small taste and the plump and succulent texture played an important role in the pleasure. What was the green leaf salad accompanying it? We asked, but there never was an answer. The waiter got interrupted by his helper and we did not find out. It was tasty and something like a Brussels sprout.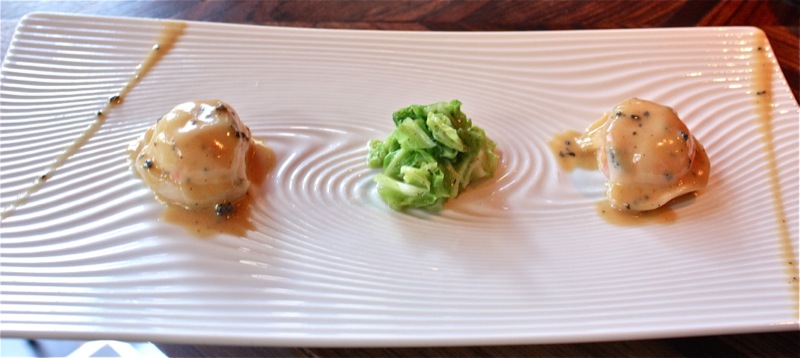 Next, we were both served the most gorgeous and flavourful heirloom tomato salad either of us has ever eaten. The glass dish does not do the presentation justice on the wooden counter. This dish was a work of art both in presentation and in the powerful simplicity of the flavours the dish delivered. Incredible tomatoes. Fruity and full bodied olive oil. A drizzle of the most lovely Balsamic and seasoned to perfection. We would have both licked our plates, but the food was coming at us so fast we almost felt we should duck! We had decided to leave enough food on our plate to play with for a few minutes. It was hard. This was the star of the evening for Vanja and a scintillating highlight for me.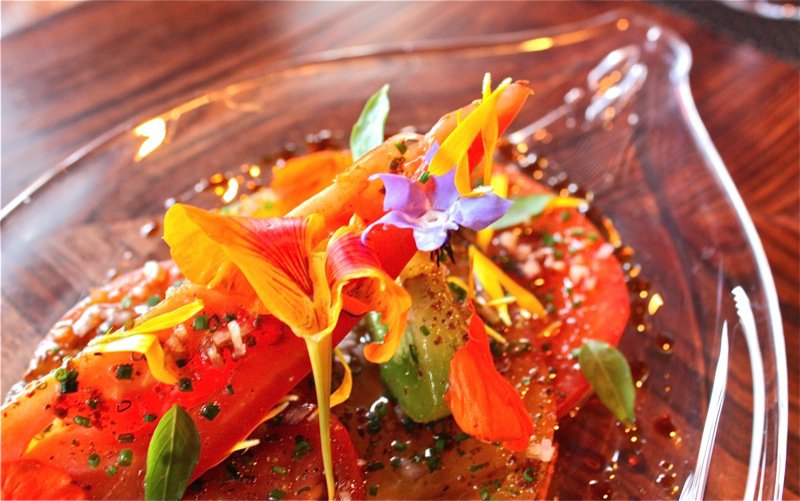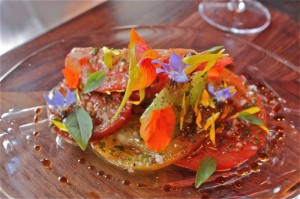 I still get so much pleasure from just looking at it. This is when flavour and taste and texture are so important in a dish. When I study this dish, my taste memory instantly recalls the fleshy sparkle of the tomato oozing with its thick tangy gelée swirling into the savoury fruitiness of the rich olive oil lifted with the depth of the Balsamic. The herby leaves and peppery flowers added such an unforgettable mouth feel and fresh flavour explosion that I am enjoying it again, almost as much, right now.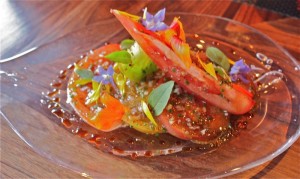 Next came the foie gras. I have wanted to try foie gras with cherries as it is accompanied with them so much. What a gorgeous dish. Crisp tart sticks of crunchy green apple perfectly complimented the unctuous flawlessly caramelized foie. The deep and earthy sweet firm cherries and the fresh young toothsome almond was another thrill and the foie became a completely different dish when eaten with this accompaniment. I could not get enough. It was oh, so lush and flavourful and sumptuous. My feet were swinging under my bar chair as I celebrated this moment quietly in my chair. Mmmm! The leaf garnish was very beautiful, but not flavourful. Does anyone know what it is? This dish was my favourite. The cherry glaze was light, but bright, and perfect with the foie. My only complaint is that I had a lot of veins in my piece. This was not pleasing. It was actually disturbing.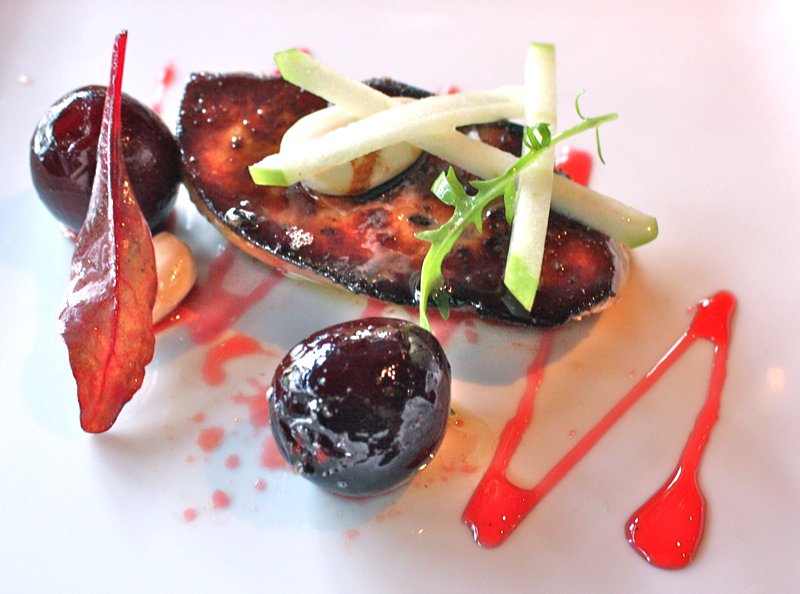 Isn't it gorgeous? I knew by now not to ask what kind of cherries they were. Out waiter was spending endless time laughing and visiting with a couple a few chairs down (the woman was very loud and very drunk) and we had to wave a helper down for some water. Below is the remainder of our menu.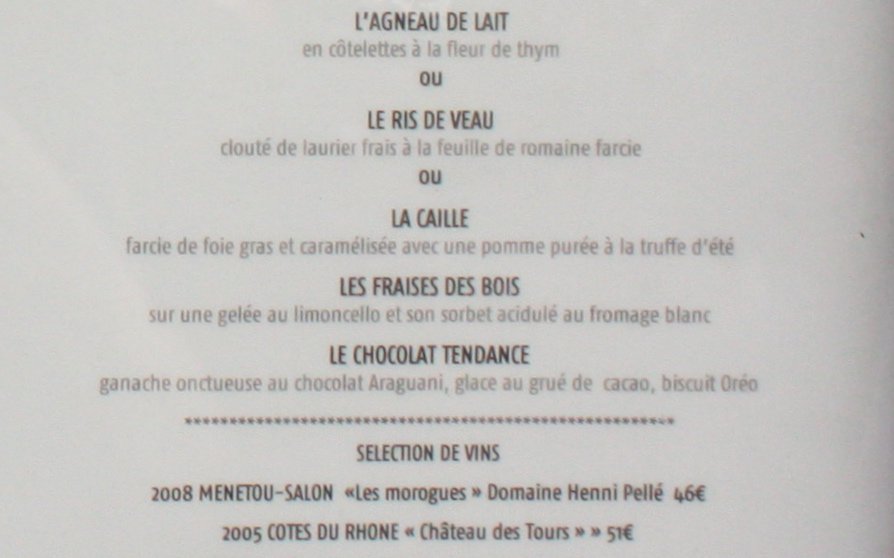 Interestingly, we did not get the soft shelled crab, or the egg on the posted menu (and the menu above was presented to us and the one we chose to have); there was no mention of any replacement or any apology or conversation about allergy or preference when the alternate dishes were presented. This was just sat in front of us without any explanation. What is this, please? I knew I wasn't expecting anything like this, though I couldn't recall what I was expecting. "An espuma of mushroom: layered with a mixture of parsley on the bottom, followed by a light cream, a layer of sautéed mushrooms, topped with the mushroom espuma [mushroom foam]. We suggest you spoon to the bottom and eat a little of each layer together."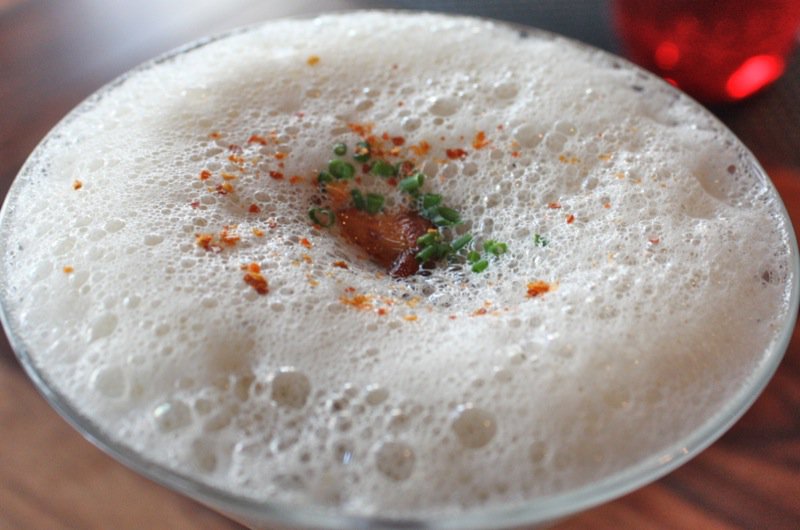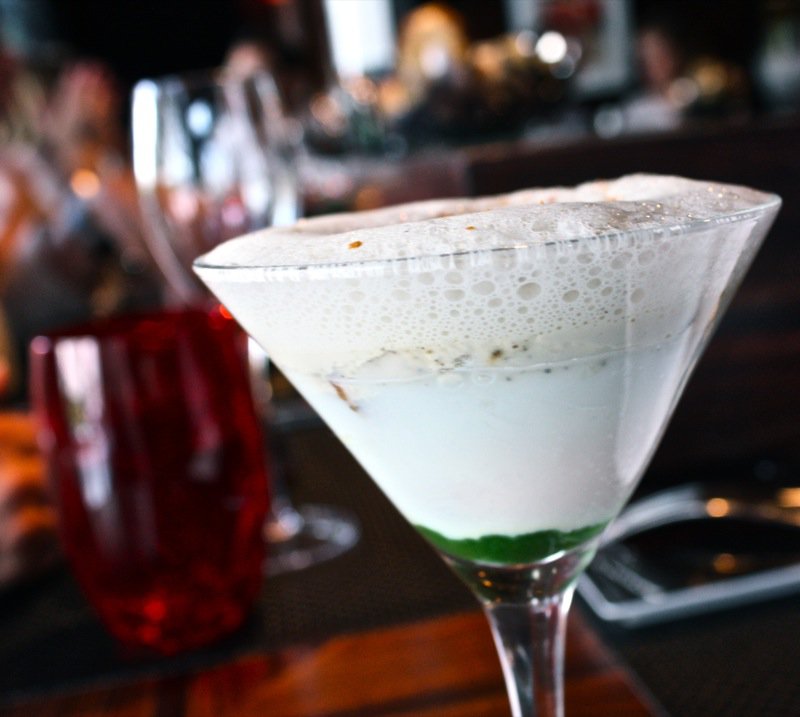 Isn't it a pretty dish? I love layered food. I was enamoured with the idea of this one. I dug to the bottom with delight and eagerly put the spoon in my mouth when I heard Vanja's "Mmmm!" The mushrooms were really delicious butter sautéed mushrooms suspended in a light liquid that looked like cream but didn't taste like cream. It tasted like a very light warm milk. The mushrooms were a really scrumptious bit of butter ssautéed mushrooms in an unexpected presentation. There was no additional texture sensation as could have happened with a thick cream at the bottom. Even if the warm milk had a thicker texture over the soupy parsley, it would have added interest to the dish. Vanja (bless his silly palate) hates parsley, and ate his layer without a problem. It was a vibrant green, but had no other flavour than mushrooms. A beautiful dish of light and tasty fried mushroom soup. I was disappointed as it had so much more potential. I am not being spoiled here. I am really very easy to please. This is a two Michelin Star restaurant, and Jöel Robichon is the chef that currently holds the most stars of any chef. As I am writing, I am pouting. I have never had a soft shelled crab. It is on my list and I am really disappointed that it was substituted without any explanation. The staff here could really learn a lot from the staff at The Fat Duck or at The French Laundry, and many other places I have been that are not three star restaurants. Truly. I have learned to expect respect (a demonstration of value) and information from my servers when eating at such acclaimed places.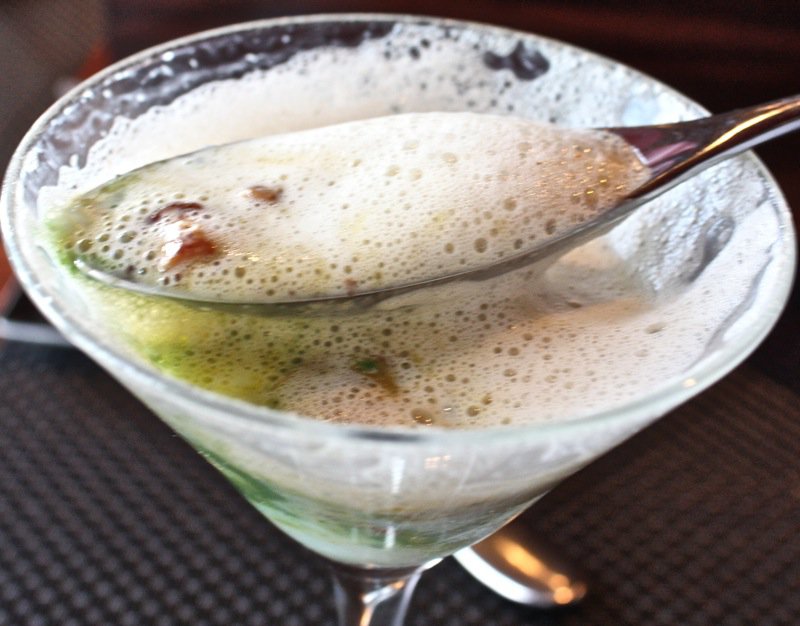 However, I am also a very positive person. We are in Paris, for goodness sake! We are out eating at a lovely restaurant and have some very interesting company. I find a big smile crawling back across my face!
Below, you will see how we were all seated. There were 18 seats on each L shape: 10 on our side, 5 across the front, and 2 just across from us. (…an L-shape with room for 3 on one end.)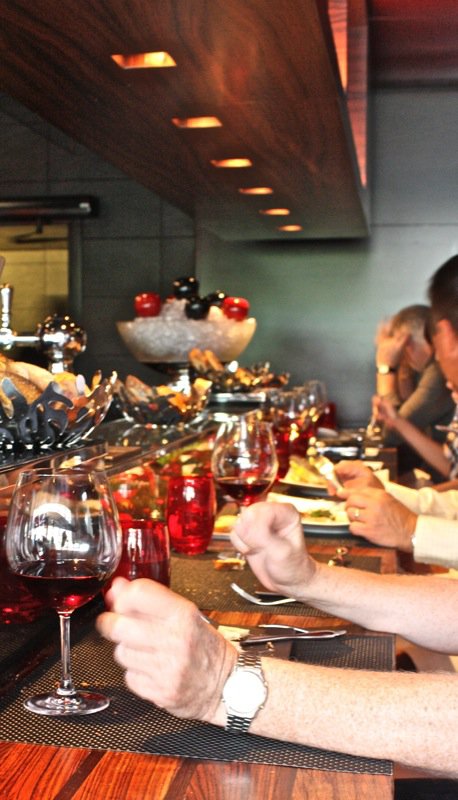 You can see the space across from us, below, and the preparation space on the bar. Notice the smoked salmon on the white platter just waiting to be served? The gal from Australia beside me ordered that for her appetizer, earlier, and was raving about it. It was served with an herbed créme fraiche and a triangular waffle-iron shaped potato galette. She insisted I taste it. I said "No, thank you." three times. Then, I succumbed. (Vanja was embarrasses!) It was absolute heaven! Now, that was a dish to write home about. Simple. Unexpected (the galette shape and flavour) and a deadly combination. Also, very simple. I can do this! And, I will!
I loved that little sharing. She also had the Special of that night which was poached Blue Lobster (presented live on a large platter for each guest not ordering the prix fix to see) and though it was extremely small when prepared (quite surprising considering the one on the tray appeared to be almost two kilo), she was very satisfied with it, as well. I was so entertained seeing their plates come to them and talking about their choices. She was clearly a foodie. They were very kind regarding me photographing my food. They didn't laugh, but were clearly amused. And who wouldn't be. I was amused, myself!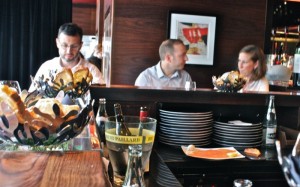 I keep trying to check out the action in the kitchen. Now you can see, above the jamon leg (left centre, below), one of the Chefs working, again. There were about 9 cooking when I went into the kitchen at the end of the evening. I asked who the Chef de Cuisine was this evening and was told something I couldn't understand. I asked if the name could please be written it down. I was told I could check the website: the names are all there.
I found the following video on YouTube that really represents our experience well. Our food was different, but the presentations were similar and it is an excellent depiction of the setting.
httpv://www.youtube.com/watch?v=RjL5goLzgs8&translated=1
Honestly, it may sound like I am a demanding and high maintenance guest, but truly, I am not. We took very little of our server's time compared to other guests. I had our waiter's assistant write the name of the Chef de Cuisine down for me. It reads: Axel Manes (not noted on the website but a lot of information can be found about him through a basic Google search), and Pastry Chef (also different than the one on the website): Olivier Bagnolt. I tried to find such a person. None exists. François Benot is the only name anywhere similar that I found as a pastry chef, and the one listed on their website. (There was no Olivier as a pastry chef, though there certainly is an Olivier Limousin as an important right hand to Chef Robichon. I was told there are three Chef de Cuisines and that they alternate shifts, but that one is not "above" the others.
See the massive magnum of wine, above, right? I thought it was a decoration. But, it is not. Several glasses of red were poured from it throughout the evening. It did not seem to fit.
Another dish appeared in front of us. I was very full by this time. Vanja wasn't. It looked superb. The plating is another work of art. I couldn't eat it at all. Don't even ask what it was. I tried. I know I should have known better by now but my desire to know what I was eating and to learn about the food here exceedingly surpassed the possible (probably?) embarrassment of asking what I was eating every time I was served something. It was a kind of white fish. Maybe halibut. Maybe sea bass. I know they are very different in texture and flavour. This was more like sea bass, but it was still really hard to tell. The fish tailed tuille of parmesan was stunning though it is said one is never to serve cheese with fish. It was a lovely touch to me. The olives were a bright compliment, too. I was ready for their briny goodness and really enjoyed nibbling them with the crunchy stalks on the green garnish.When I didn't finish, the assistant was clearly concerned. I was in the washroom and Vanja told me that he didn't want to take my plate. He was then worried I didn't like it and wanted to get the waiter to solve the problem. This was nice to hear.
I was frustrated with the culture in this restaurant. I sat in my chair starving for the answers to my questions. What was I eating?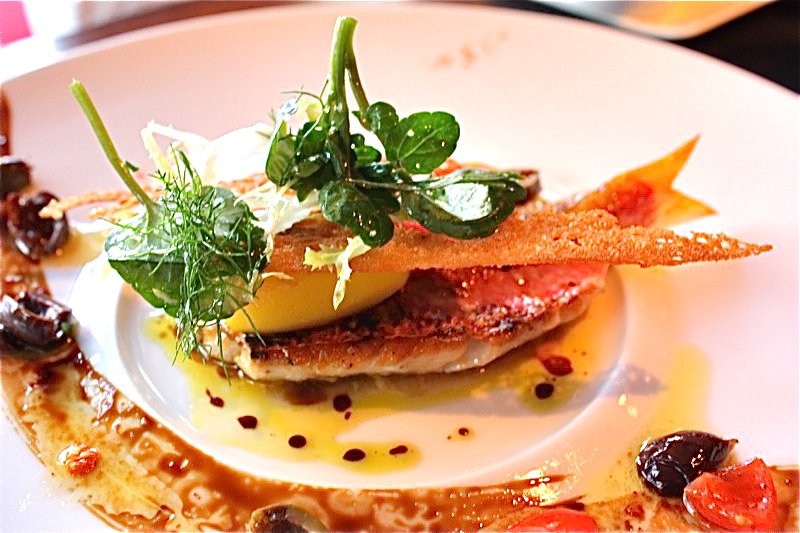 There was a choice of three items for what we were told was the main course. I wondered how I could manage. I chose the quail with truffled potatoes and was so happy to see how small the serving was. The potatoes were divine. I have never had a shaved slice of truffle before. This was my first one. It was a summer truffle and I would guess one similar to what MoNa foods had on display at Indulgence, 2010. It was a very mild truffle. Nothing like the fragrance of the ones shaved into the soup of our neighbouring table at The French Laundry. I could smell the aroma across the room that evening. This dish was light and lovely. I have cooked quail before. It is a rich and full bodied lovely little bird with succulent dark meat. These bites were lovely. I had tastes and gave it to Vanja. I ate all of the potatoes. Somehow, they fit. Yum.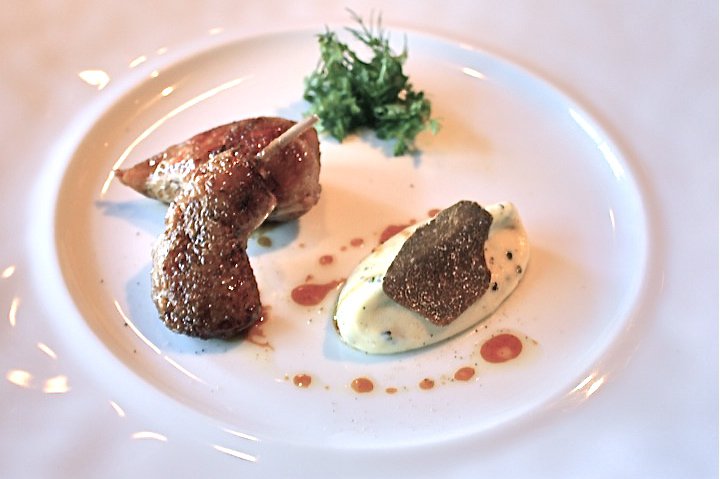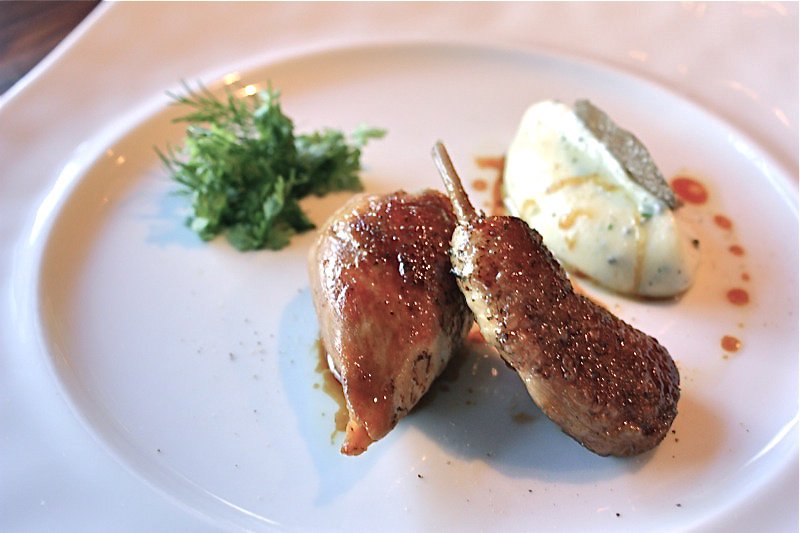 Vanja chose the veal sweetbreads. I had adored the sweetbreads we ate at The French Laundry with the rabbit. I have enjoyed them other places, as well. These looked sumptuous. Vanja said they were really delicious. Remember, he loves liver and kidneys, so this was really no surprise. I could no longer taste anything. I was just too full. I love how flavourful these appear with their tasty jus artfully strewn on the plate. It looked like it was served with cooked Romaine which Vanja said was "tasty". I love deep fried sage leaves. I did eat those!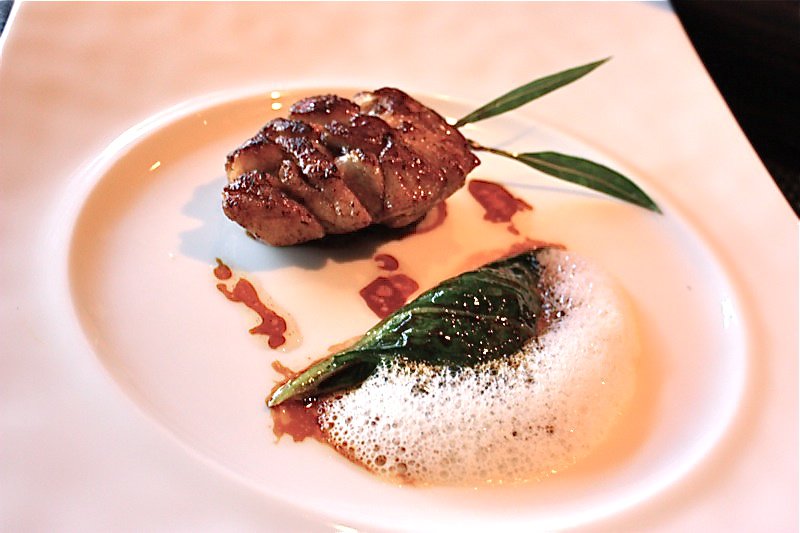 We had really slowed down our plate cleaning by now. But, the staff was not pushing us, or frustrated by this. There was no one waiting for a chair. It was comfortable to take our time. Without realizing it, I was ready for dessert. When these wild strawberries appeared, I sat up straight in my chair. I am crazy about them. The Limoncello gelée was really fun. It was bouncy and chewy and powerfully citrusy! Perfect with the sweet forest morsels in their edible wrapping. The quenelle of Fromage Blanc ice cream was heavenly with these berries and the bouncy citrus fun.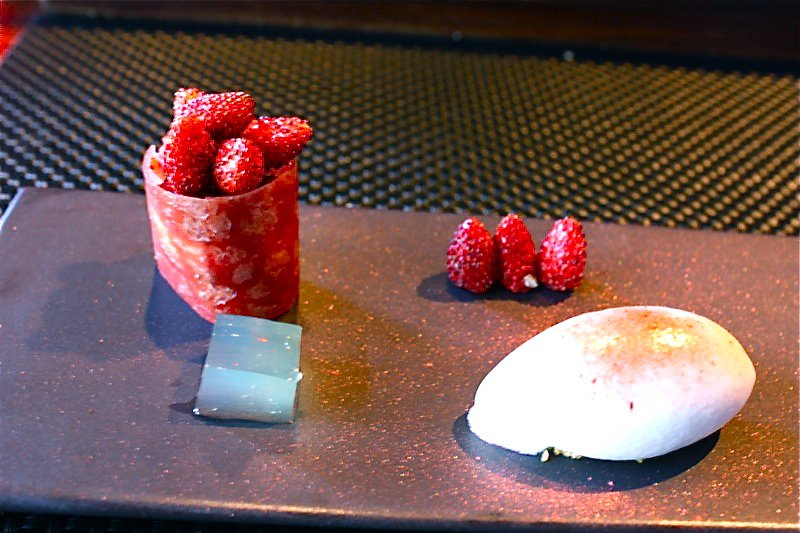 Vanja wasn't impressed. He thought it was an easy gimmick.
The Australian gal next to us had been moaning throughout her chocolate dessert. It was about two times bigger than the one below, but I knew we were getting a tasting of the same and I was really looking forward to it. I would like to have all of the information of the layers involved in this pot of complex chocolate perfection. I can only tell you what I tasted and that will be difficult. You can see there is something in the bottom that I was really unaware of. That would be a rich chocolate sauce. Maybe two. Then, there was a huge dollop of ganache with a molton bowl of thick pudding-like chocolate decadence sitting inside the ganache. There were Valrhona chocolate pearls with crispy centres floating inside of this. This was all topped with a crunchy mound of goey chocolate crumble and surrounded by a flat two toned donut disc of dark chocolate. Oh, my. What a finalé!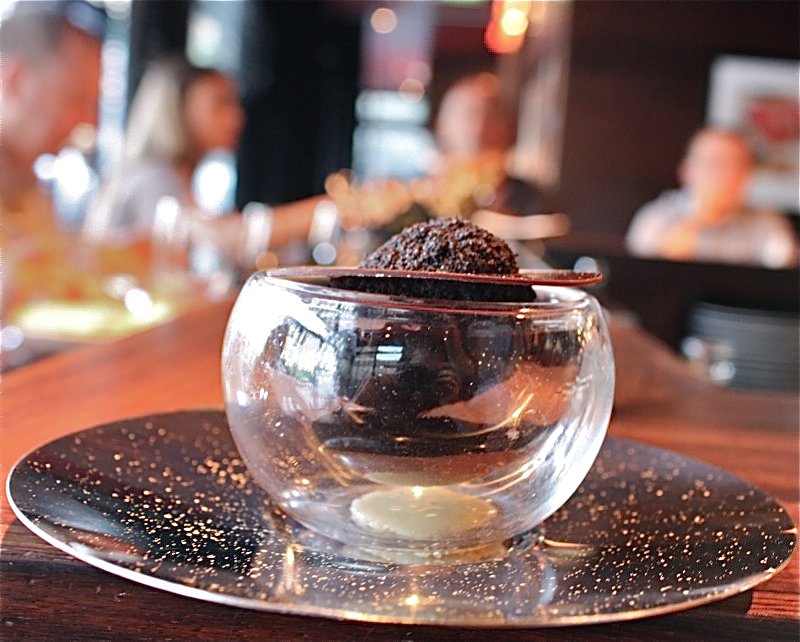 I almost always want a coffee in a place like this as it is such a pleasure to savour the evening we have just participated in and linger a bit more before departing. I did not even think of a coffee after eating this. Did you notice I suddenly had room for dessert? Two desserts? Somehow, the sugary goodness of these desserts had no problem finding a place in my tummy.
I wanted another Le Chocolat Tendence. But, we got up to leave, and as we did, I took pause at the window into the kitchen at the doorway and asked the hostess if I could take a photo of the kitchen. At that very moment, Chef Axel Manes turned and saw me with my camera. "May I take a picture of you?" I asked. "Yes, but come around to the kitchen, and we will have one together! I really did not want a photo with him. I wanted one of him. For some reason, every time I get a photo with a Chef, I hate it. I have one with Todd English of Olives when we were there, in Boston, and I have others. I don't want me in the photo. But, I can never decline such a kind offer, so there we were, being led back to where we had sat and completely around the bar to the very end to enter into the kitchen area.
Below are the photos I took from the window before Chef Manes turned around. I didn't have my camera set for movement, but you get the idea.
And here we are. I cut myself out of the photo. Chef Manes was gregarious and warm and confident and welcoming. And has a great pose, don't you think? It is similar in other photos I have seen of him. He was so young and so capable. I asked him where he was from and found out that he hails from Brussels. English came easily to him. He asked where we were from, and then said that one of his Chefs was also from Canada: from Montreal. All were working intently with their heads down, but the restaurant was definitely no longer at peak flow. Most diners were on dessert and a couple of seats only were on second seating. (It was 9: 20.) The Chef from Montreal raised his head and looked at us and smiled, then continued what he was doing. It was all a bit of a blur.
Chef Manes then insisted that Vanja also get in the photo and had a staff member take the photo. When we got home, there wasn't one there.
I was actually happy to meet the Chef and get a closer look at the kitchen, though it was quite a blur. We didn't expect to be there. We had our photo. I hadn't asked for a tour and it didn't seem appropriate to go back to the door and watch some more. Though. I did want to.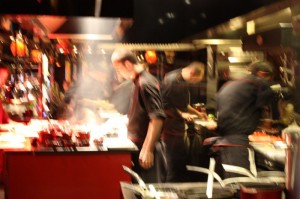 We stepped out into the fresh evening air, sun setting and looked at one another. Vanja was still hungry. He was disgusted by the bread crumbs all over his eating space throughout the entire meal and by the clearly awkward serving arrangement. I could not disagree.
What was your favourite dish? he asked. I had to think, and I remembered the flavourless caviar, first. "I don't know? What was yours?" The tomato salad. And I think its sad when the tomato salad is the highlight of the evening at a restaurant like this, he added. Again, I could not disagree. "The foie gras!" I loved it. "And the chocolate dessert!" Ok. He said. The dessert should definitely be that high on your list with this kind of tasting menu. Again, he was right. Sadly, some of the dishes were completely forgettable.
We looked at each other again. "It was disappointing, wasn't it?" I said. No doubt about it was his matter-of-fact response. I know there were bright moments in the evening. But, overall, it was very disappointing. I felt very sad. It was a very strange feeling. I wanted so much to celebrate the triumphs of this restaurant and our experience here. But, it just was not possible.