Christmas in November 2010: Day Two Breakfast, Session One (Cheddar Beer Soup, Savoury Apple Galette and Goat Cheese Torte with Limoncello Cream and Berries)Â and Lunch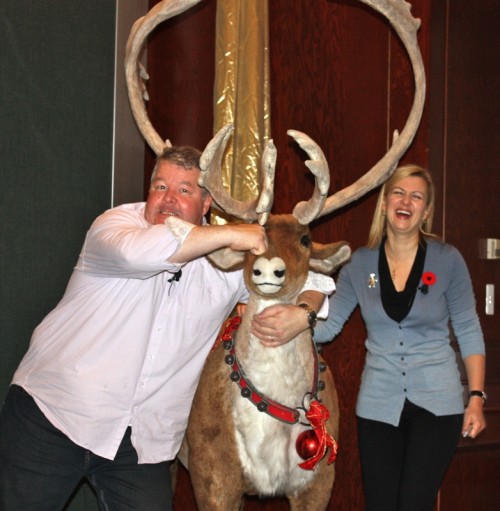 I think this is the first time in more years than I can remember that I have stayed alone in a hotel room. I awoke on the edge of the King sized bed with the beautiful comforter tucked all around me, mummy like. One breath of the morning had me on my feet and opening the front door. Mountain air! Ahhh! Crisp, cool, clean, revitalizing. I ached all over, still, from my parent's 60th anniversary party preparations the weekend prior, yet with this breath, I was healed.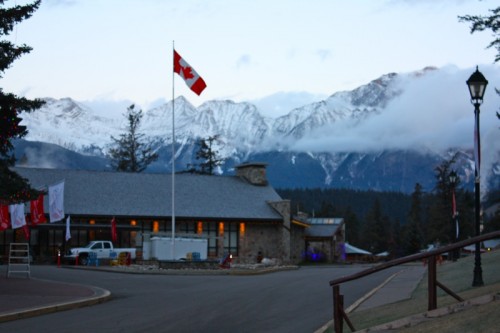 I love living where there are four seasons. Winter is in the air. It is hiding somewhere there… but, I know it. I feel it and smell it. I love the scent of winter in the air. Look at the vapours over the mountain. I am waling in the middle of an artist's canvas.
And then enveloped in the warmth of the main lodge like a big grizzly hug, fireplace burning, tree twinkling. Heart beating.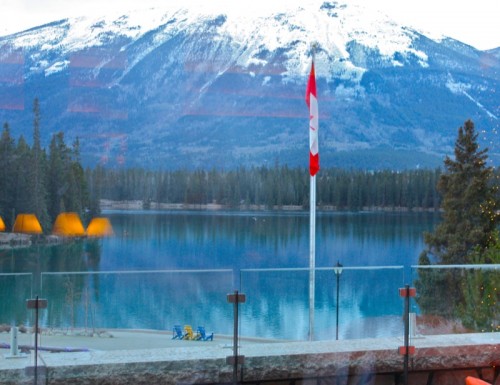 This is the view from the dining room window. There are about twenty tables positioned right against this window for a more intimate view during dining time.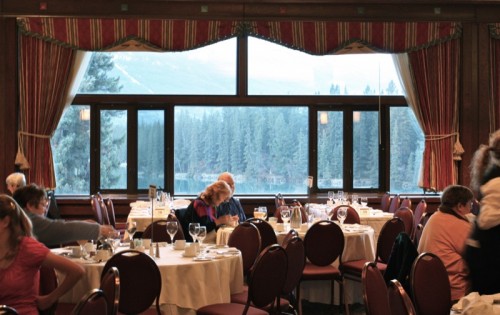 Ours was not one of them, but that was OK. I was assigned to table 5. Everyone was to remain at the same table for the entire event. I liked that idea. Everyone was at the table but two of us. "Hello!" Such warm people!
I sat for my coffee and that incredible orange juice that always tastes better served by someone else than by myself in my own kitchen each morning. I really look forward to coffee and orange juice in the mornings when I travel, and I knew both would be top notch here. I was right.
The breakfast was a hot and cold buffet that surprised me. I did not expect such elaborate choices, nor so much at breakfast. I do not eat a big breakfast, so I chose this lovely looking morsel. It was just perfect for me and what a great idea for a breakfast: frittata in an individual mold. I cannot explain how flavourful, light and delicate this eggy dish was. Yum.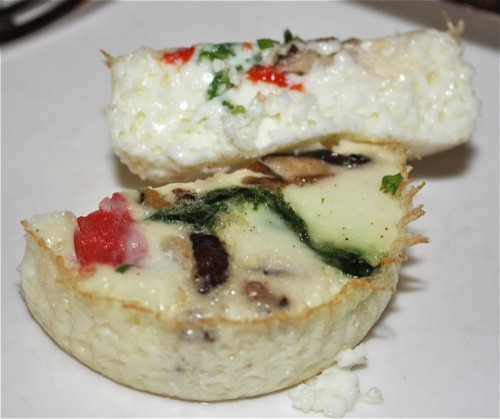 Michelle, the other gal that arrived later, was the only one at our table who had been here before. Though breakfast was over at 9 (many still lingered an extra 30 minutes over coffee and juice), and we had an hour before the first session, Michele said that they usually fill up fast, and it is best to get there in a timely fashion if you like a front row seat. Now, I am definitely a front row seat kind of girl. Grade one, on. I was there at 9:20. No one else arrived until about 10 to 10. Fortunately, I had my laptop and as a President's Club Member, had free Internet everywhere on site. So, I answered my e-mail and took pictures of the mis en place while I waited. I was really looking forward to this session. I thoroughly enjoy Anna's shows Sugar and Fresh on the Food Network. I was definitely intent on soaking it all in: camera and computer ready!

I really had no idea what we were making as it was my first day and I didn't realize that one of the magazines I had received for free in the registration package was actually the program for the entire event, including the recipes for each session, and many of the specialties served in the dining room, as well. I did better preparations the next day!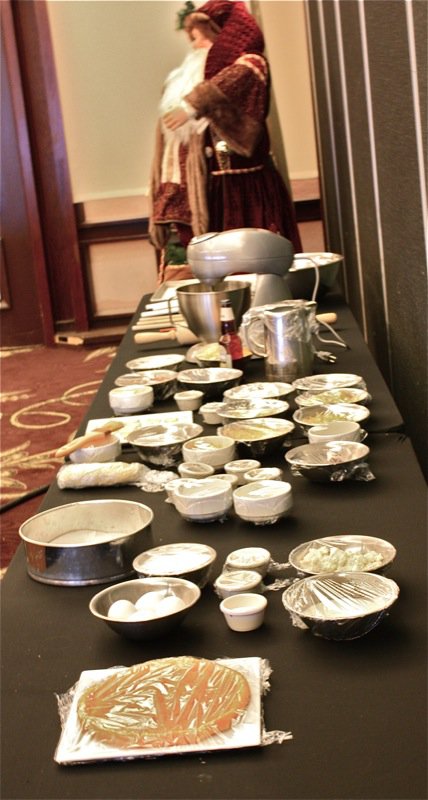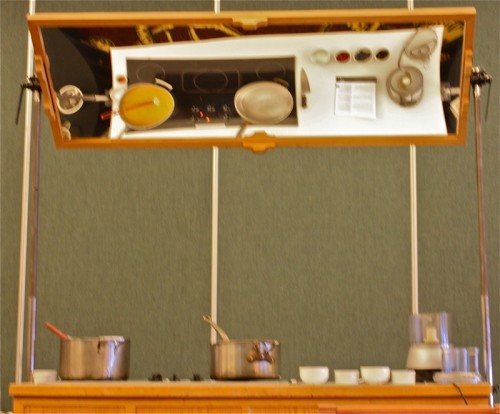 I realize the above picture is out of focus. No, it is not you. It is the only one I got of the demonstration table: exactly like mine, at school. OK. Not exactly. Mine does not have a stove in it, it is smaller and much older. But, I was in familiar territory. There was a multitude of glasses and frosty stainless pitchers filled with water.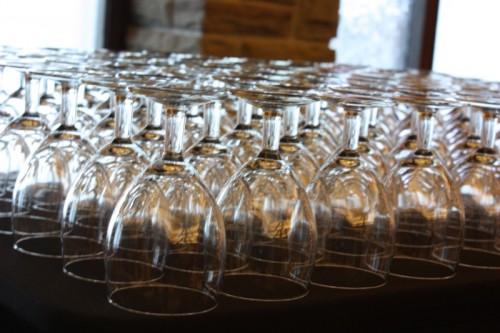 As people came in, one gal announced: there is cider just outside of the hall. No one rushed out. I did. Hot apple cider at Christmas in November? I must. Later, I learned that it was served to set the mood for the session Michael Smith was doing. Oh, well. I had some then, too! It also set the mood for this session!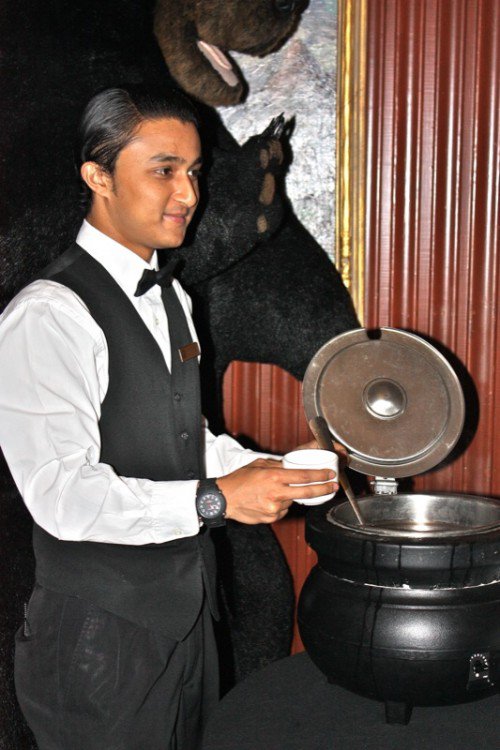 Warm, spicy, fragrant apple cider. Mmmm. Mmm. I was focusing on taking it all in when I didn't even see the Olsen's enter, and there they were, quietly prepping their station.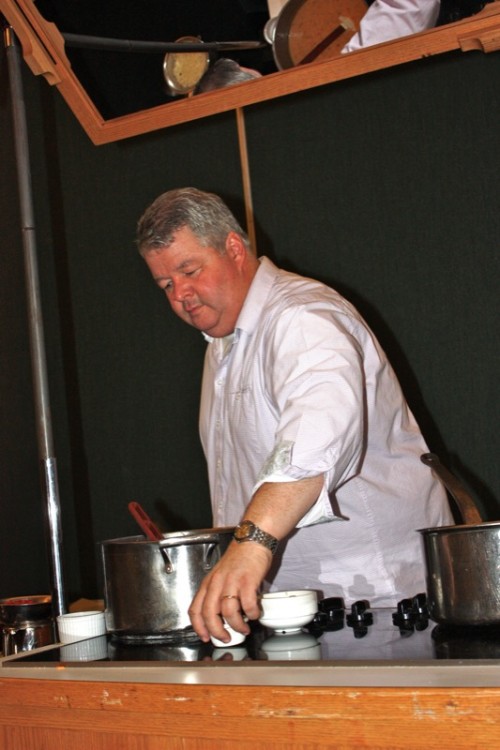 Michael began by welcoming us and then explaining how he and Anna met. Rather, how he met his "honey-bunny": HB, for short!. This is their 6th time presenting at Christmas in November and he said most sincerely that "this is the event we maintain every year and it has become part of our tradition." Anna chimed in, "It is perfect for us! When November comes around we are ready for the break and this is something we have begun to look forward to every year." Michael adds, "If I am dopey you will have to forgive me, Anna has been doing that for 15 years!" He was tremendously funny. They both were. This is a very slick and sincere pair who know their stuff, are passionate about what they do and have a lot of fun doing it!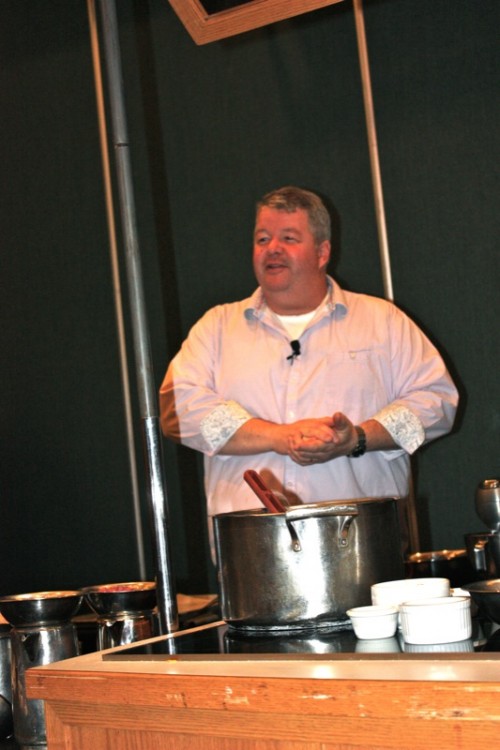 Michael stirred the cheese as Anna introduced us to Cheese. "We are using cheese as an ingredient, today, not as a primary, stand alone course. "
Michael poured and held up a shooter filled with milk: "This is where it all begins and ends : with your Diary Farmers! The western world has embraced dairy products as a primary food group. There is skim, 1%, 2%, 3% or homogenized "" etc"¦. the percentage of butterfat that is in the solution contributes to the shelf life of the milk. Skim milk (or ghost milk, as Michael calls it as it is the ghost of the milk that died), is 0% and has a very short shelf life, while the shelf life of heavy cream is much longer." I did not know that. It was new information to me! Anna is in the process of testing recipes for her new baking book and has been using about 12 to 15 pounds of butter a week! She adds that she will have a huge gluten free component in her cookbook.
Michael goes on, " Long ago, when the milk went bad, people needed to do something with it. Somehow, someone discovered that if you take cream and shake it up or agitate it, it will separate! The butterfat is lighter than the whey part and the buttery stuff will go to the outside of the container. The butter will last longer that milk. especially if I add salt." Later, or maybe before, someone put milk in an animal skin and somehow it curdled the milk and they got curds and whey. The enzyme in the animal skin assisted (…rennet,,,but they didn't know that at the time). Other natural elements in the air or soil coupled with bacterial agents affected the milk and added flavour, aroma, and colour. That was the beginning of cheese making.
Anna now carried on to talk about the five main kinds of cheese.
Five main styles or forms of cheese:
1. Fresh:
No ageing allowed.
Brie is made like a fresh cheese, but a bacterial culture found in that region is introduced to it, and as it grows and ages, the white rind grows long spores of mold that are huge and incredible and a definite part of the flavour profile once pressed. That is why Brie cheese is grown only in that region of France. It is that region that contains that bacterial culture that finds its way into the young fresh cheese. That culture can be copied, to a degree, and that cheese made similarly elsewhere, only to a degree. It is best to make cheese from your own region with ones own cultures and flavours of your locality.
2. Semi-soft Washed Rind Cheese
Washed with a salt solution
3. Firm Cheese
Goudas are a good example of these
4. Hard Cheese Aged and Pressed in Wax or in Cloth
Water evaporates and it gets stronger and sharper and improves over time as there is no moisture content; cheddars are the quintessential pride of Canada as we make incredible terrior cheddars.
5. Blue Cheese (Pressed like a cheddar and then stored in caves because they are cool)
Named after the areas where there are limestone caves with Rockfort penicillin; all blue cheeses start with a Rockfort penicillin
So, after our little lesson on the main kinds of cheeses, and with that in mind, the Olsen's shared what their perfect cheese board contains when they are hosting a party.
Perfect Cheese Board
Do not base your cheese board selections on the colours of the cheese; rather, base your choices on textures and tastes and wine pairings. Two to three ounces is a lot for a good per person amount for a cheese board.
One brie
one semi
one firm
one blue
Note: You must have a separate knife for the blue cheese so the spores which are still alive and active do not transfer to the other cheeses.
Now, for the soup!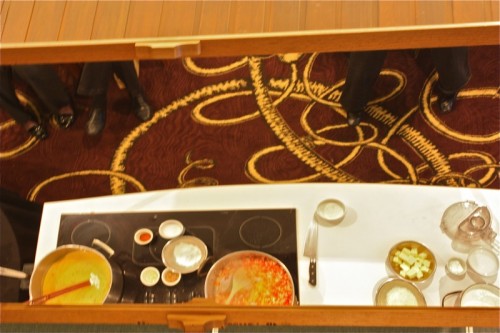 Michael and Anna were all about being guests at their own parties. Both were quite strong about the guest being the most important part of the meal. The food is expected to wow their guests, yes, particularly as they are both Chefs, but the first dish or course is the important one. Work at the "big wow" on that dish, then relax and enjoy your evening and your guests! Make the rest of the meal something that can be prepared in advance so that you have nothing more to do but heat, plate, and serve. "We try to avoid skewers and toothpicks. I don't know about your friends, but if you have ours over for dinner, check your ferns later!…We want you to be a guest at your own party, instead of being "œaghast" at your own party!" Michael quipped with that sideways grin and endearing twinkle he has.
This soup can be made ahead. " Be casual! Treat the soup like chili! Relax! Serve a little soup in little cups, or bowls, or shooter glasses. Set the garnish out for your friends to do themselves. They will figure it out!"
The base must be a roux base to add cheese to. You cannot add cheese to a soup properly that is not made with a roux base. "Instead of just a butter and flour roux, we will have an aromatic roux!"
Instructions for the Soup as Michael cooked:
cook the vegetable components
if I added the flour now, I would never have the super tender onion I am looking for: I want a nice and soft and tender onion, first
ensure you have vegetables with an even coating of flour around them, then add flour and only let it toast if you want a caramelized roux for a gumbo… but not for this recipe
do not cook the flour until it browns; do that for a beef and a brown sauce: the thickening ability of the flour is reduced the more you toast the flour: if you want a darker roux you will need more flour to thicken your soup
3-4 minutes longer before we add the flour to these vegetables(almost 7-8 minutes)
garlic goes in now, for about 30 seconds on its own
mustard holds the oil and vinegar together, so we add mustard powder
sift in the flour and sugar now until the vegetables are just coated with the dry mixture (no toasting, remember!… about 3 minutes)
whisk in a bottle of big rock beer, your chicken broth "" 2 cups, and the 2 cups of milk; it can be all broth or all milk, no matter
beer adds body and bitterness and if we don't have beef broth I add beer to a lot of things I am making, particularly stocks and sauces
I am more likely to have beer than homemade beef broth at home now, so I often substitute it
President's Choice Organic Chicken Broth is an excellent stock; both Olsen's sang its praises
the flour has to bloom and take out some body; it has to simmer to activate on a slow and low boil
I add salt at the end
Now, the cheese goes in; I have got the roux in there, lowered the heat, and so it is stable and I can confidently add the cheese without worrying about it separating
add Cayene pepper and it is like a liquid grilled cheese sandwich with beer
Reheat over low heat so it doesn't separate, or add a couple of tablespoons of warm water stirred into it and that will bring it back together if it does separate (or use a blender)
Michael then introduced Anna as the Queen of their kitchen as, "I sweat over a hot stove day and night and she sprinkles chocolate over a few things and everyone goes weak in the knees!" We all "oooed" and "aaahhhhed" on cue!
Anna was clearly so mesmerizing making her pastry that I neglected to take a photo of that. I was star struck. She is so beautiful and such a natural teacher. She is confident, articulate, and experienced. There were no second takes like there may have been on her TV shows, but everything she did and said was perfect: take one!
She passes around her pastry dough for all to see how flaky it was, even in dough form. Instructions and recipes for all follow at the end of this post.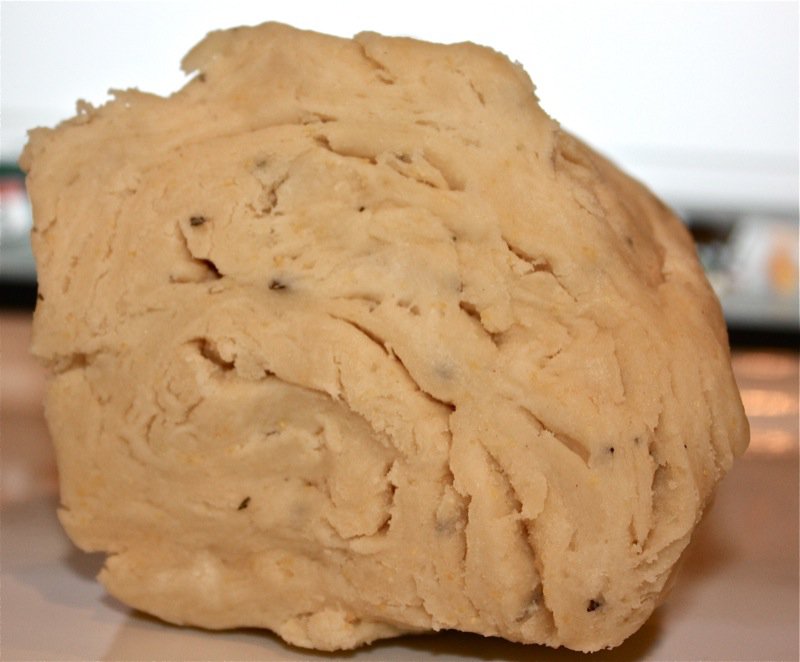 Instructions for the Pastry Dough as Anna prepared it:
the tarts must look rustic and homemade, not perfect
the crust is like a cracker, and the filling, with a choice of cheeses all from the same basic recipe create three different bites
my new book is a back to baking book and I have been working a lot at testing and refining my recipes for it
this is a savoury crust and I have come to love savoury crusts as you can do so much with them
this is a pastry or patébrisée as the French would say
I add flour and cornmeal for colour and texture and sugar to shorten the gluten strings and a little BP to have a flaky crust and a little chopped rosemary for flavour
use cool unsalted butter, not cold or frozen butter as you will have to work it in too vigorously and your crust will be tough: pull out the butter a little early from the fridge so you don't have to overwork and toughen the pastry by using frozen butter
Who makes your own pie? Where does the expression "œeasy as pie come from? Making pie is not easy, is it?
now I am adding parmesan cheese
I always use unsalted butter so I can control the salt: also, salt slows yeast activity which allows more time for flavour development
parmesan lends salt to the recipe, as well
you cannot overwork this in the food processor
DO NOT SKIMP on the relaxing time"¦ after the dough comes together it looks like powdered almonds, and needs a good rest after formed into discs or rolls
mix the sour cream with 1/4cup cool water to create the liquid needed to bring this pastry together
mix until it comes together and let it relax one formed into two logs: any time you exercise your flour, you must let it relax or it will taste tough: the glutens must relax (over exercised gluten causes pie crust to shrink: rest for a minimum of 20 minutes to an hour)
think of gluten as like a bunch of rubber bands mixed together: if you let it relax, it will stretch with ease instead of pulling back into shape (you have all probably made a pizza dough that you have tried to stretch into a large round too quickly and it keeps pulling back into a little round because it needs to be relaxed, first)
spelt flour is brilliant in a pie crust "" it crisps up beautifully; I have just started working with a variety of flours for my new book, and find felt to be brilliant
protein percentages in Canadian flours: all purpose flour is 12%, bread flour is 14%, cake flour is 9%
we want a dough that rolls quickly and easily with even sheets of butter so pull it out of the fridge and let it rest for a bit so the butter will not crack when rolled
if you are rolling in an hour, leave your freshly made pastry dough out of the fridge, and then roll it
cut this pastry log into 16; cut it in half, then in quarters, then in fourths:Â then rolled each out
don't worry about them being perfect: rustic is best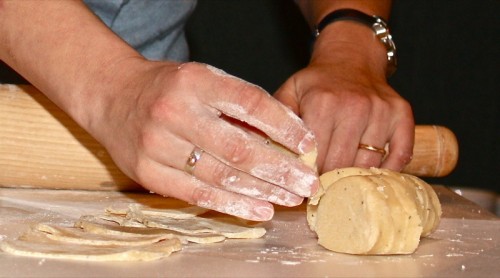 The atmosphere was very comfortable and questions were asked and answered during the session. Each session, I later learned, had a chef available to assist, and as many helpers as the numbers attending required. The soup was made in between the tart preparation and was served to each of us, steamy hot with the most cheesy fragrance!
Question from the audience: Have you ever used 1/2cup of water and 1/2cup vodka to make your pastry? I do, and find it works very well!
Answer: I opt for the vinegar over the vodka. I have tried it, but don't buy it. I think it was America's Test Kitchen that first introduced that to the world, but it didn't win me over.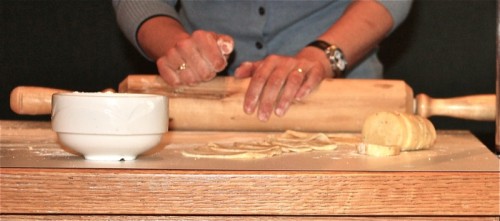 Soup is coming!
You can get a great look at the thickness of the shells Anna rolled, below.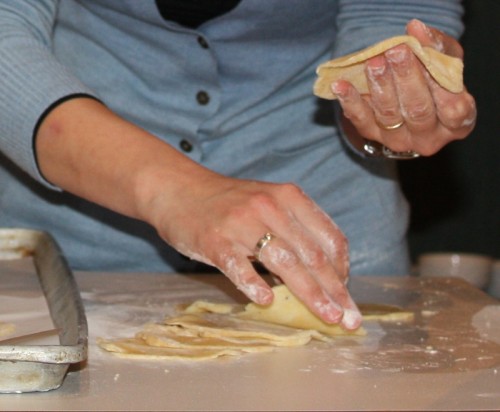 To the left, below, the Olsen's brought the apple butter with them from Ontario, that they use. Apparently Costco has had some this season. I was going to make my own, anyway. Now I have a really good reason! Look at my soup, below, right. The little vegetable morsels gave the soup a nice texture and flavourful bits to chew. There wasn't garnish on these shots, but any kind of garnish would only enhance this already yummy cheesy slurp. Michael said it was to be like a grilled cheese sandwich with a beer all in one glass. I didn't catch the power of the beer, but loved the subtlety of it! I will definitely be making this soup and appreciated understanding the importance of a roux to stabilize adding cheese to a soup.
Instructions for the Filling as Anna prepared it:
I like to use an eating apple: whatever you like, or what is local in your region: Royal Gala, Honey Crisp or Golden Delicious are all great in this recipe
I am adding the green onion, rosemary and a touch of sugar that will draw out juices from apple: that's it!
apple butter is so easy to make on your own, or you can buy it; here is what we use from home (passed around the jar)
sour cream and apple butter holds the apples in place (she plops it one) and now add the cheese: three different kinds equals 3 different appetizers, isn't that great?
place cheese on top of the apple mixture, gather the pastry around the cheese leaving the cheese out and showing, very rustic
once they are baked, they freeze well; just reheat as per the recipe (below) in your book
brush on some egg mixed with water for a nice sheen
these are tasty hot or cold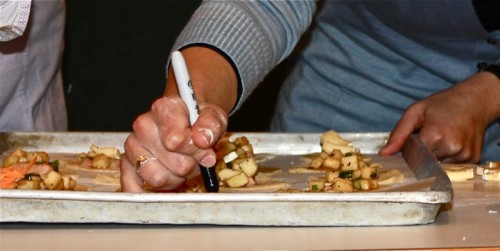 She laid fifteen shells on the parchment lined sheet and positioned a dollop of apple butter that she combined with sour cream. It was a pretty pink! Then she carefully spooned the apple filling she had made on top of each dollop. At this point, she did three rows of three different cheeses on top of the apples, and labeled the rows with her felt pen.
Take a look below. You can see there are some tarts with shredded cheddar, some with a crumble of blue cheese, and some with a slice of Brie. Yum.

She and Michael worked together to pull the edges of each galette over the sides of the filling, but not over the top: leave that open to let the cheese peek through!


Time to add the glossy sheen with the egg wash.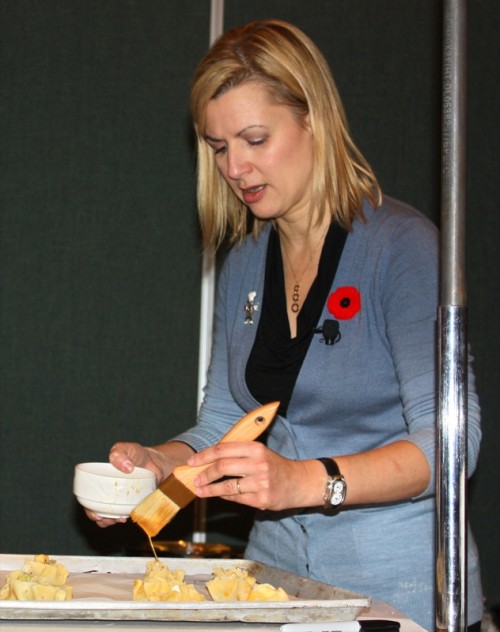 They made it real and did one cookie sheet between them both. The ones we ate were made in the kitchen by the JPL Chefs and were all cheddar.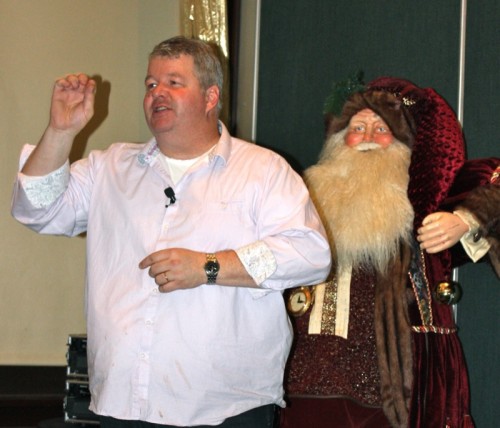 These were all pretty perfect looking. Not too rustic, but were they ever spectacular. This was just like watching one of Anna's TV shows with Michael as a guest, and then actually tasting the food. I did not expect it to be this good. Truly. I expected a tasty bite, but this little bite packed an incredibly tasty complex and mouth-watering punch. You will see a post with me making my own in the very near future. Certainly, for Christmas! YUM! I am motivated. This is a hit and is not complicated at all! A make-ahead-freezer-appetizer: how much better does it get than that?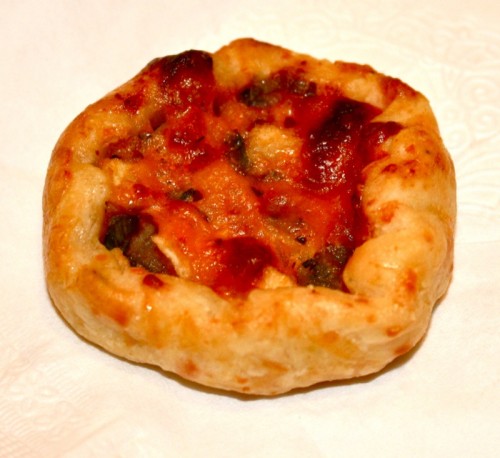 At this point, I thought Anna was going to make a larger galette, as that disk in her had looked like what I just ate, without the topping. But, I was wrong. This is the large goat cheese torte that was prepared by the JPL Chefs.
Instructions for the Goat Cheese Torte: Gluten free as Anna preapared it:

cream cheese will work if you don't care for goat cheese
all ingredients should be room temperature, whatever you make; another word about that: if one ingredient is cold, all should be (whatever you are making, the ingredients should all be the same temperature – and I don't mean you have to have your flour frozen!)
6 ounces of the cheese, and it is not about what goes in that makes the difference, but what goes on the top: there will be a lemon or a citrus flavour that comes out of the cheese in this setting
as we are only using 3 tablespoons of sugar, this torte can also serve as the conveyor or a savoury topping such as a tapenade, sundried tomato mixture or caramelized onions, and so on
the Fruit on top makes it sweet, and olive tapenade on top makes it savoury: the topping can change the profile completely
whip the egg whites and then watching them for that small window of opportunity can be stressful, and taxing, but whip them on one speed less than high and you will get the same volume, but you will have more time to catch that window of opportunity and will not have to struggle to catch it
egg whites without sugar whip faster than egg whites with sugar
it is hard to over-whip egg whites with sugar because sugar adds structure
if you have stretched those whites to the maximum point that you can to hold in the air, when they hit the oven they expand and will break: so you don't want to use over-whipped whites
use medium speed, not high speed, and you can whip out the same over-whipped whites to the point you missed before,
this works with whipping cream, as well, but add more liquid cream to your over-whipped mixture and it will melt back into the cream so you can rewhip it on medium to where you wanted it to be
place a round of parchment in a spring form pan
this torte has only three ingredients: goat cheese and eggs and sugar; it will double in size, and then collapse, but it is supposed to: use the indentation for the filling
stabilize whipped cream: for every 1 cup of whipping cream add 1 tablespoon of of skim milk powder and it will hold beautifully in the fridge, whipped for hours without liquefying (lemon juice will set the cream as well)
I like to add some lemon zest for flavour into the cream, add the Limoncello
grease the pan and coat inside with sugar and they pop out so easily if using the new silpat molded pans
Michael adds a little practical tip: If you are baking in the oven, make a baked dessert to use left over heat; take advantage of what you are doing. If you are grilling, don't bake a dessert.

I just happen to have a couple of bottles of Limoncello from my last trip to Italy! YUM.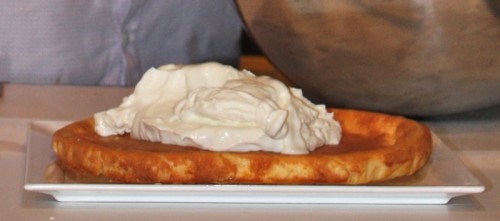 Sprinkle a little dust of icing sugar….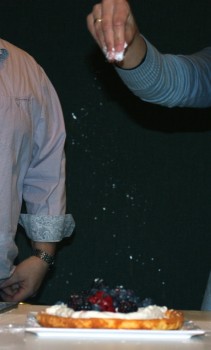 …and look at that!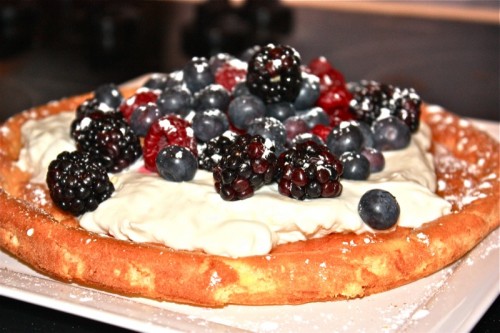 Miniature bites were made ahead by the Chefs in the JPL kitchen. I was surprised by the soufflé-like texture of the torte, itself. It was wonderfully light and moist. That, plus the creamy topping with the juicy fruit was a lovely combination of textures in my mouth. The fruit was bright, the cream rich and lush; both complimented the tanginess in the goat cheese perfectly.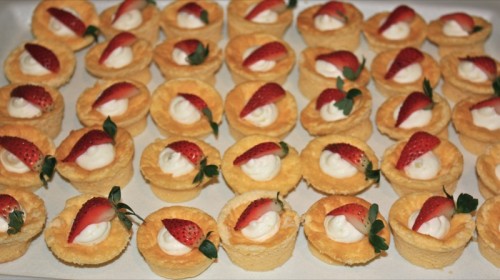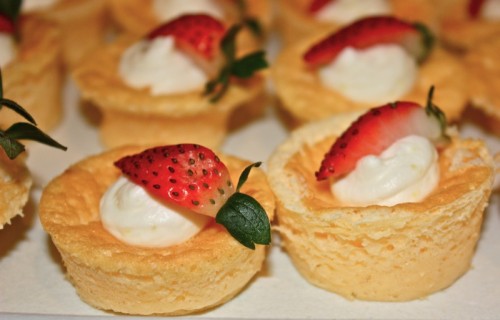 I can definitely see these made to hold three different toppings just as their galette did: green olive, black olive, and sun-dried tomato tapenades!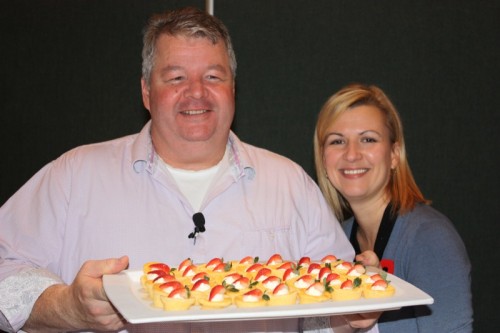 Honestly, it was hard for me to leave the room. I had some cookbooks that I wanted them to sign, but there was a huge crowd around them, and I am not the patient type when there is a crowd. Notice, I can wait forty minutes for them to appear, but leave immediately after! I thought I would have plenty of time to reconnect with this couple, and really, I did. But, I was too shy to engage in anything significant… or, anything at all, for that matter. I didn't even get my cookbooks signed as they left at 7 am the last morning and I had expected to lug them to my first session that day and have them signed right after breakfast. Oh, well. I didn't buy them for the signatures… but, they were gifts for my daughters, so that was disappointing.
I did pull myself away and slowly walked down the hall, hesitatingly, pulling myself forward, but felt drawn back. I didn't want to loose the magic of that morning.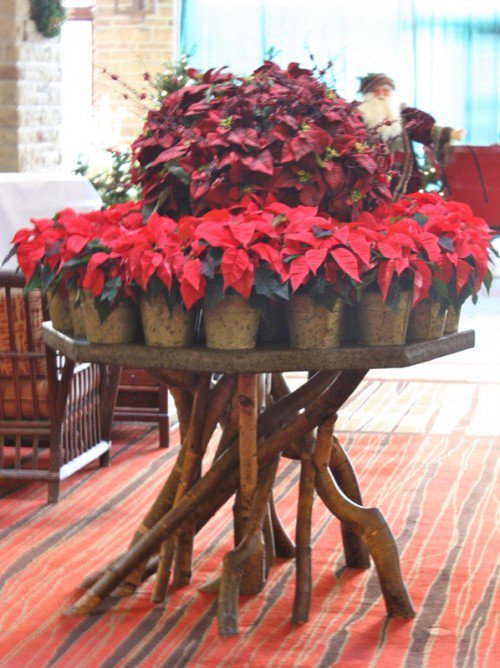 Time for lunch! Well, there is still 30 minutes before lunch, so I went back to change my camera batteries and freshen up. I thought this would be my routine, but it was not. When I was out for the next day, I didn't get back until just before dinner… there were so many people to meet and so much fun to be had! Look at the lovely grounds that we walked across daily. Such beauty.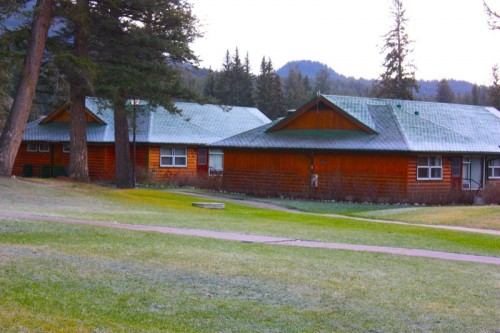 Such history.
And then back for my first official lunch. Oh, my! A printed glossy menu. Beavie was now out of the bag, and together, we were very excited.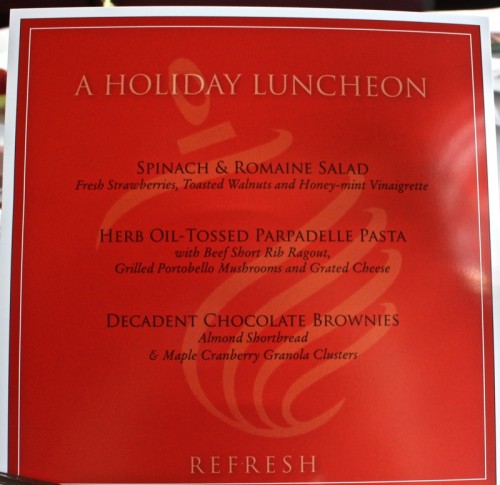 The place settings were gorgeous. There was a coupon for ten dollars off a special Christmas fragrance from Crab Tree and Evelyn. That was nice. And, look at the salad with the Brie! It really felt like Christmas, all by myself, in my quietness, there was a surprise awaiting around every corner. The child was writhing with in me delighted with these pleasures.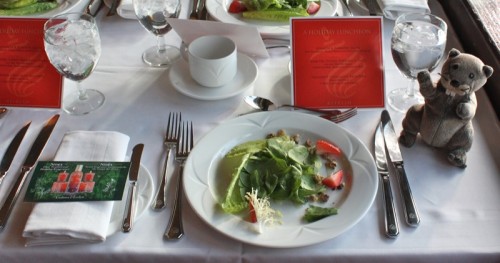 The colour of the water is so gorgeous. The walk around the lake is a must. The environment was absolutely the highlight. To commune with nature in the midst of these extraordinary sessions was deeply moving.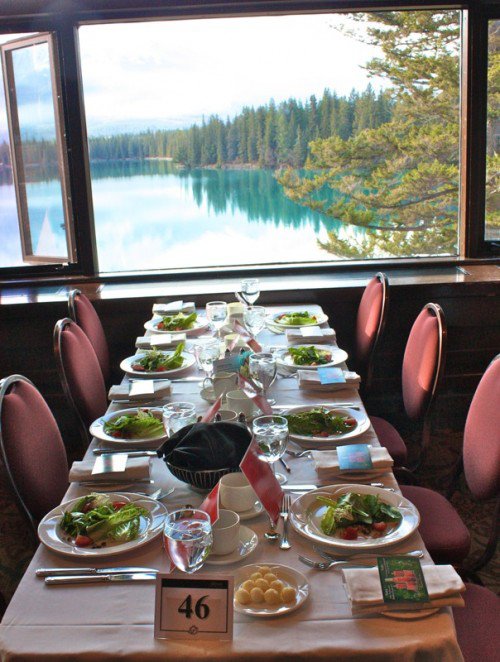 Attention to detail is never lost on me. It always makes me smile. Thank you for making my butter pretty.
The room was filling up, but my table was still empty. Oh well, I will start and then wander around the lake after lunch.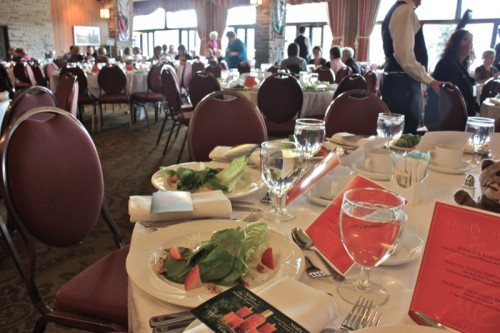 Where is the dressing? Under the salad. I had to move them to find it. Once again, the blur is me, not you. But, I wanted to remember this little trick. I often use it in the bowl when I am serving a crowd. The dressing goes in the bottom, the leaves on the top, and I toss just before serving. This was a nice idea, too… and, I wasn't the only one searching for the dressing at our table, so it was fun, too.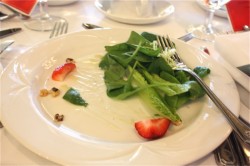 My main was served while the others ate their salads as they had just arrived. The recipe for this main was also included in my book, and I may add a post at the end with all of the hotel recipes. If not, feel free to write me for it. This was a beef and mushroom ragout over house made pasta that was the best pasta dish I have ever eaten in my life. The beef was braised to perfection and so flavourful I couldn't even visit while eating it. The small onions were bursting with caramelized flavour and were prepared on their own, and added to the mix. The combination of mushrooms worked as the flavours and textures varied, but each was earthy and flavourful. I could go on. I have not forgotten this dish. I actually thought of getting up and going directly into the kitchen and hugging the Chef and the others that made this dish. I ate every bite of it which is truly rare for me. I usually cannot even eat meat, but this was just that tender.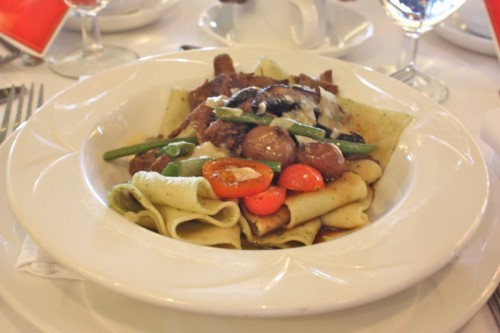 Beavie applauded my efforts as he sat on my cup cheering me on and enjoying the pleasures I was experiencing. He was just happy to be out! My table mates, having just met me at breakfast, eyed me a little warily at this point.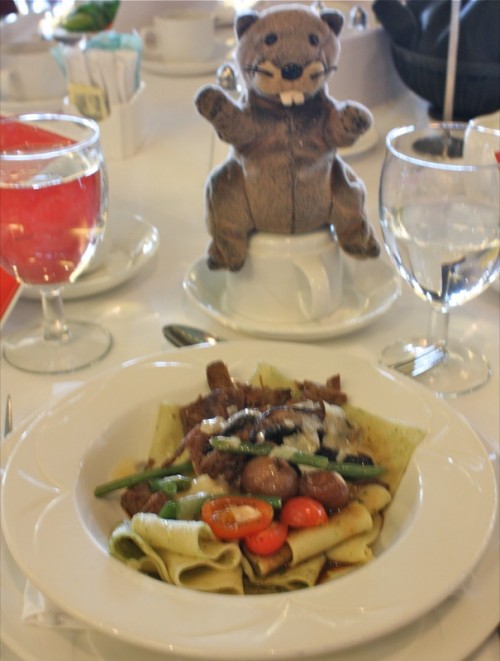 There were door prizes! I did not expect that, either! I did expect not to win, and I didn't care.
Below is my table. The empty chair is mine. I was sitting with three couples, one of each couple was a sibling of the others, and they were all married within months of one another forty years ago. This was their party! What an accomplishment and they were such a fun group! I sat with two other gals whose daughters are good friends and they were very interesting and warms, as well. Then there was Michele, from Calgary. She was the only one who had attended before and was definitely a sparkle at our table! She had a friend staying in her cabin with her, but none of us met her, so she was "Michelle's phantom friend"… until the last day, and I did meet her!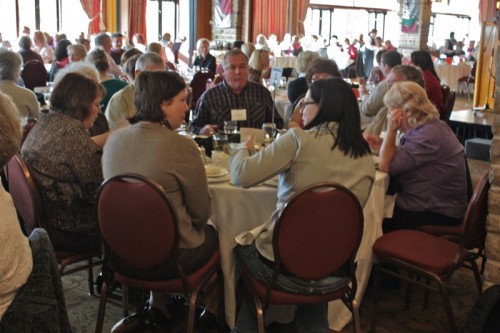 I left to put my bags on the front row of my afternoon session with Michael Smith and when I returned, they had hung Beavie by his tail on our table number!!! Poor Beavie! After that, he stuck to me like glue. Some people just don't understand Beavie. They even wrote a sign on the back of the number (it was all Hector, they said) that read: "Don't touch Valerie's Beaver!" (Blush!)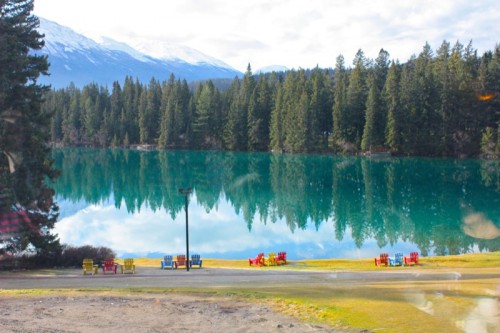 So, back for dessert, as I had intended to have that walk around the lake, but also didn't want to miss any part of any meal, and the staff was so busy, mine was served with everyone else's. The brownie recipe is also in our book and was so rich and moist that it left you wanting more, even after all the tastes and bites and that incredible meal! I did not care for the granola balls. They were the only thing that didn't ring my bell all week! The cookie and srtipe of wet chocolate were both exceptional.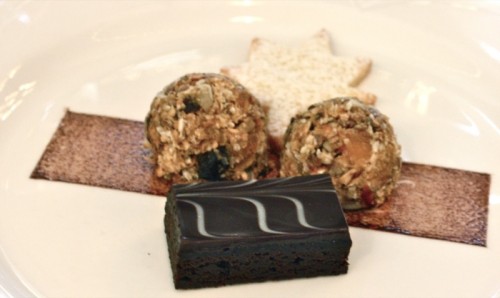 And that was not all…. no, it was not. Just as I was getting ready to leave again, there was an announcement that the table by the dining room door covered with the cloth was hiding Bal Arnison's latest cookbook. We all were given one as we left for our afternoon session! If you are still reading this, you must be enjoying this as much as I did. Next year, come. You must. You deserve it. I have a feeling I will be back, but with my mother and my sister. This is something that must be shared… it is a gift that keeps on giving…. Christmas in November, I am definitely IN THE MOOD!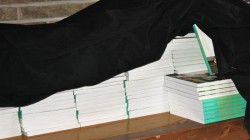 Thank you! I cannot wait for my next session!
Cheddar Beer Soup Recipe
Ingredients:
3 tablespoons unsalted butter
1 1/2 cups onion, finely diced
1 clove garlic, minced
1 teaspoon dry mustard powder
1/3 cup all purpose flour
2 cups 2% milk
2 cups chicken stock
1 twelve ounce bottle of beer, ale, or dark beer
3/4 pound old cheddar cheese, shredded (plus extra for garnish)
pinch of cayenne pepper
salt and pepper
Instructions:
In a large, heavy bottomed pot, over medium heat, melt butter and add onions and pepper
Sautéuntil tender, about 6 minutes
Stir in garlic and mustard powder; cook one minute more
Sift in flour and sugar with a wooden spoon for about three minutes, working to coat all vegetables evenly
Switch to a whisk, and gradually pour in milk while whisking; add stock and beer
Bring to a simmer while stirring often
Once simmering, stir in cheddar cheese and reduce heat to medium low; stirring continuously until completely melted
Add cayenne (if desired) and season with salt and pepper
Ladle into bowl and garnish with shredded cheese
Note: Soup can be prepared ahead of time, and chilled, but reheat over low heat, stirring often.
Mini Savoury Apple Cheese Galette Recipe
Ingredients for the Crust:
2 cups all purpose flour
1/2 cup Parmesan cheese, grated (plus extra for sprinkling)
1 tablespoon sugar
1 tablespoon cornmeal
1/2 teaspoon fresh rosemary, finely chopped
1/2 teaspoon baking powder
3/4 cup unsalted butter, cut into pieces and chilled
1/4 cup cold water
2 tablespoons sour cream
Ingredients for Filling:
1/3 cup apple butter
1/3 cup sour cream
3 cups Gala (or eating) apples, peeled and diced
3 tablespoons sugar
3 tablespoons green onion, chopped
1/2 teaspoon fresh rosemary, finely chopped
1/2 cup medium orange cheddar cheese, grated
4 ounces of Brie, cut into one inch slices
4 ounces of Blue Cheese, crumbles
1 egg mixed with 2 tablespoons of water for egg wash
Instructions for the Crust:
Combine first six ingredients in food processor; add butter and cut it into the flour mixture until it is a rough and crumbly texture
Stir water into sour cream to blend well together; add to the flour butter mixture
Combine until dough comes together; shape into two logs (see photo above)
Wrap each in plastic, and chill until firm (at least one hour)
Pre-heat oven to 375°F and line a large baking tray with parchment paper
Instructions for Filling:
Combine apple butter and sour cream; set aside
In a large bowl, toss apples, sugar, green onion and rosemary
Instructions for the Galette:
Cut each log of chilled dough into three equal parts, and each of those into 5 slices (15 slices per log)
On a lightly floured surface, with a small rolling pin, roll out each slice to just under 1/4 inch thick (about 2 1/2 inches across)
Place each onto prepared baking tray
Dollop a little apple butter mixture in the centre of each circle; spoon about 2 tablespoons of apple mixture over apple butter mixture

top 10 tarts with a sprinkle of grated cheddar
top 10 tarts with a slice of Brie
top 10 tarts with a cube or crumbling of blue cheese

Fold dough in a rustic galette fashion over the apples leaving an opening in the middle of each one to see the cheese
Brush with egg wash and bake 25 to 30 minutes, until golden brown
Serve warm, or at room temperature
Note: Tarts can be fully prepared and baked in advance and reheated at 325°F for 10 minutes immediately prior to service.
Goat Cheese Torte with Limoncello Cream and Berries Recipe
Makes one 8 inch (20 cm) gluten free torte
Ingredients for the Cheese Torte:
6 ounces of fresh goat cheese
3 tablespoons sugar
4 large eggs, separated
Ingredients for the Limoncello Cream:
3/4 cup whipped cream
2 tablespoons of sugar
1 teaspoon lemon zest, finely grated
2 tablespoons Limoncello
Ingredients for the Berries:
1 cup fresh raspberries
1 cup fresh blueberries
1 cup fresh blackberries
icing sugar for dusting
Instructions:
For the Torte:

Preheat oven to 350°F for the torte; grease and line the bottom and sides of an 8 inch (20 c) cake pan with parchment paper
Cream goat cheese to soften and beat in sugar
Add egg yolks, one at a time, stirring well after each addition
In a separate bowl, whip egg whites until peaks are stiff
Fold one third of the egg whites into the goat cheese mixture until blended; gently fold in the remaining two thirds
Scrape batter into the prepared pan and bake 25 to 30 minutes, until risen and turned and even golden brown
Cool to room temperature: don't worry: when the centre of the tort falls – it is supposed to
Remove cake from pan and peel away the parchment

Limoncello Cream

: Whip cream to soft peaks and whisk in remaining ingredients
Dollop cream over top of the torte into the fallen space left for the cream and the berries

For the Berries:

Wash and gently toss together; spoon berries over Limoncello cream and dust with icing sugar immediately before serving
Note: Torte and Cream can be made up to 4 hours in advance; assemble immediately before serving