Day Two in Paris continues with Lunch at Ladurée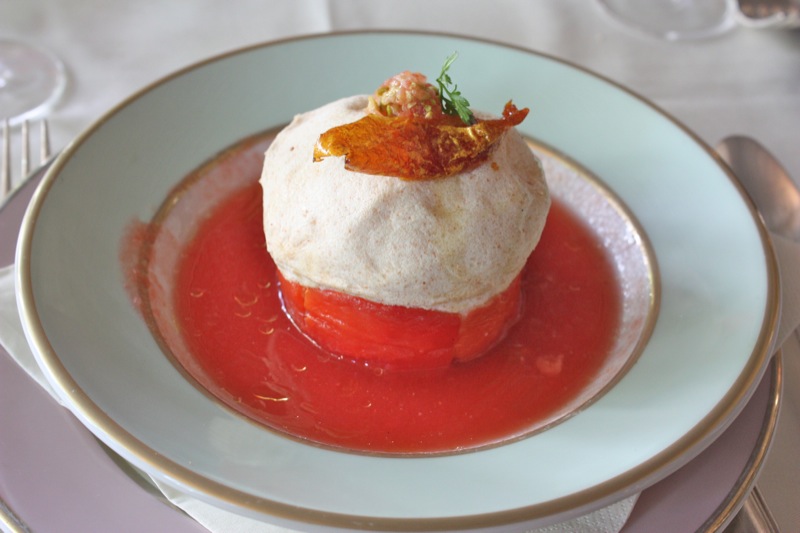 We were up early, as we always are on a travelling holiday. Neither of us can stand the thought of missing a precious thing! In the breakfast room daily at 7 am just as the night clerk was just lifting his head off of the desk awakened by the aroma of the strong and fragrant French coffee. There is nothing like it! "Café? Orange? Chocolat?" Yes, please. All.
Seriously, I adore French coffee with a little milk and a little sugar. Once I have had a cup, I am transformed into my "French" mode: à la élégant! And not the croissant, but the baguette with butter. Yes. The butter is important on a holiday.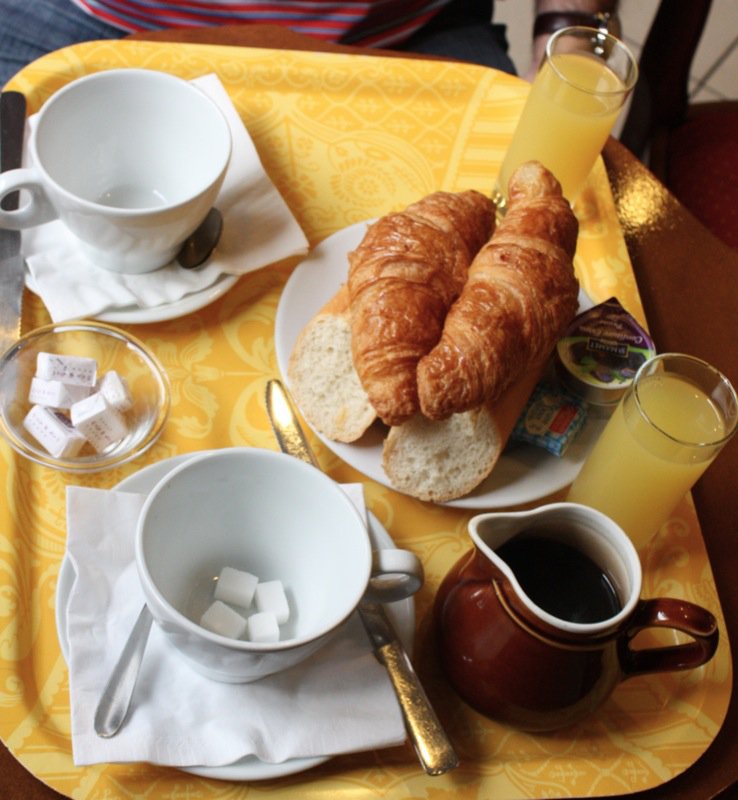 This is the first breakfast in all of my travels in France that I have been served Orange water instead of Orange juice. Everything else was great, but I really missed a good glass of orange juice in the morning!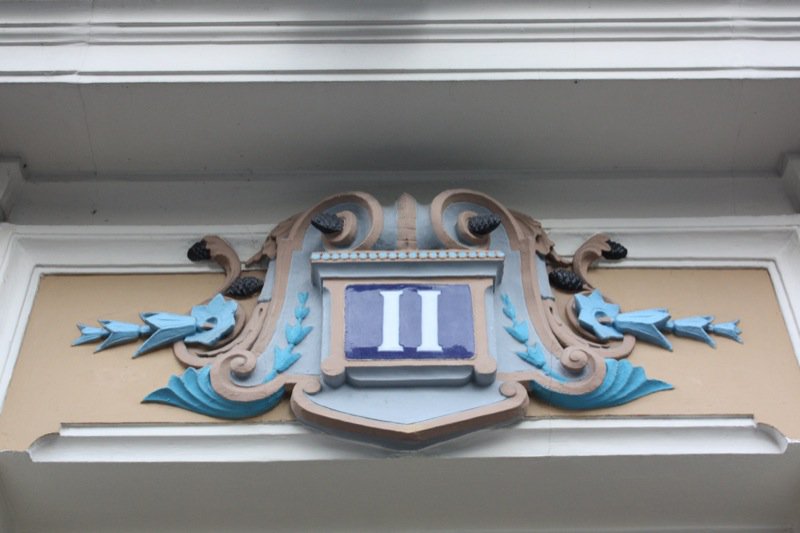 And, by 7:20 we had departed numéro 11 and walked over to the Seine, about 2 minutes away. Voilà : Notre Dame! Vanja has never been inside, so this will be something we accomplish sometime today (or tomorrow).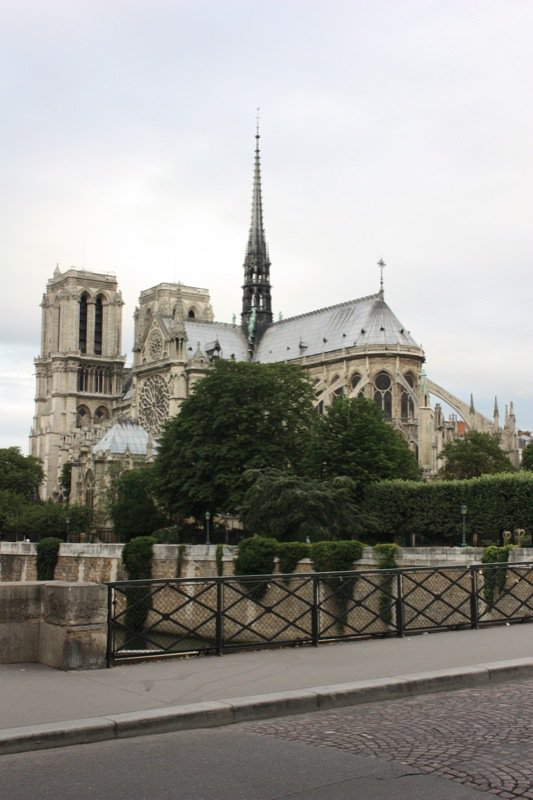 This grand structure is truly breathtaking and worthy of many touristy photos!
It is 7:30 (see the clock, above, right) and we are waiting for the bus (instead of the metro (stop apparent by the stand, below, right). We bought a 7 day transportation card for 30 Euro that was perfect. It covered all 5 zones (all the way to Euro Disney, should we have been so inclined) and all modes of transportation. The bus would be a nice change to see where we are going this morning. Yes, the distance is definitely withing walking distance, but we will be walking a lot through the day, and I have an appointment waiting for me at Lenôtre: a French Macaron Making Class!
The little locked up green boxes (above, left) line the Seine around Notre Dame and are filled with art work and old books to buy during peek hours of the day, or year.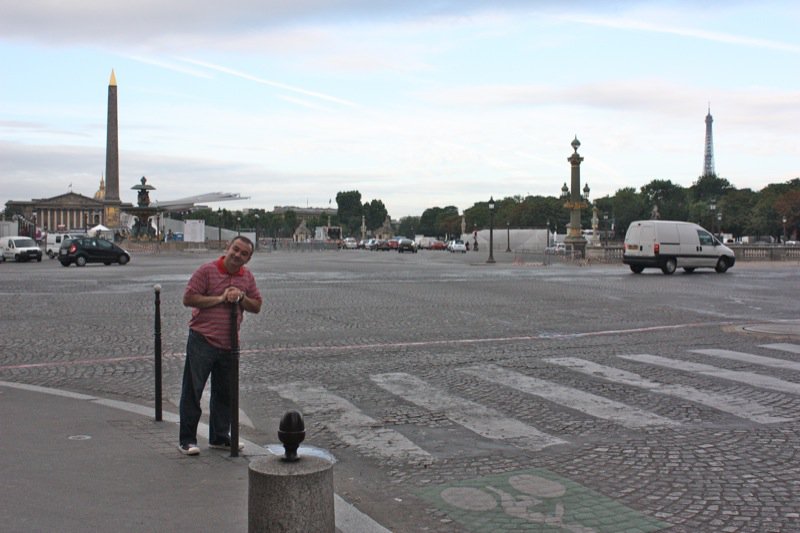 We are already off of the bus just past the Tuelieries Garden at Place de la Concord. You can see the gold-leaf covered Egyptian obelesque in the centre of the Place de la Concord to the left, above in the photo. To the right, is the Eiffel Tower and to our immediate right is the little garden (below) that will take us to the Champs Elysée.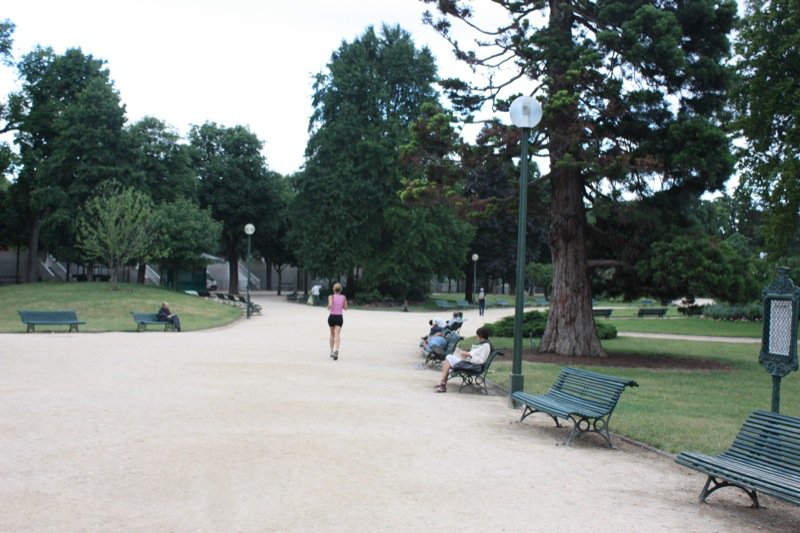 Even the signs in the garden are charming!
After the Macaron Class at Lenôtre in the morning (from 9 to 1), Vanja met me at Lenôtre, as planned, and we continued with a stroll half way up the Champs Elysée toward the Arc de Triomphe. I am usually surprised at how it is so much the same, but this time, I was shocked at how much had changed in such a little time.
Usually, there is one strolling side, and one business side on the Champs Elysée. The last time I was here was in 2007 and Lacoste and Louis Vitton had massive store fronts on the banking side, but that was all. This time, there are restaurants (including Ladurée) and stores much of the way up what I have always called the banking side of the street. Everything on the Champs Elysée was all decked out for Bastille Day which was the day following.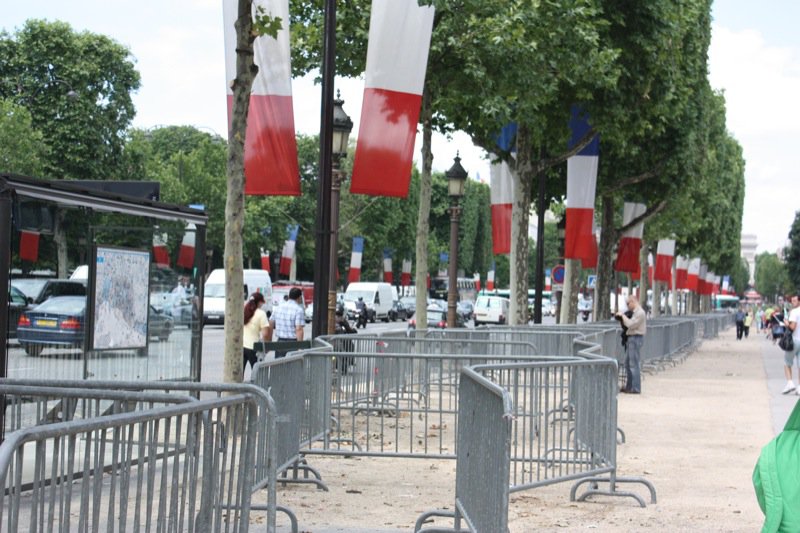 I had to stop at my favourite little candy store, Glups, and was devastated to see how empty it was of confectionery delights. Is it going out of business? I tried to ask, but the clerks were so busy giggling with one another they did not even look up when I passed my money to them. Yes, lucky me, what I came for was there: little hard candied violets. Oh, how I love them! (I did find some prettier ones in a little shop window in Venice and have never seen anything similar, since.) It has become a little ritual of mine to buy a bag of these little sweets every time in Paris. YUM! I save them. Now I can eat the bag I bought last time! (I am so excited because I found the most incredible violette essence at G. Datou to use for baking. But, that will have to wait for another post.)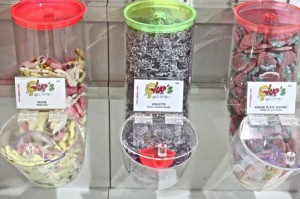 Amazingly, look what is across the street! Wouldn't lunch there be lovely, Vanja? (I don't look at him as I know his version of lovely is a grilled steak and there won't be one of those at The Laduree Tearoom.)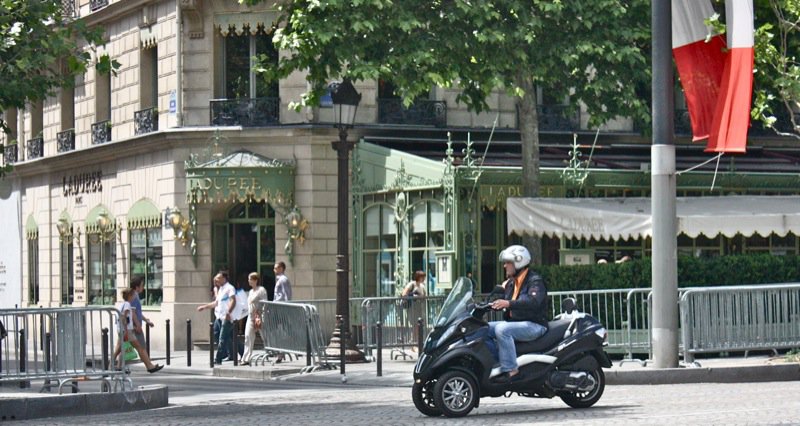 We cross the street. Perfect photo opportunity! Everyone does it.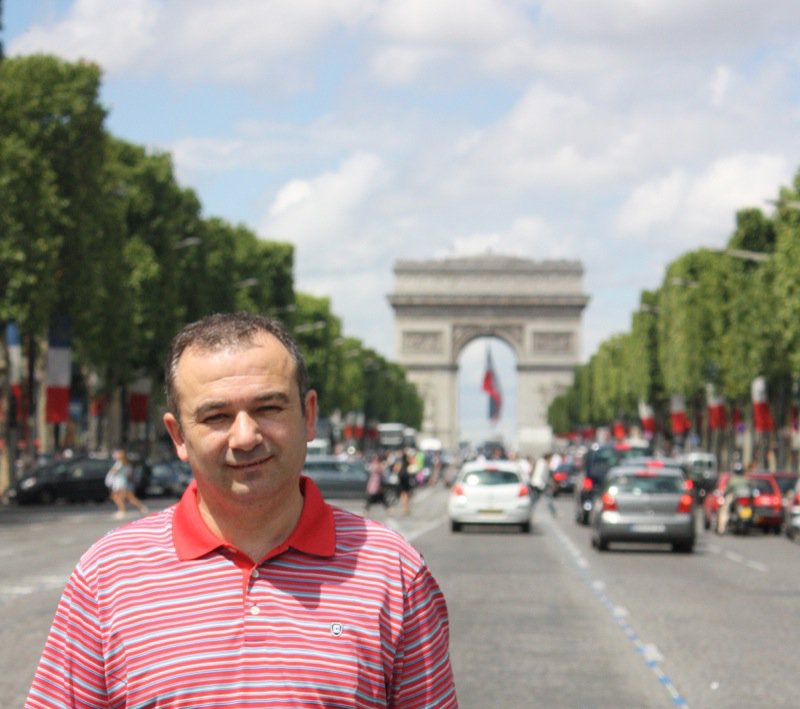 We actually stood and laughed at a few doing exactly the same thing before we did it. I forgot to look to see those laughing at us! I try to do every touristy thing at least once!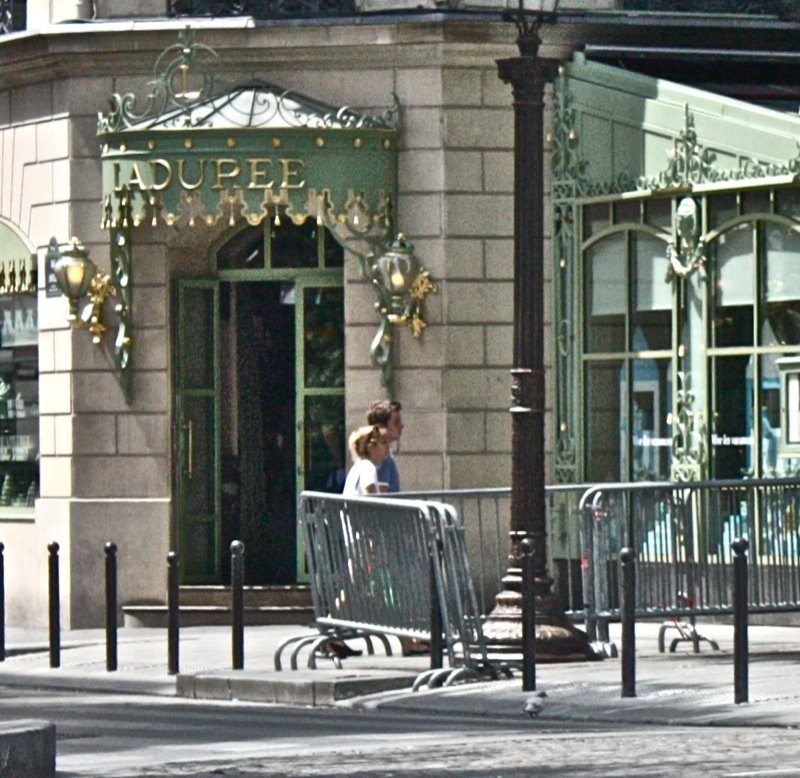 The menu was definitely priced on the high side for a lunch menu. I had forgotten to look at the menu at their tearoom at Harrods' in London. I would say that the prices would be the same as a British High Tea menu.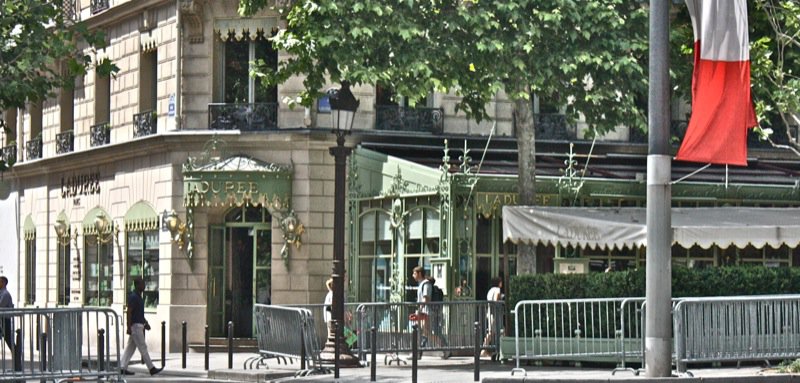 This could have been a bank. I wonder what it was? There is a gorgeous and very modern bar at the back of the patisserie service bar. You can also access it from a discreet door outside on the east of the building. The menu is exactly the same. The decor is phenomenal and there are fresh roses on every bar table and around the bar. I could not take a photo inside of it. I did somehow find a rather dark image of the long and incredibly gorgeous (in person as the colouring is not even close to true form in the blurry, but better-than-none photo below) pâtisserie bar that one faced immediately upon entering. The line up was equally as long, and never ending, as well.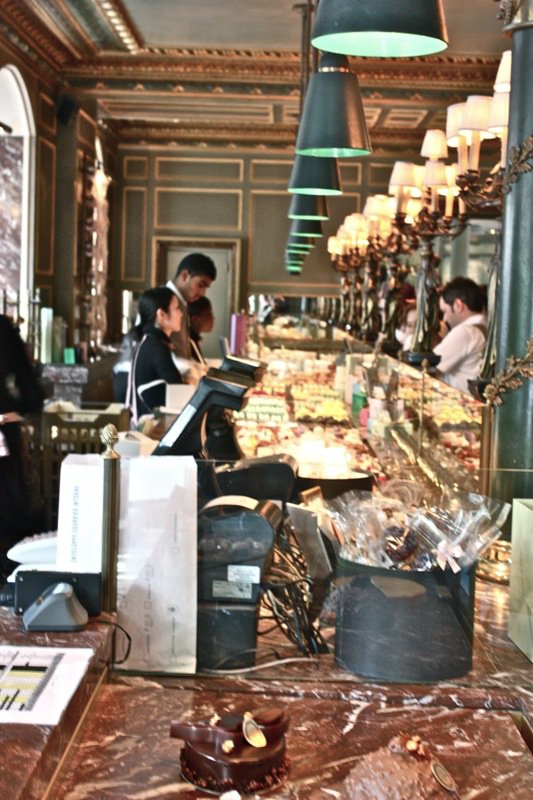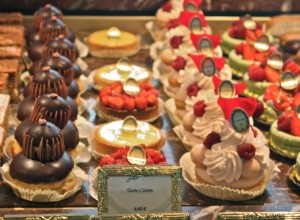 We sat in the sunroom and it was really beautiful. Photos are not allowed, so I asked for a brochure. There was none. I was allowed to take photos of my food and of each other. Vanja moved out of the photo quickly a time or two so I could catch a little of the surrounding. I did want to be respectful, so I hope there is enough here to fill your imagination. The first image is the outside of the sunroom.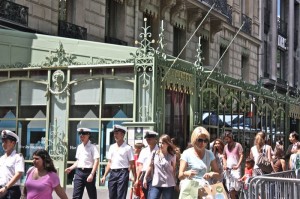 I was not at all hungry after baking all morning, but I was very hot and very thirsty. I hadn't eaten anything (except one macaron), but that is always how I feel after making food. Full.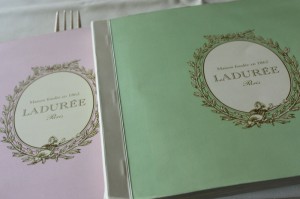 I ordered the Cold Tomato and Pistachio Soufflé. I was thrilled to have my first ever cold souffl锓 and, in Paris! Vanja ordered an omelet as he hadn't had any breakfast, so it was a perfect spot after all! Why is it that something so simple can look so completely lovely? Bread and Butter. And it was more lovely than it looked. Beautiful cold, sweet and creamy unsalted butter shaped in an unexpected baton. And the bread? Well, I think this is why I keep taking courses in bread making. I make my own all of the time, but always marvel at the variety of bread that can be made with flour, water, yeast and salt. Incredible!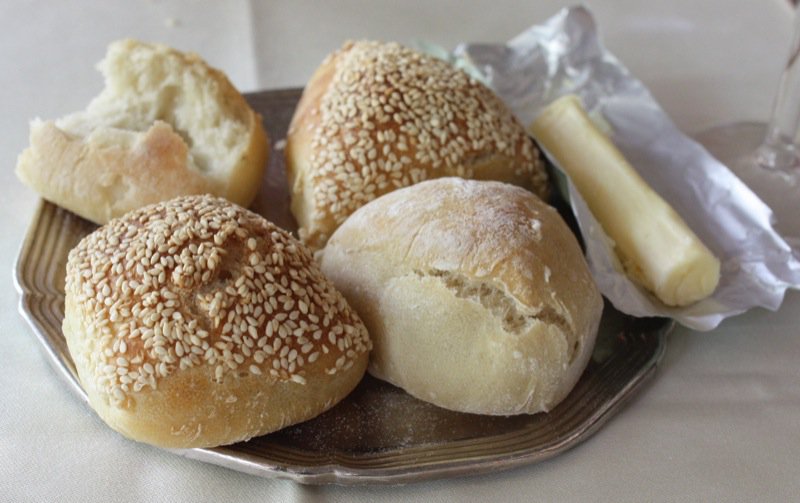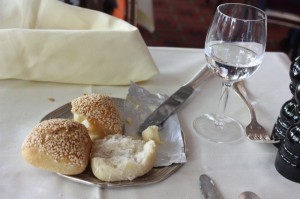 The waiter was charming and I was definitely charmed!
There were little rooms everywhere. Outside of the sunroom was a dark, very rustic bar area quite unlike one would expect to find at Laduree. Upstairs (on the way to the bathroom to wash my hands), there was room after room after room of small rooms to choose to eat in. And most had a table or two filled with people eating. Each had a little different décor. All were in 19th Century French style.
The lady was waiting for me at the bathroom! "œBonjour, Madame!" And she waived me royally in. I definitely flowed in royally. The first room was a washing hand room with a lovely grand pedestal sink. Around the corner were some huge beautifully dressed windows open to let in the breeze. A massive fresh and formal bouquet adorned the counter beside the mirror dressing mirror. Each toilet space was very ample. I later learned that this was for both men and women. I am accustomed to "œkeepers of the toilet" in certain countries, but did not expect this, so was very grateful for the rare loose change in my pocket.
Oh, my goodness gracious! Look at this work of art! The colour of the cold tomato purée is brilliant and the egg-white souffléwrapped perfectly with the tongue of peeled tomato flesh is stunning. And look, a little crispy fish on top made with roasted tomato!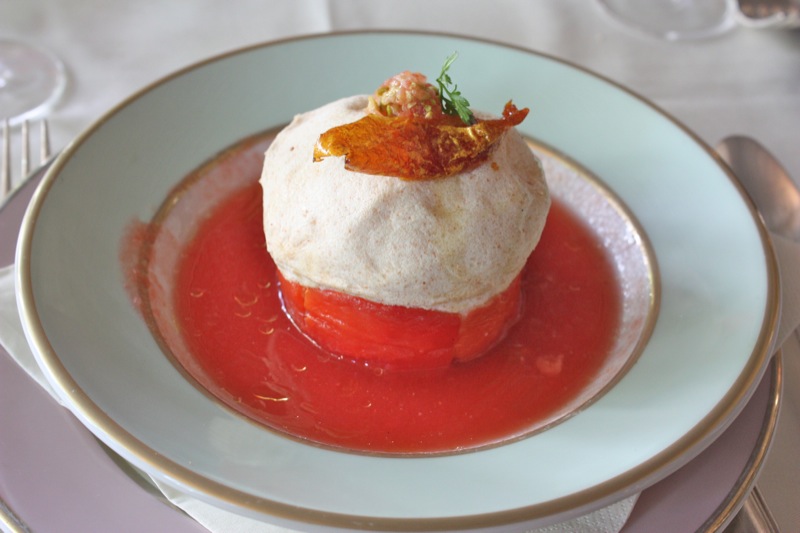 I was fed, completely, without taking one bite. Truly.
There was a leaf of parsley on top, and some crumbles of pistachio. Inside, there was a layer of delicately cubed tomato flesh and a scant brushing of finely ground pistachios. It was light and like a giant savoury marshmallow. The impact of this dish was in the texture, the mouth feel and the delicately flavoured tomato. On this very hot day, this was the perfect afternoon delight.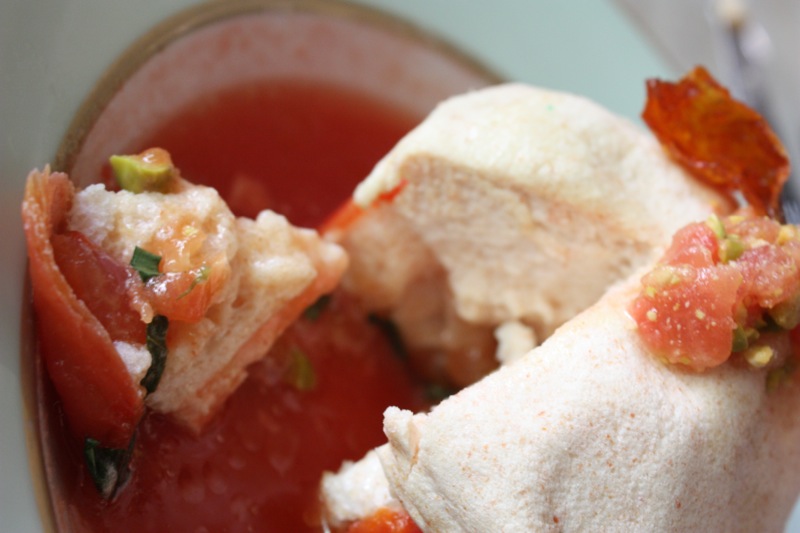 And Vanja? He was very satisfied, as well! He doesn't like surprises in his food and nothing could be more straight forward than this!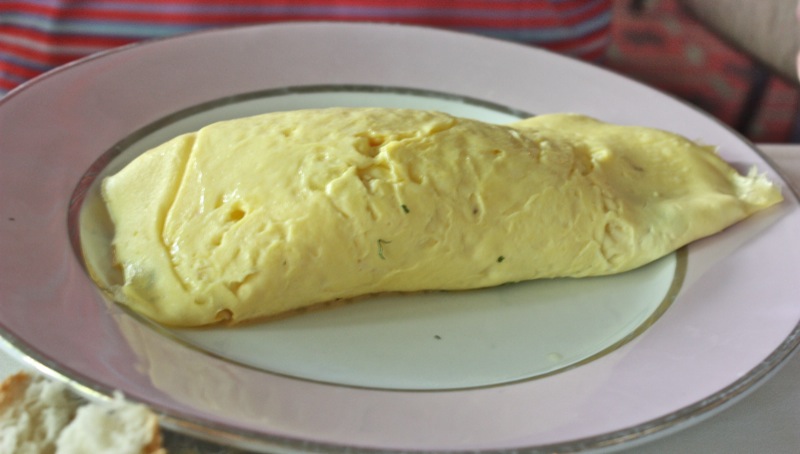 Look at the thickness of the lush egg wrap around the mushrooms and cheese and vegetables! This is definitely one way to get Vanja to eat his veggies.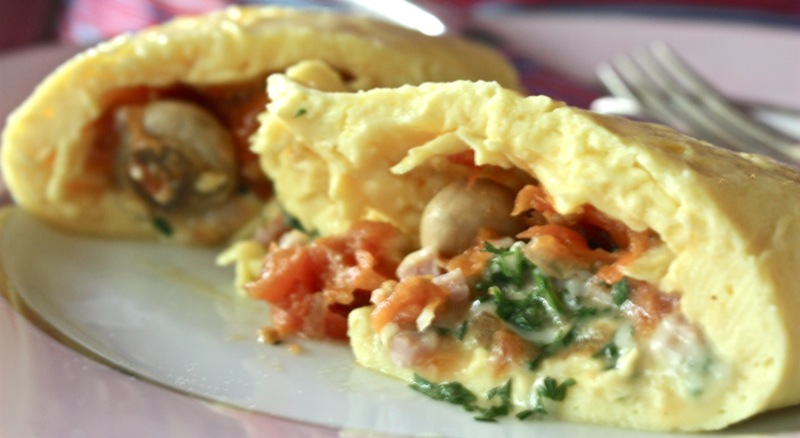 I have definitely noticed that the French use eggs everywhere in everything, far more than at home. They honor the egg. They revere the egg. It is the perfect food. It is beautiful and delicately flavoured, yet can develop a depth of flavour possible no other way, produce a variety of amazing textures as well as create volume and gloss. Culinary art is most definitely apparent everywhere regarding the acquisition of mastering the power of the egg: French Magic!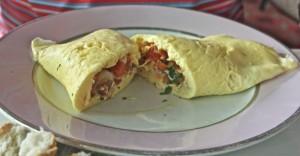 After I ate, while Vanja finished his coffee, I stood in the big and long line at the Patisserie Bar to buy a dessert (or two) to take back to our room and enjoy. We were too full to enjoy one now, and truly, most were three Euro cheaper to buy and take with you than to eat in the restaurant. This was similar to what I started to see in London UK in March, and is still shocking me. How can all of the beautiful packaging the sweets are wrapped in be cheaper than a plate to wash?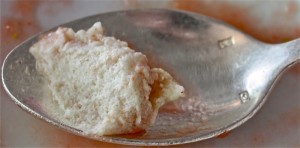 Anyway, I wanted to take it with us. So hard to choose. I had read recommendations from Paris Patisseries and had made very specific and special notes that I brought with me on the trip, but did not have on hand this day. All I could do was recognize what I had read about, but not whether it was good, or bad. So, I bought three: one that I was pretty sure got a bad review, but had raspberries with roses, both which I love; another with pistachios and strawberries that I was sure had a good review, or I would have never picked it; the last definitely did not get any review and I bought it because it was clearly a traditional French pastry called a Réglisse I had never eaten and it was violette in flavour! (it took quite a little tumble, though I thought I was careful, in the box on the way home!)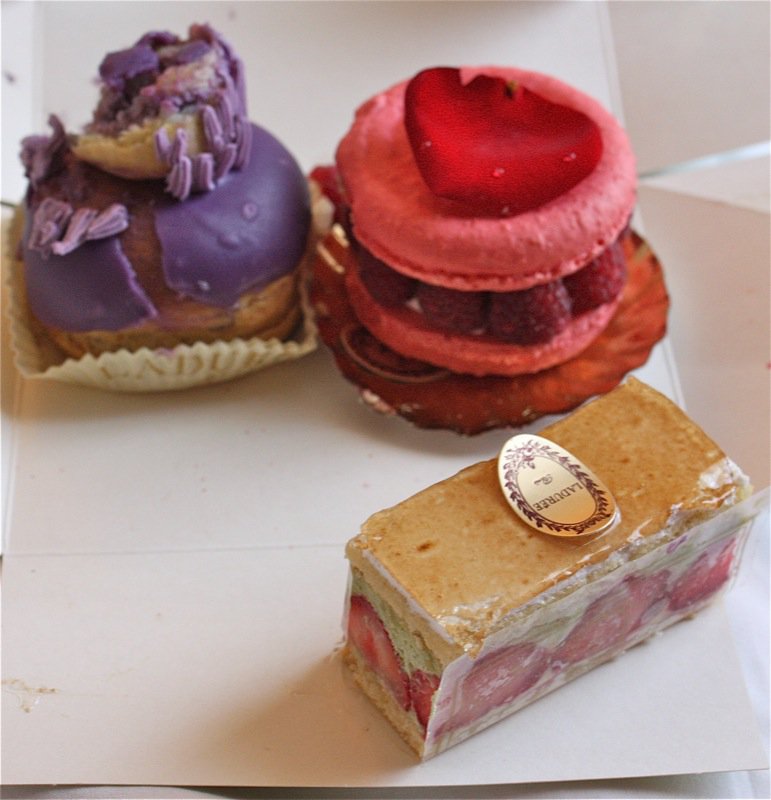 (Definitely, take a look at his site. It is incredible! Subscribe! He writes about every pastry imaginable, in detail: macarons, and he did write about the raspberry and rose pastry I bought, as well as the pistachio and strawberry one. I wanted to link you to his posts here, but just searched his site, and the posts are no longer accessible!)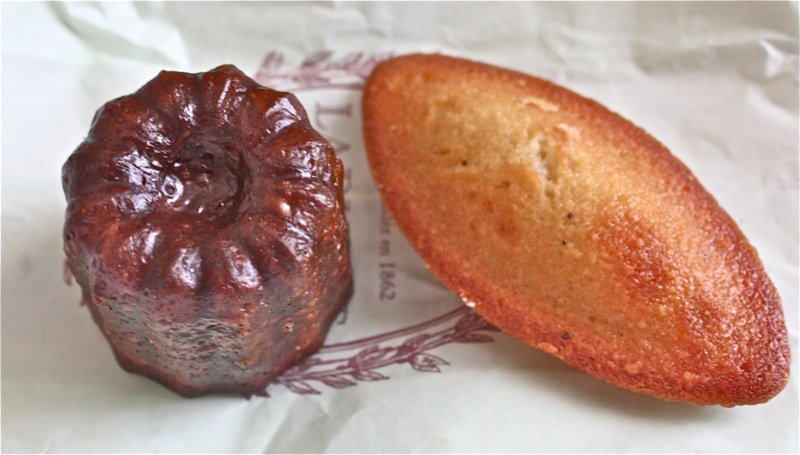 Oh, I also got four macarons and a caneléand a financier because I do recall Heavenly Housewife recommending one to me as "œthey were "œheavenly", and often overlooked. (Was this the right one, HH?)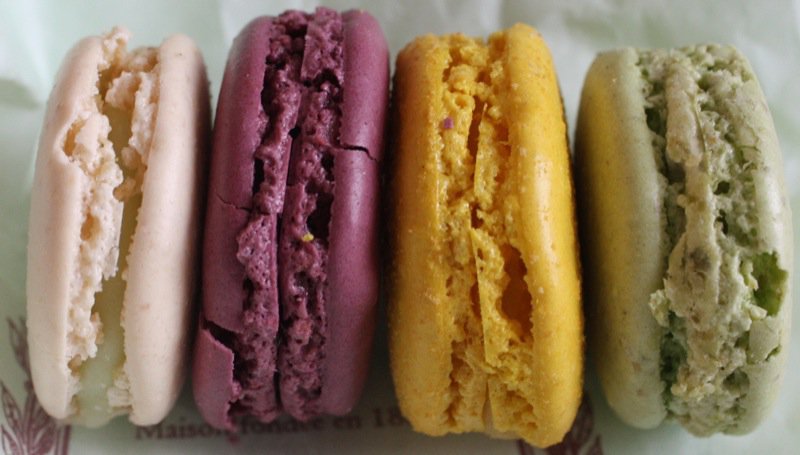 Back to the hotel we went for a short nap before going out for the evening. I woke up earlier than Vanja, so sampled my half of the sweets! To be honest, only the macaron half on this evening, and the others, the next late afternoon.
All I can tell you, is I can never get enough. Well, I can. They are very filling, actually: after, about 8! The cassis one was really delicious. The white one was to have a violette flavour, and it was a disappointment. Can one say that about a Ladurèe sweet, or is that just too self indulgent? The pistachio was incredible, as always; the mandarin was really lovely and fresh. MMMMmmm. I can still recall the sensation of pleasure that tickled through me. Yummy!
I thought I had a canelébefore. I have a memory of the shape and texture being delicious, but maybe it was not a caneléas this one tasted really terrible. I know that beeswax is used to coat the pan and that they are crusty and crunchy and dark on the outside and soft and beautiful and light on the inside: exactly like this one. And, this was a caneléat Ladurée. Yikes. I just bought all three sizes of the molds and they were very expensive (but cheaper than at home). I did not like the taste at all and have no frame of reference from which to describe it: not appealing? It was not repugnant, but it was surprisingly awful, to me. The financier was chewy and delicate all at once as it was packed with almond flour. Not sweet at all. Really a lovely bite.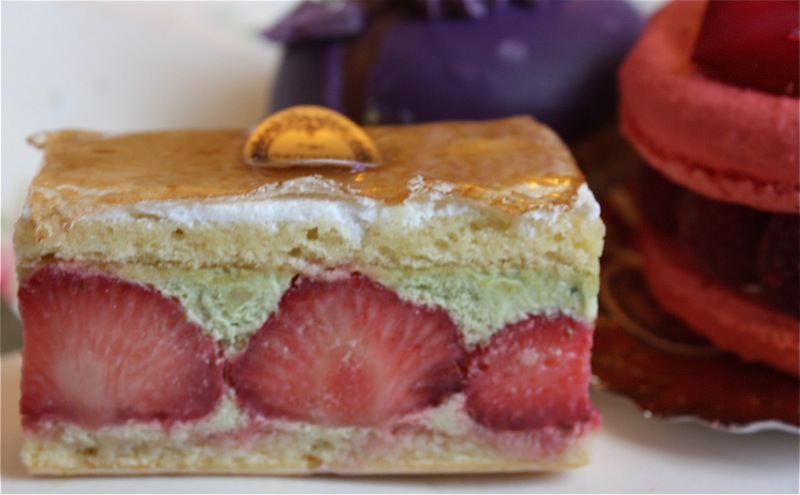 I was counting on the post from Paris Patisserie to remind me of the name of this pastry. There absolutely is one. I did not write them down. This was lovely, and light and Vanja's favourite. I missed the pistachio flavour. I could hardly taste it. But, how can I really complain? It was delicious. And, the raspberry and rose concoction? Well, with the macaron base and the rose butter cream with fresh berries, I was happy. Very, very happy. YUM!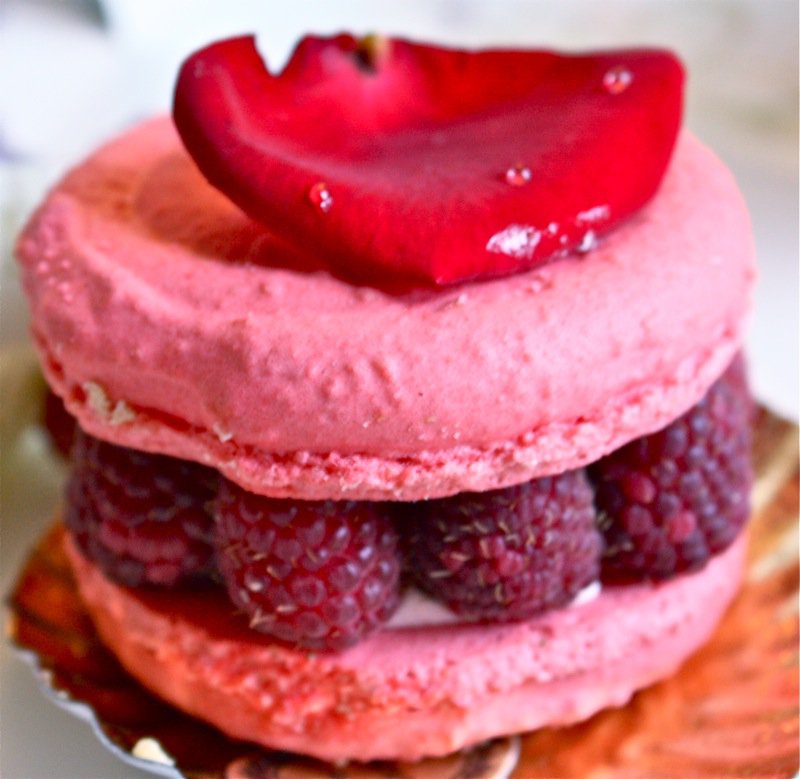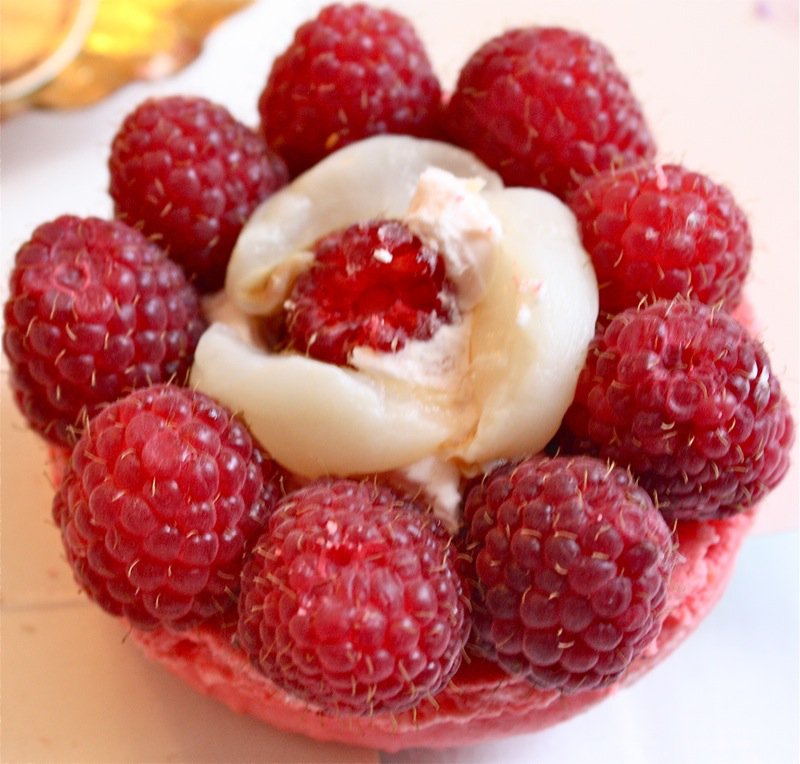 I love playing with my cookies. I enjoy seeing how they were made and investigating each part, then tasting each bit as much as eating it. Do you have to do anything to fresh raspberries? They are perfect from the bush, so sitting them on a macaron shell was putting two perfect creations together. The rose? You have to like it, and I do. I do because it is French and I first had it in France and it reminds me of that moment and of my grandmother and of her garden. Perfect.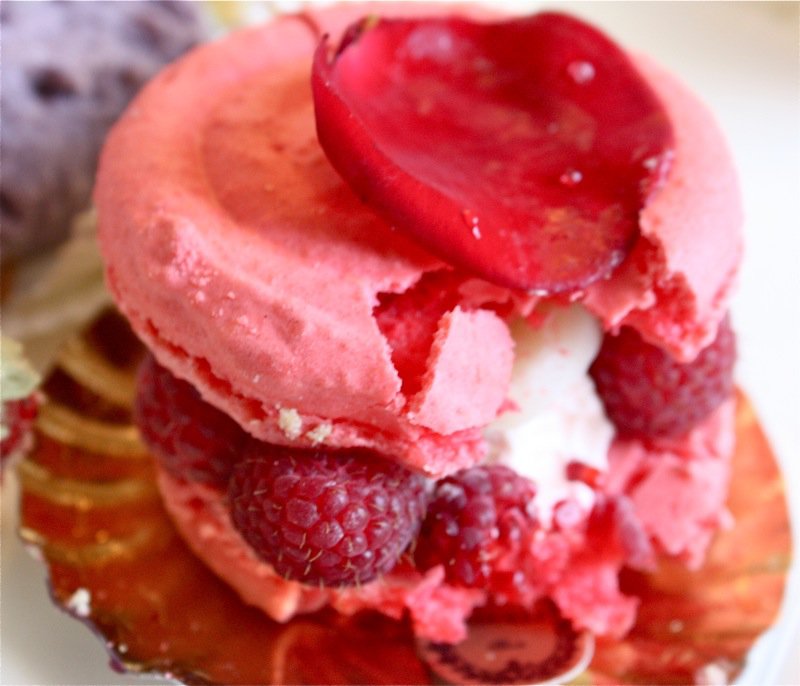 Did I save the best for last? No. The violette flavour was perfect, but I will never indulge in a Réglisse again. I am glad I did. I now know what they are: flavoured cream filled choux (heavily filled) with very sweet flavoured icing on top. This is a pastry that is not for me. There was no crunch or interesting texture except a wallow of cream. Deliciously flavoured with violette essence, but too much of everything, I think.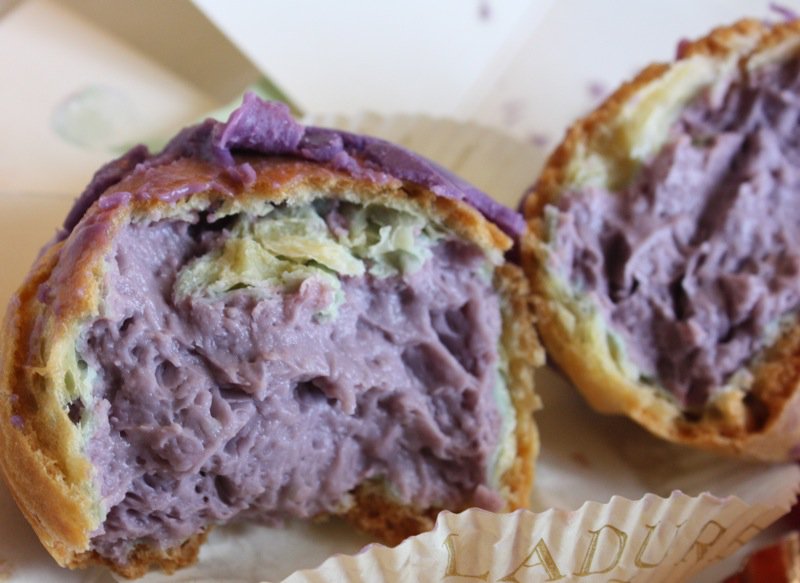 Just around the corner, as we were leaving Paris on Sunday morning, look what I spotted?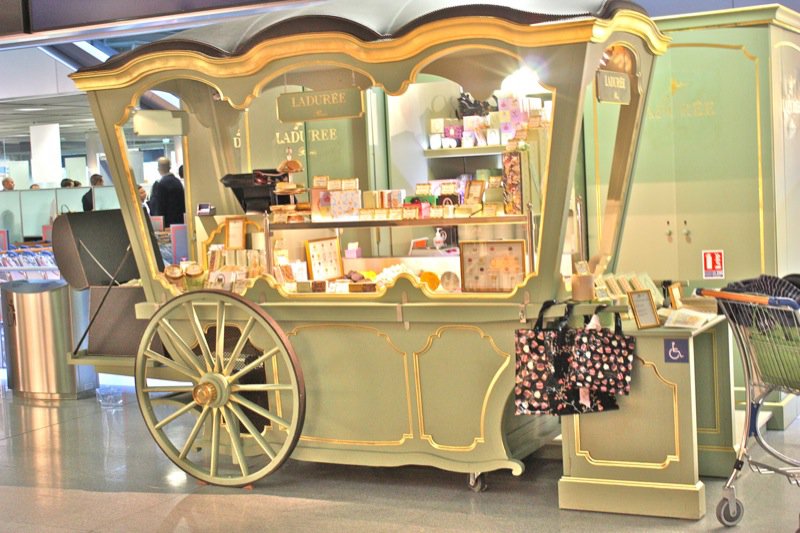 Believe me, it took a lot of self talk to not buy more macarons! I just told myself , "œNo more!" And, that was that. But, I truly did regret not buying the cookbook I had seen. Should I take one more little look? "œI'll just take a little peek!"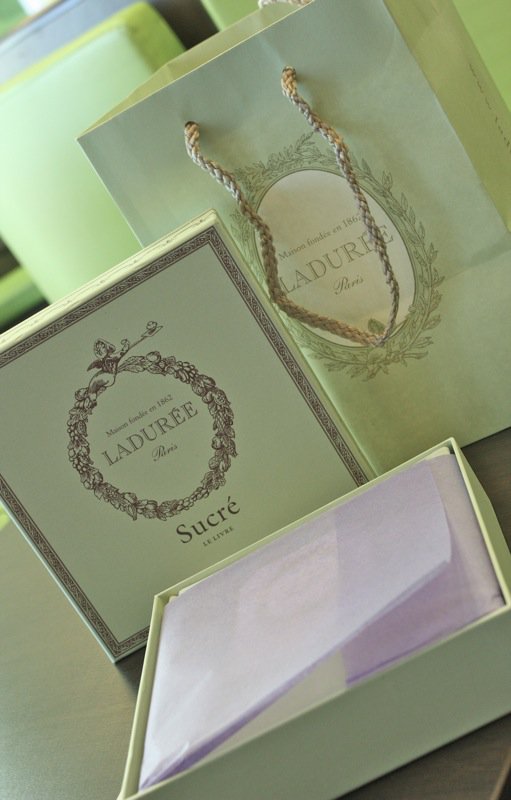 It made great reading all the way to Beograd: en Français, of course! Anyone want to come over and make French Macarons when I get home? I would love a cooking partner!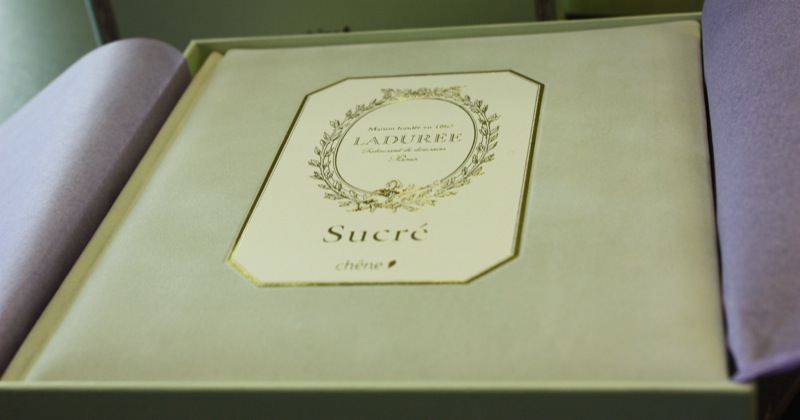 So, the moral of this story is: when one goes to The Ladurée Tearoom for lunch, that will just be the beginning of a life long love affair.