Go for the Kouign-Amann. Period.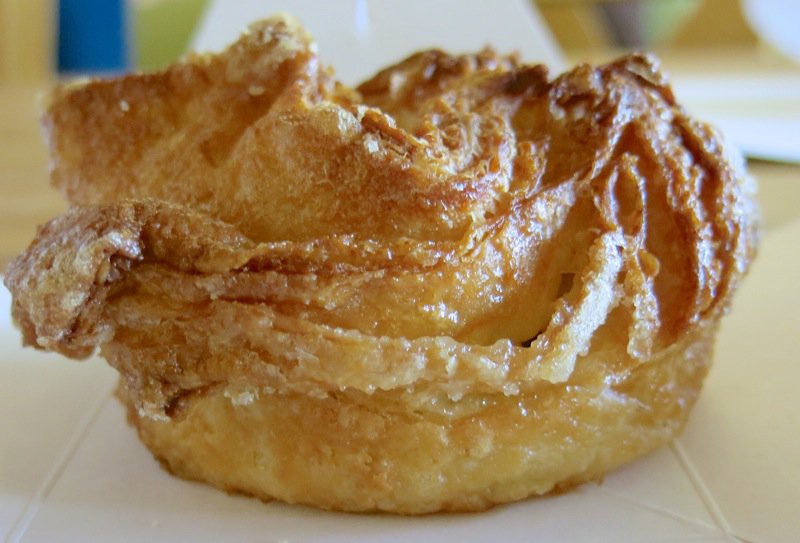 Les Madelieines in Salt Lake City is famous for the Kouign-Amann which is a French regional specialty from Normandy. It is scrumpdillyicious and you will not regret this crunchy, buttery, flaky pastry tasting experience. I promise you. Anyway, Salt Lake City is quite small and this patisserie is quite easy to find. Small. Popular. Closes at 4 pm, so go early!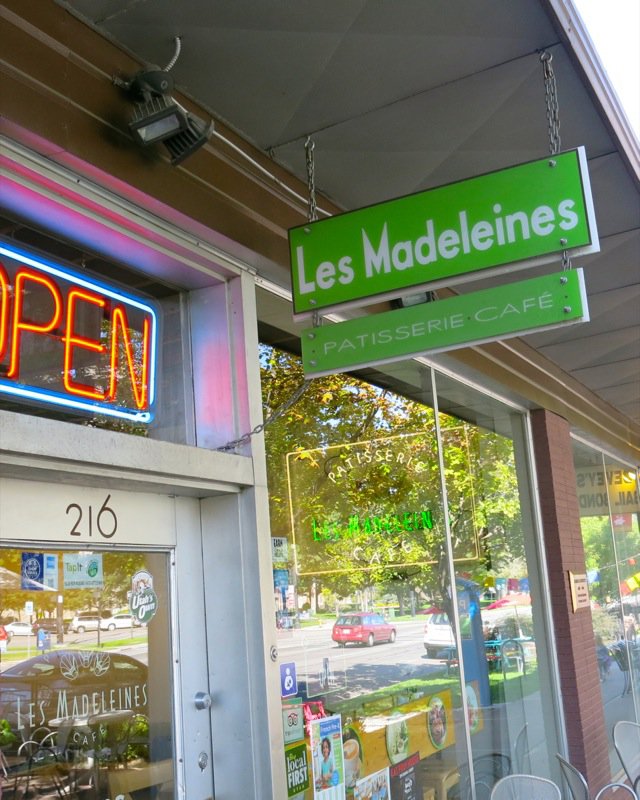 In town visiting my youngest daughter, Lauren, and her husband, Aaron, we were toured around royally for four days. Love Salt Lake City. Did not think I would, but it feels like home. Except it was so unbelievably hot. A desert in the middle of the mountains. Fancy that. Les Madeleines has been selling the Kouing Aman since 2004. They describe it as, "…a rich, buttery caramelized piece of heaven originating from Brittany, France."
Although not an exclusive cupcakery, Les Madeleines was the first to offer a variety of unique, gourmet cupcake flavors and French macarons in the Utah area. But what truly captured the hearts of Utah foodies was the Kouing Aman, a rich, buttery caramelized piece of heaven originating from Brittany, France. If you've had a Les Madeleines Kouing Aman you too are a part of history, establishing Les Madeleines as the first bakery west of the Mississippi to offer the Breton pastry.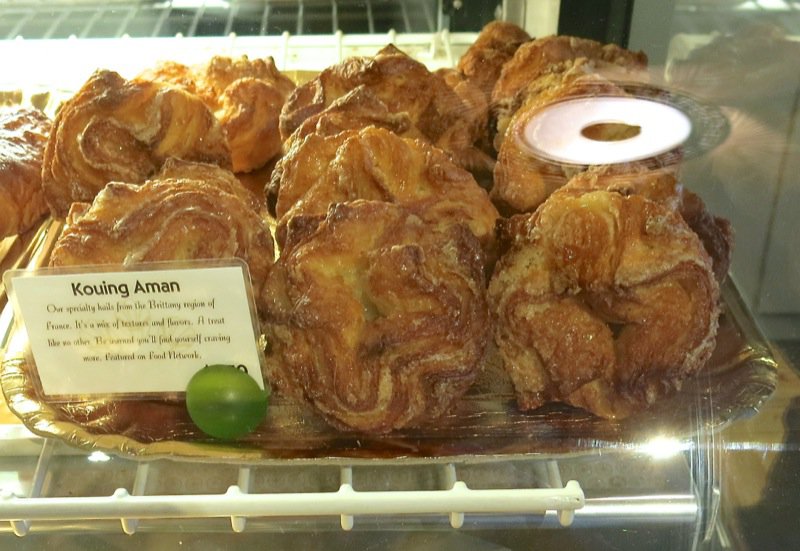 Lauren's good gal pal, Mercedes, told her that she must bring her mother to Les Madeleine's. Lauren had not been here, yet. Knowing how much of a foodie I am when traveling, Lauren and Aaron made it happen. Twice, actually. It was closed the first time. Arrived at 4:02. Gal was cleaning up and ignored us at the door. Obviously, she was not the owner.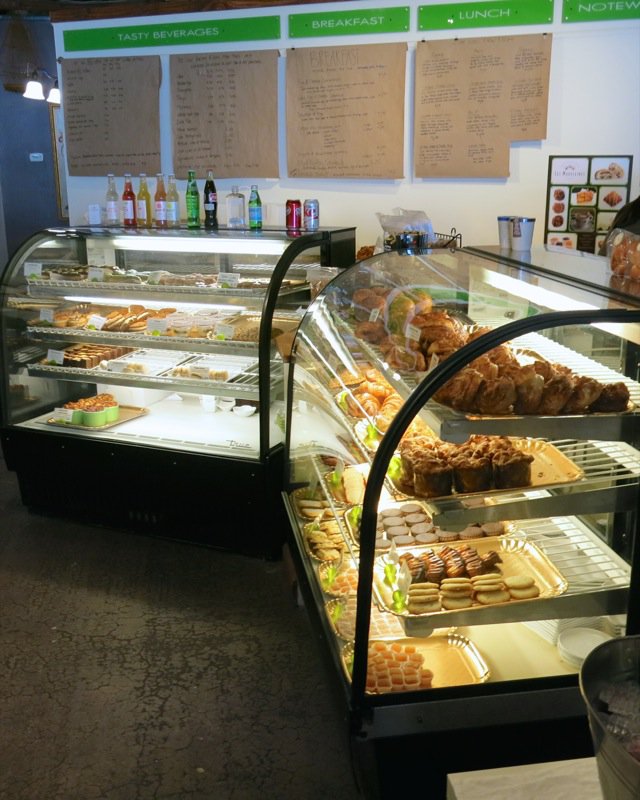 The place itself is simple and holds little charm. It is clean and fresh in appearance and small. Certainly perfect for a treat with children or a pick up to go. If you are looking for a cozy little atmosphere to gab with your gal pal, this would not be it. However, I would definitely stop by for a take out. As we did. Some places draw you in, and you just must stay. Not this one.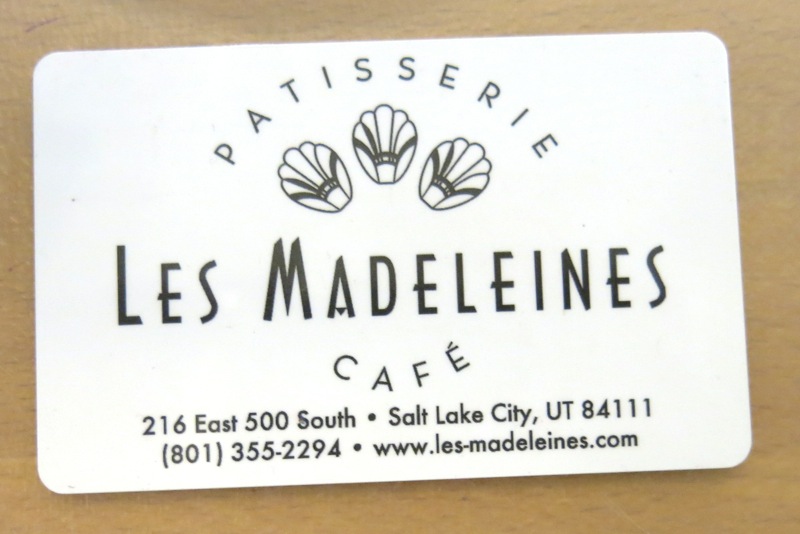 The kouign-amann (pronounced "queen a-mahn") derives its name from the Breton words for cake "kouign" and butter "amann" and is believed to originate from a failed bread paste. The earliest reference to a similar concoction in the area is in 1865 when a Breton baker from Douarnenez turned his dough into a fine cake, adding sugar and butter. The compact yet refined "Butter Cake" was born, rapidly becoming the speciality of this village in the Finistère area. The traditional Kouign Amann grew in poplularity after 1945 when tourism started in the Brittany region of France.
The authentic recipe consists of multiple layers of alternating brioche dough, butter, and sugar. The butter must be at minimum, 82% butter fat. That is hard to find. The layers are arranged in a big circular cake mould (with a diametre of 50 to 70cm) called roue de charrette, or carriage wheel, in Bretagne; it is slowly baked until the sugar carmelizes on the outside. Like the French croissant, the best way to enjoy the Kouign Amann is to eat it warm the day it has been baked accompanied by a glass of Brandy.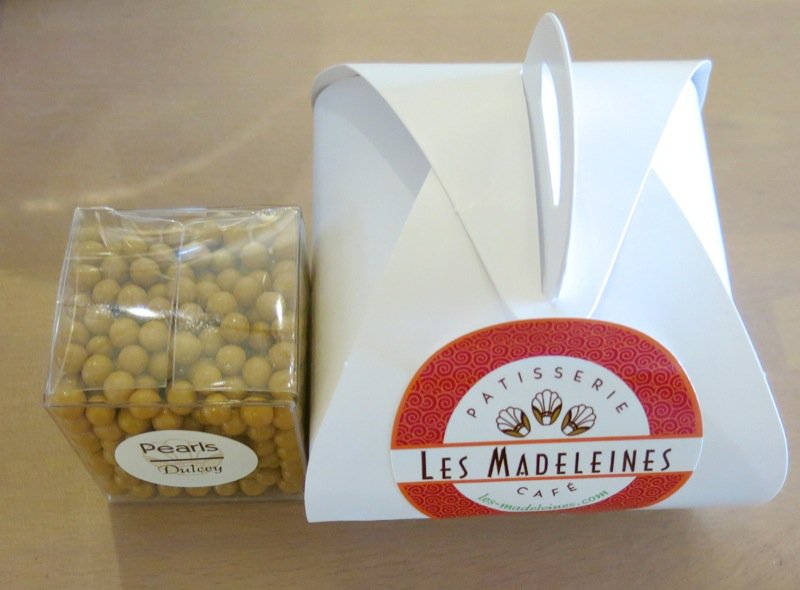 Yet, there was certainly some thought about their package design. I would imagine they do an intense little take out business. What adorable little containers. My Kouign-Amann is nestled in the box and it is clear this would make a very thoughtful gift to a co-worker mid morning. Or afternoon.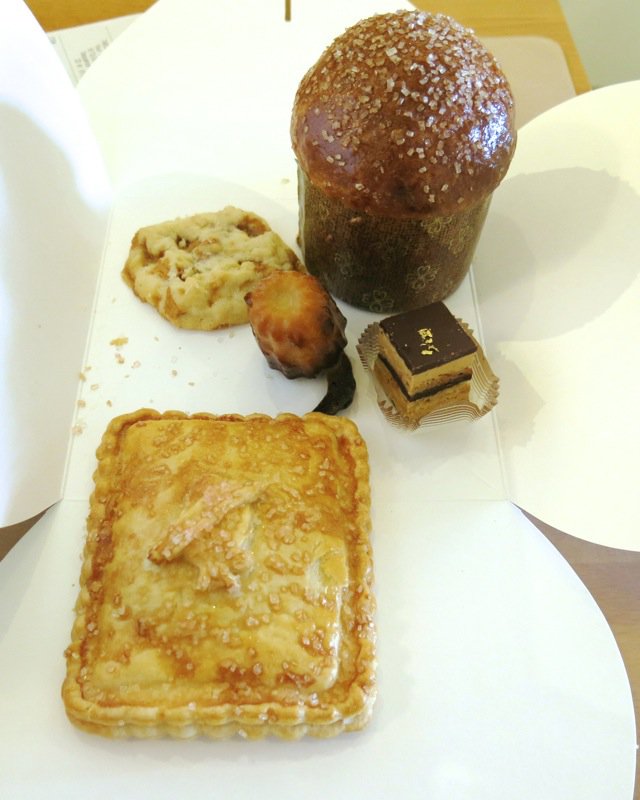 Of course, I bought other treats to taste. Frankly, don't bother. Nothing above, was memorable. The adorable jam hand pie was down right disappointing. Bleh! But, the Kouign-Amann! Oooh, baby!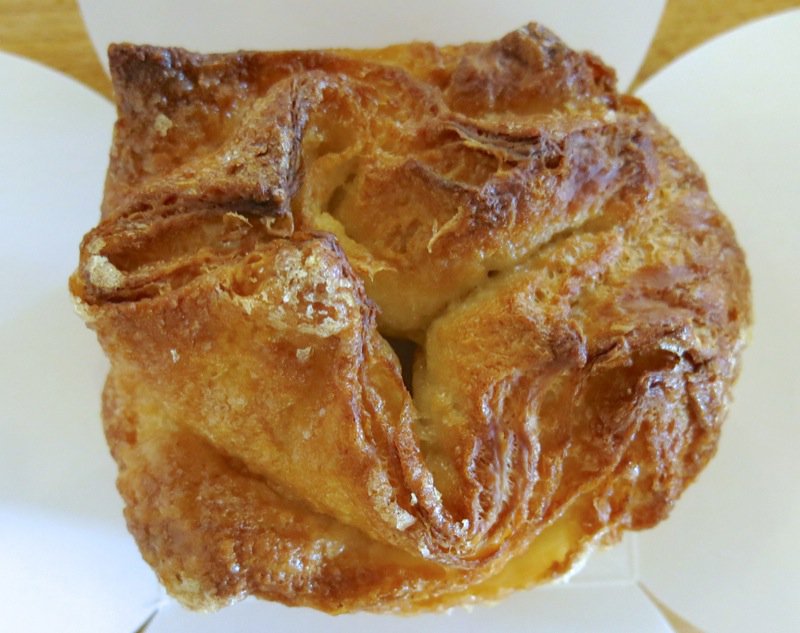 Getting your hands on one of these little French specialties in the middle of the Utah desert is definitely worth the trip across town.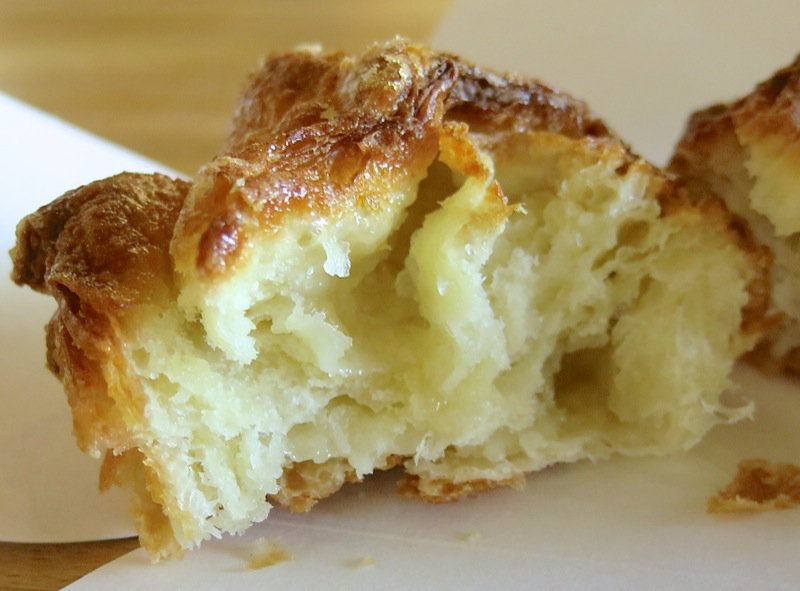 What is it? It is crunchy on the outside like a palmier and flaky and soft and layered on the inside like puff pastry, but heavier. Buttery, like that, though.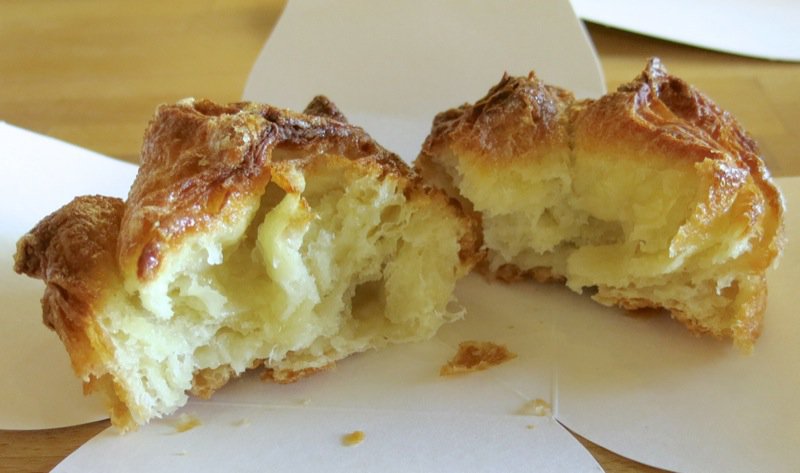 And really moist. That was unexpected. Ribbons of sweet honey-like nectar ran through the layers of buttery dough. Can you see that, above left? Mmmm. In France, the Kouign Amann usually contains various fillings of fresh fruit, chocolate, or pastry cream nestled in the centre of the crunchy caramelized crust and buried under the buttery blanket of soft layers of nectar laden brioche ribbons. Here, there is only the classic version. You can order them online from anywhere in the United States. Somehow, that just doesn't seem right. Warm. The same day. That seems right.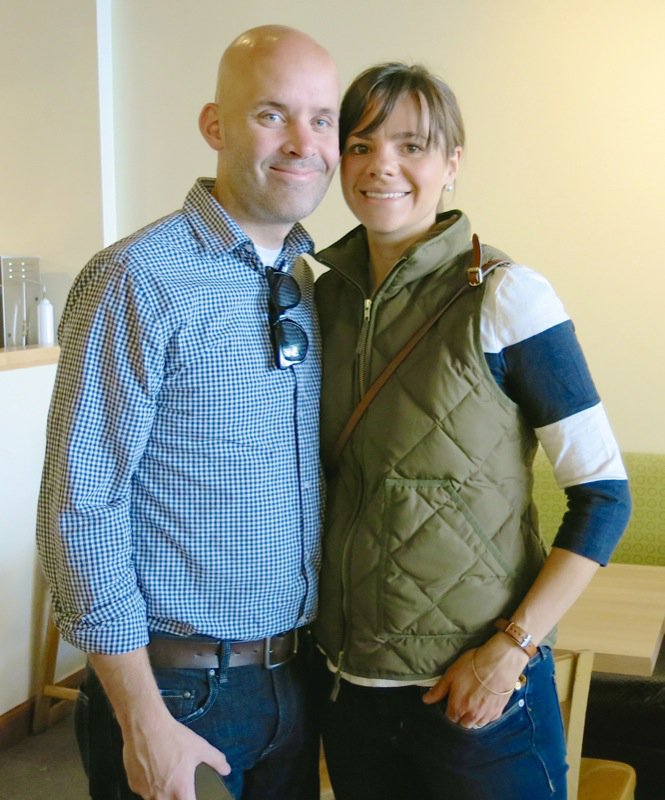 Thank you, Lauren and Aaron. Love experiencing regional specialties, even if they are from another region and someone in the area I am visiting gets it right. In this case, it is Chef Romina Rasmussen. Bravo and standing ovation, Romina! The people from the region of Brittany in France have become concerned about this litte specialty of theirs, as the success of the Kouign-Amann has found it being reproduced industrially with various " distant cousins" to this noble treat carrying its name. As a result, Breton and French gourmets agree these blasphemous versions should not be named a Kouign Amann. So, as the Bordeaux bakers did for their detectible and authentic reginal little canele, Douarnenez patissiers created an association in 1999 that ensures their expertise regarding the authenticity of the authentic Kouign-Amann would be recognized. Therefore, to fully enjoy the authentic version possessing the terroir, taste, texture and flavour of the original Breton speciality, you must look for the little pastry to be denominated as "Véritable Kouign Amann de Douarnenez. Fabrication artisanale inventée vers 1860 à Douarnenez"or labeled the "authentic Kouign Amann from Douarnenez" en Francais. Most likely only to be found in its home region.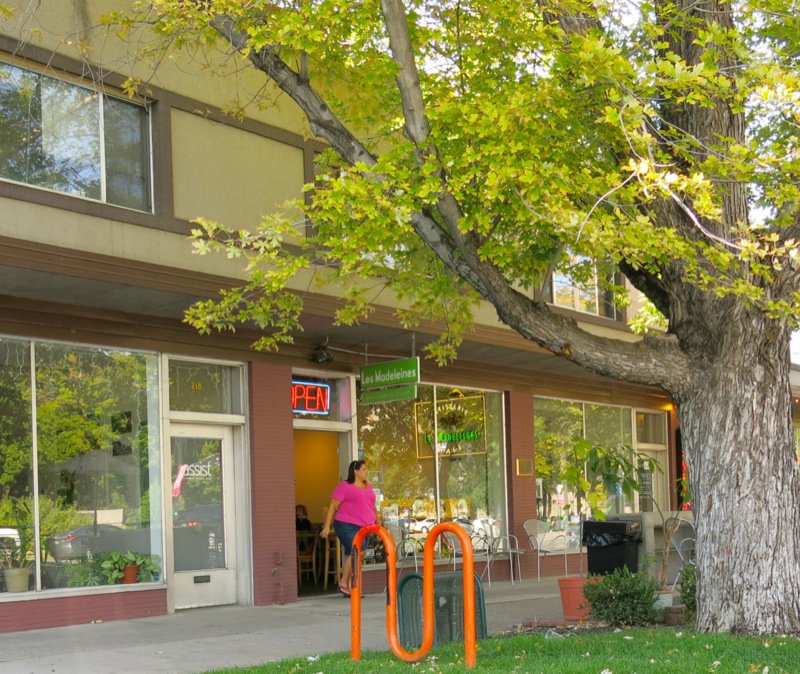 I will definitely vouch for this version from Les Madeleines, having had the original while in Brittany, France in 1995. Should my taste memory serve me correctly, this is a pretty darn good imitation, and nothing at all like any industrialized version the Douarnenez patissiers would be so rightly offended by. I do believe they would applaud this little understated spot in Salt Lake City for highlighting the noble French artisan treat in this urban North American neighbourhood.
Next pastry shop was to be The Tulee. But, we somehow never made it. Something to look forward to next trip – as well as a trip back to Les Madeleines for another kouign-amann!