Day Three in Paris: A Celebration of Verrines and Bastille Day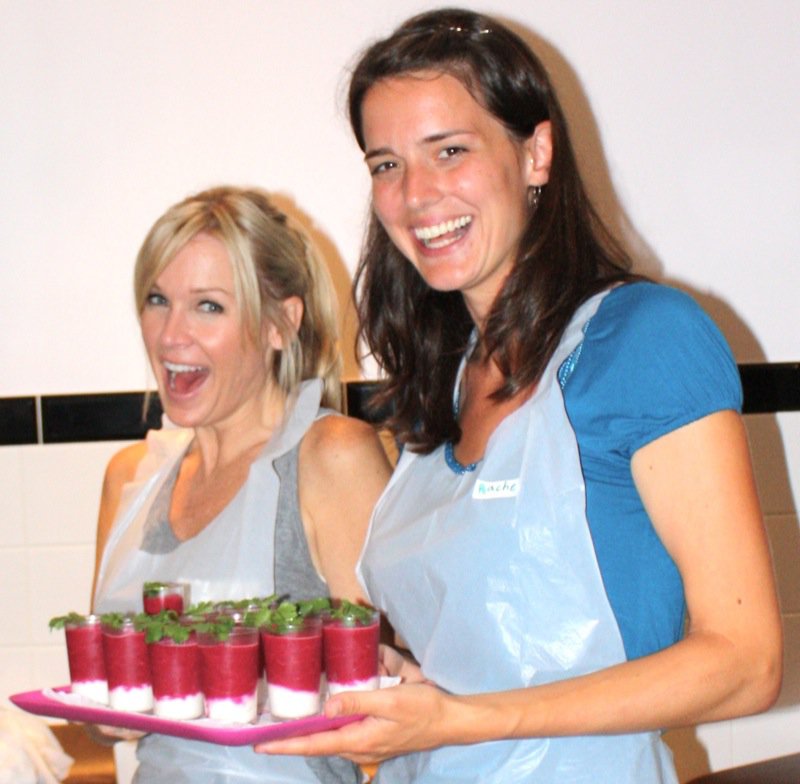 Verrines: Foie Gras, Chocolat Mousse, Cold Beet Soup; Petit Caramel Citron Choux and Shrimp and Pinapple Skewers
The following recipes are included, in detail, at the end of this post:
Verrines de Soupe froide betterave brebis (Cold beetroot and yogurt soup)
Verrines de Creme brûlée au foie gras et Porto (Foie gras and Port wine crème brûlée)
Brochette gambas-ananas (King prawn and pineapple skewers)
Verrines de mousse au chocolat et currant rouge(Chocolate mousse in small glasses)
Petits choux citron et caramel (Lemon cream and caramel "˜choux' pastries)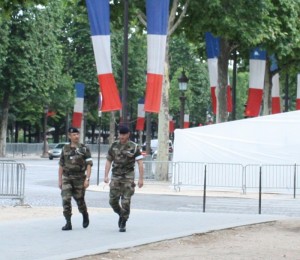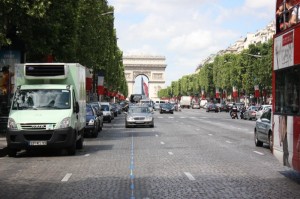 Bastille Day, or La Fête Nationale, is a French National holiday celebrated on 14 July each year commemorating the 1790 Fête de la Fédération, held on the first anniversary of the storming of the Bastille on 14 July 1789. This anniversary has become a celebration of the modern nation. A massive parade and other festivities are held on the morning of 14 July on the Champs-Élysées in front of the President of the Republic, who is definitely in town for the occasion. There are a host of fireworks and usually huge crowds around the Eiffel Tower in the evening where they are initiated. After seeing the huge set up and all of the fan fare and security the day prior during our time on the Champs Elysée, Vanja and I felt it would be a perfect day to get out of town.
Vanja had discovered a very high-end shopping outlet near Euro Disney (one stop before it on the RER) and was really interested in going. I really wasn't, but was curious to see a small town out of Paris. This seemed like the perfect day for such an excursion. It absolutely was, but for a completely different reason, as it apparently poured rain all day until about 1 in the afternoon! We were back by 3 and had enjoyed a beautiful day out!
The train ride took about 40 minutes, but seemed like much less as we enjoyed watching the countryside whip by. (It was covered by the 7 day 30 Euro metro and transportation pass we bought at the airport.) Upon disembarking, we stepped out of the station and viewed this extremely new and very modern square. I was expecting a quaint little French village with outlets at one end.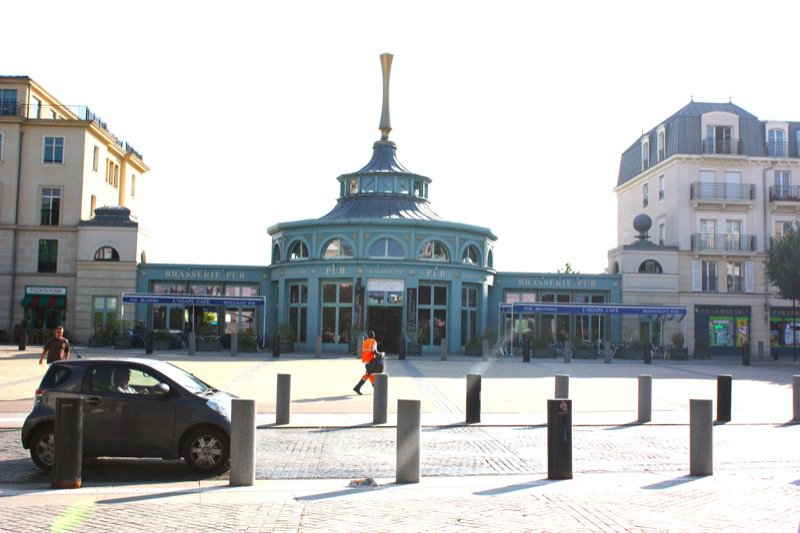 We were told to go to the right to the fashion outlets.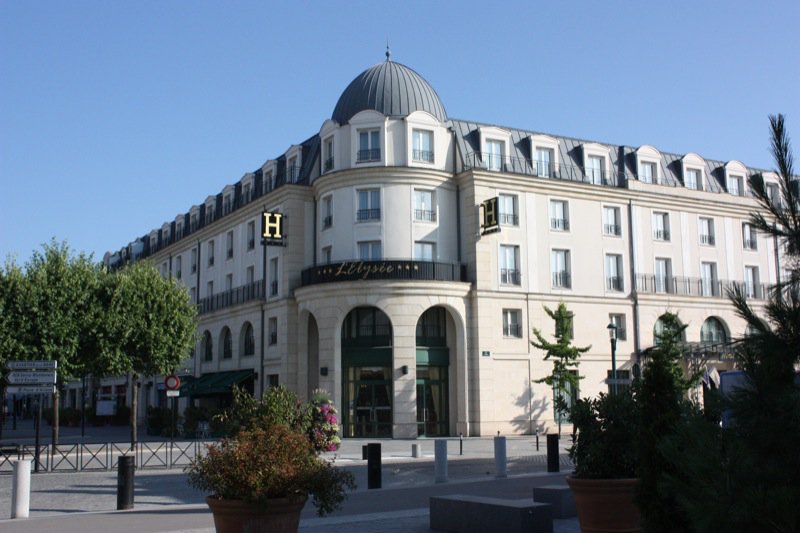 We passed by this hotel, and it became apparent that as this was the stop before Euro Disney on the R&R, that it was probable that this obviously new community was created to host the visitors from there. To the right, as told, we entered into two massive doors and found ourselves in a huge "West Edmonton Mall". Was this it? Really, we didn't know, but we smelled coffee down the escalator and had not had ours yet as we left the hotel at 7:15 am. It was only 8 :15 and nothing was clearly open except the cafés. (We arrived much faster than we had expected!)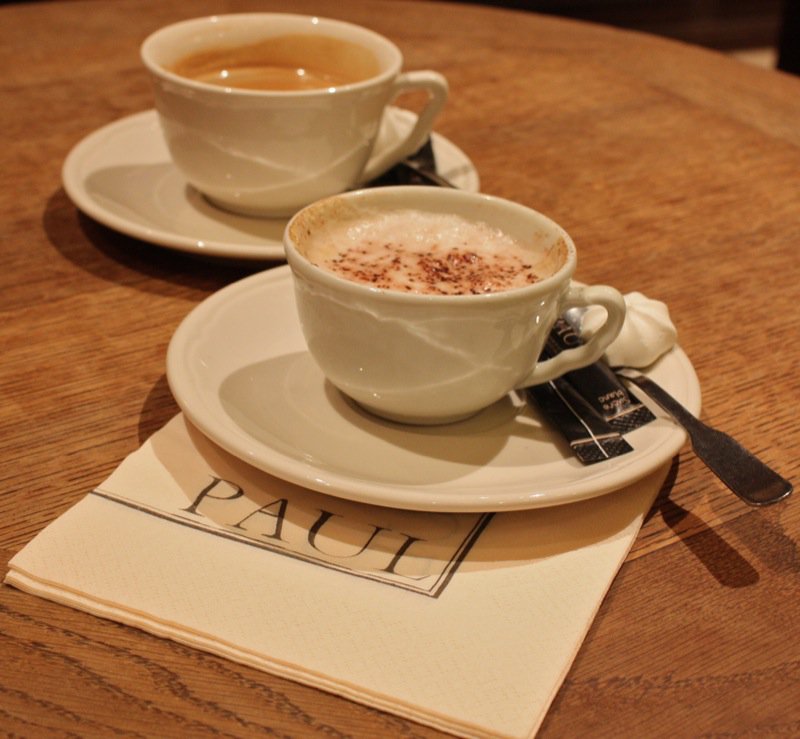 Paul's is a pâtisserie caféchain that can be found everywhere in Paris, at least. They do not allow photos of anything (odd, considering nothing her is that special… well, it would be, if it was in Edmonton!). A friendly gal there told us that this was a shopping mall and the shopping outlet stores were at the very end of it, and to the right. We were off, after enjoying the perk! (And the brioche were special enough to photograph from the outside, in!)

It was a long and lovely and very empty mall. Really, there was nothing all that interesting (to me, at least) in the shop windows so I stopped lécher les vitrines (window licking) and just watched the people.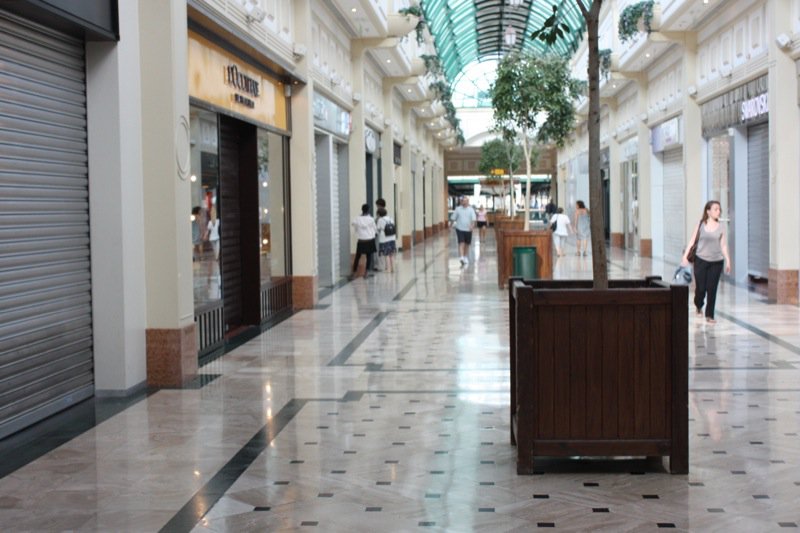 But I didn't take any photos of them!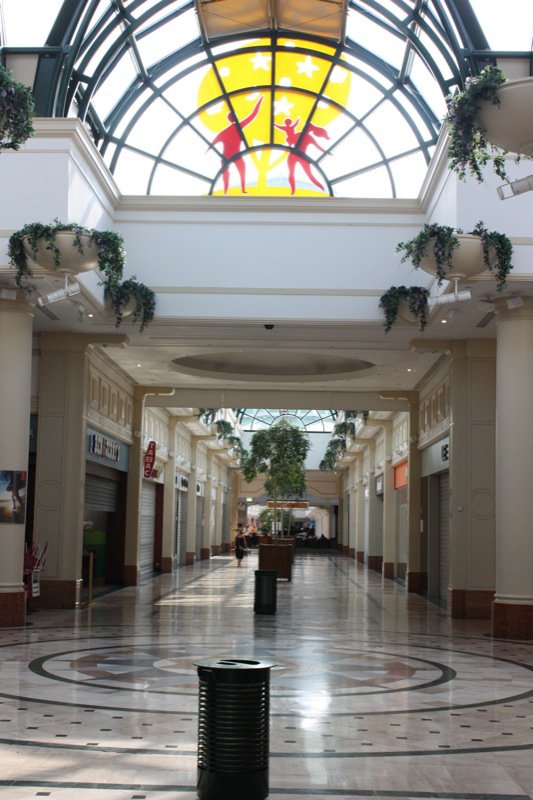 It was clearly marked, so one could really not get lost, if "looking for the sign"! Le Vallee is the area we were looking for.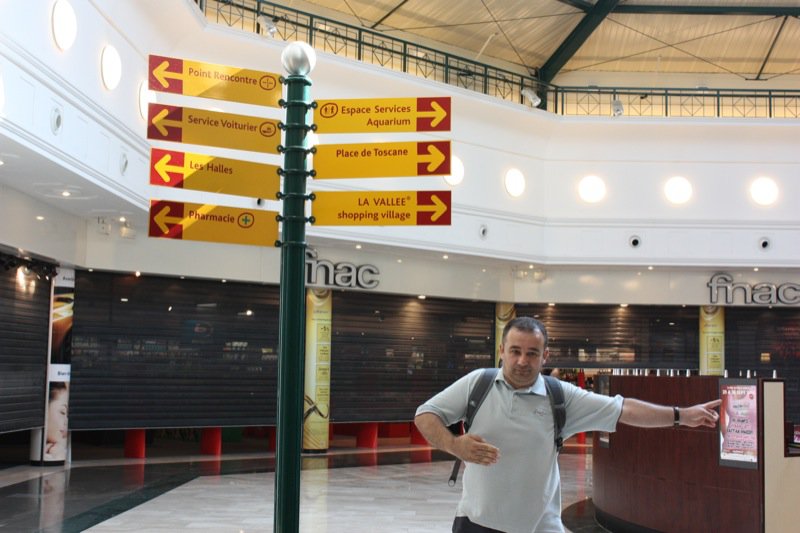 It was exactly "to the end, outside, and to the right". By now, I was not expecting a quaint French village, but I certainly wasn't expecting a highly guarded and exquisitely manicured man-made shopping village like this!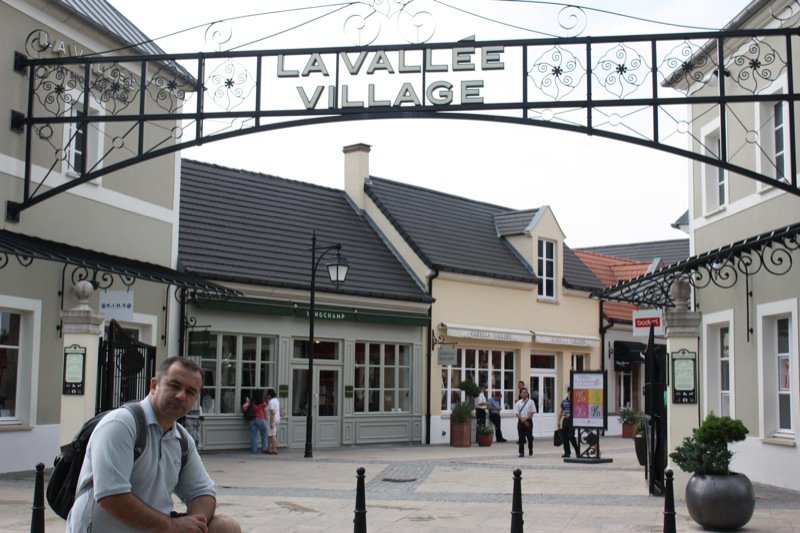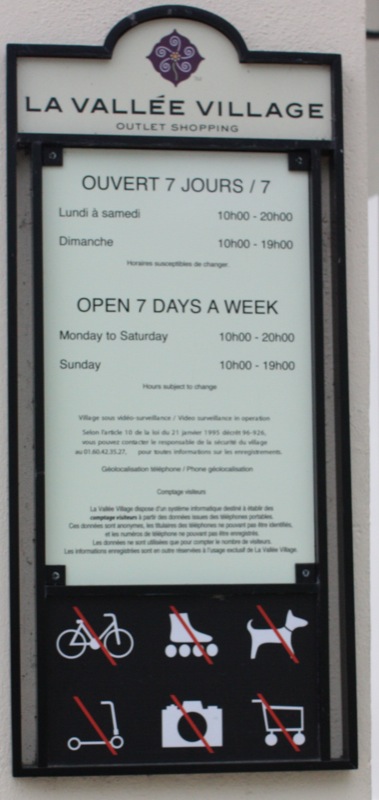 Yes, I took a picture of the sign. But, I still didn't "read" it until posting it. Security guards were on me in seconds. "No photographs allowed!!!" What was that all about? It is outside in the fresh air for heaven sake. I didn't pay to come in and we are only shopping. So, I went to Plan B. Big camera went into the bag, and the boutonniere camera got placed into position. Not bad photos from the Plan B mini, eh? And the high end shopping patrol never expected such ingenuity. (smug grin)
Honestly, I was shocked. This was a very classy, incredibly well maintained shopping campus. But, outlet stores? This is how it is advertised, and even the Versace window had massive and tacky 70% off signs in it.
We strolled around with the other early arrivers, and then there was a bell. Yes, a bell. Just like at the Farmer's Market in downtown Edmonton, except over the intercom and all of the previously locked store doors popped open automatically and in perfect synchronicity. Getting up so early in the morning was worth every effort at this very moment. I looked for the cameras. They were everywhere. And, I do mean, everywhere. So were the big men with earphones and mouth pieces, just like on the tacky TV commercials.
Vanja and I looked at each other. This did hold promise. If not for any other reason than the clearly new and over the top event we were both clearly experiencing. "I'll meet you back here in a few minutes." And we were each off in two completely different directions. I went to Bally, a lovely women's accessory store known for very gorgeous and traditional shoes and purses. There certainly was an excellent sale: 4000 Euros off a 6000 Euro purse! Somehow, I didn't think, "But, honey, I am saving 4000 Euros." would wash. I looked around faining interest, and left. He was just coming back with a similar shrug. We continued along the first little bit like this.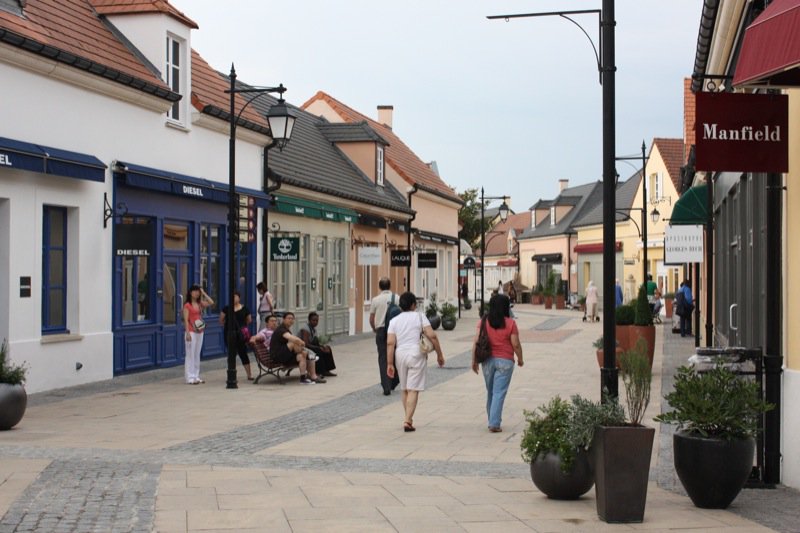 My girlfriends would really go nuts here. I used to be a shopper and a dresser. Not so much these days. This is nothing like the outlet stores in Vegas, but we did find the prices considerably cheaper than in Paris, and if you buy really high end clothing and are into fashion and dressing, you would be in heaven here. Really. Especially at this time of the year. Apparently this is the biggest event sale of the year. Almost every store had 40 to 70% off of their already reduced "outlet" prices.
Every planter had gorgeous clumps of fresh fragrant lavender blooming in it. Even the garbage containers were works of art.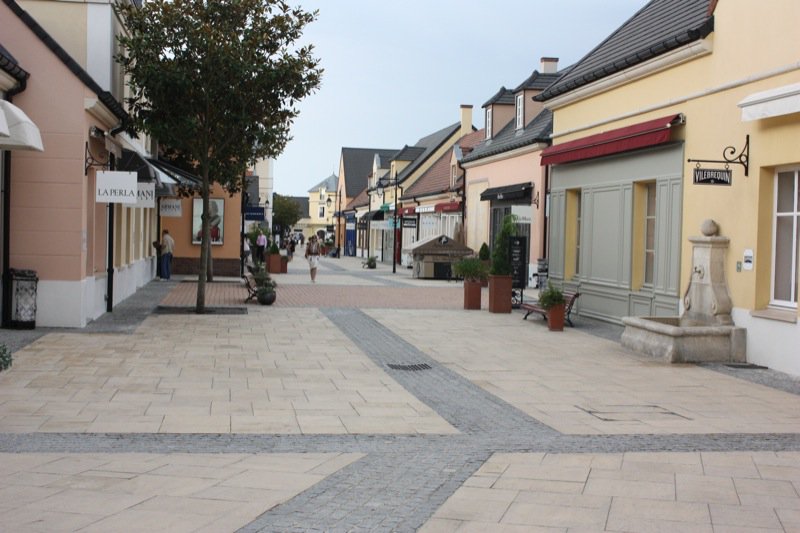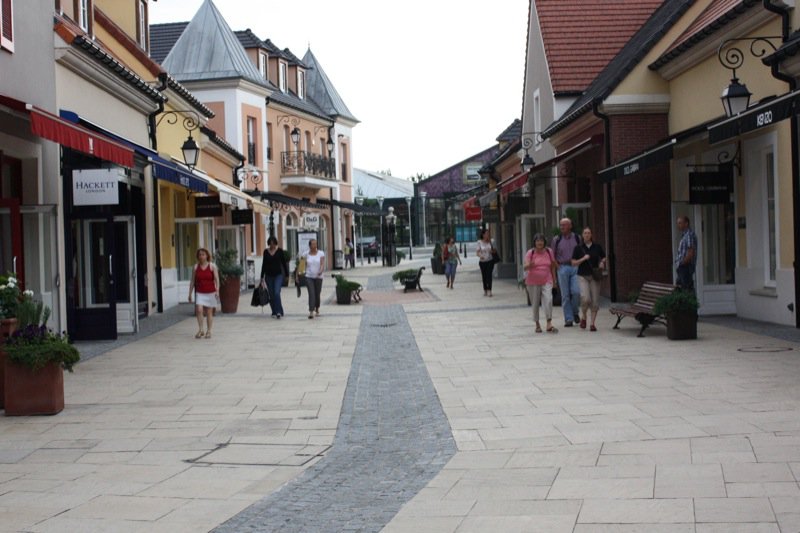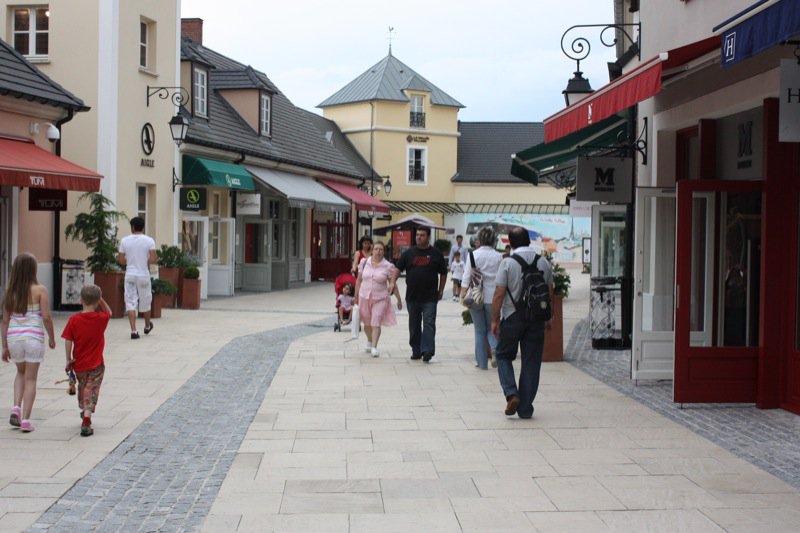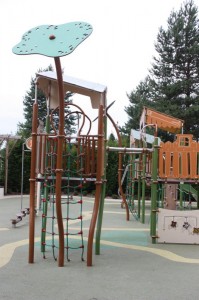 So, you get the idea. Even the children's play areas were frequent, well monitored, and spotless.
I did see some lovely items for women at bargan prices for this kind of clothing, but only one item in the 100 Euro range. All much higher. I bought nothing, but completely enjoyed shopping with Vanja as there was a considerable selection of men's clothing, and really nice clothing (what else would you find here?) for 30 to 50 Euros as there were such amazing sales. That made this trip fun for me. Would I recommend going? No. Not unless this is for you, and you would know already. Am I glad I went? Absolutely. It was unique. Would I have rather found a quaint little French village awaiting me? There is no doubt about it.
Take a look at our lunch, and you would not even ask. I thought Paul's would be a good local bet. The cucumber soup was dill pickle soup. A little misunderstanding, but it was really awful. The quiche was actually very nice. So was Vanja's burger, but it is not very " French villagey"!
We ate before catching the train back to town for a little rest before the Bastille Day Dinner Cooking Class you thought this post was all about!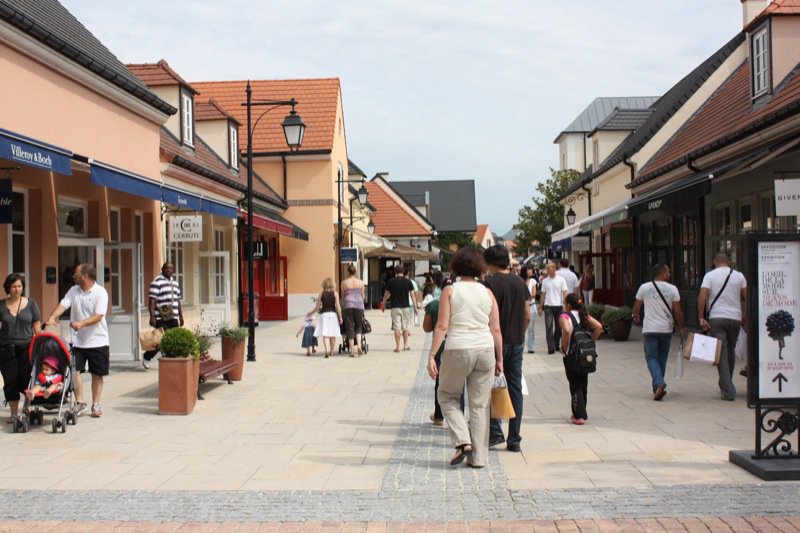 We were back to the hotel, refreshed, and have already arrived at the cooking class! To be honest, I got the dates mixed up somehow. I knew that Bastille Day was this day, but thought the cooking class was the evening before. Thus, after our lunch at Ladurée and my Macaron Making Class at Lenôtre the day prior, Vanja and I found ourselves at a very empty courtyard that Tuesday evening. It was so hot. We were very tired. It was almost impossible to find, and no one was there.
We were on this very busy street directly across from the Jardin Luxembourg and #89 was atop the massive red door you can see with the arch above it, below. But it was a heavy door and there was no sign?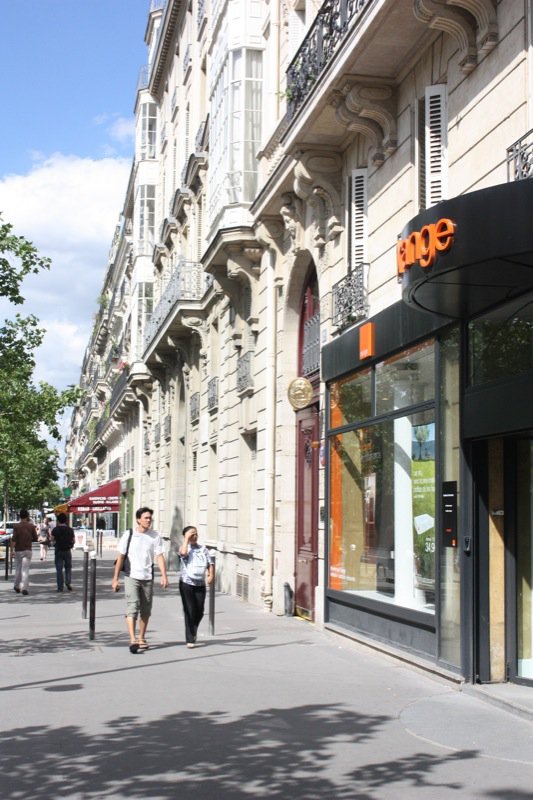 Eventually, we did shove it open (that is it from inside, below) and we found ourselves in an entryway to a parking courtyard. Hmmm?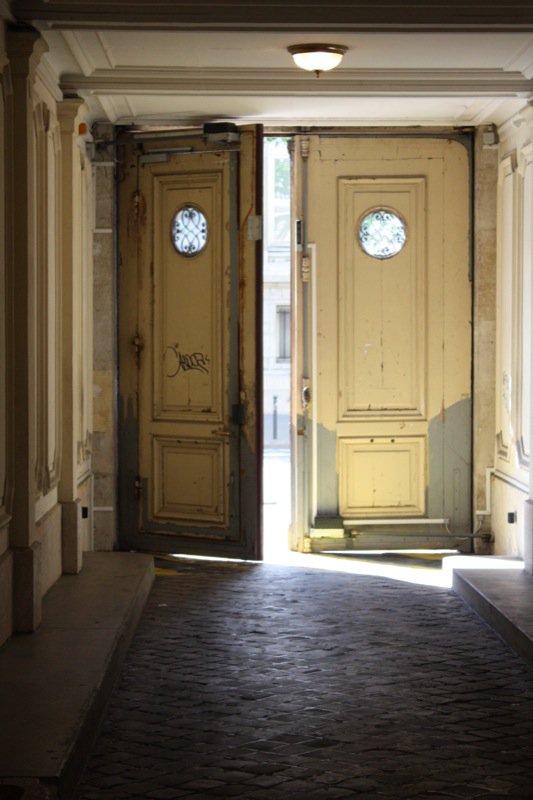 Again, no sign.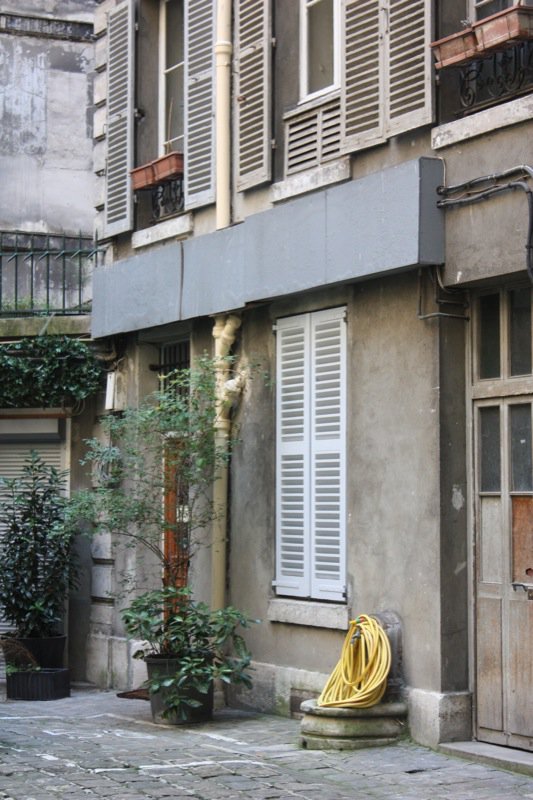 Until you get right in front of the door.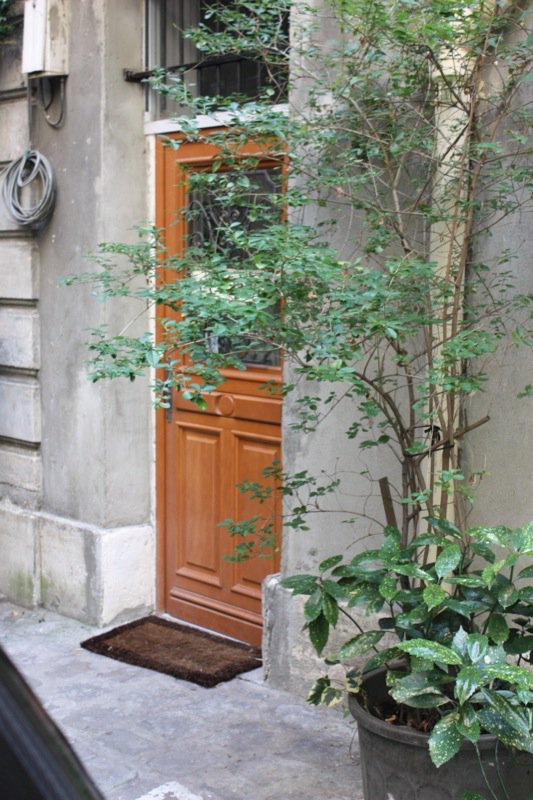 And we finally did. And then went home!
But, tonight, not only did we know where to find the place, there was a sign on the main street! And not only was the door open, but….
….there were massive glass doors opening into a beautiful modern stainless kitchen where a pull down metal door had hidden it all the night prior!
La Cuisine Paris is located at 89 boulevard Saint Michel, 75005. Once you enter the main doors, you will find us located at the back right hand side of the courtyard. (e-mail at :contact@lacuisineparis.com or via phone at : + 33 1 40 51 78 18) You can see the parking courtyard we found ourselves in the evening prior through the windows from the inside!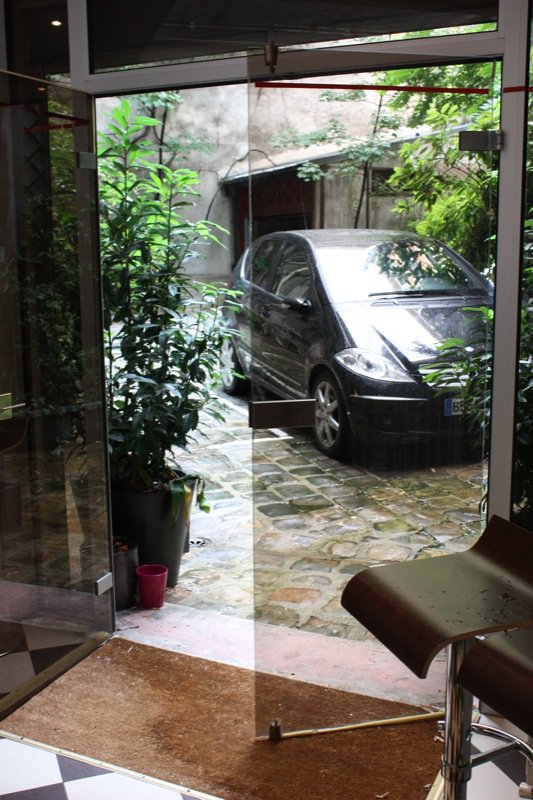 Again, we were the first to arrive and a glass of cool, crisp wet bubbly French Champagne was in our hand with in a minute.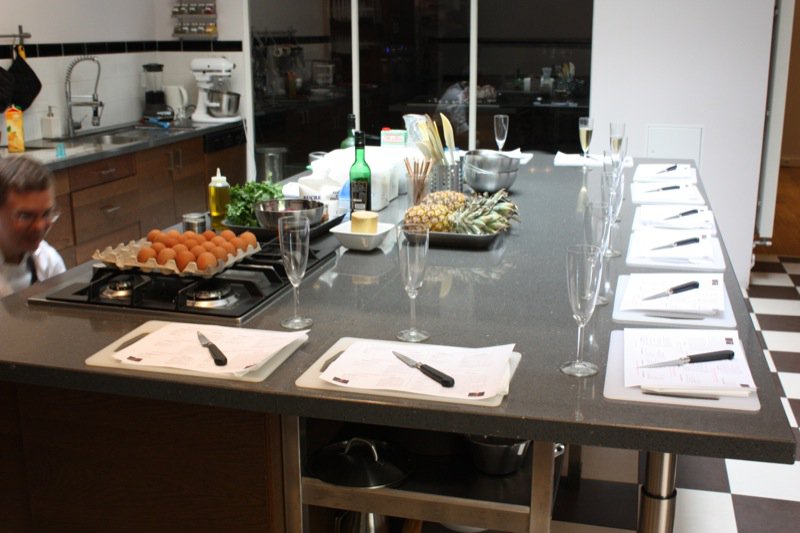 It was not long before the room was full and Chef Justin went over the menu:
Verrines de Soupe froide betterave brebis (Cold beetroot and yogurt soup)
Verrines de Creme brûlée au foie gras et Porto (Foie gras and Port wine crème brûlée)
Brochette gambas-ananas (King prawn and pineapple skewers)
Verrines de mousse au chocolat et currant rouge(Chocolate mousse in small glasses)
Petits choux citron et caramel (Lemon cream and caramel "˜choux' pastries)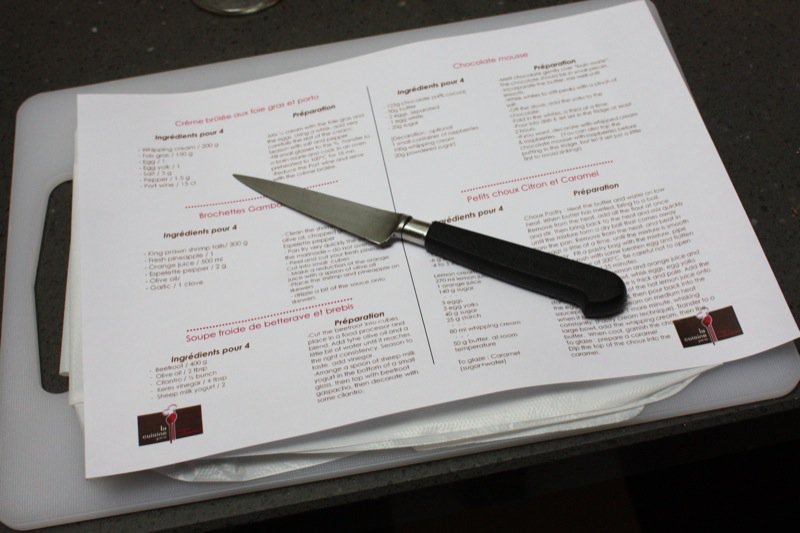 I was dying to try the foie gras crème brûlée, but the recipe looked fairly straight forward, so I was hoping to get to make the choux. Yes, I have made choux before, but never with ease or with great success: therefore, very few times.
Chef Justin did ask who would like to do what and myself and Chef Sous were to make the choux. This was definitely the most time consuming and challenging recipe, in the end. I didn't realize how much so at the onset, but as we got our mis en place, the foie gras group and beet soup group were half way finished their recipes! All I can say is thank you to Chef Sous! (For those of you that are new to my site, this is my dear husband, Vanja, the best sous chef, ever!)
The shrimp did look devine! (I took a look around while people where arriving.) The space was very well equipped. Vanja had already donned his cooking attire (a plastic apron), so I did as well!
Informal introductions and chat before everyone is ready to face their fun! But, that really took such a short while.
The couple beside us had the foie gras in the pan in what seemed like seconds. They didn't work with a lobe, but a roll that had been deveined and then just pressed together and wrapped for sale. I think I have seen this kind of foie gras for sale at the Cook Book Store in Calgary. It really beats buying a lobe if you are not using the entire thing. Does anyone know where anything similar can be purchased in Edmonton? Even lobes are so hard to get here. I would love suggestions! I guess I can tell you now that this verrine was incredible. Just absolutely incredible.
Chef Justin is explaining to them what they need to do. The port is already reducing and smells heavenly.
Across the table, Jo and her husband (from England) are preparing the shrimp. The foie gras is already to be poured into the glasses and placed in a bain-marie for baking in the oven! See the photo below, right? This is the first time I have ever seen such a kitchen tool of such incredible accuracy. "What is it, Chef?" Why? "I want one!" Oh, you do not want that! It is far too expensive. (Do not say that in front of my husband, Chef!) "What is it?" Eventually, I learned it is called a "piston", and to not buy one with any plastic bits. (And, I did not when I went on my Kitchen Shopping Supplies "spree" the following morning; more on that in an upcoming post!)
What was I doing all of this time? (Not taking photos, as it may appear. It was really hard to try to keep up, that is why they are so blurry!) Chef Sous and I were getting our mis en place and as you can see by the following two photos that it was no easy chore! The one directly below is for the citron mousse and the one following is for the choux pastry. I feel inclined to add that the exact verrines above were at one of the shops I was at the following day for about 2 Canadian dollars each and I did not buy any. (Did I want to? Yes! Did I already buy a lot? Too much!)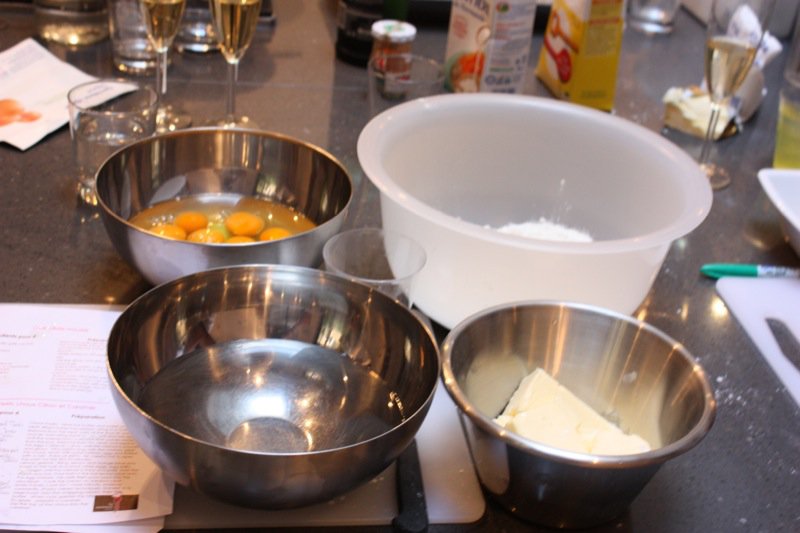 After our ingredients were prepared, we were to melt the butter in the water and just bring it to a boil and then call Chef to demonstrate making choux to the group. So, while that was heating, I caught up a bit more. The two gals to the left below made the mousse. The gals at the opening photo made the beet soup, below, right. Both were really delicious. I did find and buy the vinegar in the beet soup recipe. It made a huge addition to the flavour and I haven't heard of it, so doubt I will find it easily at home. Sherry vinegar may work in place as it is a sherry vinegar.
And I am still ga-ga over the little yogurt cups that I now have a supplier for from Germany: The Wreck Company. They are not so expensive, but I am sure the shipping will be!
Jo and her husband made the class so much fun. Actually, we had a wonderful group of people: all very friendly and full of humour and grace.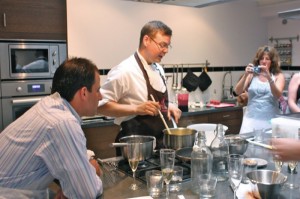 Jo is reducing the orange juice. Rather, trying to. I am not sure if it every got reduced. I never saw it get any thicker or any lower in the pot, really, and I don't recall tasting it on the shrimp. Maybe they were lying in it. They were really tasty. It was the Espelette pepper that added the punch. I had it on my shopping list before leaving home, and so it was definitely going to be in my suitcase on the way home.
The Piment d'Espelette is cultivated in the French commune of Espelette in the Basque region of France. I learned it is a very highly protected product as it was classified as an AOC product and then confirmed as an APO product, so unless it is in a jar with an official seal over the lid, it is not the real thing. (It is originally from Mexico, but found its way to France in the 16th Century.)
So, the water has just boiled. The butter is melted, and Chef Justin has called around the crowd. The first thing he did, above, right, was to dump all of the flour into the hot butter water at once. Then, he stirred and stirred, rigorously, over medium high heat to incorporate the dry ingredients with the wet ingredients until they came away from the side of the pan in a ball.
Once that was done, he continued, over the same heat, to stir the dough ball as rigorously to cook the flour a bit before incorporating the eggs. Look below at the side of the pan in the first frame, and you will see that this has started to happen. He then continued to stir rigorously for a minute to two more, at least, before taking the pan off of the heat to incorporate the eggs, a few at a time.
Actually, I did this. I had watched him do the stirring to the right point part which I really needed to learn. Now, incorporating the eggs is another important step, as the eggs are the reason the choux puffs up, so I had him watch and Vanja definitely helped. Ok, he did more that me. This was a double batch and it is hard enough to beat rigorously with one batch. Recipes I have used in the past have said to incorporate one egg at a time. Chef Justin said that was definitely not necessary, but that a few at a time worked well. We incorporated ours in 3 batches, I believe. Maybe four.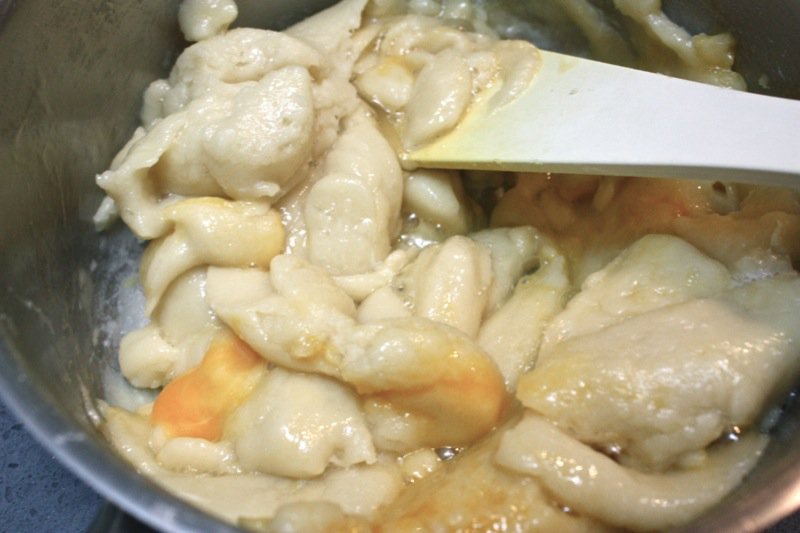 The pastry is very much like a pasta dough at the adding of the eggs point.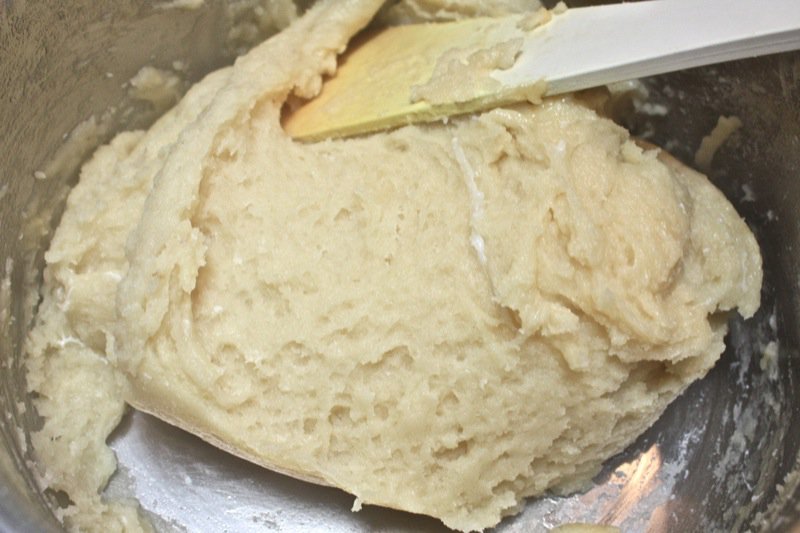 This is what the pastry looks like when you are ready to add more eggs.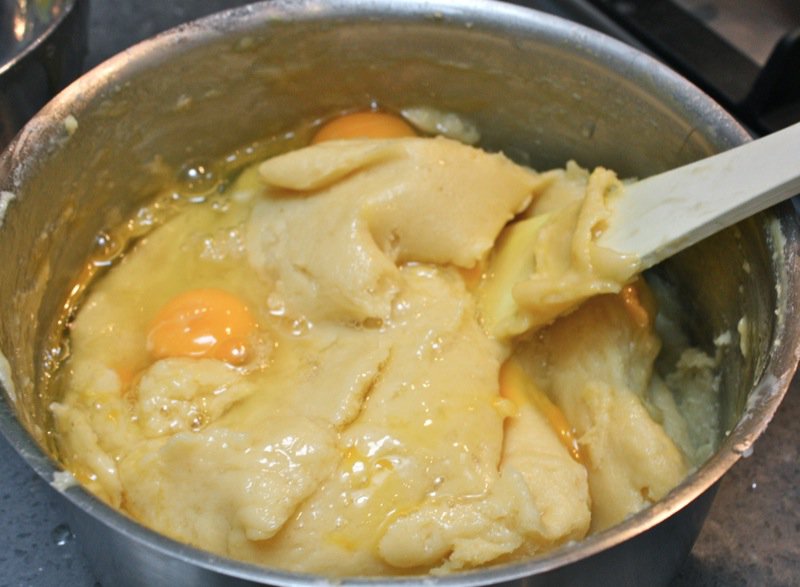 I had to get some good photos of Chef Sous. The first time I asked him if he would come to a cooking class with me, his eyes bulged as he lowered the newspaper to look at me over it, each eyebrow raised a different direction. After a few days, and without begging, he agreed. We had a lot of fun together and it was definitely a highlight of the trip, for me. (A lot of laughs!)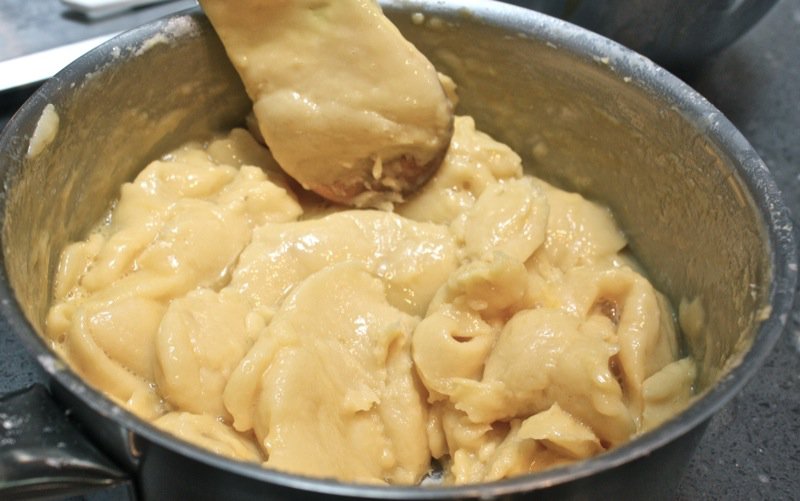 OK. The last eggs are almost worked through. You can see the final product on my finger, and in the tiny little very blurry photo below Vanja. The important thing to note is that the dough must form a "claw", or stand on its own in a tip as you dip your finger into it. If it falls a little (claw like) that is fine, but it must be stiff enough to hold that shape. To the right of my finger is a claw like piece. I believe you can see the batter is stiff.
Into the piping bag. Remember the tip that Chef Antony taught us at Lenôtre? Push a little of the lower bit of the plastic pastry bag down in the tip to avoid any batter coming out while you fill it. Chef Justin did a couple, then I did the rest. There were 4 full cookie sheets in one batch. We made two. He told us just to through the rest of the batter out. I could not believe that. Nor, would I do it. I made them all and suggested he or the one cleaning person take them home, or that he leave them for the owners of the cooking school. I am sure they went into the garbage.
Chef Sous wet the end of a fork, and flattened all of the little works of art perfectly. If we were not going to caramelize them, we would have brushed egg over them for a shiny finish.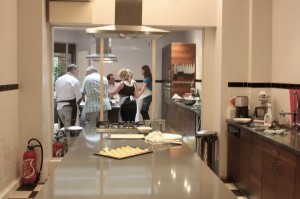 The ovens in the adjacent kitchen had been preheated for these and in they went for 25 minutes: no peeking! That is important: no opening of the oven door for 25 minutes. Whew. Still more to pipe, but that was a lot of work: a great learning experience and fun, too! What is everyone else doing? Mainly visiting and enjoying the Champagne as they finish the final touches on their dishes.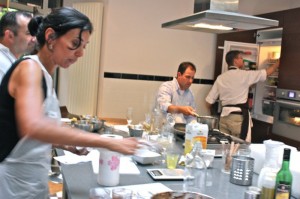 Ah! There is the photo of the chocolate mousse. The only one, too: below, left. They ran out of verrines and the gals had a heck of a time getting the mousse into the glasses. Quite a messy job: thank goodness for whipped cream! I guess no one told them about the piston!
At this point, I will say that almost everyone had difficulty with their recipes. They were incomplete, confusing, and very poorly written. This is the first time I have ever been to a cooking class where the Chef was hired by the owners to teach a class he didn't prepare the recipes for. Chef Justin was very skilled, warm and a great teacher, but he had not read over the recipes and did not prepare that part of the class properly. As a result, there were little errors happening all over the kitchen.
Of course, he really didn't care, and was a great problem solver. However, all were completely avoidable and unnecessary. In this case, nowhere in the recipe do the instructions say when to add the sugar, so the gals didn't. They had it left over, and the mousse was a little bitter, they thought. Somehow, the problem was solved. Our recipe had errors everywhere. (All are corrected, below.) So, though it was a really fun class, this was a major oversight that caused a considerable amount of unnecessary chaos.
And I thought we were done! No, I knew we had to make the citron mousse. Vanja is starting phase one while I am in the other kitchen getting a batch of choux in the oven. He is getting the ingredients into the large bowl of the electric mixer and getting that turned on. The port, below is still reducing. I think it was done ages ago. There won't be any to top the foie gras, will there? CHef Justine assures me it has to reduce more. Yet, it has reduced by 2/3, at least, all ready. The orange juice hasn't reduced at all. (grin)
Vanja is rocking with the Kitchen Aid and the eggs, yolks and sugar are beating into a wild frenzy.
Meanwhile, I am heating the lemon and orange juices and the sugar.
Now the egg mixture is tempered and then added to the pan with the hot juices.
Look at this beautiful mousse! But, we are not finished.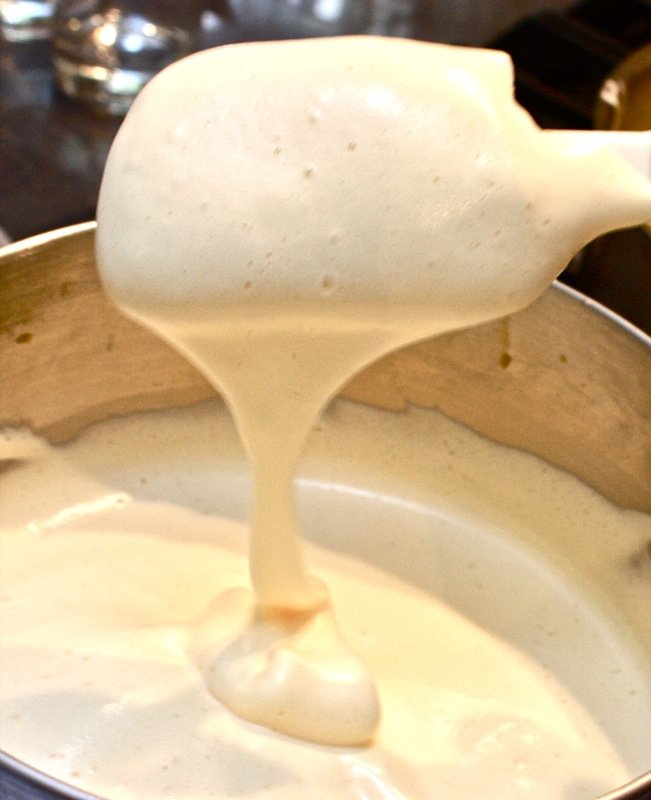 The butter needs to be added (it was not written where or how in the recipe) and the mousse is transferred to a large bowl for refrigeration.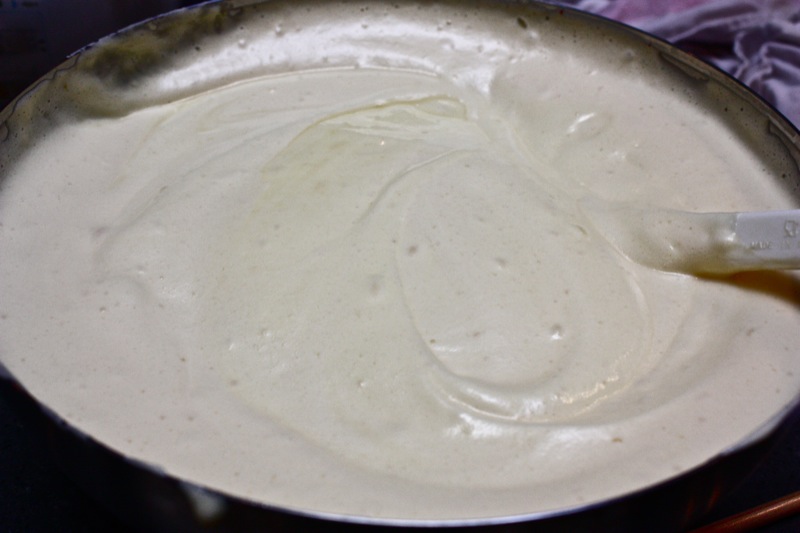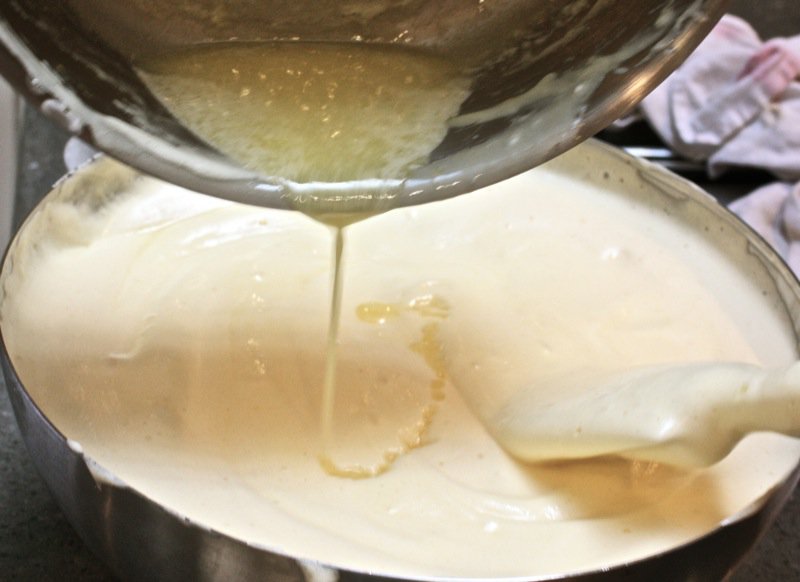 Still adding the butter (apparently there wasn't enough?).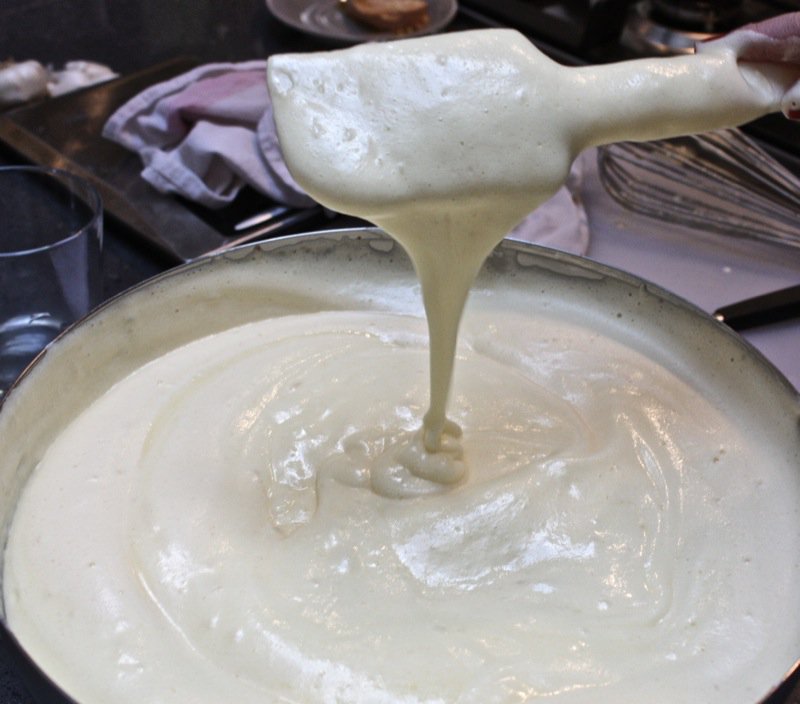 It still tasted incredible and was voluminous and gorgeous. However, one more comment on the negative side (and those that read here often will know I am not a negative person), the mousse should have definitely been made first. What was I thinking, let alone Chef Justin? For me, I guess I was just doing what I was told. There was not really time to read over the entire recipe and I trusted that the Chef was making thoughtful decisions about what order what should be made in. Also, I did not expect the mousse to be as time consuming, or such a huge a batch. Originally, we were told to do it three times. But when I told him how much lemon juice that required, as we were getting our mise en place, he then read the recipe and said that a double batch would be plenty. Plenty? Yes, if you are feeding 50 people. I am not kidding. I am sure this was enough mousse to easily fill 350 choux. We filled 30 and didn't even put a dent in it. I would have filled many more, but had no more caramelized choux left, and people were getting ready to eat.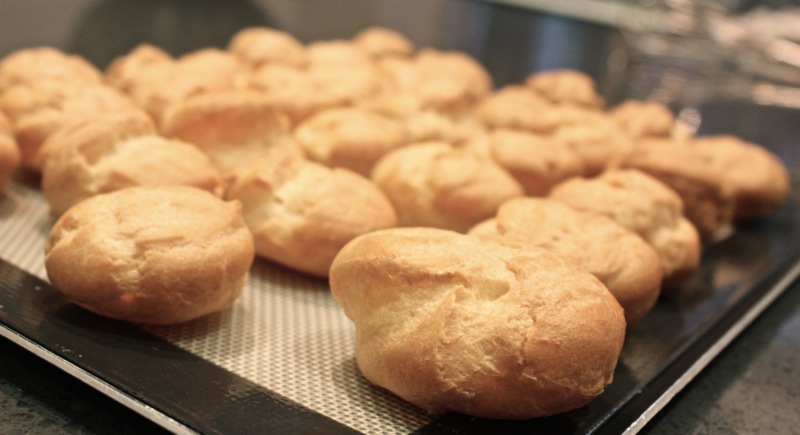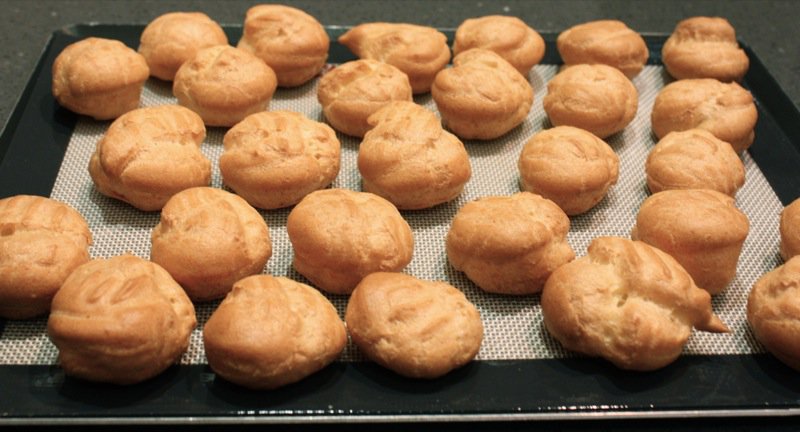 I was really happy with the choux. Excited, actually. This enlightenment opens up a whole new world of possibilities for me in my kitchen at home.
The caramel instructions were make a caramel and dip the choux in it. There was no tip to use to fill the choux with the mousse. Hmmm. I had made caramel, but not the dry hard kind like this. I avoided that as I really didn't know how. Fortunately, I had just had a lesson from Chef Antony at Lenôtre the day before, or I would really be out of luck. Chef Justin was busy visiting with a couple and I could not get his attention for love or money to assist with the caramel. Meanwhile, the port is still reducing. Somehow, I do not think that will be enough for 11 of us… but it will be really, really good!
I am still working on the caramel and all of the other food is getting out to the table.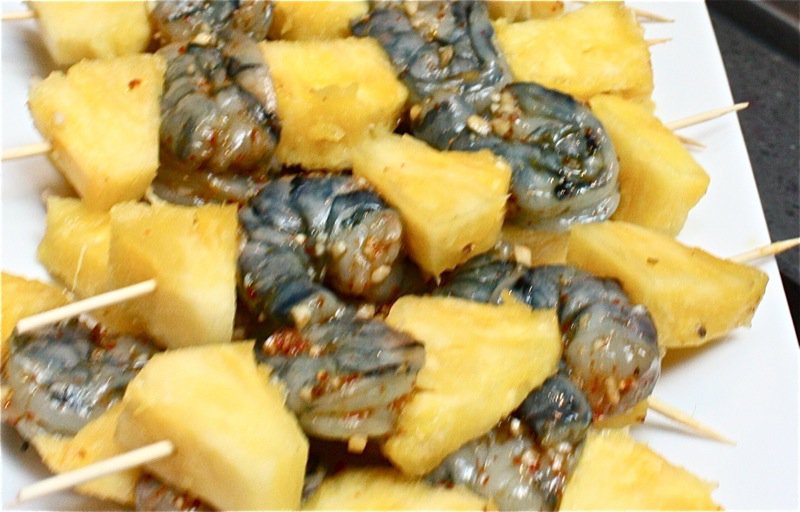 Imagine how gooey my camera was at this point. I just decided to start dipping. The caramel was not dark. I had little time before it would set. I had no clue how much to start with. Later, he suggested the amount in the recipe below.
Then we just pulled the choux opened a bit and filled each with the citron mousse. It had not set yet, but it was deadly delicious.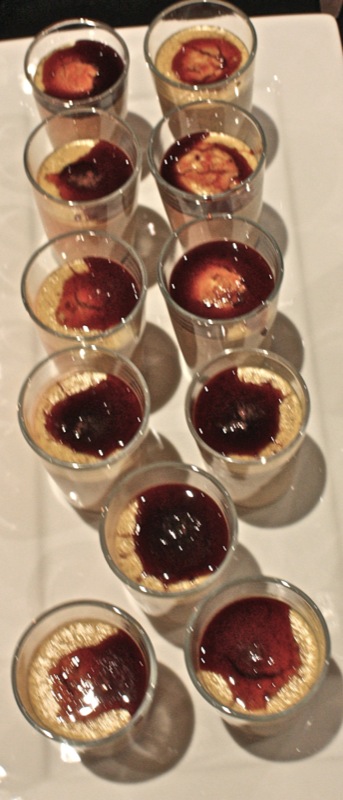 The foie gras verrines each got a splash of port. Oh my goodness. It was really incredible. It wasn't set, either. After baking in the bain-marie, it was to set in the fridge for a few hours. I would definitely suggest that those selecting the recipes for these classes need to be the Chefs. The recipes were all very tasty, but this one was not set. The citron mousse was not set. The chocolate mousse was not set. There were 2 shrimps per person with 4 extra. That was too slim for me at 90 Euro a person for this experience. At a minimum, there should have been three shimps per person.
The shrimp recipe was a disaster. The Chef figured out a way to save it that I have written here. But, I needed to really be a pain to get the "real" recipe. That was a bit embarrassing. However, the entire evening was a blast. Vanja wasn't even close to being satisfied. We had appetizers and desserts, but certainly no Bastille Day dinner.
I don't regret it. I learned a lot, and will definitely make all of these recipes again. More than once. However, I would not recommend this school to anyone without reading this post so they know exactly what they are getting into. And, would I go again to La Cuisine? No. There are a lot of other cooking schools in Paris, and it was just too poorly organized.
I have to talk about the choux with the caramel and the citron. They surpasses my expectation by more than I can express. One bite actually shocked me into surrender!
The caramel crunch. The soft choux puff. The citrus citron. A perfect, and I mean PERFECT combination. This was one of the best bites I have ever eaten. Ever.
And it wasn't moments before we were back into the reality of the bustle of the street and walking home.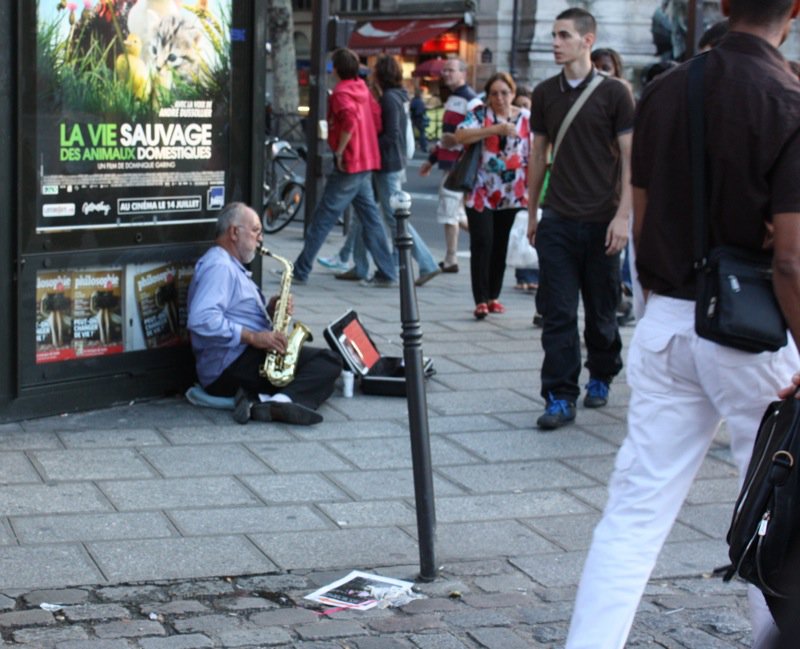 Through the busy evening Latin Quarter absolutely teeming with activity. If I hadn't had such a long day, I would have joined in. But, it was home for us. Another long day planned for tomorrow, and, we were hoping to catch the last 30 minutes of Shakespeare and Company Bookstore before closing. It was on our list and is to be an incredible bookstore.
It was just at the end of the street and across from Notre Dame, on the left bank… but, closed early today, as it was Bastille Day, so we were there, but missed it!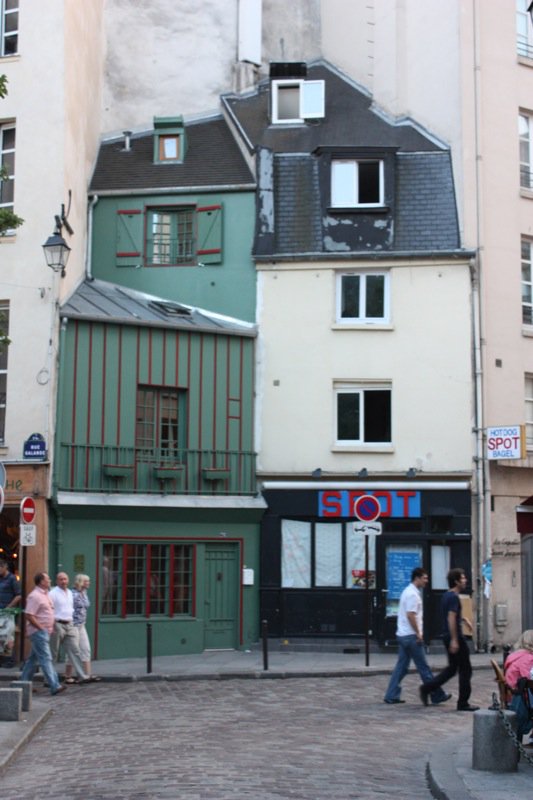 The walk home was gorgeous and satisfying. What a beautiful day. And now, I have so much to do when I get home!!!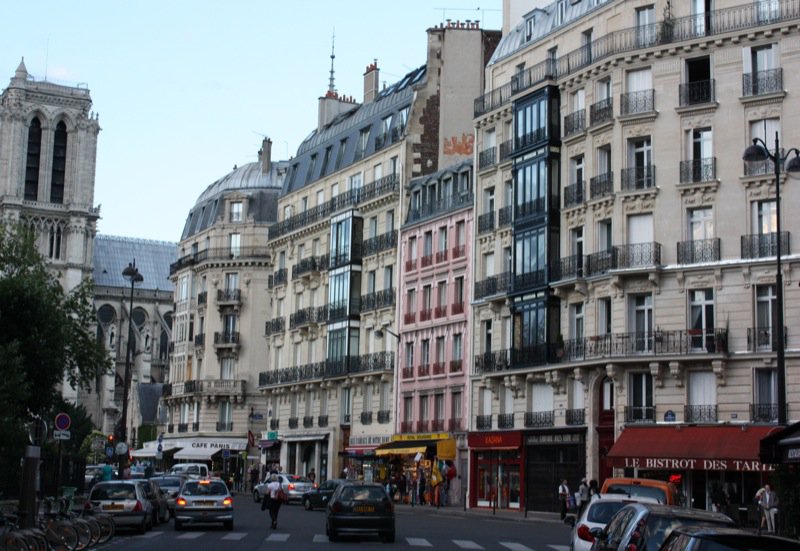 Verrines de Creme Brûlée au Foie Gras et Porto Recipe (for four)
Ingredients:
200g heavy cream
150g foie gras
1 egg
1 yolk
3g salt
1.5g pepper
300 ml of Port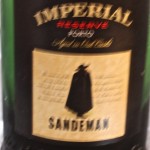 Instructions:
In a non-stick skillet, mix 1/4of the cream with the foie gras and the egg and yolk until fully incorporated
Using a whisk, carefully and slowly add the remainder of the cream to ensure there are no lumps
Season with salt and pepper
Fill four verrines to ¾ full; transfer to bain-marie and cook in oven pre-heated to 100 C for 18 minutes
Reduce Port to half (a little more than 2 tablespoons per serving) and spoon over the top of each verrine carefully to not break the surface tension on the poached foie gras (or, spoon over the glaze once the foie is completely chilled)
Chill completely to set; serve when chilled
Brochette Gambas-Ananas Recipe (for four)
Ingredients:
600g prawns, shelled and de-veined
1 fresh pineapple, peeled, and cubed
500 ml orange juice
2g espelette pepper
olive oil
1 clove of garlic, minced
Instructions:
Prepare marinade: combine 1/4cup olive oil, minced garlic and espelette pepper
Clean shrimp and marinate in marinade
Peel and cube fresh pineapple
Reduce the orange juice to half (250ml)
Place marinated shrimp and pineapple cubes on skewers, three shrimp on each
Keep skewers in marinade until ready to grill
Serve skewers drizzled with reduced orange juice
Verrines de Soupe Froide Betterave Brebis Recipe (for four)
Ingredients
400g beets, cooked, peeled and cubed
2 tablespoons olive oil
4 tablespoons Xeres vinegar (a Sherry vinegar from Spain)
400g Sheep Milk Yogurt
cilantro for garnish
Instructions
Place a few cubes of beets in food processor at a time to create a liquid to enable the others to blend; add the olive oil and a little water, as necessary, to blend to a very thick soup consistency
Season to taste; add vinegar
Chill
When chilled, arrange a layer of yogurt into the bottom of a verrine and top with soup; garnish each with a sprig of cilantro
Verrines de Mousse au Chocolat et Currant Rouge Recipe (for four)
Ingredients:
125g chocolate (minimum 64%), chopped or callets
50g butter, unsalted
2 eggs, separated
1 egg white
20g sugar
whipped cream and fresh red currants, for garnish
Instructions
Melt chopped chocolate over bain-marie
Incorporate the butter when melted, mix well until smooth
Whisk whites with a pinch of salt to stiff peaks
Add the sugar to the yolks and whip by hand to incorporate
Add yolk mixture to the chocolate (off of the stove)
Fold in the whites, slowly, 1/3 at a time
Pour into four verrines and let set in the fridge for at least 2 hours; garnish with cream and red currants
Petits Choux Citron et Caramel Recipes
Choux Pastry
Ingredients for Choux:
250ml water
100g unsalted butter
150g flour
6g salt
4-5 eggs
Instruction for Choux:
Place the butter and water in a sauce pan on low hear; when butter has melted, bring to boil
Remove from heat; add flour all at once, and stir vigorously
Bring back onto medium heat and continue to stir rigorously until the mixture forms a dry ball that comes away from the pan; continue to cook this ball until you can see a brown film or thin crust forming on the bottom of the pan
Remove from the heat and beat in the eggs a little at a time, until the mixture is smooth and glossy
Fill a pastry bag with the mixture; pipe the choux, brush with some beaten egg and flatten with a fork (this is the traditional choux shape)
Bake for 25 minutes in a pre-heated oven at 200 C and do not open the oven until the time is up
Citron Mousse Recipe
Ingredients for Citron Mousse
270ml lemon juice
juice of one orange
140g sugar
3 eggs
3 egg yolks
40g sugar
25g corn starch
80ml whipping cream
50g butter, room temperature
Instructions for Citron Mousse
Place the lemon, orange juice and sugar in a large sauce pan and bring to a boil
Whisk eggs, egg yolks, and sugar in the large bowl of an electric mixer (Kitchen Aid) until the mixture is thick and pale
Add the corn starch and continue to whisk
Temper the egg mixture with the hot lemon juice, mix well, and pour the tempered egg mixture back into the sauce pan with the hot lemon juice
Cook, stirring constantly, on medium heat and when it comes to a boil, cook for one more minute, whisking constantly (pastry cream technique)
Transfer to a large bowl; add the whipping cream and the butter; mix well to incorporate
Chill
Fill a pastry bag equipped with the tip to insert cream into choux pastry with the chilled Citron mousse; pipe mousse into each choux once dipped in caramel, and cooled
Serve immediately, or refrigerate for a couple of hours
Caramel Glaze Recipe
Ingredients for Caramel Glaze
500g sugar, or sugar plus water to make caramel
Instructions for Caramel Glaze:
If inexperienced in caramel making; use a medium non-stick skillet and over medium to medium high heat, place a thin layer of water on it; sprinkle the sugar over the surface area, and do not stir
Watch for signs of the beginning of caramelization and swirl the pan to keep the sugar moving around the hot spots; replacing on the heat as much as possible, until caramelization is achieved, or almost achieve as it will continue to cook in the pan
Take off the fire immediately as it will burn
If experienced, make a dry caramel with 500g of sugar
Dip petits choux into caramel quickly as it will harden very fast; place on parchment paper to cool
When finished, pipe citron mousse into each, and serve