I have heard there was no comparison between the two, so had to do my own tasting!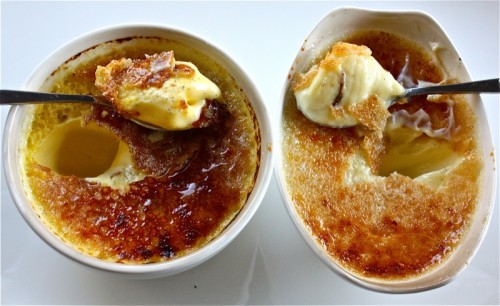 Vanja and I had our regular Tuesday night dinner guest over for Thanksgiving leftovers awhile back. We also invited Maria and Jeff. Yes, there was pumpkin pie. And left over "sex-in-a-pan"! Have you ever had that? the guys are crazy over it. This time, however, when I opened the fridge to get it, it fell upside down on the floor. That wasn't going to stop them! When it was time for dessert, V asked for some "unprotected sex-in-a-pan". We rolled with laughter. I served it. He ate it. And, yes, it had fallen on the floor… but, I managed to scoop up a good portion to save!
The dessert was a focused tasting, though! No sex until the verdict is in!
Each person, or couple, got one of each: in the oval dish, duck egg crème brûlée and in the round dish, chicken egg crème brûlée.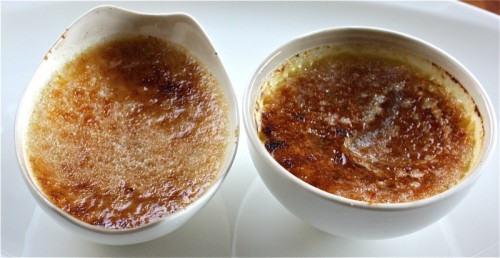 Immediately there was a visual difference. The chicken egg brûlée was much more yellow. The egg yolks were a lovely orange colour and they definitely defined the presentation of this dish. But, not the taste. Honestly, the results surprised us all. No one. Not one of the five of us. Not one, could determine a difference in taste. There was absolutely no difference in the taste whatsoever. I am completely convinced of this because I ate many dishes to compare and did a blind tasting with my husband assisting, and I did determine one difference, but only the next day.
Below, the yellow in the chicken egg Crème Brûlée is not as evident as it was off of the computer screen. There was a significant difference in colour. Look at the texture on the spoon, below. Do you see a difference? There actually is one, but it is subtle.

We were so focused on taste that first tasting, and so shocked by the result, that we did not focus on anything else: like mouth feel. There is a difference. You can actually see it above. Can you see it now?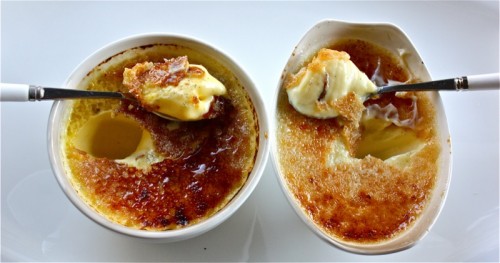 The chicken egg Crème Brûlée was looser. It did not hold in the mouth or on the tongue like the duck egg Crème Brûlée did. The sensation of velvety cream was definitely there with both; however, the duck egg brûlée held it just a tad longer. Just a bit. It is definitely not something most would notice. But, it is significant. I was right every time with the blind tasting regarding which Brème Brûlée I was given to taste in my mouth after determining the difference in mouth feel.
I know when I make zabaglione the major difference is that the duck egg zabaglione holds for much longer; it does not break down as a chicken egg one does (fast!).
Here's a question to ponder: would I be able to tell what egg a Crème Brûlée is made from now, without a direct comparison? The answer: maybe. I am not sure. I think so… only because I had an incredibly thorough tasting experience (hearty laugh)! We shall see!
Recipe for either is here.